By Lambert Strether of Corrente.
Patient readers, I am now back within WiFi range. I will add more backlogged political material shortly. –lambert UPDATE All done!
Bird Song of the Day
An Alpine Thrush. From India. With another bird piping in the background.
* * *
#COVID19
At reader request, I've added this daily chart from 91-DIVOC. The data is the Johns Hopkins CSSE data. Here is the site.
I feel I'm engaging in a macabre form of tape-watching. I've been thinking of new charts to monitor to alert us to the next outbreak, assuming there is one, but for now, the data from the South means I'll stick to the status quo.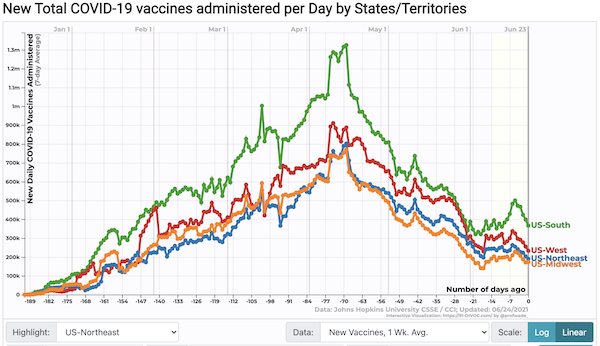 Now all falling together. Looks like the bribes were a dead cat bounce.
Case count by United States regions: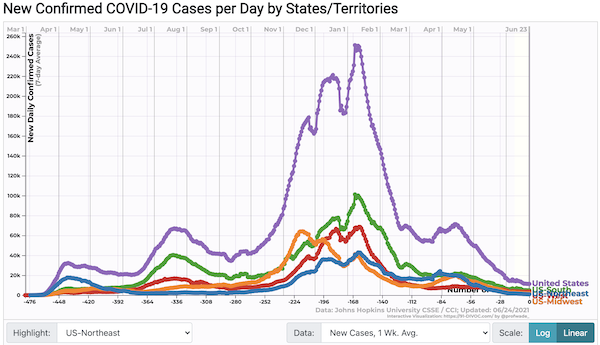 Decline now flattening. Delta? See World, below.
Here are the case counts for the last four weeks in the South (as defined by the US Census: Alabama, Arkansas, Delaware, Florida, Georgia, Kentucky, Louisiana, Maryland, Mississippi, North Carolina, Oklahoma, South Carolina, Tennessee, Texas, Virginia, West Virginia, and the District of Columbia):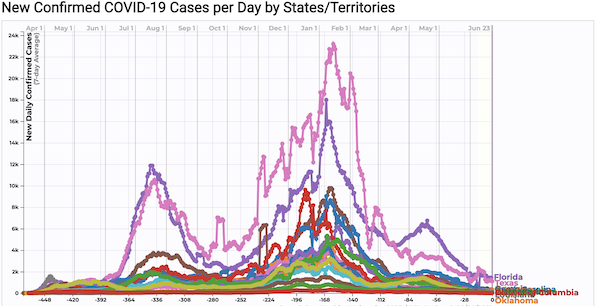 Texas and Florida, capital of Latin America, neck and neck.
Big states (New York, Florida, Texas, California):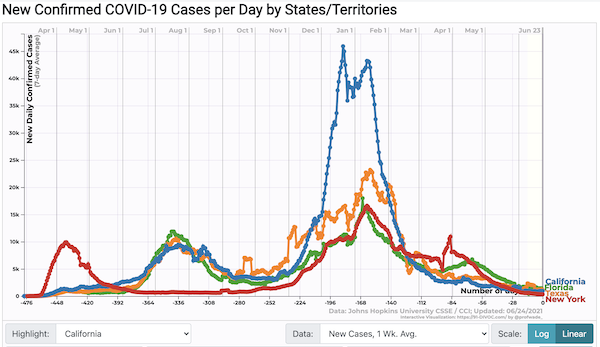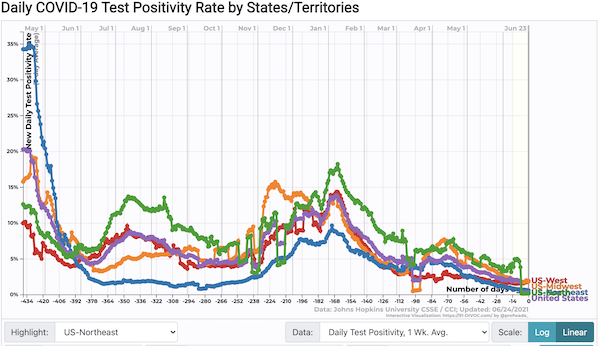 South still fallen off its cliff.
Hospitalization (CDC):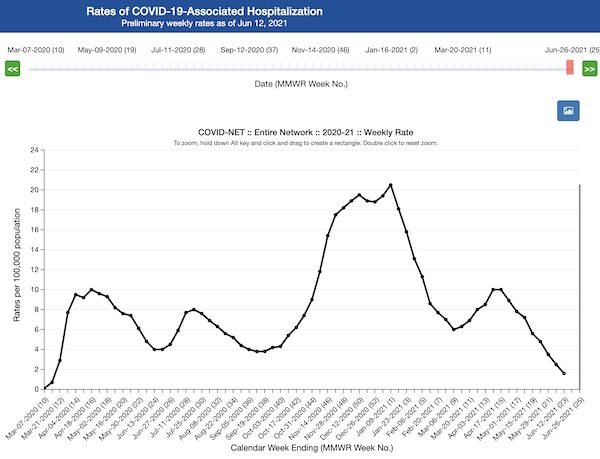 Continued good news.
Deaths (Our World in Data):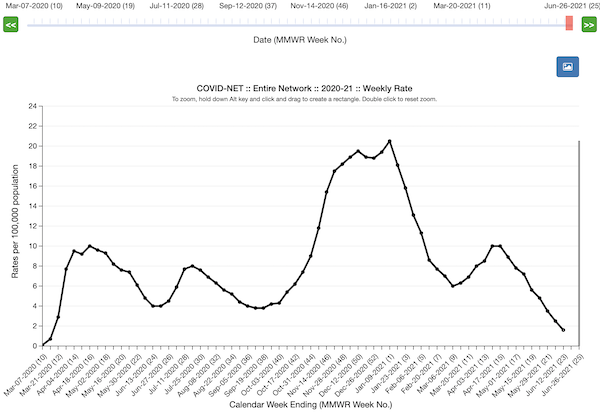 Continued good news.
Covid cases worldwide: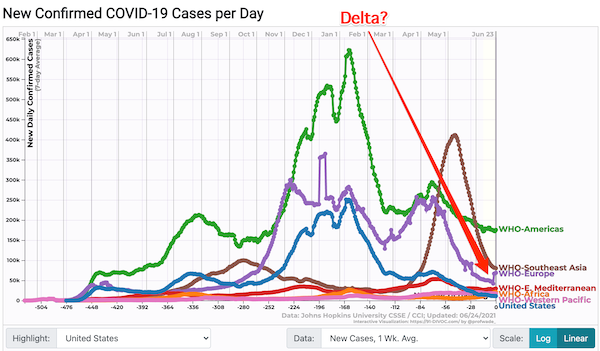 Big jump in Europe, with a nasty vertical slope. Delta?
* * *
Politics
"But what is government itself, but the greatest of all reflections on human nature?" –James Madison, Federalist 51
"They had one weapon left and both knew it: treachery." –Frank Herbert, Dune
"They had learned nothing, and forgotten nothing." –Charles Maurice de Talleyrand-Périgord
Capitol Seizure
"Judge rebukes GOP for downplaying US Capitol riot as he hands out first sentence in insurrection" [CNN]. "A Trump supporter who spent 10 minutes inside the US Capitol during the January 6 insurrection was sentenced to probation Wednesday, avoiding jail, becoming the first rioter to learn their punishment in the riot investigation. At a hearing in DC federal court, Judge Royce Lamberth said the insurrection was a 'disgrace' and forcefully rebuked the 'utter nonsense' coming from some Republican lawmakers and other right-wing figures who are whitewashing what happened." • Headline says "riot," body says "insurrection." The sentence suggests the former.

UPDATE "Oath Keeper pleads guilty in major Capitol riot conspiracy case" [ABC]. "A member of the Oath Keepers charged in the Justice Department's sprawling conspiracy case targeting the group for its alleged coordination during the Jan. 6 insurrection pleaded guilty Wednesday to two counts of conspiracy and obstruction of an official proceeding for his participation in the Capitol riot with other members of the far-right militia group. Graydon Young of Florida was among the first members of the Oath Keepers charged following the insurrection and was accused of being part of that military-style "stack" formation the militia members formed as they walked up the Capitol steps before breaching the building. According to D.C. District Judge Amit Mehta, Young's deal with the government includes a promise to provide cooperation in the government's conspiracy case against 15 fellow members of the Oath Keepers, including testimony before a grand jury and at trial, in addition to an agreement to sit for interviews with law enforcement in their investigation into the group's activities." • The accompanying tweet:

Oath Keeper pleads guilty in major Capitol riot conspiracy case—the first guilty plea in the DOJ's conspiracy case against the group. https://t.co/lehksvs8l9

— ABC News (@ABC) June 23, 2021

Somehow the selfie cuts against the menace of the cosplay….
Biden Administration
UPDATE "POLITICO Playbook: Biden catches his white whale" [Politico]. "JOE BIDEN appears to have all but secured that elusive bipartisan infrastructure deal that both parties have been prattling on about for years. The core group of 10 Senate centrists working on the proposal emerged from a meeting with White House officials Wednesday night and declared that they had a working framework. TODAY members of that group have been invited to the White House to meet with the president. Republican Sens. ROB PORTMAN (Ohio) and SUSAN COLLINS (Maine) cautioned that there are still a few details to iron out. But a well-positioned administration source tells us this thing is basically cooked. All that's left are the handshakes. SO NOW WHAT? While lawmakers draft up the text, expect the White House to start leaning on Democrats to get in line. We know that so far at least 11 Senate Republicans have agreed to back this plan, but just as many Democrats have expressed reservations, creating tricky math for leadership…. The optimistic view of the situation, from the White House perspective, goes something like this: Manchin and Sinema will be under enormous pressure to support a reconciliation bill after Biden bucked his left flank to make a bipartisan deal on infrastructure. They also point out that by first moving $1 trillion of infrastructure spending through a bipartisan bill, it reduces the price tag of the reconciliation bill by that same amount, making it easier for moderates to support it. There's also an argument that with $1 trillion of infrastructure removed from the bigger bill, progressives have some more room now for their other priorities." • If bipartisan bills are good, then Republicans aren't fascists and it's OK to vote for them. Well done, all.

"Tech crackdown survives House panel's marathon slugfest" [Politico]. "The House Judiciary Committee voted in the wee hours Thursday to block the hugest tech companies from buying their competitors and disadvantaging their rivals — part of a series of bipartisan moves, stretching overnight toward dawn, aimed at hobbling Silicon Valley's reigning powers. Still to come later Thursday is a vote on the panel's starkest proposal: a bill that could make it easier to break up tech giants like Google and Facebook. Taken together, the package of bills would represent the most significant changes to U.S. antitrust law in decades. But reaction throughout the Capitol to the panel's tech antitrust legislation showed that the effort faces serious friction from lawmakers of both parties, despite years of growing anger at the industry among Democrats and Republicans in Congress. The most notable pockets of resistance during Wednesday's and Thursday's 19-plus-hours-and-counting markup came from lawmakers from California, the home base of Google, Facebook and Apple. One lawmaker not on the committee, Silicon Valley-based Democrat Ro Khanna, separately told POLITICO that he will ask a fellow Californian, Speaker Nancy Pelosi, to retool the legislation." • Here is an enormous thread on the markup of the bills:

The big tech antitrust bill markup starts in 10 minutes. Here's the link, and this is the thread. Let's party. https://t.co/VErAs53eR0

— ron knox (@ronmknox) June 23, 2021

Watch out for Lofgren.

"Biden administration extends residential eviction ban until end of July" [Reuters]. "The Biden administration on Thursday said it was extending the Centers for Disease Control and Prevention's (CDC) COVID-19 residential eviction moratorium until July 31 but said it would not grant further extensions."

"Democrats consider 'SALT' relief for state and local tax deductions" [NBC News]. "Democrats are considering changing the law to let Americans deduct more state and local taxes from their federal returns as part of a major economic package of liberal priorities, a policy that would help high-tax states primarily in the Northeast. A group of House Democrats pushing to lift the "SALT" cap, most of them from New York and New Jersey, insisted Wednesday the deduction is progressive, and that the $10,000 cap created in the 2017 Republican tax law is "anti-union" and hurts the middle class. The SALT cap has become an internal challenge for Democrats. Liberals in the party had resisted repealing the new limits, arguing it would benefit the wealthy. But proponents of reversing the cap are now arguing it would allow states to more easily tax the rich, to the benefit of teachers and firefighters. The nonpartisan Tax Policy Center found that if the SALT cap were to be repealed entirely, 70 percent of the benefits would go to people with annual incomes above $500,000, and that most middle income Americans making five figures would see no benefit. But the Democrats whose districts were hit hardest by the SALT cap are offering a new argument. They say deduction makes it easier for states to tax the rich and use the money to deliver government benefits, including for union workers. And they're enlisting union leaders to carry the message."

"Top U.S. Officials Consulted With BlackRock as Markets Melted Down" [New York Times]. "As Federal Reserve Chair Jerome H. Powell and Treasury Secretary Steven Mnuchin scrambled to save faltering markets at the start of the pandemic last year, America's top economic officials were in near-constant contact with a Wall Street executive whose firm stood to benefit financially from the rescue. Laurence D. Fink, the chief executive of BlackRock, the world's largest asset manager, was in frequent touch with Mr. Mnuchin and Mr. Powell in the days before and after many of the Fed's emergency rescue programs were announced in late March. Emails obtained by The New York Times through a records request, along with public releases, underscore the extent to which Mr. Fink planned alongside the government for parts of a financial rescue that his firm referred to in one message as 'the project' that he and the Fed were 'working on together.'" • Trump: "My administration is the only thing between you and the pitchforks." Oh, wait…

"'We've got to get an answer': UFOs catch Congress' interest" [Politico]. "After relegating them to laughingstock status for decades, Congress is finally giving serious consideration to what are now officially known as Unidentified Aerial Phenomena. Outlandish fears of an impending extraterrestrial takeover have been replaced by legitimate concerns about a national security threat that has eluded U.S. intelligence agencies, with the federal government preparing to release its first-ever public report on unexplained sightings as soon as Friday. There is no evidence to date that points to a sci-fi scenario of aliens from another galaxy visiting Earth. But the recent uptick in mysterious airborne objects — spotted mostly by naval pilots over U.S. military installations as well as at sea — has lawmakers worried that a foreign adversary like Russia or China has developed technology that Western governments can't identify. 'There's stuff flying in our airspace and we don't know who it is and it's not ours. So we should know who it is, especially if it's an adversary that's made a technological leap,' said Sen. Marco Rubio (R-Fla.), the vice chair of the Senate Intelligence Committee.."
Democrats en Deshabille
"The Democrats Are Already Losing the Next Election" [The Atlantic]. "Eight months later, the Democrats are still fighting over who's to blame…. The authors of the Third Way and co. report, Marlon Marshall and Lynda Tran, present a few linked findings. First, Democrats lost support among Latino and Black voters because the party didn't give them something to vote for. Part of the report's explanation was that Democrats were so busy attacking Trump that they failed to offer a consistent vision for rebuilding the economy…. Progressives offer a different diagnosis of 2020. The report sponsored by the Congressional Progressive Caucus PAC also concludes that voters don't seem to have a firm idea of what Democrats stand for." • Wait, what? More: "An analysis from Way to Win examined 2020 campaign ads and found that whereas Republicans spent millions of dollars casting Democrats as extremists, Democrats instead emphasized bipartisanship. That was a mistake, the report argues. Rather than spending valuable resources refuting outrageous accusations, Democrats need to turn the tables, leftists say, and campaign on the idea that Republicans, who encouraged the storming of the U.S. Capitol and pushed back against the expansion of voting rights, are the real extremists. "The message from the Dems was that Trump was a unique threat to democracy and that Joe Biden could work with the more normal Republicans, so the party has created a permission structure for people to vote for Republicans," the progressive pollster Sean McElwee told me." • Well, nobody knows what the Democrats stand for, but they're doubling down on bipartisanship, so I imagine the midterms will be a tremendous success.

Where's the lie:

https://t.co/3bo9t10zWc pic.twitter.com/AR4Xdru0SD

— Michael Caley (@MC_of_A) June 17, 2021

"Panel agrees to put guardrails on how Pa. lawmakers draw congressional maps, but not their own" [Spotlight PA]. "'The power of the pen is still going to be with the five individuals [on the Legislative Reapportionment Commission],' [Sen. Lisa Boscola (D., Northampton)] said. 'The four [party] leaders, they didn't want to give up the power of the pen.'"
Realignment and Legitimacy
UPDATE "Republicans Fall Short in Voting-Rights Crackdown While Adding Hassle at Polls" [Bloomberg]. "But while segregation-era voting laws made it impossible for non-White voters to cast a ballot by adding hurdles like poll taxes and literacy tests, the laws passed this year mostly make voting less convenient…. Scot Schraufnagel, a professor at Northern Illinois University who studies voting, said the restrictions will primarily affect voters with less education and those who move frequently, but there's no reason to think they will give either party an advantage. And that's if they even affect turnout. He noted that many of the restrictions can be overcome by high voter interest or more outreach from campaigns and other political groups, so it would likely affect only off-year elections and extremely close races. If the lawmakers passing these bills think they will help either party gain a lasting advantage, he said, "They're dead wrong." • Here is an absolutely amazing chart:

UPDATE A man to watch:

In a Tuesday email to supporters with the subject line "Open for a photo of my mullet," the 2022 hopeful details his childhood in the Keystone State.https://t.co/RxtpGsfhnk

— The Hill (@thehill) June 22, 2021

UPDATE Moar socialists:

.@SanAntonioDSA just sent two socialists to city council with resounding victories. Democratic socialism can win in Texas! pic.twitter.com/6qpWIxPRTt

— Austin DSA (@austin_DSA) June 6, 2021
Stats Watch
Employment Situation: "19 June 2021 Initial Unemployment Claims Rolling Average Modestly Declines" [Econintersect]. "Market expectations for weekly initial unemployment claims (from Econoday) were 359 K to 395 K (consensus 380 K), and the Department of Labor reported 411,000 new claims. The more important (because of the volatility in the weekly reported claims and seasonality errors in adjusting the data) 4 week moving average moved from 396,250 (reported last week as 395,000) to 397,750."
Durable Goods: "United States Durable Goods Orders" [Trading Economics]. "New orders for US manufactured durable goods increased 2.3 percent month-over-month in May of 2021, rebounding from a downwardly revised 0.8 percent drop in April and below market expectations of a 2.8 percent rise."
Manufacturing: "United States Kansas Fed Manufacturing Index" [Trading Economics]. "The Kansas City Fed's Manufacturing Production Index decreased to 30 in June of 2021 from 32 in the previous month. The growth in district manufacturing activity continued to be driven by durable goods plants, in particular primary and fabricated metals, machinery, computer and electronic products, furniture, and transportation equipment manufacturing."
Leading Indicators: "19 June 2021 New York Fed Weekly Economic Index (WEI): Index Declined" [Econintersect]. "The New York Fed's Weekly Leading Index (WLI) marginally declined this past week. This index's trend is improving based on the 13-week rolling average…. This data set should be considered a high-frequency coincident indicator on a par with the Aruoba-Diebold-Scotti Business Conditions Index produced by the Philly Fed – and both show conditions caused by the coronavirus pandemic are already worse than the Great Recession. However, the Aruoba-Diebold-Scotti Business Conditions Index is improving whilst the WLI is still declining. Logic would say with the partial reopening of the economy – the Aruoba-Diebold-Scotti Business Conditions Index seems to be correct."
GDP: "Third Estimate 1Q2021 GDP Unchanged At 6.4%. Corporate Profits Improve." [Econintersect]. "The third estimate of fourth-quarter 2020 Real Gross Domestic Product (GDP) was unchanged at 6.4 %….. I am not a fan of the quarter-over-quarter exaggerated method of measuring GDP – but year-over-year growth is now in positive territory as it is being compared to the beginning of the recession."
* * *
Retail: "Amazon's Prime Day results were more muted than usual this year" [CNBC]. "But Amazon's publicity around the Prime Day results was muted compared with previous years, lacking the sales superlatives it typically offers to show how consumers flocked to the site to snap up heavily marked-down goods. Amazon has previously characterized the event as its 'biggest day ever' or the 'largest shopping event in Amazon history.' That language was noticeably absent from this year's results, with the company instead opting to note that Prime Day was the 'two biggest days ever' for merchants. Amazon never discloses total Prime Day sales, but last year it took the rare step of disclosing that third-party sellers brought in $3.5 billion during the event. That figure was also missing from this year's results. An Amazon representative declined to provide more details on third-party merchant sales during this year's Prime Day event." • Eesh, Kremlinology.
Retail: "McDonald's is testing automated drive-thrus that can recognize your voice. The tech mostly gets orders right — but employees have to step in 20% of the time" [Business Insider]. "Restaurants reported about 85% accuracy in the software recognizing orders, and staff had to step in for around one in five orders, company CEO Chris Kempczinski said Wednesday at Alliance Bernstein's Strategic Decisions conference, per CNBC. The fast food giant bought Apprente, an AI voice-recognition technology, in 2019 for an undisclosed amount. McDonald's said at the time that it planned to use the system for faster, more accurate ordering at drive-thrus, and started testing it in 2019. It also started testing robotic fryers. Kempczinski said that the company had trained workers to stop them jumping in to take order." • Hope the AI's dataset is identity-neutral. And what happens when people start trying to game it?
The Bezzle: "Local Delivery Alternatives Bite Into DoorDash, Grubhub, and Uber" [Bloomberg]. "[Jon] Sewell started Chomp, a delivery service that now works with almost 200 restaurants in Iowa City and nearby Cedar Rapids. Restaurants pay commissions of 15%, and drivers earn an average of almost $20 an hour. After Chomp gained traction, friends in Fort Collins, Colo., asked for help setting up a similar service called Nosh. Last year, seeking to build on those successes, Sewell created LoCo Co-ops, a company that sells technology and know-how to restaurants interested in establishing delivery cooperatives. LoCo operates in Las Vegas, Omaha, and Knoxville, Tenn., with three more cities in the works. 'There's nothing that DoorDash, Grubhub, and Uber Eats do that can't be replicated locally and operated at a much lower cost,' Sewell says. 'There's no need to send all this money to a bunch of venture capital-backed firms in California and Chicago who managed to figure out how to get between restaurants and their customers.' Across the U.S., growing numbers of entrepreneurs are offering homegrown alternatives to national heavyweights. The smaller services typically charge less, pay drivers more, and avoid tactics such as listing restaurants without permission—which some of the biggies have acknowledged doing—according to a May report on 20 such initiatives from the nonprofit Institute for Local Self-Reliance."
Tech: "Facebook granted patent for 'artificial reality' baseball cap. Repeat, an 'artificial reality' baseball cap" [The Register]. "The Facebook "Artificial reality hat" – FAR Hat for short – is depicted in illustrations as a baseball cap with a ski goggles-style lens dangling from its brim. But it could be any hat – the patent claim extends to "different hat-based form factors, such as baseball caps, visors, cowboy hats, fedoras," and so on. While it's tempting to muse about the possibility of artificial reality top hats, sombreros, and deerstalkers, the type of hat isn't really the point. For Facebook, hats solve the problem presented by AR glasses. They provide more surface area to affix electronics and better weight distribution opportunities. Better still, these expansive skull scaffolds can keep heat-generating components away from the head, resulting in and less thermal discomfort." • In fact (via):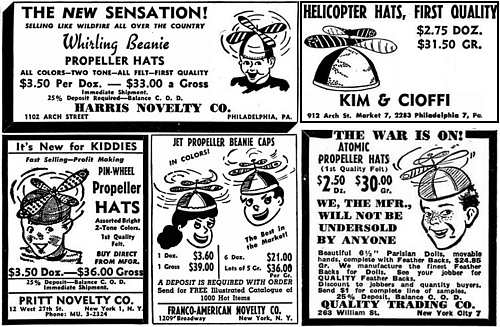 Now, Steve Jobs would never design a hat like this. But maybe Mark Zuckerberg might!
Tech: "Hush-Hush NSA Lifts Veil on How Businesses Help Fight Hacks" [Bloomberg]. "The U.S. National Security Agency, which is renowned for its secrecy, has opened its arms to the private sector and, at least for a day, the media. The agency invited reporters on Tuesday to tour its Cybersecurity Collaboration Center, an unclassified space opened last year where private companies can swap information with the spy agency about cybersecurity threats and overseas hackers. It's part of an effort by the agency to deepen its relationship with American companies in the hopes of thwarting cyberattacks in the U.S. The NSA is prohibited by law from accessing American computer networks, so it hopes that increasing partnerships with the private sector will provide insights the agency can't get on its own, said Rob Joyce, the NSA's director of cybersecurity." • Opened its arms? Or jaws?
Tech: "Bezos' 2021 Space Odyssey a risk too far for insurers" [Reuters]. "Launching one of the richest individuals on earth into orbit has proved a leap too far for insurers, who are not ready to price the risk of losing Jeff Bezos or his fellow space travelers."
Concentration: "On Booksellers And 'Fair Trade'" [The American Conservative]. "Recent issues of TAC have contained lamentations about the disappearance of independent booksellers and Amazon's near-emerging monopoly on bookselling, with its cancellation of works praising Justice Clarence Thomas and questioning transgender orthodoxy. The usual remedy proposed is voluntary patronage of the few surviving independent booksellers. But it may surprise readers to know that there was once, and still is in many parts of the world, a legal regime, not dependent on government, that accords authors and publishers the means to assure a level playing field in bookselling. That regime is resale price maintenance, once called "fair trade," that allows publishers to set and enforce firm resale prices for the works they publish. This right does not eliminate competition among booksellers. It curtails price competition to be sure, but diverts it to competition in inventory, pre-sale advice, delivery and other services, and in amenities including social events, book fairs, and book talks."
* * *
Today's Fear & Greed Index: 40 Fear (previous close: 35 Fear) [CNN]. One week ago: 41 (Fear). (0 is Extreme Fear; 100 is Extreme Greed). Last updated Jun 21 at 12:18pm. No longer stuck in neutral!
Health Care
"Delta coronavirus variant: scientists brace for impact" [Nature]. "Preliminary evidence from England and Scotland suggests that people infected with Delta are about twice as likely to end up in hospital, compared with those infected with Alpha. 'The data coming out of the UK is so good, that we have a really good idea about how the Delta variant is behaving,' says Mads Albertsen, a bioinformatician at Aalborg University in Denmark. 'That's been an eye-opener.' Cases of the Delta variant in the United Kingdom are doubling roughly every 11 days. But countries with ample vaccine stocks should be reassured by the slower uptick in hospital admissions, says Wenseleers. A recent Public Health England study found that people who have had one vaccine dose are 75% less likely to be hospitalized, compared with unvaccinated individuals, and those who are fully protected are 94% less likely to be hospitalized…. Delta is also on the rise in the United States, particularly in the Midwest and southeast. The US Centers for Disease Control and Prevention declared it a variant of concern on 15 June. But patchy surveillance means the picture there is less clear. According to nationwide sampling conducted by the genomics company Helix in San Mateo, California, Delta is rising fast. Using a rapid genotyping test, the company has found that the proportion of cases caused by Alpha fell from more than 70% in late April to around 42% as of mid-June, with the rise of Delta driving much of the shift."
Police State Watch
"Why Police Have Been Quitting in Droves in the Last Year" [Los Angeles Times]. "A survey of almost 200 police departments indicated that retirements were up 45 percent and resignations rose by 18 percent in the year from April 2020 to April 2021 when compared with the previous 12 months, according to the Police Executive Research Forum, a Washington policy institute. New York City saw 2,600 officers retire in 2020 compared with 1,509 the year before. Resignations in Seattle increased to 123 from 34 and retirements to 96 from 43. Minneapolis, which had 912 uniformed officers in May 2019, is now down to 699. At the same time, many cities are contending with a rise in shootings and homicides. Asheville was among the hardest hit proportionally, losing upward of 80 officers, more than one third of its 238-strong force….. With a third of the police force gone, some activists and residents said they worried that the city would squander an opportunity for change, hiring replacements instead of exploring alternatives." •
Under the Influence
"TikTok Left its Black Creators Behind. Now They're Going on Strike" [Newsweek]. "Black TikTok creators had finally reached the point where enough is enough: It was time to strike. After a recent trend saw an influx of white TikTokers creating content to Nicki Minaj's "Black Barbies"—a song about Black women—appropriation-weary Black creators took action. Over the past few days, the hashtag #BlackTikTokStrike buzzed on Twitter. These Black creators sought to deprive TikTok of one of its biggest engines of creativity; one that was not always, or even often, getting the credit it deserved. They have shunned choreographing new dances to trending songs, leading to mismatched, off-the-cuff routines under fresh music such as "Thot S***" by Megan Thee Stallion."
Zeitgeist Watch
"Peloton faces backlash after disabling free running feature on its $4,000 treadmills" [CNBC]. "Peloton is facing backlash after disabling a free run setting on its high-end treadmill, which would have forced users to pay an extra monthly membership fee, according to reports across social media. In response to the customer outcry, Peloton said it would waive three months of membership fees for all Tread+ owners, as it works on another update that brings back the 'Just Run' feature. People who had shelled out more than $4,000 for Peloton's Tread+ treadmill machine were previously able to select a 'Just Run' setting and exercise without accessing Peloton's digital workout content. But following a recent safety update, the 'Just Run' feature has disappeared, multiple users said on Twitter after receiving an email notice from the company. That meant Peloton users would have needed to pay a $39 monthly membership fee to use their treadmills." • Well, it's not like anybody owns anything any more.
"Britney Spears, Finally Allowed to Speak for Herself, Says She's Forced to Take Lithium and Can't Remove IUD" [Jezebel]. • Holy Moley!
Saxon and Jute erasure:
Rita Hayworth and Cary Grant in Only Angles Have Wings: pic.twitter.com/vk5GnukhyR

— Betty (@Bettyxx84) June 24, 2021
Sorry. That's Saxonx and Jutex.
Imperial Collapse Watch
"'Literally pancaked': Condo building partially collapses near Miami; 35 people rescued; at least 1 dead" [USA Today]. "At least one person was killed and firefighters were extricating dozens of people from a battered high-rise condominium building Thursday after part of the structure collapsed into a mammoth pile of twisted steel and concrete, authorities said…. [Raide Jadallah, assistant fire chief of operations for Miami-Dade Fire Rescue] said firefighters were shoring up the building and tunneling into the devastation to search for survivors. About 55 of the 130-plus condos collapsed, he said. Frank Rollason, director of Miami-Dade Emergency Management, told the Miami Herald that emergency workers believed they have cleared all survivors from inside the tower. He said more than 70 units were destroyed or damaged." Commentary:
Photos and video from the scene show that the collapse affected half the tower. Piles of rubble and debris surrounded the area just outside the building. The fire department has yet to say what may have caused the collapse. pic.twitter.com/G7q95KvfJC

— USA TODAY (@USATODAY) June 24, 2021
"You don't see buildings falling down in America." Welcome to the Third World. But yes, you do: "On first anniversary of Hard Rock Hotel collapse, developer sues contractors, insurers" [Times-Picayune].
Class Warfare
"Pandemic vacation":
This recovery-by-metro map from Yelp is a great way to visualize the "pandemic vacation" view so many upwardly mobile city dwellers have taken in the last year. pic.twitter.com/gfRQnS7gIr

— Myles Udland (@MylesUdland) June 23, 2021
Property values:
Retired couple who chopped neighbours' Fir Tree in HALF in 'petty' row insist they'll 'do it AGAIN' https://t.co/LrGQ4rgTTk

— Daily Mail U.K. (@DailyMailUK) June 24, 2021
News of the Wired
"Same or Different? The Question Flummoxes Neural Networks" [Quanta]. "The first episode of Sesame Street in 1969 included a segment called 'One of These Things Is Not Like the Other.' Viewers were asked to consider a poster that displayed three 2s and one W, and to decide — while singing along to the game's eponymous jingle — which symbol didn't belong. Dozens of episodes of Sesame Street repeated the game, comparing everything from abstract patterns to plates of vegetables. Kids never had to relearn the rules. Understanding the distinction between 'same' and 'different' was enough. Machines have a much harder time. One of the most powerful classes of artificial intelligence systems, known as convolutional neural networks or CNNs, can be trained to perform a range of sophisticated tasks better than humans can, from recognizing cancer in medical imagery to choosing moves in a game of Go. But recent research has shown that CNNs can tell if two simple visual patterns are identical or not only under very limited conditions. Vary those conditions even slightly, and the network's performance plunges."
* * *
Readers, feel free to contact me at lambert [UNDERSCORE] strether [DOT] corrente [AT] yahoo [DOT] com, with (a) links, and even better (b) sources I should curate regularly, (c) how to send me a check if you are allergic to PayPal, and (d) to find out how to send me images of plants. Vegetables are fine! Fungi and coral are deemed to be honorary plants! If you want your handle to appear as a credit, please place it at the start of your mail in parentheses: (thus). Otherwise, I will anonymize by using your initials. See the previous Water Cooler (with plant) here. Today's plant (TH):
TH writes: "This lovely Queen Sheba vine graces what would otherwise be a boring chain link fence along a walkway, providing privacy for the zoo animals on the opposite side, in Irvine Regional Park (Irvine, California)."
* * *
Readers: Water Cooler is a standalone entity not covered by the recently concluded and — thank you! — successful annual NC fundraiser. So if you see a link you especially like, or an item you wouldn't see anywhere else, please do not hesitate to express your appreciation in tangible form. Remember, a tip jar is for tipping! Regular positive feedback both makes me feel good and lets me know I'm on the right track with coverage. When I get no donations for five or ten days I get worried. More tangibly, a constant trickle of donations helps me with expenses, and I factor in that trickle when setting fundraising goals:
Here is the screen that will appear, which I have helpfully annotated.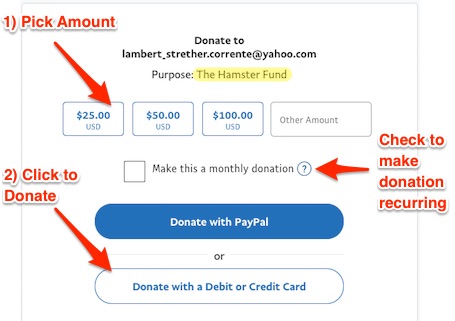 If you hate PayPal, you can email me at lambert [UNDERSCORE] strether [DOT] corrente [AT] yahoo [DOT] com, and I will give you directions on how to send a check. Thank you!2:00PM Water Cooler 6/8/2021