By Lambert Strether of Corrente.
Bird Song of the Day
* * *
#COVID19
At reader request, I've added this daily chart from 91-DIVOC. The data is the Johns Hopkins CSSE data. Here is the site.
I feel I'm engaging in a macabre form of tape-watching. I've been thinking of new charts to monitor to alert us to the next outbreak, assuming there is one, but for now, the data from the South means I'll stick to the status quo.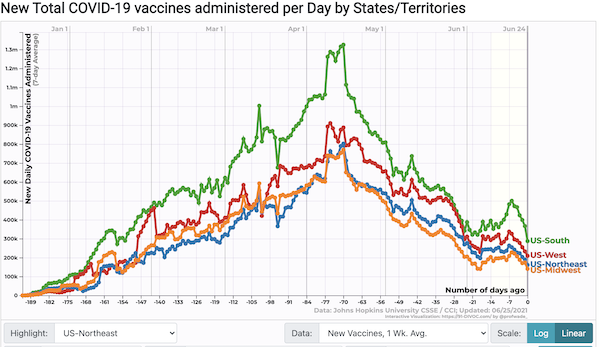 Now all falling together. Looks like the bribes were a dead cat bounce. We should know whether sending Kamala out to reverse the situation was a success or not (I'm guessing no, because why would it?)
Case count by United States regions: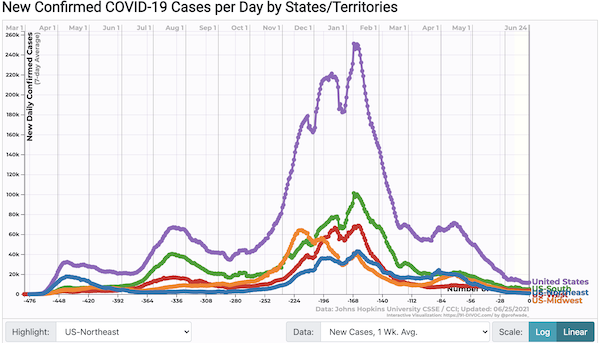 Decline now flattening. Delta? See World, below. (The increase in Delta would still swamped by the decrease in Alpha, etc. For awhile.)
Here are the case counts for the last four weeks in the South (as defined by the US Census: Alabama, Arkansas, Delaware, Florida, Georgia, Kentucky, Louisiana, Maryland, Mississippi, North Carolina, Oklahoma, South Carolina, Tennessee, Texas, Virginia, West Virginia, and the District of Columbia):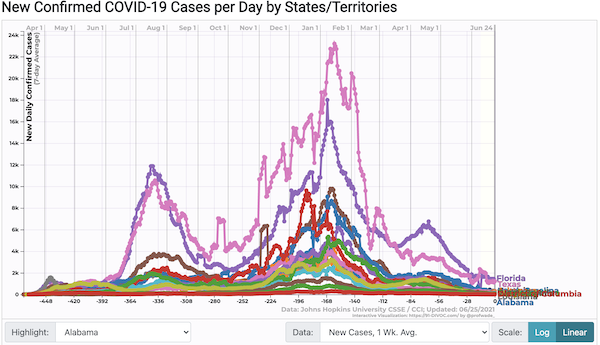 Texas and Florida, capital of Latin America, neck and neck.
Covid cases top ten (hat tip, alert reader Lou Anton):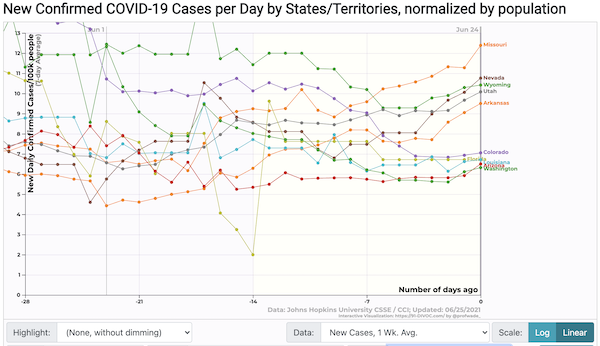 Tourist states disproportionately represented, IMNSHO. Readers? (I'm replacing the big states (NY, FL, TX, CA) with this one.)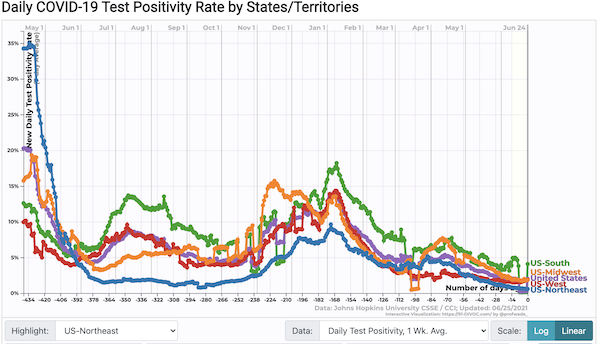 South bounces back.
Hospitalization (CDC):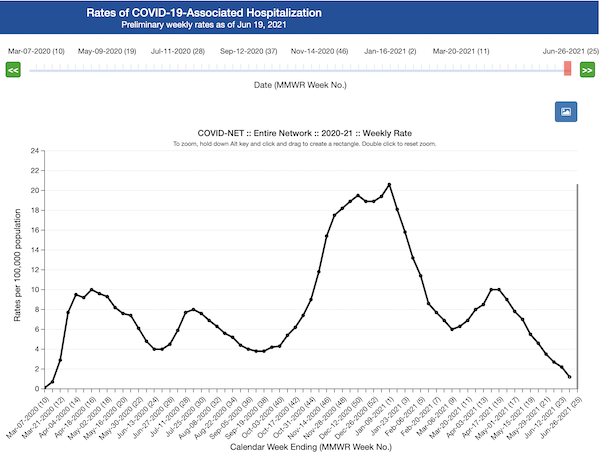 Continued good news.
Deaths (Our World in Data):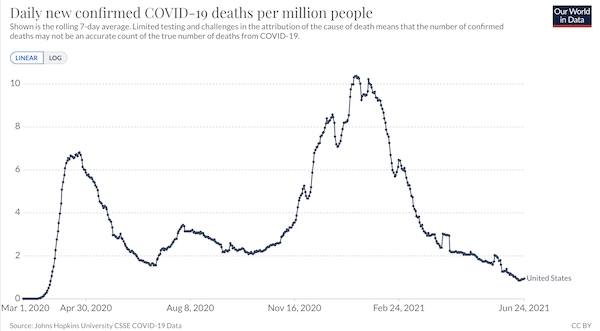 Continued good news.
Covid cases worldwide: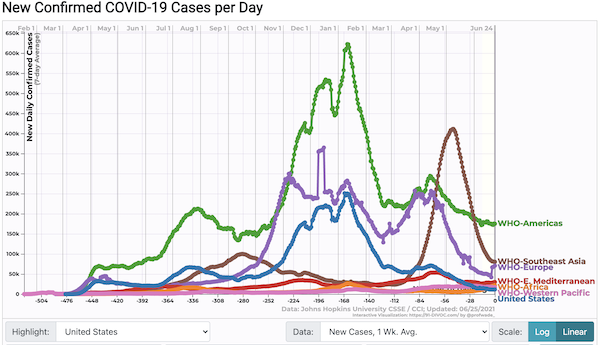 Big jump in Europe, with a nasty vertical slope. Delta?
* * *
Politics
"But what is government itself, but the greatest of all reflections on human nature?" –James Madison, Federalist 51
"They had one weapon left and both knew it: treachery." –Frank Herbert, Dune
"They had learned nothing, and forgotten nothing." –Charles Maurice de Talleyrand-Périgord
Capitol Seizure
UPDATE "Plea deals may be in the works for 6 people facing criminal charges in U.S. Capitol riot" [Arizona Republic]. " All six defendants are facing multiple felony charges, including conspiracy, civil disorder, disorderly conduct, obstruction of law enforcement and entering a restricted building or grounds. Federal investigators say the six advanced and unlawfully entered the U.S. Capitol. U.S. District Court Judge Timothy J. Kelly set their next court date for Aug. 6, which he said will allow time for the government to turn over remaining evidence to defense attorneys and also time to discuss 'non-trial dispositions of this matter going forward.' Court documents say Felicia Konold was seen on the day of the riot with the leaders of the Proud Boys, an extremist group with ties to white nationalism. The federal complaint alleges she was part of a group march led by the Proud Boys along Constitution Avenue, where members could be heard shouting chants such as, 'Whose streets? Our streets.'" • Not to be overly cynical, but I wonder how many of the six are cops? If the FBI is anything like the Czar's Ohkrana, three at least.
Biden Administration
"The Daily 202: Biden has a lot more bridge-building to do on infrastructure deal" [WaPo]. "President Biden yesterday celebrated a bipartisan infrastructure deal in which "none of us got all that we wanted," then sold it to wary progressives by vowing to kill it if they don't get more of what they — and he — want in a companion bill. Given the dense parliamentary thicket through which the two proposals must slog to reach Biden's desk, tweeted exuberance about the breakthrough could either be farsighted or end up as a minor digital display in the Museum of Disappointment." • Vowed? Joe Biden owes me six hundred bucks.

UPDATE "Biden administration sues Georgia over its GOP-enacted voter restrictions" [Politico]. "'Our complaint alleges that recent changes to Georgia's election laws were enacted with the purpose of denying or abridging the right of Black Georgians to vote on account of their race or color, in violation of Section 2 of the Voting Rights Act,' U.S. Attorney General Merrick Garland said at a press conference announcing the lawsuit. And Kristen Clarke, the head of the department's Civil Rights Division, said the changes in Georgia would disproportionately hamper black voters' access to the polls. 'The provisions we are challenging reduce access to absentee voting at each step of the process, pushing more Black voters to in-person voting where they will be more likely than white voters to confront long lines,' she said. While suits under the landmark Voting Rights Act of 1965 can be brought over election practices simply because they disproportionately impact minorities, Garland and Clarke notably alleged that the new provisions in Georgia are intentionally discriminatory: meaning that the Justice Department believes it can prove that the state legislature purposefully sought to diminish the voting power of African American voters."

UPDATE "Wall Street Sees Big Wish Granted in Biden's Infrastructure Deal" [Bloomberg]. "It's just two words of jargon near the bottom of the infrastructure plan the White House posted Thursday — 'asset recycling' — but for a slew of investing titans that longed to see that phrase, it's reason to rejoice…. "The bipartisan group that put this bill together has been keenly focused on the importance of private investment, including the concept of asset recycling, which has been championed by infrastructure funds for a number of years," said DJ Gribbin, the former special assistant to the president for infrastructure policy from 2017 to 2018 who is also a senior operating partner at Stonepeak Infrastructure Partners. . Asset recycling — a policy many credit as being coined in Australia — features the sale or leasing of infrastructure such as roads, airports and utilities to private operators." • Some compromise! Alert reader Grant comments:

I am originally from Chicago. This is a pathetic bill and all of these rich frauds should be ashamed of themselves. Essentially, it is going to be the privatization of Chicago's parking meters going national. Biden is a disaster as president and his party is going to get destroyed in 2022 and thereafter.

I'm sure selling the TVA is going to set them in solid in Border States for generations.

UPDATE And on the pay-fors:

OK source confirming main pay-fors in bill:

– $100 billion net from IRS enforcement ($40B in new spending)
– $100B public private partnerships
– $80B UI "program integrity"
– $65B spectrum sales
– $60B dynamic scoring
– $30B in toll credits
– $25B in recouped UI ARP supplement

— Jeff Stein (@JStein_WaPo) June 24, 2021

So, ramping up debt collection from the IRS and and recouping from restaurant and retail workers…. It's a proven electoral winner!

UPDATE "Manchin says Democratic-only infrastructure bill 'inevitable'" [The Hill]. "Sen. Joe Manchin (D-W.Va.) said on Thursday that it was "inevitable" that Democrats would move forward with a separate, Democrat-only infrastructure package — it was just a question of what the size and scope will be. 'Reconciliation is inevitable because basically Republicans I understand on the tax they don't want to undo anything on the 2017 [bill]. For those who didn't vote for 2017, there should be some adjustments. I'm open to that,' Manchin told reporters. Manchin's remarks are a huge boon for Democrats because the party needs all 50 of its members to support reconciliation — the budget process that lets them bypass the 60-vote legislative filibuster. Manchin has been careful to not say if he would be supportive of using the budget process to craft a larger, Democratic-only infrastructure bill as he and a group of senators tried to lock down their smaller bipartisan agreement. That got a significant boost on Thursday when Biden endorsed it, though the group still needs to sell and shore up support from their colleagues." • Sausage inna bun!
2022
UPDATE "One city 'ready to explode' as US murder rates surge in pandemic" [Reuters]. "The per-capita murder rate climbed 30 percent in 2020 among 34 major cities surveyed by Richard Rosenfeld, a criminologist at the University of Missouri in St. Louis. Murders in New York, Los Angeles, and Chicago accounted for 40 percent of the 1,268 additional people killed in 2020, compared to the previous year, in the cities Rosenfeld studied. In the first quarter of 2021, the research showed, the murder rate had declined from a peak the previous summer but was still up 24 percent over the first quarter of 2020. U.S. President Joe Biden pledged on Wednesday to go after the "merchants of death" who traffic illegal guns and to boost funding for local law enforcement nationwide."
2020
UPDATE "Ten Things We Now Know About the White Working Class Vote in 2020" [Ruy Teixeira, The Liberal Patriot]. " The shift against Trump among white noncollege voters was almost entirely driven by men. They shifted 7 points against him, while women in this group barely moved at all (.2 points). This is a not a widely-appreciated fact, to say the least." • Since uncredentialed white men are essentially racist and sexist, it's unclear what Biden's appeal can possibly have been.

UPDATE "They Seemed Like Democratic Activists. They Were Secretly Conservative Spies." [New York Times]. "Mr. Maier and Ms. LaRocca were part of an undercover operation by conservatives to infiltrate progressive groups, political campaigns and the offices of Democratic as well as moderate Republican elected officials during the 2020 election cycle, according to interviews and documents. Using large campaign donations and cover stories, the operatives aimed to gather dirt that could sabotage the reputations of people and organizations considered threats to a hard-right agenda advanced by President Donald J. Trump. At the center of the scheme was an unusual cast: a former British spy connected to the security contractor Erik Prince, a wealthy heiress to the Gore-Tex fortune and undercover operatives like Mr. Maier and Ms. LaRocca who used Wyoming as a base to insinuate themselves into the political fabric of this state and at least two others, Colorado and Arizona. In more than two dozen interviews and a review of federal election records, The New York Times reconstructed many of the operatives' interactions in Wyoming and other states — mapping out their associations and likely targets — and spoke to people with whom they discussed details of their spying operation. Publicly available documents in Wyoming also tied Mr. Maier and Ms. LaRocca to an address in Cody used by the former spy, Richard Seddon. What the effort accomplished — and how much information Mr. Seddon's operatives gathered — is unclear. Sometimes, their tactics were bumbling and amateurish. But the operation's use of spycraft to manipulate the politics of several states over years greatly exceeds the tactics of more traditional political dirty tricks operations." • Interesting….
Realignment and Legitimacy
"Pregnant," perhaps, but with more than meaning:

1. The American right's turn against the military (as "woke" and beholden to CRT) is a pretty significant development, not without precedent & very specifically focused on officer class, but still something new & pregnant with meaning. https://t.co/stBcFc1MpV

— Jeet Heer (@HeerJeet) June 25, 2021

Well, when you think about the institutions that lean liberal Democrat, you've got the intelligence community, the national press (assuming those to be separate), the Silicon Valley platforms, and now the officer class in the military. That merger of state and corporations… well, it's a little unsettling, isn't it?
Stats Watch
Manufacturing: "United States Dallas Fed Manufacturing Index" [Trading Economics]. "The Federal Reserve Bank of Dallas' general business activity index for manufacturing in Texas decreased 2.4 points from the previous month to 34.9 in May of 2021. The new orders index came in at 20.8, down from 38.5 in April but more than triple the series average of 6.3. Similarly, the growth rate of orders index came in at 19.5, down from 32.3 but still elevated. The production index, a key measure of state manufacturing conditions, fell 18 points to 15.7, a reading still well above average and indicative of healthy output growth."
Rail: "Rail Week Ending 19 June 2021 – Continued Slowing In Intuitive Sectors" [Econintersect]. "Total rail traffic has two components – carloads and intermodal (containers or trailers on rail cars). This week again both carloads and intermodal continued in expansion year-over-year – with the rate of acceleration of growth slowing. We review this data set to understand the economy. The intuitive sectors (total carloads removing coal, grain, and petroleum) expanded 13.6 % year-over-year for this week. We primarily use rolling averages to analyze the intuitive data due to weekly volatility – and the 4 week rolling year-over-year average for the intuitive sectors slowed from +25.8 % to +20.6 %"
Inflation: "May 2021 Real Income And Expenditures – Inflation Continues To Impact\" [Econintersect]. "The data continues to be affected by the pandemic, comparisons to the recession one year ago, and now inflation. Inflation is now significantly impacting growth." But: "The real issue with personal income and expenditures is that it jumps around because of backward revisions – and one cannot take any single month as fixed or gospel. This month's backward revision."
Consumer Sentiment: "United States Consumer Sentiment" [Trading Economics]. "The University of Michigan's consumer sentiment for the US was revised lower to 85.5 in June of 2021 from a preliminary of 86.4 and below market expectations of 87.4. Still, it was the second-highest reading since the start of the pandemic."
* * *
Tech: "WD My Book NAS devices are being remotely wiped clean worldwide" [Bleeping Computer]. "Western Digital My Book NAS owners worldwide found that their devices have been mysteriously factory reset and all of their files deleted. WD My Book is a network-attached storage device that looks like a small vertical book that you can stand on your desk. The WD My Book Live app allows owners to access their files and manage their devices remotely, even if the NAS is behind a firewall or router. Today, WD My Book owners worldwide suddenly found that all of their files were mysteriously deleted, and they could no longer log into the device via a browser or an app. When they attempted to log in via the Web dashboard, the device stated that they had an 'Invalid password.' 'I have a WD My Book live connected to my home LAN and worked fine for years. I have just found that somehow all the data on it is gone today, while the directories seems there but empty. Previously the 2T volume was almost full but now it shows full capacity,' a WD My Book owner reported on the Western Digital Community Forums. … Unlike QNAP devices, which are commonly connected to the Internet and exposed to attacks such as the QLocker Ransomware, the Western Digital My Book devices are stored behind a firewall and communicate through the My Book Live cloud servers to provide remote access…. It is believed that a threat actor performed a mass scan of the Internet for vulnerable devices and used this vulnerability to issue the factory-reset command." • Yikes. I'm not five years old, so I haven't connected my Western Digital My Books to the Internet — and I hope you, readers, haven't either — but I do connect the laptop to which the drives are connected to the Internet. Hopefully that's not a problem (and I was, luckily perhaps, on the road with my hard drives packed away when this went down). If I had lost years of photography I would have been grief-stricken, so thanks WD.
The Bezzle: "Squire Patton Boggs' restructuring chief named Purdue Pharma bankruptcy examiner" [Reuters]. "A government lawyer has selected the head of Squire Patton Boggs' global restructuring practice to investigate the independence of a special committee that struck a deal with the Sackler family members who own the OxyContin maker Purdue Pharma LP. The U.S. Department of Justice's bankruptcy watchdog, the U.S. Trustee, selected Squire's Stephen Lerner for the role, according to court papers filed on Thursday. The appointment comes a week after U.S. Bankruptcy Judge Robert Drain in White Plains, New York said he would allow an examiner to explore whether the special committee of Purdue's board was influenced at all by the Sackler family members in reaching a settlement that protects them against opioid-related litigation. The judge said during a contentious court hearing on June 16 that he did not know of any evidence to suggest the deal was negotiated unfairly but would bring in an examiner anyway out of fear of misleading press reports."
Tech: "Google Delays Phaseout of Advertising Cookies Until 2023" [Bloomberg]. "Alphabet Inc.'s Google will eliminate advertising cookies in its Chrome internet browser by "late 2023," the company said, pushing out a timeline that the $378 billion digital advertising industry is watching closely. Google first pledged in 2020 to remove third-party cookies within two years, barring the software trackers that let marketers use browsing data from other websites. The company then began trials of software tools to replace cookies with a solution that allows ad targeting without identifying individual consumers or letting prices for online ads crater. The tools have received a lukewarm reception from some media and marketing companies. 'While there's considerable progress with this initiative, it's become clear that more time is needed across the ecosystem to get this right,' Vinay Goel, a Chrome engineering director, wrote in a blog post on Thursday." • Ecosystem.
Tech: "Eight Tips to Google Like a Pro" [News Literacy Project]. "This infographic features hyperlinked example searches that demonstrate exactly how your results will look when you apply these eight tips… 2. Limit your results to news from standards-based sources." • "Standards-based sources" is good. I wonder if it will propagate.
* * *
Today's Fear & Greed Index: 44 Fear (previous close: 39 Fear) [CNN]. One week ago: 30 (Fear). (0 is Extreme Fear; 100 is Extreme Greed). Last updated Jun 25 at 12:21pm. No longer stuck in neutral!
Health Care
UPDATE Google butchers aerosols: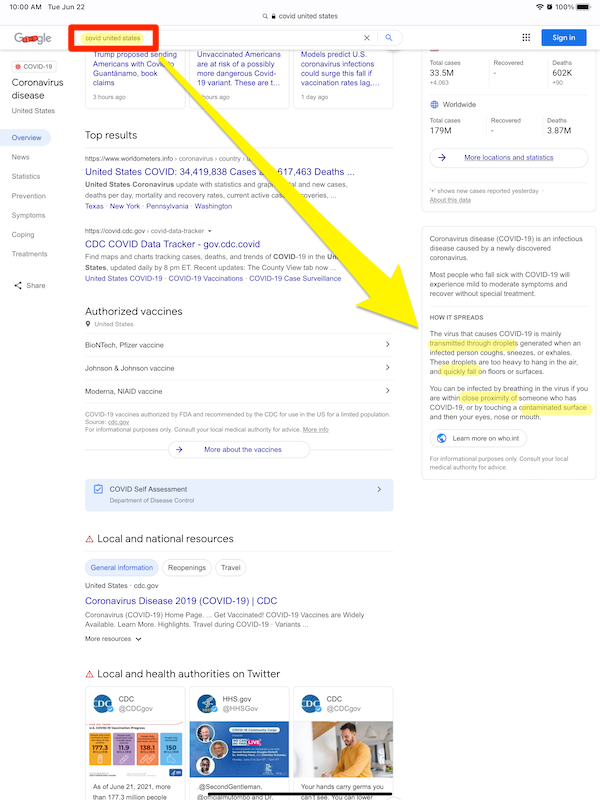 Two points: (1) Aerosols fill a room, like cigarette smoke. That's how superspreading events happen: When one highly infectious person fills the room with virus. That's why "close proximity" thinking is wrong. (2) There is not one single study showing fomite transmission. This is, I assume, misinformation. And hopefully not disinformation.
UPDATE "The mRNA Vaccines Are Extraordinary, but Novavax Is Even Better" [Hilda Bastian, The Atlantic]. "But the fascination with the newest, shiniest options obscured some basic facts. These two particular mRNA vaccines may have been the first to get results from Phase 3 clinical trials, but that's because of superior trial management, not secret vaccine sauce. For now, they are harder and more expensive to manufacture and distribute than traditional types of vaccines, and their side effects are more common and more severe. The latest Novavax data confirm that it's possible to achieve the same efficacy against COVID-19 with a more familiar technology that more people may be inclined to trust."
UPDATE "Nearly all COVID deaths in US are now among unvaccinated" [Associated Press]. "The stories of unvaccinated people dying may convince some people they should get the shots, but young adults — the group least likely to be vaccinated — may be motivated more by a desire to protect their loved ones, said David Michaels, an epidemiologist at George Washington University's school of public health in the nation's capital. , Michaels said." • Gawd forbid we should ever think about the workplace.
The Biosphere
"Lipid exchanges drove the evolution of mutualism during plant terrestrialization" [Science]. The tweet is better than the Abstract:
The production of lipids in early plants enticed fungi to engage in crucial mutualism; this symbiosis allowed the first plants to colonize land 450 million years ago, a new study finds.

🔎 #ScienceResearch: https://t.co/RCT8tWMHjV
➡ #SciencePerspective: https://t.co/S8J7tXpQRF pic.twitter.com/N3wFl2tQWD

— Science Magazine (@ScienceMagazine) June 20, 2021
"Breakthrough study shows defining traits are forged the moment we're born" [Frontiers] (original). " Our results show that connectivity in these functional brain networks varies across infants and maps onto individual differences in behavioral temperament. Specifically, connectivity in the fronto-parietal network was positively associated with regulation and orienting behaviors, whereas connectivity in the default mode network showed the opposite effect on these behaviors. Our analysis also revealed a significant positive association between the homologous-interhemispheric network and infants' negative affect. The current results suggest that variability in long-range intra-hemispheric and cross-hemispheric functional connectivity between frontal, parietal, and temporal cortex is associated with individual differences in affect and behavior. These findings shed new light on the brain origins of individual differences in early-emerging behavioral traits and thus represent a viable novel approach for investigating developmental trajectories in typical and atypical neurodevelopment." • No doubt can be connected to epigenetics, i.e. to class.
"Dirty secrets: sediment DNA reveals a 300,000-year timeline of ancient and modern humans living in Siberia" [The Conversation]. "We found Denisovans were present at the cave, on and off, from 250,000 years ago until 60,000 years ago. And they were the only humans at the site between 250,000 and 200,000 years ago, so we can now say with more confidence they likely produced the stone tools recovered from these layers. Denisovan fossils and ancient DNA have been found at only one other site, on the edge of the Tibetan Plateau. Meanwhile, Neanderthals first appeared at Denisova Cave about 200,000 years ago, with a variety of DNA that was previously unknown. They vanished from the site about 40,000 years ago, around the same time Neanderthals disappeared in other parts of Eurasia. Importantly, we could only find traces of Neanderthal DNA in sediments dated to between 130,000 and 80,000 years ago at Denisova Cave — and none of Denisovans. This time interval coincides with a major change in Earth's climate: the start of the last interglacial. This was a relatively warm period similar to the present. It marked a switch from one type of Denisovan DNA before 130,000 years ago to another after 80,000 years ago." • And speaking of sediments, this extraordinary article–
"The Day the Dinosaurs Died" [The New Yorker] (works in Safari reader. From 2019, still germane, well worth a read). Extremely dramatic and almost impossible to extact. The meteor that destroyed the dinosaurs hits, then fast forward a geological epoch (or two?): "At the bottom of the deposit, in a mixture of heavy gravel and tektites, DePalma identified the broken teeth and bones, including hatchling remains, of almost every dinosaur group known from Hell Creek, as well as pterosaur remains, which had previously been found only in layers far below the KT boundary. He found, intact, an unhatched egg containing an embryo—a fossil of immense research value. The egg and the other remains suggested that dinosaurs and major reptiles were probably not staggering into extinction on that fateful day. In one fell swoop, DePalma may have solved the three-metre problem and filled in the gap in the fossil record." • Well worth a read. As a bonus, a strong Florida Man flavor.
"Tiny Fossils From Alaska Reveal Dinosaur Life in the Arctic" [New York Times]. "Deposits of baby dinosaur bones and teeth in northern Alaska, reported Thursday in Current Biology, suggest that a number of species survived year-round above the Arctic Circle — enduring freezing temperatures, food shortages and four straight months of darkness, as well as the occasional snowstorm. The first polar dinosaur footprints were found in 1960, stomped into the Svalbard archipelago. Over the following decades, evidence of dinosaurs at both Arctic and Antarctic latitudes emerged. This led to curiosity about how they managed — especially in the northern regions, which, while warmer than they are today, still turned into frozen landscapes of perpetual night during winters. 'How the heck did they do that?' said Patrick Druckenmiller, a paleontologist at the University of Alaska Museum of the North who worked on the new study. Perhaps the dinosaurs were snowbirds, spending summers up there before migrating south, he said. 'Or did they somehow tough it out? Or do something crazy, like hibernation?'"
"Take this stream and shove it" [Water Quality Monitoring and Research]. "I know some will hate this paragraph, but I think it needs to be said. Over the past 20 years, the ag establishment and the watershed's farmers have made a mockery of efforts to improve the drinking water source serving 1/6th of Iowa's people, and Iowa's appointed and elected leaders, including supreme court justices, have for the most part endorsed this. Supported by Iowa's economic and political establishment, the larger body of the watershed's farmers have no intention of trying to reduce nutrient pollution, and this has always been so. I've seen firsthand on many occasions the hostility to change, and this was before both lawsuits. I'm not stating this as a casual observer." • Great blog. Anybody who follows Iowa politics should read it.
Lay in a good supply of MERV-13 filters so you can build your box fans against the smoke:
Just four years after emerging from a punishing multi-year drought, California has descended into dry conditions not seen since 1976-77. Evidence of the new drought stands out in satellite images of the state's two largest reservoirs [read more: https://t.co/EcXxk7xGZP] pic.twitter.com/VGvu5mhq1V

— Rainmaker1973Climate (@Rainmaker1973c) June 18, 2021
"So you want to acknowledge the land?" [High Country News]. "Land acknowledgments rarely mention the fact that when Indigenous people were removed from their ancestral land, they were forced to abandon sacred ceremonial sites. These sites were, and still are, pillaged and ruined by colonial settlers. Personal collections of "artifacts" amassed from looting sacred sites in Arkansas and Oklahoma eventually wound up in the University of Arkansas Museum Collection. The Native American Graves Protection and Repatriation Act, passed by Congress in 1990, required that some items be returned to the tribes' descendants, but many remain stored in the museum's collection. Indigenous students can attend the university without ever even knowing about the beautiful art and cultural heritage created by their ancestors and currently shelved behind closed doors. Museum staff have started working to improve outreach to Native American students, and I'm hopeful that new and lasting partnerships can raise awareness about local Indigenous history and begin to heal the injustice done to First Peoples. However, as long as the narratives remain in the hands of academia, stripped of cultural significance and deprived of an accurate historical narrative, the collection simply contributes to the institution's continued erasure of the original residents and their descendants, in a kind of cultural genocide. Tribal governments should be empowered to research, care for and share their own cultural objects at the University of Arkansas and elsewhere."
Games
Fully analog:
The Swapper ($2.24) – featuring entirely handmade (as in, sculpted) graphics, this is an atmospheric, moody puzzler where you must use a device that clones yourself – and kills clones on your whim – to plumb the mysteries of an abandoned space station. https://t.co/nb8vZAJ7DU pic.twitter.com/8f3yai3MX5

— Colin Spacetwinks (@spacetwinks) June 25, 2021
No wonder @bombsfall retweets Gumby screens:
— gumby screens (@GumbyScreens) June 25, 2021
Zeitgeist Watch
More on the Britney Spears conservatorship lawsuit:
Ingham has been getting $10,000 PER WEEK for the Spears matter going to back to 2008. According to this email he wrote, neither Ingham *nor the court* retains any record of his initial appointment approving this level of fees in March 2008. pic.twitter.com/dJIAT5L3I7

— southpaw (@nycsouthpaw) June 23, 2021
Nice work if you can get it!
"Into The Unprecedented" [Caitlin Johnstone]. "'Look at her, just staring at her phone like a zombie,' the middle-aged woman said in a loud stage whisper which was clearly intended to be heard. 'She's sitting in an art museum, right in front of a genuine Monet, and she's staring at her phone,' said her husband, not even bothering to whisper…. 'You do get that I'm not actually 'staring at my phone', right? Like, you know I'm having actual conversations and engaging with people and taking in information, don't you? Do you understand that there's information on this screen that I'm actively interacting with? This isn't a TV, I'm not just passively staring at it.'" • Fair. Now, if she'd been taking a selfie….
"Greek priest charged over acid attack on 7 senior bishops" [Associated Press]. "'The suspect … is a psychiatric patient who is taking strong medication,' his lawyer Andreas Theodoropoulos said. 'He did not fully comprehend the consequences of his action … but was responding to a perceived injustice.'" • I can believe it, but I'm also glad the suspect wasn't on an airplane….
Imperial Collapse Watch
Is climate collapse imperial collapse?
"Collapsed Miami condo had been sinking into Earth as early as the 1990s, researchers say" [Yahoo News]. "A Florida high-rise that collapsed early Thursday was determined to be on unstable land a year ago, according to a researcher at Florida International University. The building, which was constructed in 1981, has been sinking at an alarming rate since the 1990s, according to a study in 2020 by Shimon Wdowinski, a professor in the Department of Earth and Environment. When Wdowinski saw the news that the Champlain Towers South condominium in Surfside collapsed, he instantly remembered it from the study, he said. 'I looked at it this morning and said, 'Oh my god.' We did detect that,' he said. Wdowinski said his research is not meant to suggest certainty about what caused the collapse. The building was sinking at a rate of about 2 millimeters a year in the 1990s and could have slowed or accelerated in the time since, he said. In his experience, even the level of sinking observed in the 1990s typically results in impacts to buildings and their structures, Wdowinski said. He said that very well could have been the case for the Champlain building in the 1990s, based on his findings. 'It was a byproduct of analyzing the data. We saw this building had some kind of unusual movement,' Wdowinski said." • Hard to believe that Florida real estate developers would sell condos in a building with unstable foundations, but stranger things have happened.
Guillotine Watch
I've always had a soft spot for Felix Salmon:
Yet another interview/profile of Larry Summers where the word "Epstein" never appears and where he's never asked how many times he visited Epstein's private island. I'm genuinely fascinated by how he's *so* good at avoiding that question. https://t.co/xItFzoIgED

— Felix Salmon (@felixsalmon) June 25, 2021
Class Warfare
"Video Games Are a Labor Disaster" [The New Republic]. "In an industry worth $150 billion, mass layoffs and untenable working conditions are surprisingly common, though rarely examined. Most of the video game press is aimed at either the consumer or the investor, and most outlets concern themselves with how a game plays, or how much it sold. Instead, by looking at the labor of video games, Schreier sets out to answer one of the industry's weirdest mysteries: Why is making video games, something an entire industry of highly paid, intelligent people has been doing for decades, so difficult?… Making big-budget video games takes an enormous amount of highly specialized labor. It is possible for one person to make a game, and even for that game to be a hit, but the biggest, most profitable games released each year are nearly always made by enormous teams of people, working directly or indirectly for those publishers. Because these games are so complex, they are often quite unfinished or bug-ridden very close to their scheduled release dates. Video games are constantly delayed, but they cannot be delayed forever, especially if a large corporation's earnings report depends on selling a lot of a heavily marketed video game. So many studios enter a period of grueling overwork and mandatory overtime. The practice is so common in the industry that it is simply known as 'crunch.' A few years ago, one major studio founder actually bragged about enduring 100-hour workweeks in the period leading up to a major new game's release. Reporting from Schreier and others calling attention to the exploitative nature of "crunch" led many studios to announce new policies banning the practice, but they are self-policing, and crunch in some cases simply may be outsourced to smaller studios, often overseas, away from the prying eyes of American reporters. After the game is released comes the other problem: Now there is a studio full of expensive video game developers who are no longer developing a video game. (This is one reason why so many publishers develop franchises with annual or semiannual releases, like professional sports titles or war games with dependably high-selling new installments released almost every year.) This can lead to mass layoffs." • Worth noting that @bombsfall, staff for Fern and Sid, is a game developer, but in a co-op. Fern and Sid:
One year ago today these two weirdos came home with us. pic.twitter.com/8KVufHhsHH

— Sun Destroyer 999 (@bombsfall) June 21, 2021
The Kitten Thread was one of the bright spots of the pandemic year.
UPDATE "Effect of the covid-19 pandemic in 2020 on life expectancy across populations in the USA and other high income countries: simulations of provisional mortality data" [British Medical Journal]. "Results Between 2010 and 2018, the gap in life expectancy between the US and the peer country average increased from 1.88 years (78.66 v 80.54 years, respectively) to 3.05 years (78.74 v 81.78 years). Between 2018 and 2020, life expectancy in the US decreased by 1.87 years (to 76.87 years), 8.5 times the average decrease in peer countries (0.22 years), widening the gap to 4.69 years. Life expectancy in the US decreased disproportionately among racial and ethnic minority groups between 2018 and 2020, declining by 3.88, 3.25, and 1.36 years in Hispanic, non-Hispanic Black, and non-Hispanic White populations, respectively. In Hispanic and non-Hispanic Black populations, reductions in life expectancy were 18 and 15 times the average in peer countries, respectively. Progress since 2010 in reducing the gap in life expectancy in the US between Black and White people was erased in 2018-20; life expectancy in Black men reached its lowest level since 1998 (67.73 years), and the longstanding Hispanic life expectancy advantage almost disappeared. Conclusions The US had a much larger decrease in life expectancy between 2018 and 2020 than other high income nations, with pronounced losses among the Hispanic and non-Hispanic Black populations. A longstanding and widening US health disadvantage, high death rates in 2020, and continued inequitable effects on racial and ethnic minority groups are likely the products of longstanding policy choices and systemic racism."
UPDATE "Study finds big drop in US life expectancy, especially for Blacks, Hispanics" [The Hill].
"When Lenin Returned" [The Atlantic]. • From 1954, still germane. Great Man theory of history. Nevertheless, if anybody, including the Conservative outrage machine, thinks that the Squad, or any politician with national visibility today, is anything like Lenin, for good or ill, they should read this. (Of course "national visibility" is doing a lot of work; if there were a Lenin, we probably wouldn't be hearing about, well, them.)
News of the Wired
Fight it out among yourselves:
Kentucky named the Kindest state in America pic.twitter.com/UewXtRHsw5

— Matt Jones (@KySportsRadio) June 23, 2021
* * *
Readers, feel free to contact me at lambert [UNDERSCORE] strether [DOT] corrente [AT] yahoo [DOT] com, with (a) links, and even better (b) sources I should curate regularly, (c) how to send me a check if you are allergic to PayPal, and (d) to find out how to send me images of plants. Vegetables are fine! Fungi and coral are deemed to be honorary plants! If you want your handle to appear as a credit, please place it at the start of your mail in parentheses: (thus). Otherwise, I will anonymize by using your initials. See the previous Water Cooler (with plant) here. Today's plant (TH):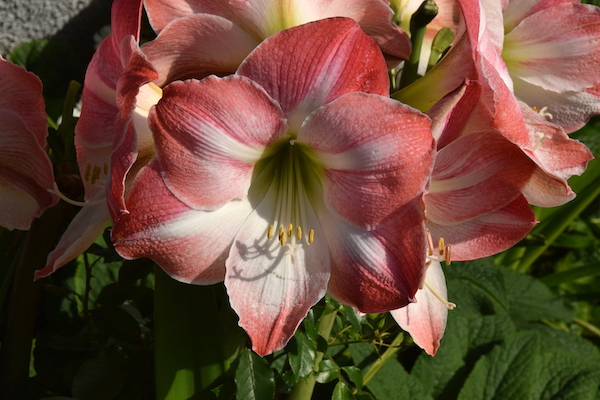 TH writes: "This fabulously large Easter Lily was potted on one of our Naples Island walks (Los Alamitos Bay–Long Beach, California)."
* * *
Readers: Water Cooler is a standalone entity not covered by the recently concluded and — thank you! — successful annual NC fundraiser. So if you see a link you especially like, or an item you wouldn't see anywhere else, please do not hesitate to express your appreciation in tangible form. Remember, a tip jar is for tipping! Regular positive feedback both makes me feel good and lets me know I'm on the right track with coverage. When I get no donations for five or ten days I get worried. More tangibly, a constant trickle of donations helps me with expenses, and I factor in that trickle when setting fundraising goals:
Here is the screen that will appear, which I have helpfully annotated.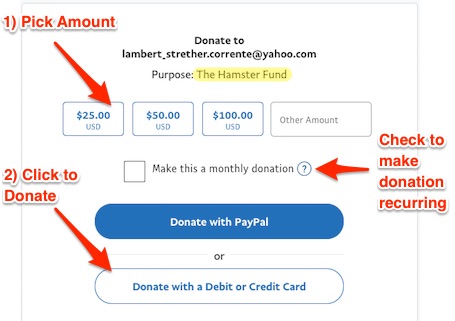 If you hate PayPal, you can email me at lambert [UNDERSCORE] strether [DOT] corrente [AT] yahoo [DOT] com, and I will give you directions on how to send a check. Thank you!2:00PM Water Cooler 6/8/2021