By Lambert Strether of Corrente.
Bird Song of the Day
Our final honey-eater. Robert J. Lurtsema would have liked this one.
(In case readers don't know, if you click on the link that's the name of the bird, in this case "Yellow Wattlebird," you get a lot of additional information, including photos and a range map from eBird. The Macauley Library really is a treasure trove.)
* * *
#COVID19
At reader request, I've added this daily chart from 91-DIVOC. The data is the Johns Hopkins CSSE data. Here is the site.
I feel I'm engaging in a macabre form of tape-watching. All the charts are becoming dull — approaching nominal, if you accept the "new normal" of cases, for example.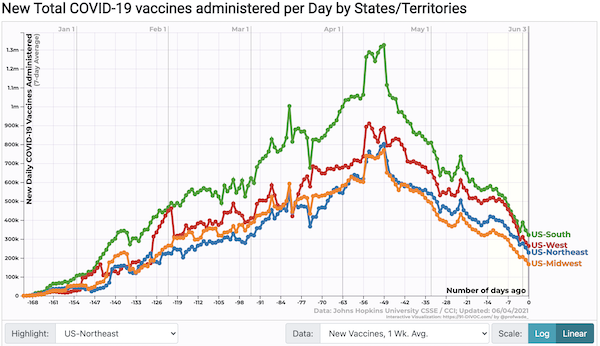 Well, scraping the bottom of those diminishing returns. Nevertheless…
Case count by United States regions: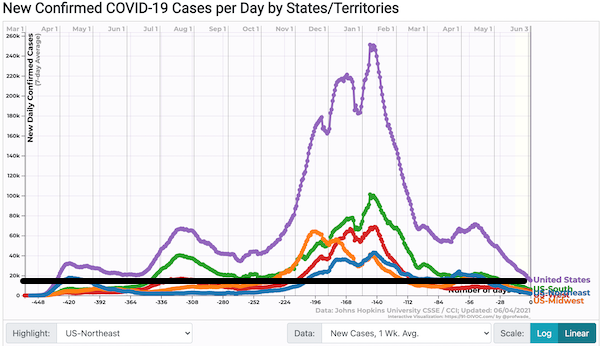 Continued good news. As the black line shows, we are now well below the first peak.
Big states (New York, Florida, Texas, California):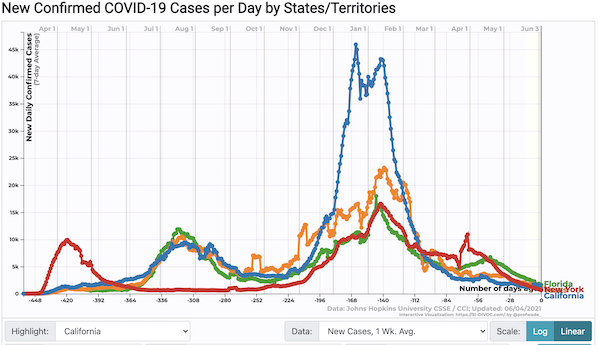 Continued good news.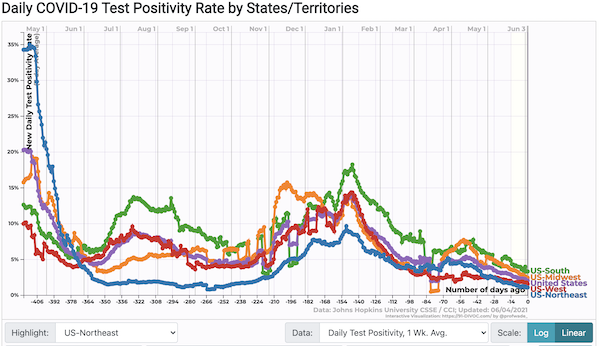 Continued good news.
Hospitalization (CDC):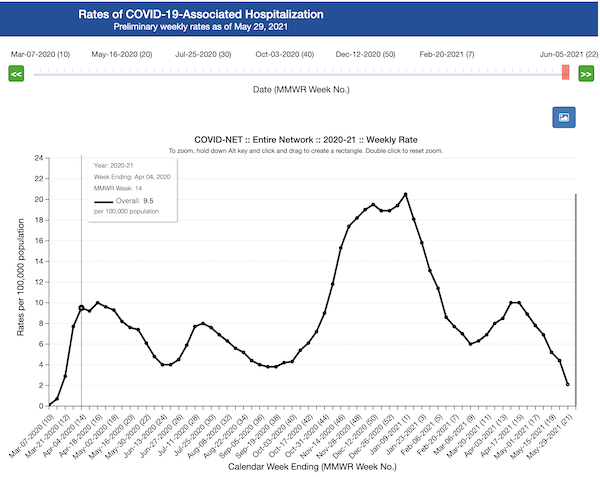 Continued good news.
Deaths (Our World in Data):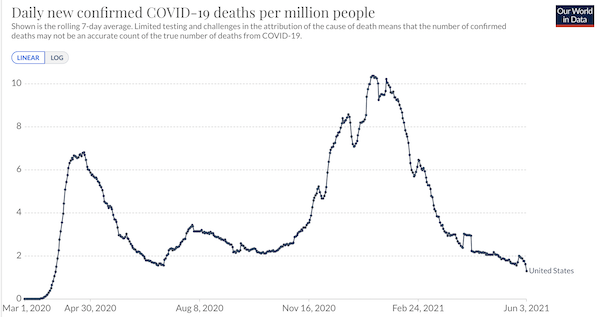 Continued good news.
Covid cases worldwide: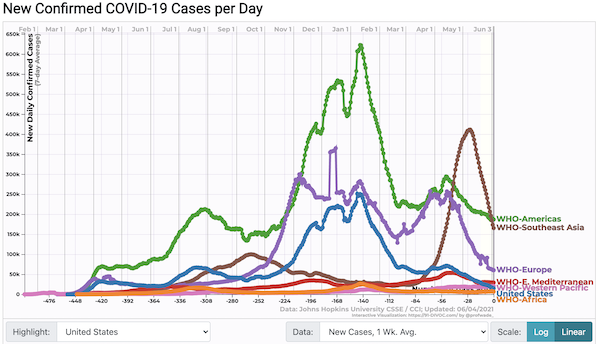 India, assuming one trusts the numbers, falls well below Latin America. Given that Miami is the capital of Latin America, that's a region worth watching.
* * *
Politics
"But what is government itself, but the greatest of all reflections on human nature?" –James Madison, Federalist 51
"They had one weapon left and both knew it: treachery." –Frank Herbert, Dune
"They had learned nothing, and forgotten nothing." –Charles Maurice de Talleyrand-Périgord
Biden Administration
"Parliamentarian changes Senate calculus for Biden agenda" [The Hill]. "The Senate parliamentarian's ruling allowing Democrats to sidestep a GOP filibuster only one more time in 2021 is forcing Democratic lawmakers to rethink how they can advance President Biden's agenda. Democratic aides now say the $2.3 trillion infrastructure package will have to be even bigger since they have just one more opportunity before the 2022 election year to go it alone on major legislation. 'The bottom line is the next one is going to be bigger because you can't divide it up,' said a Senate Democratic aide, referring to the remaining reconciliation package. Democrats aren't counting on passing another reconciliation package after April 1, 2022 — which they are entitled to do under the Senate rules — because it will be just months away from the crucial midterm elections and the political dynamic could be much different by then. 'Everybody's a different person in an election year,' the aide said. Senate Majority Leader Charles Schumer (D-N.Y.) thought as recently as April that he might be able to pass two more reconciliation bills this year — after the Senate used its first reconciliation vehicle to pass the $1.9 trillion American Rescue Plan in March. Parliamentarian Elizabeth MacDonough indicated to Schumer's staff in April that they would be able to create multiple reconciliation vehicles this year. But in a more extensive ruling circulated in recent days, MacDonough clarified [lol] that reconciliation vehicles beyond the remaining one for 2021 would first require majority approval on the Senate Budget Committee, which is evenly split at 11 votes a piece for Democrats and Republicans." • More auto-kinbaku-bi. Who would have known that the deepest desire of liberal Democrats would be to tie themselves up and render themselves helpless? Come on. You know you want to…..

"Pay-fors" another example of auto-kinbaku-bi:

This this this.

Beneath the surface of this "Manchin insisting on bipartisanship to the detriment of everyone" narrative is the reality: probably closer to 20% of Senate Dems don't aren't willing to accept the revenue policies required to "fully pay for" a bigger bill. https://t.co/Cf7pRSdbZx

— Rohan Grey (@rohangrey) June 4, 2021

We can't! We're helpless!

"Biden Narrows Infrastructure Request, but Hurdles Remain for Bipartisan Deal" [New York Times]. "The president has now cut more than $1 trillion from his initial $2.3 trillion infrastructure proposal, while Republicans have added less than $100 billion in new spending to their first offer, which contained about $200 billion in new spending by many estimates. Mr. Biden said this week that for now he would exclude several of his proposed tax increases, including raising the corporate income tax rate to 28 percent." • Winning strategy for the mid-terms, totally.

UPDATE "Climate progressives launch first action against Biden amid growing frustration" [The Hill]. "The Sunrise Movement's relationship with the Biden administration may soon be on ice. The progressive climate coalition is gearing up to stage a protest outside the White House on Friday in an attempt to persuade President Biden to rethink his bipartisan negotiation strategy with Republicans over their infrastructure plans…. 'I was invited to the Biden-Sanders Unity Taskforce to help Biden craft policy that was in line with what is necessary to meet the crises facing our nation,' [Varshini Prakash, the Sunrise Movement's executive director] said in a statement. 'Biden moved towards us, promising us a future, and in exchange, we worked tirelessly to get him elected. We held up our side of the deal, but now that Biden is in power, that promise of co-governance with progressives and young people has disappeared.' 'He's spent more of his time meeting with a Republican Party who to this day contests he is the democratically elected president,' Prakash added." • I don't think "co-governance with progressives and young people" — a pretty incoherent formulation, if you think about it — was ever going to happen. Surely Prakash didn't believe this?
Republican Funhouse
"What Rebekah Jones saw behind the scenes at the Florida Department of Health" [Miami Herald]. "While maintaining that Jones was fired for 'insubordination' and not out of retaliation for what the complaint describes as Jones' refusal to be part of a 'misleading and politically driven narrative that ignored the data and science,' documents filed by the health department confirm two of the core aspects laid out in Jones' complaint. Sworn affidavits from DOH leaders acknowledge Jones' often-denied claim that she was told to remove data from public access after questions from the Miami Herald. And a position statement filed by DOH challenges the centerpiece of DeSantis' pandemic victory narrative: that his strategy to reopen the state was created in a 'very measured, thoughtful and data-driven way.' In other words, it would be safe. The governor's step-by-step reopening plan was published with a cover letter claiming the plan put 'public health-driven data at the forefront' and boasting 'benchmarks' the document claimed were identified by the Florida Department of Health based on criteria from the White House. But those claims were contradicted in a DOH position statement filed Aug. 17, stating that while Jones and a team of DOH epidemiologists had been tapped 'to develop new data for a reopening plan' employing key metrics from the White House, their findings were never incorporated into the recommendations to DeSantis. Deputy Secretary of Health Shamarial Roberson denied the department made any recommendations on the reopening plan at all. 'An external task force was created by the Executive Office of the Governor to make recommendations to the Governor on reopening, as that was not a function of FDOH,' wrote Roberson. The subsequent reopening was followed by a five-fold surge in COVID-19 cases in Florida last July and some of the single-highest daily case totals across the nation."
Trump Legacy
"Facebook says Donald Trump to remain banned for two years, effective from Jan. 7" [CNBC]. "Facebook on Friday announced that it may allow former President Donald Trump's Facebook and Instagram accounts to be reinstated in January 2023. At that time, the social media company will reevaluate whether the risk to public safety of allowing Trump back onto its services has receded. This two-year suspension will prevent Trump from using Facebook or Instagram to broadcast to his followers until after the 2022 U.S. mid-term elections." • Hmm. I wonder how much we'll hear about breaking up Facebook from here on in.
Realignment and Legitimacy
"COVID-19 Has Forever Destroyed Americans' Trust in Ruling Class 'Experts'" [Newsweek]. "The trials and tribulations of COVID-19 in America have dealt an irreparable blow to the credibility of America's ruling class and the ruling class's implicit appeal to its authority as a coterie of highly trained and capable experts. No single person exemplifies this more than Dr. Anthony Fauci, who has attained celebrity status during the pandemic as the nation's leading immunologist and forward-facing spokesman for our public policy response…. There was never any compelling reason to dismiss the lab leak theory out of hand, and in retrospect, it seems that those who did so were likely motivated more by 'orange man bad!'-style anti-Trump personal animus than anything else. The Biden administration has recently called for a 90-day intelligence community review into the origins of the pandemic, which is welcome news for those of us who have called COVID-19 a "Chinese Chernobyl" demanding serious geopolitical accountability since day one—but sad news for those who may have presumed a modicum of intellectual honesty from our political elites." • The writer is from something called the Edmund Burke Institute. The difficulty here is that liberal Democrats are notoriously unable to engage in self-reflection, and so their base, the PMC, has no political mechanism to collectively rectify error. (For example, where are the Congressional hearings on how the CDC butchered the test kits?) Worse, tribalism — I'm still not sure that's the right word, because tribes have social structures; perhaps cultism? — infects everything. For example, suppose Trump, after the conversation with Xi reported by Woodward, had said: "My good friend President Xi has said that Covid is airborne, and I agree. Everybody mask up!" Liberal Democrats would have gone nuts, the aerosol thought collective never would have gotten traction, and we'd be doing hygiene theatre still. Nevertheless, we do have trustworthy experts; it's important that we do. Unfortunately, separating the trustworthy expert from the untrustworthy expert does not seem to be a function of government, or indeed of politics. I don't know what to do about this. Musical interlude…

UPDATE "Down With Institutionalists" [The Atlantic]. "When Democrats tout bipartisanship as a kind of moral duty, they're setting an impossible standard for themselves and giving cover to Republicans' bad-faith refusal to cooperate and govern." • More auto-kinbaku-bi…

UPDATE "Congress Takes Field Trip To Goldman Sachs To Learn How Laws Get Made" [The Onion]. • Pitch perfect, as usual.
Stats Watch
Employment Situation: "May 2021 BLS Jobs Situation – Job Gains Good But On The Low Side Of Expectations" [Econintersect]. "The headline seasonally adjusted BLS job growth was on the low side of expectations, with the unemployment rate worsening from 6.1 % to 5.8 %. Although this is a good report, analysts expected better."
Manufacturing: "United States Factory Orders" [Trading Economics]. "Factory orders in the US shrank 0.6 percent month-over-month in April of 2021, the first decline in 12 months and more than market forecasts of a 0.2 percent fall. transportation equipment recorded the biggest decrease (-6.6 percent), namely ships and boats (-62.8 percent), defense aircraft and parts (-8.5 percent) and motor vehicles (-1.8 percent). Orders for electrical equipment, appliances and components were also down (-0.7 percent). Excluding transportation, factory orders increased 0.5 percent."
Rail: "Rail Week Ending 29 May 2021 – May Rail Movements Up 28% Year-over-Year" [Econintersect]. "We are now seeing great rail growth as the data is being compared to the coronavirus lockdown period last year."
* * *
Shipping: "Congestion Grows in China's Yantian Port due to COVID-19 Outbreak" [Maritime Executive]. "The container shipping industry and global supply chain from China are facing a fresh challenge due to a disruption at Yantian and the neighboring Shekou ports in southern China near Hong Kong. The province is facing increased restrictions, which are impacting port operations at one of China's busiest export terminals, due to newly reported cases on COVID-19. The increased measures began in late May after cases of the COVID-19 virus were diagnosed among workers within the port. Chinese and port officials implemented stringent restrictions and disinfection routines and this week it appeared that the situation might be improving. Port officials said export would resume from the terminals, although with continuing restrictions. All the major container shipping companies in recent days have warned customers of disruptions to the flow of containers through the port. Estimates are that there are more than 20,000 TEU now backlogged in the port, with some sources saying as many as 50 or 60 ships are now anchored out. It is sparking scenes of the congestion that built up in southern California in January and February and which the ports of Los Angeles and Long Beach are just now catching up." • Handy map:
Containerships are gathering in the Daya Bay and Wanshan Archipelago areas, according to @LLIntelligence data, as major Chinese ports in the region, such as Shekou and Nansha, are being clogged by a shift of traffic from Yantianhttps://t.co/3jueIIx3qG

— Lloyd's List Editorial (@LLEditorial) June 4, 2021
The Bezzle: "Ex-SEC internet enforcement chief says crypto investors are 'enabling' ransomware attacks" [CNBC]. "Investors in bitcoin and other digital currencies are empowering online hackers, the founder of the Securities and Exchange Commission's internet enforcement office warned Thursday. 'Ransomware is hitting everywhere and they're all collecting it in bitcoin because there's no way they're going to get caught. So you're also enabling it,' John Reed Stark, now head of an eponymous cybersecurity consultancy, told CNBC's 'Squawk on the Street.' Stark said cryptocurrencies have almost no practical use, likening trading in them to the speculation that recently carried AMC Entertainment and other meme stocks to incredible heights. Cryptocurrencies also lack registration and other requirements that bring more transparency to U.S. capital markets, he added."
Tech: "Twitter begins rolling out subscription product to undo tweets, customize app" [Reuters]. "Twitter Inc. on Thursday said it will roll out a new subscription product initially in Australia and Canada called Twitter Blue, which will let paying users edit their tweets before posting and change the color theme of their app." • At last, the Edit button! But you have to pay… Although, to be fair, anything that moves away from "You are the product" is good. More: "The service will cost $2.99 per month in the United States according to app details in Apple's App Store."
Manufacturing: "United Airlines' Supersonic Jet Is a Bad Idea" [The New Republic]. "United Airlines announced this week that it will purchase at least 15 supersonic Overture jets, at $200 million a pop, from a startup called Boom, which—having yet to put a single one of its fast new planes in the sky—aims to start ferrying loads of up to 88 business-class passengers between major cities by the end of the decade." And why? "Essentially, because some very rich people (read: Boom's investors) think it would be cool. And they have more cash than ever to throw at shiny new toys. Who, after all, urgently needs to get from Newark to London in three and a half hours, if not a fabulously wealthy investment banker or pharmaceutical executive? Who can pay the roughly $6,000 per ticket needed to do so?" • On the bright side, supersonic air travel will mean we can spread pandemics faster than ever!
Manufacturing: "Nissan Delays Release of Flagship Electric Car Amid Chip Crunch" [Bloomberg]. "Nissan Motor Co. is pushing back the release of its flagship Ariya electric vehicle, highlighting the struggle automakers everywhere are facing in trying to launch new cars amid a persisting shortage of semiconductors…. The struggle to roll out new models amid a global shortage of automotive chips is one that automakers worldwide are facing. But the need for a smooth roll-out of the Ariya is particularly acute for Nissan. Analysts have highlighted the model as key to the Japanese car company's performance going forward, and Nissan itself touts the model as its flagship vehicle, embodying its decades-long reputation for churning out high-tech autos. Nissan is counting on the 12 new models it plans to release in the 18 months through November to boost sales."
Manufacturing: "Why Intel and TSMC are building water-dependent chip factories in one of the driest U.S. states" [CNBC]. "TSMC and Intel, two of the biggest heavyweights in the chip industry, have chosen to expand in Arizona for several other reasons, according to the analysts. sIntel has had a presence in Arizona for over 40 years and the state is home to a well-established semiconductor ecosystem. Other major chip companies with a presence in Arizona include On Semiconductor, NXP and Microchip. As Intel has increased its presence in Arizona, the local universities have 'established a strong reputation for semiconductor design courses and research providing a highly-skilled work force for the local semi industry,' [Alan Priestley, vice president analyst at tech research firm Gartner] said. This has helped create an ecosystem of companies to supply the products and services necessary to manufacture chips."" • Apparently, fabs recycle a lot of their water, and Arizona made deals for the rest.
The Labor Market: Interesting chart:
Labor force flow data show we are in a steady pattern of unemployed workers being able to land jobs. The early exits last Spring reflected the large share of temporary layoffs. The flat trend shows there is nothing related to UI benefit supplement changes. #JobsReport #JobsDay pic.twitter.com/td9awvdRfb

— William E. Spriggs (@WSpriggs) June 4, 2021
* * *
Today's Fear & Greed Index: 48 Neutral (previous close: 46 Neutral) [CNN]. One week ago: 38 (Fear). (0 is Extreme Fear; 100 is Extreme Greed). Last updated Jun 4 at 1:13pm.
The Biosphere
"Is 1.5 Degrees Still Possible?" [David Wallace-Wells, New York Magazine]. "Last week, the first 17-year cicadas began to emerge from a band of earth draped like a sash across the middle of the country, including D.C., Tennessee, and Ohio. Since the last time we saw these bugs, in 2004, about a third of all of the carbon emissions ever produced in the history of humanity have been pumped into the atmosphere — which means the climate crisis is about one third bigger, and one third more urgent, than it was the last time we were reflecting on the surreality of glimpsing planetary history in 17-year intervals, separated by 16 years of darkness. The next time we see cicadas, in 2038, the next act of the climate crisis will have been largely written — sealing not just the fate of the Paris agreement's optimistic 1.5-degree goal but possibly its 2-degree target as well. Whether we avoid those levels of warming — the two-degree threshold has been called 'catastrophic' by scientists, 'genocide' by island nations, and 'death to our continent' by African climate diplomats — will be determined by the pace of global decarbonization undertaken during the life cycle of a single generation of insects."
Our Famously Free Press
"Introducing "Activism, Uncensored": A Collaboration With News2Share" [Matt Taibbi, TK News]. "TK has decided to team up with News2Share for a new regular feature called 'Activism Uncensored,' which will attempt to give context to mainstream coverage of public protests and demonstrations big and small. Oftentimes shooters like [Ford]. Fischer know activist groups better than most, because they've had to follow them over periods of time, and learn to distinguish between monolithic national organizations and more idiosyncratic groups that may all march under one name, but vary wildly from chapter to chapter, region to region. In this first installment, about a joint action of armed "BLM 757" and Boogaloo activists in Virginia Beach, we see an example of groups depicted as adversaries who in fact were acting in cooperation. Typically Ford lets his footage speak for itself, but in this series (he plans to be in the Midwest next), we're asking him to add whatever history he knows about the scenes in question, including how they might have been covered, mis-covered, under-covered, and so on. In an effort to avoid simple storylines, the people interviewed will get to speak a little longer, the scenes will roll a little longer, and we'll try to give you a broader picture, rather than just a piece." • This is really good, and I like that Taibbi (like Sirota) is moving closer to starting a news-gathering organization, instead of being a single reporter/pundit (however fine). It will be good to hear more about what's happening, out there in the biomass of this vast country.
The Agony Column
Life among the PMC:
Instead of purging or keeping friends, think about how much time and emotional energy you invest in them. Here's how psychologists and other experts suggest you arrange your "friendscape." https://t.co/7BCe1qnc3U

— The New York Times (@nytimes) June 1, 2021
"Psychologists, sociologists and evolutionary anthropologists say it behooves us to take a more curatorial approach when it comes to our friends because who you hang out with determines who you are." • In essence, your friends need to show ROI. The difficulty with the PMC's position, existentially, is that they want to be capitalists, but they have no capital. And so we have social forms of servants that ape the calculations of the masters, but are empty of content.
"Why Is It So Hard to Return to Normal?" [Molly Jong-Fast, Vogue]. "And then there's the question of people still being cautious—especially those who worked on the front lines, and not just in medical fields. A study from the University of California found the highest mortality among 'cooks, line workers in warehouses, agricultural workers, bakers and construction laborers.' The Brookings foundation points out that, 'low-income and minority populations face a higher risk of dying from COVID-19 due to structural conditions, health inequities, and a higher prevalence of preexisting health conditions such as heart disease, asthma, and diabetes.' Now we're wondering why these people aren't more enthusiastic about going back to the same jobs that nearly killed them?" • "We." "These people."
Guillotine Watch
"Opioid Billionaires Demand Sweeping Immunity" [Walker Bragman, Andrew Perez, and David Sirota, Daily Poster]. "The billionaires that made their fortune off opioids are asking a federal court to grant sweeping legal immunity to their family and to more than 1,000 parties linked to the family and the scandal, including one of their companies peddling opioids across the globe, according to new court records reviewed by The Daily Poster. If the court blesses the requested releases — and if Congress does not quickly pass pending legislation to halt such immunity — government officials would be prevented from bringing opioid-related lawsuits against not only Sackler family members and their businesses, but also against the Sacklers' army of lawyers, family trusts, foundations, investors, film companies, and even other pharmaceutical companies that manufacture and sell opioids. The immunity request was filed by lawyers for Purdue Pharma on Wednesday as part of a larger disclosure in the opioid giant's ongoing bankruptcy proceedings. Members of the Sackler family are seeking the liability shields in exchange for contributing more than $4 billion to a bankruptcy settlement." • Well, the Sacklers seem to have reached the Bargaining stage. Perhaps we can help them move toward Acceptance?
Class Warfare
"On Police Reform, the AFL-CIO Has a Lot of Catching Up to Do" [Alex Press, Jacobin]. "The cornerstone proposal is the Union Law Enforcement Accountability and Duty Standards (U-LEADS) program. This is a program 'developed, owned and instituted by the union' — the police union — to 'empower local union members to speak up and take action if fellow members are violating their professional oath or abusing their power,' with the aim of helping the union 'weed out wrong-doers from union membership.' In short, 'codes of excellence,' as the AFL-CIO's Shuler suggested last year. How U-LEADS will overcome the infamous and well-established 'blue wall of silence' inside police departments is not clear; the report offers few details. There is little basis to presume that police departments would stick to such codes, or even do the minimum of merely saying they agree with them. Cops routinely get infuriated when anyone in organized labor — or outside of it for that matter — raises even the gentlest criticism of policing." • Those dang bad apples!
"Biden Says He Backs a Just Transition for the Climate Crisis. Advocates Say, 'Prove It.'" [In These Times]. "On January 27, one week after taking office, Biden signed an executive order establishing an interagency working group focused on addressing the economic needs of ​'coal, oil, gas, and power plant communities.' The group, co-chaired by National Economic Council director Brian Deese and National Climate Adviser Gina McCarthy, is a collaboration between 12 federal agencies including the labor, interior, treasury and energy departments. In late April the working group published an initial report identifying 25 of the most impacted regions for coal-related declines, and highlighted existing federal programs that could provide nearly $38 billion in funding for relief. The report noted that ​"creating good-paying union jobs in Energy Communities is necessary but not sufficient" and stressed that ​"foundational infrastructure investments" including broadband, water systems, roads, hospitals and other institutions would be necessary to economically revitalize these areas. The group also noted that a just transition would require prioritizing pollution mitigation and environmental remediation, like plugging leaking oil and gas wells and reclaiming abandoned mine land. These objectives hold the potential not only for job creation but also achieving environmental justice priorities. Next steps from the working group include organizing town halls with senior Biden administration officials in affected communities like those in Appalachia, the Northern Rocky Mountain region, the Illinois Basin, and the Mid-Continental Gulf Coast, and establishing a centralized mechanism for distributing federal resources." • I'd like to know what jaded observers like the Trillbillies (coal) think of this. My guess: Not much.
News of the Wired
"AI still sucks at moderating hate speech" [MIT Technology Review]. "The study authors, led by scientists from the University of Oxford and the Alan Turing Institute, interviewed employees across 16 nonprofits who work on online hate. The team used these interviews to create a taxonomy of 18 different types of hate speech, focusing on English and text-based hate speech only, including derogatory speech, slurs, and threatening language. They also identified 11 non-hateful scenarios that commonly trip up AI moderators, including the use of profanity in innocuous statements, slurs that have been reclaimed by the targeted community, and denouncements of hate that quote or reference the original hate speech (known as counter speech). For each of the 29 different categories, they hand-crafted dozens of examples and used 'template' sentences like 'I hate [IDENTITY]' or 'You are just a [SLUR] to me' to generate the same sets of examples for seven protected groups—identities that are legally protected from discrimination under US law. They open-sourced the final data set called HateCheck, which contains nearly 4,000 total examples." • So far as I can tell — expert readers will correct me — there is nothing new about this technology at all. We've tried conceptualizing language as template-driven, and it just isn't, because — get this — language permits an infinite number of sentences to be formed. Hey, I'm just asking questions….
* * *
Readers, feel free to contact me at lambert [UNDERSCORE] strether [DOT] corrente [AT] yahoo [DOT] com, with (a) links, and even better (b) sources I should curate regularly, (c) how to send me a check if you are allergic to PayPal, and (d) to find out how to send me images of plants. Vegetables are fine! Fungi and coral are deemed to be honorary plants! If you want your handle to appear as a credit, please place it at the start of your mail in parentheses: (thus). Otherwise, I will anonymize by using your initials. See the previous Water Cooler (with plant) here. Today's plant (WS):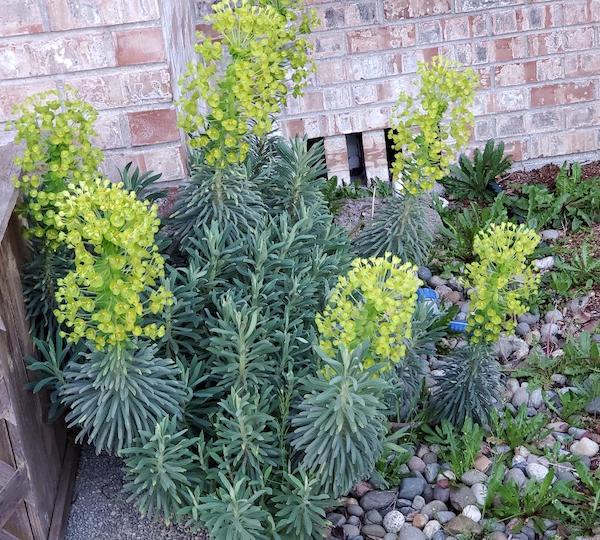 WS writes: "I am not sure what these are, but I think they are funny!" I've had them, I don't know what they are either. They are a benevolent invasive…
* * *
Readers: Water Cooler is a standalone entity not covered by the recently concluded and — thank you! — successful annual NC fundraiser. So if you see a link you especially like, or an item you wouldn't see anywhere else, please do not hesitate to express your appreciation in tangible form. Remember, a tip jar is for tipping! Regular positive feedback both makes me feel good and lets me know I'm on the right track with coverage. When I get no donations for five or ten days I get worried. More tangibly, a constant trickle of donations helps me with expenses, and I factor in that trickle when setting fundraising goals:
Here is the screen that will appear, which I have helpfully annotated.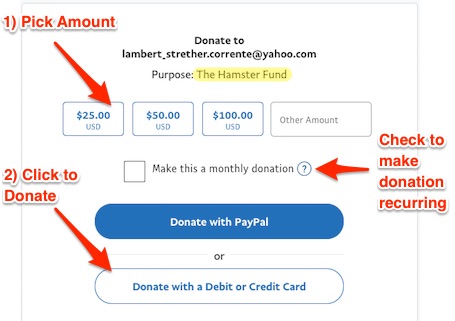 If you hate PayPal, you can email me at lambert [UNDERSCORE] strether [DOT] corrente [AT] yahoo [DOT] com, and I will give you directions on how to send a check. Thank you!