2:00PM Water Cooler 5/28/2021
By Lambert Strether of Corrente.
Bird Song of the Day~
Short but very pretty!
* * *
#COVID19
At reader request, I've added this daily chart from 91-DIVOC. The data is the Johns Hopkins CSSE data. Here is the site.
I feel I'm engaging in a macabre form of tape-watching. All the charts are becoming dull — approaching nominal, if you accept the "new normal" of cases, for example.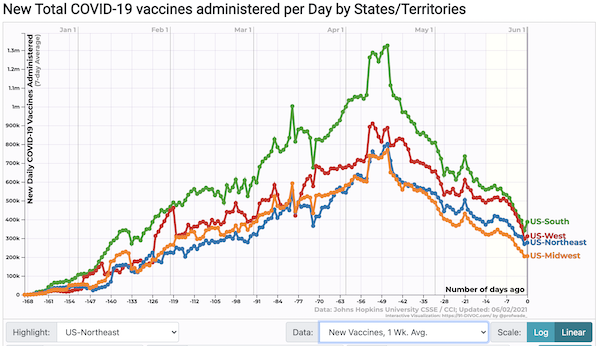 Well, scraping the bottom of those diminishing returns. Nevertheless…
"Biden to recruit 1,000 Black-owned barbershops, salons to help the vaccination effort: Latest COVID-19 updates" [USA Today]. "President Joe Biden unveiled plans Wednesday to recruit 1,000 Black-owned barbershops and salons to provide "Shots at the Shop" and promote the nationwide vaccination effort. The administration is teaming up with the Black Coalition Against COVID, the University of Maryland Center for Health Equity and SheaMoisture to engage Black-owned barbershops and beauty salons across the country to support local vaccine education and outreach efforts." • This is a good idea. I just wonder what it would be like to live in a country that could have a national and universal vaccination program, instead of a series of improvised campaigns for identity verticals, with backhanders to the relevant NGOs. (In other words, Biden conceives of the vaccination effort as a classic Democrat GOTV program. That also means we'll dismantle everything when the campaign is over, thereby learning nothing.)
"West Virginia to give away guns as vaccine incentive" [The Hill]. • America is back!
Case count by United States regions: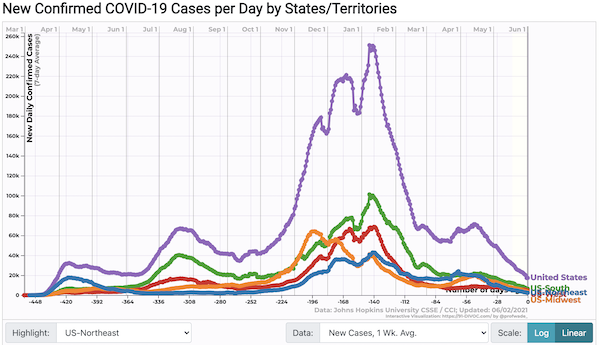 Continued good news, even a little dip in the cases
Big states (New York, Florida, Texas, California):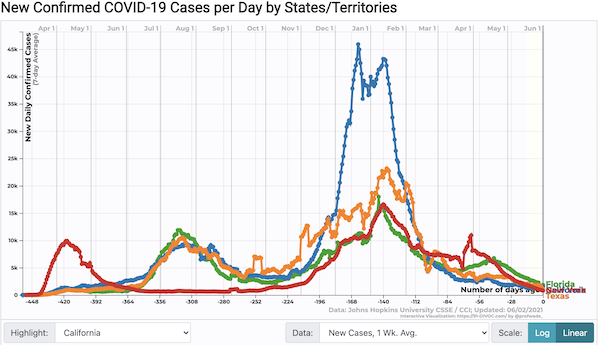 Continued good news.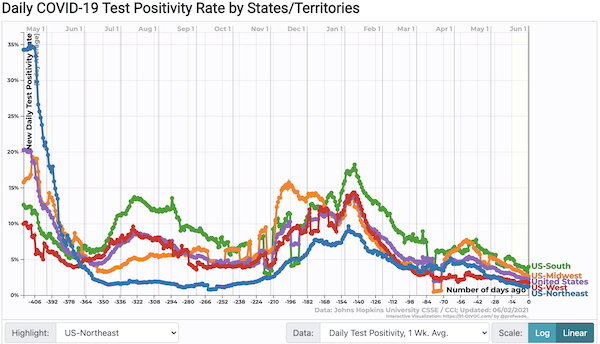 More good news.
Hospitalization (CDC):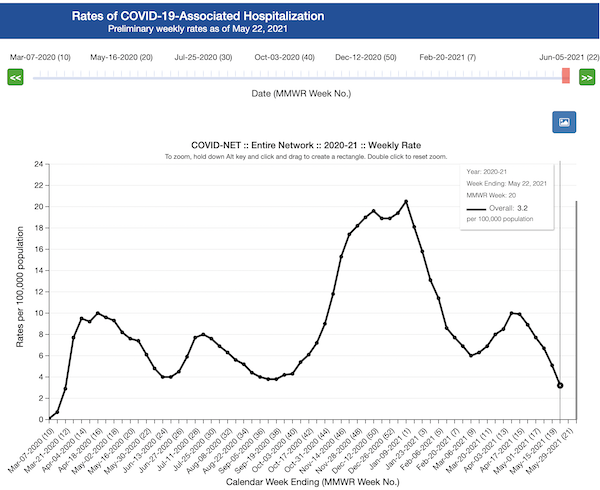 More good news.
Deaths (Our World in Data):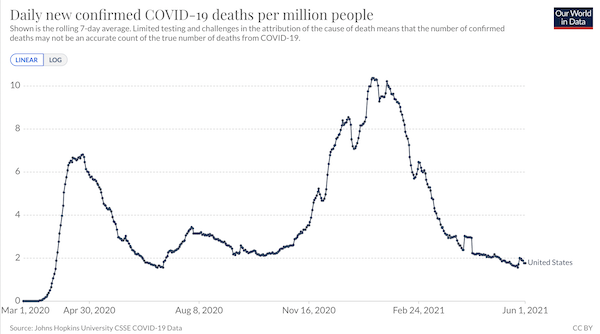 More good news.
Covid cases worldwide: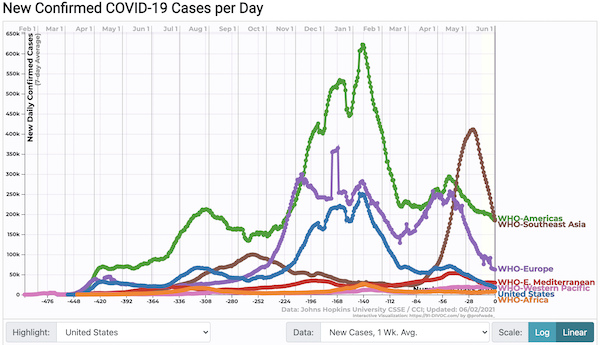 Given that Miami is the capital of Latin America, that's a region worth watching.
* * *
Politics
"But what is government itself, but the greatest of all reflections on human nature?" –James Madison, Federalist 51
"They had one weapon left and both knew it: treachery." –Frank Herbert, Dune
"They had learned nothing, and forgotten nothing." –Charles Maurice de Talleyrand-Périgord
Capitol Seizure
"Pelosi rules out having Biden create Jan. 6 commission" [Associated Press]. "[T]he speaker said she believed a commission appointed by Biden — an idea pitched by some in her caucus after Friday's Senate vote — was 'not a workable idea in this circumstance' because Congress would still need to approve money and subpoena authority for the panel." Oh well, can't do anything then. And then there's this: "Pelosi's comments come as members of both parties have pushed for a deep dive into the insurrection, which was designed to interrupt the presidential electoral count and was the worst attack on Congress in two centuries. " • I don't know where this "two centuries" thing came from. The Caning of Sumner was arguably worse, since it involved one legislator assaulting another. And Puerto Rican nationalists opened fire on the House floor in 1954, wounding five Representatives. We have the memory of goldish.

UPDATE "Defense for some Capitol rioters: election misinformation" [Associated Press]. "Falsehoods about the election helped bring insurrectionists [sic] to the Capitol on Jan. 6, and now some who are facing criminal charges for their actions during the riot hope their gullibility might save them or at least engender some sympathy…. At least one of those charged plans to make misinformation a key part of his defense. Albert Watkins, the St. Louis attorney representing Jacob Chansley, the so-called QAnon shaman, likened the process to brainwashing, or falling into the clutches of a cult. Repeated exposure to falsehood and incendiary rhetoric, Watkins said, ultimately overwhelmed his client's ability to discern reality. 'He is not crazy,' Watkins said. 'The people who fell in love with (cult leader) Jim Jones and went down to Guyana, they had husbands and wives and lives. And then they drank the Kool-Aid.' Similar legal arguments failed to exonerate Lee Boyd Malvo, who at age 17 joined John Allen Mohammed in a sniper spree that killed 10 people in the Washington, D.C., area in 2002. His lawyers tried to argue that Malvo wasn't responsible for his actions because he had been deluded by the older Mohammed. Attorneys for newspaper heiress Patty Hearst also argued, unsuccessfully, that their client had been brainwashed into participating in a bank robbery after being kidnapped by the radical Symbionese Liberation Army group. 'It's not an argument I've seen win,' said Christopher Slobogin, director of Vanderbilt Law School's Criminal Justice Program, a psychiatry professor and an expert on mental competency." • Hmm.
Biden Administration
"Biden administration suspends oil and gas leases in Arctic National Wildlife Refuge" [WaPo]. "The Trump administration auctioned off the right to drill in the refuge's coastal plain — home to hundreds of thousands of migrating caribou and waterfowl as well as the southern Beaufort Sea's remaining polar bears — just two weeks before President Biden was inaugurated. Now the Biden administration is taking steps to block those leases, citing problems with the environmental review process. In Tuesday's Interior Department order, Secretary Deb Haaland said that a review of the Trump administration's leasing program in the wildlife refuge found 'multiple legal deficiencies' including 'insufficient analysis' required by environmental laws and a failure to assess other alternatives. Haaland's order calls for a temporary moratorium on all activities related to those leases in order to conduct "a new, comprehensive analysis of the potential environmental impacts of the oil and gas program.'" • Ha ha, pro-Biden article not paywalled. What a coincidence. Still, this is a good thing! Leave it in the ground.

Whiner-in-Chief:

Biden: "I hear all the folks on TV saying why doesn't Biden get this done? Well because Biden only has a majority of effectively four votes in the House and a tie in the Senate, with two members of the Senate who vote more with my Republican friends."

— Kathryn Watson (@kathrynw5) June 1, 2021

This is the Democrat Party that the Democrat leadership carefully built. And here we are!

UPDATE "Biden privately tells lawmakers not to expect much on reparations legislation" [Politico]. "As a candidate, Biden said he supported a commission on reparations. But the administration has yet to endorse the actual bill. After his speech Tuesday, the president met with the members of the Congressional Black Caucus, who brought up the need for H.R. 40, which is named after the '40 acres and a mule' promise that now symbolizes the lack of support formerly enslaved people received from the federal government. According to those involved in the conversations, Biden let them down gently…. 'I personally would have liked to hear the word reparations. I think that he was very strategic in the words that he used. He used the word repair,' said Nehemiah Frank, a descendant and founder of The Black Wall Street Times in Tulsa. 'If you want to pull the people together, you can't fully help Black people. That's how I feel about it. If you want to make Black folks happy, you're going to piss a lot of Americans off.'"

UPDATE "Biden taps Harris to lead administration's voting rights efforts" [CBS News]. • So that's not going anywhere either?

UPDATE "Is Brett Kavanaugh Out For Revenge?" [The Atlantic]. "Kavanaugh's confirmation cemented a conservative majority on the Court that got even stronger last year when he was joined by Amy Coney Barrett. Kavanaugh now sits at the Court's ideological center—illustrating how far to the right the center has shifted. Any judicial victory that liberals hope to achieve in the coming years will likely require winning over the justice whose nomination they fought most ferociously to defeat." • Good job. And gawd forbid liberal Democrats should have fought on ideology. Kavanaugh is, after all, credentialled.

UPDATE "Justice Breyer's new warning for Democrats couldn't have come at a worse time" [Vox]. "With respect to the idea of putting additional justices on the Court, Breyer realistically has little to fear from Democrats. Though a handful of Democratic lawmakers did introduce legislation that would add four seats to the Supreme Court and give Democratic appointees a 7-6 majority, the bill landed with a thud in Congress. In April, House Speaker Nancy Pelosi said she had 'no plans' to bring the bill to the floor for a vote. And, while President Joe Biden formed a commission to study Supreme Court reforms, no outspoken proponents of reform were appointed to it." • so, if I have this right, Democrats plan to pack the Supreme Court to disempower the judges they cheerfully waved through when they were nominated to lower courts?
Obama Legacy
"No, Obama Wasn't Mad About Bailing Out His Wall Street Donors" [David Sirota, Daily Poster]. "Obama's comments came in a new interview with the New York Times' Ezra Klein. 'When we came into office, the economy was in a free fall,' the former president said. "We had to scramble and do a bunch of stuff, some of which was inherited, some of which we initiated to stabilize the financial system. People hated it. It's hard to just underscore how much the bank bailouts just angered everyone, including me." • Lol. Obama, to bankers: "My administration is the only thing between you and the pitchforks." Poor Obama!
Realignment and Legitimacy
"Poll Shows Nina Turner with Commanding Lead in OH-11 Congressional Race" [Cleveland Scene]. "Fully 50% of likely Democratic voters in Ohio's District 11 Congressional election support Nina Turner, a new poll has found. The poll clarifies Turner's frontrunner status two months before the Aug. 3 special election for the seat formerly occupied by Marcia Fudge. Shontel Brown, the Chair of the Cuyahoga County Democratic Party, trailed far behind in the poll, with 15% of likely voters saying they would support her. No other candidate topped 4%, with 21% saying they were sill undecided. Turner's commanding leads were for both Black voters and White voters, according to the poll by the Tulchin Group. It was conducted by phone and text message May 20 through May 26." • The DNC seems to be slow in deploying its oppo researchers.

"Was there a Wuhan lab leak? An inquiry won't dig out the truth. It will deepen the deception" [Jonathan Cook]. • An interesting read. If and only if you buy the Watchmaker Hypothesis the gain of function theory — which I do not — then the old adage "follow the money" takes on new force. More: "[T]he WHO appointed Peter Daszak, the president of the EcoHealth Alliance, the very group that reportedly funded gain-of-function research at Wuhan on behalf of the US, to investigate the lab-leak theory and effectively become the WHO's spokesman on the matter. To say that Daszak had a conflict of interest is to massively understate the problem." A conflict like that is, to say the least, not a good look. One wonders what the intelligence community will make of it, when it completes its report.
Stats Watch
There are no official stats of interest today.
* * *
UPDATE Shipping: "Weary Seafarers Come Ashore in U.S. for J&J One-Dose Shots" [Bloomberg]. "Ports around the U.S. are rolling out vaccines for seafarers, extending a lifeline to thousands of mostly foreign workers who've spent the pandemic isolated aboard ships ensuring goods kept trading across a battered global economy. From Boston to Houston and Los Angeles, and even in smaller trade gateways like Gulfport, Mississippi, local health officials and nonprofits are boarding container ships, tankers and other cargo carriers to administer Covid-19 shots or, when possible, shuttling crews to nearby pharmacies and clinics. The preferred vaccine for maritime workers: the one-dose Johnson & Johnson shot because they're often docked for just a day or two." • Maybe I missed it, but this is the only story I can think of that focused vaccination efforts on the workplace.
The Bezzle: "Apple Loses Multiple Top Managers From Self-Driving Car Division" [Bloomberg]. Gee, I wonder why? "Since the project's beginning around 2014, Apple's work on a car has been rebooted several times and has seen multiple management changes. The Cupertino, California-based company initially set out to build a full car to rival Tesla, but pared back its ambitions around 2016 to focus on the underlying self-driving car system. Several months ago, it set out again to build a car, placing a portion of the division's engineers on that effort. If Apple ends up releasing a car, it's unlikely to launch until later this decade at the earliest. The group of departures this year could add additional complexity to the company's ability to make the project a reality. Still, the iPhone maker has been actively recruiting car industry experts to fill out the division's leadership team."
Labor Market: "U.S. labor market worse than it appears, Fed paper suggests" [Reuters]. "U.S. labor market signals are conflicting to an 'unprecedented' degree, but those suggesting labor market slack should be given more weight than those pointing to tightness, according a paper published Monday by the San Francisco Federal Reserve Bank. The paper looked at 26 labor market measures that typically move in tandem and found that during the current recovery they are giving wildly divergent signals about the health of the job market. The job openings rate, for instance, suggests the job market is much tighter than the unemployment rate; the labor force participation rate points to much more slack than detected in the unemployment rate. Because the pandemic has forced so many people out of the workforce, 'negative signals such as the low labor force participation rate provide a better read than do the positive signals,' the researchers argued. 'Overall, our findings reveal that the labor market situation is worse than some headline numbers suggest.' U.S. central bankers are debating how tight the U.S. labor market has become amid widespread reports from employers about hiring difficulties even as the economy still has 8 million fewer people working than before the pandemic."
Supply Chain: "The nation's largest meat processor has been hit with a cyberattack. What does that mean for the food supply chain?" [The Counter]. "JBS USA, a subsidiary of JBS, the largest meat supplier in the world, announced on Monday that it had been hit by an "organized cybersecurity attack" over the holiday weekend. The attack affected servers in North America and Australia, and the company canceled Tuesday shifts at several plants across the country. The attack also halted slaughter operations in Australia. It's not yet clear how the JBS shutdowns and shift cancellations—which have impacted some of the largest pork- and beef-processing plants in the nation—may affect the U.S. meat market. The company controls about 20 percent of the beef sold nationwide. Because the company's operations are so expansive, any disruptions in JBS processing capacity could ripple across the supply chain. On Tuesday, the Department of Agriculture delayed the issuance of its daily beef sales report, citing "packer submission issues.'"
* * *
Today's Fear & Greed Index: 47 Neutral (previous close: 40 Fear) [CNN]. One week ago: 35 (Fear). (0 is Extreme Fear; 100 is Extreme Greed). Last updated Jun 2 at 12:14pm.
Health Care
Fauci on masks in February 2020:
#Fauci says masks aren't needed unless you're sick and notes the #SARS_CoV_2 is so small it passes easily between #mask fibers #Fauciemails pic.twitter.com/8mdPVPho2L

— Philip Holloway 😊 (@PhilHollowayEsq) June 2, 2021
Fauci was wrong on masks being ineffective, as we now know; even "drugstore masks" can reduce risk. What is really curious is Fauci's theory of transmission. He clearly doesn't believe in fomites or droplets, because he seems to envisage free-floating virus penetrating the mask fabric (carefully erasing the fact that N95 masks are from non-woven polypropylene fiber, not "fabric"). That means that Fauci, from the beginning, believed in airborne transmission. However, the virus is not free-floating, as I understand it, but wrapped in tiny gobbets of liquid emitted as respiration. Odd.
Institutional barriers to the aerosol paradigm shift, a thread:
Traditional discussion about transmission routes centers around operational definitions in infection control and prevention in hospitals. There are "airborne" diseases/precautions and "droplet" diseases/precautions. /2

— Linsey Marr (@linseymarr) June 1, 2021
Stoller should file this away, since in addition to being dominant in the field of "infection control," hospitals are also monopolistic.
UPDATE "A Hidden Opportunity — Medicaid's Role in Supporting Equitable Access to Clinical Trials" [NEJM]. "Hidden deep within the $2.3 trillion omnibus spending and relief package passed by Congress in December 2020 lies a little-known but powerful provision intended to promote equitable access to clinical trials. Beginning in January 2022, coverage of the "routine costs" associated with clinical trial participation will be guaranteed for all Medicaid beneficiaries for the first time in the program's history. The absence of federal policy in this area until now has most likely suppressed the representation of low-income and minority populations in the clinical research that underlies therapeutic advances, thereby limiting equitable access to potentially state-of-the-art therapies and compromising the generalizability of research findings." • I suppose this is good. But, sadly, my first thought was "they need more bodies."
The Biosphere
This is a great, great thread on trees:
What if I told you there was a single intervention we could deliver in our cities that would cool them during heatwaves, reduce flooding, scrub pollutants from the air, boost biodiversity, improve public health, and even reduce crime? You wouldn't believe me. But it's true. pic.twitter.com/W1KWm6RHFk

— Jon Burke FRSA (@jonburkeUK) May 28, 2021
Take this to the next town council meeting that involves trees, highway median strips, "planning," etc.
UPDATE World Peat Day:
Tomorrow is world Peat day. Peat lands and bogs sequester billions of tonnes of #CO2 (they hold one quarter of the planet's soil carbon). But when damaged they can do the opposite, emitting CO2 into the air. Keep peat, and help our planet: https://t.co/9k1oZhCZcM

— AirQ (@AirQ007) June 1, 2021
"Tomorrow" in the tweet is today! On peat, see NC here, here, and here.
"Mapping the local cosmic web: Dark matter map reveals hidden bridges between galaxies" [Phys.org]. "A new map of dark matter in the local universe reveals several previously undiscovered filamentary structures connecting galaxies. The map, developed using machine learning by an international team including a Penn State astrophysicist, could enable studies about the nature of dark matter as well as about the history and future of our local universe." • Perhaps each galaxy is a neuron in a giant brain…
"1,000 Arrests Expected Over Enbridge Line 3 Tar Sands Pipeline" [Clean Technica]. "The coming month will be critical for the controversial Enbridge Line 3 tar sands oil pipeline, currently under construction in Northern Minnesota, AP reports. "Due to the urgency of the climate crisis and the fact that Indigenous leaders have not consented to the Line 3 project," organizers from 300 groups warned President Biden in a letter last week, "large-scale non-violent civil disobedience is now being organized for early June along the Line 3 pipeline route." Organizers are calling on Biden to halt the pipeline, and will convene a "Treaty People Gathering" June 5th through 8th. Construction on the project to dramatically increase the amount of oil the pipeline can carry is scheduled to resume soon and Gov. Tim Walz (D) is waiting for a Minnesota Court of Appeals ruling expected by June 21 — the state Department of Commerce, two tribes, and other opponents argue that the company's demand projections failed to meet the legal requirements. The majority of a state environmental justice advisory panel also "collective[ly] and public[ly]" resigned last November after the state Pollution Control Agency approved a key water permit. Like the Keystone XL pipeline Biden canceled on his first day in office, Line 3 would also carry ultra-polluting tar sands oil. The pipeline is owned by Enbridge, which is also defying a Michigan order by continuing to operate its Line 5 pipeline under the environmentally sensitive Straits of Mackinac, risking both environmental disaster and all its profits since May 12."
"Enbridge pipeline showdown looms in Michigan" [Indian Country]. "After winning reaffirmation of treaty rights in federal court during the 1970s and 1980s, Michigan tribes have been actively exerting and protecting their rights to hunt and fish in unpolluted ceded territory as guaranteed by the Treaty of 1836. Now a showdown is looming over Enbridge's continued operation of Line 5 as well as its plans to build a tunnel under the Straits of Mackinac to house a segment of the pipeline. Enbridge officials say they have tried repeatedly to open dialogue with Michigan tribal governments and insist the company supports the United Nations Declaration on the Rights of Indigenous Peoples. 'We always strive to establish good faith engagement processes in line with the concept of free, prior and informed consent,' Enbridge spokesperson Michael Barnes wrote in an email to Indian Country Today. Tribal leaders, however, say otherwise. 'All of the tribal nations here in Michigan know that Enbridge's efforts at consultation are disingenuous,' said Whitney Gravelle, president of the Bay Mills Indian Community. 'When they reach out to us it is only to try to convince us that what Enbridge wants is what the tribes should want; they've never made a good faith effort to listen to tribal nations and ask what we want.'"
"Modern theories of human evolution foreshadowed by Darwin's Descent of Man" [Science]. "Since Darwin, a long series of unbridgeable gaps have been proposed between humans and other animals. They focused on tool-making, cultural learning and imitation, empathy, prosociality and cooperation, planning and foresight, episodic memory, metacognition, and theory of mind. However, new insights from neurobiology, genetics, primatology, and behavioral biology only reinforce Darwin's view that most differences between humans and higher animals are "of degree and not of kind." What makes us different is that our ancestors evolved greatly enhanced abilities for (and reliance on) cooperation, social learning, and cumulative culture—traits emphasized already by Darwin. Cooperation allowed for environmental risk buffering, cost reduction, and the access to new resources and benefits through the "economy of scale." Learning and cumulative culture allowed for the accumulation and rapid spread of beneficial innovations between individuals and groups. The enhanced abilities to learn from and cooperate with others became a universal tool, removing the need to evolve specific biological organs for specific environmental challenges. These human traits likely evolved as a response to increasing high-frequency climate changes on the millennial and submillennial scales during the Pleistocene." • So this round of climate change might make us wise, as opposed to merely clever?
Our Famously Free Press
"The Most Spectacular Corrections From the New York Times' Weddings Column" [Slate]. "The New York Times recently announced it is hiring a weddings editor to cover topics related to 'how we meet, date, marry and separate.' In addition to other requirements, the job description says that the editor needs to be 'highly skilled at hard fact editing.' That might sound a bit odd, but Vows, the much-loved and much-hated Times column about 'How couples got from dating to 'I do,' ' has had to issue some notorious corrections over the years. Many times, the corrections are relatively small: misspelling the name of a restaurant where the couple met, or mixing up the year they began dating, or stating the wrong religious affiliation of the officiant. But sometimes, they are doozies. As the Times' new job description reads, 'If you think that the D.C. bureau or the politics desk deals with people lying to them or hiding facts, wait till you start asking someone about their dating history.'" • The home of RussiaGate, the 1619 Project, and Judy Miller preens itself on its "hard fact checking." But ok: "My second favorite. In an article from 2020, two names—that of the actress who introduced the couple and the wedding officiant—were misspelled. But that's nothing. The column also mentioned that the bride was 'currently starring in her own adaptation of Bram Stoker's 'Dracula,' an Off Broadway production running at the Classic Stage Company, that she described as 'a feminist revenge fantasy." I am from Romania, and I am used to having foreigners immediately mention Dracula upon meeting me. So I laughed when I read the final correction on this one: 'Also, the author of 'Dracula' was incorrect. He is Bram Stoker, not Jane Austen.'"
Police State Watch
""A Horror Movie in Reverse": How I Investigated Decades of Untested Rape Kits" [Pro Publica]. "By then, I had obtained a list of men arrested as a result of Baltimore County's cold-case DNA efforts, and I had started building a database tracking their criminal histories…. Every morning before the soccer games, I sat at a cafe and typed arrestees' names into the Maryland Judiciary case search and recorded their criminal cases in an Excel spreadsheet. I thought it would take a week. It ended up taking months. I was horrified as the pieces came together. The criminal histories were far more extensive than I anticipated. The rape from which Dr. B collected evidence was often the beginning of a long criminal career of other rapes, assaults and even murders. It was like watching a horror movie in reverse. It left me feeling nauseated. After each criminal history search, I would run out my frustration. Could some of these have been prevented? I ran a lot during that time. At the time, academic researchers were publishing their findings from processing tens of thousands of untested rape kits across the county. Their revelations were similarly jolting. They had also found serial rapists and murderers, but on a much greater scale."
Groves of Academe
"Don't Let It End" [The Flying Letter Blog]. "And of course analytic philosophers succumbed to all the same myopic temptations faced by other academic departments. Professors negotiated for higher salaries, lighter teaching loads, bigger research budgets, more graduate assistants and more course releases, all the while pushing more and more teaching and departmental responsibilities on low-paid, low-status contingent faculty, who increasingly made up more and more of the discipline. Eventually analytic philosophy worked itself pure: a cohort of charismatic but somewhat abrasive professors debated arcane topics with one another, isolated from most of the greater academic community, their leisure and keynote travel supported by an ever expanding cast of adjuncts, visiting professors and graduate assistants whose career prospects were vanishing before their eyes. Obviously this equilibrium could not last, as internal and external pressures began to loosen the grip of the old gatekeepers who kept the party going." • Surely not philosophy departments only? And where are the administrators in this picture? (Note the lack of agency in "negotiated for.")
Book Nook
"Malfunctioning Sex Robot" [London Review of Books]. The opening line: "I was hired​ as an assassin. You don't bring in a 37-year-old woman to review John Updike in the year of our Lord 2019 unless you're hoping to see blood on the ceiling." • I was never an Updike reader, for some reason; I'm bad on American literature generally. The review, I think, goes on a little too long…
UPDATE "What forms of art, activism, and literature can speak authentically today?" [Book Forum]. A collection of posts. I liked this one: "I wish that future novelists would reject the pressure to write for the betterment of society. Art is not media. A novel is not an "afternoon special" or fodder for the Twittersphere or material for journalists to make neat generalizations about culture. A novel is not BuzzFeed or NPR or Instagram or even Hollywood. Let's get clear about that. A novel is a literary work of art meant to expand consciousness. We need novels that live in an amoral universe, past the political agenda described on social media. We have imaginations for a reason. Novels like American Psycho and Lolita did not poison culture. Murderous corporations and exploitive industries did. We need characters in novels to be free to range into the dark and wrong. How else will we understand ourselves? —OTTESSA MOSHFEGH."
Class Warfare
"A Worker-Owned Cooperative Tries to Compete With Uber and Lyft" [New York Times]. "The cooperative has recruited around 2,500 drivers so far and intends to take a smaller commission than Uber or Lyft and charge riders a lower fare. It is an ambitious plan to challenge the ride-hailing giants, and it faces the same hurdles that tend to block other emerging players in the industry: Few have the technical prowess, the venture capital dollars or the supply of readily available drivers to subvert an established company like Uber. Still, drivers who joined the effort said even a small cooperative could make a big difference in their work, allowing them to earn more money and have a say in the way the company was run. The Drivers Cooperative said it planned to pay 10 percent above the wage minimums set by the city's Taxi and Limousine Commission, and return profits to drivers in the form of dividends. In normal times, the higher wage might attract drivers to the cooperative. But these are not normal times. Many drivers have been hesitant to return to the road given the pandemic, creating a national shortage."
News of the Wired
"If You See a Dryer Sheet in Your Mailbox, This Is What It Means" [Family Handyman]. "According to Reddit user u/istrx13, it's well-known in the postal world that dryer sheets help keep nasty pests from opening up shop in cozy places like mailboxes. Being stung by a wasp hiding in a mailbox sounds like the worst possible situation! The dryer sheet in your mailbox is used mostly used for preventative measures, though, so if you see a nest forming, do your postal worker a favor and get rid of the wasps ASAP." • Readers, can this possibly be true? Do we have any mail carriers in the readership who can confirm?
* * *
Readers, feel free to contact me at lambert [UNDERSCORE] strether [DOT] corrente [AT] yahoo [DOT] com, with (a) links, and even better (b) sources I should curate regularly, (c) how to send me a check if you are allergic to PayPal, and (d) to find out how to send me images of plants. Vegetables are fine! Fungi and coral are deemed to be honorary plants! If you want your handle to appear as a credit, please place it at the start of your mail in parentheses: (thus). Otherwise, I will anonymize by using your initials. See the previous Water Cooler (with plant) here. Today's plant (Alfred):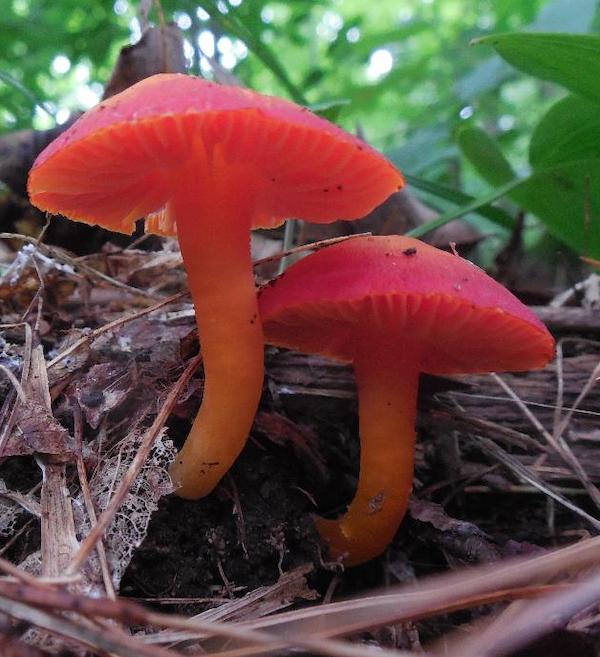 And since I seem not to have run a plant yesterday, here is a second one for today (Carla):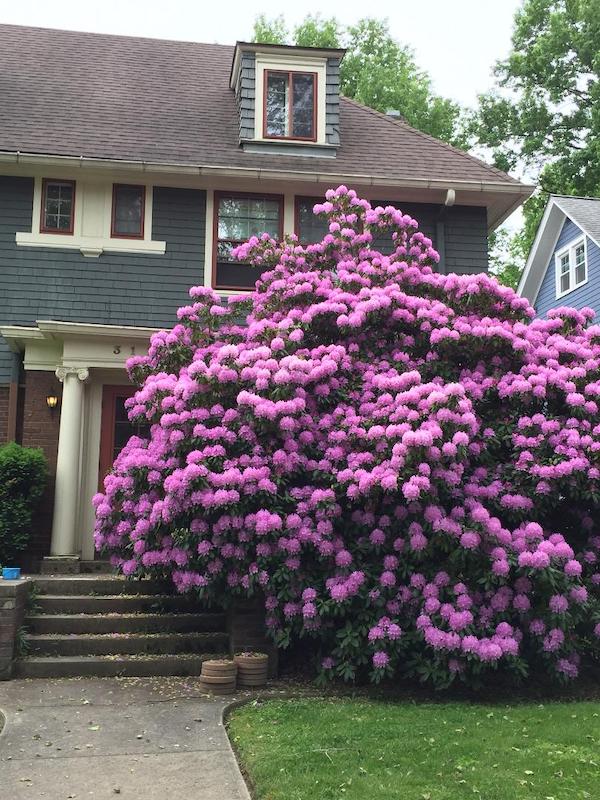 Carla writes: "Rhody swallows NE Ohio century home – May 2021." Feed me!
* * *
Readers: Water Cooler is a standalone entity not covered by the recently concluded and — thank you! — successful annual NC fundraiser. So if you see a link you especially like, or an item you wouldn't see anywhere else, please do not hesitate to express your appreciation in tangible form. Remember, a tip jar is for tipping! Regular positive feedback both makes me feel good and lets me know I'm on the right track with coverage. When I get no donations for five or ten days I get worried. More tangibly, a constant trickle of donations helps me with expenses, and I factor in that trickle when setting fundraising goals:
Here is the screen that will appear, which I have helpfully annotated.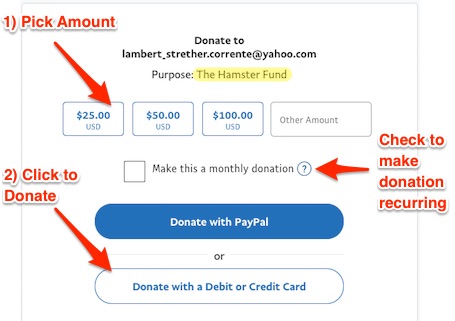 If you hate PayPal, you can email me at lambert [UNDERSCORE] strether [DOT] corrente [AT] yahoo [DOT] com, and I will give you directions on how to send a check. Thank you!