By Lambert Strether of Corrente.
"I have but to close my eyes and I hear your Duke telling me that real estate is always gained and held by violence or the threat of it." –Frank Herbert, Children of Dune
"If you have one hundred dollars, and I have one hundred dollars and a gun, then I have two hundred dollars." –Apocryphal
Michael Heller is a Professor of Real Estate Law at Columbia Law School. James Salzman is a Professor of Environmental Law at UCLA and UCSB. Together, they have written a coruscating book on property: Mine! How the Hidden Rules of Ownership Control Our Lives. Whether "Because markets" is the simple rule by which you lead your life — or, perhaps, even more so if it is not — you will find Mine! a fun and engaging read. (It's odd that earlier today I wrote about a mine, the Warriot Met coal mine, and now I'm writing about what's mine.) It's a great book to read on the airplane, and indeed I read it while traveling. Now, I didn't grab Mine! off the bookstore stack because of Cass Sunstein's blurb — "A fascinating discussion of what ownership is, what it isn't, and what it might be. It's immensely clarifying, beautifully written, and perfectly times–and it might improve the world to boot" — but because when I gave it the random opening test, I found a polished anecdote on shooting down a drone, which — stands athwart history, yelling Stop! — I am here for.
Columbia's public relations department describes the "central idea" of the book:
[The authors] set out to write "Freakonomics [more here] for ownership" to show readers how ownership affects every aspect of their lives, every day. "We swim in ownership rules that are omnipresent and invisible at the same time," says Heller, a preeminent scholar of private law theory. "Ownership is about who gets what and why. The central idea of the book is that what people consider 'mine' is not something fixed or natural. It's always a choice and always up for grabs."
(Indeed. As the Bearded One once observed: "The history of all hitherto existing society is the history of class struggles.") Publisher's Weekly unpacks how, according to the authors, people "consider" what is theirs:
According to Heller and Salzman, there are only six stories that "everyone uses to claim everything." They walk readers through each of these concepts, contending, for example, that foraging laws, copyright regulations, and mineral extraction rights all involve competing ownership principles of labor ("You and you alone deserve to reap what you sow"), possession ("This is mine because I'm holding on to it"), and attachment ("It's mine because it's connected to something that's mine"). By identifying these principles and understanding them as rival stories rather than hard-and-fast rules, voters and lawmakers will be better equipped to deal with issues such as climate change and the social costs of the sharing economy, according to Heller and Salzman.
Indeed, Mine! is a fine example of what the Times dubs "pop law."[1] In this post, I'll start with the six stories (or "maxims," as Heller and Salzman call them. Then I'll look at one of the maxims (dubbed "attachment"), giving examples of it. Finally, I'll look what I think is the central program or agenda of the book: "Ownership design," which is what the authors, were they consultants, would be selling. Because there are too many words for me to type, I will quote great slabs of the book in the form of screen shots. I apologize in advance for their lack of rectilinearity; they were the best I could do with the iPad.
Let's start with those six maxims: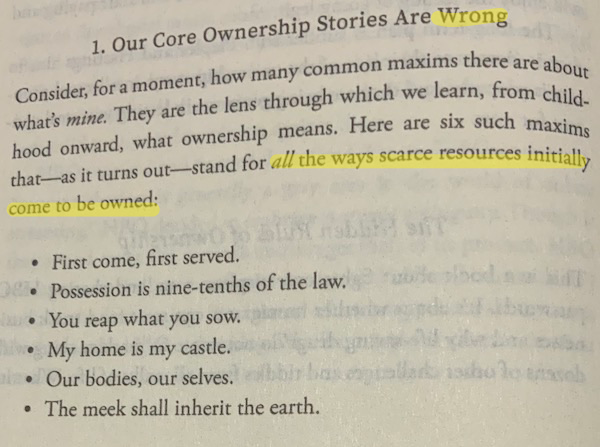 "all the ways scarce resources initially came to be owned" is an expansive claim. It is also false. I don't believe that (Nobelist) Elinor Ostrum's discovery of "common pool resources" can be reduced to these rules, because CPRs permit "Collective-choice arrangements," which are by definition not "mine" but "ours." (Ours! would also be a great title for a pop exposition of a different kind.)
You will have noted the words "Are Wrong" in the heading above the maxims. Here is why those maxims are wrong: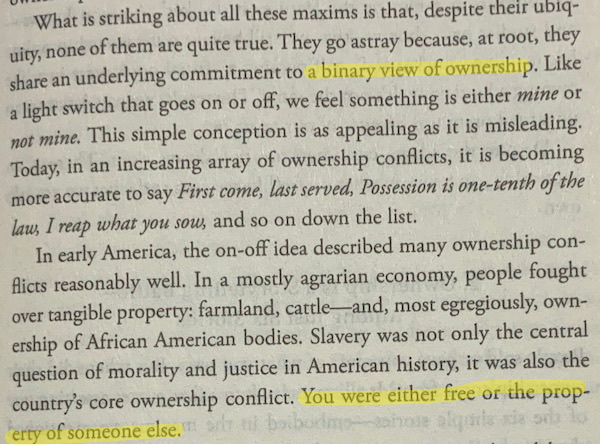 They're wrong, I would say, because they're not supple enough to meet the needs of the present day. Fair enough. (I'll note in passing that perhaps the binaries of the past are not all that: The subjects of the Civil War's Port Royal experiment, for example, having picked cotton for as slaves, had no particular desire to pick cotton as wage slaves, but would have preferred to grow good on their own land for themselves and for sale; I don't know enough about African concepts of land-ownership to know whether they conceived some or all of "their own land" to be held in common.) Nevertheless, the maxims are "right enough" to have a powerful hold on the imagination, as the authors show with many examples.
Let's look at one of the maxims: #4, "My home is my castle," which the authors dub "attachment."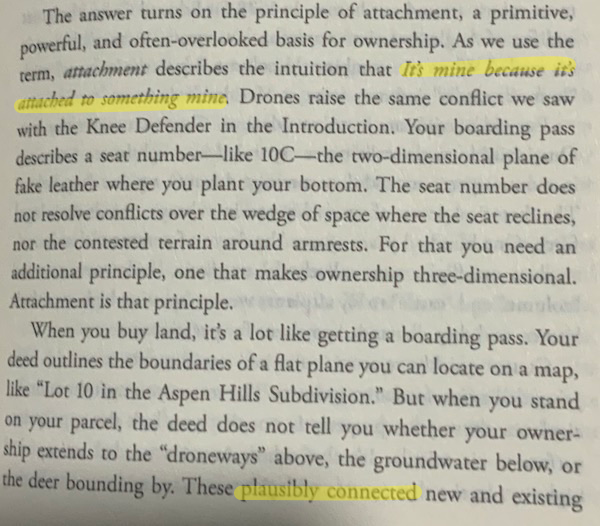 "It's mine because it's attached to something mine." Here is the drone example: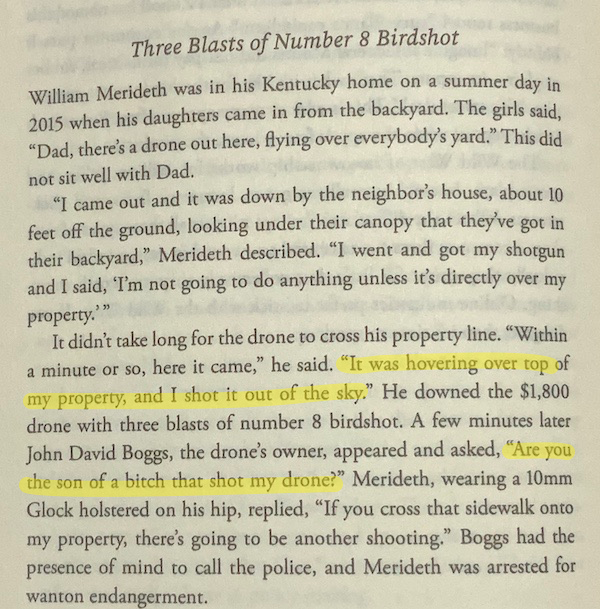 In this case, the hovering drone is conceived of as invading Merideth's "castle," since Merideth mentally attaches his airspace to his house. (There are all sorts of reasons why this property design is "up for grabs," but that's Merideth's concept, as it would be mine if one of those horrid robot dogs crossed my property line; I'd try to trap it, or entangle it, or short it out. Git!
Here is an example of the attachment principle applied, successfully on a larger scale. The setting is New York's wonderful, pristine water supply, dependent on keeping water sources in the Catskills clean and pure. But what happens when developers start encroaching on those sources?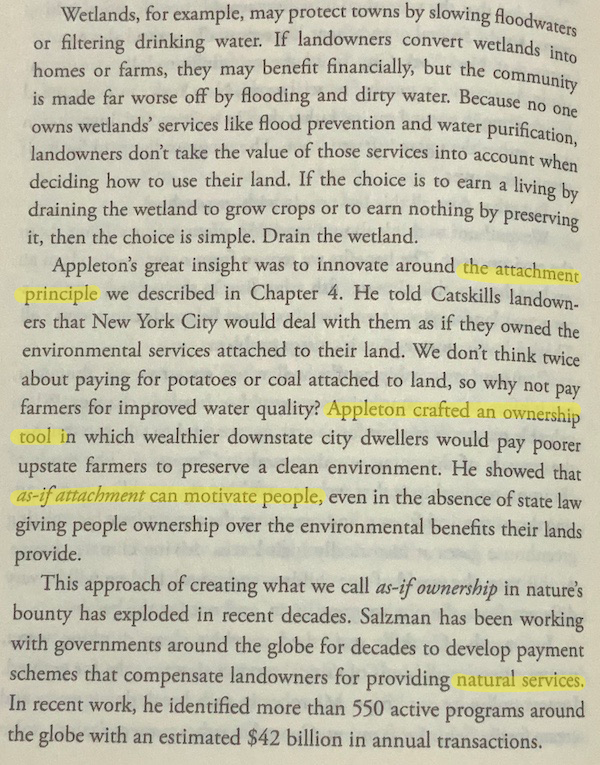 So, New York makes a deal with the Catskill landowners: New York pays the landowners as if the landowners owned the "environmental services" "attached" to their land. If Heller and Salzman are to be believed, the scheme worked. And there are 550 active programs like this around the world (which is a very small number, as is $42 billion, which is less than half Jeff Bezos's fortune, and less than one-tenth of Bitcoin, at least right now).
This — "ownership design" — is to me the heart of the book:

I have also been saying — as I try to conceptualize the biosphere by perambulating through it — that the point of identifying ecological or environmental "services" is to commodify them. Here we see that, and we also see the method of doing so: Ownership design. At some point, I'm going to encounter the original sources of these ideas, and go to work on them.
* * *
Mine! is a wonderful example of the glittering, glamorous neoliberal mind at work. For now, I don't know enough about property and/or the biosphere to make a serious critique, so my reactions are aesthetic and intuitive. Aesthetically, the idea that anyone Cass Sunstein would give a blurb to will be charged with saving the planet chills my blood and gives me the grues. Intuitively, if as Hayek urges, the market is a wonderful information processing machine, then what is nature? Surely the market — for all its ownership designs — is an 8088 compared to nature's quantum computer? I doubt very much that "services" can be defined precisely enough so that the services that are paid for — ok, let's just go ahead and call them "rented" — do not overwhelm and distort services that are not paid for, and may even be unknown.
NOTES
[1] On baby's first words, here is the first sentence of Mine!, on page 1:
Mine! This primal cry is children learn. Toddlers in sandboxes shout it out during epic struggles over plastic buckets.
Here Salzman expands the claim to "all cultures":
In every culture, "mine" is that children speak. On playgrounds, all you hear is kids shouting "mine, mine, mine!" Ownership rules the sandbox.
Ditto Michael Heller:
"Mine!" is that ricochets through sandboxes and playgrounds around the globe. "It's one of the first words children learn,"
So I checked the notes, which Mine! is enough of a work of scholarship to have. The "baby's first words" claim cites to an article in Parents Magazine (!):
"My and mine are children use," explains Peter Blake, Ed.D., a developmental psychologist at Boston University. Although they'll say Mama and Dada first, they quickly realize that they can claim an object simply by using language: my ball, my dog, my cup, and so on. What a cool trick!
(Note that Blake does not make this claim for "all cultures.") Now, Blake doesn't explain how he knows this. But as it turns out, at the very minimum, "one of the first words" is doing a lot of work, as is "primal cry." From the Atlantic. "The Mystery of Babies' First Words":
In American English, the 10 most frequent first words, in order, are mommy, daddy, ball, bye, hi, no, dog, baby, woof woof, and banana. In Hebrew, they are mommy, yum yum, grandma, vroom, grandpa, daddy, banana, this, bye, and car. In Kiswahili, they are mommy, daddy, car, cat, meow, motorcycle, baby, bug, banana, and baa baa.
So, "one of the first" is at least eleven, eh? Further, family ties are clearly more important than property, if primacy is to be equated with importance. Finally, I have the wicked urge to wonder if children screaming "Mine!" are perhaps over-represented in the playgrounds and sandboxes that Heller and Salzman, and their professional comrades, frequent, along with the reviewers who find this factoid so immediately intuitive and appealing. One can only speculate why this would be. Genius to make that sentence the first, though. Everybody quotes it.