One has to wonder how CalPERS and other large US institutional investors can justify paying egregious fees and costs to private equity firms and getting lackluster net returns. One approach is to just say no and stop throwing money at private equity. Another response, which we've advocated, is to bring private equity in house. By cutting out the pricey middleman, investors can increase net returns. As we'll discuss below, Australian superannuation funds are gearing up to make investments on their own and alongside private equity firms, following the path blazed by Canadian pension funds. Even though Sydney is a long way from New York, this move has to discomfit private equity kingpins.
Despite investors made desperate by super low interest rates continuing to throw money at private equity, there are also signs that investors are finding it harder to deny that they are getting a raw deal. To the extent that private equity delivers better performance, the firms are hogging all the upside and leaving investors with crumbs.
For instance, the authoritative expert, CEM Benchmarking, which has many public pension fund clients, including CalPERS, recently published an article demonstrating that index funds beat private equity. As we wrote:
More and more studies have found poor performance of private equity for the last ten years or so, starting with just before or just after the financial crisis, when investors started reaching for yield. Private equity as a share of global equity more than doubled from 2004 to 2013, for instance..

The CEM study demonstrates that private equity underperformance is far more fundamental. 1996 was during the glory years of 1995 to 1999, when private equity was coming out of a period of disfavor and was trying to distance itself from its earlier "leveraged buyout" branding, which produced a lot of terrible end of cycle deals in the late 1980s that blew up in the 1990-1991 recession. The industry story line has been that if you participated in those "vintage years," you reaped outsized results. CEM has demonstrated you would have done even better in a simple stock index, a full 67 basis points, which over the long investing horizon of pension funds and life insurers, adds up.
A few brave US public pension funds are starting to kick the private equity habit. Because they have commitments they have to fund, and holdings that have yet to be wound up, it's not as if they could go cold turkey. Last November, the $59 billion Pennsylvania Public School Employees' Retirement System was planning to cut its private equity allocation from 15% to 12%. This measure appeared to be in response to a state commission recommendation to reduce the level of illiquid investments. This year, the $35 billion Pennsylvania Public School Employees' Retirement System followed suit. An article in Buyouts summarized a board presentation by Chief Investment Officer Seth Kelly: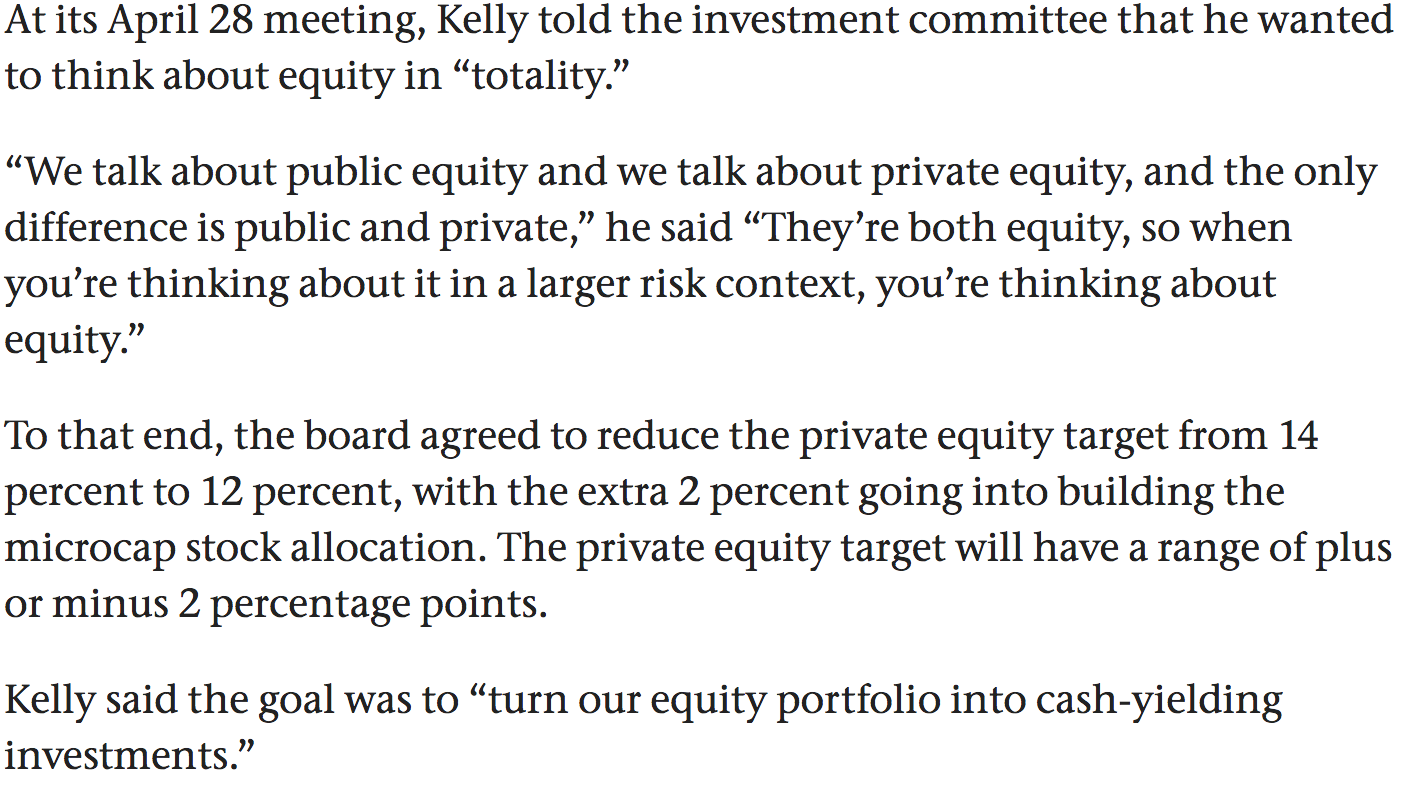 But the revolt Down Under is even more striking. One has to wonder if by being relative latecomers, they haven't drunk as much Kool Aid as their US counterparts. I was in Australia from 2002 to 2004. I read the Australian Financial Review, their Wall Street Journal, daily and also briefly wrote for a top business magazine. Venture capital was a relatively new activity back then. Private equity didn't make the financial press radar.
Even with superannation funds swelling as the working population and annual contribution levels have increased, the Financial Times indicates in passing that private equity hasn't been a major investment:
Super-sized Australian pension funds that collectively control more than $2tn are expanding their in-house investment teams to join up with or even bypass private equity firms to place big bets on companies directly…

Large Australian superannuation funds have historically managed most of their mainstream portfolios in stocks and bonds in-house — and focused mostly on domestic markets — while outsourcing their smaller allocations to more specialised areas such as private equity to big US and European players.

But in recent years, industry insiders say the sector's behemoths have begun building their own private equity teams, as they seek to bring down costs for members. While maintaining internal teams is expensive, it can still be much cheaper than paying the fees that top investment firms charge…

Funds that have recently brought private equity teams in-house include Aware Super — the A$135bn super entity formed through the merger of First State Super and VicSuper in July 2020 and then by absorbing WA Super in December — and Australian Super, the country's largest super fund with A$180bn under management.

Aware has partnered with private equity firm MIRA for a A$4.6bn bid on Vocus, a Sydney-based telecommunications group, while AusSuper has teamed with Melbourne-based BGH Capital to bid for Virgin Australia.
 
So one reason the Australians have been immune to private equity cognitive capture is they simply weren't willing to take much foreign exchange risk by taking the plunge in American or European or Asian private equity funds.1
The article then goes on to assume that the Australians will follow the Canadian model of making their own private equity investments but often relying on major private equity firms to manage the business:
But analysts say there are limits to how much the pension funds can go it alone. Even direct investments were often in partnership with a private equity firm that still handles most of the operational aspects, said Mark Wiseman, the chair of the Alberta Investment Management Corporation.
Even though Canada and Australia are resource-based economies, Bloor Street is a very short flight from Wall Street. Canada's economy is very much entwined with the US, while Australia is acutely aware of its distance and therefore its need to go it alone. At an INET conference, I met some officials from small countries who volunteered that when they were looking for ideas for how to devise and implement a new program, they'd look to Australia first, because Australia had a good record of doing thing well.2 So the Australians are not the sort to slavishly copy the famed "Canadian model".
Note the Australian super funds are working with domestic players. That means it's conceivable that some staffers might jump the fence for a less pressured and less stressful lifestyle. Experts in the US say that there are employees at US private equity firms who would make that trade, when the pay gap is almost certainly greater than in Oz.
Note the tendency to minimize what the Australian funds have done so far:
However, in some steady, uncomplicated sectors — such as toll roads, airports and property — pension plans are increasingly comfortable operating alone. On domestic deals, the bigger Australian funds were more likely to start sidestepping Wall Street entirely in the future, said [Con] Michalakis [Chief Investment Officer of Statewide Super].
In fact, Australian financiers parleyed their leadership in project finance, a Wall Street backwater because most firms found the deals to be too complicated relative to the fees, into leadership in infrastructure finance. Even though the assets might not be hard to manage, the deals are structurally complex. Big US and UK private equity firms woke up to find the "millionaire's factory" Macquarie, rebranded as MIRA, eating their lunch.
In the strategy that dominates private equity, "buyouts", the value added is largely through financial engineering and cost-cutting, which would be attainable skills for any Australian "super" funds that wanted to play a bigger role. And for the smaller, faster growing companies where private equity firms claim they boosted their performance, insiders debate whether private equity firms did markedly improve results, or were simply good at finding "growthy" companies and knowing when to sell them.
In other words, check back in a few years. Odds are decent that the Aussies will go further than the pundits expect now.
_____
1 Hedging a long-dated and uncertain-cash-flow profile would both be very costly and well nigh impossible to execute well.
2 Australia is now showing the signs of neoliberal infestation, for instance, witness the decline of a once premier institution, the Commonwealth Science and Industrial Research Organization.