By Lambert Strether of Corrente.
Things are more like they are now than they've ever been before." –Dwight D. Eisenhower
Carpe diem quam minimum credula postero. –Horace
While I support WHO's standardization of a Covid variant naming convention — the logic is the same as using human-readable URLs, and not incomprehensible numeric dotted quads — I could wish they had not selected the Greek alphabet for their pool of names; every time I hear the name of a variant, I'm reminded of fraternities and sororities. Unlike the hurricane naming convention established by the World Meteorological Organization, WHO's greek letters have, as it were, no nutritional value. If Delta was named Dennis, we could be making headline jokes about "Dennis the Menace," for example. Life would be a lot easier. Having gotten that off my not cough-ridden chest, I want to take a look at the Delta variant (née B.1.617.2), first detected in India. The British Medical Journal explains how Delta differs from previous variants in structure and fitness:
What is different about the delta variant?

In some ways the delta variant is an "improved" version of the alpha variant, making it more easily transmissible and more of a concern.

Speaking at the Science Media Centre briefing, Wendy Barclay, professor of virology and head of infectious disease at Imperial College London, explained, "The delta variant has got two important mutations in its spike protein, or sets of mutations. One is at the furin cleavage site, which we think is quite important for the fitness of the virus in the airway. The virus that emerged in Wuhan was suboptimal in that respect, so it transmitted, but perhaps not as well as it might. The alpha variant took one step towards improving that with a certain mutation, and the delta variant has built on that and taken a second step now, a bigger step, towards improving that feature."

Why is delta able to transmit more easily?

Barclay said that the current data indicated that the virus was "fitter in human airway cells," meaning an increased amount of the virus in the infected person, and so they may expel more virus out into the air to pass on to the next person. This is supported by the testing data, which show that the CT value (cycle threshold)—the number of amplification cycles needed for the virus to be detected—seems to be lower in samples from delta infected people, meaning they contain more virus.

Another suggestion is that if this variant is better at infecting human airway cells, people may become infected after a lower exposure.
In this post, I'll wrap up what I was able to collect of what we know about Delta so far. (We don't know about things that take time to develop, like Delta and long covid, or Delta and fatalities). First, because I've tended to bring Covid content down to actions I personally can take, I'll list Delta's new symptoms, present some worrying anecdotes, and discuss my personal practices. Then I'll discuss how Delta spreads, including transmissibility, severity, and vaccines. Finally I'll ask: "What's the plan?"
Personal Practice
Importantly, Delta symptoms are different from those we are "used to." From Medical News Today:
[D]ata from the ZOE Covid Symptom Study — whose scientific analysis is conducted by experts from King's College London — suggest that the main symptoms of infection with the delta variant are headaches, a sore throat, and a runny nose.

This is a change from official information on COVID-19 symptoms — such as that provided by the U.K.'s National Health Service (NHS) — that lists fever, continuous cough, and loss of smell or taste as the main symptoms of the condition.

Prof. Tim Spector, co-founder of ZOE, warns that SARS-CoV-2 infections are "acting differently now, […] more like a bad cold," which may tempt people to dismiss the symptoms.

"It might just feel like a bad cold or some funny 'off' feeling — but do stay at home and do get a test," he urges.
("Do at home and do get a test." Easy in the UK! In this country, testing is free, except when it isn't, and treatment is not.) There are worse symptoms in India, not mentioned elsewhere:
Hearing impairment, severe gastric upsets and blood clots leading to gangrene, symptoms not typically seen in Covid patients, have been linked by doctors in India to the so-called delta variant.
Regardless, the really distinctive symptom — loss of smell or taste — is now gone, and symptoms that are "more like a bad cold" are uncomfortably close to an actual bad cold or the flu (which doctors predict will increase now that we're abandoning masks). People are going to be reluctant to get tested for a case of the sniffles. It's all the more unfortunate that Delta can comes on faster, at least in China, so there's less margin for error:
China has uniquely detailed data, however, because it has essentially universal testing in the vicinity of outbreaks, allowing officials to gather detailed information on the extent of cases.

Up to 12 percent of patients become severely or critically ill within three to four days of the onset of symptoms, said Guan Xiangdong, director of critical care medicine at Sun Yat-sen University in the city of Guangzhou, where the outbreak has been centered. In the past, the proportion had been 2 percent or 3 percent, although occasionally up to 10 percent, he said.
And now to the unsettling incidents. Sadly, we have no Delta-specific epidemiological studies, so anecdotes will have to do. First, a hospital in Calgary, Canada:
At the [Calgary's Foothills Medical Centre] hospital, 16 patients on two units — as well as six health-care workers — have tested positive for the delta variant.

Six of the patients and five of the health-care workers received two doses of the vaccine, while seven patients and one health-care worker had a single dose. All of those infected were vaccinated with an mRNA vaccine…. "[I]n the case of these two outbreaks, only one of the 22 people have required ICU care," Williamson said in an email. "The majority of both patients and healthcare workers have experienced mild symptoms." Lynora Saxinger, an infectious disease expert at the University of Alberta, said it will be important to see what the investigation into these cases turns up.

"The things that I'm considering right now are that, a hospitalized population isn't necessarily representative of the general population," she said. "Some of that number might be people who would be at really significant risk of having a suboptimal vaccine response because of their medical condition.
I understand Saxinger's point that hospital populations are not representative (although if I were actually hospitalized that would be cold comfort). Nevertheless, a hospital cluster is disturbing. How did the virus slip past disinfection and ventilation defenses?
The second incident, from Australia, is even more disturbing. From 7News:
A 'fleeting contact' has prompted NSW authorities to reintroduce masks across Greater Sydney as one new case of COVID was detected overnight.

The new case was detected in a man who attended Myer [department store] in Bondi Junction on June 12 at the same time another case visited the store.

The first man who tested positive was revealed to be a driver who transported an international flight crew….

NSW Premier Gladys Berejiklian said preliminary advice suggested the new infection may have been transmitted through "fleeting contact" between the man and the driver.

The driver's infection is deemed to have been "highly infectious", as he also passed on the virus to a woman who had been at a cafe in Vaucluse.

"This indicates that the initial case was highly infectious, as transmission must have occurred through , noting that the person who caught the infection at the cafe was seated outside and there was no known on-site contact with the initial case," Chief Health Officer Dr Kerry Chant said.

"Obviously, we cannot rule out that there were some crossover when they were ordering or other things, but again we are highlighting that we have observed these transmissions in settings where we would normally see outdoor dining as a lower risk setting and we would normally see shopping centres as a lower risk setting where you are unlikely to have close contact."

The driver has the Delta strain of COVID, Chant confirmed on Thursday.
This is an anecdote, not an epidemiological study. Nevertheless, Australia does not have the noise of community spread, so signals are a lot easier to detect, as in another "fleeting contact" in a quarantine hotel, determined to be airborne transmission. So, although video evidence (as in this restaurant case) will probably give us a definitive answer, what we have here looks like a case of outdoor transmission of Delta, which may change a lot of people's calculations about risk.
As far as my own personal practice, I don't intend to become the breakthrough poster boy, so I don't see a reason to change anything for Delta (masking outdoors, Vitamin C, Vitamin D3, povidone following human contact, and Ivermectin as a prophylactic; plus social distancing (and don't @ me on any of this, unless it's Delta-relevant)). I use N95 masks (and for those of you who don't, I'd recommend you up your game and lay in a supply.) The only thing I might do is buy a CO2 meter, for my living quarters and for the rare times I need to be in other enclosed spaces. I will also be more conscious about looking for working fans and outside air — or at least high ceilings — in any other space I enter. We don't know anything new about Delta surface transmission, so I will continue my non-obsessive cleaning.
How Delta Spreads
Here is a handy chart from Public Health England; I've helpfully highlighted the salient sections: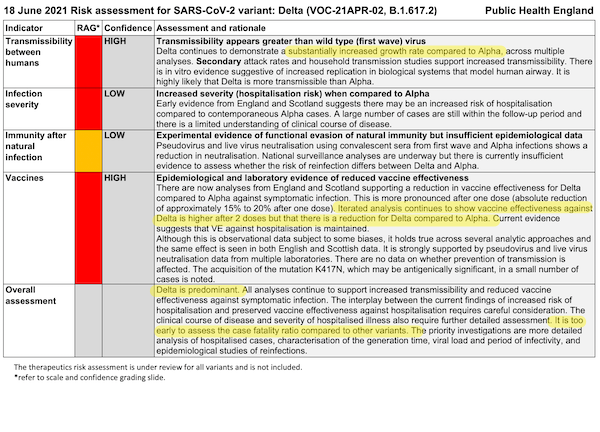 Let's take each of these sections in turn (sklpping "Immunity after natural infection" and "severity" for "insufficient evidence").
First, transmissibility. Delta has a higher R0. From BBC:
The cleanest way of comparing the pure biological spreading power of viruses is to look at their R0 (pronounced R-naught). It's the average number of people each infected person passes a virus on to if nobody were immune and nobody took extra precautions to avoid getting infected.

That number was around 2.5 when the pandemic started in Wuhan and could be as high as 8.0 for the Delta variant, according to disease modellers at Imperial.
(I cannot run down where the 8.0 figure comes from; the Imperial College Delta study I can find has R0 at 1.44. Public Health England's Dr Susan Hopkins suggests 7.0). Eurosurveillance, if I read this chart, proposes a lower R0, but still higher than any variant so far enountered: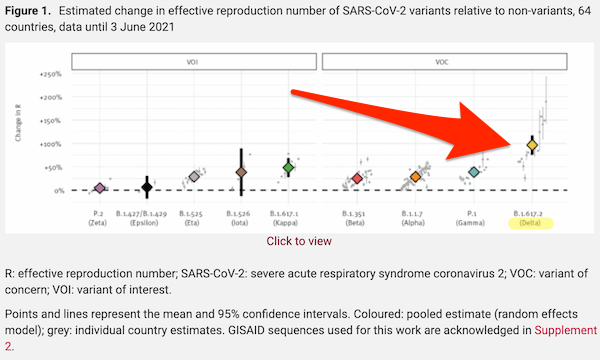 All agree that Delta is more transmissible. As a result, Delta dominates where it is introduced. Eurosurveillance once more: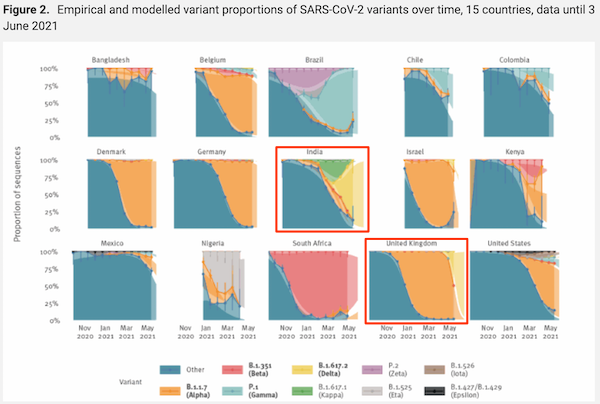 Delta has been spotted in 74 countries, including the United States, where it's doubling every two weeks. In some Western states, Delta may be responsible for 29% of cases.
As a result of Delta's increasing dominance, the horizon of herd immunity may recede still further. From Deutsche Welle:
Adam Kleczkowski, a professor of mathematics at the University of Strathclyde in Scotland, likens "herd immunity" to a forest fire running out of dry wood. When there is not enough left to burn, the fire runs out of fuel and disappears. When enough people are resistant to the coronavirus, either through infection or vaccination, the virus cannot spread, and the pandemic stops growing and starts to decline.

The faster the virus spreads, the greater immunity it will take to slow the infection rate. "That shifts this number up. We might need as much as 85% immunity to slow the Delta variant," Kleczkowski said.

But, he points out, percentages such as this are only estimations. "They are based on limited data. It is not completely clear what percentage we need to reach," he said.
More disturbingly, Delta is behind a surge among youth in the UK:
Young people are behind the surge, with a 5-fold higher rate of COVID-19 test positivity among children 5 to 12 years (0.35% prevalence) and adults 18 to 24 (0.36% prevalence) than in those 65 or older. People younger than 50 were 2.5 times more likely to be infected than older people (prevalence, 0.20% vs 0.08%), although the researchers noted that infections seem to be growing at a comparable rate in both age-groups.
Second, vaccines. From the Lancet:
Considering the whole population cohort (rather than just hospital cases), the test-negative analysis to estimate vaccine effectiveness in preventing RT-PCR-confirmed SARS-CoV-2 infection showed that, compared to those unvaccinated, at least 14 days after the second dose, BNT162b2 (Pfizer–BioNTech vaccine) offered very good protection: 92% (95% CI 90–93) S gene-negative, 79% (75–82) S gene-positive. Protection associated with ChAdOx1 nCoV-19 (Oxford–AstraZeneca vaccine) was, however, substantial but reduced: 73% (95% CI 66–78) for S gene-negative cases versus 60% (53–66) for those S gene-positive (appendix p 6). These estimates were obtained from a generalised additive logistic model adjusting for age, temporal trend when the swab was taken, and number of previous tests using splines plus sex and deprivation. As there was a trend in vaccine uptake and a trend to increasing Delta variant, the temporal adjustment with a general trend might not fully account for these changes. Also, no formal significance test to compare the vaccines was done.
So, at least not a vaccination debacle. Now, what are we doing about all this?
What's the Plan?
Molasses-brained CDC, naturally, only declared Delta a variant of concern 30 days after WHO. Meanwhile, just when Delta starting to surge, the Federal Government and the States are systematically dismantling Non-Pharmaceutical Interventions and public health measures generally, when (as of June 16, only 44% of the population is fully vaccinated). Some might view these decisions as sub-optimal. From the British Medical Journal:
Does delaying the easing of covid-19 restrictions make a difference?

Yes, because it allows more people to receive two doses of the vaccine. Barclay said, "Any delays, just from a purely scientific basis, will help, because they will allow more time for people to get the second dose. And also just having the second dose is not quite enough. You need to get around seven days after the second dose for the vaccine to really boost the immune response up to the levels that you'd like it to be."

The final stage of lockdown easing in England, which had been expected to be on 21 June, has now been delayed to 19 July.
One member of the NC Covid Brain Trust comments:
Once again, I have no idea what the plan is here. Fauci and Co. are not idiots, they have overseen the study of these viruses for decades, they know what is coming. Which means that it has been communicated to the politicians too.

So what happens when the booster campaign has to start due to the ICUs starting to fill with fully vaccinated patients, and when the even more lethal future strains appear, I have no idea. Current messaging is one of complete and final victory.
Pass the Victory Gin, I suppose. Around the non-functional but theatrical plexiglass….