By Lambert Strether of Corrente.
Improved ventilation is one way to protect yourself from Covid (and whatever future respiratory-driven pandemics are coming down the pike). The Journal of American Medicine summarizes the current state of the science and the engineering in "Indoor Air Changes and Potential Implications for SARS-CoV-2 Transmission," April 16, 2021.
Controlling concentrations of indoor respiratory aerosols to reduce airborne transmission of infectious agents is critical and can be achieved through source control (masking, physical distancing) and engineering controls (ventilation and filtration). With respect to engineering controls, an important flaw exists in how most buildings operate in that the current standards for ventilation and filtration for indoor spaces, except for hospitals, are set for bare minimums and not designed for infection control…..

To reduce far-field airborne transmission of SARS-CoV-2 in small-volume indoor spaces (eg, classrooms, retail shops, homes if guests are visiting), the suggestions include targeting 4 to 6 air changes per hour, through any combination of the following: outdoor air ventilation; recirculated air that passes through a filter with at least a minimum efficiency rating value 13 (MERV 13) rating…
Those are the specs, then.
….or passage of air through portable air cleaners with HEPA (high-efficiency particulate air) filters.
We won't be looking at portable air cleaners in this post. Instead, we'll look at DIY box fans to filter the air, and increase air changes per hour. And just to let JAMA hammer home airborne transmission yet once more:
Despite the dose-response for SARS-CoV-2 being unknown, and continued scientific debate about the dominant mode of transmission, evidence supports these suggestions. First, SARS-CoV-2 is primarily transmitted from the exhaled respiratory aerosols of infected individuals. Larger droplets (>100 μm) can settle out of the air due to gravitational forces within 6 feet, but people emit 100 times more smaller aerosols (<5 μm) during talking, breathing, and coughing. Smaller aerosols can stay aloft for 30 minutes to hours and travel well beyond 6 feet. Second, high-profile and well-described SARS-CoV-2 outbreaks across multiple space types (eg, restaurants, gyms, choir practice, schools, buses) share the common features of time indoors and low levels of ventilation, even when people remained physically distanced.

Third, these suggestions are grounded in the basics of exposure science and inhalation dose risk reduction. . Fourth, this approach is consistent with what is used in hospitals to minimize risk of transmission
To the box fans! On the personal level, making an anti-covid box fan could be a fun project if you're good at DIY (which I am not, so please bear that in mind). Institutionally, CDC's blather about layered strategies has managed to leave hygiene theatre firmly ensconced in the minds of officialdom (see e.g. at "deep cleaning"), which means that schools, especially, may not spend money on ventilation, not even HEPA air cleaners. Hence the need for a cheap, DIY ventilation solution. (How to bring in outside air by getting doors and windows open, especially windows that have been sealed or even painted shut, is another question entirely. For them, I can't think of any solution that doesn't start with removing a pane, and moving on from there.)
The box fans serve two purposes: One is to circulate air and dilute the virus, as well as bringing in air from the outside, if there is a draft. The second is to filter the air to remove particles from it, including aerosols. Since air circulation is more or less a given with a fan, most of the focus here will be on the filters. Box fan designs come in two flavors; type (A) uses an actual "box fan" with a filter attached (the square kind you place on the floor or in a window); type (B) is a cube made from filters, a box on which a box fan is placed.
(A) Here's a video that shows how to assemble a box fan with a MERV 13 filter:
(There is also a double-filter design shown at the end.) Here is a handy diagram: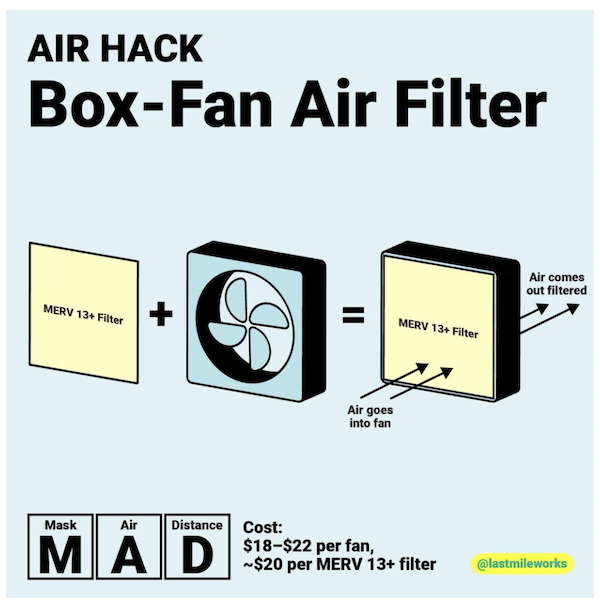 Note that the fan pulls air through the filter. You will need to position the MERV filter's airflow arrow accordingly.
From my reading, there seem to be two issues with the box fan: Fastening, and leakage.
For fastening the filter to the fan, the video uses what looks like blue painter's masking tape. The classical solution would be, of course, duct tape. Duct tape leaves a sticky residue, icky when changing the filters. Painter's masking tape does not, but secures the filter less effectively. An alternative is to use a rubber bands, shown here: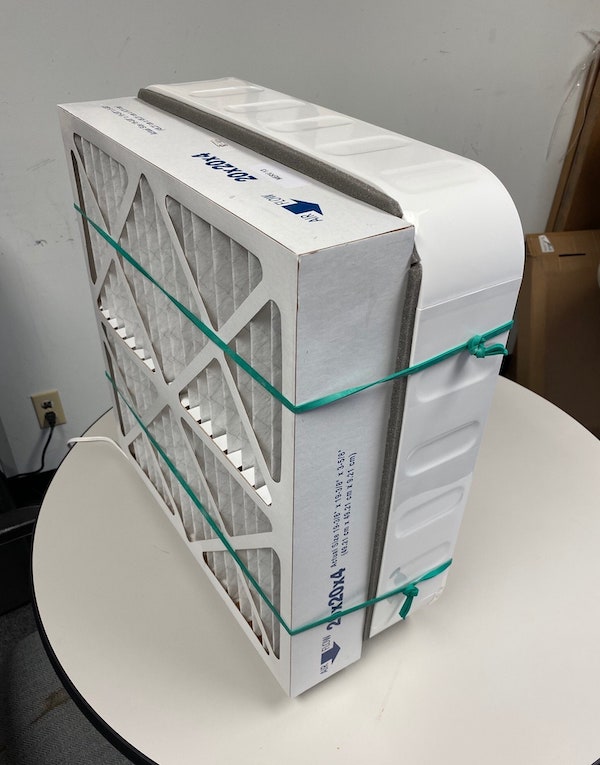 Leakage takes because there's a gap between the filter and the fan. The video says it's fine (and all the air is going to go through the filter at some point). Other implementations seal the gap with duct tape all around (icky). Obsessives seal the gap with putty (hard to change the filter). Finally, designers noticed leakage on the back of the fan:
Something we at Pirie noticed when implementing this solution is that the box fan wants to move a lot of air and adding the filter to one side causes the fan to draw additional air from the non-filter side, especially in the corners. We created and installed a cardboard shield on the opposite side of the fan to block the corners. In our unscientific testing (by feeling the air on the outside of the filter) this shield increased the airflow through the filter.
The cardboard shield: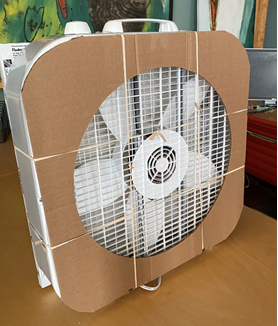 Since the rubber-band diagram has gaps, and was put together by Jim Rosenthal, CEO of Tex-Air Filters, a filter manufacturer in Texas, I'm inclined to believe that leakage doesn't matter much. (Perhaps the fan's motor is more likely to overheat if all the air must be pulled through the filter?)
(B) Here's a video from This Old House that shows how to assemble a box fan cube. I must confess I enjoyed seeing the craftspersons of This Old House duct-taping filters and a fan together, instead of, say, creating a spiral staircase from one tree-trunk using a single chisel, a project more typical of them:
(The first part of the video includes a really useful discussion of MERV filters and home HVAC systems.) Here is a screen dump of the finished article. Sloppy tape work, guys!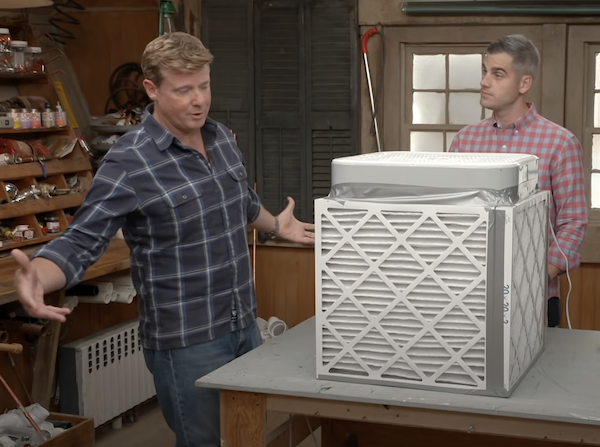 And in the home: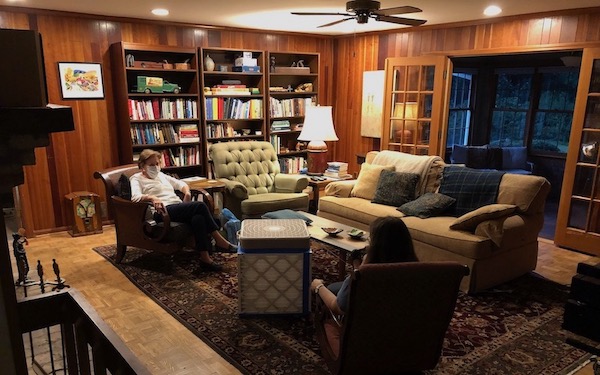 Why a cube? Blue House Energy explains:
The challenge with filters is they create a barrier between the fan and the room, slowing down the amount of air that gets delivered. Filters that are more tightly woven, catching more of the smaller PM2.5 also make it harder for air to pass through. This creates a decrease in air flow and a higher pressure drop.

So there are concerns about overheating the fan motor when you add a high-MERV filter. The pressure drop makes the fan work harder to push air through the fan. The tent and box versions reduce pressure drop by increasing the amount of filter surface area, decreasing the effect of air resistance. Bonus points: more filter surface area means you don't have to replace the filters as often.
Do box fans work? According to Tex-Air filters (quoted in Wired above) they do:
The current thinking is that particles containing viable Covid-19 viruses start at about one micron. Particles less than 5 microns settle out of the air very slowly. They can remain airborne for hours. These particles are called aerosols and are one of the major methods for transmission of Covid-19. Consequently, the one to five micron particle size range is a good target for filter removal.

So how did we do in our tests with our "Box Fan with a MERV 13 filter" cleaning device? In the tool room, the device removed 59.7% of the one micron sized particles and 86.4% of the five micron sized particles. In the breakroom, the device removed 74.6% of the one micron sized particles and 80% of the 5 micron sized particles. In short, the results show meaningful reductions in the target particle size range. The "Box Fan with a MERV 13 Filter" should be a useful tool in the fight against Covid-19..

One thing we need to make clear – this device is not a HEPA air purifier. It does not have a Clean Air Delivery Rate (CADR) which is the standard for measuring the effectiveness of air cleaners. Purchasing and using a HEPA air purifier is the better option. However, their cost may be prohibitive. In this case the "Box Fan with a MERV 13" filter is a reasonable option.
A few more random points before closing:
(1) Buy MERV13+ filters now in case there are shortages later due to supply chain issues.
(2) Box fans work with wildfire smoke too:
As a reminder… if you're dealing with wildfire smoke – a box fan + MERV filter for ~$40 can dramatically help indoors. I was amazed how much mine worked for CO smoke a few days ago! Reduced >95% particle number (1-10 micron) in 20 min (350 ft2 room).
See https://t.co/1yzczTT7zR pic.twitter.com/uK3JagFAxr

— Dr. Alex Huffman (@HuffmanLabDU) September 10, 2020
(3) For institutions, have a communications strategy:
Need to have a communication strategy when deploying makeshift air cleaners in schools to prevent negative publicity resulting in their removalhttps://t.co/4FuRZFyNIw

— David Elfstrom (@DavidElfstrom) September 16, 2020
Just because it's duct-taped together doesn't mean it doesn't work!
(4) TexAir measured its particle counts with a Lighthouse IAQ Handheld Particle Counter 3016-IAQ, which costs $3500. If that's a little rich for your blood, you can at least get a reading on the effectiveness of the box fan's ventilating power with a C02 meter, where CO2 is a proxy for air into which people have breathed, talked, sung, or shouted, and hence for viral load. Stale air will have a high reading; enough air changes per hour will give you a low reading. The Aranet4 seems to be a fan favorite:
For my fan I was only able to add cardboard to three of the corners. I thought they would fly off, but proving the point they are actually sucked down into the fan. I add some red duct tape to seal all the edges. Foam board is on bottom of structure. pic.twitter.com/hOjpJw0sSp

— Mark Read (@Read4Ks) January 4, 2021
I believe that 500 is the number you want to see.
* * *
As with masks, there's an enormous amount of DIY experiimentation going on with box fans. That makes me happy and hopeful. If any readers have experimented with box fans, or plan to, please share!
NOTES
[1] Here is a handy chart on commercial portable air cleaners:
Which portable air cleaner do I need to buy ?#SARSCoV2

Factors: mechanism of filtration, airflow + efficiency (CADR), purchase price, replacement cost + filter life, and noise. 1/5 🧵

— Marwa Zaatari (@marwa_zaatari) January 18, 2021