Yves wanted to thank all of you who sent her good wishes for her surgery today and e-mailed her notes privately. An update of sorts: she and her MD made a battlefield decision late last week to do a bilateral hip replacement (both hips at once) rather than a "staged" surgery (recall the original plan was to do the other hip in August, which is early for a staged surgery; the normal wait time is three months). Her less bad hip deteriorated with remarkable speed in the last six weeks, to the degree that it is now worse for walking than the side originally scheduled to be operated on first.
This means Yves will probably be slower to get back in the saddle but will have less total recovery downtime than with Plan A. And bilateral operations have better outcomes than staged surgeries, not just from the "one operation less risky than two" standpoint but even for orthopedic outcomes. See here for a layperson's writeup: When Two Joint Replacements are Better than One.
You may ask why they were going to be staged in the first place. The long version is tedious, and the short is, "It seemed like a good idea at the time."
***
Breaking: Global web outage as world's biggest websites crash including Amazon, UK govt and Reddit City A.M.
BILL AND MELINDA GATES'S EPIC DIVORCE SAGA ENTERS ITS NEXT PHASE Vanity Fair
Feluda is one of Satyajit Ray's greatest creations but is he too brilliant for the movies? Scroll
German Conservatives Back on Track as General Election Approaches Der Spiegel
FDNY: 16 people injured after MTA bus crashes into building in Brooklyn ABC Eyewitness News. I heard the emergency vehicles rushing to the scene, a half a block from our home.
U.S. Retrieves Millions in Ransom Paid to Colonial Pipeline Hackers WSJ
Pipeline exec to face Congress as US recovers most of ransom AP
Climate crisis to shrink G7 economies twice as much as Covid-19, says research Guardian
As AMC Entertainment stock surges, SEC says it's watching memes for 'disruptions of the market, manipulative trading, or other misconduct' MarketWatch
ANOM: Hundreds arrested in massive global crime sting BBC
An Everest season like no other in Nepal amid a deadly pandemic Al Jazeera
#COVID-19
Which US vaccine plans actually helped hard-hit communities? MIT Technology Review

US may miss July 4 vaccination target as number of daily doses plummets Ars Technica

Wait, Vaccine Lotteries Actually Work?  Wired (Dr. Kevin)

Many More Americans Would Be Vaccinated if Our Health Care System Wasn't So Terrifying The New Republic

What My Covid-19 Vaccine Saga Taught Me About the U.S. Health Care System Politico

***

Tourists returning from Portugal with hours to spare 'ashamed to be British' Daily Mirror

Airline chiefs urge end to UK-U.S. travel restrictions Reuters

The rules for travel hotspots as Europe gears up to welcome back tourists France 24

Canada prepares to ease quarantine rules for vaccinated travelers – Bloomberg Reuters

***

New cluster exposes loophole in HK quarantine Asia Times

Tokyo warned locals pose greater Covid risk to Olympics than visitors FT

Third wave sweeps across Africa as Covid vaccine imports dry up Guardian

Brazil braces for third wave of Covid-19 Yahoo News

Vaccine makers should give half their doses to Covax, WHO chief says WaPo
Health Care
FDA grants historic approval to Alzheimer's drug designed to slow cognitive decline Stat

Nobody Should Be Celebrating the Affordable Care Act Jacobin

Liz Fowler is Back! And She's Writing US Health Policy Again Counterpunch
Our Famously Free Press
Pentagon Papers Failed To Prevent Perpetual Media Kowtowing American Conservative
Kissinger/Nixon in June 1971 on what to do about Bolivia's new socialist President Juan Torres.

"A coup?" Nixon asks.

3 months on, the coup came, installing US client dictator Hugo Banzer.

In 1976, Torres was murdered in Buenos Aires by US terror network Operation Condor. pic.twitter.com/n8ybVvs2yA

— Matt Kennard (@kennardmatt) June 7, 2021

Police State Watch
FBI Effort to Expose 'USA Today' Readers Was Likely Unlawful, Experts Say Gizmodo
This is probably the most overlooked part of still-expanding online censorship:

It's not "just" being done by private corporations (which are monopolies). It's being done in unison with state actors, often at the behest of those officials.

It's merged state & corporate power: https://t.co/2x0elSeAOR

— Glenn Greenwald (@ggreenwald) June 7, 2021

Biden Administration
Kamala says she WON'T visit the border because it would just be a 'grand gesture' at Guatemala press conference 2,142 miles from the Rio Grande and tells migrants 'do not come' to the US Daily Mail

Biden agenda under threat — from within his party Yahoo News

Biden shifts from Obama on Cuba post-Florida losses The Hill
Fmr. Pres. Obama to Anderson Cooper on the GOP: "I thought that there were enough guardrails institutionally that even after Trump was elected that you would have the so-called Republican establishment [step in]…we did not see that Republican establishment say hold on, time out" pic.twitter.com/Ir717YJTG1

— CNN (@CNN) June 8, 2021

Class Warfare
Does he have to come back? https://t.co/16XTQJpdWX

— Matt Taibbi (@mtaibbi) June 7, 2021

China?
China unveils new legal weapon to hit United States and other Western rivals with tougher sanctions South China Morning Post
India
Antidote du Jour. TH: "A Hooded Oriole visiting our Honeysuckle Trumpet Vine."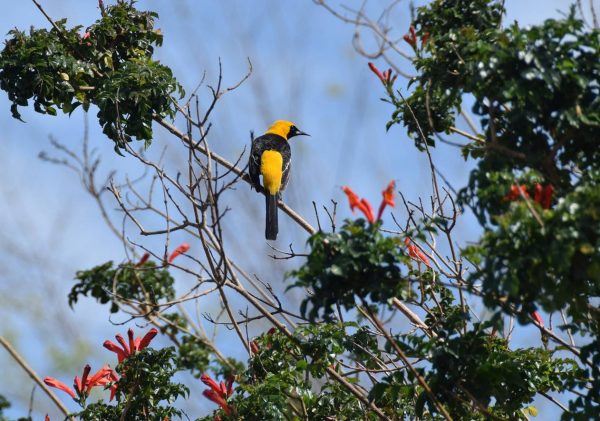 See yesterday's Links and Antidote du Jour here.