By Lambert Strether of Corrente.
Bird Song of the Day
Another bird species spotted in Russia — [waves!] — but this audio is from the UK. Talking about jarring!
* * *
#COVID19
At reader request, I've added this daily chart from 91-DIVOC. The data is the Johns Hopkins CSSE data. Here is the site. I feel I'm engaging in a macabre form of tape-watching….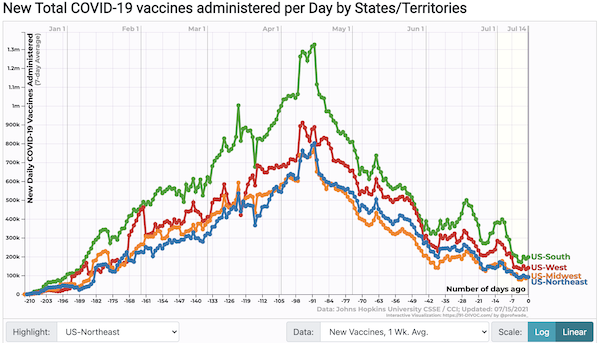 This after only 48% of the US population is fully vaccinated. And our public health establishment has discredited non-pharmaceutical interventions like masking, and has been fighting treatment tooth and nail, as hard as they fought aerosols, good job.
Case count by United States regions: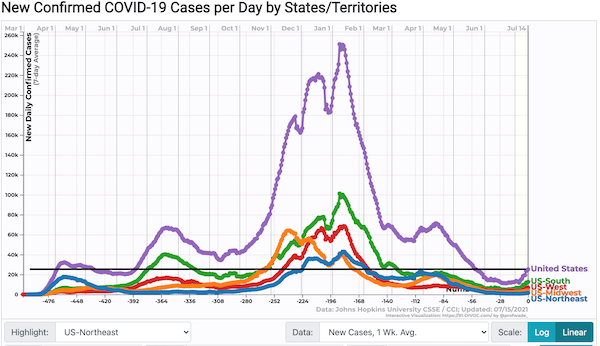 Oof. Increased slope. Every day, the non-triumphalist black line goes a little higher. We should know the impact of travel and all the family gatherings by July 4 + 14 call it July 21 or so. And of course summer camp, Bible School, etc. (Note that these numbers are if anything understated, since the CDC does not collect breakthrough infections unless they involve hospitalization, and encourages states and localities not to collect the data either.)
Covid cases top ten states: for the last four weeks (hat tip, alert reader Lou Anton):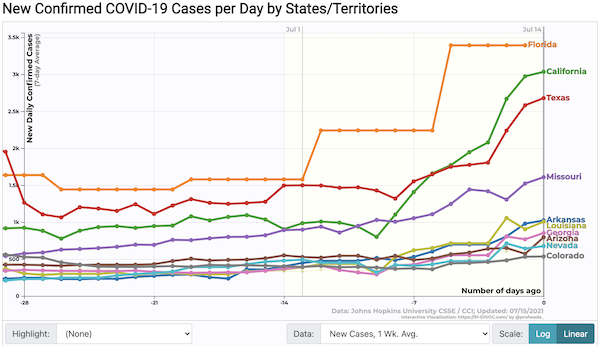 California and Texas slow, but more states speed up.
NEW From CDC: "Community Profile Report July 15 2021" (PDF), "Rapid Riser" counties: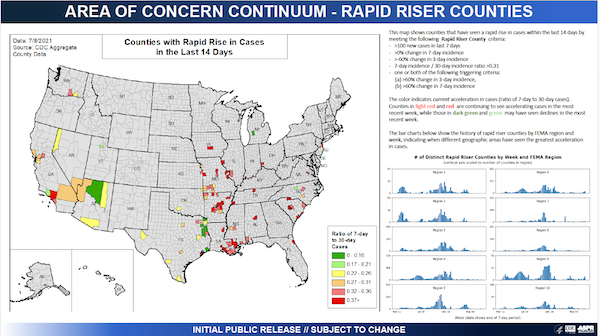 (Red means getting worse, green means bad but getting better. This chart updates Tuesdays and Fridays, presumbly by end-of-day. UPDATE But it didn't update yesterday.)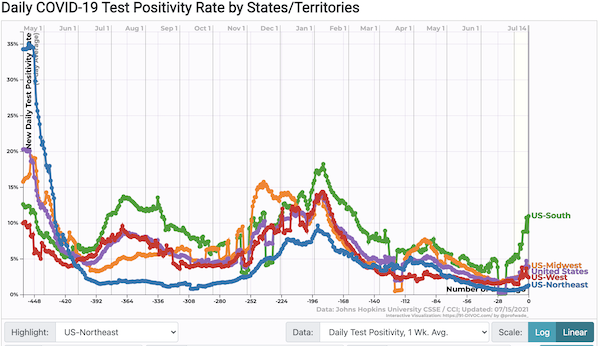 South running away with the field.
Hospitalization (CDC):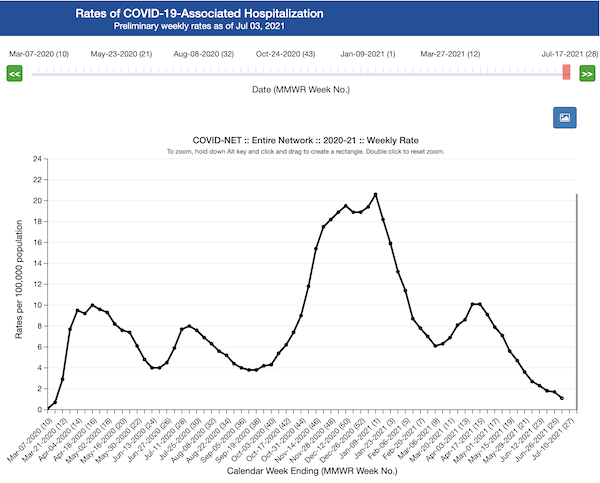 No bad news yet.
Deaths (Our World in Data):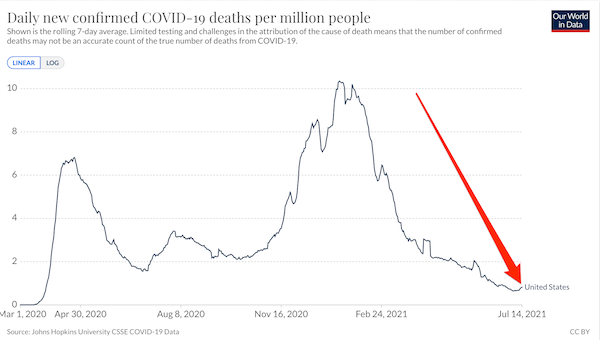 Bad news. Though I don't understand how deaths can go up with hospitalizations still going down. Data problems? If so, which way?
Covid cases worldwide: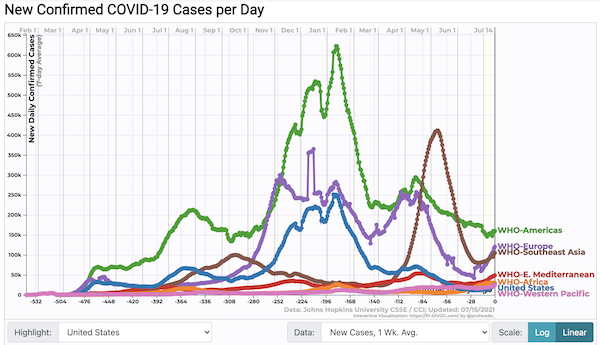 Every region is trending up.
* * *
Politics
"But what is government itself, but the greatest of all reflections on human nature?" –James Madison, Federalist 51
"They had one weapon left and both knew it: treachery." –Frank Herbert, Dune
"They had learned nothing, and forgotten nothing." –Charles Maurice de Talleyrand-Périgord
Capitol Seizure
"You never want a serious crisis to go to waste." —Rahm Emanuel

The reality is liberals want a domestic War on Terror. They want the CIA, NSA and FBI to surveil their political adversaries, arrest them, treat them like terrorists, etc. They want them censored. It's an authoritarian faction that craves that repression. 1/6 is the key to it.

— Glenn Greenwald (@ggreenwald) July 15, 2021

Politico tries to put the toothpaste back in the tube on the DNC working with the telcos to censor SMS messaging:

As the story points out, it's allied, private groups that are working with SMS carriers – not the White House. Even then, there is no ability for groups to read individual texts aside from the ones they receive themselves https://t.co/GdIMJgizYh

— Natasha Korecki (@natashakorecki) July 12, 2021

Korecki must think we're little children. FIrst, what she's really saying is that the Democrats (and the DNC) will work through cutouts (as they did with the Steele Dossier). The censors fact-checking cut-outs will be NGOs — probably including Media Matters — instead of Beltway law firms, but there's no functional difference. Second, "no ability for groups to read individual texts" [nods vigorously]: Come on, man.
Biden Administration
Big if true:

"Barbara O'Connor, a longtime communications professor at California State University, Sacramento, told Insider that at least 20 interns who worked in Harris' attorney general and Senate offices came to O'Connor crying and seeking advice." https://t.co/P2iW2wU3oj

— Grace Panetta (@grace_panetta) July 14, 2021

Unfortunately, I can't get past the Business Insider paywall. It's probably a little early in the campaign cycle for a tell-all book….

"The Intensity Factor" [Cook Political Report]. "I like to compare the midterm electorate to people who call customer service. Most people pick up the phone (and stay on through interminable wait times) only when they are really angry. Very few pick up the phone (and sit on hold) to thank a company for their fantastic service. Which brings us to the fight raging over the issue of voting rights. Major League Baseball moved this week's All-Star Game from Atlanta to Denver to protest new voter laws passed by the GOP legislature in the spring. To oppose GOP-penned legislation in Texas, House Democrats fled the state and are currently camped out in DC to make their case to congressional Democrats to find a way to pass federal voting rights legislation. Finally, President Biden trekked up to Philadelphia on Tuesday to make the 'moral case' at the Constitution Center for why these new laws that limit voter accessibility 'un-American' and 'un-democratic.' Notably, however, Biden has not called on Democratic senators like Joe Manchin and Kyrsten Sinema to drop their objections to nixing the filibuster, which could make passing Democratic-written voting legislation much easier. But, will Democrats' frustration with new state laws be enough to get them out to vote in 2022? Or, will that anger turn to apathy and frustration with their own party come next fall Right now, while Biden continues to get solid marks from his own partisans, they are not nearly as excited about him as Republicans are angry with him."

"The Biden Antitrust Revolution" [The New Yorker]. "Since joining the Administration, at the start of March, Wu has been working full time on the order, which is lengthy and detailed. 'There is an intellectual revolution here, which the President has embraced,' Wu told me. 'Part of that effort is to bring back antitrust as a popular movement, rather than as an abstract academic thing. I think we went through a long period in which it became more remote and abstract. But, as the President said, ultimately this is about creating an economy that works for everyone…. The way that the executive order names specific problems also reflects an effort on the part of Wu and his colleagues to make the most of a limited tool. Barack Obama issued a pro-competition executive order in the final year of his second term, but he left office before it could have much impact. Donald Trump signed all manner of executive orders, most of which are no longer in effect—either the courts struck them down or Biden reversed them after taking office. Wu and his colleagues are all too aware that this order, too, is likely to be challenged in the courts, where many judges have taken a restrictive view of the government's power to promote economic competition. So, in drawing it up, they tried to address specific problem areas that are highly visible and subject to existing laws. 'The whole approach of this executive order is to focus on areas where there are strong congressional authorities, often given during the New Deal or the nineteen-fifties and sixties, but which are not being fully used,' Wu explained." • I like Wu, I admit.
Democrats en Deshabille
"Closed-Door Progressive Caucus Antitrust Meeting Turns Fiery Amid Industry Influence Allegations" [The Intercept]. "A CONGRESSIONAL PROGRESSIVE CAUCUS meeting on Tuesday broke out into a furious argument over the House's package of antitrust legislation, pitting Rep. Zoe Lofgren, D-Calif., whose district encompasses a large part of Silicon Valley, against the authors of the series of six bills moving through the chamber. The argument began when Lofgren, one of the most senior Democrats on the House Judiciary Committee and an opponent of the legislation, noted that she had raised an extraordinary amount of money from Silicon Valley companies over the years, but because she ran in a safe blue district, she hadn't spent any of it on her own campaign since 1996 and instead distributed it widely to other campaigns. Raising corporate money and spreading it around the caucus is a common tactic deployed by members looking to grow their power. But it is highly unusual to talk openly about the practice on a legislative caucus call. 'It's a pretty shocking thing to say,' one Democrat on the call said." • It is? Really?

"Florida Democrats Ask for 'Clarity' on 'Anti-Riot' Law After Cuba Protesters Not Arrested" [Newsweek]. "lorida Democrats are calling out Republican Governor Ron DeSantis while asking the state's attorney general for "clarity" about a law that the governor signed earlier this year criminalizing protesters blocking road traffic. Prompted by Black Lives Matter protests that swept the nation following the death of George Floyd last year, DeSantis signed the so-called "anti-riot" bill HB 1 in April, imposing potential criminal penalties for protesters who block roads while holding demonstrations. However, when large groups of Cuban Americans—a key Republican voter block in Florida—took to the streets and sometimes blocked them while holding demonstrations in solidarity with pro-democracy protests in Cuba this week, law enforcement did not intervene. Democrats quickly noted that no arrests were made on Tuesday when protesters blocked Florida State Road 826, also known as the Palmetto Expressway." • Fair enough. But there's also this element: Whenever the Republicans smash them in the mouth, Democrats ask "Why did you do that?"
Realignment and Legitimacy
"Sidewalk Socialists and the Path to Power" [Current Affairs]. "[Charlotte] Kelly is one of seven candidates running for Somerville City Council who has been endorsed by the Democratic Socialists of America (DSA). This slate of campaigns is bound not just by the idea of winning socialism in a general sense, but specific, concrete reforms to pave the way. To get there, the candidates demonstrate intricate knowledge of policy battles and embed themselves in community organizing, but it's more than that, too: their proposals for the future drill down to the details. According to Spencer Brown, co-chair of Boston DSA, the election centers on three issues of daily life—affordable housing, climate change, and public safety—and in addressing those issues the DSA-endorsed candidates move seamlessly from broad-stroke abstractions to net zero stretch code and idling police cruisers. The slate in Somerville has the potential to translate the grand aim of socialism into the minutiae of city politics…. This upcoming election in Somerville also may have wider implications, both in the Boston area and nationally. All over the country, not just in big coastal cities but in places like Florida and Texas, socialists are running for municipal office. But even in the largest DSA chapter in the country—New York City—DSA put up six candidates in the June primary, contesting only 12 percent of the City Council (and only winning two races). Meanwhile in Chicago and Seattle, socialists make up about 10 percent of their respective city councils. But in Somerville, 64 percent of seats are being contested. The prospect of winning an outright majority represents, in the words of Seitchik, 'a generational opportunity, the first time since World War II, the first time in 80 years, to be able to have a majority socialist City Council.' In fact, as DSA's national account recently corrected, the city of Richmond, California already has a majority-socialist City Council—an indication that what's happening in Somerville is not as anomalous or isolated as it might at first seem." • Well, let's hope they don't get sidetracked by "the successor ideology." When I lived there, Somerville — "the compost heap in back of Harvard Yard" — was distinctly working class. I don't know if it's been gentrified in the decades since, or not.

Centrist Think Tanks Are Raking In Exxon Cash The New Republic
Stats Watch
Employment Situation: "10 July 2021 Initial Unemployment Claims Rolling Average Continues To Modestly Decline" [Econintersect]. "Market expectations for weekly initial unemployment claims (from Econoday) were 344 K to 375 K (consensus 368 K), and the Department of Labor reported 360,000 new claims. The more important (because of the volatility in the weekly reported claims and seasonality errors in adjusting the data) 4 week moving average moved from 397,000 (reported last week as 394,500) to 382,500."
Manufacturing: "June 2021 Headline Industrial Production Improves" [Econintersect]. "The headlines say seasonally adjusted Industrial Production (IP) improved month-over-month – and remains in expansion year-over-year due to comparison to the recession period one year ago. Our analysis shows the three-month rolling average improved."
Manufacturing: "July 2021 Empire State Manufacturing Index Surges" [Econintersect]. "The Empire State Manufacturing Survey index improved and remained in expansion…. Key elements are in positive territory and improved. This report is considered better than last month."
Manufacturing: "July 2021 Philly Fed Manufacturing Survey Index Declined Again" [Econintersect]. "Overall, this report was worse than last month as key elements declined."
Imports: "June 2021 Import Year-over-Year Inflation 'Declines' To +11.2%" [Econintersect]. "Year-over-year import price indices inflation marginally declined from +11.6 % to +11.2 %…. Inflation continues to be hot."
Coincident Indicators: "10 July 2021 New York Fed Weekly Economic Index (WEI): Index Decline Continues" [Econintersect]. "The New York Fed's Weekly Leading Index (WLI) again marginally declined again this past week. This index's trend is now beginning to decline based on the 13-week rolling average…. This data set should be considered a high-frequency coincident indicator."
* * *
Commodities: "Hyperion Metals' Taso Arima on the company's plans to become a major zero carbon titanium producer" [Stockhead]. "Hyperion Metals (ASX:HYM) – formerly Tao Commodities – is up ~720% since announcing plans to acquire the 'Titan' titanium minerals sands and rare earths project in the US. Titan is not just going to be a major US titanium minerals project. Hyperion also plans to go downstream to produce low-to-zero carbon, low-cost titanium powders for the space exploration, aerospace, electric vehicle, and defence sectors. Right now, the US sources almost all its primary titanium metal requirements from Japan, with the world's other major producers being adversarial nations like Russia and China. Hyperion's plan hinges on a game-changing tech called 'HAMR' which the company believes has the potential to make the current Kroll process – both toxic and expensive – obsolete."
Tech: "Goodbye, Fleets" [Twitter]. • I never even saw a Fleet, so I don't know whether I should be in my feelings or not. I'm more interested in the fact that the blogger seems to think "learnings" is a word; it's used multiple times.
https://blog.twitter.com/en_us/topics/product/2021/goodbye-fleets
Tech: "Amazon Gets the Go-Ahead to Track Your Sleep With Radar" [Gizmodo]. "On Friday, the Federal Communications Commission gave the e-commerce giant clearance to create bedside radar devices meant to track how we toss and turn at night. And while Amazon's putting the best face possible on the innovation, it's still all about those ad dollars…. 'These devices would enable users to estimate sleep quality based on movement patterns,' Amazon wrote in the initial filing. 'The use of Radar Sensors in sleep tracking could improve awareness and management of sleep hygiene, which in turn could produce significant health benefits for many Americans.'" • And in that sleep… what dreams may come….
Tech: "Facebook Users Said No to Tracking. Now Advertisers are Panicking" [Bloomberg]. "People are giving apps permission to track their behavior just 25% of the time, Branch found, severing a data pipeline that has powered the targeted advertising industry for years…. Facebook advertisers, in particular, have noticed an impact in the last month. Media buyers who run Facebook ad campaigns on behalf of clients said Facebook is no longer able to reliably see how many sales its clients are making, so it's harder to figure out which Facebook ads are working." • That's a damn shame.
Tech:
— Peaceful Dream (@DreamlessJoe) July 15, 2021
* * *
Today's Fear & Greed Index: 31 Fear (previous close: 34 Fear) [CNN]. One week ago: 32 (Fear). (0 is Extreme Fear; 100 is Extreme Greed). Last updated Jul 15 at 12:43pm.
The Biosphere
"Charges dropped against activists protesting Louisiana pipeline" [Lousiana Illuminator]. "Environmental groups celebrated Tuesday as they announced that District Attorney Bofill "Bo" Duhé, chief prosecutor in St. Martin, Iberia and St. Mary Parishes, rejected all charges against 17 people who were charged with crimes in 2018 for violating a law making it a felony to be at or near pipelines or construction sites without permission. The Louisiana Legislature amended the state's critical infrastructure law in 2018 to include pipelines as critical infrastructure. That meant environmentalists protesting at pipeline sites could be sentenced up to five years in prison. … 'Companies like Energy Transfer Partners and the politicians that do their bidding are trying to deter us from defending our communities from the devastating impacts of new fossil fuel infrastructure,' [Bayou Bridge Pipeline protester Cindy] Spoon said. 'They have tried to criminalize us and our actions since the Indigenous resistance at Standing Rock. In our cases specifically, Bayou Bridge employees and St. Martin Parish police officers acted unlawfully. They were willing to go as far as to break the law themselves to illegally arrest us. The refusal to prosecute us just proves what we already knew: these critical infrastructure laws are unconstitutional. We have the right to resist and we will not be deterred.'"
Health Care
"Larger Nursing Home Staff Size Linked To Higher Number Of COVID-19 Cases In 2020" [Health Affairs]. "We used detailed staffing data to examine the relationship between a novel measure of staff size (that is, the number of unique employees working daily), conventional measures of staffing quality, and COVID-19 outcomes among SNFs in the United States without confirmed COVID-19 cases by June 2020. By the end of September 2020, sample SNFs in the lowest quartile of staff size had 6.2 resident cases and 0.9 deaths per 100 beds, compared with 11.9 resident cases and 2.1 deaths per 100 beds among facilities in the highest quartile. Staff size, including staff members not involved in resident care, was strongly associated with SNFs' COVID-19 outcomes, even after facility size was accounted for. Conventional staffing quality measures, including direct care staff-to-resident ratios and skill mix, were not significant predictors of COVID-19 cases or deaths. Reducing the number of unique staff members without decreasing direct care hours, such as by relying on full-time rather than part-time staff, could help prevent outbreaks." • In other words, use full-timers, not a rotating roster of part-timers who probably get gigs at multiple homes.
Zeitgeist Watch
"Cape Cod restaurant closes for 'day of kindness' after customers' rude behavior" [The Hill]. • I ran this in in the morning's Links, but the penny dropped on this reference only just now:
#WyrdWednesday Une semaine de bonté ("A Week of Kindness") is a collage novel and artist's book by Max Ernst, first published in 1934. It comprises 182 images created by cutting up and re-organizing illustrations from Victorian encyclopedias and novels. https://t.co/twlCjC7wDf pic.twitter.com/CEIoEs5BB6

— Tatiana Fajardo (@Tatiana19796) November 18, 2020
Class Warfare
"Michael, Dwight and Andy: the Three Aesthetics of the Creative Class" [Alex Danko, Welcome to Dancoland]. "Six months ago I proposed The Michael Scott Theory of Social Class, which says: 'The higher you ascend the ladder of the Educated Gentry class, the more you become Michael Scott.' The Michael Scott Theory of Social Class delineated the three-tier structure of the modern workplace and of the American class system. ." Michael Scott was the manager in The Office; I would pick a clip, but I've never seen the show. Perhaps readers will oblige? Anyhow, I am going to slip straight to the handy chart:

Over the past few years, we've had a lot of attempts at class analysis, some more successful than others. What I like about this one is that it's dynamic; it shows class recomposition over time (at least among the PMC; it leaves out the recomposition of the working class under the twin stresses of globalization and supply chain reorganization). I do note that Danko has left off the top: There are no capitalists in his schema, nor is there a place for dynastic wealth. That seems odd. Nevertheless, a fun and stimulating piece!
"Labor Needs an Outside Strategy" [Dissent]. "Despite staggering wealth and income inequality in the United States, President Biden is bargaining against himself on his already way-too-small proposal to tax the rich, and far too many Democrats oppose the measure. While disappointing, that's to be expected. But what's now becoming absurd in the race to the death of the working class and our unions is the lack of strikes or any serious effort to build the power required so workers can reverse fifty years of nonstop abuse. If unions don't run left now and challenge the administration over who wins in this economy, who will? Isn't it finally time for unions to raise expectations—not just to say that workers deserve more but to use every tool in the shed to win? A street protest here and there, symbolic demonstrations against fast-food and retail giants—which aren't strikes despite being labeled as such—and pouring workers' money into public relations and political donations to highly compromised Democratic candidates are grossly insufficient to the task. It's incredibly inexpensive and easy for any administration to make labor and other progressive leaders feel important by appointing them to a task force or inviting them to White House meetings and cocktail parties. But playing the "inside" game has no chance of winning when there's not a concurrent and even more serious "outside" strategy. Biden has fired a few offensive officials from the Trump years and made pro-union statements. Despite Biden's probably being the most pro-labor president ever—if we remove Lincoln from the list—unions are already experiencing the familiar sentiment that they need to be patient. Absent a real outside game, including mobilizing for strike activity the likes of which have not seen in decades, we will fail. Thinking about the consequences of that failure is unbearable."
"Shulamith Firestone Wanted to Abolish Nature—We Should, Too" [The Nation]. "Who better, then, to pierce the surreptitious, mind-numbing normalization of all this, under both Trump and Biden, than Shulamith Firestone (a mere 23 years old in '68), with her scalding refusal of every "natural" premise of American society and her vision of a future in which children and adults together (having eliminated capitalism, work, and the sex distinction itself) democratically inhabit large, nongenetic households? 'Shulie' (as she was known to her friends in her youth), a Chicago art-school graduate and subsequent New Yorker, deemed the overthrowing of class, work, and markets to be a self-evidently necessary task, barely worth defending. What really interested her, instead, was the abolition of culture and nature, no less—starting with patriarchal 'love' and its 'culture of romance' on the one hand, and pregnancy on the other. Besides editing and producing the short-lived, self-published militant (and millenarian) women's liberation journal Notes, Shulie cofounded several revolutionary groups—New York Radical Women, Redstockings, and New York Radical Feminists—which sometimes carried out direct actions targeting, for instance, a Miss America pageant and a Manhattan bridal fair. She then published her book-length manifesto, The Dialectic of Sex: The Case for Feminist Revolution, through (controversially) a mainstream press. In it, she advocates for 'the abolition of the labor force itself under a cybernetic socialism' and 'the diffusion of the childbearing and childrearing role to the society as a whole, men as well as women.' Ectogenesis—the machine uterus—is famously a part of this speculative picture. But above all, she contends, women must liberate children and themselves from the capitalist patriarchy—seizing control over technology, eradicating the tyranny of work, automating labor (yes, even reproductive labor, as far as possible), and shedding the incest taboo such that play, love, and sexuality might '[flow] unimpeded.'" • Well, I was nodding along until that last point…. Bracing stuff, though. And somehow I can't imagine Firestone working for the CIA (Steinem) or, well, doing brunch….
News of the Wired
"The Triumvirate: Coal, Iron, and Steam" [Creatures of Thought]. True facts on coal: "Coal was used as fuel to some extent in Britain in ancient times – archaeologists have found coal and coal ashes in sites from the Roman imperial era. But no clear evidence of the widespread and regular use of coal in Britain arises thereafter until the thirteenth century. At that point, it appears in the written record as sea coal, or carbo maris. Why "sea" coal? At the time, the term coal was used for what we now call charcoal. Scholars have offered two explanations for why a similar black, lumpy fuel, dug from the ground, was said to come from the sea. There is no doubt that sea coal was often found washed up on the seashore, having eroded from exposed coastal seams. For example, a grant of a new tract of land extended to the monks of Newminster Abbey in Northumberland around 1236 included the right to collect sea weed and sea coal along its shore (the latter likely to fuel their saltworks).[2] However, there is another possible explanation for the name – that it was called sea coal because it arrived into London by sea from the North. Documentary evidence for this sea trade appears at almost exactly the same time – a document dated to 1228 refers to a Sacoles (Sea Coals) Lane in the suburbs of London, also known as Limeburner's Lane, presumably after the primary customers for the new seaborne fuel.[3] I can find no firm reason to prefer one explanation over the other, so take your pick.[4] Coal seams rose close to the surface throughout much of the island, especially in a roughly 300-mile belt across its middle from Birmingham north to Edinburgh. Britain's gluttonous consumption of coal owed itself to the combination of this supply of easily accessible ores and the demand crated by the demographic explosion of London."
* * *
Readers, feel free to contact me at lambert [UNDERSCORE] strether [DOT] corrente [AT] yahoo [DOT] com, with (a) links, and even better (b) sources I should curate regularly, (c) how to send me a check if you are allergic to PayPal, and (d) to find out how to send me images of plants. Vegetables are fine! Fungi and coral are deemed to be honorary plants! If you want your handle to appear as a credit, please place it at the start of your mail in parentheses: (thus). Otherwise, I will anonymize by using your initials. See the previous Water Cooler (with plant) here. Today's plant (TH):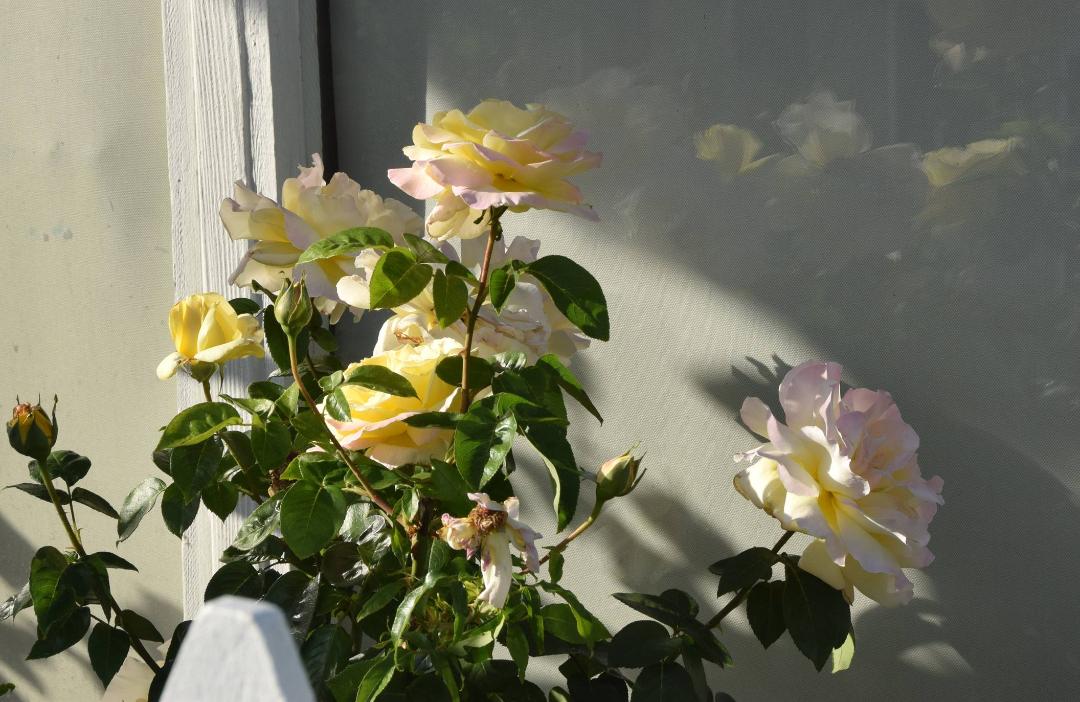 TH writes: "How lovely to have a sweetly scented bouquet of such delicately shaded and shaped roses so close you could just open your window to feel they'd been brought in, keeping them fresh and saving on the whole vase and clipping routine!"
* * *
Readers: Water Cooler is a standalone entity not covered by the recently concluded and — thank you! — successful annual NC fundraiser. So if you see a link you especially like, or an item you wouldn't see anywhere else, please do not hesitate to express your appreciation in tangible form. Remember, a tip jar is for tipping! Regular positive feedback both makes me feel good and lets me know I'm on the right track with coverage. When I get no donations for five or ten days I get worried. More tangibly, a constant trickle of donations helps me with expenses, and I factor in that trickle when setting fundraising goals:
Here is the screen that will appear, which I have helpfully annotated.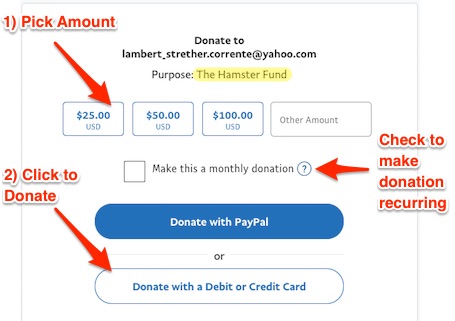 If you hate PayPal, you can email me at lambert [UNDERSCORE] strether [DOT] corrente [AT] yahoo [DOT] com, and I will give you directions on how to send a check. Thank you!2:00PM Water Cooler 6/8/2021