By Lambert Strether of Corrente.
Bird Song of the Day
Another bird species recorded in Russia — [waves!] — but this audio is from the east side of Mount Fuji.
* * *
#COVID19
At reader request, I've added this daily chart from 91-DIVOC. The data is the Johns Hopkins CSSE data. Here is the site. I feel I'm engaging in a macabre form of tape-watching….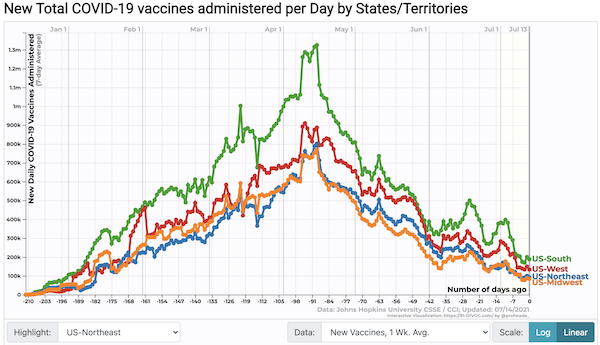 Oof. This after only 48% of the US population is fully vaccinated. And our public health establishment has discredited non-pharmaceutical interventions like masking, and has been fighting treatment tooth and nail, as hard as they fought aerosols, good job.
"Most unvaccinated people have low incomes" [Axios]. "More than half of unvaccinated Americans live in households that make less than $50,000 annually, according to the latest Census Bureau data. Making it easier for the working poor to get the COVID-19 vaccine, without dinging their already-low incomes, could help boost the country's vaccination rates." • Fauci is right about "two Americas." He's just drawing the dividing line in the wrong place.
CA: "Delta variant's spread among unvaccinated Californians threatens new surge of COVID cases, officials warn" [San Francisco Chronicle]. "With nearly half of California residents still not fully immunized against COVID-19 and the highly infectious delta variant in wide circulation, the state could be facing a surge up to two-thirds the size of last summer's wave of infection despite generally high vaccination rates, health officials said Tuesday…. the state's reopening coincided with the introduction of the delta variant in California, which is leading to a faster than expected upswing in cases. Fourth of July gatherings likely contributed to the rapid increase. 'Do we think it will be as devastating as last winter? That seems extremely unlikely,' Pan said. 'But we could see a half to two-thirds of what we were seeing last summer.'"
DC: "Are D.C.'s Vaccine Incentives Working?" [Washington City Paper]. "About one month ago, Mayor Muriel Bowser's administration started doling out $51 VISA gift cards at select COVID-19 vaccine sites, and entered individuals into various raffles for a chance to win more than just a shot back to 'normal.' What has happened since? Sites that offer giveaways have seen an uptick of D.C. residents getting vaccinated…. [DC Health's Patrick Ashley] told councilmembers that vaccinations citywide have finally become stagnant, meaning D.C. is no longer seeing a decrease. 'It is good news,' he assured. DC Health data shows vaccinations started to stagnate late June into early July. Ashley does not just attribute this to financial incentives but other efforts, namely community members who've gone door-knocking to try and persuade their neighbors to get vaccinated. He also cited the rise of the delta variant as a motivating factor."
MS: "'People are going to die needlessly': MSDH releases new guidelines in response to spike in Delta variant infections" [Mississippi Today]. "The rapid rise of Delta variant cases and virus outbreaks combined with the state's low vaccination rate led the Mississippi Department of Health to release a slew of new COVID-related guidelines on Friday. The new recommendations, which will stay in place through July 26, are: All Mississippi residents ages 65 and older, as well as anyone with a chronic underlying medical condition, should avoid all indoor mass gatherings regardless of their vaccination status; all unvaccinated Mississippians wear a mask when indoors in public settings; all Mississippians 12 years of age and older get vaccinated…. State Health Officer, Dr. Thomas Dobbs, said that these recommendations were decided on because Mississippians collectively have not done what it takes to protect us all, and MSDH wants to give the most vulnerable individuals the best guidance so they can survive the Delta surge the state is facing."
OK: "In northeast Oklahoma hospital, beds are full again as COVID-19 delta variant takes hold" [The Oklahoman]. "[Hospitalist Dr. Justin Mitchell] said delta variant outbreaks in southwest Missouri and northwest Arkansas made their way into the corner of the state where he works. Northeast Oklahoma is the 'tip of the spear' in the state's new wave of cases, fueled by the delta variant, Mitchell said. And it's likely not long before the highly contagious strain starts to pick up speed in other parts of Oklahoma, too. 'For those in Tulsa and Oklahoma City to be aware of, it's probably just a matter of time before the delta variant makes its way down there,' he said. 'When you think about the vaccination rates here and our population, there is no reason to believe that it's going to slow down anytime soon,' he said."
Case count by United States regions: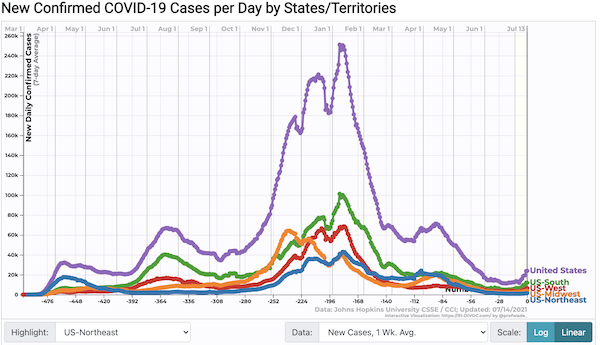 Oof. Increased slope. The slope is nothing like it was 476 days ago, but upward it is. We should know the impact of travel and all the family gatherings by July 4 + 14 call it July 21 or so. And of course summer camp, Bible School, etc. (Note that these numbers are if anything understated, since the CDC does not collect breakthrough infections unless they involve hospitalization, and encourages states and localities not to collect the data either.) I have drawn an anti-triumphalist black line. Note that the country as a whole is where the Northeast (mostly New York) was at the peak of its crisis in the first wave.
MO: "Southwest Missouri hospitals begin to surpass winter COVID-19 surge. St. Louis County warns of rising cases" [St Louis Post-Dispatch]. "Hospitals in southwest Missouri are beginning to surpass the level of COVID-19 patients seen in the winter of 2020, and St. Louis-area officials are bracing for infection rates to continue to rise here, too. On Monday, Mercy Hospital Springfield had more COVID-19 patients than at the peak in December, and Greene County's infection rates showed no signs of retreat. 'Not only are cases continuing to rise, but they're rising faster,' said Aaron Schekorra, public health information administrator for the Springfield-Greene County Health Department. In the St. Louis region, hospitalizations for the virus have been increasing for three weeks. Health officials have warned that the more transmissible delta variant of COVID-19 is circulating here and have called on residents to get vaccinated to tamp down its spread. During a briefing Monday morning, St. Louis County Executive Sam Page said the county's rate of new cases has risen 63% in two weeks. 'We're not expecting a slowdown anytime soon,' Page said."
Covid cases top ten states: for the last four weeks (hat tip, alert reader Lou Anton):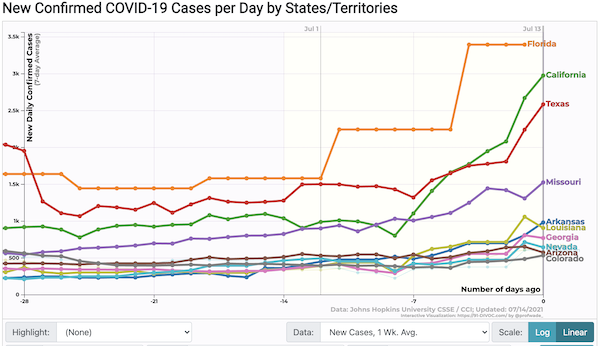 California passes Texas, but Texas coming up fast. Arkansas still going up.
NEW From CDC: "Community Profile Report July 8 2021" (PDF), "Rapid Riser" counties: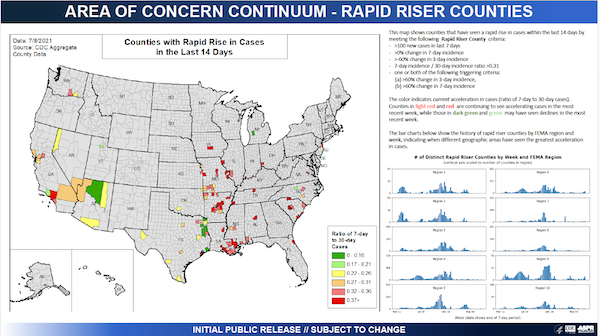 (Red means getting worse, green means bad but getting better. This chart updates Tuesdays and Fridays, presumbly by end-of-day. UPDATE But it didn't update yesterday.)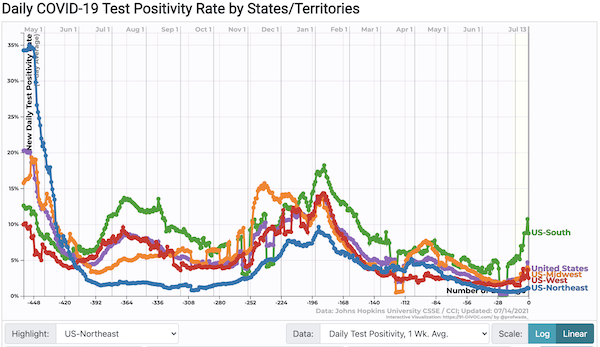 South running away with the field.
Hospitalization (CDC):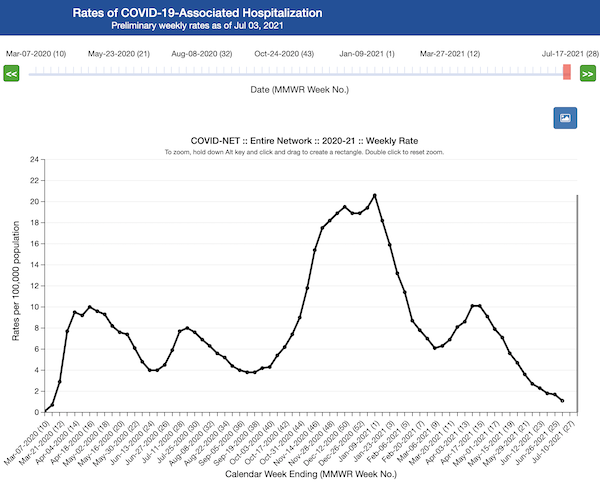 No bad news yet.
Deaths (Our World in Data):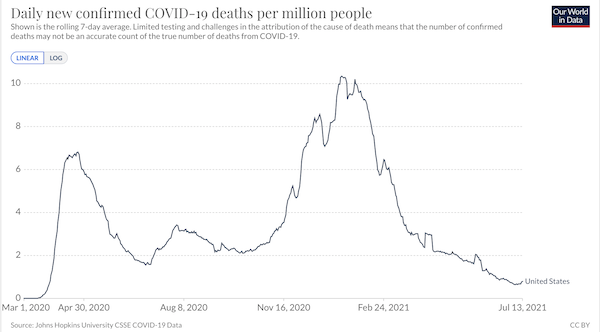 No bad news yet, though there is now slight upward motion.
Covid cases worldwide: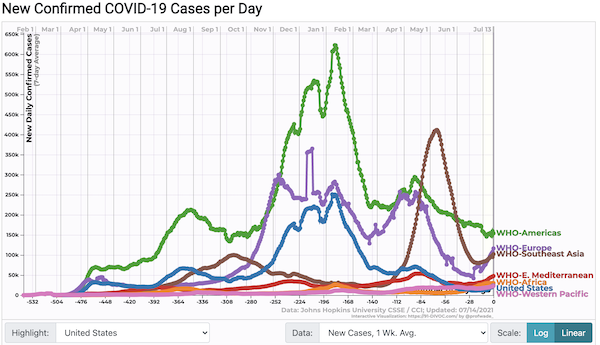 Every region is trending up.
* * *
Politics
"But what is government itself, but the greatest of all reflections on human nature?" –James Madison, Federalist 51
"They had one weapon left and both knew it: treachery." –Frank Herbert, Dune
"They had learned nothing, and forgotten nothing." –Charles Maurice de Talleyrand-Périgord
Biden Administration
"OnPolitics: The 'moral' case for voting rights" [USA Today]. " President Joe Biden was in Philadelphia Tuesday using his bully pulpit to warn that right to vote is under assault…. While Biden's speech Tuesday received praise from some activists, they also urged the president and vice president to do everything in their power — even making changes to the filibuster — to have Congress pass the bills that will protect voters." • Even! From the transcript:

We're are facing the most significant test of our democracy since the Civil War. That's not hyperbole. Since the Civil War. The Confederates back then never breached the Capitol as insurrectionists did on January the 6th.

Assassinating Lincoln doesn't count? Not a bad speech, but who let that through?

Good, but could be better:

Starting this week, child tax credit payments will start to hit bank accounts and mailboxes.

These payments will benefit 120,200 children in our district and lift 10,600 out of poverty.

We're one step closer to eradicating child poverty 💪🏽https://t.co/JCDZNAYk0N

— Rep. Ilhan Omar (@Ilhan) July 14, 2021

It's only good for one year…
Republican Funhouse
"'Get on the team or shut up': How Trump created an army of GOP enforcers" [Politico]. "From the earliest days of his presidency Donald Trump and his political team worked to re-engineer the infrastructure of the Republican Party, installing allies in top leadership posts in key states. The effect has been dramatic — and continues to reverberate nearly six months after he left office. There and elsewhere, state party chairs have been at the center of a raft of resolutions to censure or rebuke GOP lawmakers deemed insufficiently loyal to Trump. In red states, blue states and swing states, these leaders — nearly all of whom were elected during Trump's presidency or right after — are redefining the traditional role of the state party chair. They are emerging not just as guardians of the former president's political legacy, but as chief enforcers of Trumpism within the GOP."
Democrats en Deshabille
"Senate presses forward passing GOP voting and bail bills, as Texas House in chaos over Democrats' decampment" [Texas Tribune]. "As Democrats fled the state to avoid voting on a GOP priority elections bill that would restrict voting rights in the state, the Texas Senate approved the bill Tuesday with a party-line vote of 18-4. The Senate passed the controversial elections bill — and bail legislation — a day after 51 House Democrats decamped to Washington, D.C., to avoid voting on the elections bill in their chamber. If the Democrats don't return before the special session ends, the Senate bills will languish. Eight Senate Democrats announced Tuesday they had also fled to the nation's capital — a ninth was expected to arrive that evening — on the same day as their chamber was set to vote on the elections bill. But the Senate kept a quorum with 22 of its 31 members present and was able to vote on the bill." • I remain unimpressed. First, the Republicans will surely work out a riposte, like calling another special session. Second, I've seen it before; Democrats fought Scott Walker with exactly the same tactic, and it didn't work. Third, I think it plays badly, in that it reinforces the image that Democrats want to flee the areas of the country they don't dominate; I think they ought to stay and fight, no matter how. Finally, let me know how things work out with the national Democrats. Texas readers please weigh in!

* * *

NY: Sigh….

Erin Burnett: "Do you agree with Bill de Blasio's decision to keep a mask mandate for all students, even those above the age of 12?

NYC Mayoral candidate Eric Adams: No I do not." pic.twitter.com/ViQ9vk70v4

— The Hill (@thehill) July 14, 2021
2022
"1 big thing: Dems' House hopes hang on two states" [Axios]. "The Democrats' "only chance of keeping the House" next year is if they redraw congressional lines to their advantage in New York and Illinois, Cook Political Report's David Wasserman tells Axios' Stef Kight…. The GOP is already poised to take advantage of its control of map-drawing in more states than Democrats. But Democrats have a chance to eliminate as many as seven Republican House seats in just New York and Illinois through redistricting in states they control."

"House Republicans Post Record Fundraising Ahead Of 2022 Race" [HuffPo]. "he committee charged with helping Republicans wrest control of the House in 2022 raised $45.4 million over the last three months, a record quarterly haul during a year without a national election. That total was bolstered by $20.1 million raised in June, the highest ever monthly off-year total, according to numbers shared with The Associated Press before a public filing deadline. The Democratic Congressional Campaign Committee last week announced that it had raised $14.4 million in June, bringing its second-quarter total to about $36.5 million — its best ever for that stretch. The large sums signal that excitement is high among donors to both parties as they prepare for what is expected to be a contentious midterm election season. Democrats hold a razor-thin majority in the House, but Republicans have history on their side: The party that occupies the White House typically sees large losses in both the House and the Senate. GOP fundraising has also been bolstered by former President Donald Trump, whose name continues to dominate fundraising pleas for small-dollar contributions, even as he continues to spread lies about the 2020 election, which he lost to Democrat Joe Biden."
Realignment and Legitimacy
"Market dirigisme" [Interfluidity]. "Market dirigisme is the name I give to a style of public policy I think we ought to use more. The idea is pretty simple. Governments form preferences over how the polity ought to be but currently is not. Often, what governments should do is to explicitly purchase the changes in behavior they desire from the general public…. Often when a central government wishes to change the polity, it tries to induce changes at the level of subsidiary governments, rather than via citizens and households….. There are deep problems with this style of center-to-subsidiary governance. It's intuitively attractive, I think, due to a mistaken analogy between government subsidiarity to bureaucratic hierarchy. It feels "rational" or "logical" to work through the "chain of command" rather than have the center try to mess directly with with hundreds of millions of citizens about whose particular circumstances it knows little….A better approach is for the central government to alter the circumstances, and so the preferences, of the broad public. If we'd like denser communities, the central government can simply pay a subsidy to residents of communities growing denser. Elected officials of subsidiary governments no longer face conflicting incentives. If the subsidy is large enough to shift the preferences of the voters to whom local politicians are accountable, politicians will enact real change. If their supporters' dispreference for density overwhelms the money, they won't. The size of the subsidy can be set large enough to meet the central government's objectives while still permitting some communities to opt out."

"Buying Democracy in a Good Way" [Dean Baker, CEPR]. "At the moment, at least two Democratic senators (Joe Manchin of West Virginia and Kyrsten Sinema of Arizona) seem unwilling to go along with voting to weaken the filibuster to allow voting rights measures to pass with a simple majority. As a result, it is hard to see how anything can pass. But, the Democrats can pass bills that involve appropriations with a simple majority through the reconciliation process. This is where the point that Brian made comes in, we can make voting rights about money. Suppose the next reconciliation bill included a provision that gave $1,000 per person to every adult living in a state where the districts are drawn by an independent commission, where basic provisions of access are guaranteed (e.g. two weeks of early voting, no excuse absentee voting), and where elections are run by career civil servants and cannot be overturned by elected officials. We should probably throw in some provisions about mandatory five-year prison terms for harassing or threatening election officials. This is a straight up appropriation bill, it's not telling states what they have to do, so it should pass muster for reconciliation. It may be the case that Republican states will still insist on their voter suppression measures and rigged districts, and look to blow off the money, as they did with Medicaid expansion, but this would be a very different story."
Stats Watch
There are no official statistics of interest today.
* * *
Commodities: "The U.S. Wheat Crop Is in Trouble" [Gizmodo (KW)]. "Wheat farmers across the country are facing lower yields as 98% of the country's wheat crop is in areas experiencing drought. In the Northern Plains, the Department of Agriculture said Monday that farmers were projected to harvest their smallest crop of spring wheat—crops planted in the spring and harvested in the autumn—in 33 years. … The region is hardly alone; the USDA also said this week that 68% of the Pacific Northwest's spring wheat was in 'poor or very poor' conditions. At this time last, only 6% of the region's wheat crop was in this state. All told, the USDA found that 98% of the U.S. wheat crop is growing in areas hit by drought."
Shipping: "Cargo owners are hoping President Biden's executive order on business competitiveness helps resolve longstanding problems they have had with ocean and rail regulation. Groups representing retail importers, industrial shippers and agriculture exporters say the White House directive targets entrenched issues over freight transport fees and services…, including charges they say have surged during the past year's big supply chain disruptions" [Wall Street Journal]. "Those include the detention and demurrage late fees that some shippers say are costing them millions even as ships wait offshore at ports and shipping containers remain in short supply. Freight carriers call the Biden administration's move an overreaction to recent disruptions driven by the pandemic rather than by fundamental problems in transportation markets."
Tech: "Inside Facebook's Data Wars" [New York Times].
* * *
Today's Fear & Greed Index: 35 Fear (previous close: 35 Fear) [CNN]. One week ago: 39 (Fear). (0 is Extreme Fear; 100 is Extreme Greed). Last updated Jul 14 at 11:50am.
The Biosphere
"Moon wobble to bring surge in coastal flooding in 2030s, NASA study predicts" [CNN]. "Coastal communities in the United States, be forewarned. A 'dramatic' surge in high-tide floods is just over a decade away in the US, according to NASA. The rapid increase will start in the mid-2030s, when a lunar cycle will amplify rising sea levels caused by the climate crisis… he reason for this expected surge is tied to the moon's 18.6-year cycle. Right now, it's in the half that amplifies tides — meaning high tides get higher and low tides get lower. Along most US coastlines, current sea levels have not risen so much that high tides regularly top flooding thresholds.
But that won't be the case next time around, which is in the mid-2030s. That's because of how a wobble in the moon's orbit combines with rising sea levels. The wobble isn't new — it was first reported in 1728. But how this movement affects the moon's gravitational pull, the main cause of the Earth's tides, will spark these new flooding concerns when it combines with rising sea levels. 'Global sea level rise will have been at work for another decade. The higher seas, amplified by the lunar cycle, will cause a leap in flood numbers on almost all U.S. mainland coastlines, Hawaii, and Guam,' a NASA news release stated."
"Breaking Wind" [Chris Jones, IIHR Research Engineer]. "[Antonio Arenas] analyzed crop insurance data for Iowa and a few other states for the period 1991-2018. Iowa's indemnity (payout): $9.6 billion. The amount sourced to the taxpayer through subsidized crop insurance: $6.3 billion. The amount sourced to the farmer through their portion of the insurance premiums: $3.4 billion. And a whopping 68% of that $9.6 billion was paid out in only four relatively recent years: 2008 (wet), 2012 (drought), 2013 (wet spring then drought), and 2014 (drought). Crops in southern Iowa counties tend to be more vulnerable to weather calamity than other parts of the state, and this is true on both ends of the rain gauge, drought and excess moisture. Total crop insurance payouts in several Iowa counties exceed $1000 per acre since 1991. So maybe it's understandable that the Iowa farmer feels like he/she can whistle by the global warming graveyard, as long as the taxpayers are paying for the ambulance. I for one think things might be a little different if we weren't."
"Midwestern Companies, Trade Groups Sue to Review Trump Rule Limiting Cross-State Pollution" [Indiana Environmental Reporter]. "The Midwest Ozone Group, which includes some of the heaviest polluters in the state of Indiana, is asking the U.S. Court of Appeals for the District of Columbia Circuit to review the Revised Cross-State Air Pollution Rule Update for the 2008 Ozone NAAQS, a court-mandated Trump-era rule that tightened restrictions on emissions of nitrogen oxides, the group of gases that cause acid rain and toxic ozone, for Indiana and 11 other states."
"Colonial Pipeline and Federal Regulators Reach Settlement In Historic NC Gas Spill" [Robbie Jaeger]. "Colonial Pipeline has reached an agreement with Federal regulators at the Pipeline and Hazardous Materials Administration regarding their 1.2M gallon (and growing) gasoline leak in the Oehler Nature Preserve near Huntersville, NC in August of 2020. The agreement gives Colonial a roadmap to absolution with a laundry list of corrective measures demanded by PHMSA—but it also allows the company to avoid and monetary fines or further litigation on the matter, should they comply. PHMSA had recently released a report condemning the entire 5,500 mile pipeline system as a threat to public and environmental safety—saying that conditions exist for a catastrophic leak, such as the one in Huntersville, throughout the system. PHMSA also took aim at Colonial's leak detection methods, saying their inadequacy exacerbated the Huntersville spill, and likely several others in Colonial's history. The settlement—negotiated behind closed doors in June—specifically mentions that Colonial isn't guilty, or necessarily innocent, of any allegations the agency brought forth."
"Memphis community celebrates after crude oil pipeline proposal scrapped" [ABC]. "The pipeline initially threatened to cut through predominantly Black communities that have historical significance to those who live there — such as Boxtown, an area in Southwest Memphis that got its name after formerly enslaved people built their homes there out of train boxcars. A representative of the pipeline company [Plains All American] initially told the community the route was chosen because it was the 'path of least resistance.' A company spokesperson later clarified to ABC News that, 'What should have been said is that we looked for the path with the fewest collective impacts.'" • Plains All American didn't send their best, did they?
"U.S. Treasury's Yellen says carbon pricing can work, with caveats" [Reuters]. "U.S. Treasury Secretary Janet Yellen acknowledged on Tuesday the use of carbon-pricing schemes such as a planned new European border levy but stressed such moves should take into account emission-cutting progress made in other ways…. Among them, it will outline what a carbon border adjustment mechanism (CBAM), designed to cut emissions by creating financial incentives for greener production and by discouraging "carbon leakage," as the transfer of operations to countries with less onerous emission restrictions is known."
"A Quarter of Eau Claire's Municipal Wells Have PFAS Contamination, City Announces" [Up North News]. "Eau Claire is the most recent Wisconsin community to discover unsafe levels of PFAS in its drinking water supply after city officials discovered four of the city's 16 wells had unsafe levels of the chemicals linked to significant risks to human health…. PFAS (per- and polyfluoroalkyl substances) are referred to as "forever chemicals" because they don't easily break down in the environment. The substances have been used for decades in such products as firefighting foam and stain-resistant sprays and have been associated with such health problems as cancer, liver damage, thyroid disease, and decreased fertility, according to the US Centers for Disease Control and Prevention. Scientists continue to study the health impacts of PFAS on humans."
"The Hidden Lives of Trees Shows a World of Cooperation, Awareness, and Intelligence in Plants" [World at Large (jo6pac)]. "While this was certainly impressive, Adolph and Wohlleben show so much more besides, including the fact that there are "mother trees" which cultivate an area around them to serve as a nursery. They detail their social cooperation, like how trees will entangle their roots together, sometimes over large distances, in order to share nutrients and defend trees that are sick or hungry, or that thousands of trees will somehow coordinate when to release their seeds in order to avoid predators like boar and squirrels. This cooperation is centered around the superorganism that is the forest. Tree roots mix with thousands of species of plants, animals and fungi to create the sometimes-called "wood-wide-web" also known as the "mycorrhizal network". Through this social media, they send signals about drought, disease, insect attacks, famine, and more, including bartering food to fungi in exchange for cleaning and detox services." • I like the notion of a "superorganism." On trees, see NC here.
The 420
"High potency weed linked to psychotic episodes, mysterious vomiting illness in young users" [NBC]. "Colorado and Washington became the first states to legalize recreational marijuana in 2012. Several years later, doctors in Colorado and other states are expressing alarm over the increasing potency of cannabis and the health risks it may pose for young users — from psychiatric issues, including violent psychotic episodes, to the mysterious condition that plagued Gribbon. The condition — officially called 'cannabinoid hyperemesis syndrome' but now known to health care workers as 'scromiting,' a mashup of 'screaming' and 'vomiting' — has popped up with increasing frequency at hospitals in Colorado, doctors say. The ER at Parkview Medical Center in Pueblo saw only five scromiting cases in 2009. By 2018, the number had risen to more than 120, according to data compiled by Dr. Brad Roberts, an emergency room physician at the hospital." • Assuming this isn't Harry Anslinger-style hysteria, sounds like cannabis potency should be regulated.
Class Warfare
"Connolly and the Serpent: What the Left Misses on Modern Unions" [protean]. "As Irish socialist and union leader James Connolly argued, 'Without the power of the Industrial Union behind it, Democracy can only enter the State as the victim enters the gullet of the Serpent.' This gestures at a radical reimagining of the debate over sectoral bargaining, a topic often viewed as "wonkish" or bureaucratic and far removed from romantic visions of shop floor class struggle. As Connolly and others argued, industrial organization, essential to sectoral bargaining, was important precisely because it allowed for labor activity to more effectively translate into class politics."
"Wedding Guests Are Dreading the Biggest Marriage Boom Since 1984" [Bloomberg]. "She's budgeting for weddings in Barbados, Charleston, Chicago and New Orleans, and bachelorettes in the Bahamas and Turks and Caicos, and estimates it'll all cost about $9,000. And that's before extra meals, outfits, out-of-pocket expenses while traveling and the time off from work that she has to request…. As the pandemic abates, couples who got engaged during Covid-19 lockdowns are planning to tie the knot, and weddings that were postponed in 2020 are moving forward. Marriages in the U.S. are set to rebound by more than 50% this year after slumping about 40% in 2020, according to data from The Wedding Report, an industry research firm. The rising trend is expected to persist into next year, when almost 2.5 million weddings are expected — the most since 1984." •
News of the Wired
New from the Flatlanders, speaking of Texas:
Dad.
horse: these pants fit me perfectly

sales clerk: very good sir

horse: *quietly* I'll need two pairs

sales clerk: *discretely* of course

— john (@mrjohndarby) January 5, 2019
* * *
Readers, feel free to contact me at lambert [UNDERSCORE] strether [DOT] corrente [AT] yahoo [DOT] com, with (a) links, and even better (b) sources I should curate regularly, (c) how to send me a check if you are allergic to PayPal, and (d) to find out how to send me images of plants. Vegetables are fine! Fungi and coral are deemed to be honorary plants! If you want your handle to appear as a credit, please place it at the start of your mail in parentheses: (thus). Otherwise, I will anonymize by using your initials. See the previous Water Cooler (with plant) here. Today's plant (RM):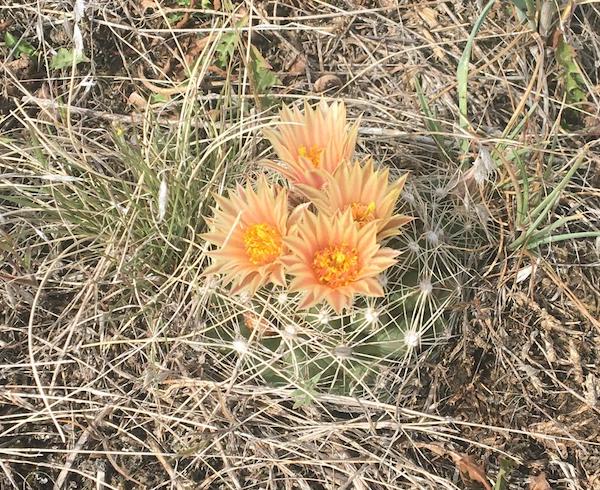 RM writes: "I went out for a hike today on my ranch. We are in a major drought cycle here and was thrilled to find this mountain ball cactus or Pediocactus Simpsonii. They are on the edge of their range here in eastern Montana. About the size of a tennis ball."
* * *
Readers: Water Cooler is a standalone entity not covered by the recently concluded and — thank you! — successful annual NC fundraiser. So if you see a link you especially like, or an item you wouldn't see anywhere else, please do not hesitate to express your appreciation in tangible form. Remember, a tip jar is for tipping! Regular positive feedback both makes me feel good and lets me know I'm on the right track with coverage. When I get no donations for five or ten days I get worried. More tangibly, a constant trickle of donations helps me with expenses, and I factor in that trickle when setting fundraising goals:
Here is the screen that will appear, which I have helpfully annotated.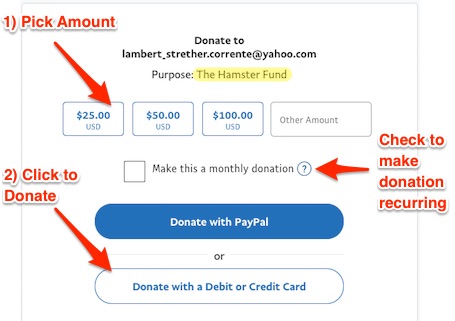 If you hate PayPal, you can email me at lambert [UNDERSCORE] strether [DOT] corrente [AT] yahoo [DOT] com, and I will give you directions on how to send a check. Thank you!2:00PM Water Cooler 6/8/2021