By Lambert Strether of Corrente.
Bird Song of the Day
* * *
#COVID19
At reader request, I've added this daily chart from 91-DIVOC. The data is the Johns Hopkins CSSE data. Here is the site. I feel I'm engaging in a macabre form of tape-watching….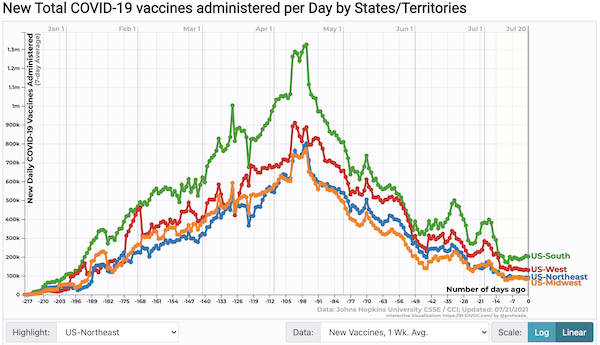 Flattened, interestingly. This after only 48.7% of the US population is fully vaccinated. (For those following at along at home, that's not even a majority). And our public health establishment has discredited non-pharmaceutical interventions like masking, and has been fighting treatment tooth and nail, as hard as they fought aerosols, good job.
Case count by United States regions: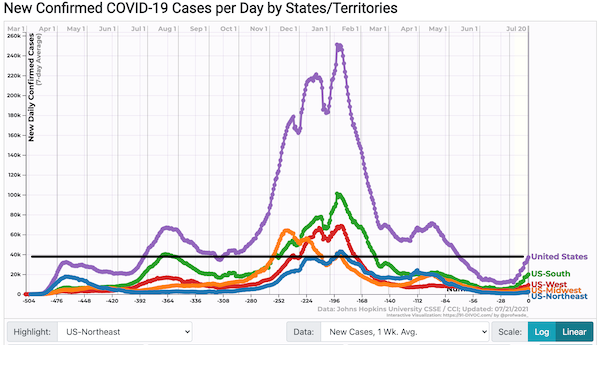 The non-triumphalist black line of today's new normal is a definitely above the peak of the first wave, back in early 2020. (Note that these numbers are if anything understated, since the CDC does not collect breakthrough infections unless they involve hospitalization, and encourages health administrators in the states and localities not to collect the data either.) We should know the impact of travel and all the family gatherings by July 4 + 14 call it July 21 or so. And of course summer camp, Bible School, etc. NOTE: That's today. I'm perfectly happy to call the beginning of a new wave (the fifth?), even if we don't know how high it will go. So far, the country is dodging a bullet in terms of hospitalization and death ((no longer going down, but not spiking either). I don't know why that is. (Long Covid is another matter.)
Covid cases top ten states: for the last four weeks (hat tip, alert reader Lou Anton):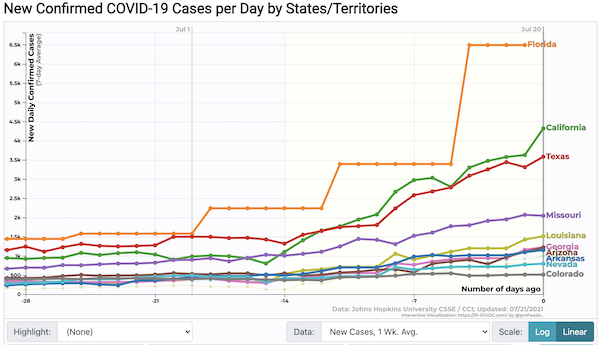 California and Texas on the rise again.
NEW From CDC: "Community Profile Report July 20 2021" (PDF), "Rapid Riser" counties, this release: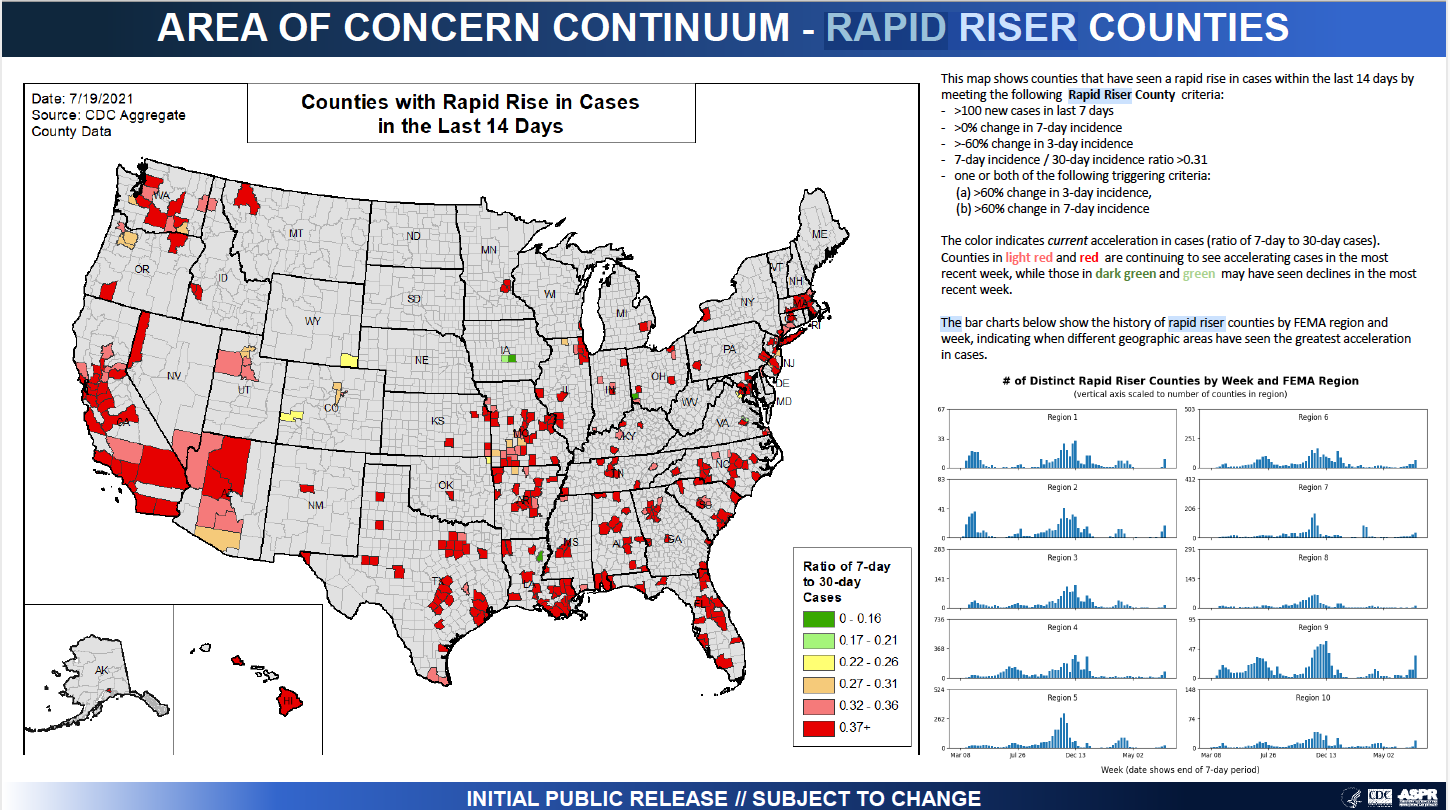 More red. Last release: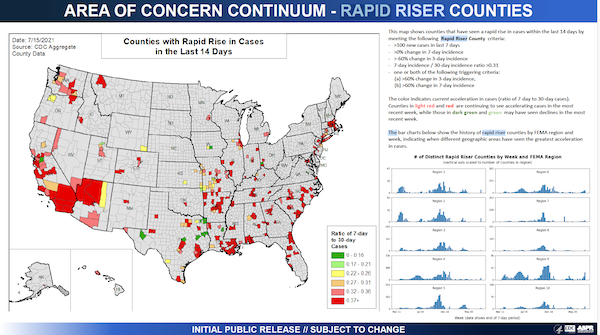 (Red means getting worse, green means bad but getting better. This chart updates Tuesdays and Fridays, presumbly by end-of-day.)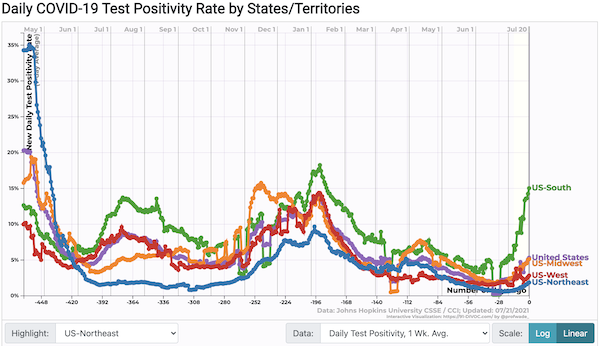 South running away with the field. But other regions now playing catch-up.
Hospitalization (CDC):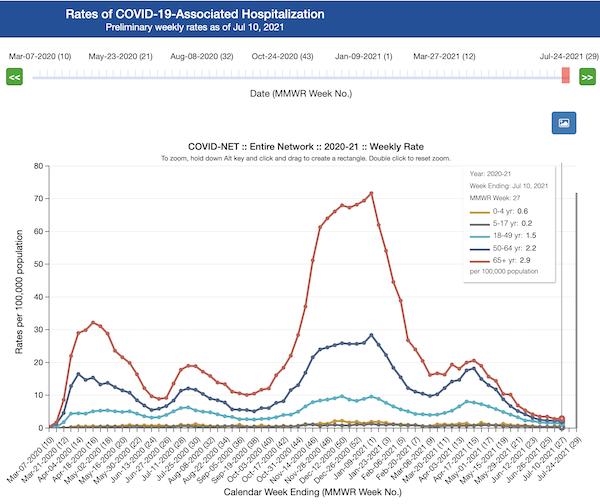 Hospitaliztion flattens, no longer in decline.
Deaths (Our World in Data):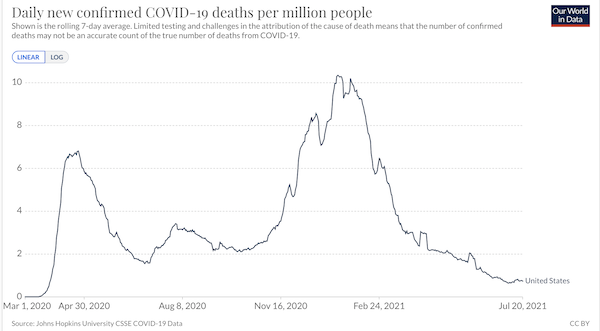 Deaths flatten after increasing.
Covid cases worldwide: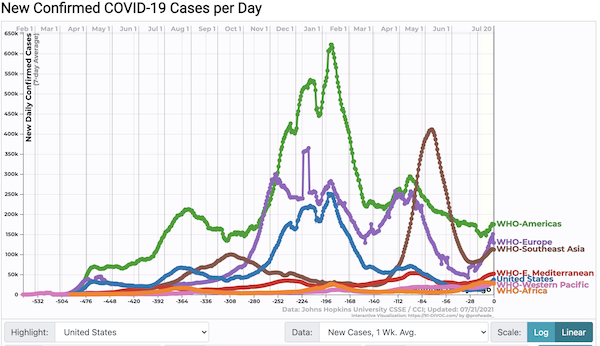 Every region is trending up.
* * *
Politics
"But what is government itself, but the greatest of all reflections on human nature?" –James Madison, Federalist 51
"They had one weapon left and both knew it: treachery." –Frank Herbert, Dune
"They had learned nothing, and forgotten nothing." –Charles Maurice de Talleyrand-Périgord
Capitol Seizure
"Watching the Watchmen" [Buzzfeed]. "The man who'd advised them on where to put the explosives — and offered to get them as much as the task would require — was an undercover FBI agent." • That's not at all unusual; FBI informants inside the Bundy's Malheur compound gave weapons training to the occupiers, after all. Filing this here because the FBI has form, and the FBI also had — unsurprisingly — informants in the milieu that gave rise to the Capitol riot.

UPDATE "Capitol attack committee chair vows to investigate Trump: 'Nothing is off limits'" [Guardian]. "In an interview with the Guardian, Thompson said that he is also prepared to depose members of Congress and senior Trump administration officials who might have participated in the insurrection that left five dead and nearly 140 injured. 'Absolutely,' Thompson said of his intent to pursue a wide-ranging inquiry against the former president and some of his most prominent allies on Capitol Hill. "Nothing is off limits.'… But Thompson went further, and said that he expects anyone – whether a sitting member of Congress or former White House official – who may have spoken to Trump on 6 January to become the subject of the select committee's investigation." • They keep saying nothing is off limits, but they never mention the FBI.
Biden Administration
UPDATE "President Biden's net zero revolution?" (video) [Financial Times]. The blurb: "Sweeping reforms promise to transform the US from one of the world's worst polluters into a net zero pioneer. But wind, solar and plug-in cars won't be enough. As the FT's Myles McCormick explains, President Biden is relying on huge advances in technology and the unlikely support of political opponents to make his green dream a reality."

UPDATE "POLITICO Playbook: 'Reckless tax and spending spree': The GOP battle plan takes shape" [Politico]. • Holy Lord. Trump's CARES Act was an enormous spending spree and extremely successful.

UPDATE "Gun violence is surging — researchers finally have the money to ask why" [Nature]. "[There is] a new pool of federal money for gun-violence research in the United States, which has more firearm-related deaths than any other wealthy nation. Although other countries fund research on guns, it is often in the context of trafficking and armed conflict. US federal funding of gun-violence research has not reflected the death toll, researchers say. The new money comes after more than two decades of what has essentially been a freeze on funding for the topic. … Spurred by advocacy that followed some high-profile school shootings, Congress has now authorized $25 million for each of the past two years to go to the NIH and the US Centers for Disease Control and Prevention (CDC) for the study of gun violence as a public-health issue. In April, President Joe Biden suggested doubling that figure. Although researchers were initially slow to answer the funding call, studies such as Wallace's are starting to look at how gun policies affect homicide rates. Others will investigate strategies to reduce suicides, which typically account for nearly two-thirds of gun deaths in the United States. And a handful of state health departments around the country are getting funding to collect better statistics on gun-related injuries." • Another good small thing done by the Biden Administration (small by the side of, say, climate). Enough? Probably not. Also, let's hope the CDC doesn't run true to form and butcher it.

"Elder Rises, Jenner Falls, As Newsom Recall Election Gets Real" [New York Magazine]. "The long-shot Republican effort to recall California governor Gavin Newsom got a jolt of energy this week as popular conservative radio talk-show host Larry Elder joined the field (which officially closed on Friday) of "replacement candidates" who are competing for the job if voters give the incumbent the boot. Veteran California political observer George Skelton is among those who think Elder may immediately jump to the top of the nearly 80 candidates who qualified for the second ballot question in the September 14 recall election. (The first is whether Newsom should be removed from office, and the second, which only matters if the first is answered affirmatively by a majority of voters, is who should then become governor… So he has high California name ID and a national fundraising base. He's also not exactly a cookie-cutter right-wing gabber; he supported Trump in 2020 but has a libertarian-ish background. And as a longtime Black Republican figure who grew up in South Central Los Angeles, he is neither an opportunist nor a stuffed-shirt country-club type." • So, you can beat somebody with somebody?
Democrats en Deshabille
"Cuomo staff attendance records withheld for 'law enforcement purposes'" [Albany Times-Union]. "As the Times Union reported in April, at least two junior Cuomo staffers were assigned book-related tasks last year, while also earning substantial overtime payments in 2020. Cuomo's office says that no overtime was paid to staffers for work related to 'American Crisis,' and that any overtime requested was 'to help assist in the operation of state government.' The office is declining to release the records that may confirm that assertion." • Oh.
2022
"GOP eyes Latinos in South Texas in effort to regain Congress" [Associated Press]. "In Republicans' bid to retake control of Congress, this traditionally Democratic stretch of South Texas has quietly become a top battleground. After making unexpected gains last November, the GOP is zeroing in on a trio of House seats in the region as key targets heading into next year's midterm elections. They include the 15th Congressional District, which hasn't sent a Republican to Washington since its creation in 1903, but where a GOP newcomer came within three points of winning in 2020. Republican leaders believe the party is on the precipice of a political realignment among Hispanic voters in communities along the U.S.-Mexico border like McAllen." • IIRC, Sanders won those districts, but the liberal Democrat threw them away. To me, the golden path to understanding the 2020 election is: Why did Sanders lose Texas? I've done some research and all the answers I've found were miserably inadequate.
Trump Legacy
"Trump Ally Tom Barrack Charged With Secretly Working For UAE" [HuffPo]. Meanwhile: "President Joe Biden has pledged to push controversial American friends like the Emiratis to abide by rights standards, and many top Democrats want to hold him to that promise. But after reviewing a massive $23 billion weapons package that Trump offered to the UAE, Biden OK'd the arms deal, HuffPost revealed in April. The fight over the package is ongoing ― and fresh frustration toward the UAE will not help its case." • And of course, the UAE plays both sides of the street. It's bad. Is it bad in some unique or interesting way?
Realignment and Legitimacy
"With 2 weeks to go, the special election for the Ohio 11 Congressional seat heats up" [News5 Cleveland]. "The campaign of Nina Turner is out with an ad attacking Shontel Brown, alleging she used her seat on Cuyahoga County Council to enrich friends, family and herself. 'On council, Brown voted to give more than $32 million in taxpayer contracts to a company connected to her boyfriend and family. She even voted to give herself a $7,000 pay raise for a part-time job on council,' the Turner ad said of Brown. County Council President Pernel Jones sees that as an attack on the entire council and their practices. 'I'm telling you there is nothing improper that is being done,' Jones said. 'To say that is untrue.' Jones was joined by Members of the Cleveland Clergy Coalition, who are supporting Brown in her run, to denounce the negative ads." • Well, that should do it. Cleveland politics are, of course, notoriously clean. As anybody from Akron knows.

UPDATE "Ohio becomes battleground for rival Democratic factions" [The Hill]. "Turner, who has been the front-runner for much of the race, has seen her lead narrow in recent days amid new attacks and endorsements for her opponent from national Democrats and aligned special organizations. An influential slate of outside groups, including the Congressional Black Caucus PAC and the New Democrat Coalition's action fund, recently endorsed Brown, as did Hillary Clinton, the former Democratic presidential nominee in 2016. The Democratic Majority for Israel PAC has also supported Brown's campaign through targeted advertising." • What a wretched hive of scum and villainy.

* * *

"Hannah-Jones: "All Journalism Is Activism"" [Jonathan Turley]. "Hannah-Jones told CBS News that journalists now have set aside notions of neutrality. She noted: 'When you look at the model of The Washington Post, right? 'Democracy dies in darkness,' that's not a neutral position. But our methods of reporting have to be objective. We have to try to be fair and accurate. And I don't know how you can be fair and accurate if you pretend publicly that you have no feelings about something that you clearly do.'" • Sort of amazing, except not, that Hannah-Jones treats the Jeff Bezos Daily Shopper™ not just as an exemplar, but a moral exemplar.

"Identity Tethering in an Age of Symbolic Politics" [The Hedgehog Review]. "The reality is that identity tethering is a type of cultural work that we all engage in; it operates along multiple social scales, from the more pedestrian level of consumer advertising to the more transcendent level of imagined communities. And like many successful social phenomena, it is meaningful to different people for different reasons. Symbolic behaviors like driving a pickup truck and refusing to wear a mask at the grocery store compound into a potent if unstable formation of symbolic capital. We engage in this cultural work of accruing symbolic capital because, like financial capital, it is valuable to us. It can help us cope; it grants admission to social cliques or professional advancement; it offers membership in communities of patriots or the faithful or the "reality-based community" (to use a term from the George W. Bush years). That symbolic capital is something we all more or less create or cocreate is the surest sign that it has something to offer everybody. Its pervasiveness, however, is also the reason it is vulnerable to culture war dynamics and to those who have something to gain from producing a steady diet of what used to be called propaganda. It is hard to get people to defend the powerful, but it is easy to get people to defend themselves. This is one way identity tethering works. You tether people's identity to a political and economic order."

"Men in Dark Times" [Harpers]. Deck: "How Hannah Arendt's fans misread the post-truth presidency." More: "Mapping Arendt's framework onto Trump obscures the way his lies operated, and what they were: not totalitarian world-building so much as boardroom bullshit. Far from resorting to terror, Trump made only paltry efforts to convert his lies into action. He antagonized the press but never made moves to dismantle it. Even when he contested the 2020 election result, he made his case through lies and lawyers rather than recruiting the kind of organized military force that might have executed a bona fide coup. On January 6, there was no serviceable plan because Trump never made the defining totalitarian effort to bend reality to his fictional world. His lies never progressed beyond the singular goal of saving face."

"Philadelphia sees $40 mln in possible costs from Trump ally's election probe" [Reuters]. "After [Republican state Senator Doug] Mastriano announced his probe last week, the Pennsylvania Department of State issued a directive to the state's 67 counties warning it would decertify any equipment handed over to third parties because the chain of custody would be broken…. Schmidt, who has repeatedly defended the integrity of the vote count in heavily Democratic-leaning Philadelphia, said Mastriano's request for a wide array of equipment could force the city to replace some $30 million worth of voting machines and an additional $10 million in central programming and tabulation equipment." • Well, that's what they get for buying voting machines.
Stats Watch
There are no official statistics of interest today.
* * *
Commodities: "The mining companies are among a wide array of companies, including many transportation operators, that remain cautious on investments in capacity and output amid pandemic-driven uncertainty in the global economy" [Wall Street Journal]. "Dry-bulk ocean carriers are reaping the benefits of the strong commodities market, with rates in the sector boosted in part by capacity constraints."
Supply Chain: "The controversy over alleged forced labor in China's Xinjiang region is reaching operations far from the remote area. Chinese factories that supply Apple and Nike and make other products sold in the U.S. are shunning workers from Xinjiang in apparent moves to steer clear of potential repercussions in their supply chains" [Wall Street Journal]. "That Apple supplier Lens Technology phased out Uyghur factory workers transferred from Xinjiang through a state-backed program last year as Western companies stepped up their scrutiny of labor in the region. The about-face by Chinese suppliers highlights the growing pressure firms face as Western governments push multinationals to eliminate forced labor from their supply chains. It also shows the complexity of the effort. Apple says it conducted more than 1,100 audits and interviewed 57,000 workers to check if suppliers were following its standards.
Supply Chain: "Thousands of opioid-crisis lawsuits hanging over major drug distributors and manufacturers are nearing a conclusion. The outlines of a $26 billion deal between states and four companies is taking shape this week… along with the likely resolution of a $1 billion settlement of some of New York's claims" [Wall Street Journal]. "The events won't end all the cases surrounding the opioid crisis that has enveloped the U.S. But they should clear some of the legal clouds that have raised significant questions over the responsibility that pharmaceutical suppliers hold over the distribution of their products. Distributors AmersourceBergen, Cardinal Health and McKesson and drugmaker Johnson & Johnson have been seeking to resolve thousands of lawsuits filed by state and local governments.
The Bezzle: "Consumer Reports says Tesla's 'Full Self-Driving' software lacks safeguards" [Reuters]. "'Videos of FSD Beta 9 in action don't show a system that makes driving safer or even less stressful,' says Jake Fisher, senior director of Consumer Reports' Auto Test Center. 'Consumers are simply paying to be test engineers for developing technology without adequate safety protection.'" • Ouch!
Mr. Market: "Will asset-price bubbles burst and tear down the economy? Here's what leading luminaries say." [MarketWatch]. Experts ask to rate teh chances on a scale of 1-10, 10 high. Deutsche and the Petersen Institute say 3 and 2 respectively, so I guess the changes are 7 or 8. "Robert Litan, non-resident senior fellow at the Brookings Institution, rated the risk at five." As Brookings would do. More: "He was skeptical that the rise in inflation will be sustained and trigger Federal Reserve tightening. Besides, he adds, how much macroeconomic damage would be caused even if asset prices do suddenly fall? This time around, the asset-price runups are not debt driven, and bank capital cushions are much thicker. He said any asset-price fall would damage the economy like the mild downturn after the dot-com bubble burst, though the high levels of government debt relative to the size of the economy will make cleaning up after the next mess more difficult.":
* * *
Today's Fear & Greed Index: 23 Extreme Fear (previous close: 20 Extreme Fear) [CNN]. One week ago: 34 (Fear). (0 is Extreme Fear; 100 is Extreme Greed). Last updated Jul 21 at 12:48pm. Mr. Market still chewing his hands.
Rapture Index: Closes up one on floods. "Massive floods have hit areas all over the world" [Rapture Ready]. Record High, October 10, 2016: 189. Current: 186 (Remember that bringing on the rapture is a good thing, so high is better.)
The Biosphere
Alert reader JU writes: "Circa 1900 cooling tower near Sequoia NP":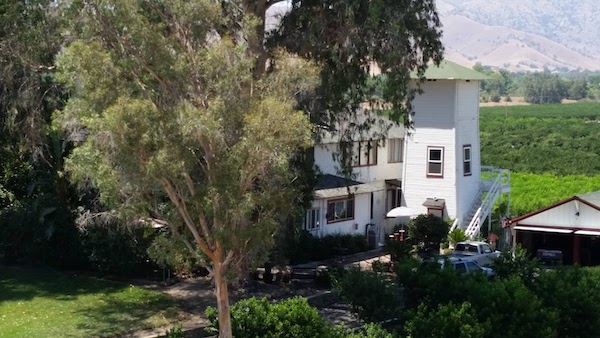 "My favorite of the 100 or so i've seen around these parts." Looks doable.
"What are the treaties being invoked by Line 3 opponents?" [Minneapolis Post]. "Tribal council representatives and members of the White Earth Band of Ojibwe will be gathering at the Minnesota Capitol today to request a 'nation-to nation' dialogue with Gov. Tim Walz and President Joe Biden in an effort to stop construction of Enbridge's Line 3 pipeline. Last Friday, leaders of the tribe gathered in a press conference to raise concerns about the pipeline's effects on surrounding resources and waters, most notably the treaty-protected wild rice, and said continued efforts to build the pipeline was in violation of the tribe's treaty rights….. 'Manoomin (wild rice) is our most important spiritual, sacred, central part of our culture. This is part of the American Indian Religious Freedoms Act and our rights," said Frank Bibeau, tribal attorney for the White Earth Band, during the press conference. "Manoomin grows everywhere right now in northern Minnesota. And it's being starved out from water. It's being starved out for its nutrients.'" • Good review.
"Plummeting reservoir levels could soon force Oroville hydropower offline" [Los Angeles Times]. "A major California hydroelectric power plant could soon stop generating power amid worsening drought conditions. According to state water officials, the Edward Hyatt Powerplant at Lake Oroville could go offline as soon as August or September — a time frame that would coincide with a feared power crunch this summer. The plant, which opened in the late 1960s, has never been forced offline by low lake levels before…. Like many things in California, recent travails at Lake Oroville have been a tale of extremes. In 2017, millions of gallons of water eroded the dam's main and emergency spillways, forcing the evacuation of thousands of residents. The 2016-17 rain season was one of the wettest in California history, bringing more water to Lake Oroville than the reservoir could hold, which was one of several factors that led to the 2017 crisis. Just four and a half years later, fortunes on the banks of the lake look vastly different."
"Massive DNA 'Borg' structures perplex scientists" [Nature]. "Scientists analysing samples from muddy sites in the western United States have found novel DNA structures that seem to scavenge and 'assimilate' genes from microorganisms in their environment, much like the fictional Star Trek 'Borg' aliens who assimilate the knowledge and technology of other species…. Their vast size, ranging between more than 600,000 and about 1 million DNA base pairs in length, is one feature that distinguishes Borgs from many other ECEs. In fact, Borgs are so huge that they are up to one-third of the length of the main chromosome in their host microbes, Banfield says…. .Borgs seem to be associated with archaea, which are single-celled microorganisms distinct from bacteria. Specifically, those Banfield and her team have discovered are linked to the Methanoperedens variety, which digest and destroy methane. And Borg genes seem to be involved in this process, says Banfield." • Maybe — modulo any "grey goo" problems — we could get the Borgs eating methane. There are rather a lot of micro-organisms, after all.
"US to end large, old-growth timber sales in Alaska forest" [Channel News Asia]. "The Biden administration said Thursday (Jul 15) that it is ending large-scale, old-growth timber sales in the country's largest national forest – the Tongass National Forest in Alaska – and will focus on forest restoration, recreation and other noncommercial uses. The US Agriculture Department, which includes the Forest Service, also said it will take steps to reverse a Trump administration decision last year to lift restrictions on logging and road-building in the southeast Alaska rainforest, which provides habitat for wolves, bears and salmon. A 2001 rule prohibits road construction and timber harvests with limited exceptions on nearly one-third of national forest land. The Trump administration moved to exempt the Tongass from those prohibitions, something Alaska political leaders had sought for years. Restoring those protections in the Tongass would return "stability and certainty to the conservation of 9.3 million acres of the world's largest temperate old growth rainforest," the Agriculture Department said. It expects to initiate a rulemaking process next month that will include a chance for public comment, Forest Service spokesperson Larry Moore said." • Good. Symbolic, though. Except for the forest itself.
"Once planned for North Carolina, Active Energy's wood pellet experiment in Maine hits a snag" [Progressive Pulse]. "The company has heralded CoalSwitch wood pellets as a game changer for utilities. The patented technology creates a pellet that can burned alongside coal or as a standalone fuel in traditional power plants with no loss of heat. Utilities that use CoalSwitch pellets wouldn't have to spend millions of dollars to retrofit their facilities. And because the manufacturing process uses steam to explode the pellets to remove some contaminants, they burn cleaner than coal. However, the pellet production process itself can emit tons carbon monoxide, particulate matter and hazardous air pollutants. Kennedy said Maine regulators don't yet have emissions data from the trial period, but expect to after it concludes. This data could be instructive for the NC Department of Environmental Quality, which has questioned the accuracy of the company's most recent emissions estimates." • Wood pellets remind me of ethanol. Too cyncical?
"The orchardist rescuing fruit trees in New Mexico" (photo essay) [High Country News]. "Tucked into the foothills of the Sangre de Cristo Mountains, it's not just trees that matter on the small 15-acre farm. Tooley's land is lively: The rich soil is home to diverse species of grasses, insects, pollinators — and, of course, trees. Crucially, no ground is left uncovered, the groundwater level is kept at high levels, and bats and birds feast day and night on would-be pests. Everyone plays a role, and Tooley uses his encyclopedic understanding of the land to teach others how to work within the ecosystem…
Health Care
"Conflicts of interest: an invisible force shaping health systems and policies" [The Lancet]. "Despite years of discussion and frustration about why public health evidence does not influence policy decisions as much as it should, there has been little attention to a fundamental force in decision making: conflicts of interest. Conflicts of interest arise when the potential for individual or group gain compromises the professional judgment of policy makers or health-care providers. Conflicts of interest underpin rent-seeking and informal practice across the world, but their nuanced nature makes them challenging to identify, research, and address. Conflicts of interest are often very subtle; no action needs to be taken for them to exist. In many countries, the heterogeneous nature of mixed health systems and complex care pathways are compounded by weak governance mechanisms,1 which increase the potential for conflicts of interest to occur and make them difficult to address with existing regulatory and policy frameworks, including self-disclosure mandates or malpractice procedures. To begin to illuminate these issues and to develop a research agenda, we have characterised three different types of conflicts of interest that are particularly pervasive in mixed or pluralistic health systems (table). We emphasise how these conflicts impede the development of health policies to better structure and govern state and non-state health-care providers." • Here is the Table:
| | Competing interest | Example of effect on policies |
| --- | --- | --- |
| Policy makers or regulators are expected to formulate and implement policies thatensure appropriate care delivery by private health-care providers | A secondary relationship that results in financial, social, or familial connectionwith the institutions they are responsible for regulating, such that the policy actoror regulator may prefer weaker controls. | Weakening of policies: policy formulation influenced such that weaker rules are introduced.Alternatively, policy implementing bodies (eg, drug inspection agencies) are under-resourcedto enforce rules. |
| Formal health-care providers have a responsibility to provide and support the provisionof health care in accordance with local regulations and professional ethics standards | Financial flows from informal (illegal) providers or practice create additional sourcesof income for formal providers. | Covert opposition to change: formal providers publicly support stronger regulationof informal practice, but covertly influence the policy-making process to enable itto continue and thrive. |
| Policy decisions should reflect public health evidence and best practice | Policy makers do not want to introduce or enforce rules to curtail the private sectoras they know these will be unpopular with large segments of the population and couldpotentially expose gaps in roles of the public sector. | Regulatory impasse: stronger regulations to curtail inappropriate private sector activities,which are sound from a public health perspective, are avoided as they might cost policymakers popularity and personal career growth. |
"Six more California counties ask people to wear masks indoors as Delta variant rages" [Los Angeles Times]. "Six more California counties are urging residents to wear masks in indoor public settings amid concerning upticks in coronavirus cases and continued circulation of the highly contagious Delta variant. The latest recommendations from Santa Barbara, Monterey, Napa, San Benito, Santa Cruz and Ventura raise to 17 the number of counties now asking even fully vaccinated individuals to wear face coverings as a precaution while inside places like grocery stores, movie theaters and retail outlets. So far, only one — Los Angeles County — has gone a step further and mandated that masks be worn in such settings. The city of Pasadena, which has its own independent health department, said it would do likewise later this week." • Another blow to whatever credibility the CDC has left.
Long Covid:
Some stats first – there are several studies that now put the overall incidence of long COVID as between 10-50% of those infected, depending on symptoms studied & cohorts studied. Let's look at some of these.

— Deepti Gurdasani (@dgurdasani1) July 20, 2021
10-50% is a pretty broad range, just saying.
The Agony Column
"We Hate Small Talk Because We're Bad at It" [New York Magazine]. "[Nicholas Epley, a professor who specializes in behavioral science at University of Chicago Booth Business School] has spent years researching our general aversion to engaging in conversations with strangers. The overwhelming reality is that while we might say we dislike small talk, or even consider ourselves bad at it, it does make us happier to partake in it (no matter how awkward it is). 'The result is so reliable, it's almost becoming boring in my lab. No matter who folks are talking to, or what they're talking about, it's better than expected,' he says. In Epley's most recent study with Juliana Schroeder, 'Hello, Stranger?', they found that while commuters on the London Underground knew that socializing would make their rides more enjoyable, they still felt apprehensive toward starting a conversation — out of fear of people around them not being interested in chatting, or fear of simply failing to strike up a conversation…. [T]he best way to get better at small talk is by practicing and engaging in it. No matter how awkward it feels at first, you'll probably be pleasantly surprised by how much happier meaningless conversation makes you."
Zeitgeist Watch
I have yet to process the "Gender Reveal Party" — "reveal" used to be a verb — as a zeitgeist indicator:
Couple charged over deadly California wildfire sparked by gender reveal party https://t.co/V3zxyezha4 pic.twitter.com/guE0s8Pr3s

— The Hill (@thehill) July 21, 2021
Guillotine Watch
Jeff Bezos in his happy place (1):
I just feel inspired, like anything is possible if you take millions in government subsidies from small towns, abuse your workers, use algorithms to copy and crush competitors, and pay no taxes. But mostly just happy Jeff had a nice timehttps://t.co/q3zXOjphf2

— Jason Koebler (@jason_koebler) July 20, 2021
Jeff Bezos in his happy place (2):
I once knew a staffer who had come to hate her Congressman boss so much she convinced him to do a press conference riding a horse dressed in a suit. I think that person now works for Jeff Bezos and has some issues. https://t.co/tX38uvf8Kd

— stuart stevens (@stuartpstevens) July 21, 2021
Jeff Bezos in his happy place (3):
Actual screenshot from Japanese news coverage of Bezos's rocket launch. pic.twitter.com/0umt33E4KF

— jratcliff63367 (@jratcliff) July 21, 2021
Weyland-Yutani:
Jeff Bezos, hours after flying to space: "We need to take all heavy industry, all polluting industry, and move it into space. And keep Earth as this beautiful gem of a planet that it is." https://t.co/MibdgfkTFd

— Axios (@axios) July 20, 2021
Good question:
Why are we paying attention to Jeff Bezos when this girl can launch herself without a goddamned rocket https://t.co/cesck6ggdW

— Jon Ippolito (@jonippolito) July 21, 2021
Class Warfare
UPDATE "'They Treat Us Horribly': Striking Frito-Lay Worker Speaks Out About Conditions In Topeka Facility" [The Flashpoint]. "[Samuel] Huntsman told me that those grueling, relentless hours were built into the worker contract through language that carved out a 'company needs' exception to their 40 hour weeks. That means seven 12-hour days, or an 84 hour week. And the physical conditions for workers are terrible. 'They used to have fans in all workstations last year and this year they have not given us fans,' Huntsman said." • Oh, great. Poor ventilation.
UPDATE "This thing is designed to squeeze folx out of senior care – By design – UFT Members react as NYC Unions Confirm Decision To Shift Retirees Onto Privatized Health Insurance" [Ed Notes Online]. "A key is the duplicity of the unions and their support of the health care industry – as is the support of the Dem and Rep Parties, So even if they lower medicare to 60 – we know that these people will be lured by the massive marketing — money in essence out of our pockets — of the industry. As I've been saying — they are making the details look good on paper. But . Morally and philosophically and any other way you want to put it — even if I get the exact same service – I am opposed. Just like I oppose any privately managed charter school controls of the school system. Imagine what Mulgrew would do it we are switched from the current 5% managed charters to 100% in NYC — the UFT would be wiped out. It goes into effect Jan. 1 — UFT elections start in March — retirees need to make them pay for this act by voting for the opposition — as long as there is one clear opponent, not multiple slates. The major thing I see is a truly mass rally and march not of hundreds but of thousands in protest. This will not happen without mass organizing and some time to do it. Sometimes impatience can be an enemy. As someone wise once said — Build it and they will come. Jan. 1 is when the abomination goes into effect. October — think of the first UFT Retired teacher meeting and of course they are afraid to have it in person — I don't know the date but a Tuesday in October — but we can be outside 52 Broadway at 1 PM to shout our disapproval. We also need to organize moves to enlist medicare for all friendly politicians, I think people are beginning to work on that?"
"Genetic Endowments and Wealth Inequality" [Journal of Political Economy]. Abstract only: "We show that genetic endowments linked to educational attainment strongly and robustly predict wealth at retirement. The estimated relationship is not fully explained by flexibly controlling for education and labor income. We therefore investigate a host of additional mechanisms that could account for the gene-wealth gradient, including inheritances, mortality, risk preferences, portfolio decisions, beliefs about the probabilities of macroeconomic events, and planning horizons. We provide evidence that genetic endowments related to human capital accumulation are associated with wealth not only through educational attainment and labor income but also through a facility with complex financial decision-making."
"Sex work from home" [Chicago Reader]. "Chicago-based adult performer Griffin Barrows says unlike studio work, which often entails signing contracts with studios that have enormous control over the adult film productions, platforms like OnlyFans give the performers themselves a previously almost unheard-of level of agency over their own content. Barrows, who boasts more than 675,000 Twitter followers, has more than 500 videos on his OnlyFans page and is arguably one of its most recognizable gay male creators."
News of the Wired
Nobody's taking the Acela? Really?
You would never guess that the US was experiencing one of the stronger post-pandemic economic recoveries based on the scene at the train station in the nation's capital. It remains astonishingly moribund, almost completely deserted.

— Alec MacGillis (@AlecMacGillis) July 21, 2021
* * *
Readers, feel free to contact me at lambert [UNDERSCORE] strether [DOT] corrente [AT] yahoo [DOT] com, with (a) links, and even better (b) sources I should curate regularly, (c) how to send me a check if you are allergic to PayPal, and (d) to find out how to send me images of plants. Vegetables are fine! Fungi and coral are deemed to be honorary plants! If you want your handle to appear as a credit, please place it at the start of your mail in parentheses: (thus). Otherwise, I will anonymize by using your initials. See the previous Water Cooler (with plant) here. Today's plant (AM):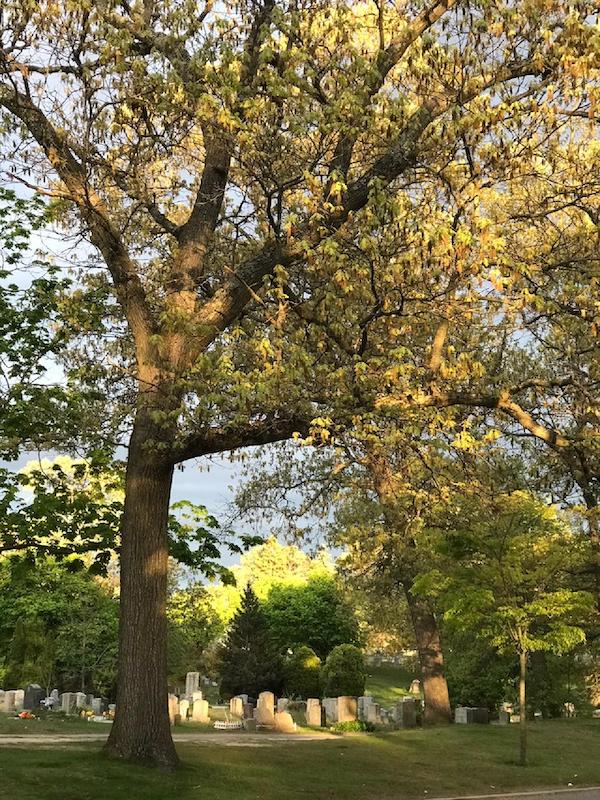 AM writes: "Oakland Cemetery next to Roger Williams Park, Providence, RI. Dramatic lighting at 7:22 in the evening of May 12. Maple trees leaves in the background much farther along than the oak in the foreground. Nice to have my daily after WFH walk in the daylight."
* * *
Readers: Water Cooler is a standalone entity not covered by the recently concluded and — thank you! — successful annual NC fundraiser. So if you see a link you especially like, or an item you wouldn't see anywhere else, please do not hesitate to express your appreciation in tangible form. Remember, a tip jar is for tipping! Regular positive feedback both makes me feel good and lets me know I'm on the right track with coverage. When I get no donations for five or ten days I get worried. More tangibly, a constant trickle of donations helps me with expenses, and I factor in that trickle when setting fundraising goals:
Here is the screen that will appear, which I have helpfully annotated.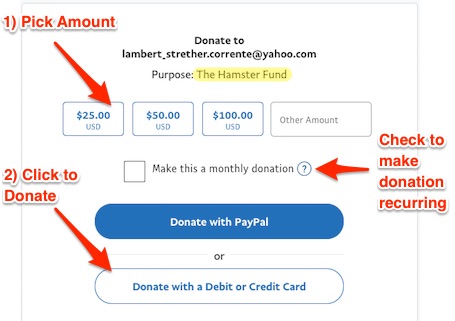 If you hate PayPal, you can email me at lambert [UNDERSCORE] strether [DOT] corrente [AT] yahoo [DOT] com, and I will give you directions on how to send a check. Thank you!2:00PM Water Cooler 6/8/2021