By Lambert Strether of Corrente.
Bird Song of the Day
* * *
#COVID19
At reader request, I've added this daily chart from 91-DIVOC. The data is the Johns Hopkins CSSE data. Here is the site. I feel I'm engaging in a macabre form of tape-watching….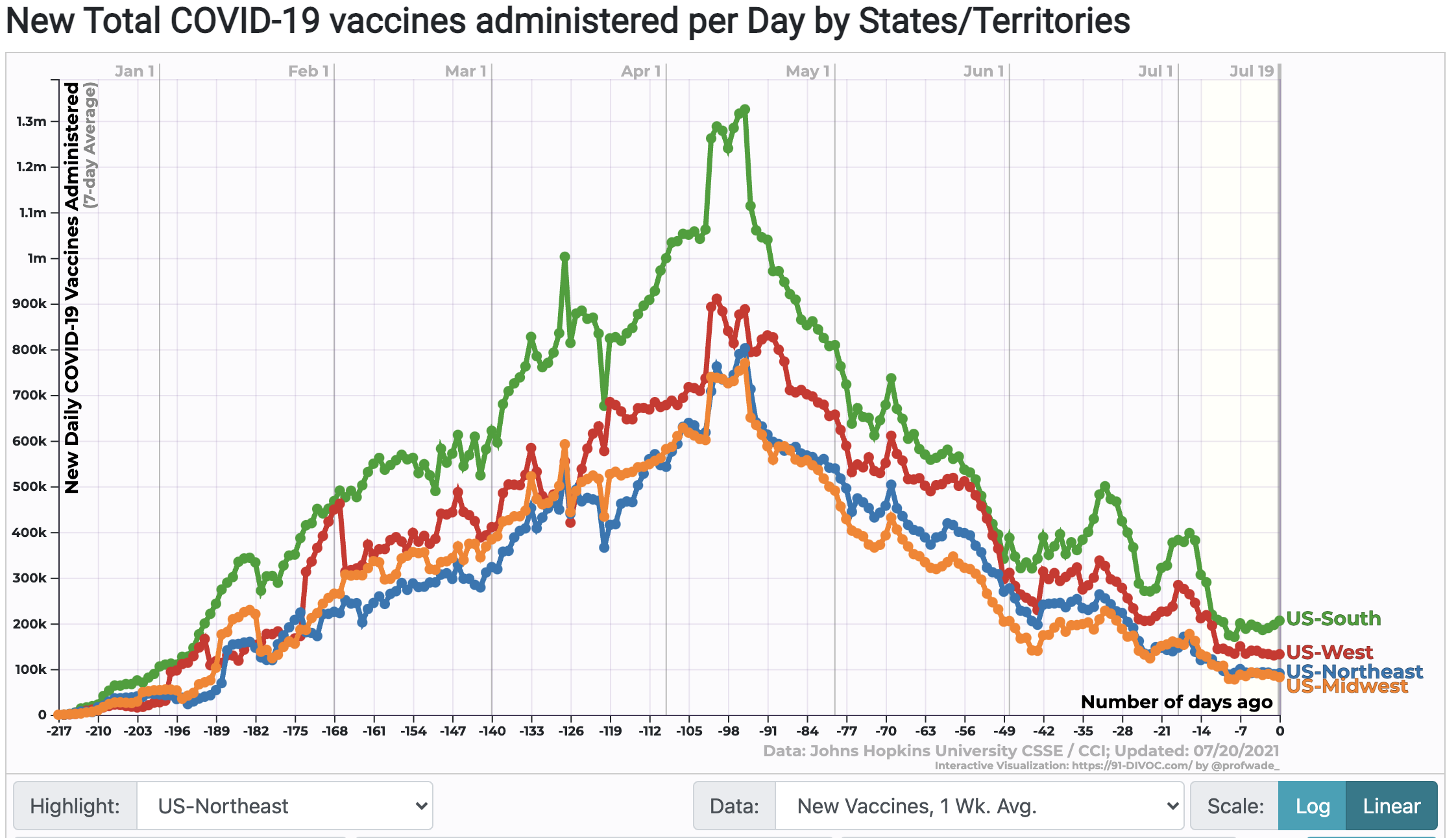 Flattened, interestingly. This after only 48.6% of the US population is fully vaccinated. And our public health establishment has discredited non-pharmaceutical interventions like masking, and has been fighting treatment tooth and nail, as hard as they fought aerosols, good job.
Case count by United States regions: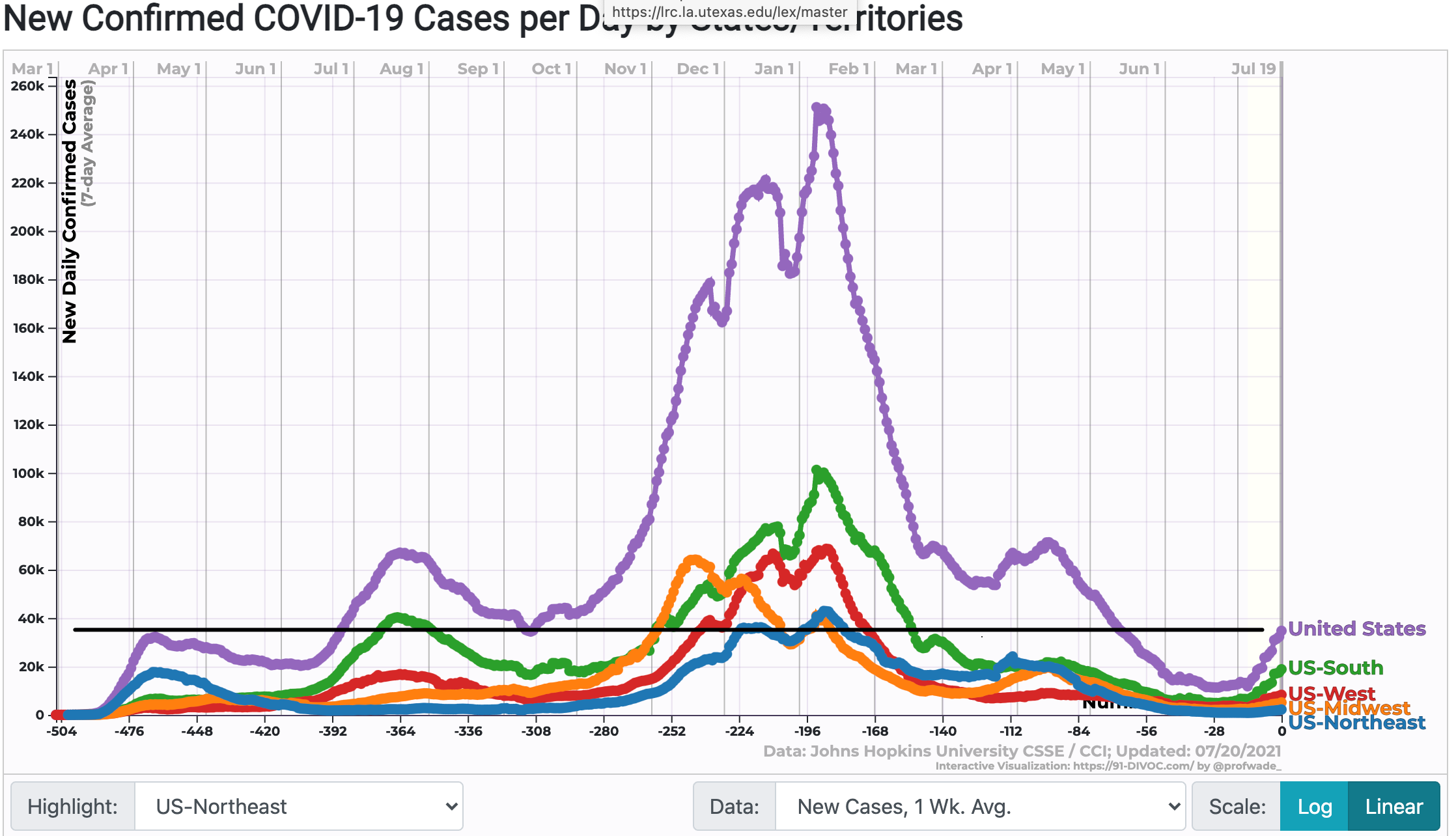 Today, non-triumphalist black line of today's new normal is a little above the peak of the first wave, back in early 2020. We should know the impact of travel and all the family gatherings by July 4 + 14 call it July 21 or so. And of course summer camp, Bible School, etc. (Note that these numbers are if anything understated, since the CDC does not collect breakthrough infections unless they involve hospitalization, and encourages states and localities not to collect the data either.)
Covid cases top ten states: for the last four weeks (hat tip, alert reader Lou Anton):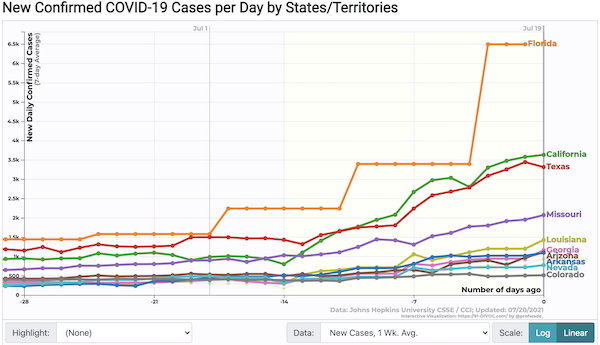 Florida, holy moley!
NEW From CDC: "Community Profile Report July 20 2021" (PDF), "Rapid Riser" counties, this release: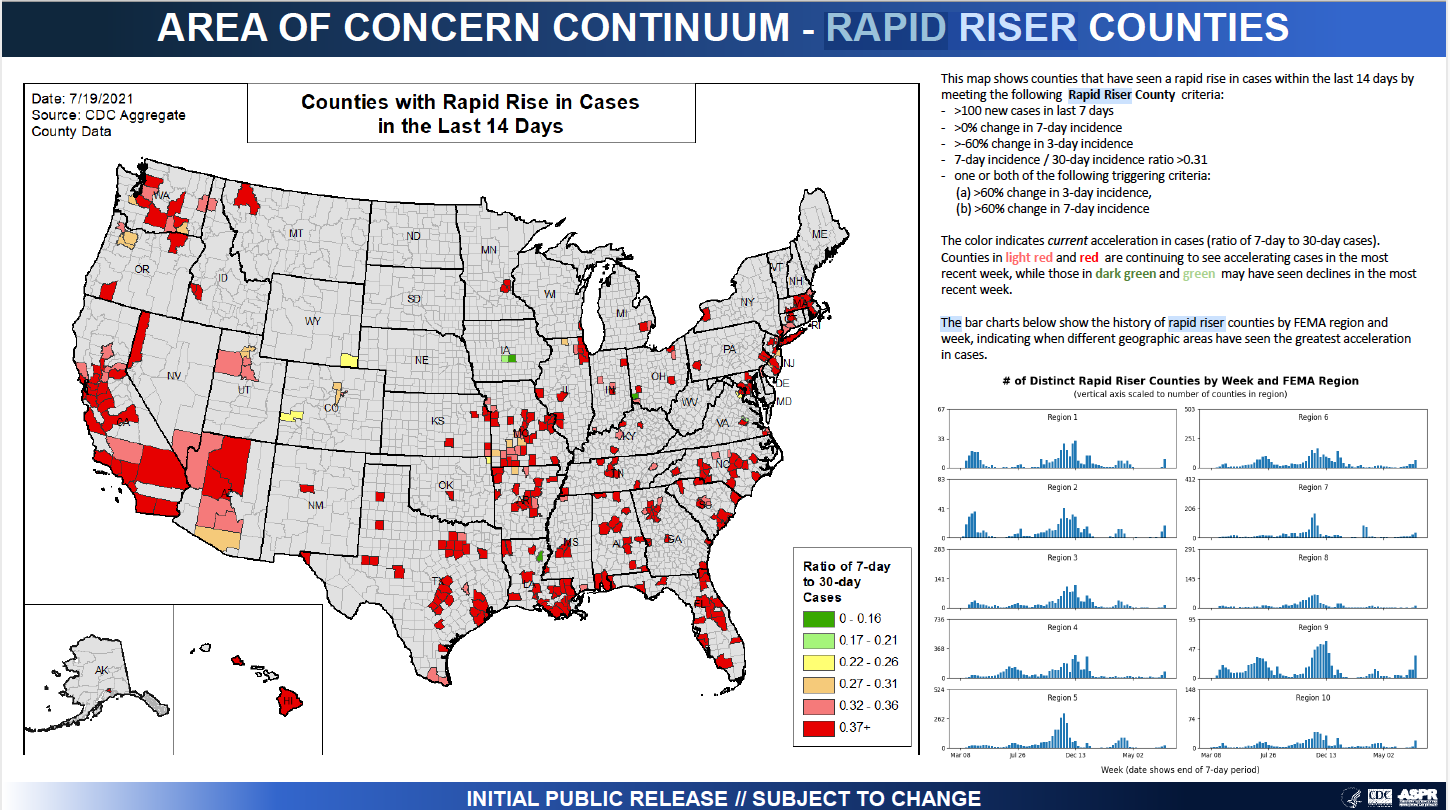 More red. Last release: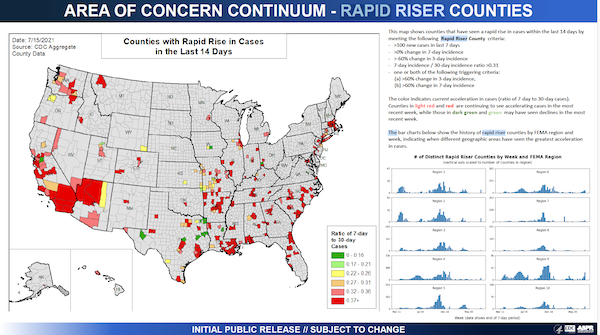 (Red means getting worse, green means bad but getting better. This chart updates Tuesdays and Fridays, presumbly by end-of-day.)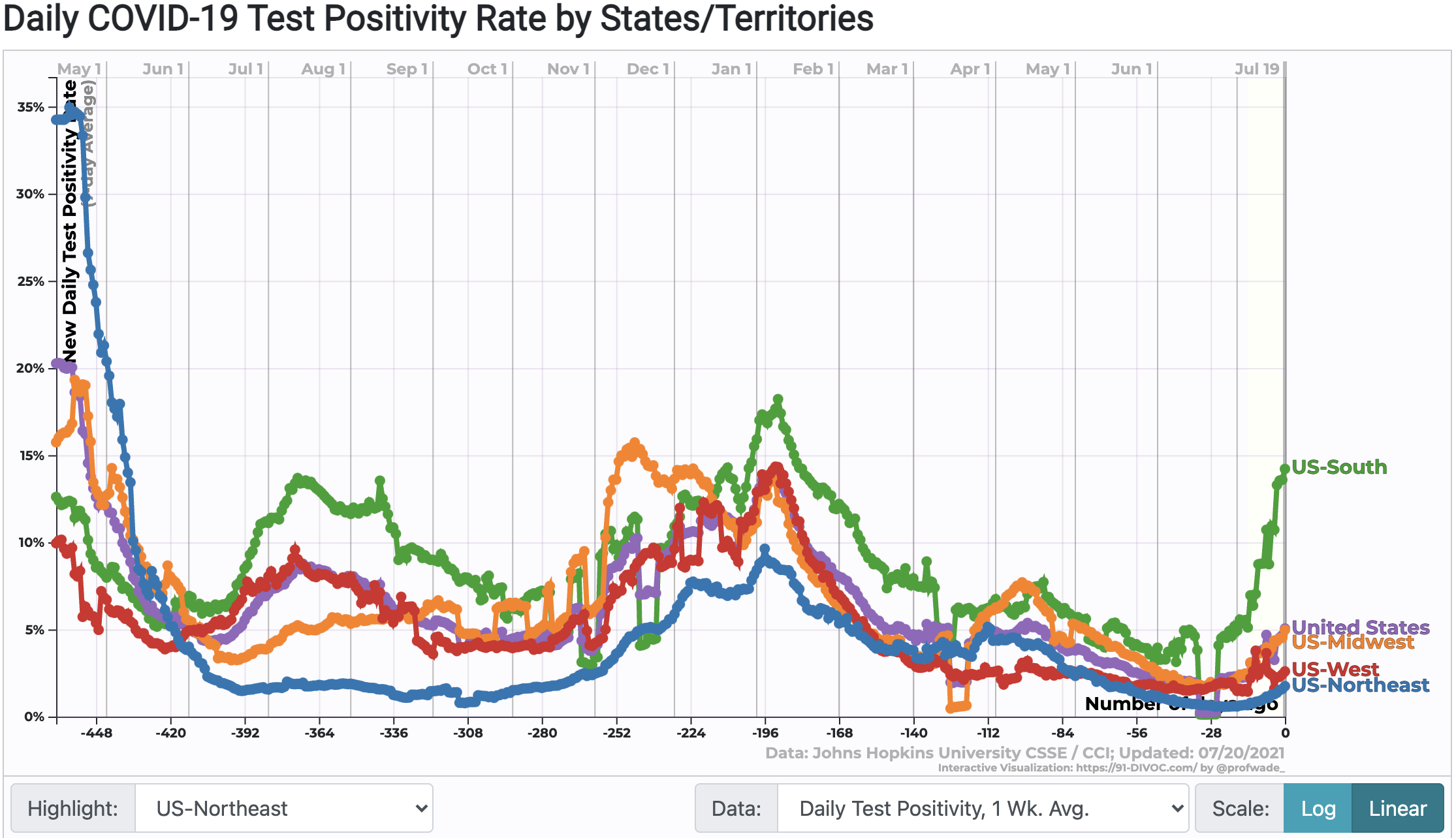 South running away with the field.
Hospitalization (CDC):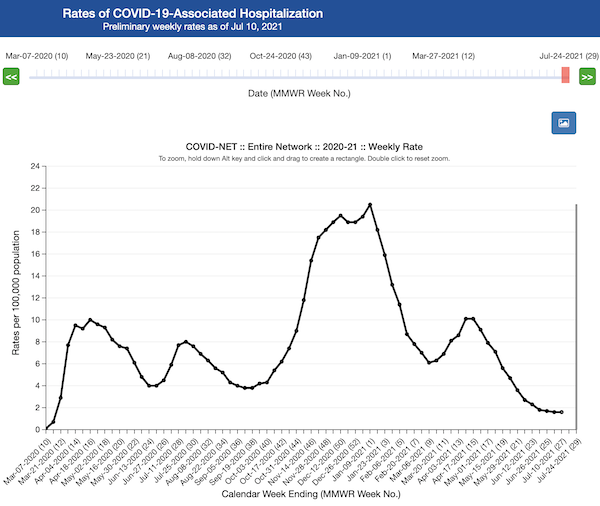 Hospitaliztion flattens, no longer in decline.
Deaths (Our World in Data):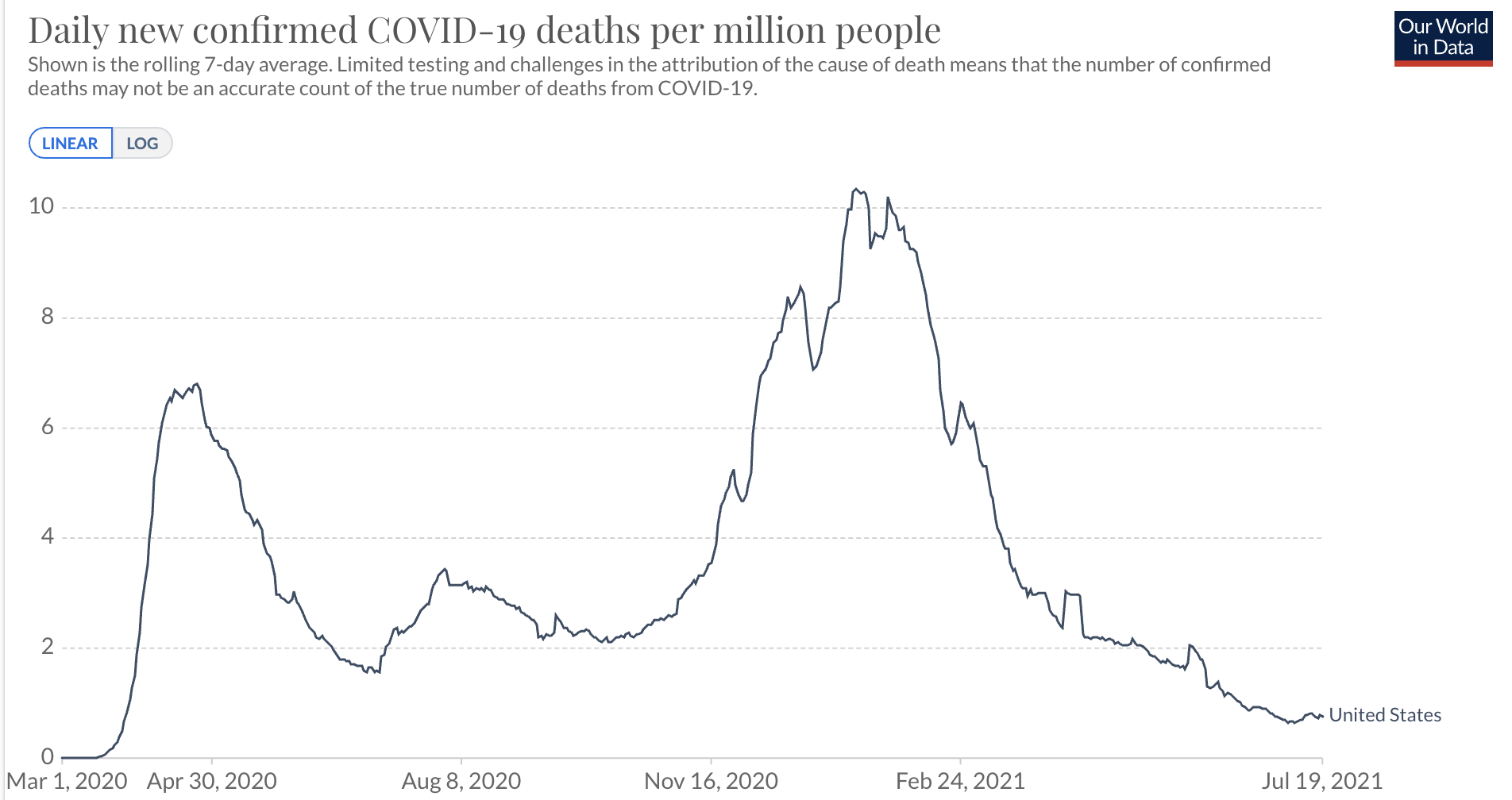 Deaths flatten after increasing.
Covid cases worldwide: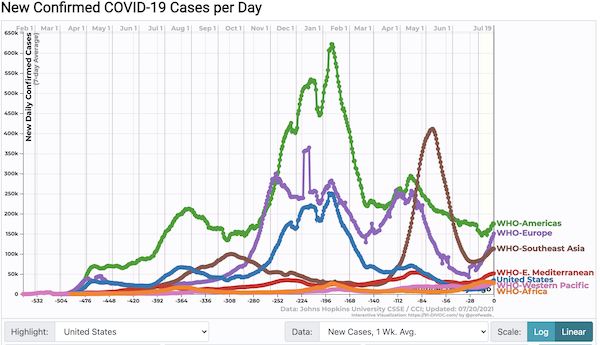 Every region is trending up.
* * *
Politics
"But what is government itself, but the greatest of all reflections on human nature?" –James Madison, Federalist 51
"They had one weapon left and both knew it: treachery." –Frank Herbert, Dune
"They had learned nothing, and forgotten nothing." –Charles Maurice de Talleyrand-Périgord
Biden Administration
"Biden's Strategy: Treat Trump Like a 'Crazy Person'" [Edward-Isaac Dovere, The Atlantic]. "[Biden] believes voters are going to care much more about the money in their pockets than the less tangible issues of government reform. I've been hearing Biden say this since January 2017: Democrats inadvertently enabled Trump's victory because they'd stopped improving people's lives. 'What I've learned in my entire career in politics, you can with somebody and get them to move as long as you don't change their standard of living downward,' he told me." • Anything?

UPDATE "Voters Don't Credit Biden for Their $1400 Stimulus Checks—and That's Okay" [Politico]. Maybe they're waiting for the $600 Biden owes them. "[A] series of focus groups conducted by the pro-Biden Super PAC Unite the Country found "the [American Rescue Plan] and these other [infrastructure] proposals remain worryingly undefined in the public consciousness," according to a report by Politico's Natasha Korecki…. The public's failure to absorb sufficiently what Biden has delivered probably has less to do with Biden's use of the bully pulpit than with simple timing. The relief checks of up to $1400, sent courtesy of Biden's American Rescue plan in mid-March, followed earlier relief checks sent courtesy of President Donald Trump. The last of these, for $600, went out in early January. Since most voters don't pay close attention to the news, they didn't likely pay close attention to which president wrote which checks (especially since Trump was on record saying his $600 wasn't enough). That made any communications strategy formulated by the Biden White House an uphill battle." • Nice try.
2020
"Behind Biden's 2020 Victory" [Pew Research]. From June, still germane. "In 2020, Biden improved upon Clinton's vote share with suburban voters: 45% supported Clinton in 2016 vs. 54% for Biden in 2020. This shift was also seen among White voters: Trump narrowly won White suburban voters by 4 points in 2020 (51%-47%); he carried this group by 16 points in 2016 (54%-38%). At the same time, Trump grew his vote share among rural voters. In 2016, Trump won 59% of rural voters, a number that rose to 65% in 2020…. Even as Biden held on to a majority of Hispanic voters in 2020, Trump made gains among this group overall. There was a wide educational divide among Hispanic voters: Trump did substantially better with those without a college degree than college-educated Hispanic voters (41% vs. 30%)… Black voters remained overwhelmingly loyal to the Democratic Party, voting 92%-8% for Biden."

UPDATE "U.S. Pollsters Mark Worst Performance in 40 Years in 2020 Campaign" [Bloomberg]. "Donald Trump supporters who didn't respond to pollsters were a likely cause of wildly wrong pre-election surveys in 2020 as political surveys suffered their worst performance in 40 years, a new industry report finds. If that trend continues, those non-responses could pose an even greater crisis for political polling than the advent of mobile phones a generation ago. A new report from a task force of the American Association for Public Opinion Research found that national polls overstated President Joe Biden's lead over Trump by 3.9 percentage points. In state-level polls, it was 4.3 points. In 2016, pollsters heavily favored Hillary Clinton to defeat Trump. But even though they correctly predicted Biden's win in 2020, the error margin was much larger. Biden's predicted victory margin was the biggest miss by survey-takers since 1980. And while polling errors have favored Republicans as recently as 2012, two presidential elections with an increasing Democratic bias have pollsters concerned." • I said at the time that Republican voters were gaming the polls by giving false answers. Not picking up the phone is simpler, I suppose. Note that "public opinion" presupposes a public, a problematic notion, as we see in "public health."

UPDATE "In-person voting really did accelerate covid-19's spread in America" [Economist]. • Nostalgia for that time Joe Biden called for eliminating in-person voting only after he had the election in the bag:
Democrats en Deshabille
"A House Race in Cleveland Captures the Democrats' Generational Divide" [New York Times]. "Yet in the final weeks of the campaign, the party establishment is throwing copious amounts of time and money into an effort to stop Ms. Turner, a fiery former Cleveland councilwoman and Ohio state senator known beyond this district as the face and spirit of Bernie Sanders's presidential campaigns, a co-chairwoman in 2020 and a ubiquitous surrogate for the socialist senator. That suggests leaders understand that the outcome of the race will be read as a signal about the party's future. It has already rekindled old rivalries. The Congressional Black Caucus's political action committee has endorsed Ms. Turner's main rival, Shontel Brown, the Cuyahoga County Democratic Party chairwoman. So have Hillary Clinton and the highest-ranking Black member of the House, James E. Clyburn of South Carolina, who will be campaigning here this weekend for Ms. Brown. They argue that Ms. Brown is the better candidate, with a unifying message after four divisive years of Donald J. Trump." • Anybody who frames a conflict between Turner and Clyburn (or Sanders and Clinton) is generational… Isn't showing evidence of clear thinking, let us say.

"Pharma CEOs, lobbyists showered Democrat with cash after his attempt to torpedo Pelosi's drug pricing bill" [STAT]. " The very next day after Rep. Scott Peters attempted to torpedo House Speaker Nancy Pelosi's signature drug pricing bill by gathering a cadre of moderates to challenge the measure, pharmaceutical industry executives and lobbyists flooded his campaign with cash, according to campaign finance disclosures." • Pelosi had her eyes on that cash!

UPDATE I am not at all expert in the history of the Democrat Party in the Progressive Era. But this from Stoller rings true:

1. Merrick Garland is bad, but he also reflects a deeper existential problem for Democrats. There is no artificial division between 'progressive politics' and elite corporate lawyers. They are the same thing. That was the point of the progressive movement. https://t.co/PIBFeI4HY2

— Matt Stoller (@matthewstoller) July 20, 2021

More:

5. Progressives sought to win elections, and then govern against the interests of their local political machines. They wanted to destroy partisanship and drive for public opinion consensus above party. It was explicitly culturally hegemonic, but also weak in political terms.

— Matt Stoller (@matthewstoller) July 20, 2021

With antenna this keen, you'd think Stoller would stop confusing liberals ("progressives") with the left.

UPDATE "Sen. Joe Manchin, key Democratic holdout on federal voting protections, coming to Texas for fundraiser hosted by several GOP donors" [Politico]. "West Virginia Sen. Joe Manchin — a key Democratic holdout over efforts to pass federal voting rights legislation — is expected to head to Texas on Friday for a fundraiser with a host committee that includes several wealthy Republican donors." • Boy, I bet the Democrat leadership is really regretting not supporting Paula Jean Swearingen now. Not.

UPDATE "Texas Should Be a Warning to Democrats Everywhere" [New York Times]. "Unconstrained Republican politicians plunge further to the right in large part because there is no institutional Democratic Party to snap them back toward the middle. Republicans have better organization, volunteers and, most important, fund-raising. That's the true tragedy here. The entire American political system runs on money, and the real reason Democrats in Texas are so broken down is that donors won't give them money because money is for winners. Money is not for losers. Democrats got some money in 2018 and 2020. They still lost. 'Look, Democratic donors have concluded that they're just throwing money down a rat hole,' Mr. Jilson added. 'I had one Houston donor tell me, 'It's crazy, I'm not going to do this anymore.''… If Democrats have any hope of avoiding this [dark and undemocratic] future, their donors will have to take big risks — in long-shot races in states like Texas — and be ready to lose money. Democratic politicians will have to buck up. In Washington, that means running roughshod over the filibuster and smashing the power of the minority leader, Mitch McConnell, in the Senate." • Let me know how that works out.
2022
"The battle for the 50-50 Senate takes shape" [Politico]. "The four most vulnerable Democratic incumbents — Sens. Mark Kelly in Arizona, Raphael Warnock in Georgia, Catherine Cortez Masto in Nevada and Maggie Hassan in New Hampshire — all increased their fundraising pace in the second quarter of this year. The incumbent senators stretched their early cash advantages while the Republican primaries to face them are still forming. Republicans need to win just one of those seats back to recapture the majority. But they also have to hang on to their own seats. Republicans are defending five states where GOP incumbents retired — Alabama, Missouri, North Carolina, Ohio, Pennsylvania. And two other potential swing-state senators — Sens. Ron Johnson of Wisconsin and Chuck Grassley of Iowa — haven't yet said if they're running again, but started to ramp up their fundraising over the past three months."

UPDATE "A midterm report on the 2022 midterms" [Politico]. "On the House side, the big takeaway is that Republicans are seeing a fundraising revival. For much of the Trump era, Democrats have enjoyed an army of small-dollar donors who funneled millions into their campaigns and Republicans were stuck figuring out how to match it. But in this quarter GOP incumbents have been getting the hang of digital fundraising, are seeing more energized donors and are reaping the benefits of their new WinRed fundraising platform. They are able to keep pace. That doesn't bode well for Democrats who are trying to protect their narrowest House majority in 20 years."

UPDATE "Swing Country: Rural Dems run from party" [Axios]. "Democratic strategists are advising candidates in states like these to refrain from 'fancy' language, and focus on populist economic policies…. Several consultants insisted that Democratic policies — on labor rights, broadband, climate and infrastructure — are popular in rural areas. It's the messaging that's causing heartburn."
Realignment and Legitimacy
I find Cohn's threads almost impossible to follow; she really needs a blog. That said, this looks worrisome:

BREAKING NEWS. "[Ballot image] Audit of 2020 Election in Volusia County [Florida] Reveals Flaws in [ES&S] Voting System." h/t Ray Lutz & @susanpynchon1. 1/ pic.twitter.com/OBTUXTjyYg

— Jennifer Cohn ✍🏻 📢 (@jennycohn1) July 15, 2021

UPDATE "'Buying Votes' Is Good, Actually" [Eric Levitz, New York Magazine]. "To be fair, [Fox Business host Stuart] Varney does seem to recognize that voters like social democratic policies. That is, more or less, his secondary objection to the CTC; that the Democrats' embrace of the policy represents a craven act of pandering to the popular will. Varney's argument seems to be that elected officials have a responsibility to avoid competing on the basis of how much aid they can deliver to the public, lest they end up in a race to the bottom. To violate this tacit gentleman's agreement is to corrupt the political system through mass bribery. Democrats are, in his words, 'buying votes.' This sentiment has a long pedigree on the right. It is essentially an updated version of 19th-century conservatives' arguments against mass democracy: That granting all men political equality would render government hostage to the imprudent, extortionate appetites of popular majorities. As the chancellor of New York, James Kent, argued at the Empire State's Constitutional Convention in 1820, "the tendency of universal suffrage is to jeopardize the rights of property and the principles of liberty."

UPDATE "What is the 'Successor Ideology'?" (podcast) [Yascha Mounck, The Good Fight].
Stats Watch
Housing: "May 2021 CoreLogic Single-Family Rents: Rent Prices Increased Four-Fold, Intensifying Affordability Challenges" [Econintersect]. "The Single-Family Rent Index (SFRI) shows a national rent increase of 6.6% year over year, up from a 1.7% year-over-year increase in May 2020. The shift in consumer preferences toward lower-density communities and single-family shelter continues to cause a ripple effect in the rental market, with single-family rent growth reaching the highest level since at least January 2005 in May. Due to high purchase prices and ongoing limited availability of for-sale homes, would-be first-time buyers are opting to remain renters instead of entering the housing market. However, similar inventory and affordability challenges are also emerging in the rental space."
* * *
Real Estate: "Manhattan Retail Vacancies Hit Fresh Record, Weighing Down Rent" [Bloomberg]. "The amount of available retail space in Manhattan jumped to another record, even as pandemic restrictions ease across New York. The availability rate rose to 28% in the second quarter, the highest in at least 10 years…. Manhattan's retail districts are struggling to bounce back after a pandemic that emptied office buildings and kept tourists home. Even as foot traffic picks up across the city, retail landlords are still struggling to fill the glut of space. New leasing in the second quarter was down 60% from the same period in 2019… Asking rents, meanwhile, fell by an average of 9% from a year earlier across Manhattan's major shopping corridors. And landlords are using concessions to fill space, offering as many as 10 months free on newly signed deals." • This has been going on for a long time. Yves will confirm of disconfirm, but IMNSHO what really sterilized Manhattan at street level was bent squillionaires laundering their money into condos and condo towers. Only chains backed by capital could survive.
Commodities: "Assmang Calls Force Majeure on Manganese Alloys in South Africa" [Bloomberg]. "The mining company declared force majeure to customers last week due to civil unrest in South Africa and the closure of the Durban and Richards Bay ports, said [Rorie Wilson, an alternate director at the company]. The force majeure was still in place as of Sunday, he said…. While the state-owned ports, freight rail and pipelines operator Transnet SOC Ltd. said Friday its port and terminal operations at Durban are slowly starting to normalize, it may take two weeks for port disruptions to ease, affecting the export of manganese to China, according to analysts."
Shipping: "Chinese ports play key role in global recovery" [Hellenic Shipping News]. "The container shipping industry is projected to see recovery this year, mainly due to East Asian economies, especially China's effective measures to control the COVID-19 pandemic and rapidly resume work and production, said a report released by the Center for Forecasting Science of the Chinese Academy of Sciences. The Outlook of Container Throughput at Global Top 20 Ports in 2021 report estimated seven out of the top 10 ports will be in China, and the growth rate of the country's container throughput is seen increasing considerably. On the whole, the demand for container shipping services of most ports in China will increase in 2021, especially in the ports of Ningbo-Zhoushan in Zhejiang province, Shenzhen in Guangdong province and Tianjin."
The Bezzle: "Inside the Weird, Thriving World of Fake Vaccine Cards" [Slate]. "However, there is at least one place where scammers are still selling illegal certificates: Telegram… Messages on the app are securely encrypted, and Telegram's lack of willingness to cooperate with law enforcement or shut down channels has made it attractive to criminals, including scammers. Telegram recently added a feature that made it possible to buy and sell items through the app directly, allowing users to send cryptocurrency or direct transfers to bank accounts in direct messages. I did a dive into what is advertised for sale on Telegram, and it turned out that it is possible to buy almost anything—from pizza to travel packages, to vaccine cards as well. It only took me several seconds to discover three channels—essentially, streams of information and updates that anyone can search for, and subscribe to—advertising fake vaccine records in English. One of them, 'Covid19 vaccine cards certificate' has more than 400,000 followers. I reached out to the channel owner pretending to be a buyer and figured out that the CDC vaccine card, filled in with my information, would cost $200. (That's nearly 200 times more expensive than cards were going for on Amazon in June, as NPR found; those cards have since been removed.) The Telegram channel owner told me that the cards are authentic, writing: 'We have professional and licensed doctors working with us who are deep in the game and have access to all the medical databases.' The author of another channel, 'COVID19 Vaccine cards' (with 80,000 followers), indicated the same price: $100 per blank card, and $200 per registered one. 'I get a doctor register whatever info on the card into the CDC system so it will be as [if] you are vaccinated,' says the vendor."
Shipping: "Ocado warehouse fire caused by robot collision delays online food orders" [EuroNews]. Again. "A fire at an online supermarket's warehouse in the United Kingdom started when three robots crashed into each other, the company involved has said…. London Fire Brigade sent 15 fire engines and around 100 firefighters to contain the fire, which it called a 'deep seated and challenging operation.'" • PFAS in the runoff, no doubt.
Tech: "Apple AirPod batteries are almost impossible to replace, showing the need for right-to-repair reform" [CNBC]. "Some owners have noticed that, after a few years, used AirPods eventually will last only an hour or so before needing to be recharged — a big decay from the four-to-five-hour battery life they have when new. Because each AirPod is so small and so tightly packed into its housing, it's almost impossible to swap out the old battery for a new one. Most people give up and just buy a new pair." • Planned obsolescence.
Tech: "Google Maps Could Be Offering "Potentially Fatal" Hiking Routes for Ben Nevis" [Interesting Engineering]. "Heather Morning, Mountaineering Scotland's Mountain Safety Adviser, said in a statement: 'For those new to hill walking, it would seem perfectly logical to check out Google Maps for information on how to get to your chosen mountain. But when you input Ben Nevis and click on the 'car' icon, up pops a map of your route, taking you to the car park at the head of Glen Nevis, followed by a dotted line appearing to show a route to the summit.' Morning added: 'Even the most experienced mountaineer would have difficulty following this route. The line goes through very steep, rocky, and pathless terrain where even in good visibility it would be challenging to find a safe line. Add in low cloud and rain and the suggested Google line is potentially fatal.' Morning went on to say that people can easily be fooled into thinking that all information online is correct, safe, and up to date but this is not always so."
Tech: "For years, a backdoor in popular KiwiSDR product gave root to project developer" [Ars Technica]. It's not just bent Israeli intelligence: "KiwiSDR is hardware that uses a software-defined radio to monitor transmissions in a local area and stream them over the Internet. A largely hobbyist base of users does all kinds of cool things with the playing-card-sized devices. For instance, a user in Manhattan could connect one to the Internet so that people in Madrid, Spain, or Sydney, Australia, could listen to AM radio broadcasts, CB radio conversations, or even watch lightning storms in Manhattan. On Wednesday, users learned that for years, their devices had been equipped with a backdoor that allowed the KiwiSDR creator—and possibly others—to log in to the devices with administrative system rights." • It looks like the developer, a coder of the old-school, installed the backdoor for debuggging/support. Cf. Reflections on Trusting Trust.
Pharma: "U.S. states to unveil $26 billion opioid settlement with drug distributors, J&J – sources:" [Reuters]. "U.S. state attorneys general are expected this week to unveil a $26 billion settlement resolving claims that three major drug distributors and drugmaker Johnson & Johnson helped fuel a nationwide opioid epidemic, people familiar with the matter said on Monday…. More than 40 states are expected to support the nationwide settlement, two sources said. States will have 30 days to decide whether to join the global accord then more time to try to convince their cities and counties to participate in the deal, the sources said. McKesson has previously said that of the $21 billion the three distributors would pay over 18 years, more than 90% would be used to remediate the opioid crisis while the rest, about $2 billion, would be used to pay plaintiffs' attorney fees and costs." • Why doesn't Johnson & Johnson have ti disgorge all its profits immediately?
Mr. Market: "Dow jumps more than 600 points as stocks reclaim much of Monday's lost ground" [MarketWatch]. "The bounce reflected ideas that Monday selloff had been overdone, analysts said. 'Markets have a way, particularly in the middle of the summer, to price in the worst-case scenario pretty quickly,' said Art Hogan, chief market strategist at B. Riley National, in a phone interview. Stocks sank Monday in a move largely attributed to fears the spread of the delta variant in Asia in particular would slow down the global economic recovery and possibly lead to renewed restrictions on travel and activity as inflation continues to rise."
* * *
Today's Fear & Greed Index: 20 Fear (previous close: 17 Fear) [CNN]. One week ago: 35 (Fear). (0 is Extreme Fear; 100 is Extreme Greed). Last updated Jul 20 at 12:24pm. Mr. Market has a sad.
Rapture Index: Closes up one on floods. "Massive floods have hit areas all over the world" [Rapture Ready]. Record High, October 10, 2016: 189. Current: 186 (Remember that bringing on the rapture is a good thing, so high is better.)
The Biosphere
"Astronomers push for global debate on giant satellite swarms" [Nature]. "Aerospace companies have launched about 2,000 Internet satellites into orbit around Earth over the past 2 years, nearly doubling the number of active satellites. This has sparked concerns among astronomers and other skygazers, who worry about interference with observations of the night sky. Now, in what would be the biggest international step yet towards addressing these concerns, diplomats at a United Nations forum next month might discuss whether humanity has a right to 'dark and quiet skies'. The debate could initiate a framework for how scientists and the public would deal with the flood of new satellites — with many more expected. Tens of thousands of satellites could be added to Earth orbit in the next few years to provide broadband Internet, if companies and governments build and launch all the networks, or 'megaconstellations', they have publicly announced. The sheer number of these could mean that hundreds are visible all night long, affecting the sky like never before in human history."
Health Care
UPDATE On breakthrough cases (GM):
In Friday's daily press release, LADPH reorted the total number of breakthrough cases.

A reply from @CoolingFan_ helpfully pointed out that they had also given us a breakthrough total on July 8! Let's crunch some numbers, shall we?

— Joe Friday (@justthefacts85) July 17, 2021
Read the whole thread for the arithmetic. Here is the conclusion:
So now we just divide …
1300/6830 = 0.19
0.19 x 100 = 19%

So between July 7-13, fully vaccinated people made up approximately 19% of cases in the county of Los Angeles!
?

6/

— Joe Friday (@justthefacts85) July 17, 2021
Eesh. That's not good news.
"Self-infection with speech aerosol may contribute to COVID-19 severity" (accepted research letter) [Journal of Internal Medicine]. "SARS-CoV-2 infections commonly start in the upper respiratory tract, often with mild symptoms. When the infection migrates to the lower airways, disease severity increases considerably, particularly if this occurs before the adaptive immune system has been activated. Microaspiration of nasal or oral fluid represents a well-documented mechanism for this migration. . We put forward two arguments that support the relevance of this alternate path: the documented effect of cloth facemasks on reducing coronavirus 2019 (COVID-19) severity. and a correlation between COVID-19 severity among Deaf language signers and the quantity of their vocalized speech." • Wild stuff; so very meta and quite plausible. I looked at the PDF, and I can't understand the argument on Deaf language signers. Perhaps a reader can help. (I guess the solution is to walk and talk at the same time? So you don't stay in a bubble of your own aerosols? One more problem for restaurants and bars….)
Ayn Rand's children:
TL; DR: the virus is airborne. Unmasking poisons the very air we breathe. One (asymptomatic, contagious) person's freedom is everyone else's peril. pic.twitter.com/aPHYfoj8au

— Trisha Greenhalgh (@trishgreenhalgh) July 18, 2021
Our Famously Free Press
"NPR's Brilliant Self-Own" [Matt Taibbi, TK News]. • Good clean fun:
Yesterday's NPR article, "Outrage As A Business Model: How Ben Shapiro Is Using Facebook To Build An Empire," is among the more unintentionally funny efforts at media criticism in recent times.

Is the complaint that Shapiro peddles misinformation? No: "The articles The Daily Wire publishes don't normally include falsehoods." Are they worried about the stoking of Trumpism, or belief that the 2020 election was stolen? No, because Shapiro "publicly denounced the alt-right and other people in Trump's orbit," as well as "the conspiracy theory that Trump is the rightful winner of the 2020 election." Are they mad that the site is opinion disguised as news? No, because, "publicly the site does not purport to be a traditional news source."

The main complaint, instead, is that:

By only covering specific stories that bolster the conservative agenda (such as… polarizing ones about race and sexuality issues)… readers still come away from The Daily Wire's content with the impression that Republican politicians can do little wrong and cancel culture is among the nation's greatest threats.

NPR has not run a piece critical of Democrats since Christ was a boy. Moreover, much like the New York Times editorial page (but somehow worse), the public news leader's monomaniacal focus on "race and sexuality issues" has become an industry in-joke. For at least a year especially, listening to NPR has been like being pinned in wrestling beyond the three-count. Everything is about race or gender, and you can't make it stop.
I gave up listening to NPR a long, long time ago. I don't like treacle.
"The Problem With Prosecutor Punditry" [New York Magazine]. Deck: "Experts keep promising the walls are closing in on Trump. Haven't we learned anything?" lol no. More: "This dissonance between the confidence in Trump's criminal exposure expressed by commentators and its reality was conspicuous throughout the Mueller investigation, which proved to be ratings gold for cable news and an incomparable star-making vehicle for lawyers." • But the right people made a lot of money. So what's the issue?
"Majority of Covid misinformation came from 12 people, report finds" [Guardian]. • The origin of this factoid is The Center for Countering Digital Hate — hate being a key funding signifier in the NGO world — a London-based cut-out outfit whose origins look a little sketchy to me. Their main claim to fame seems to be deplatforming Zero Hedge, which I don't think is a good thing, regardless of my opinion of ZH.
Games
"Why Are Gamers So Much Better Than Scientists at Catching Fraud?" [The Atlantic]. "If unpaid Minecraft mods can produce a 29-page mathematical analysis of Dream's contested run, then scientists and editors can find the time to treat plausible fraud allegations with the seriousness they deserve. If the maintenance of integrity can become such a crucial interest for a community of gaming hobbyists, then it can be the same for a community of professional researchers. And if the speedrunning world can learn lessons from so many cases of cheating, there's no excuse for scientists who fail to do the same." • The two examples of major scientific fraud given are both from Japanese anesthesiologists ("Ueshima had turned out to be one of the most prolific scientific frauds in history, having partly or entirely fabricated records and data in at least 84 scientific papers, and altered data and misrepresented authorship on dozens more"). That doesn't give me a lot of confidence about going under the knife, should I ever have to do so. Worse, those who keep up with the literature are most likely to have read, and possibly believed, the fraudulent papers.
Groves of Academe
"Modern Porn Education Is Totally Unprepared for Modern Porn" [The Atlantic]. ""It's not a Playboy magazine anymore," [Justine Ang Fonte, the Dalton School's then-director of health and wellness] said, citing familiar but no less crucial facts about the kind of explicit material available to kids today. 'It's bodies in motion—amplifying certain beauty standards that are harmful; amplifying lack of protection in certain cases, void of emotional intimacy; and, because race is a genre, amplifying racist sexual violence.' Her goal, she said, is always to give teenagers the tools to 'navigate their personal and social spaces through these three adjectives: Their world should be safe, should be fulfilling, should be pleasurable." Mainstream porn can work against that tripartite goal, Fonte said; other forms, such as feminist-inflected porn sold at prices intended to supply decent wages, may support it. What seemed lost on the outraged parents of Columbia Prep was that their kids weren't so much titillated by Fonte's presentation as annoyed and bored: 'Everyone was texting each other, 'What the hell is this? It's so stupid.' Everyone knows about porn,' one student told the Post." • I note without comment that Jeffrey Epstein taught at the Dalton School…. That said, I'm not sure I think much of the tripartite goal, which is really an aesthetic. I hate to use to word "adult" here, because porn co-opted it, but does the tripartite goal prepare children for adulthood, in all the ways that are not Epstein, but not "boring" either?
Book Nook
"The CIA Helped Build the Content Farm That Churns Out American Literature" [Vice]. From 2014, still germane. "According to Wikipedia, a content farm is an organization that employs large numbers of "writers to generate large amounts of textual content which is specifically designed to satisfy algorithms for maximal retrieval by automated search engines." So, in a way, the American MFA system, spearheaded by the infamous Iowa Writer's Workshop, is a content farm, too. It was initially designed to satisfy a much less complicated algorithm: one that was sculpted by the CIA to maximize the spread of anti-Communist propaganda through highbrow literature. In a lengthy piece for the Chronicle of Higher Education, writing professor Eric Bennett makes a case that the Iowa program, arguably the most influential force in modern American literature, was profoundly shaped by a CIA-backed effort to promote a brand of literature that trumpeted American individualism and materialism over airy socialistic ideals. Read: More Hemingway, less Dos Passos." • Discouraging.
Under the Influence
"Kylie Jenner Says Stormi Webster Is Launching Her Own Brand in New "Inside Kylie Cosmetics" Mini-Doc" [Teen Vogue]. "Especially considering that Stormi already has a Kylie Cosmetics collab under her name, nothing is truly off the table and even lighthearted jokes can turn into business realities in the Kardashian-Jenner clan. In fact, in part three of her docuseries, Kylie dropped a pretty big hint that the brand could be the mysterious Kylie Baby company she's been working on. Back in May 2019, Kylie trademarked Kylie Baby for items like beauty products, clothing, and strollers. She also tagged @kyliebaby in an adorable bath time Instagram pic of Stormi back in June." • Docuseries? We're dignifying that?
Black Injustice Tipping Point
"Jamaica's 1831 Revolt Dealt a Hammer Blow to Colonial Slavery" [Jacobin]. "Nine out of ten Jamaicans were enslaved. The island's system of rule rested on coercion without even a semblance of consent. It was therefore inherently unstable. The resident white plantocracy ruled colonial Jamaica as a small minority living in constant fear of the slave population upon whom their wealth and privilege depended. Zoellner compares these structural features of Jamaica in the early 1800s to conditions in the US South, with a slave population accounting for 33 percent of the total — a region where, in contrast, 'freehold farms and small artisanal businesses coexisted with large plantations.' The Jamaican colonial ruling class displayed a 'know-nothingness,' relying purely on coercion through 'the hands of plantation bosses and their muskets and whips,' in a way that was comparable to frontier settlements. British colonialism chiefly meted out its violence and pernicious greed against the kidnapped and enslaved bodies of black Africans, but it was also not uncommon for guns to be drawn when disputes broke out between local white political figures. Jamaica's original name in the language of the Taino people, Xaymaca, means 'land of wood and water.' As a British colony, it possessed extensive, fertile land and masses of capital, but lacked sufficient labor after the destruction of the indigenous population through disease and enslavement. The Atlantic slave trade thus became the pivotal element in an international accumulation process."
Guillotine Watch
Son of the Mercury Mission:
The entire internet watching Jeff Bezos fly into space. pic.twitter.com/3g7bxjNETM

— Jesse McLaren (@McJesse) July 20, 2021
News of the Wired
"BMA Security Officers Take Center Stage as Guest Curators of a New Exhibition Opening in March 2022" [Baltimore Museum of Art]. "In March 2022, the Baltimore Museum of Art (BMA) will present Guarding the Art, an exhibition curated entirely by 17 members of the museum's security team. The exhibition will draw from works of art in the BMA's collection, with each work selected by one of the participating officers. As guest curators, the officers will be collaborating with leadership and staff across the museum to select and reinterpret works from a variety of eras, genres, cultures, and mediums—offering a particularly human-centered lens through which to consider the objects" • They look at the objects more than anybody else!
"'I shoot for the common man': Danish Siddiqui's finest work" (photo gallery) [Reuters]. • Specacular.
Sid! Sid! Sid!
Sid pic.twitter.com/dSmocNxJpw

— 10,000 Motivated Rats (@bombsfall) July 16, 2021
et="utf-8″>
* * *
Readers, feel free to contact me at lambert [UNDERSCORE] strether [DOT] corrente [AT] yahoo [DOT] com, with (a) links, and even better (b) sources I should curate regularly, (c) how to send me a check if you are allergic to PayPal, and (d) to find out how to send me images of plants. Vegetables are fine! Fungi and coral are deemed to be honorary plants! If you want your handle to appear as a credit, please place it at the start of your mail in parentheses: (thus). Otherwise, I will anonymize by using your initials. See the previous Water Cooler (with plant) here. Today's plant (GS):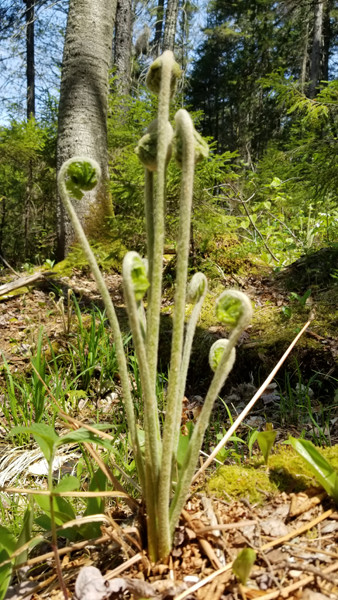 GS writes: "Here are some spring 2021 photos from a canoe trip in the Adirondacks I made with my son last week. Nice sunshine, plenty of blackflies, too."
* * *
Readers: Water Cooler is a standalone entity not covered by the recently concluded and — thank you! — successful annual NC fundraiser. So if you see a link you especially like, or an item you wouldn't see anywhere else, please do not hesitate to express your appreciation in tangible form. Remember, a tip jar is for tipping! Regular positive feedback both makes me feel good and lets me know I'm on the right track with coverage. When I get no donations for five or ten days I get worried. More tangibly, a constant trickle of donations helps me with expenses, and I factor in that trickle when setting fundraising goals:
Here is the screen that will appear, which I have helpfully annotated.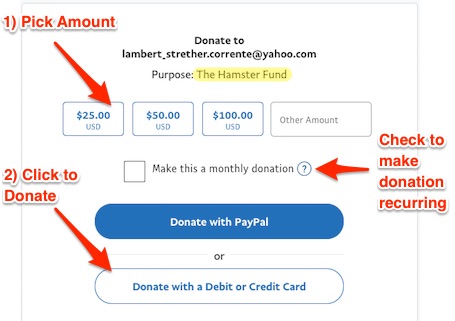 If you hate PayPal, you can email me at lambert [UNDERSCORE] strether [DOT] corrente [AT] yahoo [DOT] com, and I will give you directions on how to send a check. Thank you!2:00PM Water Cooler 6/8/2021