By Lambert Strether of Corrente.
Bird Song of the Day
"New Study Finds That Crows Are So Intelligent They Understand the Concept of Zero" [My Modern Met]. "To test whether crows could comprehend zero as a numerical value, the researchers showed crows two displays of dots, each display containing between zero and four. The crows were trained to indicate if the two displays showed the same value. While they did this, researchers monitored their brain activity. When the crows saw "zero" dots, their brains fired a new neuron recognizing this new 'quantity.' Sometimes the birds made mistakes, identifying two displays as portraying the same quantity. Where zero was concerned, the birds more often confused it for displays with one dot than those with two or more. Co-author Andreas Nieder told IFL Science, 'This effect [would only be] expected if … crows can understand the empty set as the smallest numerical value on the number line.' As the birds lack a neocortex like those that humans and apes have, these 'Counting Crows' inspire new questions for researchers pursuing answers on the evolution of avian intelligence." • Now do negative numbers.
* * *
#COVID19
At reader request, I've added this daily chart from 91-DIVOC. The data is the Johns Hopkins CSSE data. Here is the site. I feel I'm engaging in a macabre form of tape-watching….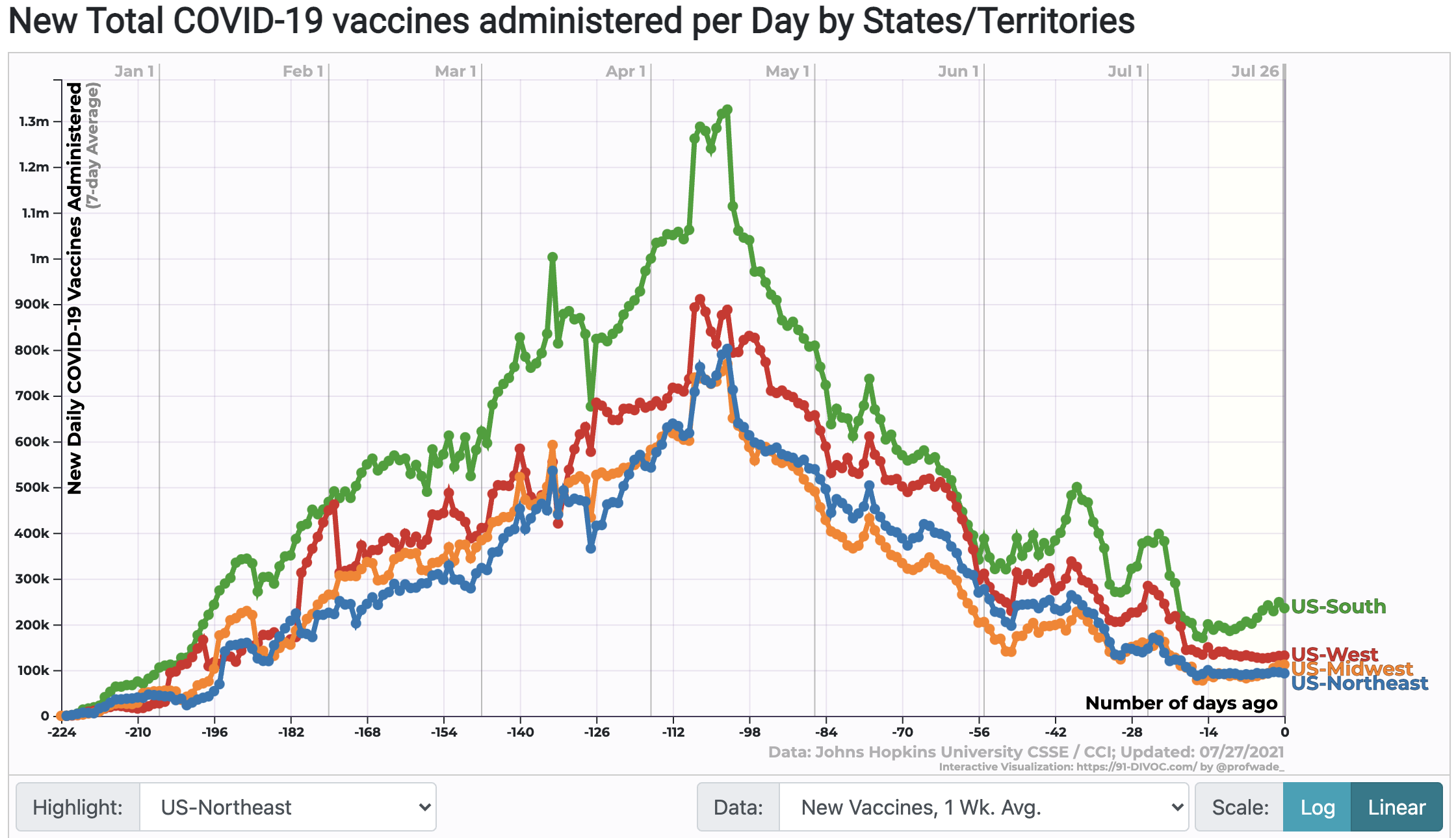 South rising.
Case count by United States regions: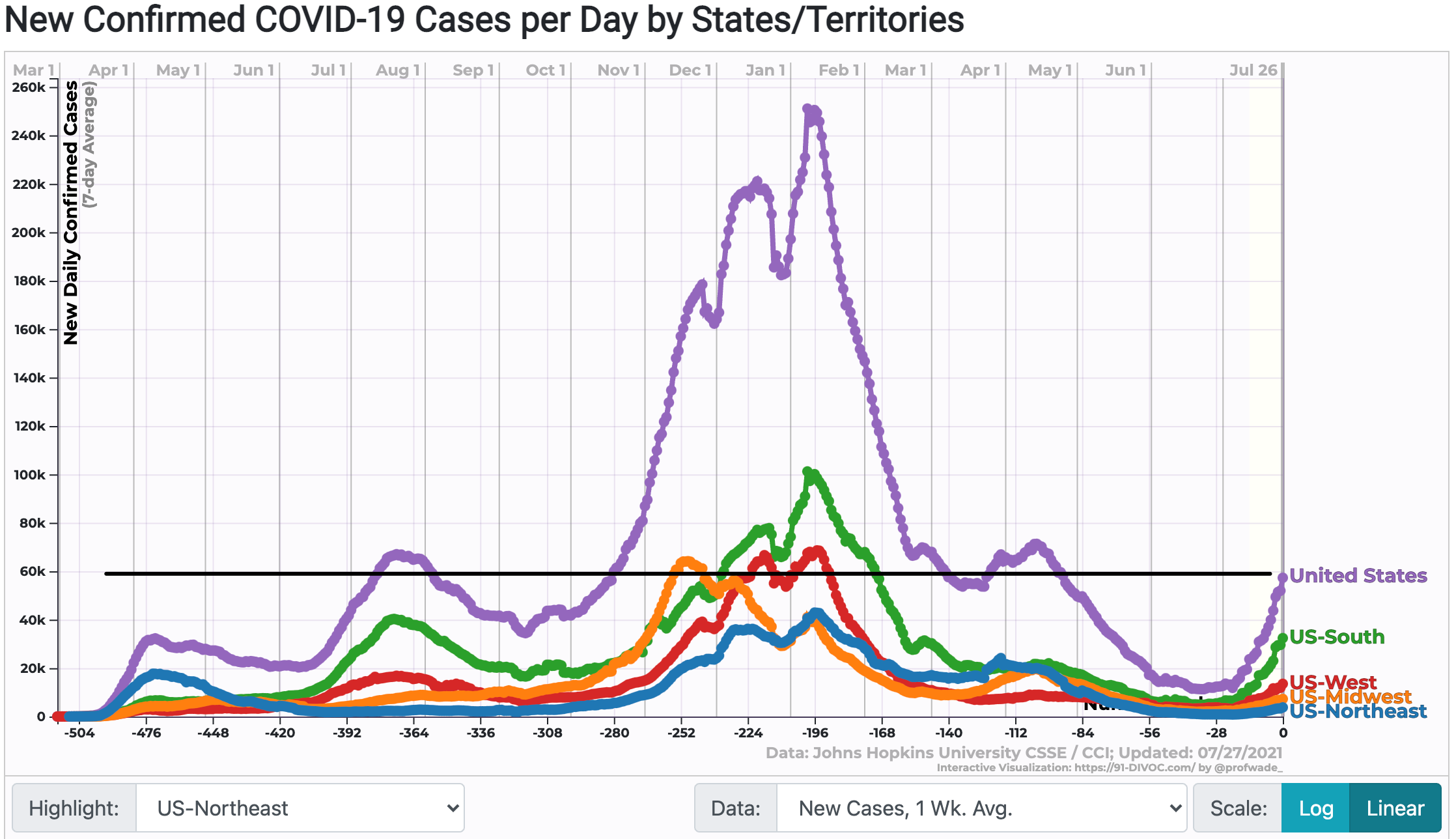 And so we barrel toward parity with the second peak, back in July 2020…. Projecting linearly, I'd guess we'd reach the new peak by early next week. (Note that these numbers are if anything understated, since the CDC does not collect breakthrough infections unless they involve hospitalization, and encourages health administrators in the states and localities not to collect the data either.)
Covid cases top ten states: for the last four weeks (hat tip, alert reader Lou Anton):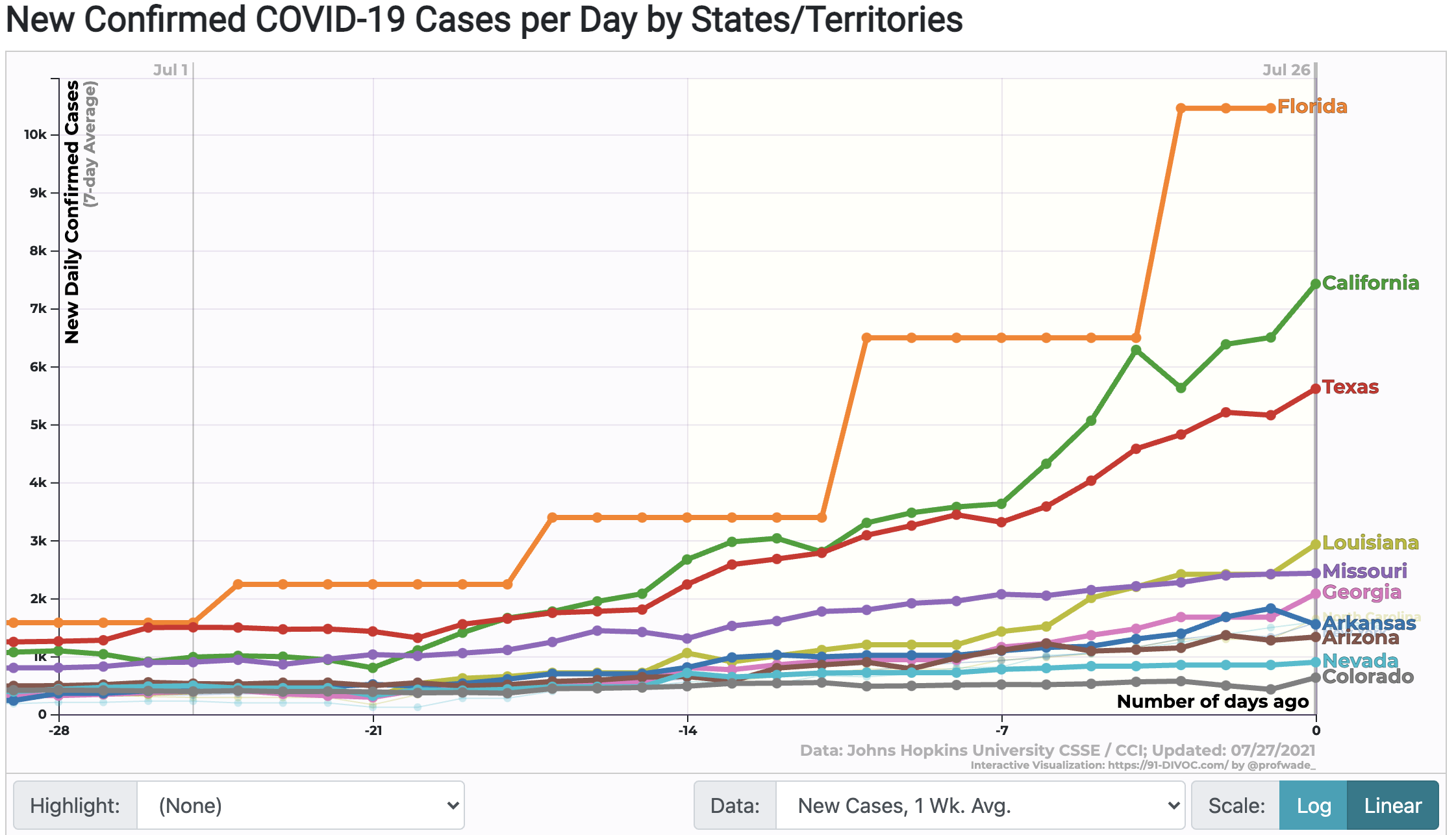 So long, President DeSantis.
From CDC: "Community Profile Report July 26 2021" (PDF), "Rapid Riser" counties, this release: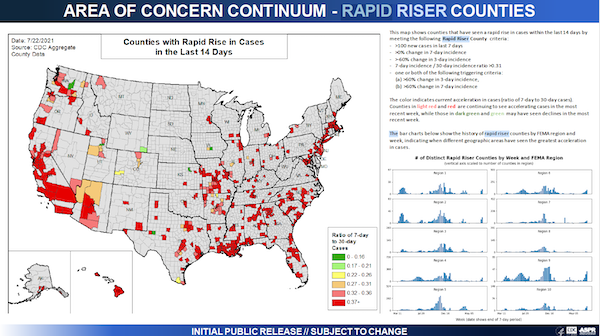 More red, though some relief in Nevada. Oh, and I'm seeing plenty of red in California and the Acela corridor, which certainly doesn't fit the narrative. Last release: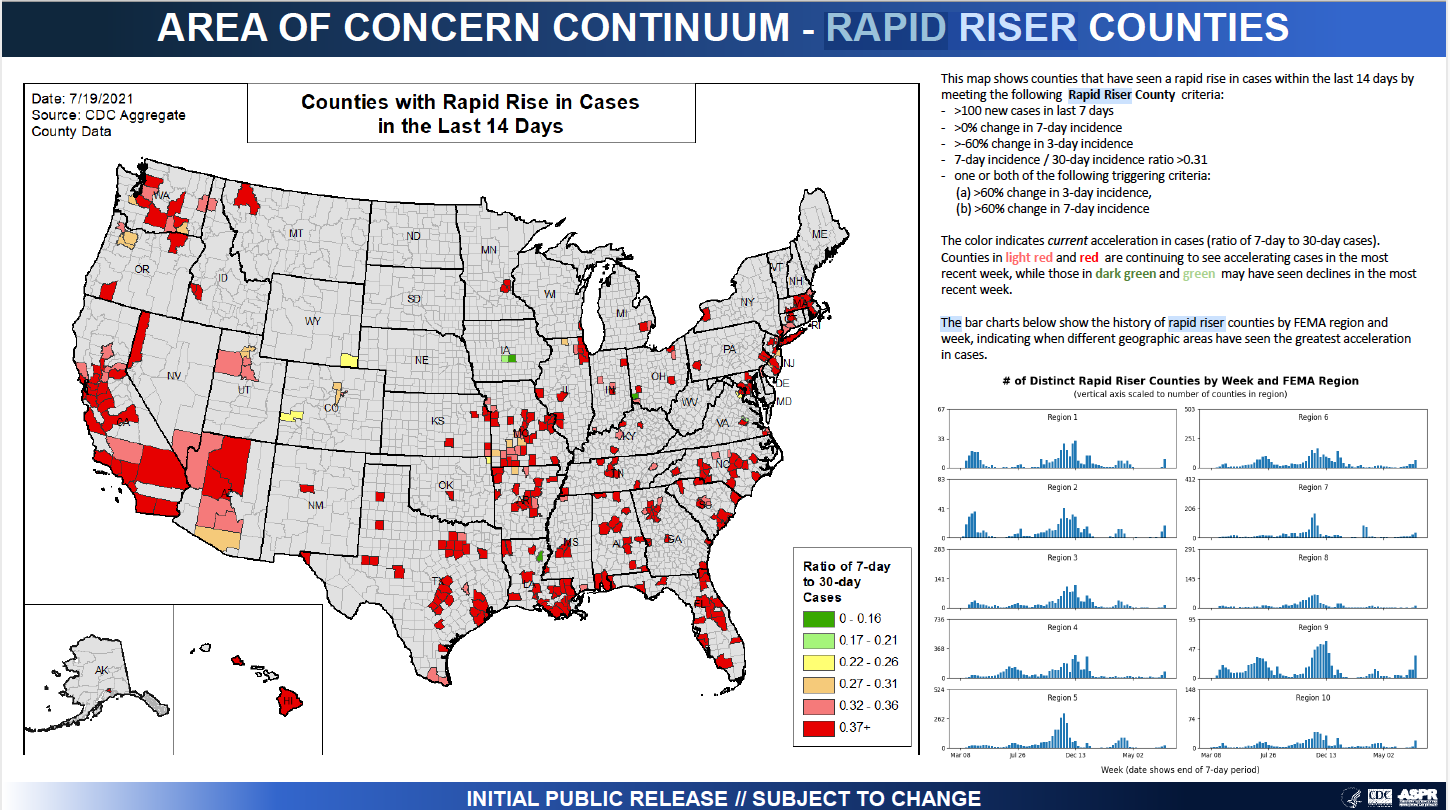 (Red means getting worse, green means bad but getting better. This chart updates Tuesdays and Fridays, presumbly by end-of-day.)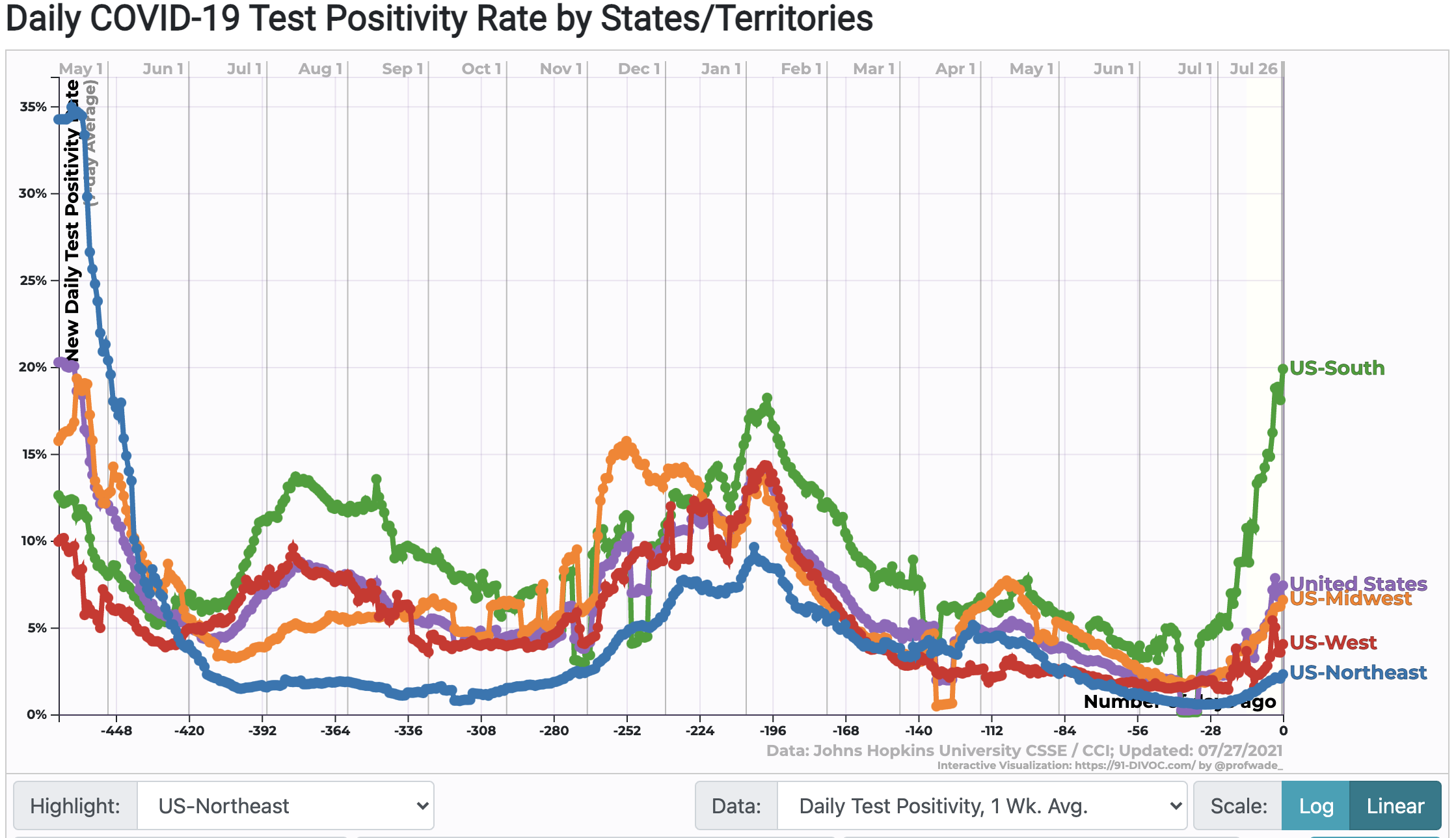 South running away with the field. But other regions now playing catch-up.
Hospitalization (CDC):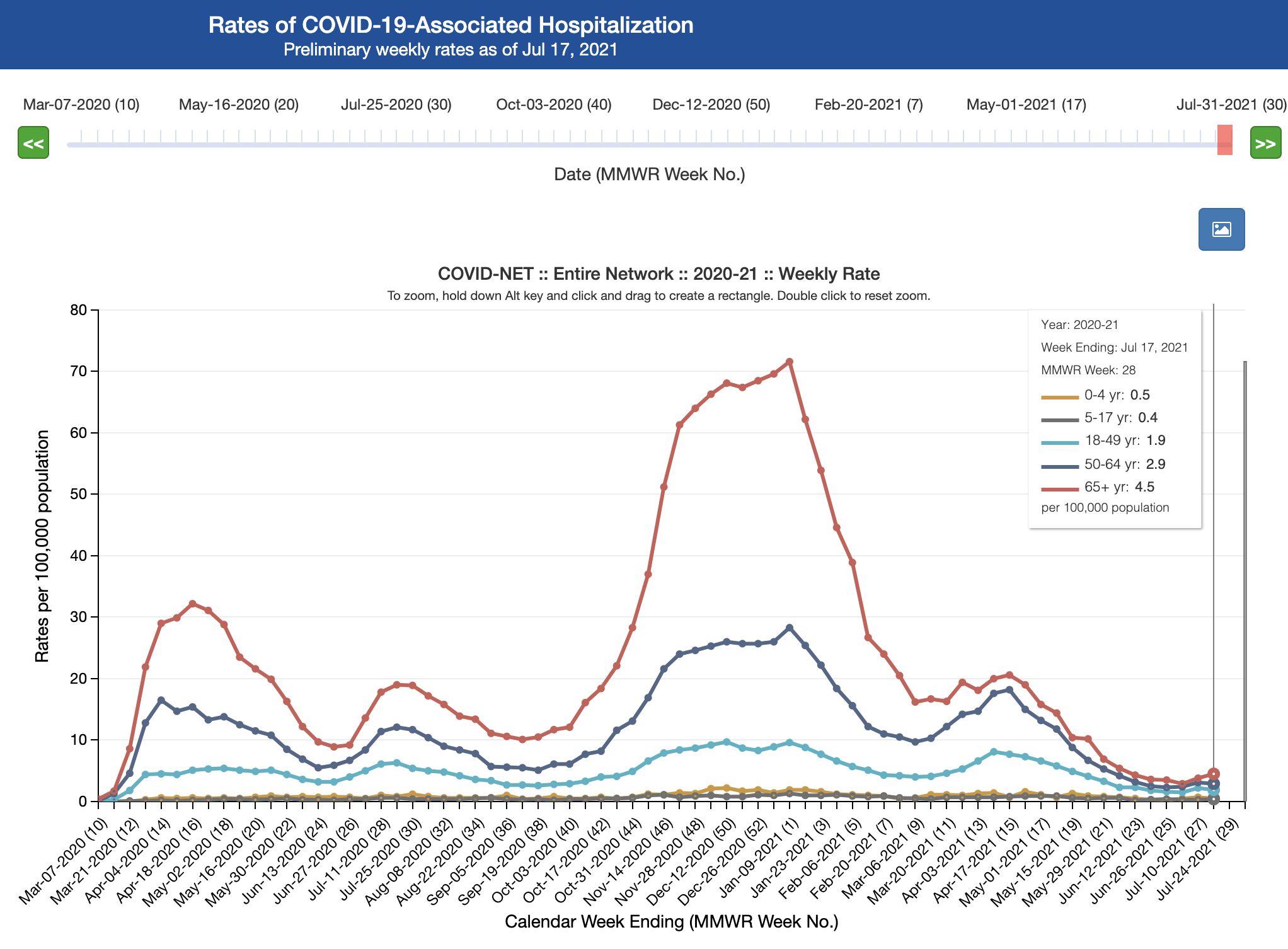 I do not like the increase in 65+ hospitalization.
Deaths (Our World in Data):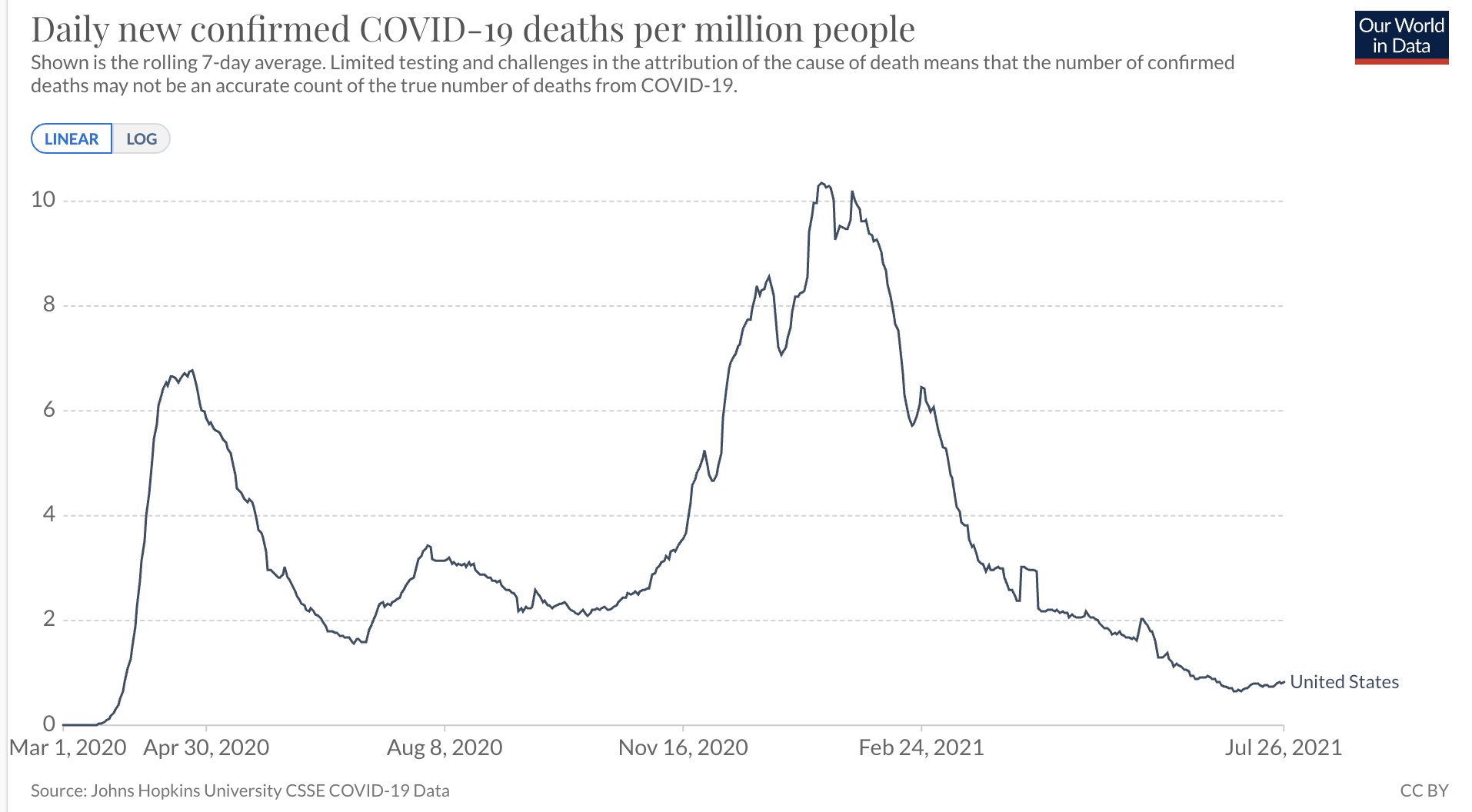 I do not like the rise in deaths, slight though it may be.
Covid cases worldwide: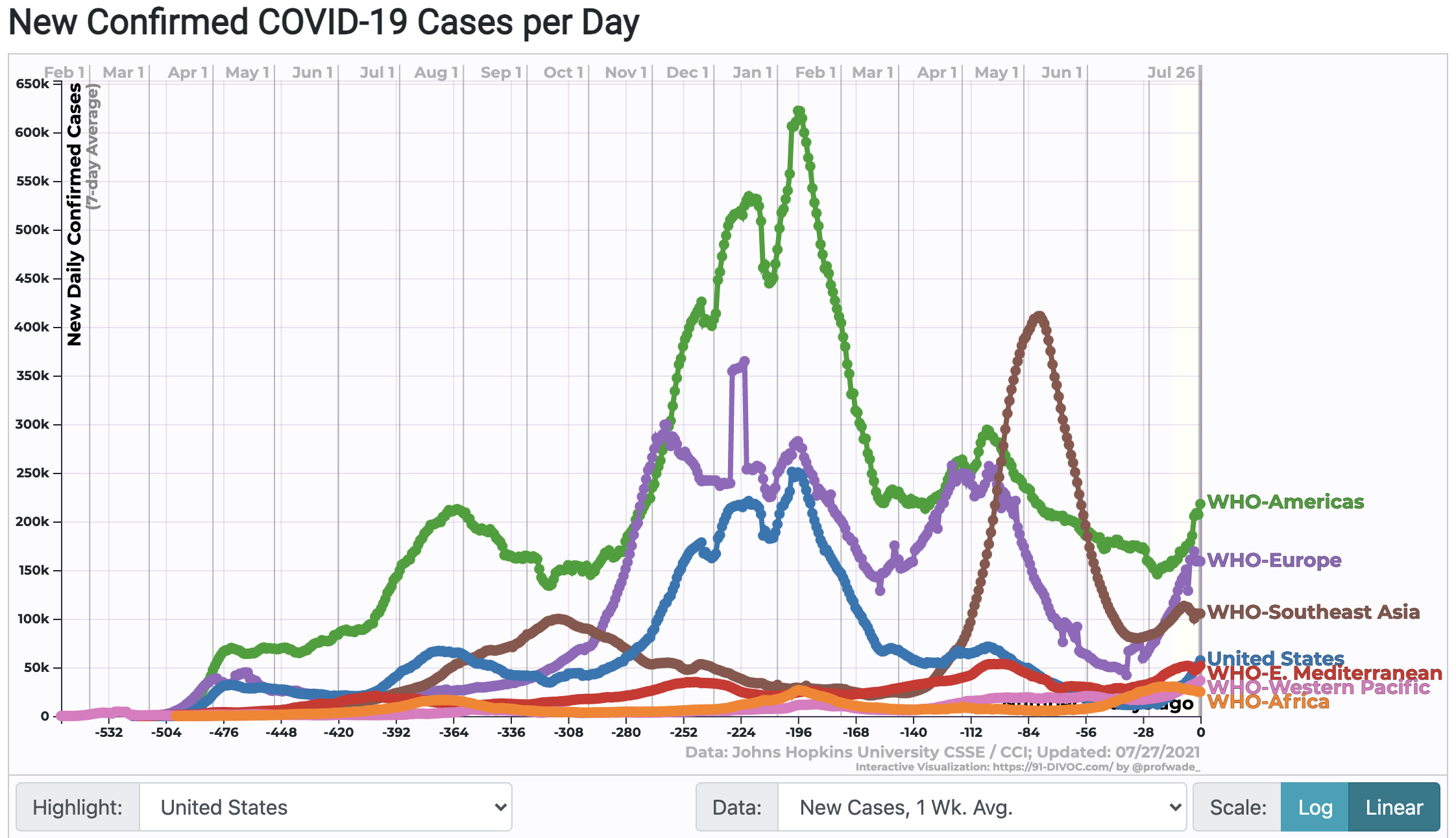 Every region is trending up.
* * *
Politics
"But what is government itself, but the greatest of all reflections on human nature?" –James Madison, Federalist 51
"They had one weapon left and both knew it: treachery." –Frank Herbert, Dune
"They had learned nothing, and forgotten nothing." –Charles Maurice de Talleyrand-Périgord
Biden Administration
"Brother of top Biden advisor lobbied Executive Office of the President on behalf of GM" [CNBC]. "The brother of one of President Joe Biden's closest advisors lobbied members of the National Security Council for General Motors in the second quarter, according to a new disclosure report reviewed by CNBC. The report shows that Jeff Ricchetti, brother of White House counselor Steve Ricchetti, engaged with the NSC for the car-making giant on 'issues related to China.' The company paid Ricchetti $60,000 last quarter for his lobbying services. Jeff Ricchetti's work to lobby the NSC, which is part of the Executive Office of the President, comes as he tries to publicly distance his work from his brother, who, among other items, helped secure an infrastructure deal between the White House and senior lawmakers." • One big happy! The Biden Administration is just full of lovable scamps!
Democrats en Deshabille
"Spare Us Your Covid Hypocrisy, Republicans" [Joan Walsh, The Nation]. "Republican Alabama Governor Kay Ivey got a lot of attention last week when she urged her constituents to get vaccinated as a new wave of Covid cases crowded hospitals and ICUs…. Ivey herself is partly to blame, for waiting so long to make a vaccine pitch…" • Well, it's Joan Walsh, so we expect this:

I just received my final dose of the @pfizer #COVID19 vaccine. I appreciate the medical staff at Baptist South for their service & professionalism. Vaccination is critical to overcoming the pandemic. I encourage those eligible to get vaccinated. #alpolitics pic.twitter.com/KjXMBYYqpI

— Governor Kay Ivey (@GovernorKayIvey) January 12, 2021

Note the date. But they've got their story and they're sticking to it! Note also that the word "Black" does not appear in the article at all, even though of all the major identity verticals, Blacks have the lowest vaccination rate. Of course, Blacks are an important Democrat constituency, so it is natural that a shameless hack like Walsh would erase this.
Realignment and Legitimacy
"Commissioners reject ballot marking devices in voting machine contract for Shelby County" [Commercial Appeal]. "The Shelby County Commission rejected a resolution to purchase voting machines for a second time, sending a resounding message to the Election Commission that they still favor hand-marked paper ballots, not ballot marking devices. 'I can understand their position tonight,' Election Commission Chairman Brent Taylor said. 'Unfortunately, (the County Commission) is not charged with the responsibility of conducting elections. The Shelby County Election Commission is by statute charged with conducting elections by statute and we have said in order to conduct the elections in a free, fair, honest, open way we need these machines and it is the County Commission's responsibility to fund them.'" • Steak dinner, here we come! "Commissioners later approved a resolution requesting that the county's purchasing department assist with the procurement process for the purchase of voting machines and related software that support hand-marked paper ballots. The machines in the contract voted down Monday would have been for ballot marking devices, which permit voters to cast their ballots using a screen and producing a printout with a bar code. The county's current machines don't produce a paper trail to allow voters to review their decisions." • There is no software that supports hand-marked paper ballots. Digital = hackable, Get the software out of the equation entirely.

"Lightfoot doubles down on decision to exclusively take interviews from people of color" [The Hill]. "'I am a Latino reporter @chicagotribune whose interview request was granted for today,' reporter Gregory Pratt tweeted in May. 'However, I asked the mayor's office to lift its condition on others and when they said no, we respectfully canceled. Politicians don't get to choose who covers them.'"

On the left, liberal Democrats. On the right, the left:

I know people who would have slapped this man 😂😂😂 pic.twitter.com/ukp2QR6T60

— Zahradeen A. G. (@Zedd_AG) August 17, 2019
Stats Watch
Durable Goods: "Headline Durable Goods New Orders Improved Again In June 2021" [Econintersect]. "The headlines say the durable goods new orders improved. Our analysis shows the rolling averages declined. The data this month was well below expectations. In the adjusted data, the improvement was due to civilian and defence aircraft.:" • Eesh. Boeing? That's a pretty slim reed….
Manufacturing: "United States Richmond Fed Manufacturing Index" [Trading Economics]. "The Manufacturing Activity Index in the US fifth district including the District of Columbia, Maryland, North Carolina, South Carolina, Virginia, and most of West Virginia went up to 27 in July of 2021 from an upwardly revised 26 in June. It was the highest reading since March 2004, buoyed by increases in the shipments and employment indexes. On the other hand, new orders declined but remained in expansionary territory."
* * *
Shipping: "UPS shares hit three-month low on worries e-commerce is cooling" [Reuters]. "United Parcel Service Inc (UPS.N) shares fell to a three-month low on Tuesday on worries that growth from the pandemic-fueled e-commerce boom may be fading. The company said second-quarter domestic volume fell 2.9%, with ground – composed largely of e-commerce deliveries – dropping 4% versus the year earlier. 'Investors are likely reading this as an indication the pandemic-driven demand trend is slowing,' Cowen Research analyst Helane Becker said in a client note."
Shipping: "Argentina declares state of emergency as Parana River water falls to lowest level in 77 years" [Splash 24/7]. "Argentine president Alberto Fernández on Monday declared a six-month state of emergency for the Parana River, which has dropped to its lowest level in 77 years. Water flow in the river in June was recorded at 6,190 cu m per second, just over half of the 11,823 cu m second recorded in June 2019, according to state-owned electricity wholesaler Cammesa…. The Parana River transports about 80% of Argentina's agricultural exports. The water emergency is expected to continue delaying shipments of soy, corn, wheat and other grains, as ships are required to carry less cargo to avoid grounding. The low water level is also affecting hydroelectric power generation."
Tech:
If an alien were to wipe out all computational memory, I don't think the humans who are alive now can even recreate civilization from 1600.

— Esha K. (@eshaLegal) July 26, 2021
Correct. As with vaccines, we seem to be putting all our chips on one technology.
Manufacturing: "America's Tastemakers" [New York Magazine]. "There are, by most estimates, only about 500 flavorists in the U.S., and if you have eaten food from a box in America, you have certainly tasted their work. Flavorists are responsible for the end of the ingredients list, the mysterious "natural and artificial flavors" that make ketchup taste ketchup-y and imitation meats meaty. And many of them happen to work in New Jersey, which has become a hub of American flavor. The Swiss giant Firmenich, for example, has its U.S. headquarters in Plainsboro, and Symrise is in Teterboro, as is Takasago, and a Givaudan outpost is in East Hanover. There is Robertet in Piscataway, International Flavors & Fragrances in South Brunswick, Brookside in Branchburg, Flavor Dynamics in South Plainfield, and Signature Flavors in Freehold. This partly has to do with location and price: New Jersey is close to the area's ports but with cheaper land than New York. At play, too, is the Silicon Valley principle: It's good to be near competitors because that means you're near clients (and future hires)…. Flavorists cannot tell you which food brands they've worked with or what flavors they've made. … At the same time, there is deep camaraderie, because flavorists share a very particular approach to experiencing the world: nose-first. Smell, more than taste, determines flavor, and they spend their careers learning to smell. 'When you have a meal with other flavorists, you dissect the food and drinks just like at work,' says Freedman. 'We talk about flavor, the way things taste, the way things make us feel, all the sensations. That's the common language.'"
Manufacturing: "Moderna Says Foreign Manufacturing Partners Facing Delays" [Bloomberg]. "Moderna Inc. said its Covid-19 vaccine manufacturing partners outside the U.S. are 'facing delays' due to laboratory testing issues that occurred in recent days. While the problem has been resolved, it has slowed release of Moderna's vaccine to markets outside the U.S., a company spokeswoman said in an email. The problem will cause short-term adjustments to vaccine delivery outside the U.S., she said in the email. Moderna is currently shipping vaccine as it makes it, which means it has no extra stock in storage to smooth over these types of temporary supply interruptions, spokeswoman Colleen Hussey said in an email."
Mr. Market: "China Stock Rout Spreads Amid Fears of Foreign Investor Exodus" [Bloomberg]. "A deepening selloff in Chinese stocks spread to the bond and currency markets on Tuesday as unverified rumors swirled that U.S. funds are offloading China and Hong Kong assets…. The dramatic moves underscored how fragile investor confidence has become after a months-long regulatory onslaught by Beijing that only seems to be getting worse. Traders fear the latest crackdown on the nation's education, food delivery and property sectors could expand to other industries such as health care, as ." • Oh.
* * *
Today's Fear & Greed Index: 24 Extreme Fear (previous close: 32 Fear) [CNN]. One week ago: 20 (Extreme Fear). (0 is Extreme Fear; 100 is Extreme Greed). Last updated Jul 27 at 12:19pm
The Biosphere
"Oregon's carbon offsets go up in smoke" [Cory Doctorow, Pluralistic]. "Oregon's 400,000-acre (and counting) Bootleg Fire is consuming vast of carbon offset forests, releasing the carbon the public paid logging companies not to release…. Once that public money was in private hands, it returned to public officials – regulators who oversee Oregon's forests, who 'sought to discredit climate scientists and operated as a de facto lobbying and public relations arm for the timber industry.' Offsets don't just fail to mitigate the climate emergency – they have a business model: funneling lots of public money to rich people, like the millionaire residents of a gated Pennsylvania estate who got huge tax breaks for their private park."
"'What's Covid?' Why People at America's Hardest-Partying Lake Are Not About to Get Vaccinated" [Politico]. "A year ago, Backwater Jack's made national news after photos went viral of partiers packed inside the pool area, ignoring guidelines to avoid crowds and keep a distance from others. Today, as revelers laugh and toss back drinks in shallow pool water, some 600,000 deaths later, they aren't just forgoing masks, they are forgoing the vaccine. Talk of the vaccine draws scoffs, laughs and even cussing among the clientele. Mask-wearing, which is recommended for those not vaccinated, was virtually non-existent—and, in conversations with a flow of customers over two days, it's clear that many are not vaccinated. Depending on your politics, the scene at Backwater Jack's is either a symbol of reckless abandon or unapologetic living in the face of a pandemic. It is one pole of the divide that has erupted across the country, which increasingly seems cloven into two Americas: vaxxed and unvaxxed." • Shooting yahoos in a pool is easy and fun. It would be just as easy — and fun for me, though perhaps not everyone — to point out that SARS-CoV-2 hops jurisdictions and oceans through air travel, and air travel correlates positively with income (and for private jets, with wealth). To be fair, I didn't hear banjo music autoplay when I opened the article. That said, however painful for the region, Backwater Jack's is, well, a backwater. None of its patrons brought Delta to this country, for example. That was done by air travel — just as in the first peak, where the virus entered through JFK and spread from there — given that SARS-CoV-2 variants aren't sprinkled over the continent like pixie dust from the hand of God.
Health Care
"CDC to recommend vaccinated Americans wear masks indoors in some cases" [Reuters]. "The U.S. Centers for Disease Control and Prevention (CDC) is set on Tuesday to recommend fully vaccinated Americans wear masks indoors in at least some instances, as the more highly transmissible Delta variant of the coronavirus has led to a surge in infections, sources said…. That would mark a reversal of the CDC's announcement in May that prompted millions of vaccinated Americans to shed their face coverings." • Yes, it would. More: "The recommendations to wear masks in some indoor settings will apply in areas with surging COVID-19 cases, they said." • Awesome. Let's mask up only after it's too late. As I keep asking: What business is the CDC in, anyhow?
Sports Desk
"Simone Biles says 'I have to focus on my mental health' after pulling out of team final" [BBC]. "Four-time Olympic gold medallist Simone Biles said 'I have to focus on my mental health' after pulling out of the women's gymnastics team final. The American left the arena after the vault, but later returned to support her team-mates as they claimed silver behind the Russian Olympic Committee. Biles, 24, scored 13.766 – her lowest Olympic vault score – before withdrawing from the event. 'After the performance I did, I just didn't want to go on,' she said. 'I have to focus on my mental health. I just think mental health is more prevalent in sports right now. We have to protect our minds and our bodies and not just go out and do what the world wants us to do. I don't trust myself as much anymore. Maybe it's getting older. There were a couple of days when everybody tweets you and you feel the weight of the world. We're not just athletes. We're people at the end of the day and sometimes you just have to step back. . ​I feel like a lot of athletes speaking up has really helped. It's so big, it's the Olympic Games. '" • I remember remarking to Yves the other day that I was worried the media build-up on Billes was setting her up for a fall.
"Anna Kiesenhofer: Mathematician, amateur cyclist, Olympic champion" [Cycling News]. "In an extraordinary comeback story, the winner of the road race at the Tokyo Olympics left the sport at the end of 2017 when she found herself out of contract. She came into Tokyo without a pro team and left as Olympic Champion. … Off the bike, the new Olympic Champion has a PhD in mathematics after studying at the Technical University of Vienna as well as at Cambridge University before completing her doctorate in Catalonia in 2016 alongside her racing career. She currently works at the University of Lausanne, combining research with teaching. Kiesenhofer's specialism in time trialling coupled with her mathematics expertise make it all the more fitting that the Austrian won by solo breakaway and after a calculation error from the rest of the peloton…. Kiesenhofer was the very first rider to attack in the Olympic road race, eventually forming a breakaway alongsize Carl Oberholzer (South Africa), Omer Shapira (Israel), Vera Looser (Namibia), and Anna Plichta (Poland) which went on to reach a gap of 11 minutes. After Looser and Oberholzer were dropped, Kiesenhofer attacked her two remaining breakaway companions and time-trialled her way to the finish for over 40km. After Shapira and Plichta were caught by the remainder of the peloton the rest of the riders seemed to believe that they were racing amongst themselves for Gold, unaware that Kiesenhofer was still in front. However, while it might have been a miscalculation from the rest of the peloton that allowed Kiesenhofer to maintain her lead of more than two minutes, her rivals' mistakes should not detract from the Austrian's efforts and eventual win." • Presumably a cycling fan among the readership can explain this,
Zeitgeist Watch
"Want to be better at small talk? An ex-FBI agent reveals the method he uses to get people to open up" [CNBC]. • The media's servicing of today's Ohkrana is getting over the top. And I can't imagine a society I'd rather live in less than a society where everyday interaction is modeled after an FBI agent's entrapment techniques (because yes, that's what they live to do).
"To Slightly Reduce How Much the Internet Sucks, Use Positive Reinforcement" [Freddie DeBoer]. "So here's my proposal: instead of constantly giving negative attention to those you don't like, which helps their careers and thus incentivizes them to do more of what you dislike, why don't you use positive reinforcement to get more of what you do like, or at least hate less? I'm 100% serious here." • DeBoer sounds like Joe Biden: "I'm not joking!" And I don't think that's such a bad thing. More: "Let's start from the assumption that most of the people that media liberals hate are not just going to go away. I think browsing the most popular creators at crowdfunded platforms like Patreon and Substack will reveal that, whether you like it or not, a lot of people who establishment media folks view as problematic have durable audiences. As much as you might want them to, Chapo Trap House and Matt Taibbi and Red Scare and Jesse Singal (to pick just a few obvious examples/targets) have large and dedicated groups of supporters who will fund their work. While genuinely dissenting voices are being systematically pushed out of traditional media, a lot of people the liberal media intelligentsia doesn't like have audiences that will support their projects financially, sometimes lavishly so. And the number of platforms out there has multiplied, meaning that even if any individual writer gets run off of one, they will likely catch on somewhere else, especially given that Ghost exists to make centralized content moderation impossible3. Despite the endless canceling discourse it's almost impossible for someone to get canceled to the point of being legitimately silenced, provided they have a loyal audience. (Look at… me.) Canceling is powerless. Traditional media types care enough about these people to bother getting mad precisely because they are successful. So let's just accept that people you don't like will continue to say things you don't like. The question is, can you perhaps influence them to do more of what you like and less of what you don't? I think maybe you can, if you bear in mind what I said at the top: that none of us are independent, that you've gotta serve somebody." • Interesting as usual.
Guillotine Watch
"Fact check: False claims that Jeff Bezos is an alien, reptile draw on conspiracy theories" [USA Today]. "'That's an alien in his neck,' [YouTube user Gina Maria Colvin Hill] says in the video. 'Look at that two eyes in his neck. This Jeff Bezos has got an alien in his neck.' She claims Bezos is wearing 'a rubber mask on his head' and argues 'his hands even look fake, too.' 'He's a reptilian!" she says. 'I don't think he's a human.' But there is no evidence an alien is living in Bezos' neck – or that the billionaire is a reptile." • But surely Colvin Hill is directionally correct? In any case, I'd short Tyrell Corporation; The Bezos™, surprisingly, is becoming as credible as The Zuckerberg™ which is pretty amazing; have you ever looked carefully at The Zuckerberg™'s hairline? But that cowboy hat: Could it be hiding some tissue artifacts from a botched vat decanting?
Class Warfare
"The Time Tax" [Amnie Lowrey, The Atlantic]. "The United States government—whether controlled by Democrats, with their love of too-complicated-by-half, means-tested policy solutions; or Republicans, with their love of paperwork-as-punishment; or both, with their collective neglect of the implementation and maintenance of government programs—has not just given up on making benefits easy to understand and easy to receive. It has in many cases purposefully made the system difficult, shifting the burden of public administration onto individuals and discouraging millions of Americans from seeking aid. The government rations public services through perplexing, unfair bureaucratic friction. And when people do not get help designed for them, well, that is their own fault. The time tax is worse for individuals who are struggling than for the rich; larger for Black families than for white families; harder on the sick than on the healthy. It is a regressive filter undercutting every progressive policy we have. In America, losing a job means making a hundred phone calls to a state unemployment-insurance system. Getting hit by a car means becoming your own hospital-billing expert. Having a disability means launching into a Jarndyce v. Jarndyce–type legal battle. Needing help to feed a toddler means filling out a novel-length application for aid. The Biden administration is expanding the welfare state, through the new child tax credit and other initiatives. Congressional Democrats are crafting a new New Deal. But little attention is being paid to making things work, rather than making them exist. And very little attention is being paid to making things work for the neediest—people short on time, money, and mental bandwidth. The time tax needs to be measured. It needs to be managed. And it needs to end." • This is well worth reading in full. However, the notion of a "tax on time" for exactly the processes Lowrie is talking about was originated by none other than Naked Capitalism's Yves Smith (though since every search tool available to me is completely crapified, I can't find the original usage). Oh, and the "new child tax credit" is temporary, which I certainly hope isn't the liberal Democrat version of a "new New Deal."
News of the Wired
"The Regular Expression Edition" [Why Is This Interesting?] "In a 1951 paper for the RAND Corporation, Kleene reasoned about the types of patterns neural networks were able to detect by applying them to very simple toy languages—so-called 'regular languages.' For example: given a language whose 'grammar' allows only the letters 'A' and 'B', is there a neural network that can detect whether an arbitrary string of letters is valid within the 'A/B' grammar or not? Kleene developed an algebraic notation for encapsulating these 'regular grammars' (for example, a*b* in the case of our 'A/B' language), and the regular expression was born. Kleene's work was later expanded upon by such luminaries as linguist Noam Chomsky and AI researcher Marvin Minsky, who formally established the relationship between regular expressions, neural networks, and a class of theoretical computing abstraction called 'finite state machines.'" • Hubris, not unknown in the field. But a fascinating article for the technically minded!
* * *
Readers, feel free to contact me at lambert [UNDERSCORE] strether [DOT] corrente [AT] yahoo [DOT] com, with (a) links, and even better (b) sources I should curate regularly, (c) how to send me a check if you are allergic to PayPal, and (d) to find out how to send me images of plants. Vegetables are fine! Fungi and coral are deemed to be honorary plants! If you want your handle to appear as a credit, please place it at the start of your mail in parentheses: (thus). Otherwise, I will anonymize by using your initials. See the previous Water Cooler (with plant) here. Today's plant (SC):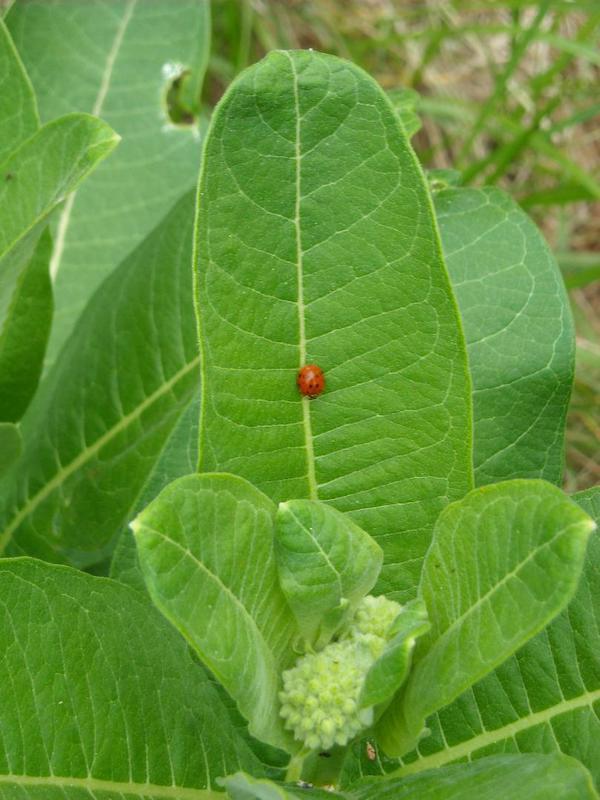 SC writes:
The Milkweed that I so enthusiastically wrote about a few years ago, thinking it was Purple, is actually Common and invasive. I found a more reliable seed source for Purple and the — now large — Common MW infestation is hopefully providing a measure of unintended "cover" for the small Purple MW seedlings, attracting the Monarchs away from the precious Purple seedlings to lay eggs on the large and abundant leaves of the numerous Common MW stalks. And, indeed, on inspection I do find eggs on the undersides of some of the big Common MW leaves.

MW attracts aphids, and aphids attract Ladybird Beetles. I rescued one out of a watering pot yesterday (almost killed it, thinking it might be a Japanese beetle — I have a lot of Virginia Creeper that needs rooting out — before noticing the spots), and today I am finding them staking out the Common Milkweed, evidently awaiting the aphids. Ladybugs are prized for natural pest control; I didn't expect this benefit when I started trying to grow Purple Milkweed several years ago. Perhaps I am by accident stumbling in the direction of a sustainable permaculture.

The attached photo shows the bug, some leaves and the beginnings of a milkweed blossom cluster.
And since my household affairs distracted me yesterday, here is yesterday's plant (TH):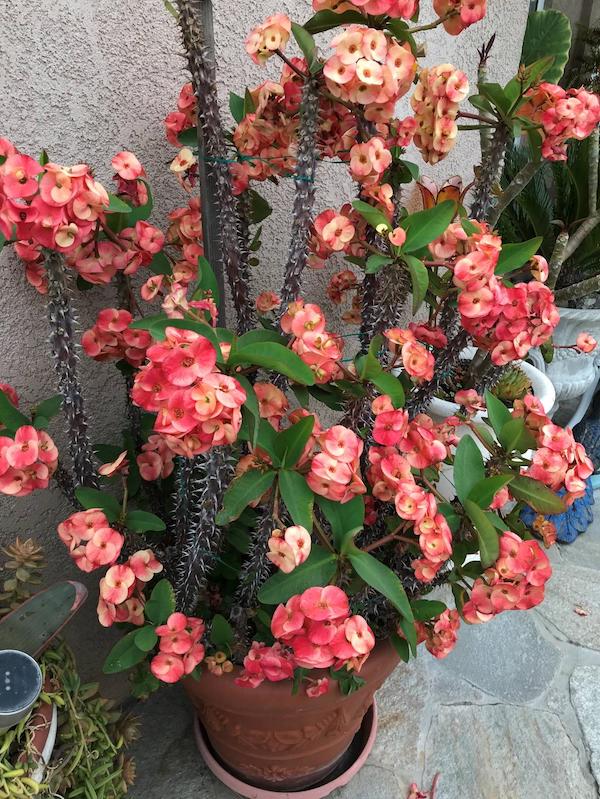 TH writes: Don, my husband, and I occasionally stop at yard/garage/estate sales. We stopped at one in Orange and this lovely Christplant in their front yard is all I remember of it." Fortunately red goes nicely with green. So Christmas comes early!
* * *
Readers: Water Cooler is a standalone entity not covered by the recently concluded and — thank you! — successful annual NC fundraiser. So if you see a link you especially like, or an item you wouldn't see anywhere else, please do not hesitate to express your appreciation in tangible form. Remember, a tip jar is for tipping! Regular positive feedback both makes me feel good and lets me know I'm on the right track with coverage. When I get no donations for five or ten days I get worried. More tangibly, a constant trickle of donations helps me with expenses, and I factor in that trickle when setting fundraising goals:
Here is the screen that will appear, which I have helpfully annotated.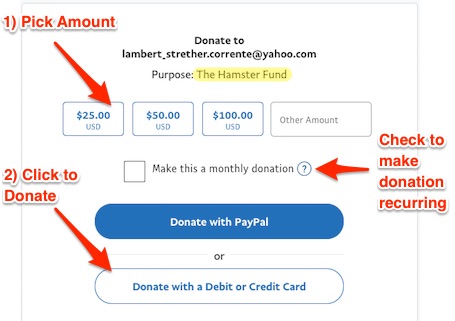 If you hate PayPal, you can email me at lambert [UNDERSCORE] strether [DOT] corrente [AT] yahoo [DOT] com, and I will give you directions on how to send a check. Thank you!2:00PM Water Cooler 6/8/2021