By Lambert Strether of Corrente.
Patient readers, this Water Cooler is a bit light, but I have some household matters to handle.
Bird Song of the Day
Conan the Cerulean….
* * *
#COVID19
At reader request, I've added this daily chart from 91-DIVOC. The data is the Johns Hopkins CSSE data. Here is the site. I feel I'm engaging in a macabre form of tape-watching….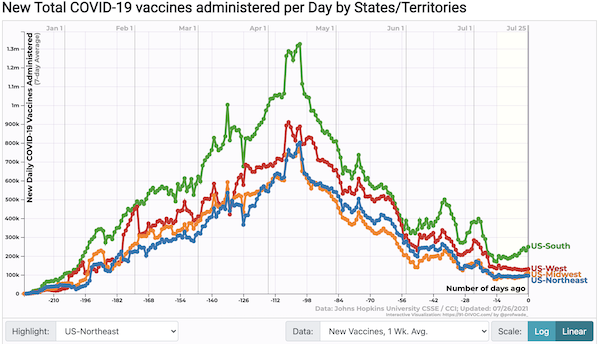 South rising.
Case count by United States regions: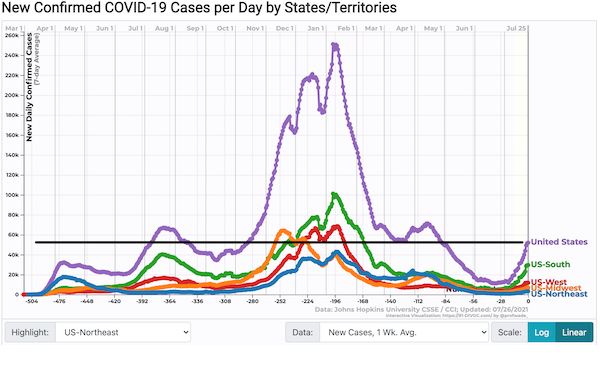 The non-triumphalist black line of today's new normal is pushing strongly toward the same height as the second peak, back in July 2020. Projecting linearly, I'd guess we'd reach it by early next week. (Note that these numbers are if anything understated, since the CDC does not collect breakthrough infections unless they involve hospitalization, and encourages health administrators in the states and localities not to collect the data either.)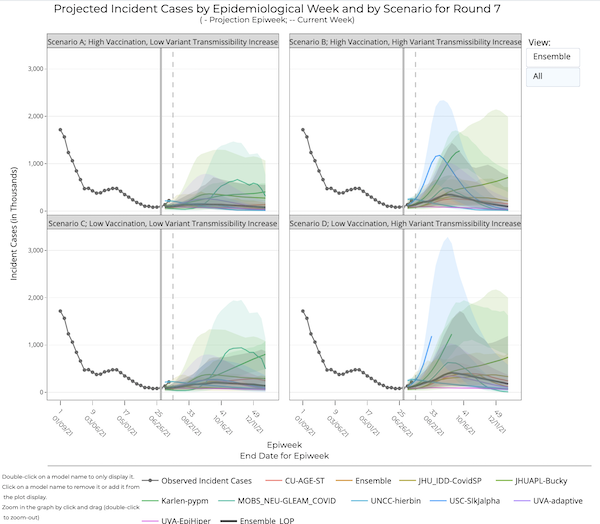 I'm juggling with power tools here (plus I hate models), so perhaps I misunderstand, either Lessler or the scenarios. Reader comments very welcome.
Covid cases top ten states: for the last four weeks (hat tip, alert reader Lou Anton):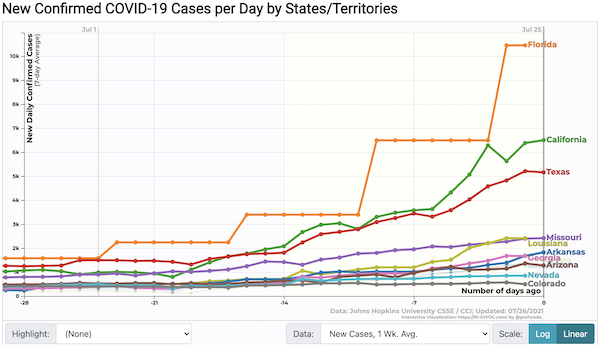 So long, President Desantis.
NEW From CDC: "Community Profile Report July 21 2021" (PDF), "Rapid Riser" counties, this release: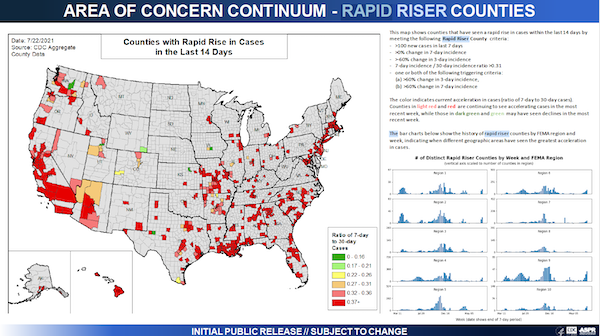 More red, though some relief in California. Last release: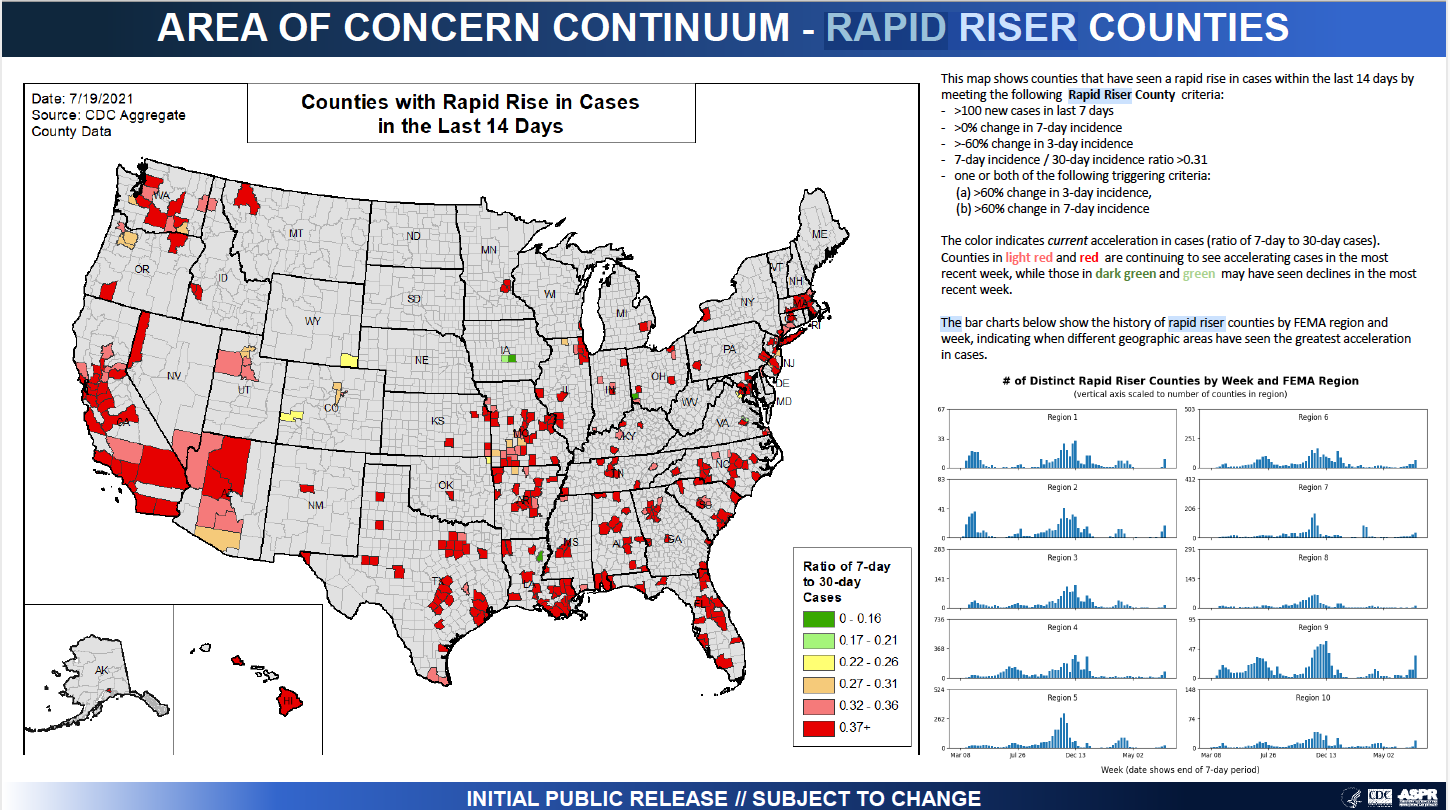 (Red means getting worse, green means bad but getting better. This chart updates Tuesdays and Fridays, presumbly by end-of-day.)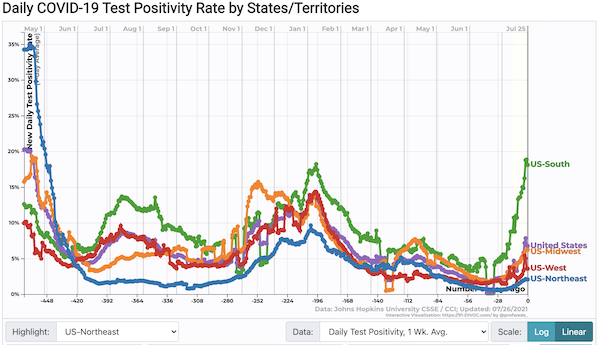 South running away with the field. But other regions now playing catch-up.
Hospitalization (CDC):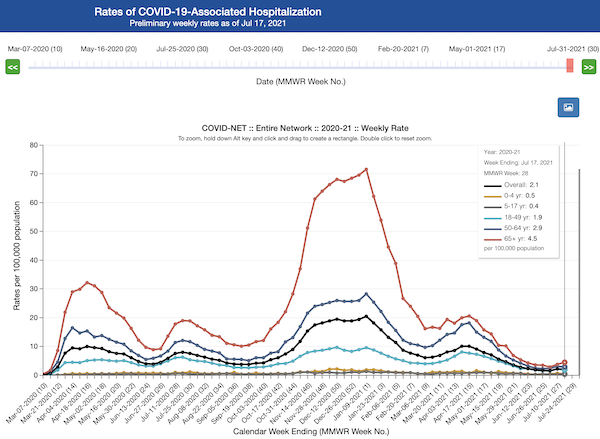 I do not like the increase in 65+ hospitalization.
Deaths (Our World in Data):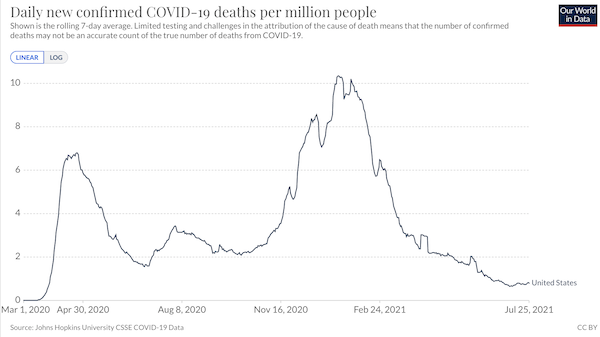 I do not like the rise in deaths, slight though it may be.
Covid cases worldwide: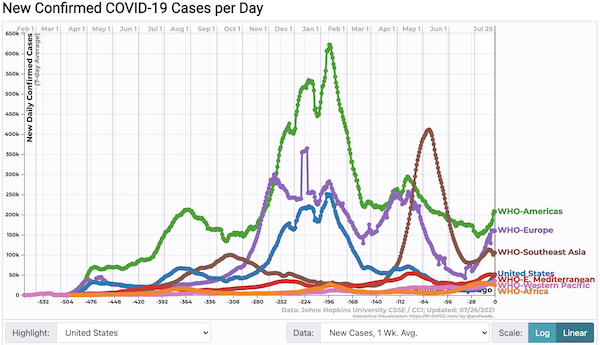 Every region is trending up.
* * *
Politics
"But what is government itself, but the greatest of all reflections on human nature?" –James Madison, Federalist 51
"They had one weapon left and both knew it: treachery." –Frank Herbert, Dune
"They had learned nothing, and forgotten nothing." –Charles Maurice de Talleyrand-Périgord
Biden Administration
"EXCLUSIVE U.S. will not lift travel restrictions, citing Delta variant -official" [Reuters]. "he United States will not lift any existing travel restrictions "at this point" due to concerns over the highly transmissible COVID-19 Delta variant and the rising number of U.S. coronavirus cases, a White House official told Reuters. The decision, which comes after a senior level White House meeting late Friday, means the long-running travel restrictions that have barred much of the world's population from the United States since 2020 will not be lifted in the short term." • What we should be doing is requiring two-week quarantines, as the recent superspreader wedding, with visitors from India, proves.

"Joe Biden town hall in Cincinnati: Here's the full CNN transcript" (transcript) [Cincinnatti Enquirer]. • This is very interesting and well worth study. Here are some of the main points:

(1) Biden often uses phrases like "It really has. Not a joke," "No, I'm not joking," "Not a joke. Not a joke.," "all kidding aside," "I really mean it," and so forth. In his own Biden-esque way, i.e. sloppy and full of loose ends, this is message discipline as impressive as Sanders; Biden does recognize that trust in government is decreasing, and in his rhetorical persona seeks to address this (possibly also in contrast to "the former guy," who was quite a kidder, and — this is a long shot — in contrast to Obama's brand of cool irony). This to me suggests that Biden, even if he's lost a step or three, is a better politician than the party (broadly conceived as the party apparatus proper, plus funders, strategists, and a dense network of NGOs).

(2) Biden vaccine messaging:

[BIDEN:] This is a simple, basic proposition. If you're vaccinated, you're not going to be hospitalized, you're not going to be in an ICU unit, and you are not going to die…. If you're vaccinated, even if you do "catch the virus," quote, unquote, like people talk about it in normal terms, you're — not many people do. If you do, you're not likely to get sick. You're probably going to be symptomless. You're not going to be in a position where your life is in danger. So it's really kind of basic.

This is so, so much closer to the truth than the previous "you're protected." Granted, it's not phrased in terms of probabilities, but I think those are covered by the hospitalized/ICU/death cascade.

(3) Biden on maskiing:

[BIDEN:] Number two, the CDC is going to say that what we should do is everyone over the age — under the age of 12 should probably be wearing a mask in school. That's probably what's going to happen. Secondly, those over the age of 12 who are able to get vaccinated, if you're vaccinated, you shouldn't wear a mask. If you aren't vaccinated, you should be wearing a mask. So it's going to get a little bit tight in terms of, well, are Mom or Dad being honest that, you know, Johnny did or did not get vaccinated. That's going to raise questions. But I think what's going to happen is you're going to see this work out in ways that people are going to know in the community. Everybody knows in a community whether or not Johnny really did get the vaccination when he's 15 or 17 years old. And so it's going to — I think it's — it's a matter of community responsibility. And I think you're going to see it work through.

Nice try, but this wouldn't work even in Scranton. Even Scranton is too big. (It could be this message is tailored for rural America.)

(4) Biden on the vaccine hesitant:

But if you notice, as they say in the southern part of my state, they've had an altar call, some of those guys. All of a sudden they're out there saying, "Let's get vaccinated. Let's get vaccinated."

. We just have to keep telling the truth. That's why, for example, my wife just flew to Alaska today to do an event in Alaska about making sure people understand and get vaccinated, talking about COVID, et cetera.

So it's — you know, and, by the way, there's pockets. If you notice, there's about, what, four or five states that have close to 45 percent or — don't hold me to exact numbers.

LEMON: Lower than that, even. In my home state of Louisiana, it's 36 percent, and I think there are other southern states.

BIDEN: No, but I mean of all the cases, all the cases, a very overwhelming majority of those cases are in four or five states.

LEMON: Yeah.

BIDEN: And it's just not — there's nothing political about this. There's no blue or red.

(APPLAUSE)

I think "that's good. It's good" is a second example of Biden being a better politician than his party (conceived of as above). Most liberal Democrat activists are mocking "the very people," and Biden goes up to the brink, and pulls back. (If this were Obama, I'd be sure it was a rhetorical ploy, but I don't think Biden has that level of rigorous control over his register.) Same with "there's no blue or red." Biden's party certainly believes that there is only blue or red, and that's not how public health works; it's a very destructive attitude to take up, if your goal is to save lives instead of exterminate a political and class enemy.

All in all, it's an interesting transcript. I don't know if Biden can do a full day's work, and I don't even know if he's an executive decision maker — what on earth are they thinking on infrastructure? — but in terms of speaking directly to the American people, as we say, this Town Hall was pretty good. I can't find it in myself to hate the guy, even though I hate plenty of things he's done. I don't even turn off the sound when his voice comes on — although partly that's because if he slips a cog, I want to hear it. NOTE I only read the Town Hall transcript, I didn't watch it. So if Biden is showing physical signs of deterioration, I wouldn't have seen them.
Realignment and Legitimacy
"Survivors of California's forced sterilizations: 'It's like my life wasn't worth anything'" [Guardian (JBird4049)]. "It wasn't until years after Kelli Dillon went into surgery while incarcerated in the California state prison system that she realized her reproductive capacity had been stripped away without her knowledge. In 2001, at the age of 24, she became one of the most recent victims in a history of forced sterilizations in California that stretches back to 1909 and served as an inspiration for Nazi Germany's eugenics program. But now, under new provisions signed into California's budget this week, the state will offer reparations for the thousands of people who were sterilized in California institutions, without adequate consent, often because they were deemed 'criminal', 'feeble-minded' or 'deviant.'" • Just trust us on the vaccinesl though…
Stats Watch
Manufacturing: "United States Dallas Fed Manufacturing Index" [Trading Economics]. "The Federal Reserve Bank of Dallas' general business activity index for manufacturing in Texas decreased to 27.3 in July of 2021 from 31.1 in June, pointing to the smallest growth in factory activity in five months, although it remained a robust one."
* * *
Shipping: "Containership Scrapping Tanks as Carriers Seek Out 'Anything That Floats'" [gCaptain]. "Despite a 30% spike in prices for scrap, just 1,300 teu of cellular tonnage was sold for demolition in the past 60 days as operators seek out and deploy . 'The booming container charter market, with historically high charter rates, has been instrumental in keeping owners away from the demolition scene,' said Alphaliner. Indeed, notwithstanding scrap buyers offering around $600 per ldt – which hard-pressed shipowners would have jumped at a year ago, particularly for their ageing uneconomic vessels – they are now receiving astonishing offers from carriers for their ships, many times higher than they could achieve on the demolition market. The consultant identified only 15 container vessels, for a total of 12,431 teu, that had been dispatched to the recycling yards in the first six months of the year – this is in stark contrast to the 56 for 143,000 teu scrapped in the first half of 2020." • And maybe some that shouldn't have passed survey?
Tech:
I'm reading a book, but out of habit glanced up to the top of the page to see what the time was and momentarily thought it was a quarter to nine. pic.twitter.com/QLZXXmh6RQ

— Moose Allain Ꙭ (@MooseAllain) July 24, 2021
Every so often my impulse is to Undo in real life. Nothing existential, but tripod positioning, say.
Tech: "An Anti-Smartphone With a Rotary Designed and Built by Space Engineer Justine Haupt" [This Is Collossal]. "'This is a statement against a world of touchscreens, hyperconnectivity, and complacency with big brother watchdogs,' Haupt writes on her website. In a post sharing the open source design, she adds that 'in a finicky, annoying, touchscreen world of hyperconnected people using phones they have no control over or understanding of, I wanted something that would be entirely mine, personal, and absolutely tactile, while also giving me an excuse for not texting.'" • Here it is: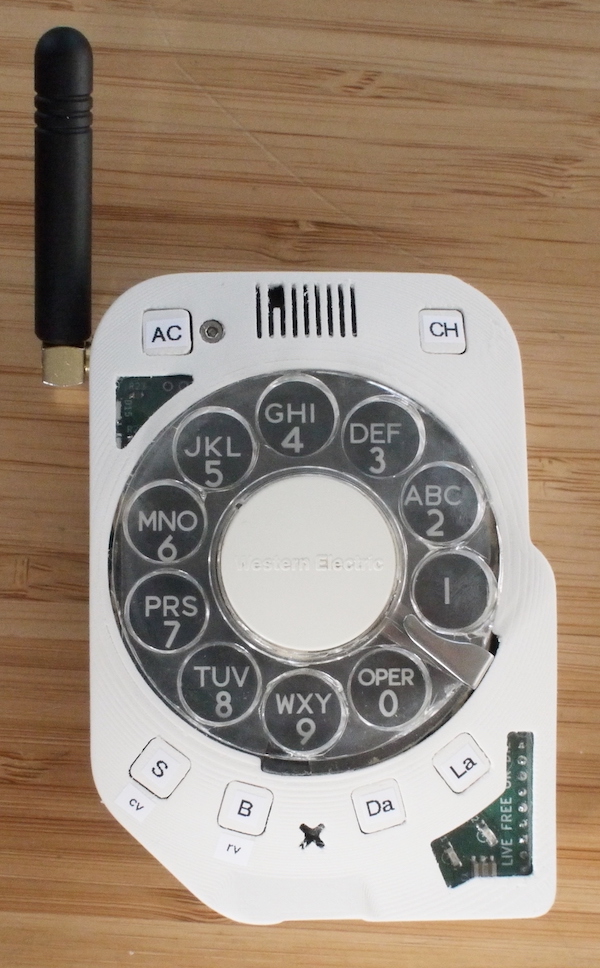 Apparently, it will be on the market when the chip shortage is over.
Tech: "Stop Building Bad AI" [Boston Review]. "A final obstacle to more robust ethical reflection on AI development is the presumption that we always have the option of non-deployment. If at some point in the future it turns out that an AI tool is having unacceptably bad consequences, some might say, we can simply decide to stop using the tool then. This may be true in some cases, but it is not clear why we should think it is always possible—especially without industry-wide regulation. The labor effects of automation, for example, may well be effectively irreversible. In current market conditions, it is hard to imagine how a company could take back its decision to replace a human-executed task with an AI-driven, automated process. Should the company face backlash over its AI tool, current incentives make it far likelier that it would seek to find another way to automate the task rather than rehire humans to execute it. The pressure to automate is now so strong in some sectors that some companies are pretending to have built and deployed AI. In 2016, for example, Bloomberg News reported that personal assistant startup X.ai was directing employees to simulate the work of AI chatbots, performing avalanches of mind-numbing, repetitive tasks such as generating auto-reply emails and scheduling appointments. It would be naïve to think that once such tools are actually built and deployed, the work force could easily revert to its pre-automated structure." • I'm not sure there is such a thing as good AI. As I understand it, we don't know how AI works, and we don't know how to maintain AI systems. AI seems like a sort of limit case of Things That Capitalism Should Not Do.
The Bezzle: "Uber showed drivers lower fares than passengers, blames California law it supported" [MarketWatch]. • Uber's lips are moving, so….
Manufacturing: "Boeing's Turnaround After 737 Max Crisis Threatened by Talent Exodus" [Bloomberg]. "More than 3,200 engineers and technical workers have left the company's Seattle airplane manufacturing hub since the start of last year, about 18% of the union that represents them, with only a scant number added behind. In all, Boeing is aiming to cut 23,000 employees — from its executive committee to the factory floor — through layoffs, buyouts and retirement initiatives it launched last year as it racked up record financial losses… The engineers departed an employer that had shifted away from the bet-the-company ethos that gave the world the 747 jumbo jet and the Apollo era's Saturn rocket. Over the past decade, wowed Wall Street by plowing more than $40 billion into share buybacks. The strategy made Boeing the best performer in the Dow Jones Industrial Average for a span, but left the manufacturer ill-prepared for leaner times and new competitive threats…. The manufacturer shielded its government-funded space and defense units from the payroll purge, and continued to hire through the worst of last year's downturn, including engineers." • Boeing executives weren't obsessed with "costs." They were obsessed with looting the company.
Mr. Market: "Investors Are Buying American" [Wall Street Journal]. "Investors around the globe are pouring money into U.S. financial assets, a sign of confidence that the world's largest economy remains poised to pull through the Covid-19 pandemic better than many others. Investors around the globe are pouring money into U.S. financial assets, a sign of confidence that the world's largest economy remains poised to pull through the Covid-19 pandemic better than many others."
* * *
Today's Fear & Greed Index: 31 Fear (previous close: 32 Fear) [CNN]. One week ago: 17 (Extreme Fear). (0 is Extreme Fear; 100 is Extreme Greed). Last updated Jul 26 at 12:07pm.
Rapture Index: Closes unchanged [Rapture Ready]. Record High, October 10, 2016: 189. Current: 186 (Remember that bringing on the rapture is a good thing, so high is better.)
Sports Desk
"EXPLAINER: How the Russians caught the U.S. in gymnastics" [Associated Press]. "Starting in 2006, scores were broken down into two parts. The difficulty (D) score is based on what a gymnast does during their routine. The harder the elements the athlete successfully strings together, the higher the total. In theory, the D-score can be open-ended. Most elite routines carry a D-score between 5.4 and 6.0. Exceptional routines — like what Biles does on floor or what Lee does on uneven bars — score 6.5 or higher. The second score is the execution (E) score. It is based on a 10.0 scale, but the perfectly executed routine does not exist. The scoring system forces coaches and athletes to do their own version of risk vs. reward. Do you pack routines with really hard elements at the risk of execution? Or do you opt for an easier set you could potentially do more cleanly? For years, the Americans — Biles in particular — haven't had to choose. Not only have they done the hardest gymnastics out there, they've done them better than anyone else. That's still the case in Tokyo. The combined difficulty scores the Americans used on all four events during qualifying was 71.9. The ROC's total was 69.7. So why did ROC finish ahead of the U.S.? Execution. Where the Americans were messy, the Russians were precise. It made all the difference."
What a great shot:
I shot this today. pic.twitter.com/bYE8rX3W5C

— Bryan Keane OLY (@tribryan) July 25, 2021
Makes the "center of gravity" really clear. I wish I had a technique that would reveal the principles of natural systems in the same way. Perhaps the same shot from the same position every day for a year, or at least a season.
Zeitgeist Watch
I don't mean to go all Colonel Blimp-ish here [harrumph]:
Teachers are being trained to be activists under the guise of "Culturally Responsive Teaching"

"Believe that schools and the broader society are interconnected, and that teaching is a political act."https://t.co/DeKhffPivj pic.twitter.com/MtzqpTu5kZ

— ⚔️The Dunedain Ranger⚔️ (@DunedainRanger9) July 26, 2021
For example, I was taught "the knowledge and skills [I] need to acquire power in [my] own life" when teachers taught me to read, and encouraged me to read more and better. I don't know if this Sanford Inspire (see logo at top right) curriculum has made it out of the world of the Arizona State school of education. I do know that T. Denny Sanford, who funded the its development, is a more than sketchy character.
Naked Capitalism Cooking Community™
Local delicacy:
"It's 99c and has 'beef' in it. I'm definitely gonna get diarrhea."

If tourists treated American restaurants how Americans treat restaurants when visiting Asia. pic.twitter.com/9bPpwivKBF

— Nick Day (@NickDay13) July 25, 2021
Class Warfare
"Poultry plant fined $1M over 'entirely avoidable' deaths of six workers" [The Hill]. • Cost of doing business.
"Banks Are Giving the Ultra-Rich Cheap Loans to Fund Their Lifestyle" [Bloomberg]. "Rock-bottom interest rates have fueled the biggest borrowing binge on record and even billionaires with enough cash to fill a swimming pool are loathe to sit it out… 'Families with wealth of $100 million or more can borrow at less than 1%,' said Dan Gimbel, principal at NEPC Private Wealth. 'For their lifestyle, there may be things they want to purchase — a car or a boat or even a small business — and they may turn to that line of credit for those types of things rather than take money from the portfolio as they want that to be fully invested.' .'" • It would be a shame if the passengers on those private jets had to sit in quarantine for two weeks.
"The Deflationary Bloc" [Phenomenal World]. "Despite taking place in different contexts, the processes which allowed for the formation of deflationary coalitions exhibited some common features: governments empowered rentiers, gave some citizens nominal gains as consumers, ensured access to certain classes of growth assets for powerful constituencies, and repurposed the institutions of "big government capitalism" to support financial deregulation. Redistributing gains away from workers, financial deregulation integrated global economies in a manner that allowed states to pursue growth strategies benefiting an exclusive class of rentiers. This new class supported deflationary policies long after inflation posed an imminent threat. In the United States, financial deregulation and its attendant deflationary political coalition were embedded in the politics of housing."
News of the Wired
I'm not feeling especially wired today. This will have to do:
* * *
Readers, feel free to contact me at lambert [UNDERSCORE] strether [DOT] corrente [AT] yahoo [DOT] com, with (a) links, and even better (b) sources I should curate regularly, (c) how to send me a check if you are allergic to PayPal, and (d) to find out how to send me images of plants. Vegetables are fine! Fungi and coral are deemed to be honorary plants! If you want your handle to appear as a credit, please place it at the start of your mail in parentheses: (thus). Otherwise, I will anonymize by using your initials. See the previous Water Cooler (with plant) here. Today's plant:
* * *
Readers: Water Cooler is a standalone entity not covered by the recently concluded and — thank you! — successful annual NC fundraiser. So if you see a link you especially like, or an item you wouldn't see anywhere else, please do not hesitate to express your appreciation in tangible form. Remember, a tip jar is for tipping! Regular positive feedback both makes me feel good and lets me know I'm on the right track with coverage. When I get no donations for five or ten days I get worried. More tangibly, a constant trickle of donations helps me with expenses, and I factor in that trickle when setting fundraising goals:
Here is the screen that will appear, which I have helpfully annotated.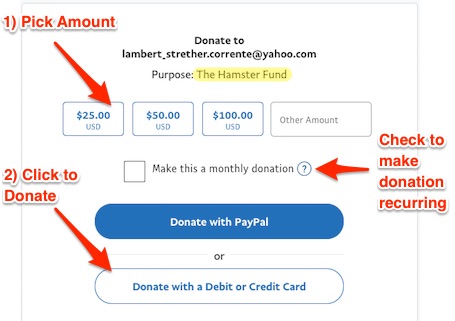 If you hate PayPal, you can email me at lambert [UNDERSCORE] strether [DOT] corrente [AT] yahoo [DOT] com, and I will give you directions on how to send a check. Thank you!2:00PM Water Cooler 6/8/2021