By Lambert Strether of Corrente.
Patient readers, I'm going to add more material under Politics shortly. –lambert UPDATE All done!
Bird Song of the Day
* * *
#COVID19
At reader request, I've added this daily chart from 91-DIVOC. The data is the Johns Hopkins CSSE data. Here is the site. I feel I'm engaging in a macabre form of tape-watching….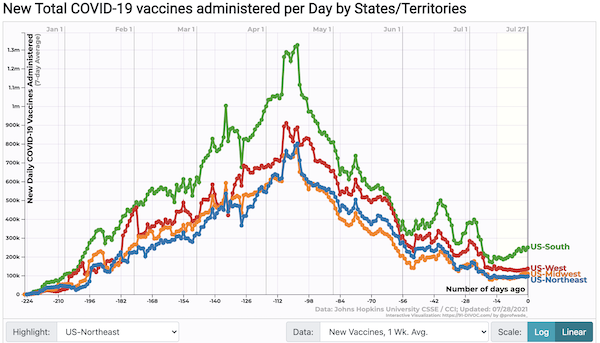 South rising.
https://www.politico.com/news/2021/07/24/covid-vaccine-push-rural-500717
Case count by United States regions: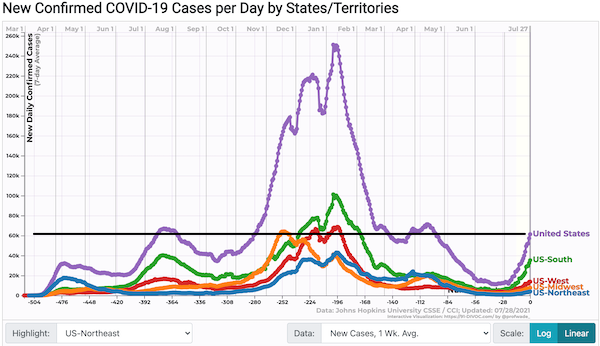 And so we barrel toward parity with the second peak, back in July 2020…. Projecting linearly, I'd guess we'd reach the new peak by early next week. NOTE: Looks like I was too conservative! (Note that these numbers are if anything understated, since the CDC does not collect breakthrough infections unless they involve hospitalization, and encourages health administrators in the states and localities not to collect the data either.)
Covid cases top ten states: for the last four weeks (hat tip, alert reader Lou Anton):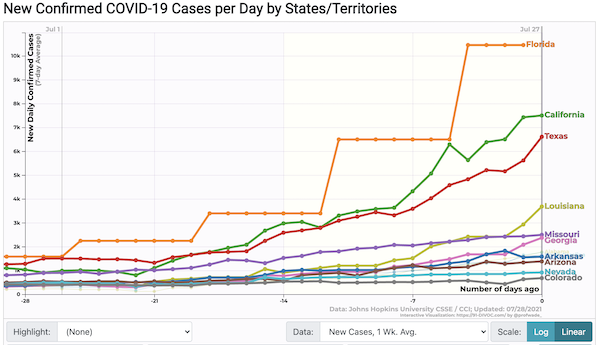 So long, President DeSantis.
NEW From CDC: "Community Profile Report July 28 2021" (PDF), "Rapid Riser" counties, this release: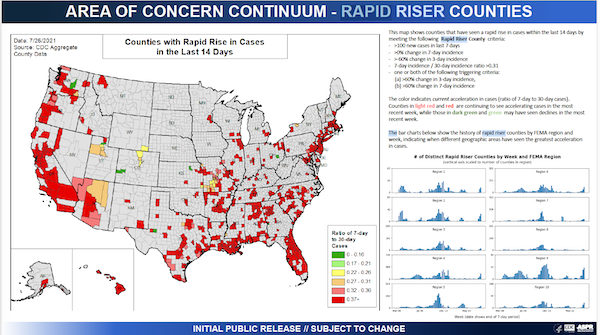 More red: Florida, California, Acela Corridor. The last two certainly doesn't fit the "Blame Bubba" narrative. Not a banjo to be heard. Last release: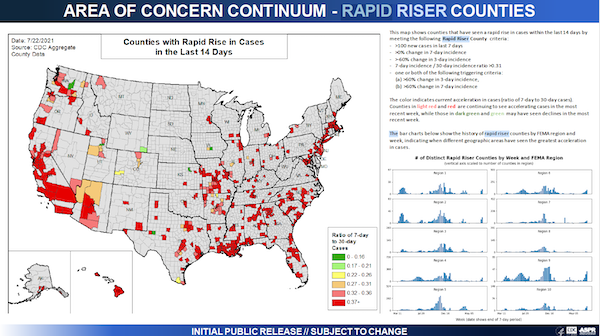 (Red means getting worse, green means bad but getting better. This chart updates Tuesdays and Fridays, presumbly by end-of-day.)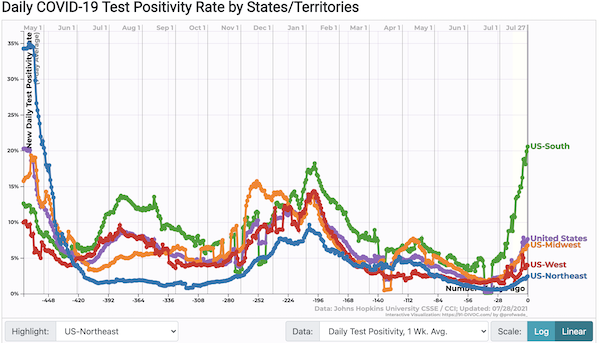 South running away with the field. But other regions now playing catch-up.
Hospitalization (CDC):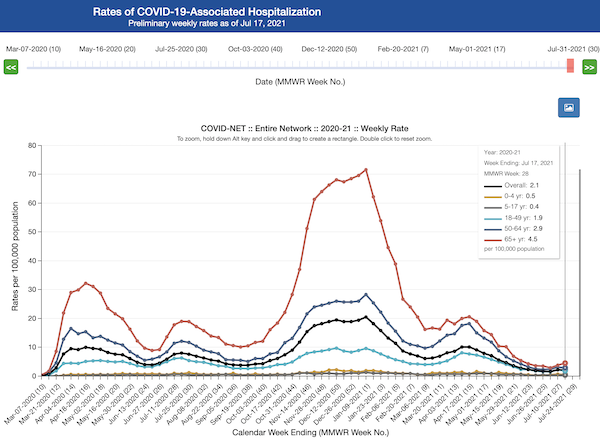 I do not like the increase in 65+ hospitalization.
Deaths (Our World in Data):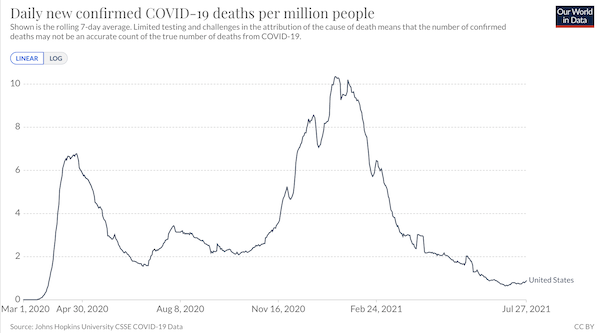 I do not like the rise in deaths, slight though it may be.
Covid cases worldwide: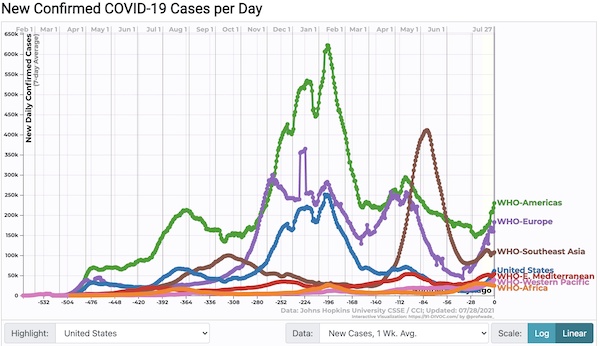 Every region is trending up. US sphere of influence under the Monroe Doctrine not doing so well.
* * *
Politics
"But what is government itself, but the greatest of all reflections on human nature?" –James Madison, Federalist 51
"They had one weapon left and both knew it: treachery." –Frank Herbert, Dune
"They had learned nothing, and forgotten nothing." –Charles Maurice de Talleyrand-Périgord
Capitol Seizure
On the Whitmer kidnapping dry run case:

What if we told you that head of the Detroit FBI Field Office, who oversaw the Michigan Plot, was subsequently granted a highly coincidental promotion to the D.C. office, where he is now a lead FBI agent for all 1/6 cases?https://t.co/0n0XxrtRmo

— Darren J. Beattie 🌐 (@DarrenJBeattie) July 21, 2021

I'm relieved to hear that the 1/6 Commission Chair Bennie Thompson's subpoena list will include FBI officials. Oh, wait, I didn't hear that. Has anyone?

"Five takeaways from a bracing day of Jan. 6 testimony" [The Hill]. "The panel hearing the testimony was unusually united — especially for present-day Washington. It included seven Democrats and two Republicans all handpicked by Speaker Nancy Pelosi (D-Calif.). All were critical of former President Trump, who was impeached for inciting a mob to attack the Capitol. No defenders of Trump were present after Pelosi rejected two of House Minority Leader Kevin McCarthy's (R-Calif.) choices." • That's not the takeaway, though. One of the takeaways: "Democrats picked their witnesses carefully Each of the four officers selected to testify before the committee had previously shared gripping accounts of their experiences with various news outlets." • I can't read anymore. I feel unwell. I have no issue with any of the rioters being prosecuted — none of the charges, AFAIK, reach anywhere near sedition — but I know liberal Democrat hysteria and manipulation when I see it. and that's what this is. For example:

Jan 6th was the worst attack on the Capitol since 1812? Odd because in 1954, five congressmen were wounded on the floor when 4 terrorists opened fire from the visitor area. (Prez Carter later commuted/reduced the sentences.)https://t.co/RPFr29dvFz

— Yossi Gestetner (@YossiGestetner) July 26, 2021

Democrats think 1/6 is the worst ever because it caught them right in the feels (i.e., symbol manipulation). To anyone with a memory better than a goldfish, 1/6 is not the worst ever.
Biden Administration
"Republicans signal they will advance bipartisan infrastructure deal" [Politico]. "Senate Republicans are increasingly likely to move forward on a bipartisan infrastructure framework, with a vote planned as soon as Wednesday night and an agreement on key issues…. The group, led by Sens. Kyrsten Sinema (D-Ariz.) and Portman, announced a framework with President Joe Biden last month that would include nearly $600 billion in new spending on roads, bridges and broadband. But translating that framework into legislative text has proven challenging."

UPDATE "Washington is a lobbying boom town under Biden" [Roll Call]. "It's worth noting that individual contribution limits, which adjust for inflation, are $2,900 per election this cycle." • Unlike, say, the minimum wage. Sometimes things are just so crystal clear, aren't they?

UPDATE "The COVID Delta Variant Is Creating Pandemonium in Washington" [Vanity Fair]. "The Biden White House, whose campaign to bring the coronavirus to heel has been hobbled by the MAGA right, is racing to keep this latest surge from derailing the progress it has made." • "Racing" is one of those words I watch out for. Generally, it signals that efforts are being made to solve a problem that is not described in the article that uses the word, in this case the wretched performance of America's public health establishment (detailed by Yves here), which Biden owns, now that he's been in office [checks notes] 189 days, and his choice heads the CDC.

UPDATE "Americans' optimism about country's direction over next year drops nearly 20 points since May: POLL" [ABC]. "A majority — 55% — of the public say they are pessimistic about the direction of the country, a marked change from the roughly one-third (36%) that said the same in an ABC News/Ipsos poll published May 2. In the early May survey, Americans were more optimistic than pessimistic by a 28-percentage point margin. Optimism is now under water by 10 points. Looking ahead to the next 12 months, fewer than half — 45% — now report feeling optimistic about the way things are going, a significant drop from about two-thirds (64%) in the May poll. The decline in optimism has occurred across the board among Democrats, Republicans and independents. ." • I don't know how this translates to 2022, let alone 2024. I do know that you can't been something with nothing, that Biden is something, and that the only Republican that isn't nothing is Trump.

UPDATE "Joe Biden's approval rating simply hasn't moved in six months" [CNN]. "Right now, Biden's average approval rating rests at around 53%, no matter how you calculate said average…. Biden, though, hasn't really picked up any new supporters since the election. His approval rating matches his vote share (51%) and favorable rating in the exit polls (52%) nearly perfectly…. If Biden was hoping that his efforts in the first six months of his presidency would bring over new supporters, he is mistaken — at least for the moment. Of course, Biden would probably accept not gaining any supporters, as long as he doesn't lose any. His approval rating is still above water, and that's certainly better than his predecessor."

UPDATE "The Kavanaugh Conspiracy: Demands To Reopen Investigation Ignore Both Key Facts and Law" [Jonathan Turley]. "The disclosure that the FBI received thousands of uninvestigated 'tips' against now-Supreme Court Justice Brett Kavanaugh also led columnists to characterize the investigation as anything from 'laughable' to 'lying' in a confirmation cover-up." • I think the Democrats need the FBI too much to carry this very far; but I don't think it's a coincidence that this story popped up when Roe v. Wade appeared to be on the Supreme Court's docket.

UPDATE "Biden admin says 'long COVID-19' could qualify as a disability" [The Hill]. • A small piece of sanity. But small.

UPDATE "Hobby Lobby forfeits ancient tablet with the "Epic of Gilgamesh" to Justice Department" [CBS]. "The forfeiture is part of an ongoing process to return thousands of clay tablets and bullae that were illegally smuggled out of Iraq and purchased by Hobby Lobby. The DOJ alleges that the Gilgamesh Dream Tablet was illegally shipped to the U.S. from London by an antique dealer and cuneiform expert in 2003. Once in the U.S., the tablet was cleaned and experts were able to identify the cuneiform writing as part of the Gilgamesh epic, written in Akkadian. The tablet was then sold in 2007 with a "false letter of provenance," the DOJ claims, which accompanied the tablet as it was sold several times over the next few years, eventually landing at an auction house back in London. In 2014, the auction house sold the tablet to Hobby Lobby for $1.6 million. Hobby Lobby purchased the tablet and thousands of others like it with the intent of displaying some of them in the Museum of the Bible, which is funded by the family of the arts and crafts chain's founder, David Green." • Another small good thing.
Democrats en Deshabille
"Hillary Clinton-endorsed Candidate Shontel Brown Faces Potential Ethics Probe" [Newsweek]. "Under Ohio law, public officials are prohibited from knowingly authorizing or using their authority or influence "to secure authorization of any public contract in which the public official, a member of the public official's family, or any of the public official's business associates has an interest." Violation of the statute is a felony, and penalties can include prison time…. The Intercept reported in April that Brown, who had pledged to recuse herself "as necessary" from contracts involving her partner, Mark Perkins, had used her position as Cuyahoga County Commissioner to help steer $17 million in contracts to Perk. Perk was founded with Perkins' uncle but is now owned by the Cifani family, who have long-established business ties to the Perkins family and who have supported Brown's campaigns for office. The Intercept noted that in February 2017, weeks after approval of one of those contracts for $7 million, Perk hosted a fundraiser for Brown's reelection campaign. According to emails provided to The Daily Poster, in April the Intercept's story was forwarded to the Ohio Attorney General's office. The following month, an official in the attorney general's office noted in an email that she discussed the matter with an attorney in the state auditor's office. "We are both of the opinion that it makes sense for the Auditor's office to review, and we also believe that this might end up being a case that is referred to [the] Ethics Commission," the official wrote." • I don't know how this looks to Ohio voters on the ground, though. Is Ohio otherwise a bastion of good government?

"In the Race Against Nina Turner, GOP Donors Fund Shontel Brown" [The Intercept]. "With Clinton and Sanders again pitted against each other, this time via state-level surrogates, the special election race for Ohio's 11th Congressional District has been described as a reflection of "party tensions." In addition to Clinton, Democratic establishment figures like Rep. Jim Clyburn, D-S.C., and well-funded super PACs have rallied behind Brown, while progressives like Rep. Alexandria Ocasio-Cortez, D-N.Y., and Justice Democrats have coalesced to support Turner. Undergirding these tensions are donors with long histories of support for Republican candidates who are now funding Brown's campaign, either directly or via the political action committee Democratic Majority for Israel, a major backer of her campaign. Most notable among them is New England Patriots owner Robert Kraft, a close ally of Donald Trump who donated $1 million to Trump's inauguration and has supported a slew of Republican candidates." • And there's a long, long list of Republican donors. Why, it's almost like liberal Democrat and Republicans are on the same team! (And you can just imagine the pearl-clutching if a Trump ally was donating to Turner. Yet, oddly, the major media are silent…)
Obama Legacy
"Obama setting up big bash to celebrate his 60th" [The Hill]. "The former president, who has spent recent weeks at his home on the posh island, is expected to be joined by dozens of friends at his oceanside abode, set on nearly 30 acres. 'It's going to be big,' said one source. It's unclear who will be in attendance but one source said many A-listers and friends of the Obamas, including Oprah Winfrey and George Clooney, scored invites." • David Frum? Liz Cheney? I took my potatoes / Down to be mashed / And I made it on over / To that million dollar bash.
Republican Funhouse
UPDATE "McConnell aims to boost U.S. Republican vaccination rate by countering 'bad advice'" [Reuters]. "'Not enough people are vaccinated,' said McConnell, a polio survivor. 'So we're trying to get them to reconsider and get back on the path to get us to some level of herd immunity.' McConnell, who was vaccinated for COVID-19 in December and has been promoting vaccinations in public remarks ever since, plans to run 60-second radio ads on more than 100 Kentucky radio stations in the coming days promoting the vaccine with money from his re-election campaign."
Realignment and Legitimacy
Cop-loving liberals (1):

White House meeting, DNC visit – national Dem party really invested in Adams's brand. (Not the vegan stuff so much as the "cop who hates socialism" stuff.) https://t.co/fAub9e2XOs

— Dave Weigel (@daveweigel) July 28, 2021

IMNSHO, Obama gained the loyalty of the intelligence community when he famously "looked forward, not backward" on torture, when he should have prosecuted torturers for war crime. The same dynamic applied to the FIRE sector after the Crash. It only makes sense that the Democrats would add police to the quiverfull of institutions under their dominion. good job. And never mind all the Black people who got whacked. Better training and more money will take care of that [hollow laughter]. So looking forward to 2022.

Cop-loving liberals (2):

Never has it been more clear what truly makes America great. We saw it on Jan 6 in the heroic actions of the Capitol Police, and today, in the gutting testimonies of Officers Michael Fanone, Harry Dunn and Auillino Gonell. I hope they know how grateful we are. Thank you Sirs 🇺🇸 pic.twitter.com/qO2tFOdQWF

— Mia Farrow (@MiaFarrow) July 27, 2021

UPDATE "Democrats' New Midterm Strategy: Knocking the GOP for Vote Against Police Funding" [The Intercept]. "As the 2022 midterm elections draw closer, Democrats in Congress are taking on a new strategy: blaming Republicans for voting to defund the police. And according to Democratic aides, the change in messaging is coming straight from the office of House Speaker Nancy Pelosi…. .Localities have started to spend the first rounds of funds released in [the American Rescue Plan] to hire more police officers, retain existing officers, and keep other first responders from being laid off, which means that Democrats now 'actually have the ability to talk about specific localities where people are being kept on the police force,' said one senior Democratic aide who spoke on the condition of anonymity."
Stats Watch
There are no official statistics of interest today.
* * *
Real Estate: "Real Estate Agents Target Record $100 Billion as Home Sales Boom" [Bloomberg]. "The hot U.S. housing market is poised to deliver a banner year for real estate agents. Commission revenue — the cut that brokers collect for helping buy and sell homes — is on track to surge 16% in 2021, surpassing $100 billion for the first time… The increase comes despite a slight dip in the rate that agents are charging customers. In 2021, the average commission rate is expected to be 4.94% — 20 basis points lower than two decades ago, according to Knock…. While the increase in fees is boon for agents, it puts a spotlight on a revenue model that has drawn scrutiny. Earlier this month, the U.S. Justice Department pulled out of an antitrust settlement reached during the Trump administration with the National Association of Realtors, saying it intends to proceed with a probe of the organization."
Shipping: "United Parcel Service is turning lower shipment volume into bigger profits. The package giant's second-quarter sales rose 14.5% and profit jumped more than 45%…. despite a 2.9% drop in shipments in its core U.S. operations" [Wall Street Journal]. "The results show the impact of CEO Carol Tomé's 'better, not bigger' strategy and put UPS among a growing stream of companies that are focused on maintaining strong profit margins rather than pure expansion. UPS is looking to manage its operations tightly as growing e-commerce demand sends a flood of parcels into packed distribution networks. UPS is taking on more small- and medium-size shippers, which tend to be more profitable than larger clients. UPS says its operations also reflect new shifts in the economy."
Shipping: "The supply chain for jet fuel is looking more fragile, and airlines are hoping it doesn't crack. Carriers are grappling with shortages of jet fuel at some smaller airports in the western U.S…. adding a new challenge to an aviation sector that has been whipsawed during the pandemic by tumbling demand that has now turned into a travel boom" [Wall Street Journal]. "The rush by passengers back to airports has collided with a shortage of labor and logistical challenges. So far, airports hurt by the fuel shortage are smaller sites in the West. But executives fear the factors limiting distribution, including a lack of truck drivers to haul the fuel and insufficient pipeline capacity, could spread the problems to other sites. The supply is also being affected by the wildfires rolling across western states, with fuel now being diverted to aircraft involved in fighting the blazes." • If the supply chain for aircraft fuel is that tight….
Tech? "Google promises its days as a cold-eyed API-killer are behind it" [The Register]. "Google has therefore created three "tenets" for how it manages API lifecycles: "No feature may be removed (or changed in a way that is not backwards-compatible) for as long as customers are actively using it"; "Customers will receive a minimum of one year's notice of an impending change, during which time the feature will continue to operate without issue"; and "Any change to an API will be reviewed by a centralized board of product and engineering leads who conduct 'a rigorous product lifecycle evaluation'." • Hmm. A magic board. Like Facebook's.
Mr. Market: "China Convenes Banks in Bid to Restore Calm After Stock Rout" [Bloomberg]. "China's securities regulator convened a virtual meeting with executives of major investment banks on Wednesday night, attempting to ease market fears about Beijing's crackdown on the private education industry. The hastily arranged call, which included attendees from several major international banks, was led by China Securities Regulatory Commission Vice Chairman Fang Xinghai, people familiar with the matter said, asking not to be named discussing private information. Some bankers left with the message that the education policies were targeted and not intended to hurt companies in other industries, the people said. It's the latest sign that Chinese authorities have become uncomfortable with a selloff that sent the nation's key stock indexes to the brink of a bear market on Wednesday morning…. The step gives reassurance that the tutoring industry decision was a unique case and 'should slowly begin to restore confidence if they can convince the market that the regulatory developments are not an attack on profitable enterprises,' [Adam Montanaro, a London-based emerging-market fund manager at Aberdeen Standard Investments.] added."
Mr. Market: "Delta Variant vs Inflation" [Barry Ritholtz, The Big Picture]. "A couple of weeks ago, we discussed The Economic Risks from Anti-Vaxxers. It was a deep dive into the risks to the economic recovery presented by those who for a variety of reasons (most of which are nonsensical) refuse to get jabbed. That view was — briefly — an outlier position. It only took 2 weeks for the danger of the new Covid-19 variants to persuade 63% of institutional readers of the danger from the Delta Variant. The chart above is (via Jim Reid) reveals that Delta 'overtook inflation worries as the largest risk to markets' — now far more worrisome than inflation at 42%. It is just a reminder of how quickly sentiment changes."
Mr. Market: "What Does the Delta Variant Mean for the U.S. Economy?" [The New Yorker]. "On Friday, July 23rd, I spoke with two veteran economists who have been following developments closely since the start of the pandemic. They both expressed optimism that the Delta variant wouldn't derail the recovery, but they also expressed some serious concern, especially if the spread of the variant persists into the fall. Mark Zandi, the chief economist at Moody's Analytics, told me that he and his colleagues are still expecting a 'very strong second half of the year.' More specifically, they are predicting that G.D.P. will expand at an annualized rate of about six per cent, and total employment will rise by more than five hundred thousand a month, on average. For the variant to have a major impact on G.D.P. and employment, Zandi said, businesses would have to close down again and people would need to go back to sheltering in place, both of which he considers very unlikely. Moody's Analytics has constructed a 'Back-to-Normal Index,' which tracks real-time economic data, such as restaurant bookings, the number of people flying, and initial claims for unemployment benefits. At the national level, there is little sign that the variant is affecting these statistics, Zandi told me. However, the index has dropped in some hard-hit states, such as Florida, where case numbers are rising fast and the number of hospitalizations has returned to levels last seen in February. Ian Shepherdson, the chief economist at Pantheon Macroeconomics, pointed out that many of the states where the Delta variant is spreading rapidly are low in both population and G.D.P. 'To move the needle on a macro level, things will have to get a lot worse,' he said. 'I'm still bullish on the second half of the year because I don't think Delta is going to go exponential nationally. If it just moves up fairly steadily, and it doesn't lead to a big wave in hospitalizations, I think most people will be fairly relaxed about it, and won't change their behavior much.'" • Shepherdson should look at the county data (see the #COVID19 data) before pushing the much-beloved narrative that only the "optimistic, diverse, dynamic, moving forward" areas of the country matter.
* * *
Today's Fear & Greed Index: 27 Fear (previous close: 26 Fear) [CNN]. One week ago: 25 (Extreme Fear). (0 is Extreme Fear; 100 is Extreme Greed). Last updated Jul 28 at 12:26pm.
The Biosphere
"The Heat, Floods and Fire We Don't Hear Enough About" [Bloomberg]. "In the past week alone, 380,000 people have been evacuated due to floods in China's Henan province, 30 villages in Uganda were affected as rivers overflowed and 25 people died in landslides after Mumbai was hit by big storms that also inundated regions surrounding the megacity. Temperatures in Turkey and North Africa approached 50 degrees Celsius (122 Fahrenheit), while South Africa and Brazil froze. Siberia is battling wildfires again. Finland experienced 31 consecutive days with maximum temperatures above 25°C, the longest heatwave ever recorded in the country… All these calamities are part of a constellation of extreme weather events that paint a picture of a world that's already warmed 1.2°C from pre-industrial times. There's no doubt it will get warmer."
"Climate change wreaks havoc on the electricity grid" [High Country News]. "[T]he heat's biggest — and perhaps most consequential — infrastructure victim was the vast electricity grid that powers nearly every aspect of modern life, including potentially life-saving air conditioning. Extreme weather exacerbated by climate change can mess with the grid in any number of ways: Cold can freeze gas lines, while hurricanes topple transmission towers. But heat, particularly when combined with hydropower-depleting drought, has an especially deleterious effect, wreaking havoc on the power system just when the warmer climes need it most. Meanwhile, power plants — the fossil-fueled "heart" of the grid — make climate change worse and the planet even warmer, creating a feedback loop that resembles a gigantic electrical monster swallowing its own tail."
Health Care
"CDC Confirms That Viral Loads In Vaccinated People With Delta May Be Infectious, So Masks Are Necessary" [SFist (RS)]. "So, again, we're in a place of wondering who to believe." • This is, basically, a good round-up of differences of opinion among accounts a lot of people follow.
A thread on Delta in Israel:
You've probably seen reports from Israel on low vaccine effectiveness in this wave. Is it because of Delta? Waning immunity? We think the reason is mostly that we got the denominator wrong.https://t.co/yloh5Vo9Xi

— Dvir Aran (@dvir_a) July 27, 2021
This is above my paygrade. Perhaps expert readers will comment.
"Higher viral load drives infrequent SARS-CoV-2 transmission between asymptomatic residence hall roommates" [Journal of Infectious Diseases]. "Although the infection rate was lower in single rooms (10%) than in multiple-occupancy rooms (19%), inter-roommate transmission only occurred ~20% of the time. Cases were usually asymptomatic at the time of detection. Notably, individuals who likely transmitted had an average viral load ~6.5-fold higher than individuals who did not (mean Cq 26.2 vs 28.9). Although diagnosed students moved to isolation rooms, there was no difference in time-to-isolation between cases with or without inter-roommate transmission. This analysis argues that inter-roommate transmission occurs infrequently in residence halls and provides strong correlative evidence that viral load is proportional to transmission probability." • That does not seem like a remarkable result to me. Am I missing something?
UPDATE "Life in a Half-Vaccinated Country" (interview) [The New Yorker]. Interview with Ashish Jha, the dean of the School of Public Health at Brown University. One interesting nugget from Jha: "I find it incredibly puzzling what exactly the F.D.A. is doing. The F.D.A. says that it typically takes them six months or sometimes as much as a year to fully approve a new product. And, generally, we appreciate that. There are two components to that. One is that they want to see a large amount of data, and they want to go through that carefully, and I think that's essential. Then the second is that there's a process, which can take a while. This is a global emergency, and while all of us want to make sure that the F.D.A. does its job, most of us also feel that just operating on standard procedures may not be the right thing to do here, and that there are things that can be sped up. Just as with the development of vaccines, we didn't cut any corners. We did all the steps, but we did it much, much faster. The F.D.A. has to go much, much faster."
The 420
"Official: New Mexico likely to run out of cannabis after legal sales begin" [Santa Fe New Mexican]. "The head of the state agency charged with overseeing New Mexico's upcoming recreational cannabis industry told lawmakers to prepare for the 'Krispy Kreme syndrome.' 'It's highly likely we will run out of cannabis in the first week, if not the first two weeks' after legal sales begin, Linda Trujillo, superintendent of the Regulation and Licensing Department, said Monday during a hearing before the Legislature's Economic Development and Policy Committee. Comparing expectations of the new market, expected to start by April, to reports of people waiting in line for hours before the opening of a new Krispy Kreme franchise, Trujillo said the initial demand will diminish over time." • What, the people are lining up for something they've never tasted before? Really?
Groves of Academe
Wowsers, Texas:
I've said this a million times, but I'm still fucking astonished every time I get paid to judge a high school speech & debate tournament in Texas I have to re-sign a legal document certifing I don't boycott Israel and i'm not "a member of a terrorist organization" https://t.co/DIoIjIProX

— chance? 🍒 (@yungsnorlaxx) July 24, 2021
Sports Desk
"Paris Sportif: The Contagious Attraction of Parkour" [MIT Press Reader (nvl)]. "[P]arkour, which was invented in the Paris suburb of Lisses in the 1980s. It was inspired by Hébertisme, a method of obstacle course training first introduced to the French Navy in 1910 by Georges Hébert. David Belle learned the principles of Hébertisme from his father, Raymond, who had been exposed to it at a military school in Vietnam. David, along with a friend, Sébastien Foucan, then adapted those principles, originally conceived for natural environments, to the suburban architecture of their surroundings. Over time, parkour has incorporated techniques from tumbling, gymnastics, and capoeira, resulting in a striking blend of military power and balletic artistry. Parkour involves confronting an urban map with an embodied experience of urban space. It is often defined as moving from points A to B in the most efficient way possible, and parkour practitioners, called traceurs, often depict themselves as trailblazers identifying routes through the city that cartography does not capture. Traceurs sometimes evoke the fantasy of tracing a straight line on the map and finding a way to turn it into a path, although in practice, they more often work at a single point on the map — a park, a rooftop, an esplanade — and end a session back where they started." • I remember some really hard core post-Soviet wasteland Russian parkour videos, but this is the best i can find:
Class Warfare
"Straight White Male: The Lowest Difficulty Setting There Is" [John Scalzi, Whatever]. From 2012. This influential essay maps gaming concepts on what today has become identity politics today. What interests me is that "Wealthy" is not "a difficulty setting"; in other words, Scalzi erases class. I wonder if our gamer readership would take a look at this essay and tell me if my perception is correct.
News of the Wired
Too soon, much too soon:
I am sorry to inform you that Glen Ford, founder of Black Agenda Report, and my friend, comrade, and mentor has passed away. We will share more information as we receive it.

May he rest in power.@GlenFordBAR @blkagendareport

— Margaret Kimberley (@freedomrideblog) July 28, 2021
"Building an antilibrary: the power of unread books" [Ness Labs]. "Tsundoku (積ん読) is a beautiful Japanese word describing the habit of acquiring books but letting them pile up without reading them. I used to feel guilty about this tendency, and would strive to only buy new books once I had finished the ones I owned. However, the concept of the antilibrary has completely changed my mindset when it comes to unread books. Unread books can be as powerful as the ones we have read, if we choose to consider them in the right light… Instead of a celebration of everything you know, an antilibrary is an ode to everything you want to explore. The vastness of the unknown can feel terrifying, which is why many people feel uncomfortable with the idea of accumulating books they haven't read. But embracing the unknown is what drives discovery. As Scottish scientist James Clerk Maxwell once said: ." An antilibrary is a reminder of everything we don't know." • That is a great Maxwell quote!
* * *
Readers, feel free to contact me at lambert [UNDERSCORE] strether [DOT] corrente [AT] yahoo [DOT] com, with (a) links, and even better (b) sources I should curate regularly, (c) how to send me a check if you are allergic to PayPal, and (d) to find out how to send me images of plants. Vegetables are fine! Fungi and coral are deemed to be honorary plants! If you want your handle to appear as a credit, please place it at the start of your mail in parentheses: (thus). Otherwise, I will anonymize by using your initials. See the previous Water Cooler (with plant) here. Today's plant (TH):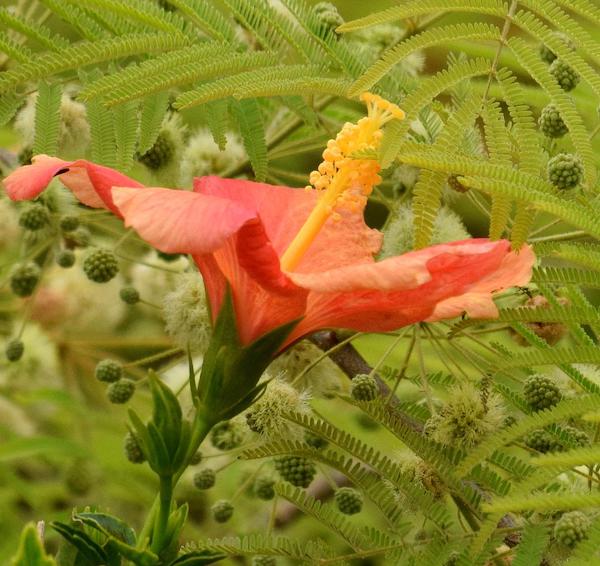 TH writes: "The sky was overcast, making for low (or should I say, 'no') contrast. This is a hibiscus flower with a desert fern tree background in our front yard. "
* * *
Readers: Water Cooler is a standalone entity not covered by the recently concluded and — thank you! — successful annual NC fundraiser. So if you see a link you especially like, or an item you wouldn't see anywhere else, please do not hesitate to express your appreciation in tangible form. Remember, a tip jar is for tipping! Regular positive feedback both makes me feel good and lets me know I'm on the right track with coverage. When I get no donations for five or ten days I get worried. More tangibly, a constant trickle of donations helps me with expenses, and I factor in that trickle when setting fundraising goals:
Here is the screen that will appear, which I have helpfully annotated.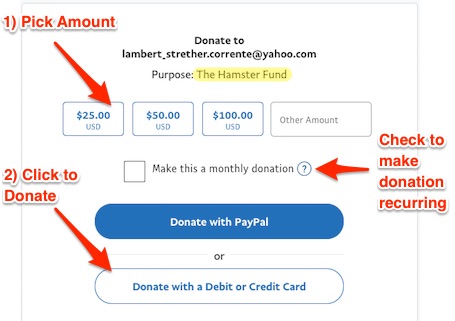 If you hate PayPal, you can email me at lambert [UNDERSCORE] strether [DOT] corrente [AT] yahoo [DOT] com, and I will give you directions on how to send a check. Thank you!2:00PM Water Cooler 6/8/2021