By Lambert Strether of Corrente.
Bird Song of the Day
A duet (with the other bird far away).
* * *
#COVID19
At reader request, I've added this daily chart from 91-DIVOC. The data is the Johns Hopkins CSSE data. Here is the site. I feel I'm engaging in a macabre form of tape-watching….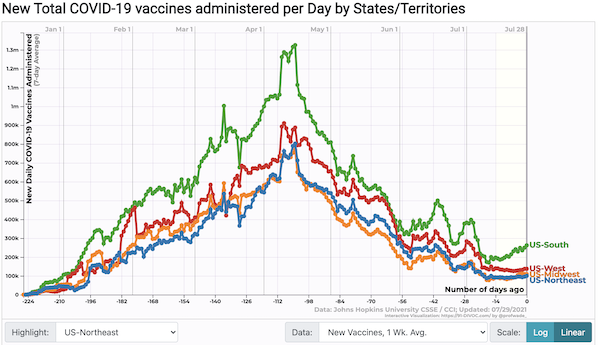 South rising.
"In Alabama and Louisiana, partisan opposition to vaccine surges alongside Delta variant" [Politico]. "Local public health officials and physicians in this part of the country are convinced that they are doing everything they can to save lives — pulling 15-hour days to set up pop-up mobile vaccine units, monitor patients on respirators, and administer rounds of therapeutics. But they can only do so much. They will not go to people's homes to try and twist their arms, they say, and they do not want federal officials to do so either. 'I don't know going door to door would help us," said Karen Landers, an Alabama state health officer based in Sheffield. "People in more rural areas … you're going on to their property. It might
Case count by United States regions: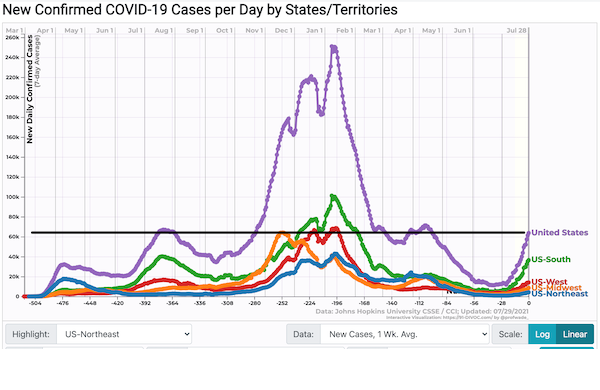 And so we barrel toward parity with the second peak, back in July 2020…. Projecting linearly, I'd guess we'd reach the new peak by early next week. NOTE: Looks like I was too conservative! (Note that these numbers are if anything understated, since the CDC does not collect breakthrough infections unless they involve hospitalization, and encourages health administrators in the states and localities not to collect the data either.)
Covid cases top ten states: for the last four weeks (hat tip, alert reader Lou Anton):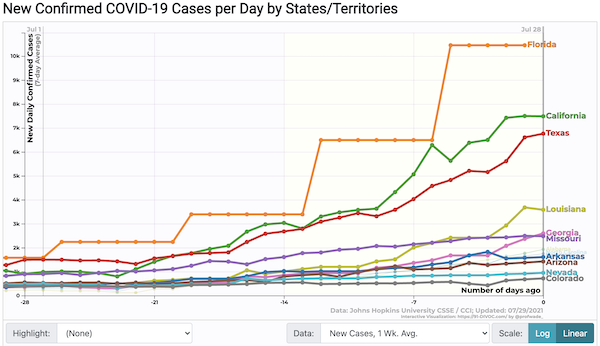 So long, President DeSantis.
From CDC: "Community Profile Report July 28 2021" (PDF), "Rapid Riser" counties, this release: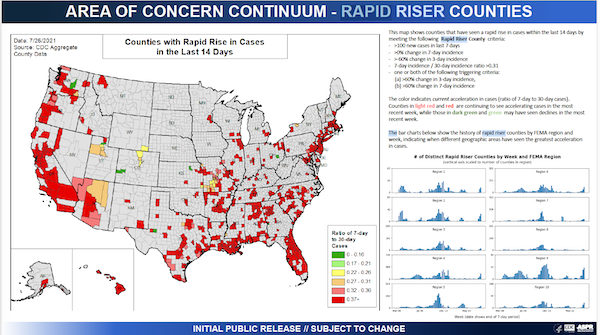 More red: Florida, California, Acela Corridor. The last two certainly doesn't fit the "Blame Bubba" narrative. Not a banjo to be heard. Last release: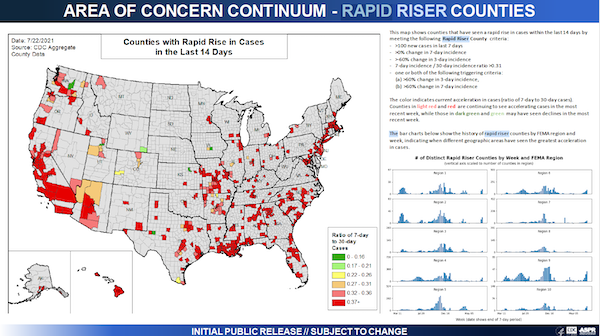 (Red means getting worse, green means bad but getting better. This chart updates Tuesdays and Fridays, presumbly by end-of-day.)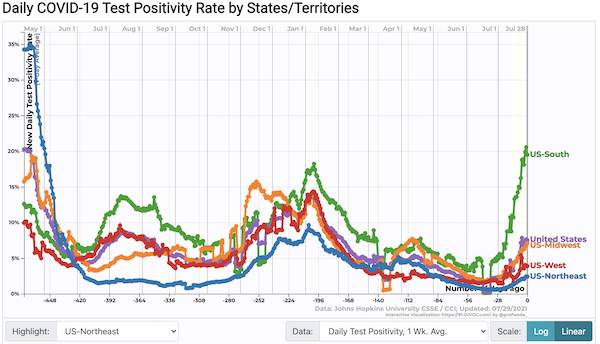 South running away with the field. But other regions now playing catch-up.
Hospitalization (CDC):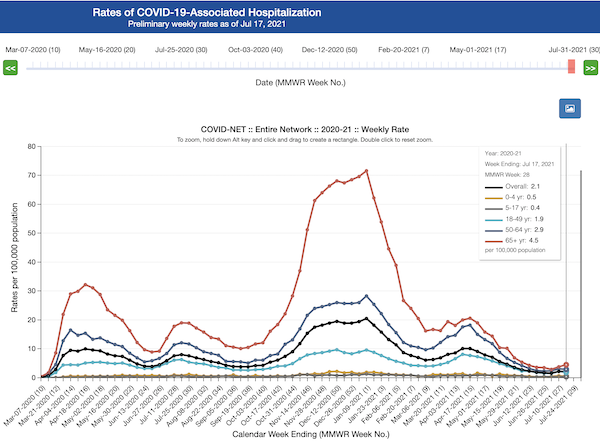 I do not like the increase in 65+ hospitalization. But–
"NYC Delta COVID Wave Sends Relatively Few to Hospitals So Far" [The City]. "A surge in positive tests for COVID-19 in New York has spurred dread of another wave of potentially deadly infections — even calls to again require masks indoors. Yet while the number of cases is rising quickly, fueled by the highly contagious Delta virus variant, the number of people ill enough to require hospitalization is increasing modestly compared to the previous coronavirus wave last fall. Those local numbers echo national trends, with a majority of the city's population now protected by vaccination." • True, I don't have to draw an anti-triumphalist black line on the hospitalization chart (nor on deaths). And there are hot spots where hospitals have become overloaded. This is interesting: "Still, city employees, including police officers and firefighters, are heavily represented among those who've yet to get vaccinated against COVID-19, which has already killed more than 33,500 New Yorkers. Some of the city's largest agencies have lower vaccination rates than the general public. Of NYPD's 54,000 uniformed and civilian workforce, only 43% are vaccinated, the New York Post reported last week, also finding that the FDNY has a 55% vaccination rate. Roughly 42% of city Department of Correction workers are vaccinated, the agency told THE CITY, based on information it has about those who were vaccinated in the five boroughs." • Maybe liberal Democrats should start scolding and shaming cops in their own cities, instead of Bubba?
Deaths (Our World in Data):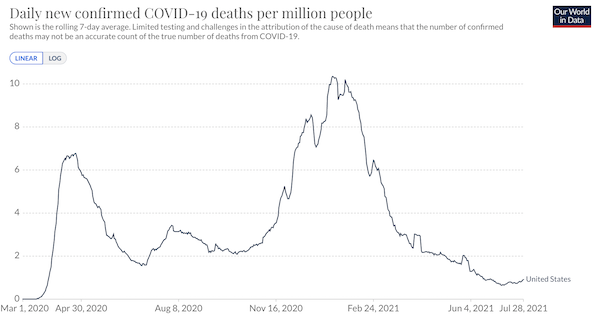 I do not like the rise in deaths, slight though it may be.
Covid cases worldwide: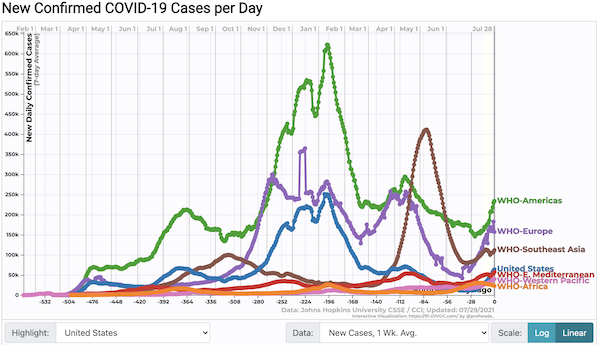 Every region is trending up. US sphere of influence under the Monroe Doctrine not doing so well.
* * *
Politics
"But what is government itself, but the greatest of all reflections on human nature?" –James Madison, Federalist 51
"They had one weapon left and both knew it: treachery." –Frank Herbert, Dune
"They had learned nothing, and forgotten nothing." –Charles Maurice de Talleyrand-Périgord
Biden Administration
"Biden's Invisible Ideology" [Adam Gopnik, The New Yorker]. "The Brooklyn-reared boxing trainer Charley Goldman, who crafted Rocky Marciano, the undefeated heavyweight champ of the nineteen-fifties, once made a wise statement: '' An instinctive understanding of this principle was part of the brilliance of Joe Biden's Presidential campaign—and that we do not think of it as brilliant, despite his decisive victory against an incumbent, is part of its brilliance. Donald Trump invented a game: of bullying, lying, sociopathic selfishness, treachery, and outright gangsterism, doing and saying things that no democratic politician had ever done or even thought of doing, and he did it all in broad daylight….Biden, by contrast, insisted that the way to win was not to play. In the face of the new politics of spectacle, he kept true to old-school coalition politics… It looked at the time dangerously passive; it turned out to be patiently wise, for Biden and his team, widely attacked as pusillanimous centrists with no particular convictions, are in fact ideologues. Their ideology is largely invisible but no less ideological for refusing to present itself out in the open. It is the belief, animating Biden's whole career, that there is a surprisingly large area of agreement in American life and that, by appealing to that area of agreement, electoral victory and progress can be found." • Interesting, but Gopnik seems to think that Nixon's "We can do that, but it would be wrong" was spoken in good faith, when it was clearly spoken so as to get recorded by the White House taping system. Doesn't the New Yorker do fact-checking any more? (Biden's "ideology" sounds a lot like West Wing Brain to me….)

An example of Gopnik's "surprisingly large area of agreement in American life":

The infrastructure bill that started moving again on Wednesday is big, with about $550 billion in new federal spending. But it's less than a quarter the size of the $2.6 trillion plan President Biden proposed in March, which had $2.2 trillion in spending. https://t.co/qcAefgRfIW

— The New York Times (@nytimes) July 29, 2021

Makes ya think…

UPDATE "Analysis: Biden's COVID-19 strategy thwarted by anti-vaxxers, Delta variant" [Reuters]. "'To protect the country from COVID, you need to have multiple strategies,' said Dr. Peter Chin-Hong, an infectious disease specialist and professor at the University of California, San Francisco. 'We jumped on the vaccine bandwagon and excitement at the expense of other core strategies in the pandemic.'" • Lots of premature triumphalism among the PMC. "COVID-19 cases are rising in nearly 90 percent of jurisdictions in the United States, according to the Centers For Disease Control and Prevention (CDC), with outbreaks in areas with low vaccination rates. The new spike in cases has clouded what had been a full-steam ahead economic recovery, and could be especially risky if consumers become more cautious and spending slows as pandemic-era unemployment benefits, rent moratoria and other supports begin to expire." • Variants and anti-vax sentiment; who could have known?

"Biden mocked for claiming he 'used to drive' an 18-wheeler truck" [New York Post]. "'I used to drive an 18-wheeler, man,' the 78-year-old commander-in-chief told staff, video of the exchange shows — with him clarifying that he 'got to' drive one. But challenged by Fox News to produce evidence, a White House spokesperson could only point to a December 1973 article from the Wilmington Evening Journal that showed Biden rode in an 18-wheeler, not that he drove one." • Looks like liberal Democrats finally have their Reagan. Remember when Reagan confused a movie about World War II with the actual war? (This Op-Ed from Richard Cohen in October 2020 describes the incident, but is also an excellent example of how the Washington press corps stuck the shiv in Al Gore, helping to give us Bush. It's really vicious.)
Democrats en Deshabille
"Fetterman slams Sinema over infrastructure: 'Democrats need to vote like Democrats'" [The Hill]. "'In unprecedented times like these, Democrats need to vote like Democrats,' Fetterman, a U.S. Senate candidate, said in a statement. 'We have the majority, we have the presidency, we have the House, we have the Senate – so let's act like it and finally deliver Biden's agenda to the American people.'" • Pretty weak tea. If the revolving villain weren't Sinema (or Manchin (or Lieberman)) it would be somebody else. The Democrat Party was carefully crafted by its leadership to do exactly what it is doing.

UPDATE "Eric Adams embraces New York bigwigs — and breaks from de Blasio" [Politico]. "'I don't join in the chorus that tells high-income earners, so what if you leave or not?' Adams said, when asked by WABC's Bill Ritter Sunday how he would re-attract wealthy New Yorkers who decamped to Florida during the pandemic. 'Sixty-five-thousand New Yorkers pay 51 percent of our income taxes and those income taxes go to the police, the firefighters, the teachers, [to] clean our streets.' 'And I am saying to them, we need you here,' he added." • Adams is Black. A Black cop. How soon until the Presidential trial balloon? I give it a year.

UPDATE "Joe Manchin Makes $500K a Year From One of the Dirtiest Coal Plants in West Virginia" [Vice (Darthbobber)]. "Joe Manchin, the conservative Democrat from West Virginia who is the lynchpin of his party's climate agenda, made nearly $500,000 from one of the most polluting coal power plants in West Virginia last year alone. According to his most recent financial disclosure, Manchin gained $492,000 last year due to his non-public shares in a coal company called Enersystems, which records show is a contractor for a power plant in the state's north that burns waste coal. Meanwhile, Manchin's 2020 income for being a senator was $174,000. 'He's making more than twice as much selling coal as he is serving as a representative,' said Jim Kotcon, the conservation chair of the West Virginia chapter of the Sierra Club. Due to impurities in the waste coal Grant Town Power Plant burns to generate electricity, it releases more sulfur dioxide and nitrous oxide per unit of energy than any other of the state's coal plants, according to 2018 calculations from Kotcon."
Republican Funhouse
"How a Rising Trump Critic Lost Her Nerve" [The Atlantic]. "[S]ometime between January and my visit in March, Mace appeared to have lost her nerve; she'd stopped criticizing her party and was again sounding all the notes required by a Trump-dominated GOP. Her evolution on the issue has mirrored that of other Republicans, including Trump allies such as Kevin McCarthy and Lindsey Graham, who were sharply critical of the president after the insurrection, only to later back down. To observe Mace these past several months has been to watch in real time as a freshman Republican absorbs a few fundamental truths: Despite what Mace seems to have believed, most Republicans appear to have little appetite for nuance at the moment, let alone dissent. The base loves Trump as much as ever, and his allies are working to unseat anyone who fails to show fealty. There is no post-Trump GOP, not yet…. Despite her district's sometimes moderate inclinations, winning reelection will require first winning the Republican primary—and in South Carolina, that'll be hard to do without embracing Trump. Mace appears to have realized this."
Realignment and Legitimacy
"Biden's Big Infrastructure Bill" [Unusual Whales]. A timeline of the Infrastructure Bill from an interesting site. Here are the House trades:

(I don't see Pelosi there, but IIRC, she works through a straw.) And the Senate:

Why is this even legal? Oh, I forgot. The House and Senate write the laws.
Stats Watch
GDP: "Advance Estimate 2Q2021 GDP Is 6.5%" [Econintersect]. "The advance estimate for the second-quarter 2020 Real Gross Domestic Product (GDP) is a positive 6.5 %. This growth is an improvement from the previous quarter's growth of 6.3 % (downwardly revised) if one looks at quarter-over-quarter headline growth. The year-over-year rate of growth significantly improved….. The coronavirus recovery is the reason for the improvement."
Employment Situation: "24 July 2021 Initial Unemployment Claims Rolling Average Again Worsened" [Econintersect]. "Market expectations for weekly initial unemployment claims (from Econoday) were 366 K to 400 K (consensus 390 K), and the Department of Labor reported 400,000 new claims. The more important (because of the volatility in the weekly reported claims and seasonality errors in adjusting the data) 4 week moving average moved from 386,500 (reported last week as 385,250) to 394,500."
* * *
The Bezzle: "The owner of this tiny $875 rig mines bitcoin using free electricity at Starbucks" [CNBC]. • Come on, man.
The Bezzle: "Robinhood IPO is 'effectively selling investors on exploiting other investors,' New Constructs CEO argues" [Yahoo Finance]. "Founded in 2013, Robinhood democratized investing for retail traders by offering zero-commission trading, a practice that was subsequently adopted by other brokerages. (There are roughly 18 million accounts on the platform, with a majority of those users being first-time investors.) And instead of relying on commissions, Robinhood primarily generates revenue through [payment for order flow (PFOF)] — that is, by routing trades through third-party trading firms instead of stock exchanges…. In addition to Robinhood, some major brokerages use the practice: TD Ameritrade, E-Trade, and Charles Schwab saw revenues from PFOF triple in 2020. That said, Robinhood is singularly dependent on the practice: In 2020, according to the company's S-1 filing, Robinhood derived 75% of its $959 million revenue in 2020 from PFOF."
Tech: "1 big thing: Giants leap" [Felix Salmon, Axios]. "Never in the history of capitalism have the world's biggest companies grown as fast as the tech giants in recent years…. A series of stunning earnings reports this week — with another one likely to arrive this afternoon, from Amazon — has underscored the astonishing growth among a group of companies that were already some of the most profitable of all time…. The outsized profits at the tech companies look suspiciously like monopoly rents, with no end in sight in terms of how much and how fast they can grow. That's one reason the companies are facing so much scrutiny in Washington. Not that it seems to be having any real effect."
Manufacturing: "The Smartest EV Batteries May Not Be the Best Ones" [Bloomberg]. "The hype around electric vehicles has raised expectations for the next generation of long-lasting batteries that take cars farther — all at the right price. But new advances and big breakthroughs may not be the way forward. The success of one of the world's largest EV battery companies, China's Contemporary Amperex Technology Ltd., or CATL, is a case in point. CATL has managed to bring down battery prices by using older technology, and has convinced automakers that the end product is a worthwhile investment — no easy task. But in so doing, CATL has maintained gross profit margins at more than 25% each quarter for the past few years. The China-listed company's share price has risen almost 60% so far this year. … Billions of dollars are being thrown at new plants and developing the next generation of powertrains that can keep cars driving farther and longer. The result: Automakers are issuing recalls, faulty batteries are catching on fire, and the price of an electric car, around half of which is the cost of the battery, remains prohibitively high. CATL has been realistic. The company has taken a technology viewed as relatively low-end — lithium-iron-phosphate, or LFP, batteries — and made it widely accepted for passenger vehicles."
Manufacturing: "This Man Does Not Make Poppers" [Buzzfeed]. "As far as I'm concerned, I sell nail polish remover." • A fine portrait of a member of the American Gentry.
Supply Chain: "Rising raw materials prices and other higher costs are prompting sharper discussions between suppliers and buyers. Elevator maker Otis Worldwide is the latest to report tough talks with suppliers as the increased spending on business inputs, from commodities to transportation, dominates the season's earnings reports" [Wall Street Journal]. "Otis Worldwide finance chief Rahul Ghai tells the WSJ's Nina Trentmann that the company has doubled its forecast for expected growth in the annual cost of raw materials, to $70 million to $80 million after spending $300 million on commodities last year. He says suppliers who last year agreed to set prices in advance now are "very unwilling to lock in prices."
Supply Chain: "There's almost no place in the business world to hide from the global chip shortage. Electronics heavyweight Apple and electric-car maker Tesla both are bracing for the impact of the disruption to the global supply of microprocessors… in a sign that even some of the largest, best-supplied companies can no longer sidestep the semiconductor crisis" [Wall Street Journal]. "Apple largely withstood the impact of the chip shortage last quarter because of the company's scale and its strong supply-chain planning. But it expects supply constraints will soon take a bigger toll on revenue and will hit both iPhones and iPads."
* * *
Today's Fear & Greed Index: 31 Fear (previous close: 25 Extreme Fear) [CNN]. One week ago: 25 (Extreme Fear). (0 is Extreme Fear; 100 is Extreme Greed). Last updated Jul 29 at 12:25pm.
Health Care
UPDATE "How the coronavirus infects cells — and why Delta is so dangerous" [Nature]. This is really interesting (with graphics and animations, but not too many :-)). One detail: "The virus that causes SARS, SARS-CoV, uses either of two host protease enzymes to break in: TMPRSS2 (pronounced 'tempress two') or cathepsin L. TMPRSS2 is the faster route in, but SARS-CoV [NOT SARS-CoV-2] often enters instead through an endosome — a lipid-surrounded bubble — which relies on cathepsin L. When virions enter cells by this route, however, antiviral proteins can trap them… The virus's speedy entry using TMPRSS2 explains why the malaria drug chloroquine didn't work in clinical trials as a COVID-19 treatment, despite early promising studies in the lab10. Those turned out to have used cells that rely exclusively on cathepsins for endosomal entry. 'When the virus transmits and replicates in the human airway, it doesn't use endosomes, so chloroquine, which is an endosomal disrupting drug, is not effective in real life,' says Barclay." • Interesting.
The Biosphere
"The Grayness of the Origin of Life" [Life]. Not Life Magazine, but a scholarly journal. From the Introduction: "In Earth's history, the specifics of the progressive transition from a non-living world to a living world are unknown, and the distinction between abiotic and biotic systems is often unclear. The origins of life and astrobiology communities have traditionally looked for a metric that clearly distinguishes between non-life and life; however, a single unambiguous signal of life has proven elusive. Even if found, such a signal would likely exclude life early in its evolution. A more inclusive representation is to recognize a spectrum between the non-living and the living—a "grayness" resulting from the protracted evolutionary process that gave rise to life [3]. This stepwise progression from abiotic to biotic factors has been problematic in the past because it renders any specific definition of life incapable of specifying a precise threshold for the transition from abiotic to biotic systems. As a result, we have been left with broad conceptions of life or a list of observed traits. It should be no surprise that this grayness exists given that the laws governing physics apply equally to geology, chemistry, and biology. Whether inside or outside of a living system, individual chemical reactions progress based on universal, causal rules, and within a huge and rich combinatorial space. Furthermore, life evolves within a planetary context, albeit at a molecular scale, and its biochemistry is dependent on what is permitted by the geochemical environment. The grayness inherent in the stepwise transition from geochemistry to biochemistry presents a major obstacle for accurately identifying life in its earliest forms. Interestingly, recent phylogenetic reconstructions of the physiological capabilities of the Last Universal Common Ancestor (LUCA) portray it as only "half alive," lacking key steps involved in modern biochemical pathways and heavily reliant on geochemical reactions in its environment to provide substrates." • Fascinating stuff, though I could do with a last dispiriting word than "grayness."
"Scientists Discover Mollusks Are Next Evolutionary Stage For Humans" [The Onion]. "Over the next 1,000 years, we're going to see people developing gills, a hard protective shell around their torsos, and a large, muscular foot in their dorsal region that will help with locomotion and mucus secretion. The world is changing rapidly, and those who can't filter seawater aren't going to be able to survive."
"The Seed Collector Who Roams the City's Marshes" (interview) [New York Magazine]. "When the New York City Parks Department plants bright-orange butterfly milkweed, soft-purple mountain phlox, or lush royal ferns, there's a good chance that these and other native plants were started from wild seeds gathered by Patrick Over, one of the city's two official seed collectors. The 35-year-old's days are spent trudging through marshland, hiking into forests, and paddling by canoe to remote (and sometimes not so remote) spots across the city to gather seeds for the Greenbelt Native Plant Center. At the 13-acre grow space on Staten Island, 650 species of native plants are conserved in a seed bank, and staff members work on propagating the ones needed for the city's flower beds and restoration projects, like replenishing wetlands damaged by the construction of the Goethals Bridge." • I'm surprised there are only two. And 650 species; is that a lot for a city? From the interview: "I've only been doing this for five or six years, and already I get heartbroken because I've seen parks deteriorate in just that much time. Places that were healthy and full of native-plant populations are now full of invasive species. Seeing things get destroyed in such a short time makes me think it's crucial that we store and grow these seeds because once they're gone, they're gone. It takes a lot of time to rebuild habitats. It doesn't happen in a decade; it can take 50 to 100 years before you start seeing some of the rare plants come back."
"Forgotten oil and gas wells linger, leaking toxic chemicals" [Associated Press]. " Rusted pipes litter the sandy fields of Ashley Williams Watt's cattle ranch in windswept West Texas. The corroded skeletons are all that remain of hundreds of abandoned oil wells that were drilled long before her family owned the land. The wells, unable to produce any useful amounts of oil or gas, were plugged with cement decades ago and forgotten. But something eerie is going on beneath the land, where Watt once played among the mesquite trees, jackrabbits and javelina and first drove the dirt roads at 10 years old. One by one, the wells seem to be unplugging themselves. They're leaking dangerous chemicals that are seeping into groundwater beneath her ranch….. Many of the wells are releasing methane, a greenhouse gas containing about 86 times the climate-warming power of carbon dioxide over two decades. Some are leaking chemicals such as benzene, a known carcinogen, into fields and groundwater. Regulators don't know where hundreds of thousands of abandoned wells are because many of them were drilled before modern record-keeping and plugging rules were established. They are a silent menace, threatening to explode or contaminate drinking water and leaking atmosphere-warming fumes each day that they're unplugged. Without records of their whereabouts, it's impossible to grasp the magnitude of the pollution or health problems they may be causing." • Handy map; not all in Texas, obviously. And some in downstate New York"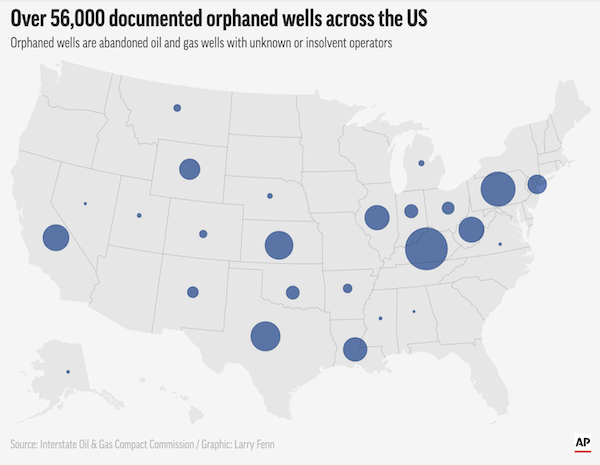 It's almost as if capitalism and, well, life are in contradiction.
"The Amazon Is Fast Approaching a Point of No Return" [Bloomberg]. "[The legislators] needed to pass a bill that would slash the size of a state [Amazon] rainforest reserve known as Jaci-Paraná and another park farther south. Once a vast expanse of sinuous streams and soaring stands of mahogany and castanha trees, Jaci-Paraná Extractive Reserve has been largely transformed into pasture for cattle. Roads cut into the bright red mud crisscross the reserve, connecting hundreds of ranches where 120,000 cattle graze. The ranches are illegal. The new law would change that. The owners would no longer have to hide the origin of their livestock to sell to big beef producers. More important, the land grabbers would have a path to legal title. Almost half the state legislators are ranchers or got elected with agribusiness money. They'd long wanted to wipe the slate clean for their rural base, and now they had support all the way up to the presidential palace in Brasilia." •  It's almost as if capitalism and, well, life are in contradiction. Not to mention life and the Treaty of Westphalia.
"Do Bug Zappers Work? Yeah—About As Well As Any Other Indiscriminate Wildlife Slaughter" [New York Times]. From 2019, still germane: "Bug zappers kill bugs by the thousands. But there's a problem: They kill the wrong bugs. They are ineffective against mosquitoes and other biting flies, and their otherwise indiscriminate killing can reduce songbird populations, disrupt pollination, and generally throw the environment out of balance….. . According to the Delaware study, the zapped bugs include 'many thousands of nontarget insects representing a rich taxonomic diversity.' This unfocused insect elimination is so extreme that, according to the authors of the University of Delaware study, 'Even if targeted biting flies were effectively controlled by electric zappers, the resulting destruction of thousands of parasitoids, predators, aquatic insects, and other members of the nocturnally active fauna would be difficult to justify.' University of Florida professor Jonathan Day told us, 'We're in a big enough crisis with colony collapse with honey bees that I think anything that impacts a beneficial insect population is problematic.'"
Crapification Watch
"The Future of Entertainment Is Just More and More and More of This" [New York Magazine]. "he strangest thing about Space Jam: A New Legacy, the "standalone sequel" to the 1996 hit, is that an algorithm played by Don Cheadle is the villain of the story but also dead-on when it comes to the goals of the movie itself: What is it if not an attempt to suck viewers into the WB Serververse? Take the moment LeBron James, playing himself, starts drafting his fantasy team for a basketball game that will determine the fate of the world (or at least the chunk of it following him on Twitter). He announces, with an Oscar-worthy show of enthusiasm, that "we're going to need the most powerful Warner Bros. characters for this team" and then immediately begins listing his picks — Superman, King Kong, the Iron Giant — as though it's only natural for someone to have an encyclopedic knowledge of which beloved pop-culture properties fall under which particular corporate umbrella. A New Legacy's biggest flight of fancy is not that famous athletes could team up with cartoon characters but that members of the public naturally feel intense loyalty to faceless media conglomerates." • A culture that can't invent new narratives and new characters is decadent.
Bible Corner
The only Inuit account I know of on the Twitter:
I drummed in an Anglican Church, now trying to set up a plan to do the same in the different denominations in town too. pic.twitter.com/e44wXbrw4l

— angusandersen900 (@AndersenAngus) July 28, 2021
Might do some good, you never know….
Sports Desk
On Simone Biles:
I was 14 y/o w/ a tibial stress fracture, left alone w/ no cervical spine exam after this fall. I competed in the Olympic floor final minutes later. @Simone_Biles 🤍 decision demonstrates that we have a say in our own health—"a say" I NEVER felt I had as an Olympian. pic.twitter.com/LVdghdAh1g

— Dominique Moceanu (@Dmoceanu) July 28, 2021
"Heart rate of archers monitored during day of shocks in competition" [CNN]. "World Archery incorporated biometric data into the television broadcast with cameras picking up the competitors' heart rates (BPM), despite inclement weather causing technical problems on site early on." • I think that's too much information. What next? Brain waves?
Zeitgeist Watch
"FBI Agent Turned CNN Analyst Asha Rangappa Wants To Restore Your Faith In America" [Elle]. "n a quiet Tuesday evening in the suburbs of New Haven, Asha Rangappa [a former FBI counterintelligence agent and a lecturer at Yale's Jackson Institute for Global Affairs] is discussing propaganda with her children. "Have you ever come across white nationalists on YouTube?" she asks her adolescent son. He pauses, prodding at his pasta and twisting his mouth. "You took too long to answer," she says, 'so you have!' This, it seems, is typical; when your mom was once an FBI agent, you expect some dinnertime behavioral analysis. As the meal winds down, her son tells me that polygraphs are largely inaccurate and therefore inadmissible in court, and that 'butt clenching' is a sign of lying. Expressionless, his little sister lies: 'My name is Laura.' 'Yeah, but did your butt clench?' She tells him, firmly, no. I'm at Asha Rangappa's dinner table because, for the past few years, her commentary on CNN and Twitter has helped hundreds of thousands of people understand the news." • From 2019, still germane. Pretty soon the entire country — or at least the PMC — is going to have the mentality of James Jesus Angleton….
Phillip Allen
Class Warfare
UPDATE "The New Moral Code of America's Elite" [Elizabeth Bruenig, The Atlantic]. • Bruenig's take on the Amy Chua saga. and the snake pit that is Yale Law School ("(which, like so much that happens on campus, was surreptitiously recorded"). If you want to know how being "a nation of snitches" is being normalized, this is a good place to start.
News of the Wired
I wonder if this is true:
When you see me show up? It's serious. pic.twitter.com/XTiKjBYGPO

— Stacey Ma Dukes Hopkins (@staceyhopkinsga) July 27, 2021
* * *
Readers, feel free to contact me at lambert [UNDERSCORE] strether [DOT] corrente [AT] yahoo [DOT] com, with (a) links, and even better (b) sources I should curate regularly, (c) how to send me a check if you are allergic to PayPal, and (d) to find out how to send me images of plants. Vegetables are fine! Fungi and coral are deemed to be honorary plants! If you want your handle to appear as a credit, please place it at the start of your mail in parentheses: (thus). Otherwise, I will anonymize by using your initials. See the previous Water Cooler (with plant) here. Today's plant (SS):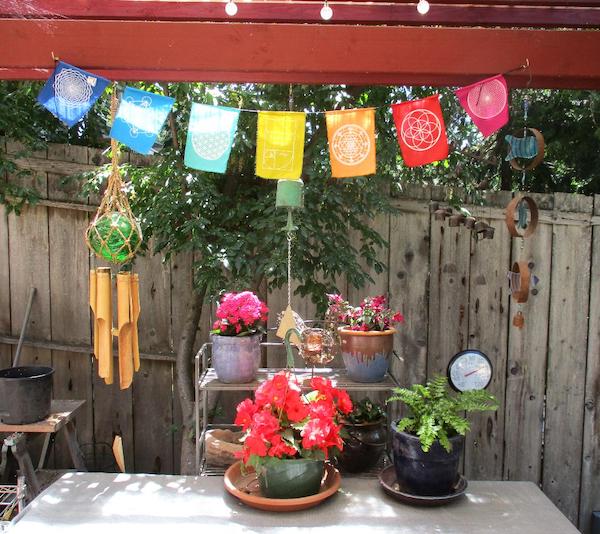 SS writes: "Pleasant place to hang out on a warm afternoon…."
* * *
Readers: Water Cooler is a standalone entity not covered by the recently concluded and — thank you! — successful annual NC fundraiser. So if you see a link you especially like, or an item you wouldn't see anywhere else, please do not hesitate to express your appreciation in tangible form. Remember, a tip jar is for tipping! Regular positive feedback both makes me feel good and lets me know I'm on the right track with coverage. When I get no donations for five or ten days I get worried. More tangibly, a constant trickle of donations helps me with expenses, and I factor in that trickle when setting fundraising goals:
Here is the screen that will appear, which I have helpfully annotated.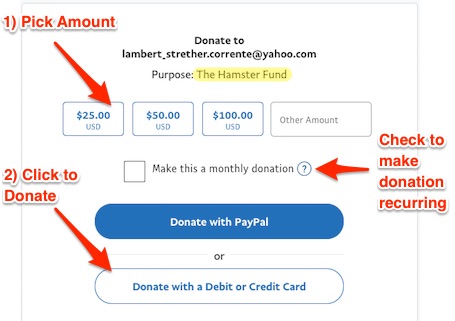 If you hate PayPal, you can email me at lambert [UNDERSCORE] strether [DOT] corrente [AT] yahoo [DOT] com, and I will give you directions on how to send a check. Thank you!2:00PM Water Cooler 6/8/2021