By Lambert Strether of Corrente.
Patient readers, I was constantly interrupted by real world demands writing this Water Cooler, so I will be adding more material shortly. –lambert UPDATE All done, though not so shortly.
Bird Song of the Day
A duet!
* * *
#COVID19
At reader request, I've added this daily chart from 91-DIVOC. The data is the Johns Hopkins CSSE data. Here is the site.
I feel I'm engaging in a macabre form of tape-watching. I've been thinking of new charts to monitor to alert us to the next outbreak, assuming there is one, but for now, the data from the South means I'll stick to the status quo.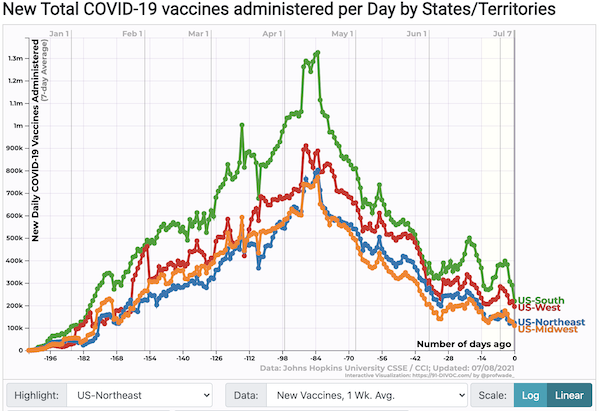 Oof. And the curves aren't down because there's nobody left to vaccinate, either.
Case count by United States regions: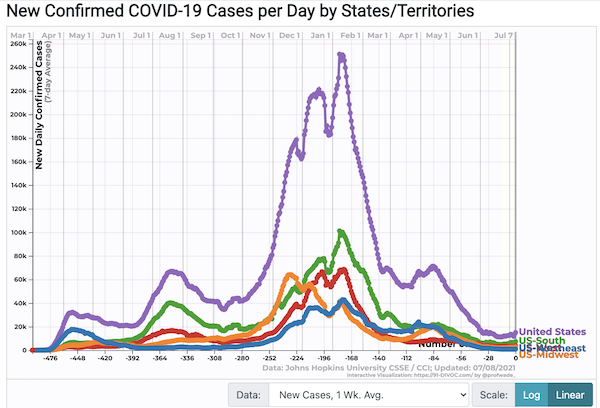 Oof. Now a definite upward trend We should know the impact of travel and all the family gatherings round the BBQ shortly.
Note that one of the narratives seems to be that there will only be pockets of cases in unvaccinated juridictions (i.e., blame the deplorables for a public health messaging, delivery, and performance debacle). Be that as it may, we can see the effects in this aggregate, in the aggregated data for Texas and Florida, and in the Top Ten states (all below). Nothing like the runaway train in the first days and weeks, but the train is rolling. It would certainly be nice if this trend isn't signaling the changeover from Alpha to Delta.
Here are the case counts for the South (as defined by the US Census: Alabama, Arkansas, Delaware, Florida, Georgia, Kentucky, Louisiana, Maryland, Mississippi, North Carolina, Oklahoma, South Carolina, Tennessee, Texas, Virginia, West Virginia, and the District of Columbia):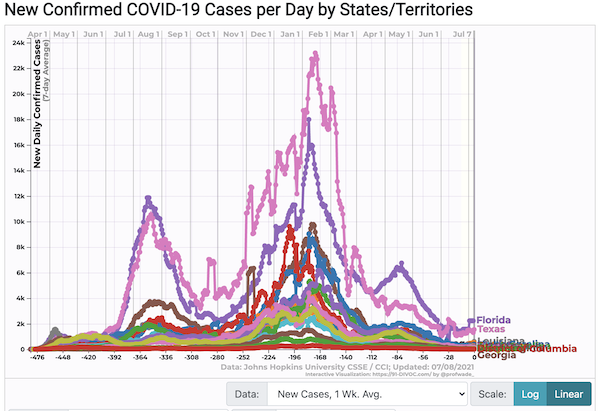 Florida, capital of Latin America, pulling away from Texas, good job.
Covid cases top ten for the last four weeks (hat tip, alert reader Lou Anton):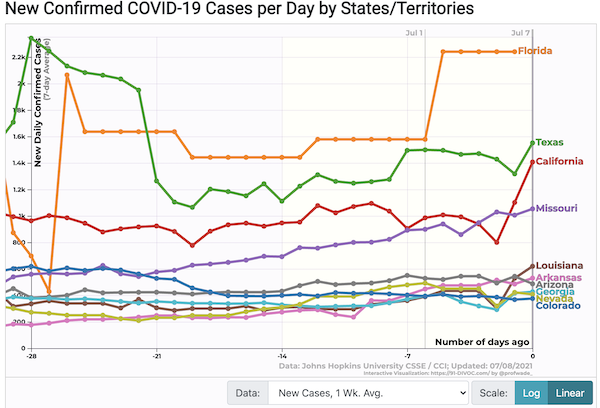 California chasing Texas, now.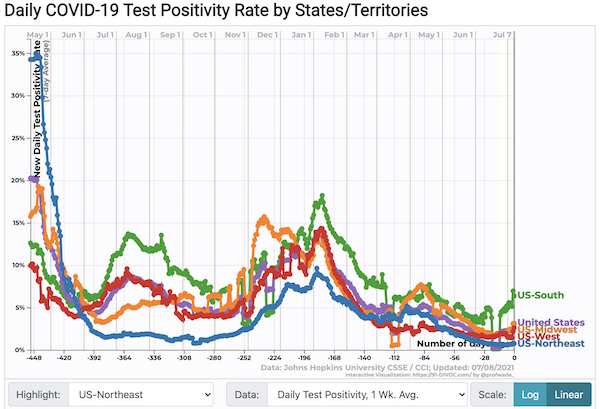 South bounces back.
Hospitalization (CDC):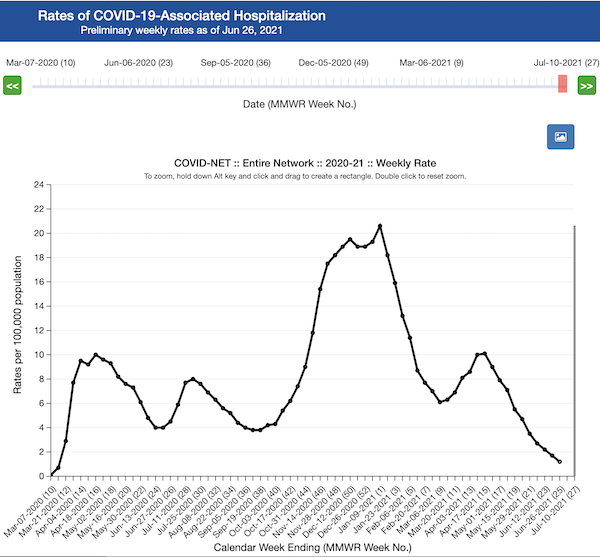 No bad news yet.
Deaths (Our World in Data):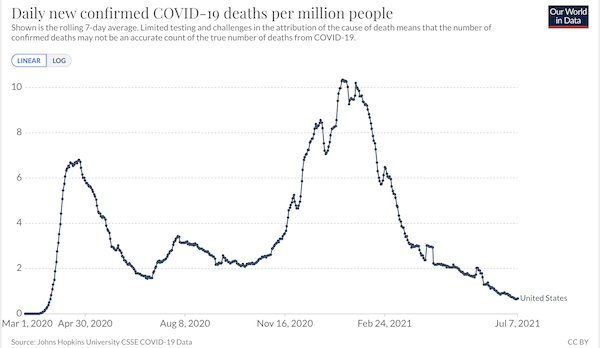 No bad news yet.
Covid cases worldwide: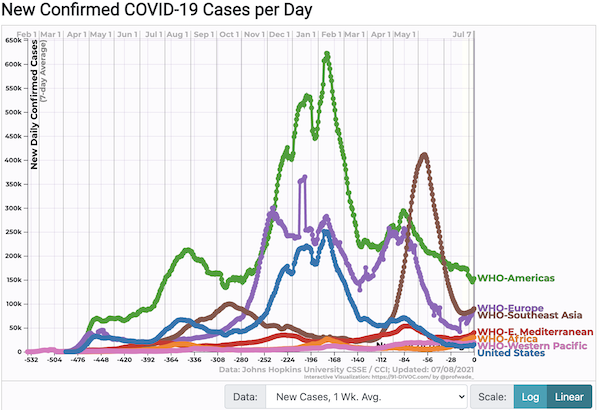 Every region is trending up.
* * *
Politics
"But what is government itself, but the greatest of all reflections on human nature?" –James Madison, Federalist 51
"They had one weapon left and both knew it: treachery." –Frank Herbert, Dune
"They had learned nothing, and forgotten nothing." –Charles Maurice de Talleyrand-Périgord
Capitol Seizure
"FBI seized 'fully constructed' US Capitol Lego set from home of alleged rioter" [The Hill]. • Oh.

"Intel Officials Warned of Hate Groups Using Ashli Babbitt to Incite Terrorism Days After Capitol Siege" [Gizmodo]. "'Wink-and-nod white supremacists like Trump and Gosar are echoing their openly white supremacist peers,' said Ryan Shapiro, executive director of Property of the People, 'highlighting Babbitt's death to distract from the plain fact that Babbitt and hundreds of others attempted a deadly fascist coup provoked by Trump himself.'" • With the radio stations seized… The military standing by…. The telegrams prepared for world leaders… What a coup does not look like is a bunch of gun-less sad-sack co-splayers taking selfies of each other and selling looted items on eBay. 1/6 is not Battleship Potemkin stuff. And 1/6 looks nothing like any of the many regime change operations the United States has sponsored from the 1980s onward: Poland (1980–1989), El Salvador (1980–1992), Chad (1981–1982), Nicaragua (1981–1990), Grenada (1983), Panama (1989–1994), Iraq (1991), Haiti (1991), Iraq (1992–1996), Haiti (1994–1995), Zaire (1996–1997), Indonesia (1997–1998), Yugoslavia (2000), Iraq (2003–2011), Haiti (2004), Palestinian territories (2006–2007), Syria (2005–2017), Iran (2007), Honduras (2009), and Libya (2011). Everybody who is anybody in Washington, DC knows what a coup looks like, because they've sponsored a ton of them and organized many. So how come they keep insulting our intelligence with the word?
Biden Administration
"Biden readies order to rein in worker non-compete clauses and make switching jobs easier" [CNBC]. "President Joe Biden will issue a forthcoming executive order that calls on the Federal Trade Commission to adopt rules to curtail worker non-compete agreements, part of a broader set of executive actions aimed at increasing competition in the marketplace. The order is expected to be signed and released in the coming days, and it will fulfill Biden's 'campaign promise to promote competition in labor markets,' White House press secretary Jen Psaki said Wednesday. In a related action, Biden will call on the FTC to ban 'unnecessary" occupational licensing requirements, Psaki said. 'While occupational licensing can serve important health and safety concerns, unnecessary or overly burdensome licensing can lock people out of jobs,' she added. Biden will also encourage the FTC and the Department of Justice to work together to limit employers' rights to share worker pay information in ways that could negatively impact workers looking for better-paying jobs. The text of the orders has not been released, but their long-term effectiveness will depend upon whether the regulators who write the rules make them capable of surviving legal challenges and of actually forcing change in the marketplace." • This is not legislation, mind you. Stoller comments:

Biden making government work for ordinary people is massively important. https://t.co/mZYE3b6teW

— Matt Stoller (@matthewstoller) July 8, 2021

"Work better" is not the same as "work" or "work for." One can drown in six inches of water just as much as six feet. For example, whatever happened to card check?
Democrats en Deshabille
"Pelosi husband won big on Alphabet stock" [The Hill]. "Speaker Nancy Pelosi's (D-Calif.) husband gained nearly $5 million on a trade of stocks in Google parent company Alphabet Inc. and also added bets to Amazon and Apple ahead of the House Judiciary Committee's vote last month to advance five antitrust bills targeting major tech giants. According to a recently released financial disclosure report signed by the Democratic leader on July 2, Paul Pelosi, who owns a real estate and venture capital investment firm, exercised 40 call options to gain 4,000 shares of Alphabet at a strike price of $1,200. Paul Pelosi gained $4.8 million from the trade, which has since risen to $5.3 million, Bloomberg reported. The transaction, dated June 18, followed previous actions in May purchasing 20 call options for Amazon with a strike price of $3,000 and acquiring 50 call options for Apple with a strike price of $100, the disclosure report noted. The options, which have a June 2022 expiration date, suggest that Paul Pelosi expects Amazon and Apple to continue their gains. " • She's gonna need a bigger fridge.
Republican Funhouse
"Trump-allied GOP chairs turn on fellow Republicans" [The Hill]. "State Republican Party chairs who have bought into former President Trump's lies of widespread election malfeasance are turning their fire on fellow Republicans who have acknowledged the reality of Trump's defeat, in a turn that has longtime party leaders and strategists worried about the future of the conservative coalition. For most of modern political history, a state party chair's role has been confined to raising money and building an organization that can contact voters and elect candidates. Their job is much more often to promote those who win primaries than to wade in on behalf of a specific contender during those primaries. But in the age of Trump, some party leaders are as eager to talk about the perceived turncoats within their own ranks as they are to go after the opposition party."

"DeSantis risks Trump backlash as his star rises" [The Hill]. "'As a DeSantis supporter, I worry that he may peak too early,' GOP donor Dan Eberhart, who backed DeSantis in his 2018 gubernatorial bid before Trump's endorsement made him the primary favorite, told The Hill. 'I think that these things are incredibly important in trying to thread the needle to become president,' Eberhart added. 'So DeSantis has got to win reelection in 2022 — that's a must — and he's got to continue to court favor with the Sean Hannity crowd, and build his chits in the party, but he's got to do all this without angering Trump specifically or Trump's base and the other bigwigs in the party. And I think it's really hard to stay on top of that beach ball for too long.'" • There's also the question of how DeSantis does in a national campaign. I thought Scott Walker would do well nationally because he beat up the Wisconsin Democrats and took their candy, and who doesn't like that, but it turned out he was as dull as stump on the national stage.
Trump Legacy
"Trump's Social Media Lawsuits Feature A Mashup Of Arguments Courts Have Already Rejected" [Buzzfeed]. "On Wednesday, Trump filed lawsuits against each company, joined by co-plaintiffs who claimed they were also banned from posting or had their content — largely posts about the coronavirus pandemic, vaccines, and mask-wearing rules — demonetized, removed, or flagged as misleading. Each case raises the same two core claims: that the social media giants were operating as a 'state actor' and had violated the First Amendment when they restricted certain speech, and that the federal law that immunizes these companies against being sued for how they moderate content, Section 230 of the Communications Decency Act, was itself unconstitutional." • Neither claim is prima facie absurd, and I find the first one fascinating, since Trump is claiming that the United States has merged corporations and the State, which is one definition (not mine) of a fascist regime. I certainly didn't have that on my Bingo card!
2020 Nostalgia
What a great election that was:

Revisiting a classic https://t.co/N4Uewy2RWR

— Luke Savage (@LukewSavage) July 7, 2021
Realignment and Legitimacy
"Could a School-Board Fight Over Critical Race Theory Help Turn Virginia Red?" [Politico]. "Across the country, critical race theory—a legal/academic framework Republicans have conflated to define all race and gender-based equity work in public schools—is shaping fights in a number of suburban jurisdictions. School boards in Maine and Pennsylvania faced similar conflicts. Florida's state board of education banned the teaching of critical race theory in its public schools. The push against critical race theory is animating one of the largest nationwide school board recall efforts in history since the birth of the Tea Party last decade, according to Ballotpedia, which has been tracking them since 2006. It's the latest skirmish between cultural conservatives and progressives duking it out over the future of the country. But what's happening in Virginia suggests there are hard political goals at play, too: Education, an otherwise sleepy campaign issue, has long animated Virginia politics, as the commonwealth is home to the nation's top public-school districts. Republican operatives—some of whom are also parents—are using it as a tool to drive a wide enough wedge in vote-rich Northern counties, to push a blue-leaning state back into tossup territory….. On the surface, Loudoun County, located less than 50 miles from the nation's capital, looks like any suburban town, complete with strip malls and rolling hills. But with a median household income of $142,299, it tops the list of the nation's wealthiest counties." • Every explanation I've ever read of "critical race theory" by conservatives reads like something scribbled down during a fever. At the same time, I have little sympathy for "progressives" (liberals) who use race to erase class. I mean, $142,299 is the median? Really? Lady Bountiful never had it so good!

UPDATE "Fetterman raises more than $2.5M in second quarter" [The Hill]. "Pennsylvania Lt. Gov. John Fetterman (D) raised more than $2.5 million for his Senate bid in the second quarter, his campaign announced Thursday morning. Fetterman's haul was fueled by more than 91,300 donations, with more than 31,000 of those being first-time donors. The figure brings his total fundraising to more than $6.5 million since his campaign launch in February. Ninety-nine percent of the donations were under $200…. The race for Toomey's Senate seat is considered a marquee contest in the 2022 midterm as both Democrats and Republicans fight for control of the currently 50-50 Senate." • I'm inclined to like Fetterman. Can Pennsylvania readers comment?
Stats Watch
Employment Situation: "United States Initial Jobless Claims" [Trading Economics]. "373K people claimed for unemployment benefits in the latest week, above market forecasts of 350K and slightly higher than an upwardly revised 371K in the previous week signaling the labour market recovery remains far from complete. Still, with the initial claims remaining almost double the 200K level before the coronavirus pandemic hit, employers have been complaining about the struggle to fill open positions, citing ongoing labor shortages due to enhanced benefits, concerns about contracting COVID-19 and finding childcare."
* * *
Banking: "Wells Fargo tells customers it's shuttering all personal lines of credit" [CNBC]. "Wells Fargo is ending a popular consumer lending product, angering some of its customers, CNBC has learned. The bank is shutting down all existing personal lines of credit in coming weeks and no longer offers the product, according to customer letters reviewed by CNBC…. The revolving credit lines, which typically let users borrow $3,000 to $100,000, were pitched as a way to consolidate higher-interest credit card debt, pay for home renovations or avoid overdraft fees on linked checking accounts…. With its latest move, Wells Fargo warned customers that the account closures 'may have an impact on your credit score,' according to a frequently asked questions segment of the letter. Another part of the FAQ asserted that the account closures couldn't be reviewed or reversed: 'We apologize for the inconvenience this Line of Credit closure will cause,' the bank said. 'The account closure is final.'… The move is a strange one given the banking industry's need to boost loan growth."
Shipping: Yikes:
Cost to Ship a Boxload of Goods to U.S. From China Nears $10,000https://t.co/F5q4d41jgh pic.twitter.com/7P7dXZ55Xr

— Stalingrad & Poorski (@Stalingrad_Poor) July 8, 2021
Shipping: "The Biden administration is targeting ocean shipping and railroads in a push to confront consolidation and anticompetitive pricing in the freight sector. The White House plans to issue a sweeping executive order calling on the Federal Maritime Commission and the Surface Transportation Board to act against what the administration says are actions that make it onerously expensive for American companies to transport goods" [Wall Street Journal]. "The administration believes the relatively small number of major players in the container shipping trade and in the U.S. freight rail business has enabled companies to charge unreasonable fees. The call for a crackdown is one part of a multi-pronged executive order that aims to blunt big business while introducing more competition in areas across the economy." • Stoller comments:
Democrats and progressives are going to have to find a way to talk about a Democratic President who is actually governing. https://t.co/oqicAftfLx

— Matt Stoller (@matthewstoller) July 8, 2021
Shipping: "The Ever Given is sailing back into commercial operations more than three months after the container ship knocked global supply chains sideways. The Evergreen Marine vessel was on its way from the Suez Canal to Egypt's Port Said for a seaworthiness check before heading to the ports of Rotterdam and Felixstowe… ending a monthslong saga that began when the ship got stuck in the critical trade passageway in March" [Wall Street Journal]. "The ship's departure follows a deal said to call for about $200 million in compensation. Evergreen's cargo customers are closer to getting their shipments but the legal complications aren't necessarily over for some. The container line suggested in announcing the agreement with Egyptian authorities last month that some customers haven't provided a security bond under the declaration of general average that requires that shippers pay for a share of the recovery cost." • So… When the Evergiven sails back to Asia, does it go through the Suez Canal again?
The Bezzle: "Crypto Scammers Rip Off Billions as Pump-and-Dump Schemes Go Digital" [Bloomberg]. "In Scorsese's cinematic bender of sex, drugs and stocks [ Wolf of Wall Street], it's called the pump and dump. In today's cryptocurrencies, it's known as the rug pull. Maxamus thinks he got rug-pulled the other month in some sketchy digital token called — wait for it — Safe Heaven. Like countless dreamers in today's memeified markets, he's been gambling $50 here, $100 there on what are known as Shit Coins, obscure digital something-or-others being minted by the thousands. This stuff makes Bitcoin look good as gold. One moment, Safe Heaven was flying. The next, it was crashing. Maxamus (that's his online persona. His real name is Glenn Titus), can't prove anything. But he suspects what, in retrospect, seems forehead-slappingly obvious: some small-time hustler created Safe Heaven with a few deft keystrokes, hyped the hell out of it — and promptly cashed out. Telegram, a popular instant messaging app that's become a major crypto boiler room, immediately fell silent. The Safe Heaven Telegram group, once thronging with rocket emojis and Elon Musk GIFs, was deleted. The Safe Heaven Twitter account hasn't been updated since May 28. 'Everybody I know has gotten rug-pulled,' says Titus, a 38-year-old butcher in Salem, Oregon. 'You know, you win some, you lose some. Hopefully, win more than lose.'" • Seems frothy.
The Bezzle: "Former employees shed light on sophisticated double-brokering network" [Freight Waves]. • Here is an explanation of double-brokering. As far as the freight market goes, this seems frothy, too. Of course, a building wave throws off froth too, as well as a breaking one.
The Bezzle: "Uber, Lyft created ride-hailing shortage: Gig economy expert" [Yahoo Finance!]. "Workers are leaving ride-hailing jobs, creating a severe labor shortage in the gig economy. Many of the problems leading up to this shortage were created by Lyft and Uber themselves, Aquent CEO John Chuang said Tuesday. 'One, [ride-sharing companies] have very low wages,' Chuang said. 'And they are very undesirable jobs. Now that we have 7 million less employed workers in America right now, you know, the first jobs to go are the undesirable jobs. And unfortunately, their jobs are undesirable.' Chuang identified the jobs' lack of benefits and low wages as significant drawbacks to ride-hailing employment opportunities. Workers in this market do not have a Social Security net to fall back on, Chuang said, making ride-sharing a much riskier living than traditional jobs. 'And so workers are voting with their feet,' he said. 'And they're leaving these gig economy jobs.'"
Consolidation: "Google sued by states alleging Play Store fees violate antitrust law" [Yahoo News!]. "The case, brought in U.S. District Court for the Northern District of California, is one of dozens of lawsuits that Google's parent company Alphabet is facing in a wave of actions around the globe challenging tiers of its dominant markets. In the complaint, the states accuse Google of illegally operating monopolies in the market for Android app distribution by imposing technical barriers that prevent third parties from distributing apps outside the Play Store. According to the complaint, Google controls 99% of the "licensable" market…. To stifle competition, the states allege, Google uses contracts to prevent original equipment manufacturers (OEMs) from circumventing the technical barriers, and to block competing app stores from distribution on the Play Store. The states also say Google unlawfully ties advertising to the Google Play store, and shares monopoly profits with OEMs to disincentive competing app stores from entering the market. The attorneys general are asking for monetary damages, and for the court to impose other remedies to stop Google's allegedly anticompetitive conduct."
* * *
Today's Fear & Greed Index: 39 Fear (previous close: 39 Fear) [CNN]. One week ago: 41 (Fear). (0 is Extreme Fear; 100 is Extreme Greed). Last updated Jul 7 at 2:00pm.
Health Care
"'Too good to be true': Doubts swirl around trial that saw 77% reduction in COVID-19 mortality" [Science]. "It would be the best news by far in COVID-19 treatment: According to a preprint published on 22 June, an experimental prostate cancer drug named proxalutamide reduced deaths in hospitalized COVID-19 patients by 77% in a clinical trial in Brazil…. But many scientists are wary. Alleged irregularities in the clinical trial have reportedly triggered an investigation by a national research ethics commission in Brazil. Top medical journals have rejected a paper about the study, and its main author, Flavio Cadegiani, an endocrinologist at the biotech company Applied Biology, has previously touted unproven COVID-19 medications, such as ivermectin, azithromycin, and antiworm compounds as COVID-19 therapies. And to many, the claims simply seem implausible…. 'These results are too good to be true,' says Eric Topol, executive vice president of Scripps Research Translational Institute…. Other clinical trials may soon provide additional data. Kintor is currently recruiting male, nonhospitalized patients in California for a U.S. phase 3 trial of proxalutamide. Cadegiani says his colleagues in Brazil hope to soon test bicalutamide, a similar U.S. Food and Drug Administration-approved androgen receptor blocker to see whether it produces comparable results. Separate clinical trials of bicalutamide are ongoing at the University of Florida and Johns Hopkins University. Swedish researchers are testing a similar drug called enzalutamide. And Rettig says his team is now conducting an interim analysis of trial results on degarelix, another antiandrogen. For now, most researchers are waiting to see what, if anything, is real in the seemingly improbable results from the heart of the Amazon."
The Biosphere
Games
"EVE Online Facing Second 'Summer of Rage' Fan Outcry" [Kotaku]. "On top of the scarcity patches, roughly one year ago, one of the largest wars in EVE's history began. The war has raged hot for nearly a year, causing destruction on a scale that is unheard of in EVE's 18 year history, further diminishing the resource stockpiles of players and driving the cost of the vessels players need to fight in the war through the roof. Outside of the financial toll the war has taken on player wallets, the mental stress of the conflict also seems to be building in players on all sides. War in EVE is one of the most interesting things the game has to offer, and probably one of the more realistic simulations of massive real life campaigns available in the virtual realm. Each side needs competent generals, massive supply chains, and most importantly, players to fight in battles that can last for hours across all time zones multiple days a week. Over time, these things take a measurable toll on people who are just trying to play a game to have some fun and blow off steam. With something close to half of the game's active playerbase involved in the conflict, it's easy to understand how the situation could create some tension among players. Further compounding the stress of war and waning pocketbooks are the latest changes to the already complex industry system. Almost all spaceships and the ammunition and equipment for those ships are produced by players. Resources must be harvested, transported, and combined to create the ships, and when those ships die in battle, they are gone forever. Over the course of the war, those ships have been dying by the thousands. Since the changes implemented in the last few months, the production chains, cost, and complexity of crafting most ships in EVE have become more complex and expensive, leading to a further burnout of already overtaxed industry players." • Do we have any EVE players in the readership?
Police State Watch
UPDATE "You've Got To Keep the Death Machine Churning" [Eoin Higgins, The Flashpoint]. "Execution by nitrogen gas—a technically legal method of execution that's never been put into practice—is part of what's becoming a pattern around the country. Faced with a shortage of chemicals for lethal injection due primarily to the bad press for companies involved in the practice, states are turning to other means to keep the death machine churning."
Guillotine Watch
"The Billionaire Playbook: How Sports Owners Use Their Teams to Avoid Millions in Taxes" [ProPublica]. "These revelations are part of what ProPublica has unearthed in a trove of tax information for the wealthiest Americans. ProPublica has already revealed that billionaires are paying shockingly little to the government by avoiding the types of income that can be taxed. The records also show how some of the richest people on the planet use their membership in the exclusive club of pro sports team owners to further lower their tax bills. The records upend conventional wisdom about how taxation works in America. Billionaire owners are consistently paying lower tax rates than their millionaire players — and often lower even than the rates paid by the workers who staff their stadiums. The massive reductions on personal tax bills that owners glean from their teams come on top of the much-criticized subsidies the teams get from local governments for new stadiums and further deplete federal coffers that fund everything from the military to medical research to food stamps and other safety net programs."
UPDATE "No, billionaires won't "escape" to space while the world burns" [Salon]. "[W]hen you understand the science, it becomes clear that the "billionaire space race" is just that—nothing more than a pissing contest between egotistical robber barons. Branson and Bezos aren't investing their money to forward science or expand the bounds of human possibility. They're doing it to be the first rich guy to bounce around uselessly up there, as opposed to NASA astronauts who, again, do science. And after they bounce around uselessly, they're hoping to swindle more of their obscenely rich friends into doing the same. The pointlessness of it all is especially despicable when you understand that space tourism is funded with the hoarded wealth of billions of workers who are struggling to survive here on Earth. The space tourism industry will be built with the profits off supply chains that work people to death-by-exhaustion, literally enslave people, and are rapidly destroying the future habitability of our planet. That's a pretty bleak dystopia. We should really consider taking our wealth back from billionaires before they build it." • That's a little more pointed than the Twitter thread by this author on the same topic.
Class Warfare
UPDATE "Opinion: Is it time to limit personal wealth?" [WaPo]. "Instead of debating tweaks at the edges of our tax system, what we should be doing is stretching ourselves to imagine a world where this dissonance is truly incomprehensible — a world where billionaires are impossible. Doing so would require a revised conception of what is good and what is fair, an approach focused less on what is "allowed" and more on what is "enough." Does that sound far-fetched? Such a philosophy already exists. It's called limitarianism. As the director of the Fair Limits Project at Utrecht University in the Netherlands, philosopher Ingrid Robeyns argues that it is not morally permissible to have "more resources than are needed to fully flourish in life." Just as there is a poverty line under which we agree that no one should fall, limitarianism holds that one can construct a "wealth line" over which no one should rise, and that the world would be better off for it. Limitarian thought doesn't depend on a specific number. The crucial point is to debate not where the line can be drawn, but whether it makes sense." • Hmm.
News of the Wired
I have no good reason to put this here today except that I think it's very funny:
UPDATE Suckers, liars, get me a shovel:
Marcel Duchamp, In Advance of the Broken Arm, August 1964 (fourth version, after lost original of November 1915) https://t.co/qiHplMjmsb #marcelduchamp #museumofmodernart pic.twitter.com/slj0JFHoxn

— MoMA: Paintings and Sculpture (Bot) (@moma_paintings) July 8, 2021
* * *
Readers, feel free to contact me at lambert [UNDERSCORE] strether [DOT] corrente [AT] yahoo [DOT] com, with (a) links, and even better (b) sources I should curate regularly, (c) how to send me a check if you are allergic to PayPal, and (d) to find out how to send me images of plants. Vegetables are fine! Fungi and coral are deemed to be honorary plants! If you want your handle to appear as a credit, please place it at the start of your mail in parentheses: (thus). Otherwise, I will anonymize by using your initials. See the previous Water Cooler (with plant) here. Today's plant (EU):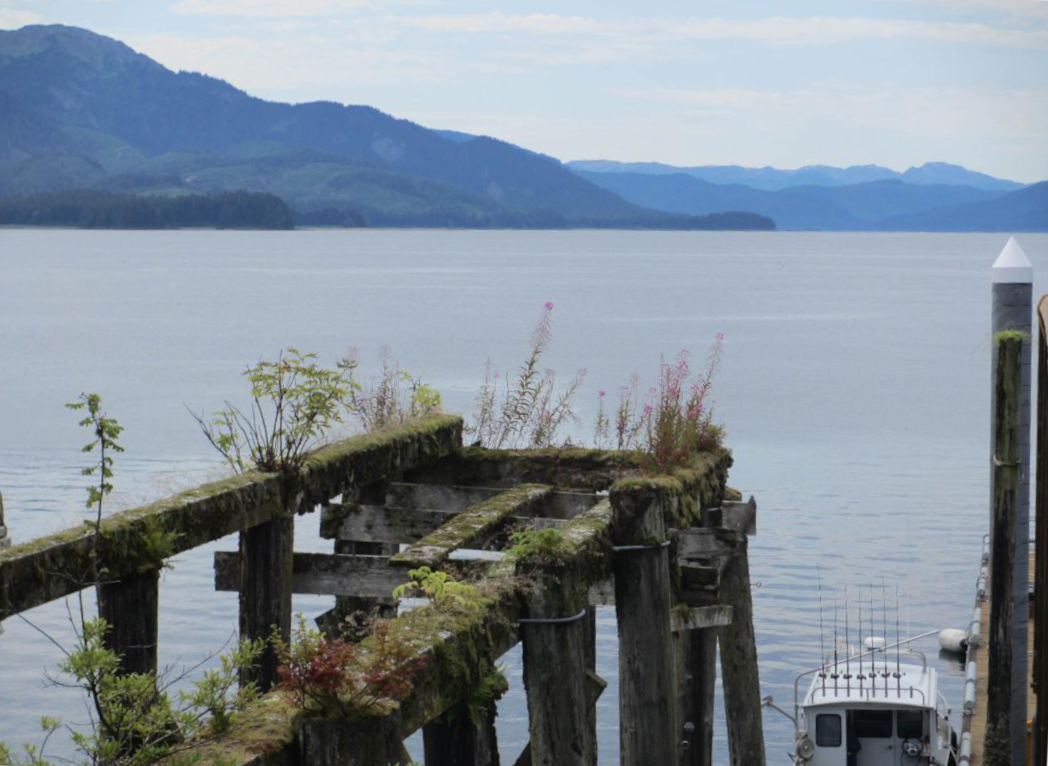 EU writes: "What's interesting is the dilapidated growing medium." Sounds like my dentist!
* * *
Readers: Water Cooler is a standalone entity not covered by the recently concluded and — thank you! — successful annual NC fundraiser. So if you see a link you especially like, or an item you wouldn't see anywhere else, please do not hesitate to express your appreciation in tangible form. Remember, a tip jar is for tipping! Regular positive feedback both makes me feel good and lets me know I'm on the right track with coverage. When I get no donations for five or ten days I get worried. More tangibly, a constant trickle of donations helps me with expenses, and I factor in that trickle when setting fundraising goals:
Here is the screen that will appear, which I have helpfully annotated.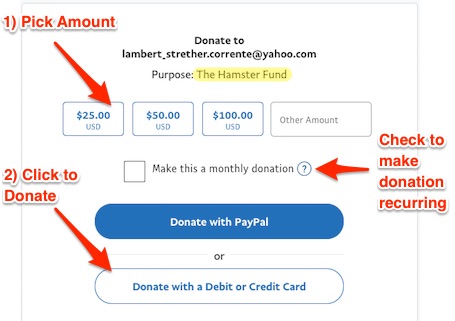 If you hate PayPal, you can email me at lambert [UNDERSCORE] strether [DOT] corrente [AT] yahoo [DOT] com, and I will give you directions on how to send a check. Thank you!2:00PM Water Cooler 6/8/2021