By Lambert Strether of Corrente.
Patient readers, sorry to be a bit late; I got caught up in the Nikole Hannah-Jones saga. –lambert UPDATE All done!
Bird Song of the Day
* * *
#COVID19
At reader request, I've added this daily chart from 91-DIVOC. The data is the Johns Hopkins CSSE data. Here is the site.
I feel I'm engaging in a macabre form of tape-watching. I've been thinking of new charts to monitor to alert us to the next outbreak, assuming there is one, but for now, the data from the South means I'll stick to the status quo.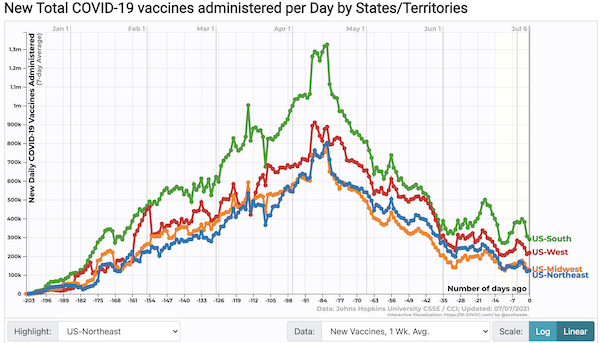 "White House keeps Covid messaging simple" [Politico]. Biden: "If you're vaccinated, you're protected. But if you're unvaccinated, you're not." • If only that were true!
Case count by United States regions: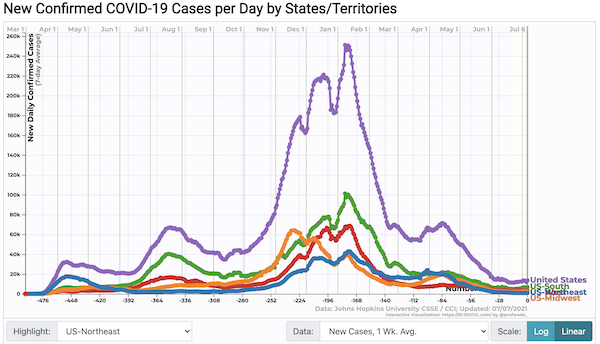 We should know the impact of travel and all the family gatherings round the BBQ shortly.
Note that one of the narratives seems to be that there will only be pockets of cases in unvaccinated juridictions (i.e., blame the deplorables for a public health messaging, delivery, and performance debacle). Be that as it may, we can see the effects in this aggregate, in the aggregated data for Texas and Florida, and in the Top Ten states (all below). Nothing like the runaway train in the first days and weeks, but the train is rolling. It would certainly be nice if this trend isn't signaling the changeover from Alpha to Delta.
DC: "I Don't Think D.C. Will Reach Herd Immunity in Time" [Mike the Mad Biologist]. "Over the last week, very disturbing news came out of Missouri, where hospitals in low vaccination coverage regions of the state had to move patients to other parts of the state because they couldn't handle the COVID-19 patient load. I expected this, but I really didn't think it would happen for a few weeks. Like it or not, these low prevalence areas do have consequences for D.C. What happens in Vegas Missouri doesn't stay in Missouri (though Nevada is having problems too). Eventually, more transmission events will happen in the D.C. area due to visitors from somewhere else ('embers'). My original time frame was things would blow up in low vaccination states starting in late July and 'expose' D.C. around late August, early September as people return from vacations, start college, and so on, though recent outbreaks make me wonder if that timeline should be accelerated. Nonetheless, I think the 'drop dead' date (pun intended) is August 15, plus or minus a few days. That's when things are locked in as to vaccination (remember it takes two weeks after the first shot to have even partial protection against the various, erm, variants)….. . Because elderly and middle aged people are getting vaccinated, we likely won't see too many deaths, but we will see a rise in hospitalizations and 'long COVID.' And none of this would happen if people got vaccinated–or were 'strongly encouraged' to get vaccinated. I hope I'm wrong. I hope vaccination rates pick up–and the FDA formally approving the vaccines would help."
Here are the case counts for the South (as defined by the US Census: Alabama, Arkansas, Delaware, Florida, Georgia, Kentucky, Louisiana, Maryland, Mississippi, North Carolina, Oklahoma, South Carolina, Tennessee, Texas, Virginia, West Virginia, and the District of Columbia):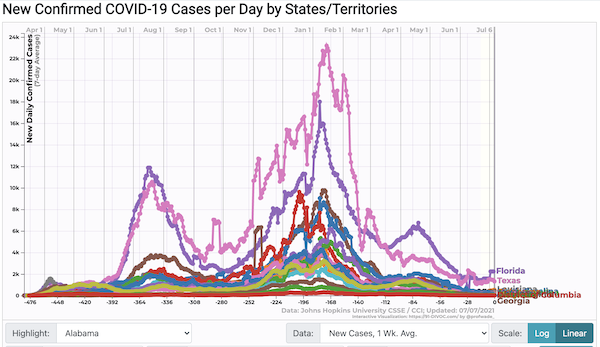 Texas and Florida, capital of Latin America, neck and neck.
Covid cases top ten for the last four weeks (hat tip, alert reader Lou Anton):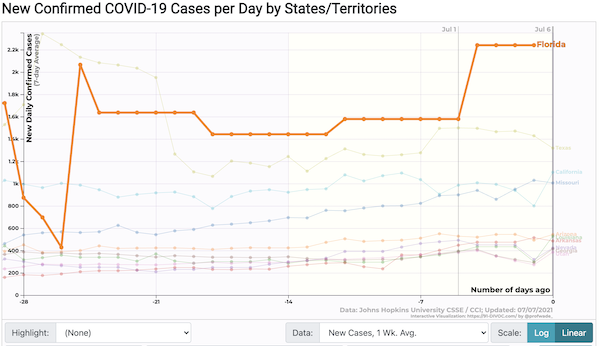 On reflection, I don't see a reason to adjust for population, so I changed the chart, though I could be argued out of it. Florida shows up, but Arkansas is really punching above its weight (higher than California). Also, tourist states still stand out.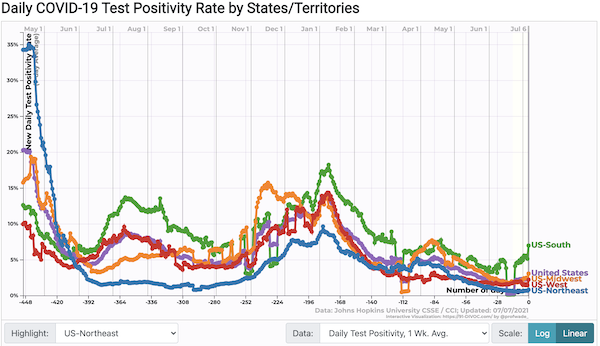 South bounces back.
Hospitalization (CDC):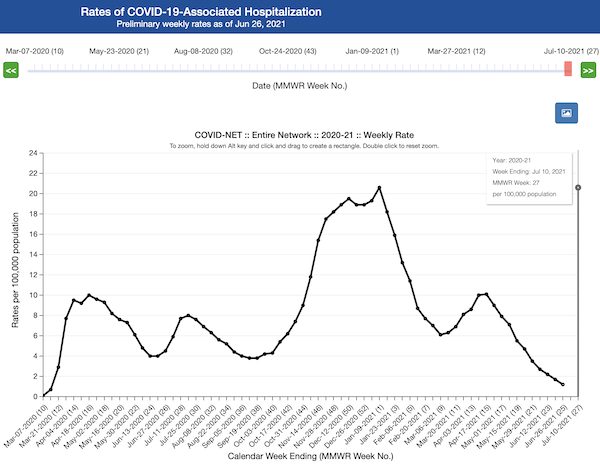 Continued good news.
Deaths (Our World in Data):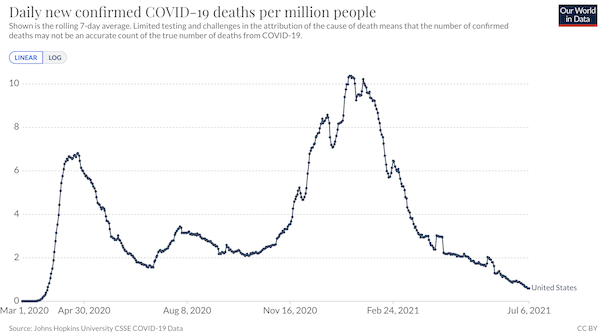 Continued good news.
Covid cases worldwide: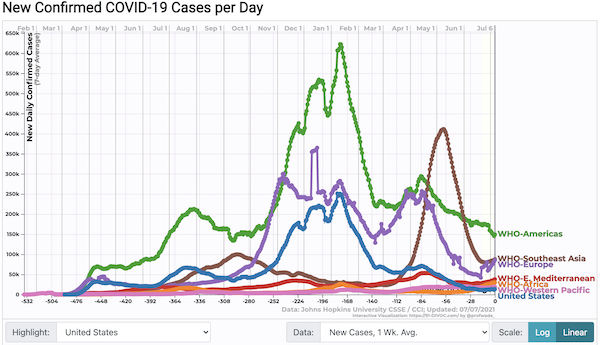 * * *
Politics
"But what is government itself, but the greatest of all reflections on human nature?" –James Madison, Federalist 51
"They had one weapon left and both knew it: treachery." –Frank Herbert, Dune
"They had learned nothing, and forgotten nothing." –Charles Maurice de Talleyrand-Périgord
Biden Administration
"A Planned Biden Order Aims to Tilt the Job Market Toward Workers" [New York Times]. "According to an increasingly influential school of thought in left-of-center economic circles, corporate mergers and some other common business practices have made American workers worse off. The government, this theory holds, should address it." What an amazing lead. More: "More broadly, the executive order encourages antitrust regulators to consider how mergers might contribute to so-called monopsony — conditions in which workers have few choices of where to work and therefore lack leverage to negotiate higher wages or better benefits. The order will depend on the ability of regulators to carry out the rules the White House seeks and to write them in ways that survive legal challenges. And many of the policies that labor economists see as problematic, including licensing requirements, are set at the state level, leaving a limited federal role. Still, . It builds on years of research that has made its way from the intellectual fringes to the mainstream." • Intellectual fringes… Of course, this is an executive order. It's not legislation.
Democrats en Deshabille
"Democratic strategist Joe Trippi to join Lincoln Project" [The Hill]. "Veteran Democratic strategist Joe Trippi is joining the Lincoln Project as a senior adviser, the group announced Tuesday…. Trippi is a longtime Democratic strategist and campaign hand who rose to prominence as the campaign manager for former Vermont Gov. Howard Dean's 2004 presidential bid. He also worked as a consultant for former California Gov. Jerry Brown's 2010 comeback gubernatorial campaign and was a senior adviser to former Sen. Doug Jones (D-Ala.) in his successful 2017 special election campaign."

"Hunter Biden wanted prostitutes to unionize because they need 'more protection' and were 'business savvy like strippers" [Daily Mail]. • So Hunter is sound on policy, then?
Republican Funhouse
Yarn diagram:

This is a full view of the board behind Michael Flynn and Mike Lindell. (2/2) pic.twitter.com/SYw5wqSE8e

— PatriotTakes 🇺🇸 (@patriottakes) July 6, 2021

This is an extremely simple yarn diagram. There's just one node in the middle!
Our Famously Free Press
Nauseating self-regard:

Wonder what would happen to them if they had to report from war zones or stand down authoritarian governments trying to imprison them?

Also wonder if they ever take a few seconds to compare their "trauma" to Julian Assange's?

— Glenn Greenwald (@ggreenwald) July 6, 2021
Trump Legacy
"Trump to sue Facebook, Twitter CEOs over being banned from their platforms" [NBC]. "Former President Donald Trump said Wednesday that he is filing a class-action lawsuit against tech giants Facebook and Twitter — along with their CEOs, Mark Zuckerberg and Jack Dorsey — because of bans imposed on him and others. 'We're demanding an end to the shadow banning, a stop to the silencing, a stop to the blacklisting, vanishing and canceling,' Trump said at a news conference in Bedminster, New Jersey, adding that 'we are asking the court to impose punitive damages.' He spoke from behind a lectern bedecked with an insignia designed to look like the presidential seal and in front of a backdrop reminiscent of a White House portico. Trump argued that the suspension of his social media accounts amounts to an infringement on the First Amendment's guarantee that speech won't be curtailed by the government. ." • Typical Trump crazy talk. He's saying corporations have merged with the State!
Realignment and Legitimacy
"Eric Adams wins Democratic primary in NYC's mayoral race" [Associated Press]. "Brooklyn Borough President Eric Adams has won the Democratic primary for mayor of New York City after appealing to the political center and promising to strike the right balance between fighting crime and ending racial injustice in policing. A former police captain, Adams would be the city's second Black mayor if elected. He triumphed over a large Democratic field in New York's first major race to use ranked choice voting. Results from the latest tabulations released Tuesday showed him leading former city sanitation commissioner Kathryn Garcia by 8,426 votes, or a little more than 1 percentage point."
Stats Watch
Employment Situation: "United States Job Openings" [Trading Economics]. "The number of job openings in the US rose to a new record high of 9.209 million in May 2021, from a revised 9.193 million in April and below market expectations of 9.388 million."
* * *
Retail: "Stretched global supply chain means shortages on summer menus" [Reuters]. "At least nine fast-food chains and restaurant companies surveyed by Reuters said some of their locations have been grappling with changing lists of brief shortages of key ingredients and products, as supply bottlenecks plague eateries. The list of hard-to-find items has included summertime staples such as wieners and chicken wings, and non-food items like plastic packing material and paper bags."
Retail: "Supermarkets are doing their own hoarding as they brace for price increases. Grocery chains are buying and storing everything from sugar to frozen meat… as they look to keep their shelves full under a strategy that is also driving shortages of some staples" [Wall Street Journal]. "The move is a reversal from last year, when consumers hoarded goods and disrupted the grocery industry at the onset of the pandemic. Now, retailers are stockpiling to keep costs down and protect margins in a sign of how up]heaval over the past year has upended conventional supply-chain strategies. Associated Wholesale Grocers recently stocked up on 15% to 20% more inventory, mainly packaged foods with longer shelf life, and Ahold Delhaize USA is holding more safety stock."
Shipping: "Container lines are poised to hit a $100 billion profit jackpot" [American Shipper]. "All the experts said spot ocean rates would pull back in the second half. The second half has now begun. Not only are spot rates not falling, they're still rising. Much higher H2 spot rates than expected, combined with double-digit gains for contract rates, will equate to liner profits on an unprecedented scale. On Monday, U.K. consultancy Drewry predicted that container shipping lines will post aggregate earnings before interest and taxes (EBIT) of $80 billion this year, and 'if freight rates surpass expectations in the remainder of the year, we would not be surprised to see an annual profit line in the region of $100 billion.' That's the mirror opposite of the industry's prior long-term performance."
Shipper: "How COVID variants could impact container and tanker shipping" [American Shipper]. "Multiple Asian countries that produce U.S. containerized imports are now seeing high infection rates. Malaysia, a significant player in the furniture sector, has been under a strict lockdown since early June. The lockdown has just been extended. A seven-day nationwide lockdown in Bangladesh begins Thursday. According to Panjiva, a division of S&P Global Market Intelligence, 'The renewed spread and resulting lockdown will have an impact on industrial supply chains as factories will likely have to close and may suffer reduced productivity.' Levi Strauss and H&M are among the retailers whose shipments could be affected by the Bangladesh lockdown, said Panjiva. Cases caused by the spread of the Delta variant are also surging across Indonesia, another supplier of U.S. goods. The Red Cross said on Tuesday that Indonesia was 'on the edge of catastrophe.' On Thursday, Indonesia announced a strict lockdown from July 3-20 covering the most populous islands of Java and Bali. The situation is also worsening in Thailand, where a record number of daily cases and deaths were reported on Wednesday. In China, restrictions at the Port of Yantian in the first three weeks of June will reverberate across U.S. import supply chains for at least another month. Amazon is particularly exposed to Yantian fallout, according to Panjiva."
Tech: "The Kaseya Ransomware Attack Is a Really Big Deal" [Lawfare]. "Under normal circumstances, automatic software deployment, especially in the context of software updates, is a good thing. But here this feature was turned on its head. Russian-based criminal gang REvil hacked into Kaseya's management system and pushed REvil software to all of the systems under Kaseya's management. From there, the ransomware promptly disabled those computers and demanded a cryptocurrency payment of about $45,000 per system to set the machines free… Supply chain attacks such as these are the proximate technical cause of many of cybersecurity's "greatest" hits, including NotPetya and SolarWinds. The NotPetya attack in June 2017 did about $10 billion or so of damage globally…. If this is not yet enough to catch your attention, three further observations will. First, supply chain compromises, such as these, are very often indiscriminate; everyone who installs a malicious update gets the malware…. The second, and perhaps scariest, observation is that the software vendors used in malicious update compromises thus far have, in the grand scheme of things, been relatively small. MEDoc, SolarWinds and Kaseya are, of course, important to their respective customers, but none was a household name before their respective incidents. Far bigger software vendors exist. Some are central to the basic functioning of modern computing… The final observation is that defensive remediation of ransomware deployed through automatic updates is pathological to the cybersecurity industry itself in a way that is qualitatively different from other categories of cybersecurity incidents…. In short, software supply chain security breaches don't look like other categories of breaches. A lot of this comes down to the central conundrum of system security: It's not possible to defend the edges of a system without centralization so that defensive resources can be pooled. But this same centralization concentrates offensive action against a few single points of failure that, if breached, cause all of the edges to fail at once."
Tech: "A Deep Dive into Airbnb's Server-Driven UI System" [Medium]. "Airbnb's specific SDUI implementation enables our backend to control the data and how that data is displayed across all clients at the same time. Everything from the screen's layout, how sections are arranged in that layout, the data displayed in each section, and even the actions taken when users interact with sections is controlled by a single backend response across our web, iOS, and Android apps." • Everything old is new again.
Supply Chain: "The company that pioneered just-in-time manufacturing in the automotive sector is reaping gains from a "just-in-case" strategy. Toyota outsold perennial top dog General Motors by a thin margin in the U.S., a first for a Japanese car maker. [A] decision to stockpile semiconductors and maintain more production over the past year has given the company an edge as demand has rebounded" [Wall Street Journal]. "Building on its experience following Japan's 2011 earthquake, Toyota eased away from a strict application of its lean just-in-time production system. While other car makers have shut down factories because of chip shortages, research firm LMC Automotive says Toyota's factories have run at over 90% capacity this year, compared with 50% to 60% for many rivals. Toyota dealers still face shortages of cars on their lots, but the shortfall is deeper for other car makers."
Legal: "FCA fraudulent inducement claim requires but-for causation – appeals court" [Reuters]. I don't know what "but-for" causation is, but this is interesting: "Cimino filed his lawsuit in 2013 in Washington federal court under the False Claims Act, which allows whistleblowers to sue companies on the government's behalf to recover taxpayer money paid out based on fraudulent claims. He alleged that IBM falsified an audit to show that the Internal Revenue Service owed the company $91 million in penalties for overuse under the terms of the agency's existing software license in order to pressure the IRS to renew the license for $265 million."
* * *
Today's Fear & Greed Index: 39 Fear (previous close: 39 Fear) [CNN]. One week ago: 41 (Fear). (0 is Extreme Fear; 100 is Extreme Greed). Last updated Jul 7 at 2:00pm.
Health Care
"Time to assume that health research is fraudulent until proven otherwise?" [British Medical Journal]. "Health research is based on trust. Health professionals and journal editors reading the results of a clinical trial assume that the trial happened and that the results were honestly reported. But about 20% of the time, said Ben Mol, professor of obstetrics and gynaecology at Monash Health, they would be wrong…. Research fraud is often viewed as a problem of "bad apples," but Barbara K Redman, who spoke at the webinar insists that it is not a problem of bad apples but bad barrels if not, she said, of rotten forests or orchards. In her book Research Misconduct Policy in Biomedicine: Beyond the Bad-Apple Approach she argues that research misconduct is a systems problem—the system provides incentives to publish fraudulent research and does not have adequate regulatory processes. Researchers progress by publishing research, and because the publication system is built on trust and peer review is not designed to detect fraud it is easy to publish fraudulent research. The business model of journals and publishers depends on publishing, preferably lots of studies as cheaply as possible. They have little incentive to check for fraud and a positive disincentive to experience reputational damage—and possibly legal risk—from retracting studies. Funders, universities, and other research institutions similarly have incentives to fund and publish studies and disincentives to make a fuss about fraudulent research they may have funded or had undertaken in their institution—perhaps by one of their star researchers. Regulators often lack the legal standing and the resources to respond to what is clearly extensive fraud, recognising that proving a study to be fraudulent (as opposed to suspecting it of being fraudulent) is a skilled, complex, and time consuming process. Another problem is that research is increasingly international with participants from many institutions in many countries: who then takes on the unenviable task of investigating fraud? Science really needs global governance. Everybody gains from the publication game, concluded Roberts, apart from the patients who suffer from being given treatments based on fraudulent data." • Yikes.
"The delta variant is spiking in these four US states" [The Hill]. "According to data from Scripps Research's Outbreak.info, the delta variant of the coronavirus is surging in , where it is responsible for a majority of new cases. Ninety-six percent of Missouri's new COVID-19 cases have been traced to the delta variant — the highest percentage of new cases caused by this strain for any U.S. state… According to the Centers for Disease Control and Prevention, the average vaccination rate is 47.5 percent. Missouri's vaccination rate is 36.8 percent, Arkansas is 32 percent, and Kansas is just below 40 percent, as reported by the Johns Hopkins University Coronavirus Tracker."
"More than 125 Covid-19 cases tied to South Texas church camp, pastor says" [CNN]. "More than 125 campers and adults who attended a summer camp run by a South Texas church have tested positive for coronavirus, according to a statement from Clear Creek Community Church Lead Pastor Bruce Wesley. The outbreak stems from a late June Student Ministry Camp for sixth through 12th graders that was attended by more than 450 people, county health officials said. 'Unfortunately, upon return from camp, 125+ campers and adults reported to us that they tested positive for COVID-19. Additionally, hundreds more were exposed to COVID-19 at camp,' Wesley said. 'And hundreds of others were likely exposed when infected people returned home from camp.' Clear Creek Community Church is an interdenominational church based in League City, with five campuses south of Houston. The Galveston County Health District said it was notified of the first positive case tied to the church camp — held at the Tejas Camp & Retreat in Giddings, outside the county — on June 27. At least three samples from the outbreak were confirmed to be the coronavirus variant, which is more transmissible to others, according to the district. More samples are being tested."
"Clinical and Virological Features of SARS-CoV-2 Variants of Concern: A Retrospective Cohort Study Comparing B.1.1.7 (Alpha), B.1.315 (Beta), and B.1.617.2 (Delta)" [The Lancet]. The Interpretation: "There was a signal toward increased severity associated with B.1.617.2. The association of B.1.617.2 with lower Ct value and longer viral shedding provides a potential mechanism for increased transmissibility. These findings provide a strong impetus for the rapid implementation of vaccination programmes." • Singapore, n = 838.
"Your Guide to Masks" [CDC]. "Do not choose masks that… Are prioritized for healthcare workers, including N95 respirators." Updated June 29, 2021." • A year in…
The Biosphere
"How freezing changed the green pea" [BBC (Re Silc)]. "A turning point in the frozen food industry's history came when Clarence Birdseye, a naturalist employed by the US government, moved to Labrador – which is today part of Canada – in 1912. There, he consumed animals from lynx to gulls with gusto, taking copious notes (whale meat was much like beef, he argued). The Inuit in the area habitually froze food during the winter months. Birdseye learned what everyone else there already knew, that the very coldest months produced the food that tasted best after being defrosted." • What an interesting true fact!
"The Beasts That Keep the Beat" [Quanta]. "Musical rhythm, [Aniruddh Patel] argued, is a byproduct of 'vocal learning; — the ability to reproduce sounds one has never heard before. Humans, parrots and elephants are all vocal learners. Elephants have been documented imitating the sounds of trucks and other animals, and parrots are literally synonymous with mimicry. Monkeys, on the other hand, are stuck with an inborn set of hoots and screams. Patel's notion was that the evolution of vocal learning in select species strengthened the links between brain regions in charge of hearing and movement, which made musical rhythm possible. In the years following its introduction, the vocal learning hypothesis seemed to fit all the relevant data. Iversen and Patel's study of Snowball turned out to be just the prelude to a new concerto of research on musicality in the animal kingdom. In recent years, scientists have tested various species and found evidence that nonvocal learners such as sea lions and bonobos have rhythm too. In parallel, pioneering studies have begun to elucidate how the brain tracks a beat, work that may help corroborate that rhythm is not restricted to the planet's most loquacious creatures. The new findings suggest that rhythm has a more ancient and universal evolutionary origin than was originally thought. 'I don't think the vocal learning hypothesis has much to teach us anymore,' said Peter Cook, a comparative psychologist at Emory University. 'Beat keeping might be rooted in a really old, widely conserved mechanism, which is basically how brains communicate.'"
Groves of Academe
"Nikole Hannah-Jones will join Howard University instead of the University of North Carolina" [New York Times]. "The Pulitzer Prize-winning journalist Nikole Hannah-Jones said on Tuesday that she would join the faculty of Howard University, a surprise announcement less than a week after the University of North Carolina's board of trustees voted to grant her tenure, reversing its earlier decision." • My position on this is that poor scholarship should not be rewarded with tenue; see the WSWS site, they being the only publication with the stones to take this on, especially here and here, but the whole section, which includes posts from many historians. Oddly, the Times coverage is too genteel to mention the money, but the NGO Industrial complex really came through—
"Nikole Hannah-Jones rejects UNC tenure offer to take position at Howard University, backed by millions in foundation funding" [WSWS]. "Hannah-Jones will join writer Ta-Nehisi Coates (who wrote We Were Eight Years in Power about the Obama administration) in founding the Center for Journalism and Democracy at Howard. The center will be financed with $20 million from the Knight Foundation, MacArthur Foundation, the Ford Foundation and an anonymous donor. According to a university press release, the new center "will focus on training and supporting aspiring journalists in acquiring the investigative skills and historical and analytical expertise needed to cover the crisis our democracy is facing." The 1619 Project was published by the New York Times in August 2019 and has been promoted with millions of dollars in funding and a school curriculum developed by the Pulitzer Center on Crisis Reporting. It falsely roots American history in an enduring racial conflict between blacks and whites…. In its own way, it sums up a central purpose of the racialist narrative that the Times ' 1619 Project promotes, namely, to advance the aspirations of privileged sections of the upper middle-class for positions of power and wealth, which has absolutely nothing to do with the interests of workers of any race." • While Hannah-Jones is most definitely a "voice," as Adolph Reed defines the term (here; here), I don't think this is correct; I think the agenda is to advance the cause of reparations (where Coates is a key figure). Hilariously, Howard has recently been in the news for closing its Classics, department, and for Dean Phylicia Rashad's support of Bill Cosby, a Howard donor.
UPDATE "The Struggle for Power at UNC" [The Assembly]. "'It's not my job to heal the University of North Carolina,' said Hannah-Jones. 'That's the job of the people in power who created the situation in the first place.'" • Speculating freely, I'm a little dubious that Hannah-Jones ever intended to work at UNC; surely she could not have been ignorant of the $20 million in grant money that magically appeared at Howard immediately after her decision?
UPDATE "Lessons from Nikole Hannah-Jones's tenure battle" [Columbia Journalism Review]. "Joe Killian, the reporter at NC Policy Watch who broke the story about the board's tenure rejection and interviewed both Hannah-Jones and Hussman, wrote an extended Twitter thread on the power differentials rendered invisible in too much discussion about Hussman and Hannah-Jones. Hussman, who is white, inherited significant power in the journalism industry; Hannah-Jones earned it in the face of considerable obstacles, Killian wrote. 'Whatever you may think of her, it's impossible to credibly argue Hannah-Jones hasn't put in the work,' he concluded." • Her shoddy scholarship aside, it's totally possible: She published a grand total of 23 articles for the New York Times. That wouldn't earn an adjunct tenure. What earned Hannah-Jones tenure was her enormous network of fellow media professionals. The class power of the PMC was the "power imbalance" here. And professionals aren't her only powerful backers. Note the logo:
https://t.co/7OCpZz5z97 pic.twitter.com/hWt02EKfGb

— Zaid Jilani (@ZaidJilani) July 7, 2021
Guillotine Watch
Pigs in space:
For a half-dozen people to exist up on the ISS, it takes a ground team of thousands of people, constantly problem-solving how to keep them alive. Their quality of life is bouncing around in a narrow tube with the same 5 people who can't really bathe for months. /

— Sim Kern (@sim_kern) July 3, 2021
Great thread. The same is true, on a lesser scale, for bunkers and compounds.
Class Warfare
"Varieties of Black Political Philosophy" [The Sooty Empiric]. " I decided to categorise some of the tendencies of black political thought that I often encounter, and share that here. Each group is not much more than a loose affinity group, united by a theme. But I tend to think I can recognise instances of members of these groups when I see them – by what they stress, how they argue, what sort of things they think possible or impossible, or relevant or irrelevant. So I have tried to briefly summarise the thematic links I am picking up on, and then link some examples of each tendency to give the reader an idea of the sort of work or theorising I would expect from each group." • Afropessimism, Liberalism, Black feminism, Conservatism, Culturalism, and Socialism. More: "These then are the strands I most often encounter. My sense is that black liberalism is very much dominant in the academy, but there are pockets where it would be highly unwelcome. The strand I have labelled conservative, on the other hand, is by and large unpopular in both the academy and broader black life – but it is an old and very well established vein of thought in black political thought, and the persistence of its base of support suggests it is not going anywhere. I would have thought the socialist tradition is moribund, but perhaps the Corbyn and Sanders campaigns will in the long run breathe more life into it. The culturalists will always have their place, given what I mentioned about black arts. But vim, such as it is, belongs to the black feminists and the Afropessimists. That's where youth energy is found right now, and they are the ones shaking up the wider cultural dialogue." • This is a useful synthesis and well worth reading in full.
"The Future Dystopic Hellscape Is Upon Us" [The Intercept]. "Sovereign Deed was to be a privatized state within the state for the rich, with a fleet of planes, boats, armored vehicles, and trained rescue personnel, all coordinating through a 'national network including satellite phones, land lines, cellular towers, fiber optic cable and radio frequency bands providing redundant systems for both verbal and textual communication.' For the boardroom barons and law firm partners Sovereign Deed envisioned as its bread-and-butter clientele, the company would offer an array of tantalizing toys: While the rest of their employees withered under clouds of radiation, an executive customer would be armed with a 'Communications Pack (ComPak), a waist pack containing communications equipment, including a satellite telephone, GPS and other devices, to connect with and receive information from Sovereign Deed." • Lovely.
"Workers Are Funding The War On Themselves" [The Daily Poster]. "[A] series of new reports remind us that there is another person behind the monocled, mustache-twirling oligarch running the Emerald City's secret control panel — and that person isn't a billionaire. It is the faceless pension official in a state capital or city hall who is using workers' retirement savings to finance the Wall Street takeover of Oz. In the process, teachers, firefighters, sanitation workers, and other government employees are being fleeced. Their retirement savings are being skimmed by finance industry executives, who are using the cash to lobby for self-enriching tax breaks while waging a class war on everyone else. All that money could end up bankrolling a new round of housing profiteering and infrastructure privatization, using workers' money to wage a war on workers themselves." • Amazingly, CalPERS not mentioned!
News of the Wired
"Danish children struggle to learn their vowel-filled language – and this changes how adult Danes interact" [The Conversation]. "Through our research, we have found that the uniquely peculiar way that Danes speak seems to make it difficult for Danish children to learn their native language – and this challenges some central tenets of the science of language….. There are three main reasons why Danish is so complicated. First, with about 40 different vowel sounds – compared to between 13 and 15 vowels in English depending on dialect – Danish has one of the largest vowel inventories in the world. On top of that, Danes often turn consonants into vowel-like sounds when they speak. And finally, Danes also like to "swallow" the ends of words and omit, on average, about a quarter of all syllables. They do this not only in casual speech but also when reading aloud from written text…. [B]ecause Danish speech is so ambiguous, Danes rely much more on context – including what was said in the conversation before, what people know about each other and general background knowledge – to figure out what somebody is saying compared to adult Norwegians. Together, these results indicate that the way people interpret language is not static, but dynamically adapts to the challenges posed by the specific language or languages they speak."
"Reading Like a Roman" [Public Domain Review]. The material culture of Roman books. One fragment: "The manuscript known as Vergilius Vaticanus is one of only three manuscripts from Graeco-Roman antiquity which preserve illustrations in more than a few scraps. … In the Vaticanus illustrations, the entire surface circumscribed by the red frame is filled in. The minimalistic backgrounds, which represent little more than the basic outlines of the landscape and the sky, are nevertheless carefully painted, soft pink shading into pastel blue. The heavy frames and coloured backgrounds could only be executed in the codex format. In a roll, such large surfaces of paint would lead to the pigments flaking off. If the Vaticanus is the first codex in the tradition of illustrations it belongs to, it is likely that the frames and the backgrounds were added by the Vaticanus painters, with only the figures inherited from earlier models. In these earlier rolls, small illustrations would be inserted at the appropriate point in the columns of text."
* * *
Readers, feel free to contact me at lambert [UNDERSCORE] strether [DOT] corrente [AT] yahoo [DOT] com, with (a) links, and even better (b) sources I should curate regularly, (c) how to send me a check if you are allergic to PayPal, and (d) to find out how to send me images of plants. Vegetables are fine! Fungi and coral are deemed to be honorary plants! If you want your handle to appear as a credit, please place it at the start of your mail in parentheses: (thus). Otherwise, I will anonymize by using your initials. See the previous Water Cooler (with plant) here. Today's plant (pq):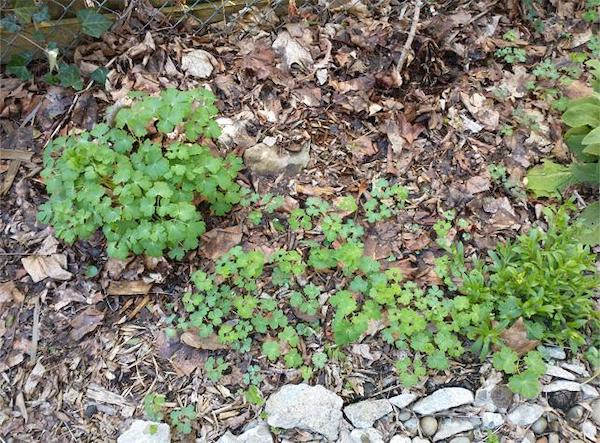 pq writes: "Invasion of the Columbines! The large plant to the left is the 'mother,' nearly lost last year to leafminers. This is a white variety that turns an exquisite pale pink as it ages. The stick coming out of the dark spot toward top right was my marker for a native red Columbine, which was infected even worse. Because I identified the pest too late to kill it, the only alternative was daily pulling off infected leaves, which, in the case of the wild Columbine, was the entire plant. It's hardy, so I'm hopeful it will come up eventually. In the meantime, looks like I'm going to have a delightfully unplanned Columbine border." I don't think there's any other kind of Columbine border!
* * *
Readers: Water Cooler is a standalone entity not covered by the recently concluded and — thank you! — successful annual NC fundraiser. So if you see a link you especially like, or an item you wouldn't see anywhere else, please do not hesitate to express your appreciation in tangible form. Remember, a tip jar is for tipping! Regular positive feedback both makes me feel good and lets me know I'm on the right track with coverage. When I get no donations for five or ten days I get worried. More tangibly, a constant trickle of donations helps me with expenses, and I factor in that trickle when setting fundraising goals:
Here is the screen that will appear, which I have helpfully annotated.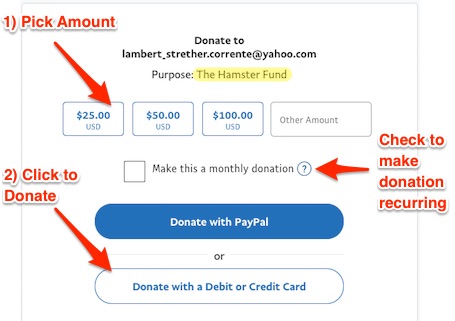 If you hate PayPal, you can email me at lambert [UNDERSCORE] strether [DOT] corrente [AT] yahoo [DOT] com, and I will give you directions on how to send a check. Thank you!2:00PM Water Cooler 6/8/2021