By Lambert Strether of Corrente.
Bird Song of the Day
Common Cuckoos, from the Jarvis Cocker lyric. And the lovely sounds of a summer afternoon. 'Summer afternoon—summer afternoon; to me those have always been the two most beautiful words in the English language.' –Henry James
"What's That Bird Song? Merlin Bird ID Can Tell You" [The Cornell Lab (GF)]. "It's an almost universal feeling: the thrill of hearing a mysterious new bird song. And it's usually followed up by the question: What was that bird? Today, the question got much easier: the Cornell Lab's Merlin Bird ID app can now identify bird sounds. At the time of the initial launch, Merlin can recognize the sounds of 400+ species from the U.S. and Canada, with that number set to expand rapidly in future updates. Automatic song ID has been a dream for decades, but analyzing sound has always been extremely difficult. The breakthrough came when researchers, including Merlin lead researcher Grant Van Horn, began treating the sounds as images and applying new and powerful image classification algorithms like the ones that power Merlin's Photo ID feature. 'Each sound recording a user makes gets converted from a waveform to a spectrogram—a way to visualize the amplitude [volume], frequency [pitch], and duration of the sound,' Van Horn says. 'So just like Merlin can identify a picture of a bird, it can now use this picture of a bird's sound to make an ID,' Van Horn says."
* * *
#COVID19
At reader request, I've added this daily chart from 91-DIVOC. The data is the Johns Hopkins CSSE data. Here is the site.
I feel I'm engaging in a macabre form of tape-watching. I've been thinking of new charts to monitor to alert us to the next outbreak, assuming there is one, but for now, the data from the South means I'll stick to the status quo.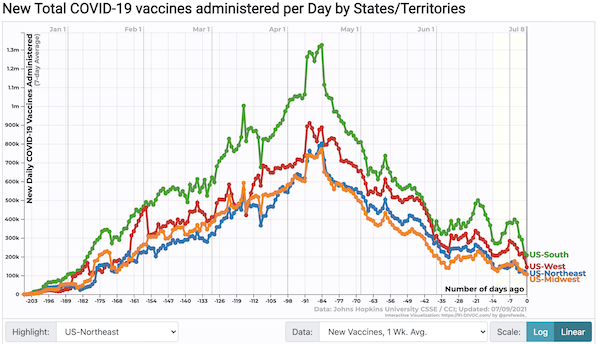 Oof. And the curves aren't down because there's nobody left to vaccinate, either.
"Live free and die: Inside the bizarre political philosophy of America's unvaccinated" [Will Bunch, Philadelphia Inquirer]. "Instead of political propaganda and promoting a way of life that rejects modern science, just imagine an America in which Fox News aired the testimonial of a Springfield, Mo., COVID-19 patient, 42-year-old Russell Taylor. 'I was one of those Americans who was like, skeptical, not knowing who to trust,' he said in a video for Cox Health. 'So I just kind of pulled back, that if God allows this, then it must be." In June, he was rushed to the hospital by ambulance and placed on a ventilator, with double pneumonia. He was still hospitalized after three weeks. "Somewhere in July," he now said, "I think it would be wise to get the whole family vaccinated, because my stance on that is … .'" • Good messaging. But why should FOX News be the only source for it?
"They didn't want to get Covid-19 shots. This is what convinced them." [NBC]. "In interviews with NBC News, individuals who were initially reluctant to get their vaccinations said nudging from family members, fears about emerging variants and having the ability to shrug off rumors about the shot were among the reasons they finally decided to roll up their sleeves, months after the shot became available. Erin, 47, a cook and part-time translator in Sheffield, Alabama, who asked to be identified by her first name only for fear of job reprisal, decided this past week to get vaccinated. She had been too nervous that side effects would cause her to miss work at her restaurant, which she was certain would result in her boss giving her fewer shifts in the future. That would put a financial strain on the mother of three, who is on food stamps and gets no paid sick leave. Once she read about the highly transmissible new delta variant — which Dr. Anthony Fauci, the nation's top infectious diseases doctor, has declared the 'greatest threat' to eliminating the coronavirus — she decided to get vaccinated. She urged others in her financial [class] position to do the same. 'Suck it up.' '," she said. ''" • More good messaging. Funny thing, bribing Erin with lottery tickets didn't work.
Cheerful and jaunty:
Juvenile turning "Back That Azz Up" into a pro vax anthem is….I truly don't even know I'm speechless pic.twitter.com/uQQLvpRsIk

— Tyler Conway (@jtylerconway) July 7, 2021
Case count by United States regions: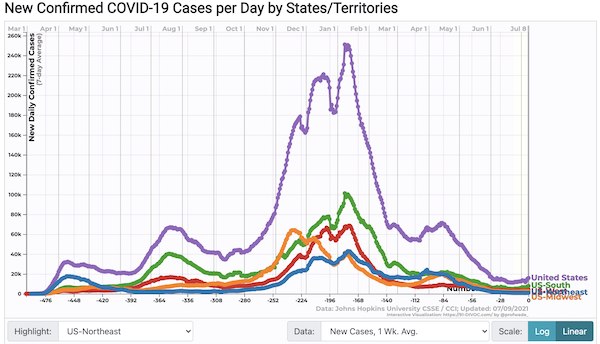 Oof. Now a definite upward trend. The slope is nothing like it was 476 days ago, but upward it is. We should know the impact of travel and all the family gatherings round the BBQ shortly. And of course summer camp, Bible School, etc.
Note that one of the narratives seems to be that there will only be pockets of cases in unvaccinated juridictions (i.e., blame the deplorables for a public health messaging, delivery, and performance debacle). Be that as it may, we can see the effects in this aggregate, in the aggregated data for Texas and Florida, and in the Top Ten states (all below). Nothing like the runaway train in the first days and weeks, but the train is rolling. It would certainly be nice if this trend isn't signaling the changeover from Alpha to Delta.
CO: "Delta Variant Surges in Colorado as the Bands Play On" [Kaiser Health News]. "A few yards away from LaCount and her son on the playground, a man fished in a still pond with his 10-month-old daughter in a backpack. Garrett Whiting, who works in construction, said he believes covid is still being 'blown out of proportion' especially by the news media. 'They got everybody scared really, really fast,' said Whiting, slowly reeling in a sparkly blue lure from the water. "There's no reason to stop living your life just because you're scared of something.' Whiting tested positive for covid about three months earlier. He said he doesn't plan to get vaccinated, nor does his wife. As for the baby on his back, he said he's not sure whether they'll have her vaccinated when regulators approve the shot for young children." • This "living your life" phrase — I can't imagine myself using it, and I don't even know what it means. Yet apparently it is deeply meaningful to some; one hears it over and over.
Here are the case counts for the South (as defined by the US Census: Alabama, Arkansas, Delaware, Florida, Georgia, Kentucky, Louisiana, Maryland, Mississippi, North Carolina, Oklahoma, South Carolina, Tennessee, Texas, Virginia, West Virginia, and the District of Columbia):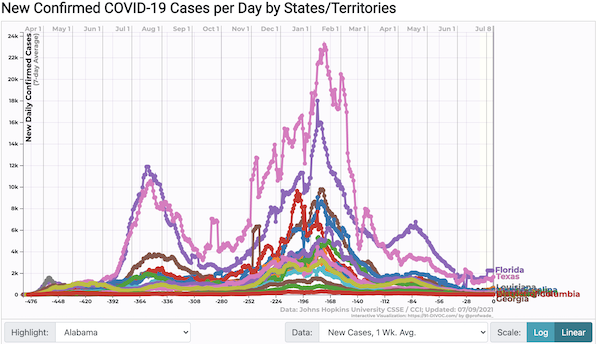 Florida, capital of Latin America, pulling away from Texas, good job. (Clearly, there are more factors involved than air conditioning; the entire South is air conditioned, but only Texas and Florida are pulling away.)
Covid cases top ten for the last four weeks (hat tip, alert reader Lou Anton):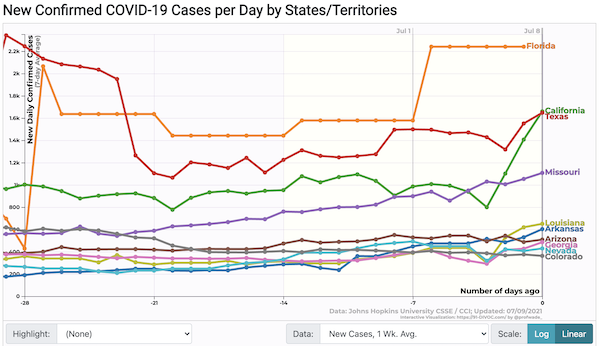 California catches up with Texas, hoo boy.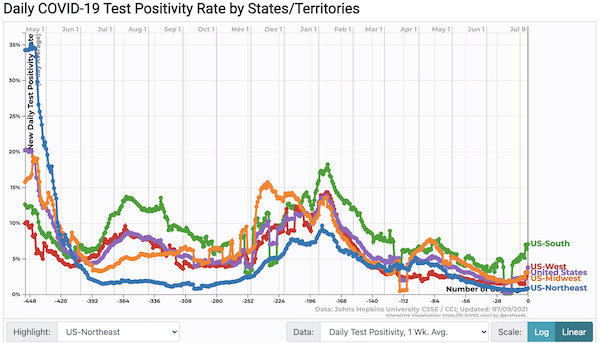 South bounces back.
Hospitalization (CDC):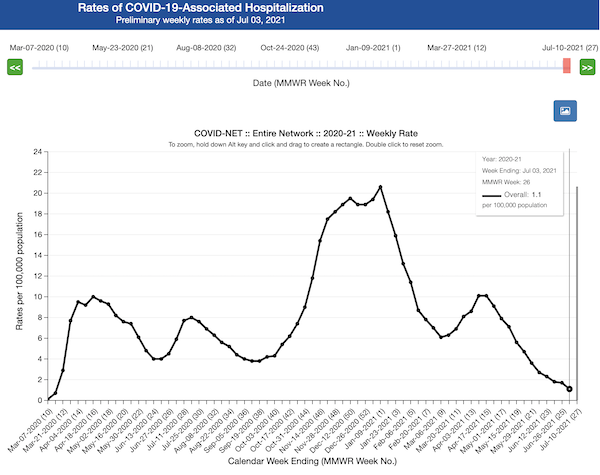 No bad news yet.
Deaths (Our World in Data):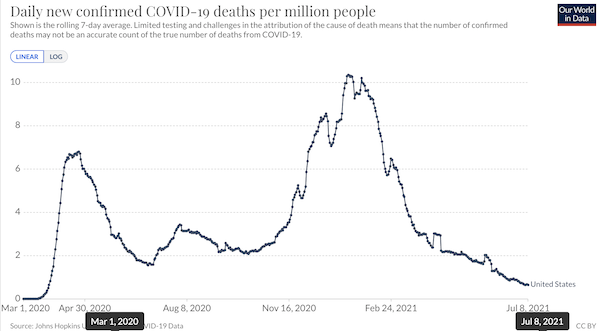 No bad news yet.
Covid cases worldwide: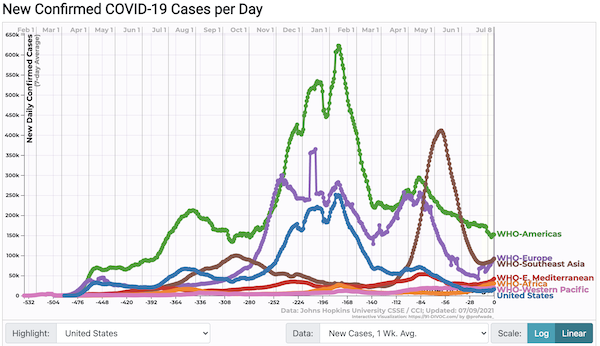 Every region is trending up.
* * *
Politics
"But what is government itself, but the greatest of all reflections on human nature?" –James Madison, Federalist 51
"They had one weapon left and both knew it: treachery." –Frank Herbert, Dune
"They had learned nothing, and forgotten nothing." –Charles Maurice de Talleyrand-Périgord
Biden Administration
"FACT SHEET: Executive Order on Promoting Competition in the American Economy" [The White House]. "Barriers to competition are also driving down wages for workers. When there are only a few employers in town, workers have less opportunity to bargain for a higher wage and to demand dignity and respect in the workplace. In fact, research shows that industry consolidation is decreasing advertised wages by as much as 17%. Tens of millions of Americans—including those working in construction and retail—are required to sign non-compete agreements as a condition of getting a job, which makes it harder for them to switch to better-paying options. In total, higher prices and lower wages caused by lack of competition are now estimated to cost the median American household $5,000 per year." • I'm surprised it's that little, given what health care has become. With this order, Biden proves — if proof were needed — that he's a better President than Obama ever was. Nevertheless. given that this is an Executive Order, with nothing embodied in legislation, it's likely that Obama was and is closer to the center of gravity of his Party than Biden is; it's likely that Biden couldn't get his caucus behind him on this, leaving open the question of how rapidly all this will become unravelled with a new administration (or gamed in the agencies). It's also nice to be talking political economy again, instead of all that "successor ideology" bushwa (see below). Also, Stoller must be in his glory (a good thing).

UPDATE "Biden to sign sweeping order aimed at curbing power of big companies" [Financial Times]. "The White House on Friday unveiled 72 measures in Biden's order, which include a ban on non-compete clauses for workers and span industries from technology and transportation to healthcare and banking. The US president also called for stronger enforcement of existing US antitrust laws, which could trigger greater scrutiny of mergers and acquisitions activity…. The order also encourages [??] the Federal Communications Commission to restore so-called "net neutrality" rules to stop broadband companies from favouring certain types of internet traffic over others, which the agency repealed during the Trump administration…. It is unclear, however, how much of Biden's plan will actually be implemented in the manner the White House hopes. Many of the provisions are encouraged but not mandated, and would be more powerful if enacted into law." • It will be interesting to see if the Administration puts Kamala Harris on this. If they don't, that will mean they are serious.

UPDATE "Biden launches assault on monopolies" [Politico]. "The executive order builds off one that former President Barack Obama issued in 2016, which encouraged agencies to consider competition in their decisions and rulemakings. That order — largely the work of Jason Furman, chair of the White House Council of Economic Advisers — came near the end of Obama's presidency. Few agencies followed through on the White House's prodding, and those that did saw their actions largely overturned by former President Donald Trump's appointees. Biden's order goes a step beyond Obama's by offering pointed suggestions for steps to take, rather than leaving implementation entirely to the agencies." • Well, I suppose a "pointed suggestion" is better than a "sternly worded letter."

UPDATE "Biden's latest executive order empowers workers in 3 key ways" [Yahoo Finance]. "The president's order asks the Federal Trade Commission to limit or ban noncompete agreements, address unnecessary occupational license requirements, and revise guidance for sharing wage information between HR professionals…. Limiting noncompete agreements or making them unenforceable — as Biden's order sets out to do — may not be enough, according to [Heidi Shierholz, senior economist and director of policy at the Economic Policy Institute]. Banning them instead would give workers more leverage, she said. For instance, noncompete agreements are unenforceable in California, but some research has found that they still suppress wages because workers often don't know they can't be sued by their employers, according to a 2020 paper by the Journal of Law, Economics, and Organization…. "As a package, [it's] clearly a coordinated effort to try and shift the labor market functions to give more power to workers," [Alexander Colvin, a labor relations law professor at Cornell University.] said. 'It's clearly a pro-wage growth agenda that the administration is trying to push here.'"

UPDATE "Joe Biden To Sign Executive Order Calling For Greater Scrutiny Of Mergers, Restoration Of Net Neutrality And Restrictions On Non-Compete Agreements" [Deadline]. "More immediate may be action at the agency level, as Biden signals a desire to step up antitrust enforcement. Biden has in place a champion for rigorous antitrust enforcement on the FTC — Lina Khan, confirmed last month as a commissioner and quickly appointed as chair — but he has yet to nominate someone to lead the Justice Department's Antitrust Division. Biden's EO will not only call on the agencies to enforce antitrust laws more vigorously, but remind them that the law allows them to challenge past mergers. The White House will establish a Competition Council to monitor the progress on the administration's proposal."
Republican Funhouse
This is such a good thread I'm going to quote several tweets from it. Read the whole thing. (There are details wrong, but in the main, especially on RussiaGate, the details are right, to be best of my recollection.)

I think I've had discussions w/enough Boomer-tier Trump supporters who believe the 2020 election was fraudulent to extract a general theory about their perspective. It is also the perspective of most of the people at the Capitol on 1/6, and probably even Trump himself. 1/x

— MartyrMade (@martyrmade) July 8, 2021

And:

These are Tea Party people. The types who give their kids a pocket Constitution for their birthday and have Founding Fathers memes in their bios. The intel community spying on a presidential campaign using fake evidence (incl forged documents) is a big deal to them. 4/x

— MartyrMade (@martyrmade) July 8, 2021

Correct so far. And:

Here are the facts – actual, confirmed facts – that shape their perspective: 1) The FBI/etc spied on the 2016 Trump campaign using evidence manufactured by the Clinton campaign. We now know that all involved knew it was fake from Day 1 (see: Brennan's July 2016 memo, etc). 3/x

— MartyrMade (@martyrmade) July 8, 2021

Skipping ahead:

These are Tea Party people. The types who give their kids a pocket Constitution for their birthday and have Founding Fathers memes in their bios. The intel community spying on a presidential campaign using fake evidence (incl forged documents) is a big deal to them. 4/x

— MartyrMade (@martyrmade) July 8, 2021

Nut graf:

This is profoundly disorienting. Many of them don't know for certain whether ballots were faked in November 2020, but they know for absolute certain that the press, the FBI, etc would lie to them if there was. They have every reason to believe that, and it's probably true. 16/x

— MartyrMade (@martyrmade) July 8, 2021

As with public health, an absolutely catastrophic loss of trust. (Here is the Time magazine article mentioned several times. If you're not reading it through the glasses of a triumphalist liberal Democrat, it's pretty sinister: "The Secret History of the Shadow Campaign That Saved the 2020 Election.") Of course, I don't want to idealize "Boomer-tier Trump supporters" voters; after all, I don't idealize liberal Democrats much. But the sense of disorientation rings true. (Perhaps it's similar to the disorientation liberal Democrats felt when Trump won, when they too went absolutely cray cray; and RussiaGate, involving as it did the national security state, ratcheting up tension with a nuclear power, and a new McCarthyism, was and is far more dangerous than Q-Anon.)
Realignment and Legitimacy
"Is "Critical Race Theory" the Wrong Term?" (interview) [Wesley Yang, TK News]. Taibbi introduces: "Two years ago, writer Wesley Yang penned a series of tweets about the 'new language of power throughout the non-profit sphere,' giving it a name: the 'Successor Ideology.' The author of The Souls of Yellow Folk created an umbrella term to explain everything from whatever the hideous moniker 'cancel culture' means to purges of classics and STEM disciplines in universities, to the new move toward segregated "affinity spaces," to 'intent doesn't matter,' to the spread of workforce training sessions that ask white employees in both the public and private sectors to focus on things like 'undoing your own whiteness,' to a dozen other things'…. The movement Yang describes is strategically brilliant and substantively moronic, a perfect intellectual killing machine. The Successor Ideology has blown through institutional America with great speed, coming to dominate everything from academia to the news media to Silicon Valley almost overnight." Now Yang: "[W]e have an authoritarian utopianism that's emerging on the left, and we need a name for it. There's a range of different words people use to describe different parts of the elephant. Identitarianism; social justice politics; cancel culture; wokeness; postmodern neo-Marxism, which is the Jordan Peterson version of it; cultural Marxism…. Today, we have a professional activist class that sees itself similarly [to the Abolitionists]. So when I say the successor ideology, I see it as a vocational group that has an entrepreneurial project to advance a certain vision of the world as a matrix of oppression. They define themselves and what they fight against as this construct, this hyperobject. A hyperobject is like climate change: so large and pervasive that it structures everything else. So the hyperobject that we speak of here is this thing called white cisheteronormative patriarchy, the idea that there's a unitary structure of domination that pervades our world, and that's woven into every aspect of it… Well, what happened? Schools produced graduates, and those graduates went into social work, and eventually they went into journalism, they went into law, they went into all sorts of professions. They have a class, the class that has an interest as a class in an entrepreneurial project in making themselves necessary and producing a demand for their services…. We institutionalized a class of people whose job is to identify great moral emergencies that other people don't recognize, and then expand their moral horizons to begin to see these things as things that have to be eradicated. So you have a people whose raisons d'être depend upon there being a demand for their resources. It's a bureaucratic professional endeavor…. All of these things, they're in the process of being introduced at scale, and we don't know what the ultimate outcome of that is going to be. We know what they're trying to do. They're trying to produce a world where they're on top. It's amazing how far they've gone, because if you've been paying attention to them for the last 20 years, you mostly just saw them as this buzzing irritants, and you still have all these people insisting that that's all they are, when, clearly, they have burst the bonds of anything that any serious person would have thought was possible already in their ability to change core policies, like giving vaccines by race. We're not talking about it, and we're not criticizing it, and the only people who criticize it are people who then end up vindicating the argument. It's a paradox." • The sweet smell of succession:

https://t.co/UVueDvMWxV pic.twitter.com/TuSLl9TlOU

— Wesley Yang (@wesyang) July 7, 2021

Lambert here: See Adolph Reed here for some of the contradictions implicit in the above view. I'm not sure I like the "Successor Ideology" much as a name; it doesn't seem to capture either the virulence or the class basis that Yang describes. (Although it does remind me of "secondary succession," which, at least in its early phases, is the scrub you get after an old-growth forest burns down.) Do note in the catalog of opportunities for, well, succession (I was about to say "grievance"), there's nothing about wage work whatever; that's taken as immutable, a given; "white cisheteronormative patriarchy" doesn't recognize it as a category. Perhaps if you can't make bank — or be used to make bank — in servicing human resources departments, you don't count. Hence, "trying to produce a world where they're on top," is delusional: Capitalists control the world, not these "bureaucratic professionals." And you can see why capitalists would be totally fine with these "successors": What capitalists care about, exploitation and amassing wealth, is left untouched. Another way of looking at this is that liberal Democrats, as the party of the PMC, are trying to control the country from far too narrow a political base, as usual. (Although I like Yang's analysis, I will continue to insist the "successor ideologues" are liberals, not the left as he would have it: Only the left puts the working class first. In ten years, all these identity goons will have freezers full of ice cream just like Nancy Pelosi's (though possibly with more diverse flavors and colors).

No quid pro quo, but corrupt to the bone:

I will never forget that the first actions of many elected federal officials upon being officially briefed about the impending dangers of COVID-19 was not to mobilize to protect their constituents, but to arrange their portfolios to maximize personal gain from the disaster. (1/2) https://t.co/AlsRaHjbCk

— Nunye Bidnuss (@morbid_elation) July 8, 2021
Stats Watch
UPDATE Wholesale Sales: "May 2021 Headline Wholesale Sales Improved and Inventories Grow" [Econintersect]. "The headlines say wholesale sales were up month-over-month with inventory levels growing. Our analysis shows improvement in the rate of growth for the rolling averages… Our view is that this data set is better than last month. The high rate of growth this month is due to comparisons to the lockdown period one year ago. Still, the numbers are considered strong."
* * *
Trade: "TC Energy commences NAFTA claim following revocation of Keystone XL Presidential Permit" [TC Energy (Ranger Rick)]. "TC Energy Corporation (TSX, NYSE: TRP) (TC Energy or the Company) announced today it has filed a Notice of Intent to initiate a legacy North American Free Trade Agreement (NAFTA) claim under the United States-Mexico-Canada Agreement to recover economic damages resulting from the revocation of the Keystone XL Project's Presidential Permit. TC Energy will be seeking to recover more than US$15 billion in damages that it has suffered as a result of the U.S. Government's breach of its NAFTA obligations. The Notice of Intent was filed with the U.S. Department of State, Office of the Legal Adviser." • ISDS strikes again.
Real Estate: "Real estate investors try to exploit South LA firework explosion and buy damaged homes, says official" [KCRW (DCBlogger)]. "When a stockpile of illegal fireworks was destroyed in a South LA neighborhood, it was meant to be a contained detonation. But after the blast, triggered by the LAPD bomb squad, windows were shattered for blocks, cars were overturned, 17 people were injured, and numerous residents were displaced. Now allowed back in the neighborhood to assess the damage to their homes, questions are being raised about why authorities allowed the detonation in the middle of a residential street in the first place… If the explosion and the subsequent threat of the wrecking ball weren't challenging enough, [Martha] Sanchez says the blast has put the neighborhood squarely in the sights of real estate speculators. 'There [are] tons of speculators coming already, trying to buy our properties,' she says. 'We receive at least three or four calls every day asking us to sell our properties. If they condemn those properties, they're going to displace more poor people that have no idea how to pay their rent. That's unbelievable.'" • Sounds like Ankh-Morpork.
Shipping: "Container Shipping's Record Year is One for the History Books" [Hellenic Shipping News]. "The container ship segment has had an astonishing year thus far. In its latest weekly report, shipbroker Allied commented that 'the remarkable exuberance that seems to have emerged within consumer behavior globally since late 2020 has stretched supply lines to their absolute limits. At the same time, during the later half of 2020 and first half of 2021 we were still amidst major production disruptions, especially in most of the major developed economies, causing most supply chains to outstretch far beyond their consumer base. Pushing things further has also been the fact that we saw a fair amount of pent-up demand for consumer products fairly quickly as looser monetary policy started to become the 'order of the day' for most major economies…. During the end of 1Q21 we were already seeing a more than 40% gain in average asset prices across all size segments and age groups, while by the end of 2Q21 this had skyrocketed to 140% and these are only the average figures, with the gains in some cases being as high as three times as much. There is a sense that there is almost a 'gold rush' under way now, as this sector has now outperformed all other shipping sectors included some very good performers such as dry bulkers."
The Bezzle: "All the Ways You Can Get Defrauded" [Barry Ritholtz, The Big Picture]. "If you think you know all of the scams out there just waiting to defraud you, think again. There were 4.8 million reports in 2020, a 43% increase from 2019. And forged government benefits applications, including unemployment insurance, were up 30-fold year over year." • With handy chart.
The Bezzle: "EU fines Volkswagen, BMW $1 bln for emissions cartel" [Reuters]. "The European Commission fined German carmakers Volkswagen and BMW a total of 875 million euros ($1 billion) on Thursday for colluding to curb the use of emissions cleaning technology they had developed."
The Bezzle: "More states agree to settlement plan with opioid maker Purdue Pharma" [Los Angeles Times] • Yes, but have the Sacklers been stripped of all their assets and then jailed?\
* * *
Today's Fear & Greed Index: 35 Fear (previous close: 32 Fear) [CNN]. One week ago: 45 (Neutral). (0 is Extreme Fear; 100 is Extreme Greed). Last updated Jul 9 at 12:51pm.
The Biosphere
"The Smoke Comes Every Year. Sugar Companies Say the Air Is Safe" [ProPublica]. "Nearly every day during the winter and spring, sugar companies set fire to dozens of cane fields across western Palm Beach County. These burns are a harvesting method that rids the plant of its outer leaves but releases harmful smoke. Locals call the resulting ash that blankets their community 'black snow.'… Each burn lasted less than an hour, but an average of 25 fields were burned every day in the four months analyzed by The Palm Beach Post and ProPublica. The practice disproportionately affects residents in Pahokee, Belle Glade and South Bay, where about a third of the population lives in poverty. The smoke rarely reaches wealthier, whiter cities like West Palm Beach."
The 420
"More than $1 billion in pot seized in Los Angeles-area bust" [NBC]. "Los Angeles-area authorities seized more than 370,000 marijuana plants and harvested product with an estimated street value of $1 billion, officials said Wednesday. The Los Angeles County Sheriff's Department said 131 people were arrested and 33 guns were taken in the 10-day operation in Antelope Valley, north of Los Angeles. In addition to the marijuana plants, more than 33,480 pounds of harvested marijuana, or more than 16 tons, were also seized, it said. As big as the effort involving hundreds of law enforcement officers was, authorities reached only about 40 percent of the illegal grows officials identified, which highlights the scope of the problem that officials said was linked to organized drug trafficking groups." • Behind the cactus curtain…
"Cannabis reform? It's the right time for full federal legalization to help economy and people" [USA Today]. "'I'm a big fighter for racial justice, and the marijuana laws have been one of the biggest examples of racial injustice, and so to change them makes sense,' said Schumer. 'And that fits in with all of the movement now to bring equality in the policing, in economics and in everything else. Our bill is, in a certain sense, at the nexus of racial justice, individual freedom, and states' rights.'"
Gunz
"A gunmaker was ordered to hand over documents to Sandy Hook families. The materials included thousands of 'random cartoons'" [Connecticut Post]. "In the volume of pretrial data turned over by bankrupted Remington to nine Sandy Hook families suing for wrongful marketing, lawyers said they found 18,000 random cartoons and 15,000 irrelevant pictures of people go-karting and dirt-biking. 'Having repeatedly represented to the (families) and this court that it was devoting extensive resources to making what it described as 'substantial' document productions … Remington has instead made the plaintiffs wait years to receive cartoon images, gender reveal videos, and duplicate copies of catalogues,' reads a complaint filed by the families' lawyers in state Superior Court last week. 'There is no possible reasonable explanation for this conduct.'"
Class Warfare
"Opinion: The Vanishing Union Label" [Strikewave]. "We should push the union label—but do it in entirely different terms. We can't wholly reverse the reality of a changing economy, global supply chains, and increasingly offshored manufacturing, and we can't continue the soft nativism of 'buy American,' whether implied or explicit. But the union label can contain much more than that. It could serve as a mark of and political demand for worker dignity and power, disconnected from nativism and the notion of labor-management partnership. It could be internationalist, explicitly acknowledging the importance of independent trade unions and worker organizations overseas. It could be synonymous with hard scrutiny of service and manufacturing businesses and their labor practices. It could be a source of corporate fear, with rich executives fearing—as they fear Scabby—of being tarred as anti-labor. And it could be a call to organize: if it isn't union, we'll make it union. 'Looking for the union label' should carry an implicit threat: Lord help the boss if we don't find it. Failing to pass muster should entail threat of boycott, pressure, organizing, and unrelenting scrutiny for employers who abuse and exploit their workers…. Consumer oriented campaigns still have limited strategic potential, and we need far more than carefully crafted advertising gimmicks put together by consultants. A catchy jingle didn't stop ILGWU jobs from being moved overseas by the bosses. But consumption—like everything—is political, and we shouldn't miss an opportunity to push worker politics into the political consciousness."
"Tucker Carlson's Populism Is for the Small-Time Rich" [Eric Levitz, New York Magazine]. "The Trump presidency yielded real change in the class composition of the Republican electorate; red America has grown more blue collar. But as of yet, there is little evidence that Trump has effected any major change in the GOP's class allegiances. And this is not merely because the 'Tucker Carlson wing' of the party has yet to oust the old Establishment. It's also because that populist wing is itself hostile to the working class. Carlson and Vance aren't doctrinaire free marketeers. And this makes them ideologically distinct from their Reaganite forebears (not to mention their own previous personae). Nevertheless, their brand of populism doesn't serve the little guy so much as the small-time rich — a contingent that extends all the way from the highest ranks of the labor aristocracy (six-figure-earning skilled tradesmen with paid-off mortgages) to the lower tier of the plutocracy (provincial multimillionaires whose cultural mores alienate them from the cosmopolitan Über-elite). It is a politics of cultural animus of, by, and for reactionaries in the top 20 percent of wealth distribution (but primarily for those in the top one percent). Thus, in its class loyalties, the 'Tucker Carlson right' is largely indistinct from the pre-Trump GOP. " • American gentry.
News of the Wired
"Self-publishing" [Cory Doctorow]. "Put simply, you need to figure out why anyone, anywhere should give a shit that you wrote a book. This is a very hard problem. Indeed, it's the hard problem of religion, advertising and politics: getting someone else to care about something you want them to care about…. Here's where publishers have an advantage: they have a longitudinal view of how books and audiences find one another. They publish lots of books. They try variations on their marketing, sales and publicity with each book, see which tactics show the most promise, and refine them. They can iterate. That's the single largest disadvantage faced by self-publishers. You go into your marketing and publicity plan without any precedents to have learned hard lessons from. You are a data-set of one." • Readers, have any of you self-published? Successfully? Profitably?
"My Old Friend Natty Light" [The Bitter Southerner]. Lovely and atmospheric. Grabbing a paragraph that will stand alone; "I drank that first beer quickly, and had another, then another. It is possible to get drunk on Natural Light, but thanks to the low ABV, it's harder to do than with most beers; your evening can be long and relatively put together if you stick with Natty. It's perfect for talking long and late into the night, which is what I did that first night after work that summer and most after at that pub's lacquered bar, sitting under neon signs with a mix of waitresses, bartenders, chefs, and Hispanic line cooks, shooting the service-life shit. People tend to leave their manners at home when they go on vacation, and beach-town service folk spend our nights gabbing about the hellish demands that come from middle-American families enjoying their one week off a summer. Every night, we looked forward to that first beer. We were bone-tired, hadn't sat down in hours, and when that first brush of bubbles hit our lips we could suddenly, finally, relax." • Summer evening, summer evening…
* * *
Readers, feel free to contact me at lambert [UNDERSCORE] strether [DOT] corrente [AT] yahoo [DOT] com, with (a) links, and even better (b) sources I should curate regularly, (c) how to send me a check if you are allergic to PayPal, and (d) to find out how to send me images of plants. Vegetables are fine! Fungi and coral are deemed to be honorary plants! If you want your handle to appear as a credit, please place it at the start of your mail in parentheses: (thus). Otherwise, I will anonymize by using your initials. See the previous Water Cooler (with plant) here. Today's plant (KD):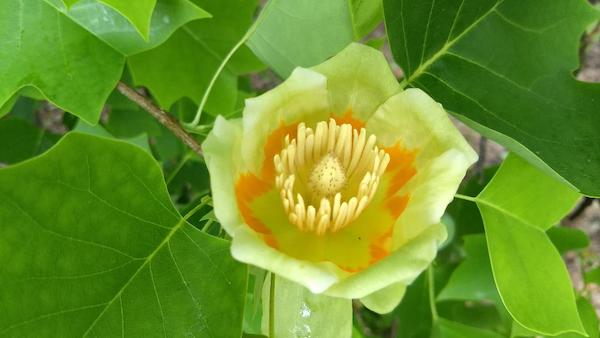 KD writes: "I would love to contribute, please advise! Attached is a Tulip Tree – Liriodendron tulipifera blossom to get things started."
* * *
Readers: Water Cooler is a standalone entity not covered by the recently concluded and — thank you! — successful annual NC fundraiser. So if you see a link you especially like, or an item you wouldn't see anywhere else, please do not hesitate to express your appreciation in tangible form. Remember, a tip jar is for tipping! Regular positive feedback both makes me feel good and lets me know I'm on the right track with coverage. When I get no donations for five or ten days I get worried. More tangibly, a constant trickle of donations helps me with expenses, and I factor in that trickle when setting fundraising goals:
Here is the screen that will appear, which I have helpfully annotated.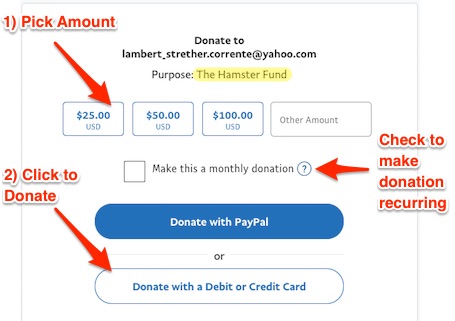 If you hate PayPal, you can email me at lambert [UNDERSCORE] strether [DOT] corrente [AT] yahoo [DOT] com, and I will give you directions on how to send a check. Thank you!2:00PM Water Cooler 6/8/2021