By Lambert Strether of Corrente
Anybody who lived through the Studio 54 Era knows that the nose is an effective delivery system for all sorts of substances. SARS-COV-2 understand this, too, and uses the nose as a, almost certainly the, main entry point for Covid-19 infection. Journal of Clinical Investigations, "Nasal ciliated cells are primary targets for SARS-CoV-2 replication in the early stage of COVID-19" (July 1, 2021), from the Discussion:
The epithelium in the upper respiratory tract is a frontline barrier in the battle against SARS-CoV-2, which is transmitted through respiratory aerosols or droplets. Our findings clearly indicate that among the variety of cells composing the upper respiratory epithelia, differentiated multiciliated cells of the nasal respiratory epithelium are the primary targets for SARS-CoV-2 infection and multiplication. SARS-CoV-2–containing respiratory aerosols or droplets from patients with COVID-19 could initially be trapped in the mucus of the nasal cavity. The receptor binding domain of SARS-CoV-2 would be exposed and bound to ACE2, which is highly abundant in the apical surface membrane in fully differentiated ciliated cells of the nasal cavity.
The "graphical abstract":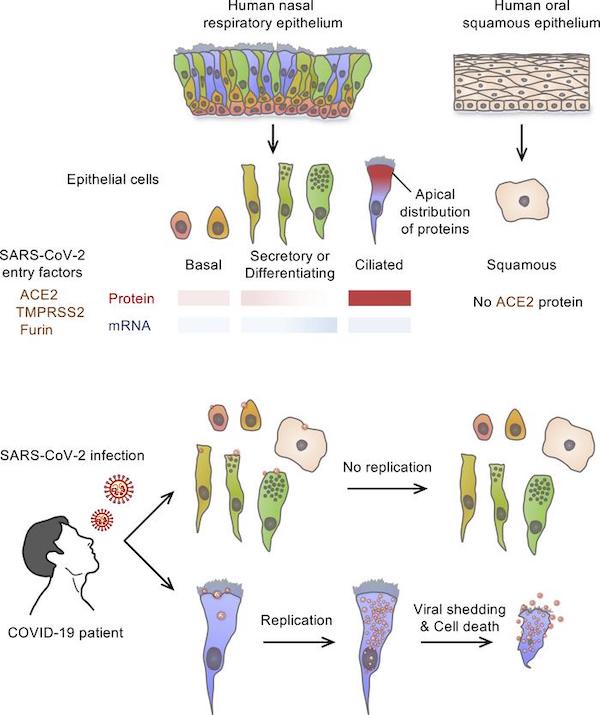 I wouldn't go so far as to say that mouth-breathers (see "human oral squamous epithelium" above) are in no danger, but it does seem clear that nasal tissue is the key "frontline barrier" — which sometimes fails. The nose knows, as Parliament Funkadelic has it.
In parallel to clinical investigations, there has been quite a lot of activity in Covid nasal sprays, and so I thought I'd aggregate what I've been seeing into the following buckets: vaccination, treatment, and prophylaxis. (Prophylaxis is very low-tech and non-prescription, and so very attractive to me.) Except for one or two examples, none are on the market. Nor have any reached the clinical trial stage. However, development is very rapid, and to me the theory of the case — kill, treat, or defeat the virus at the front line — makes so much sense that I am conceptually long nasal sprays. Also, no icky needles! Of course, I don't offer either investment or medical advice. So here are the buckets. Make of them what you will!
Vaccination
There are several efforts to use nasal sprays to deliver vaccines. From Chemical & Engineering News:
Our mucosal immune cells make a special class of antibodies that are constantly secreted from the mucous membranes to protect the nose, gut, and other vulnerable sites from pathogens we've seen in the past. "But if you don't stimulate the immune system in the mucosae, you don't obtain mucosal immune responses," says Pierre Charneau, head of the Molecular Virology and Vaccinology Unit at the Pasteur Institute.

Yet most research on SARS-CoV-2 and our immune systems has overlooked mucosal immunity in favor of the easier-to-study systemic immunity.
Drunks under the lamp-post looking for the quick buck, as usual.
"When the pandemic hit last year and I started to see papers coming out about immunity, it really quite staggered me to see an absence of attention to the mucosal immune response," Russell says.

Charneau and a group of scientists in Paris have shown that natural SARS-CoV-2 infections trigger both systemic and mucosal immunity. But our current crop of COVID-19 vaccines offer only systemic protection. Developing vaccines that are sprayed up the nose, rather than injected into the arm, could change that, Charneau says. Mucosal immunity in our noses could be like a guard at the door, potentially helping stop even small infections of SARS-CoV-2 right where they start.
I don't want to seem overly anti-triumphalist, but it does seem odd that we're neglecting to research an entire immune response!
It's a tantalizing notion, but whether it's a viable one is up for debate.

Intranasal vaccines have historically garnered little interest and investment in the vaccine industry—a situation some hope that COVID-19 could change. Although the COVID-19 vaccines authorized in the US and Europe are incredibly effective, we don't have enough of them to vaccinate the whole world. Intranasal vaccines, which might be easier to use and distribute than needle-based vaccines, could help close the gap. They could also make for useful booster shots against emerging variants of the virus. And if they work for COVID-19, some immunologists hope that they could kick off a new wave of investment in intranasal vaccines for other diseases.
The most interesting nasal vaccine project is from Rokote Laboratories in Finland. From Pharmaceutical Technology:
Rokote Laboratories Finland Ltd is set to launch a nasal spray Covid-19 vaccine that uses gene transfer technology.

Developed at the University of Eastern Finland by the research group of academy professor Seppo Ylä-Herttuala, the technology has already been used in several clinical trials successfully with gene therapy to treat cardiovascular diseases and cancer.

The nasal spray vaccine is based on research conducted at the University of Helsinki (UHEL) and the University of Eastern Finland (UEF).

It uses a safe adenovirus carrier with a cloned DNA strand, which causes nasopharyngeal cells to make the virus protein, producing a vaccine response.

According to preliminary results, the vaccine has worked well in animal studies and is set to enter clinical testing in humans in a few months….

Professor Ylä-Herttuala said: "Vaccines injected intramuscularly produce IgG antibodies in the bloodstream, but nasal vaccines also produce an IgA response that protects mucous membranes.
But there are two snags:
They say one problem is the arrival of other vaccines, as clinical trials of vaccines require large numbers of people who have not yet been vaccinated. Meanwhile, because the inoculation is based on open source tech and not patented, enthusiasm among pharmaceutical companies for backing the project has been minimal.
Never occurred to me than an early clinical trial was a barrier to entry. But so they are! However, Rokote did receive the trivial nine million Euros they needed to proceed. (Where's mighty benefactor Bill Gates on this, anyhow?)
A second nasal vaccine project is taking place at the University of Iowa. From the Gazette:
In partnership with the University of Georgia, a UI team recently published promising findings showing a single-dose inhaled COVID-19 vaccine fully protected mice against lethal infections and also blocked animal-to-animal transmission. Those findings — published this month in the journal "Science Advances" [see here] — could lead to a clinical trial in humans this fall, according to Paul McCray, pediatrics-pulmonary professor in the UI Department of Microbiology and Immunology, who co-authored the intranasal vaccine study.

"This vaccine platform, compared to some things, is simpler to manufacture," McCray said, noting it doesn't need extremely-cold storage, involves just one dose and doesn't require a syringe.

"If you think about where we are in the pandemic, most people in the world haven't had the opportunity to be vaccinated," he said. "In some areas of the world, issues related to refrigeration are significant. And even having all the needles and syringes and everything to do it could be an impediment. So this approach may have some advantages."
And no danger of needle re-use, either, as often happens in poor countries.
A third project comes from Australia's Avance Clinical. From the Guardian:
Australia is set to host the first human clinical trial of a genetically modified adenovirus vaccine for Covid-19 delivered via nasal spray.

Avance Clinical, an Australian contract research organisation, has applied to the office of the gene technology regulator for permission to conduct the phase 1 clinical trial on behalf US company Tetherex Pharmaceuticals Corporation.

The trial from June to September proposes using genetic modification to prevent the virus multiplying and insert a gene encoding the Sars-Cov-2 spike protein to help people produce antibodies against Covid-19.

Guardian Australia understands that Australian science agency CSIRO has conducted preclinical studies, yet to be published, which found nasal sprays compare favourably with injections when it comes to effectively building immunity to Covid.
A fourth project came from US company Altimmune, in partnership between India's Bharat Biotech in India, Washington University, and AstraZeneca, but was halted after poor trial results.
Treatment
First, from IGM Biosciences in Texas , an "antibody-laden nasal spray":
A nasal spritz of a designer antibody offers strong protection against variants of the coronavirus SARS-CoV-2 — at least in mice.

[Zhiqiang An, an antibody engineer at the University of Texas Health Science Center at Houston] and his colleagues set out to engineer an antibody that could be delivered directly into the nose. They scanned a library of antibodies from healthy humans and zeroed in on those that were able to recognize a component of SARS-CoV-2 that the virus uses to latch on to and enter cells2. Among the promising candidates were IgG antibodies, which are relatively slow to appear after an infection but are precisely tailored to the invading pathogen.

The team stitched IgG fragments targeting SARS-CoV-2 to a different type of molecule: IgM antibodies, which act as speedy first-responders to a broad range of infection.

When squirted into the noses of mice either six hours before or six hours after infection, the engineered IgMs sharply reduced the amount of virus in the rodents' lungs two days after infection

IGM Biosciences, a biotechnology company in Mountain View, California, that collaborated in An's study, will test this antibody in clinical trials.
Second, from SaNOtize in Canada (manufactured in Israel). The Jerusalem Post:
An anti-viral nasal spray called Enovid that was developed in Canada and tested in the UK can reduce the viral loads in confirmed COVID-19 cases by 95% in 24 hours and 99% in 72 hours, a press release said on Sunday.

The Israeli-manufactured spray can be used up to five times a day after coming in contact with viruses, according to the release. It's suitable for children as young as 12 years old, and the Ministry of Health approved it in January this year. It will go on sale in the coming week [i.e., this week].

"The spray we developed has been proven not only as a virus blocker that causes Covid-19 but also as a killer," Dr. Gili Regev, CEO and founder of Snotize (the company that developed the spray) said.

Since most COVID-19 infections are nasal, SaNOtize believes this is an effective way to reduce the spread and infection of COVID-19. It has been able to suppress the SARS-CoV-2 virus within two minutes, including the Alpha and Gamma variants, according to the release. It is currently being tested against the Delta variant.

The spray employs nitric oxide as a mechanical and chemical barrier against viral infection in the nose, which is where respiratory diseases like COVID-19 infiltrate the body.
(NOTE: Nitric oxide is not nitrous oxide, despite what my Studio 54 reference suggests.)
Finally, an ingredient used in nose sprays, Carrageenan . From Pharmacology Research and Perspective:
Carrageenan is a sulfated polysaccharide extracted from red seaweed, commonly known as Irish Moss. Since the 1980s, carrageenan has been shown to prevent infections due to several viruses in cell cultures, including influenza viruses, coronavirus OC43, rhinoviruses, and coxsackievirus. A few very recent studies showed that carrageenan can inhibit the replication of the SARS-CoV-2 virus. Mortality of mice infected by influenza A and by herpes simplex was significantly decreased by mucosally administered carrageenan, which indicates that the effects on respiratory viruses are not limited to cell cultures. Carrageenan has been used as a food component for decades and is classified by the FDA as "generally regarded as safe."

…. In conclusion, we estimate that nasal iota-carrageenan may increase the recovery rate from the common cold by about 50% and shorten the duration of long colds by about 30%. We did not find a beneficial effect on short colds. If able to be replicated, the findings of this study are important for future treatment options for coronavirus and influenza virus infections. Further research should be carried out to examine the effects of nasal iota-carrageenan on respiratory virus infections in more detail.
This preprint, "Efficacy of a nasal spray containing Iota-Carrageenan in the prophylaxis of COVID19 in hospital personnel dedicated to patients care with COVID-19 disease" (April 15, 2021), is less equivocal:
Iota-Carrageenan (I-C) is a sulfate polysaccharide synthesized by red algae, with demonstrated antiviral activity and clinical efficacy as nasal spray in the treatment of common cold. In vitro, I-C inhibits SARS-CoV-2 infection in cell culture…. I-C showed significant efficacy in preventing SARS-Cov-2 infection in hospital personnel dedicated to care patients with COVID-19 disease….
(Betadine stans know that the throat spray contains povidone-iodine. Disappointingly, the nasal spray. also branded Betadine, does not. It does, however, contain carrageenan (!).)
Prophylaxis
First, from ENA in Australia, a drug called INNA-051:
University of Newcastle Associate Professor Nathan Bartlett is working with the drug development company ENA Respiratory, and has played a key role in the research leading up to the human trials.

Associate Professor Bartlett said it worked by activating an immune response in the upper respiratory tract.

He said the drug, INNA-051, was shown to be effective both before and after early exposure to the virus that caused COVID-19.

"It very rapidly provides protection right where you need it, so it regulates the immune protection that exists there," he said.

"We were researching INNA-051 prior to the pandemic and discovered that it was very effective at priming the airways to more rapidly and effectively respond to a viral infection," he said.
Second, in Austria, Marinomed Biotech has commercialized a carrageenan-based nasal spray:
The Carragelose nasal spray is a particular subtype of large molecules derived from carrageenan – a type of seaweed – and is a broadly active, unspecific molecule that traps respiratory viruses, including SARS-CoV-2.

Dr Prieschl-Grassauer explains: "It prevents their attachment to surfaces including cell surfaces, so it appears respiratory viruses have something in common because they need to attach to the mucosal cells to get the infection running.

"They have a positive charge on the surface and Carragelose is negatively charged because it contains sulphate groups and, therefore, you have an unspecific interaction. This prevents the attachment of the virus to the cell. If it cannot attach, it cannot go into the cell, and if it cannot go into the cell, it cannot replicate so, this is the mechanism.

"We needed a virus group that could be treated topically – intranasally – because then you can reach them before the enter the system. So, we switched from the more life-threatening infections like HIV to viruses like common cold, and have developed a nasal spray very fast.

"In total, we have conducted three clinical trials with the nasal spray to show that we can translate from in vitro data via in vivo data to a clinical outcome."Dr Prieschl-Grassauer said: "Carragelose has been tested on the three variants which are B.1.1.7, B.1.351, and the P1 variant. The data demonstrate that, with increasing prevalence of virus variants, the marketed OTC Carragelose-based lozenges, nasal, and throat sprays will continue to effectively contribute to combatting the COVID-19 pandemic.

"The treatment is not something which is comparable to vaccination because we have to use it steadily, whereas with vaccination you get it once or twice depending on the treatment schedule.

"On the other hand, the advantage is that you can use it as early as you feel you have come into contact with persons you feel might be spreading a virus.
Third, we have a product (Bentrio) launched in Germany by Auris Medical, and a preprint. Preprint first: "Drug-free nasal spray as a barrier against SARS-CoV-2 infection: safety and efficacy in human nasal airway epithelia", from the Abstract:
For SARS-CoV-2 and other respiratory viruses, the nasal epithelium is a key portal for infection. Therefore, the nose is an important target of prophylactic and therapeutic interventions against these viruses. We developed a nasal spray (AM-301, a medical device marketed as Bentrio) to protect against infection by SARS-CoV-2 and potentially other viruses

AM-301 did not have any detrimental effect on the nasal epithelium. Prophylactic treatment with AM-301 reduced viral titer significantly vs. controls over 4 days, reaching a maximum reduction of 99%. When treatment with AM-301 was started 24 or 30 h after infection, epithelia that received the formulation had a 12- or 14-fold lower titer than controls.

AM-301 was found to be safe in vitro, and it significantly decelerated viral titer growth in experimental models of prophylaxis and mitigation. Its physical (non-pharmaceutical) mechanism of action, safety and efficacy pave the way for further investigation of its possible use against a broad spectrum of viruses, allergens and pollutants.
And the mechanism of action for bentonite:
Other natural substances [besides carrageenan] with broad pharmaceutical applications and virus-capturing properties are clays, including bentonite. Bentonite is a clay mineral composed of thin aluminum silicate sheets with a net negative charge; these properties contribute to its ability to adsorb viral particles and molecules such as drugs. We therefore hypothesized that a bentonite-containing nasal spray could protect against SARS-CoV-2 and other airborne pathogens. Bentonite suspensions can have thixotropicproperties, that is, they reversibly change from a gel when undisturbed to a fluid colloid when agitated. We envisioned a bentonite-containing nasal spray that could be applied as a liquid, but in the nasal cavity it would form a durable, protective gel barrier.
While Auris is definitely talking its book (the press release announcing the study comes from… Bermuda), any amateur winemaker who has used bentonite as a clarifier will find the story plausible. (Note: There are other nasal sprays that contain Bentonite, though I can't speak to formulation, efficacy, etc.)
Human nature being what it is, nasal sprays can be easily repurposed by fraudsters, since they are sold over the counter:
Watchdog issues warning over three 'misleading' Covid nasal sprays which claim to kill 99% of … https://t.co/nwe4Vf3TA9 via @MailOnline

— patrick (@patricksnet) July 14, 2021
None of these three have any of the ingredients discussed here.
Conclusion
Basically, I'm chuffed that there's a lot of research being done on nasal sprays. I find the final, prophylaxis, use case especially intriguing, because I would like to be able to give myself a protective spritz before entering an indoor space, and on exit as well. That's something that vaccinations just can't do.
Further, nasal sprays don't need a cold chain or needles. That makes them ideal, whether for vaccination, treatment, or prophylaxis, in the poor countries who will surely still be suffering the consequences of the First World's greed and inhumanity a year from now. So I wish all these efforts, even the ones talking their books, every success.