By Lambert Strether of Corrente.
Bird Song of the Day
Sounds like the person making the audio was walking on crunchy gravel!
* * *
#COVID19
At reader request, I've added this daily chart from 91-DIVOC. The data is the Johns Hopkins CSSE data. Here is the site. I feel I'm engaging in a macabre form of tape-watching….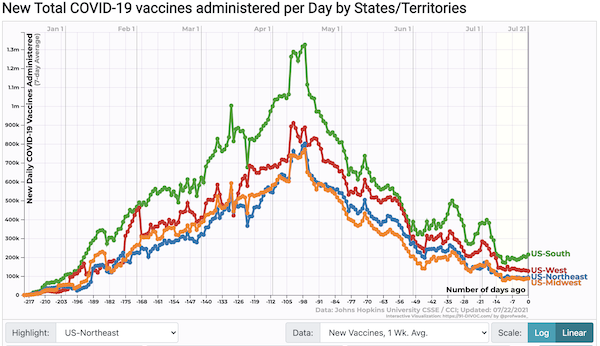 Rising in the South, interestingly. Delta?* This after only 48.8% of the US population is fully vaccinated. (For those following at along at home, that's not even a majority). And our public health establishment has discredited non-pharmaceutical interventions like masking, and has been fighting treatment tooth and nail, as hard as they fought aerosols, good job.
* "After waiting, Steve Scalise gets COVID vaccine, calls it 'safe and effective'" [Times-Picayune]. "Why did the No. 2 Republican in the House wait until now? 'Especially with the delta variant becoming a lot more aggressive and seeing another spike, it was a good time to do it," he said in an interview. 'When you talk to people who run hospitals, in New Orleans or other states, 90% of people in hospital with delta variant have not been vaccinated. That's another signal the vaccine works.'"
"Public health officials have tools to beat back Covid again. Does anyone want to use them?" [STAT]. "Before Covid-19 vaccines, public health officials fought off the pandemic with the only tools they had: mask-wearing, social distancing, school closures, and limits on the size of gatherings. Now, with cases surging again in much of the United States due to the highly transmissible Delta variant, those tools could still make a measurable difference at a critical moment — but not if the public is unwilling to use them. A year and a half after Covid restrictions were first implemented, people have had it with the pandemic. Other than highly effective vaccines, which haven't been accepted by enough people to quash spread of the new SARS-CoV-2 variant, there are no new tools in the public health toolbox, and people have absolutely no interest in reusing the ones that it does contain. Those sentiments are, in effect, tying the hands of exhausted health officials." • All the way back to the lousy messaging from public health officials, so-called. Meanwhile, Biden, like Fauci before him, tells Noble Lies about breakthrough.
Case count by United States regions: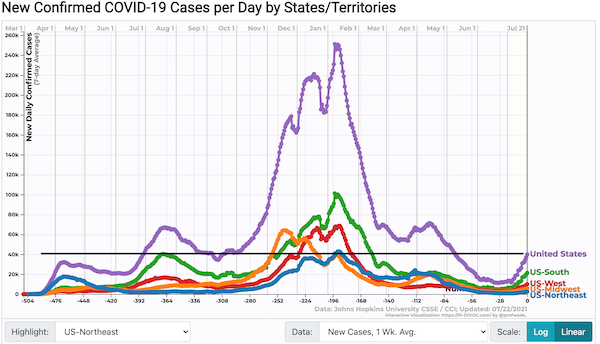 The non-triumphalist black line of today's new normal is a moves farther above the peak of the first wave, back in early 2020. (Note that these numbers are if anything understated, since the CDC does not collect breakthrough infections unless they involve hospitalization, and encourages health administrators in the states and localities not to collect the data either.) We should know the impact of travel and all the family gatherings by July 4 + 14 call it July 21 or so. And of course summer camp, Bible School, etc. NOTE: That was yesterday. I'm perfectly happy to call the beginning of a new wave (the fifth?), even if we don't know how high it will go. So far, the country is dodging a bullet in terms of hospitalization and death ((no longer going down, but not spiking either). I don't know why that is. (Long Covid is another matter.)
Gamma Variant Accounts For 4 Times More Illinois COVID-19 Cases Than Better Known Delta Variant CBS Chicago. Gamma = P.1.
Covid cases top ten states: for the last four weeks (hat tip, alert reader Lou Anton):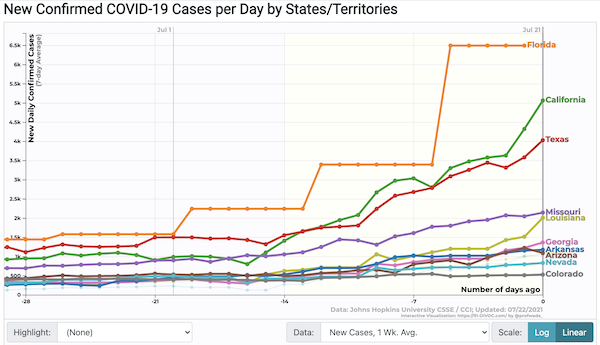 California and Texas on the rise again.
NEW From CDC: "Community Profile Report July 20 2021" (PDF), "Rapid Riser" counties, this release: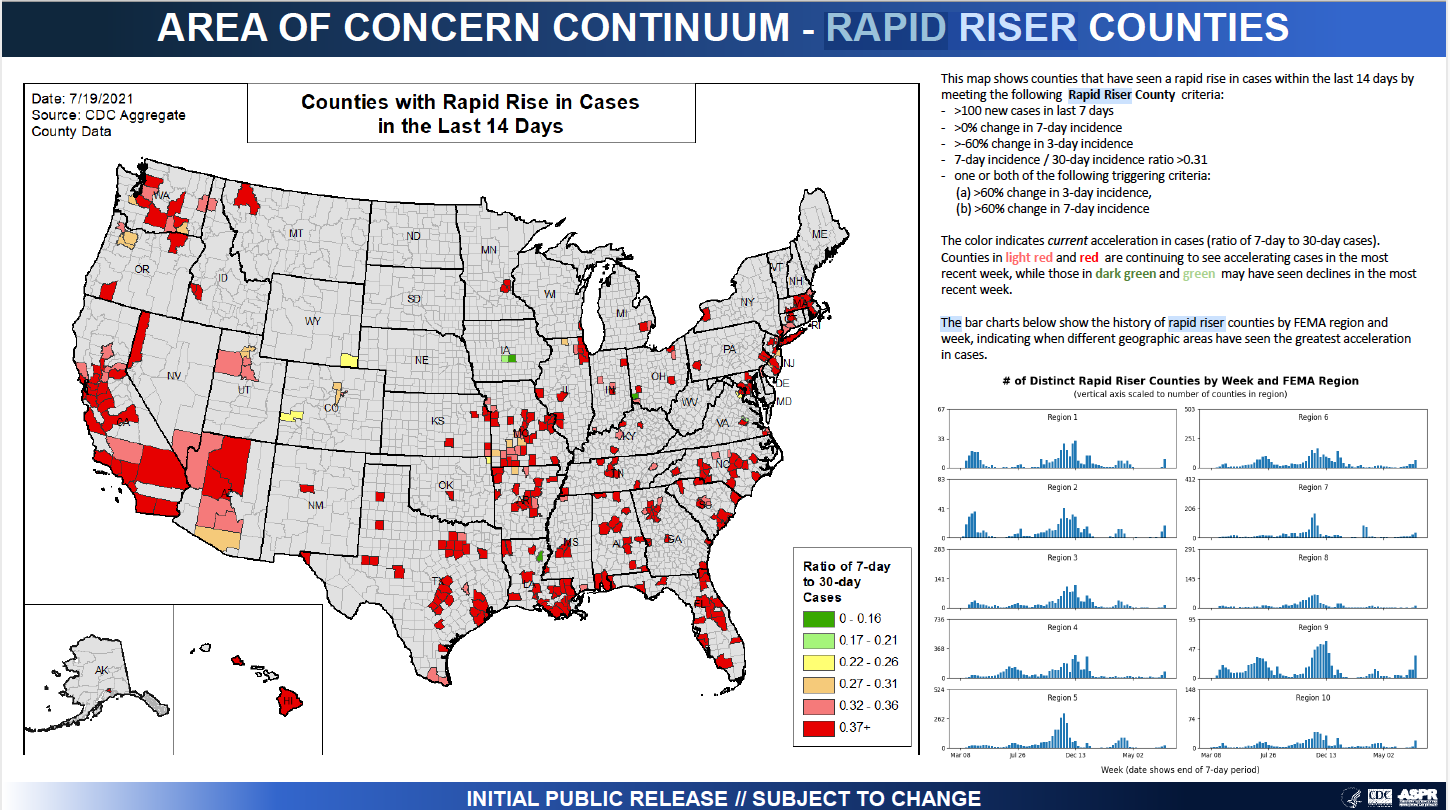 More red. Last release: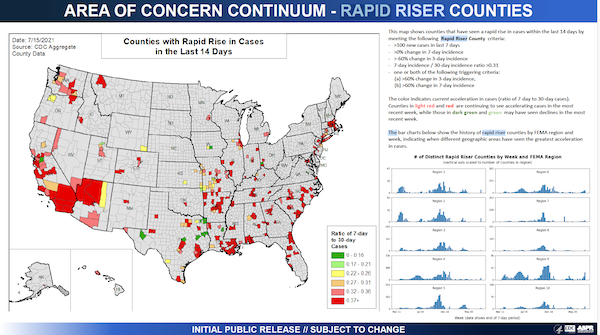 (Red means getting worse, green means bad but getting better. This chart updates Tuesdays and Fridays, presumbly by end-of-day.)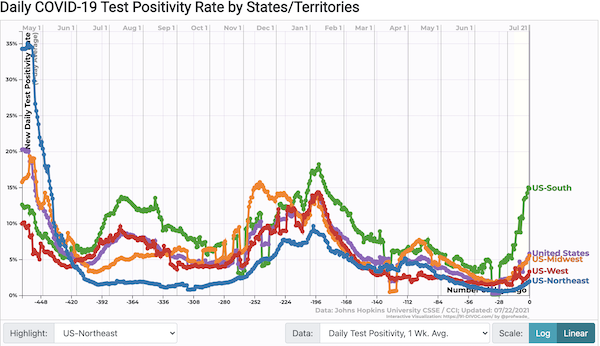 South running away with the field. But other regions now playing catch-up.
Hospitalization (CDC):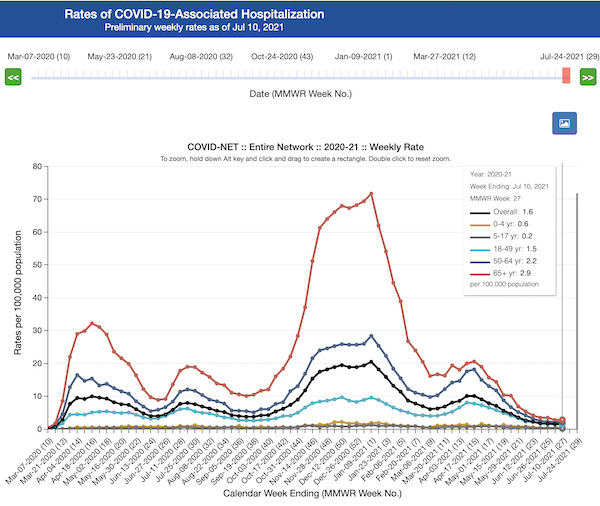 Hospitaliztion flattens, no longer in decline.
Deaths (Our World in Data):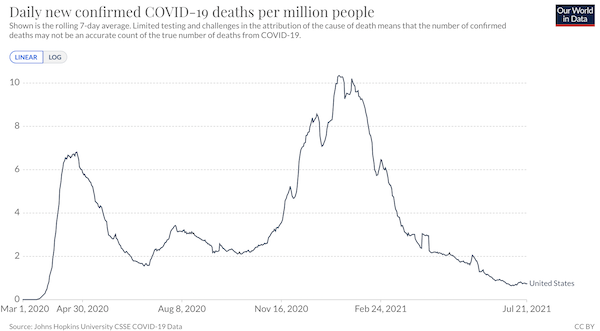 Deaths flatten after increasing.
Covid cases worldwide: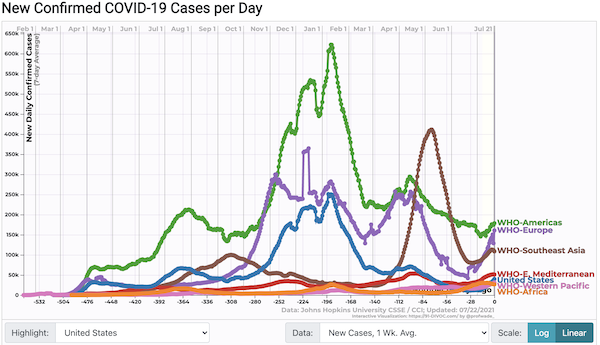 Every region is trending up.
* * *
Politics
"But what is government itself, but the greatest of all reflections on human nature?" –James Madison, Federalist 51
"They had one weapon left and both knew it: treachery." –Frank Herbert, Dune
"They had learned nothing, and forgotten nothing." –Charles Maurice de Talleyrand-Périgord
Capitol Seizure
"Pelosi vetoes Banks, Jordan for Jan. 6 select committee" [Politico] and "McCarthy yanks all GOP picks from Jan. 6 committee" [The Hill]. • Wheeeee!

"FBI agent at center of Whitmer kidnap probe assaulted wife after swingers' party, authorities say" [The Detroit News]. • The FBI has form…
Biden Administration
"Biden says COVID-19 vaccines' full FDA approval will likely come in fall" [Becker's Hospital Review]. "COVID-19 vaccines will probably earn full FDA approval in the fall, President Joe Biden said during a July 22 CNN town hall in Cincinnati. 'My expectation talking to the group of scientists we put together, over 20 of them plus others in the field, is that sometime maybe in the beginning of the school year, at the end of August, beginning of September, October, they'll get a final approval,' President Biden said. The COVID-19 vaccines currently being administered under FDA-granted emergency use authorizations are produced by Pfizer, Moderna and Johnson & Johnson. In May, Pfizer applied for its vaccine's full approval. Moderna did the same in June. During the town hall, President Biden also said he expected emergency use authorization for COVID-19 vaccines to be used in children under age 12 'soon, I believe.'"

"Essential Politics: Kamala Harris' past comes back with a Supreme Court ruling" [Los Angeles Times]. The headline is deceptive; it's an important case, but if the reporter is correct, Harris took little interest in it: "Several people familiar with the case said Harris did not have much of a direct role…. Harris' name does not come up often in court documents. Nor did she issue news releases during the litigation…"

"Biden to Tap Former Hill Aide for Top Treasury Post Overseeing Financial Rules" [Wall Street Journal]. "President Biden plans to nominate Graham Steele as assistant Treasury secretary for financial institutions, a move that would put a long-time congressional staffer with ties to progressives at the center of efforts to refocus financial rules on issues such as climate change and racial equity. Mr. Steele, a former Democratic chief counsel on the Senate Banking Committee and aide to Sen. Sherrod Brown (D., Ohio), would oversee the Biden administration's plans to tighten regulations on Wall Street firms. That could include heightened scrutiny of cryptocurrencies; open-end mutual funds and hedge funds and their roles in market turbulence last year; and the financial sector's exposure to climate-change risks. Mr. Steele is the director of the Corporations and Society Initiative at Stanford Graduate School of Business, which seeks to "promote more accountable capitalism and governance," according to its website. He previously served as a staffer at the Federal Reserve Bank of San Francisco, and also worked at Public Citizen, a progressive watchdog group, before joining Mr. Brown's staff in 2010."

"Jen Psaki to throw out first pitch at Nationals game" [The Hill]. "White House press secretary Jen Psaki will throw out the ceremonial first pitch at the Washington Nationals' game Sunday, the team announced." • That we're idolizing a press secretary…. West Wing brain.
Obama Legacy
"Barack Obama and Bruce Springsteen Announce Co-Authored Book 'Renegades: Born in the U.S.A.'" [Rolling Stone (jr)]. " President Barack Obama and Bruce Springsteen will release a joint book, Renegades: Born in the U.S.A., on October 26th globally via Higher Ground/Penguin Random House. The tome is described as "a collection of candid, intimate, and entertaining conversations," which began in Spotify's co-produced podcast of the same name. Published in an oversized, fully illustrated format, the book will also feature rare and exclusive photographs from the authors' personal collections and never-before-seen archival material, including Springsteen's handwritten lyrics and Obama's annotated speeches." • "Suckers, liars get me a shovel." –Public Enemy
Realignment and Legitimacy
"Sanders to campaign for Turner in Ohio" [The Hill]. "Sen. Bernie Sanders (I-Vt.) will campaign for Nina Turner in the final leg of Ohio's special election in the 11th Congressional District. The Vermont senator will be in the Buckeye State on July 31, just days before the Aug. 3 Democratic primary. Turner's campaign announced the news on Twitter on Wednesday afternoon. According to a Turner aide, Sanders will deliver a hybrid keynote address at a mobilization rally on behalf of the progressive House candidate and will finish off the day with a 'march to the polls.'" • Obama, shark-like, circles below the surface….
Stats Watch
Employment Situation: "17 July 2021 Initial Unemployment Claims Rolling Average Modestly Worsened" [Econintersect]. "Market expectations for weekly initial unemployment claims (from Econoday) were 320 K to 364 K (consensus 350 K), and the Department of Labor reported 419,000 new claims. The more important (because of the volatility in the weekly reported claims and seasonality errors in adjusting the data) 4 week moving average moved from 384,500 (reported last week as 382,500) to 385,250."
Manufacturing: "United States Kansas Fed Manufacturing Index" [Trading Economics]. "The Kansas City Fed's Manufacturing Production Index jumped to a record high of 41 in July of 2021 from 30 in the previous month. The growth in manufacturing activity continued to be driven by increased activity at durable goods plants, especially primary and fabricated metals, computer and electronic products, transportation equipment, and furniture manufacturing."
Coincident Indicators: "United States Chicago Fed National Activity Index" [Trading Economics]. "The Chicago Fed National Activity Index went down to 0.09 in June of 2021 from a downwardly revised 0.26 in May. Production-related indicators contributed +0.01, down from +0.26 in May."
* * *
Commodities: "Western Wildfires Are Hitting Lumber Prices:" [Wall Street Journal]. "Lumber prices finally cooled off. Now come the fires. Forest fires raging in the West are threatening an important swath of the U.S.'s wood supply, pinching output that has been under pressure since the Covid-19 pandemic touched off homebuying and remodeling booms and sent lumber prices soaring. Canfor Corp., one of North America's largest lumber producers, said that starting Monday it would cut back output at its mills in British Columbia because of hundreds of blazes that have broken out in the Canadian province and challenged its ability to shuttle wood to and from its facilities. The company expects to reduce output at its 10 operating mills there by a total of about 115 million board feet during the quarter. That is only a sliver of North America's overall supply. Yet analysts said they expected further curtailments because of fires that are scorching logging forests on both sides of the U.S.-Canadian border."
Shipping: "Containers continue to triumph" [Hellenic Shipping News]. "The ordering market for Containers is at historic highs. A total of 286 Containers were ordered in the first half of 2021. This is up an incredible 790% from H1 2020…. With the ever-firming rates across the Container sector, we have seen a surge in values. Increased US imports, port congestions and a shortage of capacity is pushing freight rates to record levels on key routes from China to the US and Europe. A secondary outbreak of Covid-19 in Southern China has prompted even more delays and congestion across ports which has tightened supply."
Tech: "Investigation: How TikTok's Algorithm Figures Out Your Deepest Desires" (video) [Wall Street Journal]. "A Wall Street Journal investigation found that TikTok only needs one important piece of information to figure out what you want: the amount of time you linger over a piece of content. Every second you hesitate or rewatch, the app is tracking you."
Tech: "Bringing The Metaverse & NFTs Back To Earth" [The Integrating Investor]. "There are other Metaverses in development that utilize blockchain technology such as Decentraland (note that Fortnite does not). Decentraland is a virtual environment that runs on Ethereum. Unlike Fortnite, it has no game objective. Its purpose is purely economic. Users log on to "create, explore, and trade" in its self-contained, online space. A central characteristic is that parcels of virtual land can be owned and developed. Users have built galleries to sell digital art, casinos, games, and all kinds of structures for display. Decentraland uses NFTs to define and record land ownership rights (via its LAND token) and a native cryptocurrency (MANA) for commerce." • Hmm.
Manufacturing: "ASML's chip money machines" [Financial Times]. "The Dutch company ASML, which is the leading supplier of semi equipment, reported bumper second-quarter results on Wednesday and raised its guidance for revenue growth in 2021 to around 30 per cent, from 'double digits.' 'You just read the papers, chip shortages everywhere,' explained CEO Peter Wennink. Lex says profits have doubled in the past two years while total share returns trebled. The shortages won't last for ever, but ASML expects to profit long-term from geopolitics, as the European Union and US seek to reduce their dependence on Asia by boosting their own chipmaking capabilities."
Manufacturing: "California's electric car revolution, designed to save the planet, also unleashes a toll on it" [Los Angeles Times]. "The sprint to supply automakers with heavy duty lithium batteries is propelled by climate-conscious countries like the United States that aspire to abandon gas-powered cars and SUVs. They are racing to secure the materials needed to go electric, and the Biden administration is under pressure to fast-track mammoth extraction projects that threaten to unleash their own environmental fallout. In far-flung patches of the ocean floor, at Native American ancestral sites, and on some of the most pristine federal lands, extraction and mining companies are branding themselves stewards of sustainability, warning the planet will suffer if digging and scraping are delayed. All the prospecting is giving pause to some of the environmental groups championing climate action, as they assess whether the sacrifice needed to curb warming is being shared fairly…. The debate over how much damage should be inflicted on the planet to save it may be most intense far out to sea. The Metals Company and others plan within three years to start vacuuming patches of the deep ocean floor for nodules that contain many of the metals that go into electric car batteries along with lithium. Many scientists say the timeline is dangerously irresponsible."
The Economy: "Is the U.S. Economy Too Hot or Too Cold? Yes." [New York Times]. "The Biden administration and the Federal Reserve are betting that they can achieve a smooth transition to an economy that enjoys prosperity without frustratingly high inflation. But for that to happen, a huge mismatch — between economywide demand for goods and services, and the supply of them — will need to be resolved. It's not clear how long that will take. 'I think we should have expected there to be frictions in getting the economy reopened after this unprecedented shock,' said Karen Dynan, a Harvard economist and a former official at the Federal Reserve and Treasury. 'We've seen serious frictions, and it's totally reasonable to expect those frictions to continue.' Consumer demand for goods, and increasingly services, is exceptionally high, as Americans spend their pent-up savings, government stimulus payments and higher wages. Retail sales were 20 percent higher last month than in June 2019. But businesses have had a harder time increasing production to fulfill that demand than forecasters were expecting in the spring. This has been particularly glaring in the case of cars, where a shortage of microchips has constrained production. But supply shortages are evident across all sorts of industries. The latest survey of manufacturers from the Institute for Supply Management cites complaints from makers of furniture, chemical products, machinery and electrical products about the difficulties of fulfilling demand."
* * *
Today's Fear & Greed Index: 24 Extreme Fear (previous close: 25 Extreme Fear) [CNN]. One week ago: 29 (Fear). (0 is Extreme Fear; 100 is Extreme Greed). Last updated Jul 22 at 12:30pm. Mr. Market still chewing his hands.
The Biosphere
"Ingenuity helicopter spies intriguing features on Mars during record-breaking flight" [CNN]. "During a recent daring Martian flight by the Ingenuity helicopter July 5, the chopper acted like an aerial scout for the Perseverance rover as it sailed over rough but intriguing terrain. Now, photos taken during the 2,051-foot-long flight are helping the Perseverance science team develop the rover's exploration plan. This ninth flight by Ingenuity broke the helicopter's records for flight duration, distance and cruising speed. Unlike any of the previous flights, Ingenuity dipped down into a crater, descended over undulating terrain and ascended before landing on a flat plain…. This capability is unprecedented. Previously, rover teams have had to rely on images taken by the rover's cameras or photos from orbiters that are miles above the planet. Ingenuity is much closer, flying about 33 feet above the ground, and its cameras can capture much more detailed images."
"Officials confirm Bootleg Fire caused by lightning" [KOBI]. "Fire officials confirmed today that the Bootleg Fire was caused by lightning…. It's all evidence based – and with lightning, firefighters say that evidence is easy to find. 'Lightning has a signature when it hits trees and stumps. Lightning often strike in one spot. We often get lightning storms so we can track those, correlate that with the weather data. Correlate that with other strikes in the area,' explained Marcus Kauffman with ODF's Incident Management Team at the Bootleg base camp."
Health Care
"Why did we fail at COVID quarantines? Ask the L.A. writers who predicted it" [Los Angeles Times]. "[Nicola Twilley[: Things would have been better, but the simulations flagged those issues. There isn't a strong civic culture anymore, and you can't have public health without a public. People conflated liberty with the freedom to move around as they wished. We need to have a more sensible conversation about what we mean by freedom, but that's a huge topic. And quarantine is very difficult to implement fairly in societies that are wildly unequal. So there are a lot of obstacles. [Geoff Manaugh]: So many Americans give their genetic information to 23andMe but would never do that with the government. Right now, with the political culture in the United States, if a corporation stepped in with its own private quarantine plans, a large portion of the population would trust that before they trust the state."
"Why should vaccinated people wear masks? UCSF expert gives his take." [SFGATE]. Dr. Bob Wachter. Seven reasons. This is a good summary. #6: "I see going maskless indoors as not only potentially putting myself at risk but also others – particularly immunosuppressed people, children, and those who have chosen no\t to be vaccinated."
"Two Ways to Think About the New Mask Debate" [The Atlantic]. "So if you don't live in L.A., should you keep donning a mask in Trader Joe's? Or taking sips of a cocktail between mask-yanks at a house party? I asked four experts, and received … four different answers that depend on your personal risk tolerance, living situation, and geographic location. . Here's how to decide." • Ugh.
"The CDC Must Rethink Its Mask Guidance, Says Former U.S. Surgeon General" [NPR]. "With the highly contagious delta variant fueling a rise in COVID-19 cases, Dr. Jerome Adams — the surgeon general under former President Donald Trump who once advised against mask-wearing — now says even the vaccinated may need to mask up. Adams is part of a growing chorus of criticism of the CDC guidance, issued in May, that people who are fully vaccinated can resume activities indoors and outdoors without masks. The messaging, Adams told NPR's Morning Edition, 'has just absolutely, unequivocally failed.' 'More people than ever — vaccinated and unvaccinated — are going maskless," he said. 'It doesn't seem to have convinced anyone to get vaccinated.' Adams said the CDC needs to change guidance on masking requirements again in light of new virus outbreaks and the more contagious delta variant." • Adams tweeted:
What @CDCgov said was based on the science & conditions at the time, and amounted to "you're safe IF you vax it OR mask it."

Both the conditions (rising cases) & the science (delta variant) changed, but what people heard and held to was masks were no longer needed…

— Jerome Adams (@JeromeAdamsMD) July 17, 2021
Hmm.
"Vegas workers will put masks back on, but tourists won't have to under new rules" [NBC News]. "The Clark County Commission voted Tuesday in an emergency meeting to require face coverings for all employees working indoors and around co-workers or members of the public in an increase in Covid cases driven by a more transmissible variant and a slowing vaccination rate. The new rules do not apply to customers, and it is not a blanket return to masking, like the one recently imposed in the Los Angeles area. 'We have already been through a shutdown and a start-up, and we cannot afford to have major conventions decide to go elsewhere,' Commissioner Jim Gibson said."
"Happify to release prescription app to treat depression under loosened FDA rules" [STAT]. "Leveraging Food and Drug Administration regulations loosened during the pandemic, Happify Health, which is best known for its consumer wellness app, will launch new prescription-only software to treat depression." •
Games
"Netflix will face its biggest test yet when it breaks into gaming" [Yahoo News]. "But the $300 billion gaming industry poses huge challenges, even for well-funded tech giants. Amazon's initiative suffered a massive setback when its title 'Crucible' was released in 2020 and then pulled back before being axed completely. Google, meanwhile, spun its own wheels with its game studio Stadia Games and Entertainment, before shuttering it less than two years after launching the venture. Even Apple (AAPL) has struggled to make its Apple Arcade service a certified hit out of the gate, with the company cancelling games, and changing directions to include classics like 'Monument Valley' to entice fans. 'The concept, or the tagline 'Netflix of games' is infinitely simple, infinitely understandable and is a great concept,' IDC research director Lewis Ward told Yahoo Finance. 'The execution of that concept is much harder than it sounds because games are not .'"
"The Messy, Stalled Reckoning At An Assassin's Creed Co-Developer" [Kotaku]. "While problems at Ubisoft Montreal, Toronto, Quebec, Montpelier, and the head Paris office have been widely documented, Ubisoft Singapore has gotten less attention. But based on interviews with over 20 current and former employees there, there was no shortage of issues, ranging from sexual harassment and racial pay disparities to bullying by managers. Most of the middle-management and staff are "absolutely lovely, talented people with the potential to make amazing games," said one former developer. But bad projects, toxic leaders, and the feeling that developers weren't empowered in the face of office politics could often sabotage that potential."
Black Injustice Tipping Point
"Former Tuskegee mayor nearly topples Confederate monument" [Alabama Political Reporter]. "The Confederacy lost another one. Wednesday afternoon, saying he simply couldn't wait any longer on the city or county to act, former Tuskegee Mayor Johnny Ford, carrying a concrete saw, climbed in a bucket lift in the city's town square and attempted to bring down a Confederate monument. He was successful in hacking through one ankle — leaving the statue on its last leg and potentially unsafe, possibly forcing its ultimate removal — before he was stopped by Macon County Sheriff Andre Brunson." • Direct action brings satisfaction…
Groves of Academe
"The Master's Trap" [Culture Study]. "A host of graduate programs implicitly or explicitly exploit student naïveté about what a graduate degree can or will provide. Their prospective students are diverse: a mix of first generation college students without mentors to guide them, high achievers enthralled by their perception of the academic lifestyle, international students desperate for a Green Card, students lacking the prestigious undergraduate degree or network needed to gain entry into exclusive creative industries, and students who believe that the degree they earn will be the career collateral they need to be successful. As cash flow centers for the institution and, on a smaller scale, for the department, these programs accept far more students than can be accommodated by PhD programs (in the humanities) or find gainful, long-term employment in their field of choice. There is often little meaningful or readily accessible data on the trajectories or salary levels or recent graduates; try Googling most grad programs and "average debt load" or 'average salary' and you'll scroll for pages without an answer… Earlier this month, the Wall Street Journal published a piece detailing the staggering amounts of loans undertaken by Master's students at Columbia. The stats from the piece are stunning: at least 43% of those with student loans for elite master's degrees hadn't paid down their original debt or were behind on payments; Columbia MFA graduates borrowed a median $135,000 a year; the School of Social Work trumpeted an increase in their number of full-tuition awards from 2 to 12…..out of 560 students. But the quote that stuck with me was from Julie Kornfeld, Columbia's vice provost for academic programs. In her words: master's degrees 'can and should be a revenue source.'" • Euthanize the administrators.
The Agony Column
"My completely uncontroversial take on what to call your professor" [WaPo]. "Pretending hierarchy does not exist does not erase it; it merely obscures it for the uninitiated. One advantage of formality is that it makes the rules of the game more explicit for those who might otherwise have difficulty parsing everything out — and, it should be noted, that confused category includes professors as well as students."
"On Being Difficult" [In The Moment]. "Lauren Berlant was luminous, intimidating, uncannily perceptive, generous, incisive, devastating. Their years long investigations of everyday affect, their extensive collaborations, their fierce and capacious pedagogy, their creative vocabulary, had a decisive impact on overlapping worlds of scholarships, politics, and friendship." • "They" doesn't work so well as a personal pronoun when you've got a name that sounds like a law firm.
Zeitgeist Watch
"Guest Post: What I've Learned the Past Decade (@pdxsag)" [Credit Bubble Stocks]. GenX midlife post. The whole thing is interesting, this especially: "The big demarcations in my life are college, birth of our first child, and the GFC. … Where I grew up in the rust belt no one cared about civic engagement. The social buzz was do as much as you can to build liquid wealth in the short-term so that you could retire and leave. 'Winning' was defined by how soon you could hit your number and leave. Growing up with that mindset, I didn't know any better and took it as a completely normal way to view life. Winning was leaving. The sooner you leave, the bigger a winner you were. It wasn't until I went away for college and moreso later moved to Portland that I realized there were places where people liked where they were living and wanted to build it and make it better, and even stay there into old age. It was remarkable. Sadly, I have seen that attitude of not caring at all about the civic future, and instead trying to make as much money now so that you can leave, the earlier the better, take over the entire country. I don't know anyone or anywhere that is happy with where they are and want to plan for a future remaining there. It seems no matter where you are the one thing every place in the country has in common is your kids can't afford to buy a house there after they move out, and you can't afford to continue to live there after you retire." • Leaving out the Boomer-blaming, which I guess is inevitable if you identify as not-Boomer.
Class Warfare
"Uber, Lyft Drivers Nationwide Stage Strike for Right to Unionize" [Bloomberg]. "Uber Technologies Inc. and Lyft Inc. drivers in major U.S. cities staged a strike on Wednesday demanding better pay and the right to unionize, a sign of the intensifying fight by gig workers for more labor protections. The demonstrations, organized by Rideshare Drivers United, call for drivers and passengers to turn off Uber and Lyft apps on Wednesday and boycott services to advocate for better pay, working conditions and the ability organize and collectively bargain. Rallies were scheduled in cities including Los Angeles, San Francisco, Boston, Cleveland, Las Vegas, Pittsburgh, Denver and Baltimore and Austin, Texas. The group didn't immediately offer an estimate for how many drivers participated. Rideshare Drivers United, which has 30,000 members nationally, is also urging lawmakers to pass the PRO Act, which would overhaul labor laws by strengthening workers' ability to unionize, establish protections from retribution or firing, forbid employer interference and influence in union elections and substantially increase the penalties companies face for violating worker rights. The legislation has been approved by the U.S. House of Representatives and faces a vote in the Senate."
"The Not-So-Private Space Race" [Boondoggle]. " According to the Wall Street Journal, SpaceX has received $2.8 billion in contracts from NASA and the Pentagon, while Blue Origin has received $496.5 million. Recently, the Senate approved a bill that included $10 billion for Blue Origin after Bezos threw a fit that SpaceX was chosen for a contract for a moon landing."
"'They Need Someone To Work': Notorious Topeka Frito-Lay Plant Now Has Covid Outbreak" [Flashpoint]. "According to Senior Site Director Sam Rice and HR Manager Michael Jacobs, at least 10 people of the remaining non-union and temp staffers working in the plant have already tested positive." • As I commented on yesterday's Frito-Lay link: "Oh, great. Poor ventilation." And here we are!
News of the Wired
"Writer on the Storm" [The Baffler]. "In 1941, George R. Stewart—Professor of English at University of California, Berkeley, then best known for his arresting, human-scale history of the Donner Party, Ordeal by Hunger—brought out a new novel called Storm. Organized around the lifespan of a storm that develops off the coast of Japan, eventually inundating California with both heavy rains and snow before moving eastward and gradually dying out, the book's very structure is anti-anthropocentric. Unfolding over twelve chapters, each corresponding to a different day, the novel proceeds mosaic-like, providing glimpses of the characters charged with managing the storm while keeping the tempest itself very much in the foreground…. .In its portrayal of the interrelatedness of weather systems across the world, it brought a fresh ecocentric orientation to the novel. It also proved instantly popular, particularly with newly enlisting American military personnel. Appearing in both a Book-of-the-Month Club and an abridged Boy Scouts edition, the novel would go on to sell over a million copies, according to Stewart. It came as well to exert a decisive influence on U.S. military meteorologists, who took the J.M.'s "sentimental vagary" as a workable model for designating storms. Today, it is widely credited with influencing the naming system developed by the National Hurricane Center, which is now maintained by the World Meteorological Organization, an agency of the United Nations."
* * *
Readers, feel free to contact me at lambert [UNDERSCORE] strether [DOT] corrente [AT] yahoo [DOT] com, with (a) links, and even better (b) sources I should curate regularly, (c) how to send me a check if you are allergic to PayPal, and (d) to find out how to send me images of plants. Vegetables are fine! Fungi and coral are deemed to be honorary plants! If you want your handle to appear as a credit, please place it at the start of your mail in parentheses: (thus). Otherwise, I will anonymize by using your initials. See the previous Water Cooler (with plant) here. Today's plant (TH):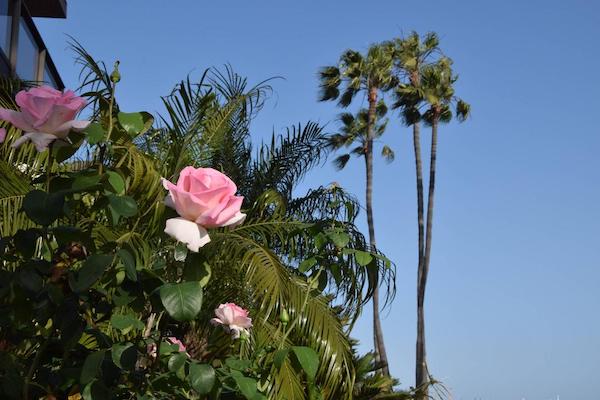 TH writes: "Nothing says "Southern California" like roses, sunshine, and palm trees!"
* * *
Readers: Water Cooler is a standalone entity not covered by the recently concluded and — thank you! — successful annual NC fundraiser. So if you see a link you especially like, or an item you wouldn't see anywhere else, please do not hesitate to express your appreciation in tangible form. Remember, a tip jar is for tipping! Regular positive feedback both makes me feel good and lets me know I'm on the right track with coverage. When I get no donations for five or ten days I get worried. More tangibly, a constant trickle of donations helps me with expenses, and I factor in that trickle when setting fundraising goals:
Here is the screen that will appear, which I have helpfully annotated.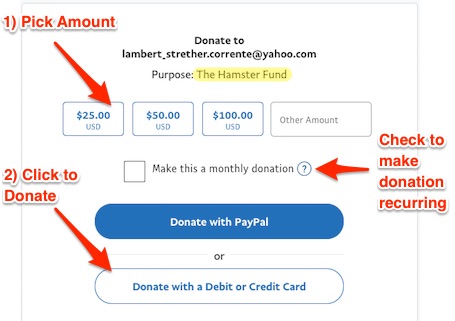 If you hate PayPal, you can email me at lambert [UNDERSCORE] strether [DOT] corrente [AT] yahoo [DOT] com, and I will give you directions on how to send a check. Thank you!2:00PM Water Cooler 6/8/2021