What do officials not understand about Delta generating viral loads 1000x as high in the infected as wild type Covid? Apparently everything.
Below we see the nonsensical plan, if you can call it that, by Governor Andrew Cuomo, who is oddly still standing despite sex scandals, hiding Covid nursing home deaths, and giving friends and family preferential access to Covid tests.
Somehow, the US can't do mask mandates. Even now, the CDC is still engaging in confusing messaging, telling the vaccinated only in high Covid areas to mask up. As Lambert pointed out, by then it's too late.
Cuomo is as gung-ho as any Republican to have citizens whooping it up in bars and in pressing big businesses to get everyone back in the office by Labor Day. He thinks the answer is mandatory vaccines and even having businesses require that customers be vaccinated.
This is the New York State, by the way, that didn't even pretend to check that people who were entering New York on airplanes had gotten a Covid test in the last 72 hours as required back in the spring and summer of 2020. I know because I came through Laguardia multiple times via hubs in the South (elevated Covid risk!) and never once had the National Guard wandering around the airport do anything more than exhort that I turn in a written or electronic form (which BTW could not include proof of testing, let alone results). And the quarantine was even more of a joke. If New York State can't manage a small and concentrated check point like Laguardia, how can it possible manage, let alone enforce, a broader set of restrictions?
So for Mr. Incompetent at Covid Controls to be hectoring others to implement vaccine mandates is pretty rich.
Even though New York will soon require vaccination or weekly testing of its employees, this requirement may be leaky too. Some Orthodox Jews and Christian evangelicals still oppose vaccination and can probably get a religious exemption.
But the bigger failure is the assumption that the vaccines all that effective against Delta. It represents 92% of all new Covid cases. Data from Israel, which administered its vaccines mainly in January and February, using supposed best of breed Pfizer, has found that efficacy against infection is now only 39%.1 And it's probably lower against Delta, since some of those cases may be other, less prolific variants.
That is a long-winded way of saying that I have yet to see any of these vaccine requirement/vaccine proof ideas acknowledge the decay in vaccine protection over time. In other words, the vaccine passport/vaccine proof scheme looks like it will just double down on the error that the CDC made with its "Mission Accomplished" approach. You can't treat the vaccinated as safe. They are just less unsafe than the unvaccinated.
So Big Tech companies are doing the opposite of what Cuomo wants. Yes, they are imposing vaccine mandates. But they are also reversing plans to bring more staff back to the office. For instance, from the Daily Mail:
Twitter on Wednesday announced that it was closing its New York City and San Francisco offices and pausing all other office reopenings, in response to the latest CDC warnings about COVID-19….

'After careful consideration of the CDC's updated guidelines, and in light of current conditions, Twitter has made the decision to close our opened offices in New York and San Francisco as well as pause future office reopenings, effective immediately,' the company said.

'We continue to monitor local conditions and make necessary changes that prioritize the health and safety of our Tweeps.'
Google has also halted bringing employees back to its campuses. From KTLA:
Google is postponing a return to the office for most workers until mid-October and rolling out a policy that will eventually require everyone to be vaccinated once its sprawling campuses are fully reopened.
Note the article below, apparently swallowing happy talk from New York officials, misreads Google's plan to slow bringing staff back.
Some of the New York City banks and law firms that have been gung ho about bringing staff back in are likely to dial down their plans, particularly since their clients are unlikely to want to show up in person, making the case for having all hands on deck a lot weaker.
Remember also that New York City getting back to normal hinges, at least in the minds of some, of having Broadway and other live entertainment open after Labor Day. That seemed to be the big reason for NYC mayor Bill De Blasio rejecting a new mask mandate the week before last; it would spook the customers. But those forms of entertainment appeal to a largely older base. Are they going to be comfortable seated next to each other? And if the venues leave lots of seats empty as a safety measure, will their economics work?
Needless to say, I'd bet against seeing much live theater in September.
Nevertheless. as you'll see below, Cuomo, like all Good Dems, sees the vaccines as magic bullets and therefore is perfectly willing to risk the health of voters, and potentially again push hospitals to the breaking point, because the state coffers are hurting for the want of tourist, business travel, and entertainment dollars.
By Greg David. Originally published at THE CITY on July 28, 2021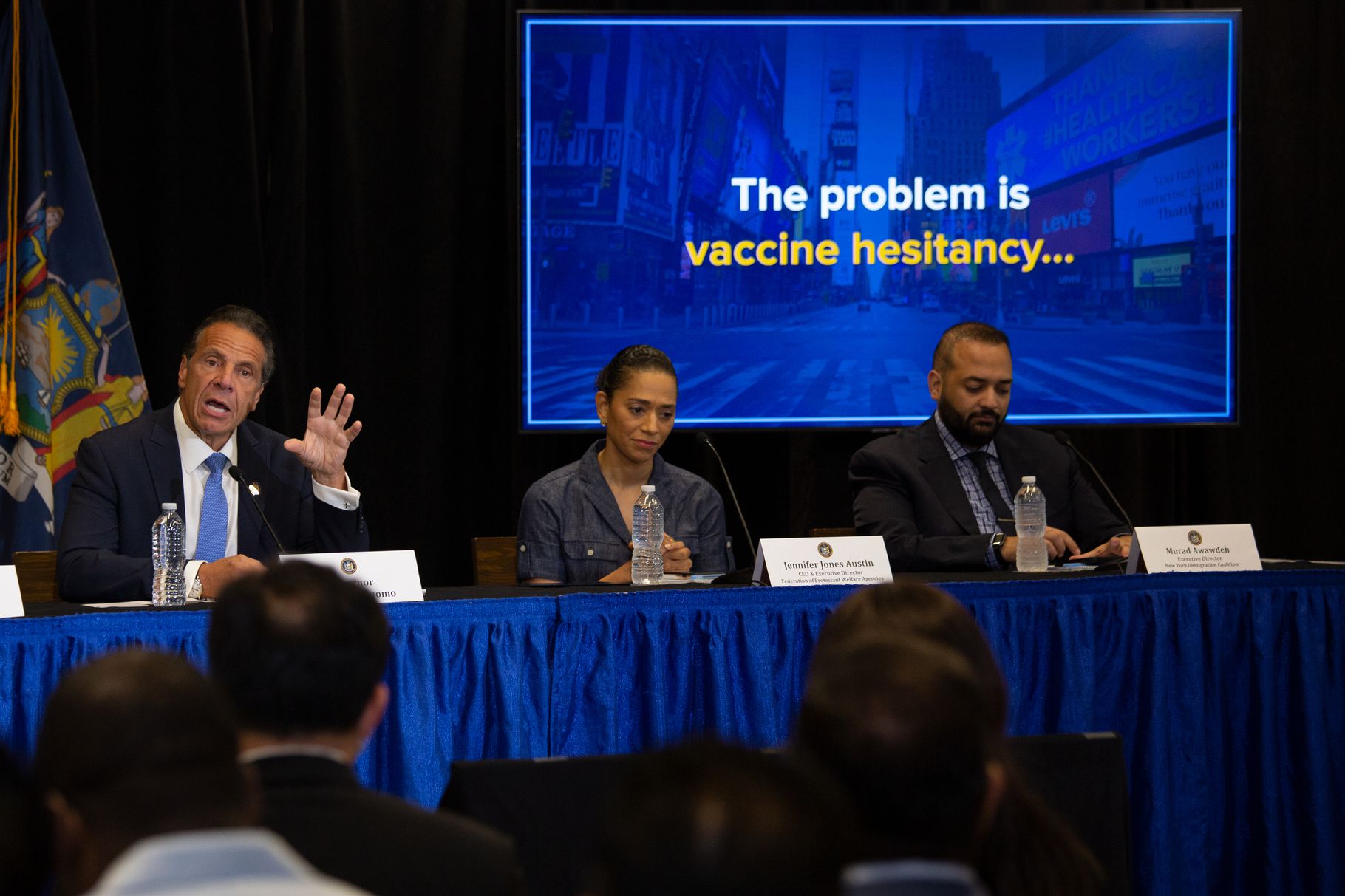 Gov. Andrew Cuomo speaks about the need to increase vaccination rates during a news conference at Yankee Stadium on Monday, July 26, 2021.Ben Fractenberg/THE CITY
Gov. Andrew Cuomo's plea to private sector companies to order all their employees back to workplaces and require vaccinations — even for shoppers and diners — met with a simple "not possible" Wednesday from most city business leaders.
Large employers don't believe they can act without a government requirement. Small firms are having difficulty luring staff back as it is. And retailers and restaurateurs have little appetite for another rule to enforce.
"We require our staff to get vaccinated," said St. John Frizell, co-owner of Gage & Tollner, the 19th-century Brooklyn restaurant that recently returned after a 17-year hiatus. "Currently, we're not interested in requiring proof of vaccination from our customers."
As part of a wide-ranging speech to the Association of Better New York unveiling his plans to deal with the rise of COVID-19 cases, the governor noted that thecity's economic recovery is lagging the rest of the state. He focused on three issues: rising shootings, homelessness and high taxes.
In a move sure to raise eyebrows, Cuomo acted as if Eric Adams were already mayor, praising the Democratic candidate as a person "who gets it about what must be done." Not once did he mention his nemesis, Mayor Bill de Blasio, who had made a similar plea to private companies Friday on WNYC's Brian Lehrer show.
Cuomo, who said state employees must be vaccinated by Labor Day or be tested weekly, also suggested schools may have to take more aggressive actions in September if cases continue to increase as the Delta variant spreads, though he sidestepped any specifics.
De Blasio has mandated continued wearing of masks in city schools, and recently ordered all municipal employees — including educators — to get vaccinated or tested weekly.
But the most significant part of Cuomo's presentation focused on the need for office workers to be back in Manhattan's 500 million square feet of office space.
Only 24% of that office space was occupied the week of July 14 — less than any major city in the country, except for San Jose and San Francisco, according to data reported in the City Comptroller's weekly economic newsletter. Meanwhile, Austin, Dallas and Houston are all approaching 50%.
"Say to your workforce, 'By Labor Day, everyone is back to the office,' Cuomo pleaded. "We need that volume to support the restaurants, the shops, the services."
'A Devastating Impact'
The governor pointed out that even a relatively small decline in economic activity due to remote work would have major consequences for small businesses that depend on those workers, as well as for the city and state tax revenues.
Contrary to popular belief, spending is not simply transferred to the city's residential neighborhoods when people work from home: Pre-pandemic, almost 1 million people commuted from the suburbs each weekday, according to City Planning Department figures.
"If you were to see a 15% decline of people coming back to New York City, that would have a devastating impact," he added.
A few companies are already following Cuomo's advice. The Durst Organization announced Wednesday that any worker at its real estate organization not vaccinated by Labor Day will be fired. The owner of the massive Hudson Yards project, Related Cos., says in online employment ads that vaccinations are required.
Google, the city's largest tech employer with some 10,000 workers here, said Wednesday it would mandate vaccinations for its workers, while pushing back its return to the office to mid-October from mid-December.
Wall Street banks like Goldman Sachs and Morgan Stanley have required disclosure of vaccination status.
Who Knows Who's Vaccinated?
But most businesses say the government has to lead on the vaccination requirement — not defer to private companies. While the federal government has made it clear that it is legal to mandate vaccinations, a view reiterated this week by the Justice Department, that doesn't cover everyone in town, some business leaders pointed out.
"Is everyone on the subway vaccinated?" said Kathryn Wylde, CEO of the big business group The Partnership for New York City. "And state borders are porous, so it is not enough to get New Yorkers vaccinated."
The situation is particularly difficult for small businesses trying to get employees back to the workplace, said Randy Peers, president of the Brooklyn Chamber of Commerce.
"They don't have the financial means to offer incentives to encourage vaccination and really don't want to be in a position to require vaccinations," he said.
However, he added, many business owners would welcome a government mandate that included vaccinations as part of the federal Centers for Disease Control's guidance on safe working environments.
Restaurateurs feel the same way: Government should go first by allowing only vaccinated people in its buildings, said Robert Bookman, a lawyer for the NYC Hospitality Alliance.
The frustration of business leaders became evident after Cuomo's speech when Bill Rudin, co-chair of Rudin Management Cos. and a long-time civic leader, told the governor that despite strenuous efforts, including talks with union leaders, only 50% of building workers were vaccinated.
Cuomo simply reiterated that as an employer Rudin could impose a vaccine requirement.
Call for 'Workforce Investments'
Most business people agree with Cuomo's objective, even if many want a government mandate.
"If we want to bring New York's economy back to full throttle, we must ensure that our central business districts are fully populated with the office workers who fuel that economic engine," said James Whalen, president of the Real Estate Board of New York.
"We cannot forget that small businesses throughout those corridors are relying on commuter foot traffic to continue thriving, covering expenses and employing their own workers, which ultimately generates critical tax revenue and economic activity," he added.
Some economists don't believe the return of office workers should be the priority. James Parrott of the New School says the major cause of the lagging recovery is the decline in tourism and business travel.
"The mayor and governor should be focused on the workforce investments to connect less-educated workers of color with better job opportunities and policies to raise compensation for child care and home care workers," he said.
_____
1 Pfizer is now trying hard to spin that the 39% figure out of Israel is wrong, that more people were vaccinated and hence efficacy is higher. I'd believe Israel, which strikes me as running a pretty decent health care bureaucracy, over self-interested Pfizer any day, particularly in light of data points like this:
Data from Israel pic.twitter.com/Qmu4ZDtN7a

— Irene Tosetti (@itosettiMD_MBA) July 10, 2021
Even though it's only one week of data, the infection levels are proportional. That's not what you should see if the vaccines still had any juice against Delta.


This story was originally published by THE CITY, an independent, nonprofit news organization dedicated to hard-hitting reporting that serves the people of New York.