By Lambert Strether of Corrente.
Bird Song of the Day
* * *
#COVID19
At reader request, I've added this daily chart from 91-DIVOC. The data is the Johns Hopkins CSSE data. Here is the site. I feel I'm engaging in a macabre form of tape-watching….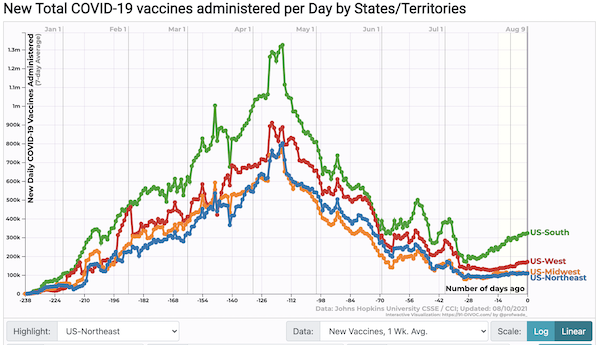 50.2% of the US is fully vaccinated, a big moment, breaking the psychological 50% barrier.
Case count by United States regions: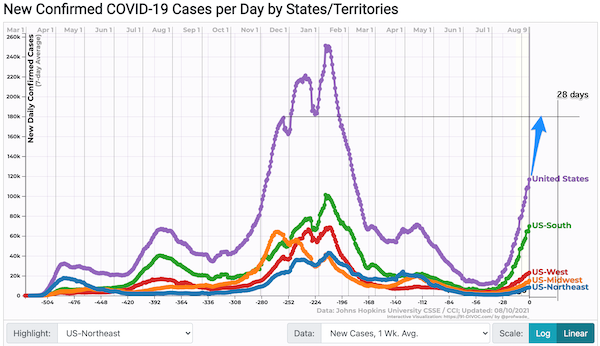 As far as reaching the peak of January 8, 2021, with 295,257 cases per day … I'm not that pessimistic (modulo a new variant brought into the country by our ridiculously lax policies on international quarantines). What we might call, after Everest, the "First Step" (November 25, 2019) with 178,466 looks in striking distance, especially if the case count purple line continues go near vertical. When you look at those "rapid riser" counties on the CDC map, you've got to think this rise has a way to run. If things go on as they are, we should hit the first step just in time for Labor Day. But what do I know, I'm just a tape-watcher.
"'We're in trouble': Rural America can't escape Delta" [Politico]. "Senior Biden health officials have for weeks worried internally about the low vaccine uptake in rural, conservative counties across the country. Federal experts have predicted those communities would experience large increases in Covid-19 cases where access to sufficient health care is limited. To address the issue, the White House last month announced it would send $100 million to rural communities to help local health officials convince people to get vaccinated…. Wyoming is struggling to track the spread of Delta, in large part because the state health lab is weeks behind in sequencing Covid-19 samples." • All these problems were predictable. I don't want to be overly cranky about this, but I remember fawning coverage about the Biden transition team, its many task forces, and how it would hit the ground running. So the administration has had more like ten months, not just eight, to get its act together. And then there's Ron Klain, pandemic czar, as he was billed then. How come any of this comes as a surprise now? Wasn't there any kind of playbook for them to use?
"Dallas County Judge Clay Jenkins asks court to block Texas Gov. Greg Abbott's ban on mask mandates" [Dallas Morning News]. "Dallas County Judge Clay Jenkins on Monday asked a court to block Texas Gov. Greg Abbott's ban on mask mandates, arguing that the Republican governor's executive order violates state law…. [The suit] also asks that Jenkins be allowed to take measures to manage the pandemic, including mandating masks. Jenkins' request for declaratory judgment and a temporary restraining order come as COVID-19 delta cases soar nationally and local hospital emergency departments become overrun with patients."
Covid cases top ten states: for the last four weeks (hat tip, alert reader Lou Anton):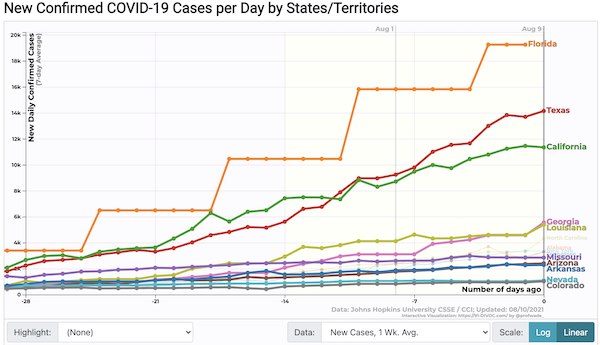 California slows again. Texas slows now too. Florida's data seems to have had some kind of, um, mysterious hold-up:
This is troubling. And another reason why @GovRonDeSantis should stop blocking daily, transparent reporting.

Will delete the @CDCgov data tweeted today and repost when/if we get clarity. https://t.co/kOJINuCKfd

— Nikki Fried (@NikkiFried) August 10, 2021
NEW From CDC: "Community Profile Report August 9, 2021" (PDF), "Rapid Riser" counties, this release: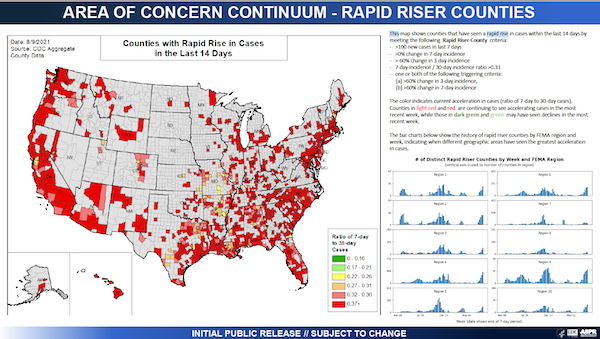 California and Nevada got redder again. This map blows the "Blame Bubba" narrative out of the water. Not a banjo to be heard. Previous release: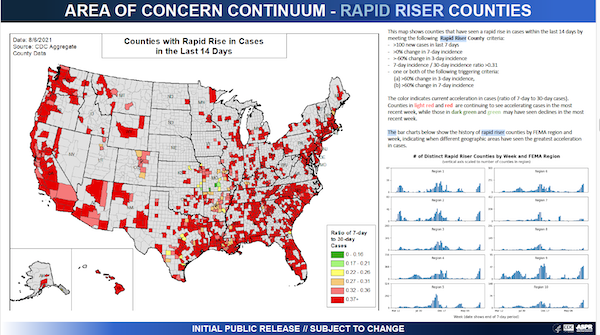 (Red means getting worse, green means bad but getting better. This chart updates Tuesdays and Fridays, presumbly by end-of-day.)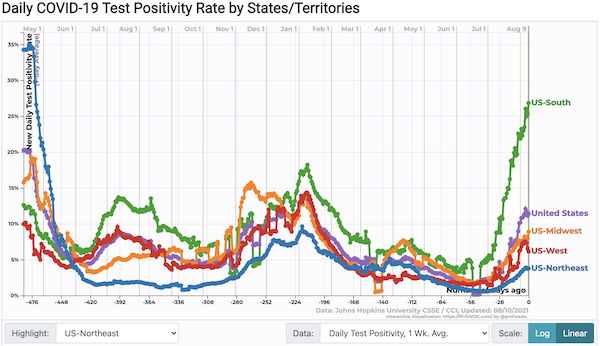 South running away with the field. But other regions now playing catch-up.
Hospitalization (CDC):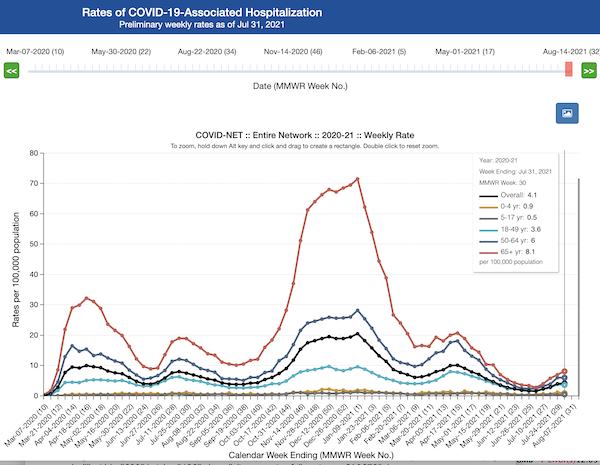 NEW Here the CDC's hospitalization visualization, from the source above: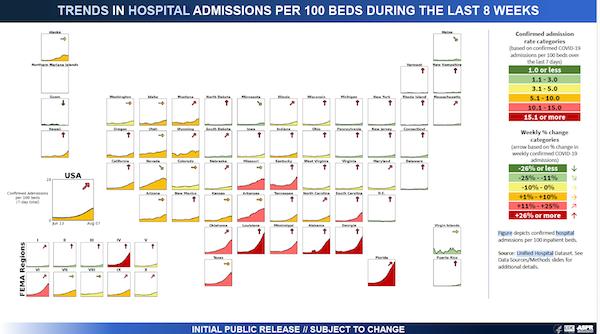 The, er, red states (Florida, Louisiana) are as yet still buried in the aggregated national data. But there's more red now.
TX: "Dozens of Texas hospitals are out of ICU beds as COVID-19 cases again overwhelm the state's capacity" [Texas Tribune]. "The state is divided into 22 trauma service areas, and half of them reported 10 or fewer available ICU beds on Sunday. As more than 9,400 COVID-19 patients fill the state's ICUs, which are reserved for the patients who are the sickest or most injured, the trauma service area that includes Laredo reported no available ICU beds, while the area that includes Abilene reported having one. At least 53 Texas hospitals have no available ICU capacity, according to numbers reported to the federal government during the week ending Aug. 5. In Austin, five hospitals were at or above 90% of their ICU capacity during the same period, with two reporting no available ICU beds."
Deaths (Our World in Data):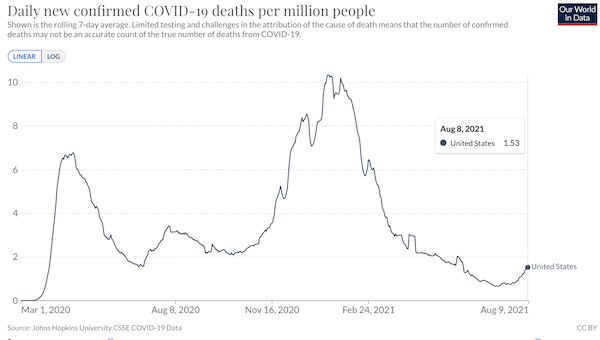 Deaths definitively rising, although nowhere near meriting an anti-triumphalist black line, being an order of magnitude less than there were at peak. (Adding: I know the data is bad. This is the United States. But according to The Narrative, deaths shouldn't have been going up at all. Directionally, this is quite concerning.)
Covid cases worldwide: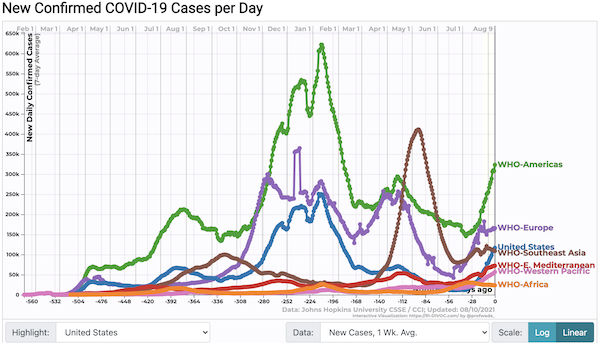 Every region is trending up. US sphere of influence under the Monroe Doctrine not doing so well.
* * *
Politics
"But what is government itself, but the greatest of all reflections on human nature?" –James Madison, Federalist 51
"They had one weapon left and both knew it: treachery." –Frank Herbert, Dune
"They had learned nothing, and forgotten nothing." –Charles Maurice de Talleyrand-Périgord
Biden Administration
"Press Secretary Jen Psaki is Good At Mending Fences. Just Don't Call Her Nice." [Vogue]. Final paragraph: "[Psaki] mentions a photograph in her office—the one of her standing in a crowd of smiling Democrats: President Obama, Hillary Clinton, Susan Rice [see below]. It was taken on the night before the 2016 election. 'All of us were so happy,' she says. They thought they were on the threshold of a Hillary Clinton administration. 'We're like, 'It's going to be amazing.'' It's a tragic* image, but Psaki keeps it in her office. 'Because it's a reminder of how things can change.' She can't give us any guarantees about how things will work out. No one can. It's the kind of thing that veterans like Psaki understand. She goes on, 'There are times where you have to be on the journey and recognize that sometimes you don't know what the end is going to be, right? Maybe it's going to be great. And maybe it's not.'" • Photography By Annie Leibovitz. The whole article is so, so West Wing Brain. NOTE * After hubris, nemesis. That's tragedy, not Psaki's banal musings.

"Amtrak Joe vs. the Modern Robber Barons" [Washington Monthly (dk)]. "There's an urgent and overwhelming societal need to divert more freight from trucks to trains. Freight trains are three to five times more fuel efficient than trucks, and produce far less emissions. Indeed, when electrically powered by overhead wires, trains can be emission-free, and lack the battery disposal costs that plague electric trucks. According to one study, a modest investment in electrifying freight railroads could reduce carbon emissions by 39 percent and, by 2030, remove an estimated 83 percent of long-haul trucks off the road. Moving more freight by rail would also reduce the number of Americans who are killed or injured by collisions with large trucks, a casualty rate of 156,000 people per year. In addition, it would reduce dramatically the damage done to America's roads and highways by large trucks–each of which causes the same wear and tear as 9,600 passenger cars. Yet hedge funds, private equity firms, and other financiers are using their control of highly monopolized, underregulated railroads not to expand rail freight but to sell off rail assets and hand over all but the highest margin business to trucks. Some of this downsizing is justified by the decline of the railroads' thermal coal business as electric utilities convert to natural gas. But most of the downsizing results simply from financiers forcing railroads to shed all but their most lucrative lines of business. Such practices threaten to shrink the nation's rail network to the point of non-viability, but so long as rail expenses fall faster than rail revenues, the short-term return on assets increases. That's all Wall Street cares about." • An ugly picture. I've heard readers fulminate over "precision railroading." Is that what's going on here?

"'They want people to take them seriously': Space Force wary of taking over UFO mission" [Politico]. • Maybe the only thing that would unite the world would be an alien visitation. So maybe the Space Force ought to be gaming that out?
Democrats en Deshabille
"Buffalo Democratic Machine Considers Axing Mayorship to Evade India Walton" [Truthout]. "The stage appears to be set for the Erie County Democrats to execute a heel turn against Walton — with some on the Buffalo Common Council even expressing tentative interest in a move as drastic as doing away with mayoral governance entirely. It's not surprising that the establishment in Erie County, perceiving a threat to hierarchy and profit, would mount an organized backlash. Yet ending the mayorship in Buffalo would be a drastic move, to say the least. To understand how the incentive has arisen, it's useful to look at how Democratic politics and certain media dynamics have played out in the aftermath of Walton's victory. These machinations underscore how, whenever socialists have come within striking distance of power in the United States, capital and its allies have always reacted swiftly to attempt to curtail any chance of redistributive change." • When the Democrat establishment quit and took all the money with them in Nevada after DSA took over… Well, politics ain't beanbag. But eliminating elected offices because the wrong people won them? That's Third World stuff. What next? Tanks in the streets?

"Amid Cuomo Revelation, Time's Up Clients, Former Staffers Say Group Is 'Failing All Survivors'" [The Hollywood Reporter]. "A group of sexual assault survivors and victims, current and former Time's Up Legal Defense Fund clients and former Time's Up staffers has written an open letter to the gender rights organization's board accusing the group of prioritizing 'proximity to power over mission' in regard to its relationship with New York State Governor Andrew Cuomo. The letter was sparked by the revelation in the Aug. 3 New York Attorney General's report that Cuomo's office sought advice from Time's Up chief Tina Tchen and Time's Up Legal Defense Fund co-founder Roberta Kaplan on how to respond to sexual harassment allegations. Kaplan resigned from the Time's Up board on Monday morning." • Lol. I'm so old I remember when Times's Up was actually taken seriously as a political force. Alack the day…
Republican Funhouse
"Trump voters revive in the rural Midwest" [Financial Times]. "So who do fairgoers think is responsible for the Covid upsurge? Peggy Hubbard, an African-American Republican running for the US Senate, is hanging out at the GOP booth. She blames what she calls the 'centre for the dazed and confused' — the CDC. Tyler Wilke, chair of the county GOP, says: 'First we're told to get vaccinated, now we are told the vaccines don't work so you need to wear a mask again . . . and the CDC wonders why people don't believe them.'" • Wilke is more than a little binary in his thinking, but did the CDC really have to lead with its jaw?
Obama Legacy
Nothing to worry about; we don't whack US citizens with drone strikes;

Classic case of being able to dish it out but not take it https://t.co/Z3NLZh8eIM

— Patrick Cosmos (@veryimportant) August 9, 2021

Thanks, Obama!

"Suddenly America is like, the biggest oil producer. That was me, people…Just say thank you." — @BarackObama, one month after the IPCC warned that fossil fuel emissions are creating a climate catastrophe threatening all life on the planet. https://t.co/5hACRCKvLw

— The Daily Poster (@dailyposter) August 10, 2021
Health Care
Hey, Ambassador, that's pretty funny:

When you realize you only have until August 15th to sign up for affordable health care on https://t.co/cJThOY6iDZ. pic.twitter.com/wvGTqd3aHb

— Susan Rice (@AmbRice46) August 9, 2021

They don't even know why they're hated.
Realignment and Legitimacy
"Police Allege Hillsong Founder Brian Houston Concealed Child Sex Abuse" [The Roys Report]. "The founder of the Sydney, Australia-based global Hillsong Church, Brian Houston, has been charged with concealing child sex offenses, police said Thursday. Detectives served Houston's lawyers on Thursday with a notice for him to appear in a Sydney court on Oct. 5 for allegedly concealing a serious indictable offense, police said. 'Police will allege in court the man (Houston) knew information relating to the sexual abuse of a young male in the 1970s and failed to bring that information to the attention of police,' police said. Houston, 67, suggested the charges related to allegations that his preacher father, Frank Houston, had abused a boy over several years in the 1970s. 'These charges have come as a shock to me given how transparent I've always been about this matter,' Houston said. 'I vehemently profess my innocence and will defend these charges, and I welcome the opportunity to set the record straight.'" • Well, maybe so. Still, if you want a reason why people outside the Liberal dispensation might also feel a sense of institutional betrayal, stories like this, which are numerous, surely must be one reason why.

"Lawmaker relationships fray as Texas Democrats' quorum bust to block voting bill drags on" [Texas Tribune]. "Weary after two failed attempts to pass their priority elections bill, Republicans are fed up with Democrats' national TV interviews suggesting they are racist for supporting the elections bill, fed up with Democrats for breaking quorum despite what they describe as good-faith compromises and fed up with having to show up to the Capitol every day, spending time away from their families and jobs, despite knowing there will be no quorum to conduct official business. The feelings are mutual. The quorum-busting Democrats have fumed about Republicans' attempts to push through the elections bill which they say will make it harder for marginalized Texans to vote. And they have taken offense to the aspersions cast by their colleagues in Austin who have assailed their quorum break as a luxury getaway, citing their own personal sacrifices."

UPDATE "DSA is disproportionately working class" [Carl Beijer]. "The Democratic Socialists of America have begun their 2021 convention, and earlier this evening a presentation at the event revealed some interesting data on the organization's demographics…. [P]roportionally, while DSA may have slightly fewer poor members than the general population, it has more lower-middle and middle-class members, and fewer upper-middle class members… None of this will come as a surprise to anyone who is actually familiar with the DSA and its membership. Show up at a meeting and you will typically encounter a pretty ordinary cross-section of the local population, skewing if anything a little poorer than usual." • Income is only a proxy for class. Nevertheless.
Stats Watch
Small Business Optimism: "July 2021 Small Business Optimism: Small Business Optimism Dips As Labor Shortage Remains Biggest Challenge" [Econintersect]. "The NFIB Small Business Optimism Index decreased in July to 99.7, a decrease of 2.8 points, reversing June's 2.9-point gain. Six of the 10 components declined, three improved, and one was unchanged. The NFIB Uncertainty Index decreased seven points to 76, indicating owners' views are held with more certainty than in earlier months."
* * *
Commodities: "Premier exploration team identifies world-class silver exploration target in Peru" [Financial Post]. 'Where can you find the world's biggest silver deposit of the past 30 years? If you ask Ivan Bebek, co-chair of Vancouver's recently listed Tier One Silver Inc., he'll tell you that the company's 100-per-cent-owned Curibaya silver-gold project in southwest Peru has an "exceptional shot" at hosting that discovery. Peru is one of the world's most prolific mining countries, ranking third in silver production, second in copper production and sixth in gold production. The team at Tier One Silver has spent four years consolidating the Curibaya land package and is now gearing up for its highly anticipated inaugural drill program this summer. All signs uncovered by the company's all-star geological team point to an undrilled silver target of monumental size. It is the first major epithermal occurrence on a mining belt that hosts some of the largest copper-gold mines — Toquepala, Quellaveco and Cerro Verde. The team has sampled bonanza grades of silver and gold on surface at Curibaya and identified large-scale geophysical targets directly below the high-grade." • Hmm. Giving Pedro Castillo something to think about.\
Real Estate (dcblogger):
Follow ups: Yes Blackrock is doing it in other places. Yes this is happening across the country.

BC of Atlanta's concentration of Black folks, I think it'll be especially egregious there.

Tbh, this is personal 4 me. My parents can't find a place to live BC of Excalibur / 💎: https://t.co/ZJlKOs0njL

— Brit Williams, Ph.D. (@DrBritWilliams) August 8, 2021
* * *
Today's Fear & Greed Index: 38 Fear (previous close: 35 Fear) [CNN]. One week ago: 30 (Extreme Fear). (0 is Extreme Fear; 100 is Extreme Greed). Last updated Aug 10 at 12:27pm.
Health Care
"A snort or a jab? Scientists debate potential benefits of intranasal Covid-19 vaccines" [STAT]. "Vaccines that are injected into arm muscles aren't likely to be able to protect our nasal passages from marauding SARS-CoV-2 viruses for very long, even if they are doing a terrific job protecting lungs from the virus. If we want vaccines that protect our upper respiratory tracts, we may need products that are administered in the nose — intranasal vaccines. Can they be made? Probably. Will they do what we want them to do, if they are made? Possibly. Is there still room for this type of next-generation product, given the record number of Covid vaccines that have already been put into use? Potentially. Will it be difficult to get them through development? Likely." • More: "Vaccines that are injected into the arm have done a spectacular job at preventing severe disease and death. " • Holy [family blog]. Now they tell us?
"Molecular Evidence for SARS-CoV-2 in Samples Collected From Patients With Morbilliform Eruptions Since Late Summer 2019 in Lombardy, Northern Italy" [The Lancet]. PCR testing of oropharyngeal swabs and urine. "We find evidence that SARS-CoV-2 was circulating in Lombardy during the late summer of 2019. This finding highlights the importance of retrospective surveillance studies to understand the early dynamics of COVID-19 spread and improve national-level preparedness." Commentary:\
The idea that a derived, B.1, variant was present in Italy in Sept 2019, but remained unnoticed for some 6 months, also flies in the face of epidemiological data – e.g. a doubling time of 2-5 days in the absence of mitigation efforts. >35 doublings = millions of infections. 22/

— Michael Worobey (@MichaelWorobey) August 8, 2021
This strikes me as a powerful argument. What do readers think?
"America is flying blind when it comes to the Delta variant" [Eric Topol, Guardian]. Holy moley, the lead: "he Delta variant was first identified in the United States in April and by May it was well onto its exponential growth curve, doubling every 10-12 days, as the basis for Covid infections, now reaching over 96% prevalence. Ironically, on 1 May, the CDC announced it would stop monitoring post-vaccination breakthrough infections unless they led to hospitalizations or deaths. This decision can be seen as exceptionally ill-advised and has led to a country flying blind in its attempt to confront its fourth wave of infections – one that has rapidly led to well over 100,000 new cases per day and more than 60,000 hospitalizations, both higher than the US first and second pandemic waves. It is unfathomable that we do not know how many of these are occurring in people who were vaccinated." And the conclusion: "This is not by any means the first breakdown of the CDC in managing and communicating about the pandemic. But with billions of dollars allocated to CDC earlier this year for improved Covid-19 surveillance, this represents a blatant failure that is putting millions of vaccinated Americans at unnecessary risk for breakthrough infections and leaving us without a navigational system for the US Delta wave."
"How A Gay Community Helped The CDC Spot A COVID Outbreak — And Learn More About Delta" [NPR]. "The Centers for Disease Control and Prevention has a lot of ways to pick up on COVID-19 outbreaks, but those methods often take awhile to bear fruit. Not so with the Provincetown, Mass., cluster that started around July Fourth weekend. "We triggered the investigation as people were getting symptomatic," says Demetre Daskalakis, a deputy incident manager for the CDC's COVID-19 Response. 'Pretty amazing — it is .'" • Hmm. Where have I heard this before? More: "How did they do that? It was thanks to a tip from a citizen scientist named Michael Donnelly. A data scientist in New York City's tech sector, he started publishing his own coronavirus data reports early in the pandemic and launched a website, COVIDoutlook.info, with Drexel University epidemiologist Michael LeVasseur. Following leads from his personal network, Donnelly documented over 50 breakthrough cases coming out of Provincetown, practically in real time, and shared it with the CDC as the outbreak was still unfolding….. The speed of the investigation — and the exceptional participation from the mostly gay men involved in the outbreak — helped the CDC learn new information about the delta variant." • Readers know I stan for citizen science, so this is great. That said, two sour notes. First, why in the name of sweet suffering Jesus does the CDC have to depend on citizen science to perform what should be one of its basic functions? See Topol, supra. And second, I have never seen the press work so hard to put a positive spin on an enormous outbreak.
I love epidemiological maps like this:
🗺QLD COVID-19 Map – Taringa Outbreak
3rd August 2021#COVID19qld

– 16 new local cases pic.twitter.com/LAA9SRHtmI

— dbRaevn (@dbRaevn) August 3, 2021
But notice this exchange:
They're manually created with basic diagramming tools. Generally if they get large enough to warrant something more sophisticated, they're too big to map like this/we get too little information on the cases.

— dbRaevn (@dbRaevn) August 3, 2021
If the CDC really cares about citizen science, they could spend a few of their fresh billions for data on epidemiological mapping tools; I bet there are plenty of developers who would leap at the chance (or the US Digital Service).
"From vaccine halo to liability? Reputation tracker says COVID-19 shot makers now dinged for safety, supply issues" [Fierce Pharma]. "COVID-19 vaccine makers' time in the sun is over, according to one reputation tracker. The reputation boost ignited by the rush to find solutions during the pandemic has not only faded but now is turning into a liability, says Alva, citing its latest research. Pharma is now split into vaccine makers and everyone else, said Alastair Pickering, co-founder and chief marketing officer at Alva market intelligence group…. 'The existence of the vaccines is now almost taken for granted in a majority of coverage,' Pickering said. 'Aside from scientific journals, there's practically no praise or commendation for the research, science and innovation that's gotten us to the point of having vaccines. Instead the focus has shifted to safety concerns over individual vaccines and ongoing supply challenges.'" • From March-May. But I doubt the numbers have improved.
Class Warfare
UPDATE "What happens when elites abandon their homeland" [Financial Times]. "[E]lites today take an international view. Thanks to globalisation, a national elite can always abandon its homeland and move elsewhere. In every country, the elite's time horizon determines how it governs. Does the elite treat its country as a sort of luxury watch that it's only looking after for future generations or as a stolen wallet full of cash? South Africa is a case study of what happens when the elite's time horizon shortens. There are only a few lucky countries whose elites reliably think decades ahead. This is an unfairly self-perpetuating system. Typically, these are old democracies, where members of the elite live in old houses. Even there, elites have varying time horizons. Politicians tend to think in electoral cycles, whereas policymakers and heads of venerable, nationally based companies take a longer view…. There are moments when elite timeframes suddenly shrink. A country's portents of doom can come from above (dictator goes off the rails), from below (peasants with pitchforks), from civil war or invasion. Time horizons have shrunk this year in Hong Kong, which for over a century had its own long-term project: a mix of business and personal freedom. As the outpost is subsumed into China's very different project, Hong Kong's elite has to decide: should I stay or should I go? South Africa's elite now faces the same question…. Now another factor is shortening elite time horizons: climate change. Local elites won't invest long-term in cities like Dhaka or Jakarta that are going to become uninhabitable. The novelty of billionaire space flights suggests something even scarier: shortening elite time horizons for the planet." • Pink paper for the win.
News of the Wired
I'm not feeling wired today!
* * *
Readers, feel free to contact me at lambert [UNDERSCORE] strether [DOT] corrente [AT] yahoo [DOT] com, with (a) links, and even better (b) sources I should curate regularly, (c) how to send me a check if you are allergic to PayPal, and (d) to find out how to send me images of plants. Vegetables are fine! Fungi and coral are deemed to be honorary plants! If you want your handle to appear as a credit, please place it at the start of your mail in parentheses: (thus). Otherwise, I will anonymize by using your initials. See the previous Water Cooler (with plant) here. Today's plant (SC):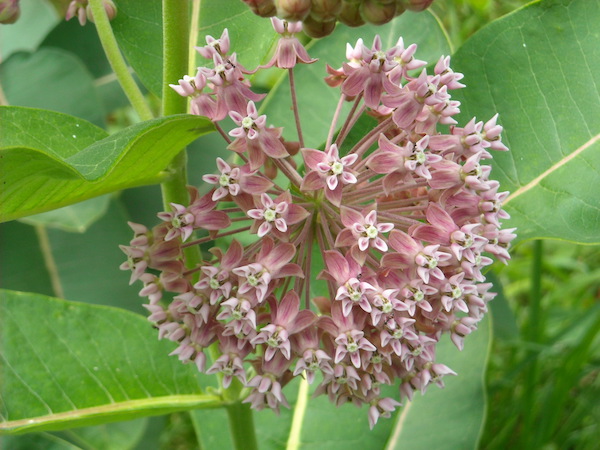 SC writes: "Two photos from my backyard attached. One is a Common Milkweed blossom. There's not much to say about it (aside from my crankiness that the seeds for this plant were sold as 'Purple.' It took 18 months to discover that they were not)."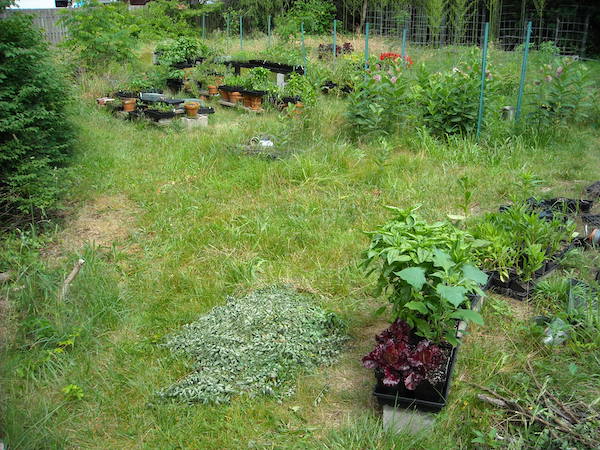 SC continues: "The other photo is not well composed and is more for "garden projects ideas" than a possible antidote. I've revised my benches a bit, raising some to avoid the depredations of a groundhog. I started plants more systematically this year and used better cold stratification methods — sowing in trays and leaving the trays outdoors works much better than "in the fridge" cold treatment. Next year, I'll bring the cold-treated trays indoors in March to accelerate germination; leaving them to germinate outdoors is very slow. There are dozens of feet of benches and about 50 trays. Watering this lot was a burden at first. Currently I'm using slotted deep trays to hold the plants, and a solid shallow tray below the slotted tray to regulate the water level. It's relatively quick to fill the lower tray to its capacity, and the whole setup can be watered by hand with watering cans in less than 30 minutes.
There's a lot in the field of view. Multiple varieties of peppers and tomatoes, eggplant, Basil, Sage, Chamomile, 3 kinds of Milkweed (including 2 dozen healthy Purple Milkweed plants, my first really successful germination outcome of that type), Lavender, Strawberry, Red Lettuce (variety "Merlot", the darkest of the reds), Zucchini, melon, two kinds of Bee Balm, 3 kinds of decorative Salvia, Echinacea, Rose Campion, Tithonia, Astilbe, and Cardinal Flower.
At this writing, over 800 plants from these benches have been placed into the community. There are several hundred more that remain to be placed. Now I'm working on "placing" seed starting kits, with 3 distributed so far, including into families with young children — get 'em interested young is best, me thinks.
That's my 2021 pandemic garden project thus far."
Staggering!
* * *
Readers: Water Cooler is a standalone entity not covered by the recently concluded and — thank you! — successful annual NC fundraiser. So if you see a link you especially like, or an item you wouldn't see anywhere else, please do not hesitate to express your appreciation in tangible form. Remember, a tip jar is for tipping! Regular positive feedback both makes me feel good and lets me know I'm on the right track with coverage. When I get no donations for five or ten days I get worried. More tangibly, a constant trickle of donations helps me with expenses, and I factor in that trickle when setting fundraising goals:
Here is the screen that will appear, which I have helpfully annotated.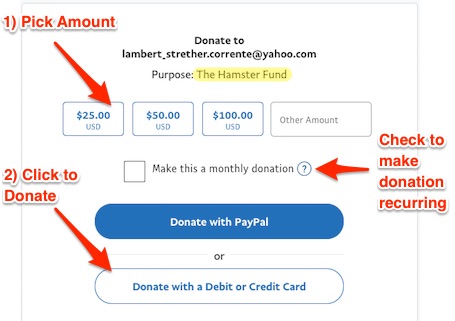 If you hate PayPal, you can email me at lambert [UNDERSCORE] strether [DOT] corrente [AT] yahoo [DOT] com, and I will give you directions on how to send a check. Thank you!2:00PM Water Cooler 6/8/2021