By Lambert Strether of Corrente.
Patient readers, as always on Monday I have a plethora of items gathered over the weekend, mostly in politics. Please check back. –lambert UPDATE All done!
Bird Song of the Day
* * *
#COVID19
At reader request, I've added this daily chart from 91-DIVOC. The data is the Johns Hopkins CSSE data. Here is the site. I feel I'm engaging in a macabre form of tape-watching….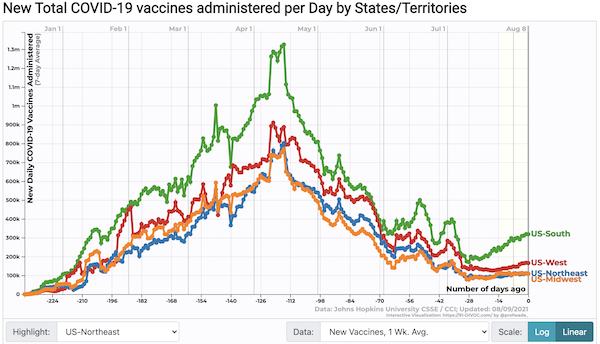 50.1% of the US is fully vaccinated, a big moment, breaking the psychological 50% barrier.
Case count by United States regions: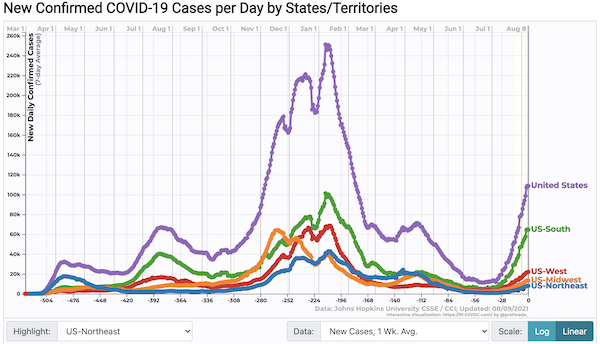 As far as reaching the peak of January 8, 2021, with 295,257 cases per day … I'm not that pessimistic (modulo a new variant brought into the country by our ridiculously lax policies on international quarantines). What we might call, after Everest, the "First Step" (November 25, 2019) with 178,466 looks in striking distance, especially if the case count purple line continues go near vertical. When you look at those "rapid riser" counties on the CDC map, you've got to think this rise has a way to run. But what do I know, I'm just a tape-watcher.
Covid cases top ten states: for the last four weeks (hat tip, alert reader Lou Anton):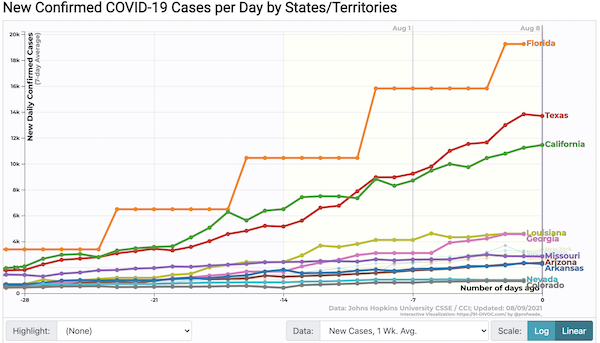 California slows again. Texas slows now too.
NEW From CDC: "Community Profile Report August 4, 2021" (PDF), "Rapid Riser" counties, this release: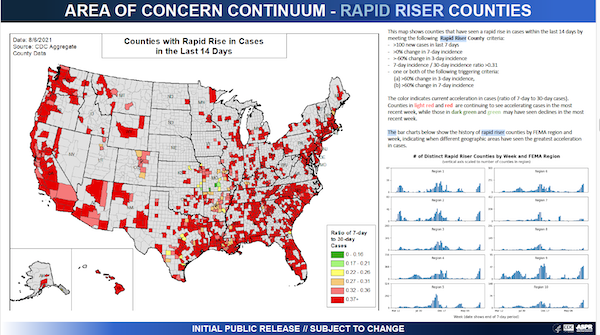 This looks at least not worse, and in Missouri and (kinda) in Texas and California, perhaps a bit better. This map blows the "Blame Bubba" narrative out of the water. Not a banjo to be heard. Previous release: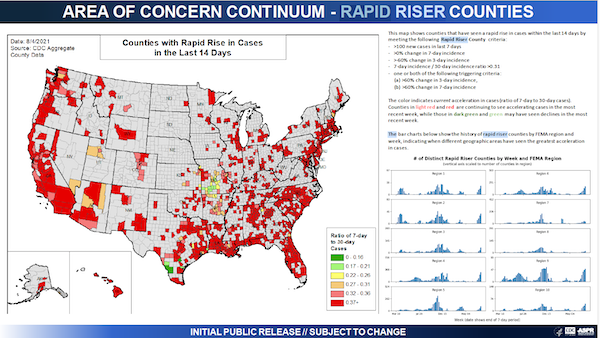 (Red means getting worse, green means bad but getting better. This chart updates Tuesdays and Fridays, presumbly by end-of-day.)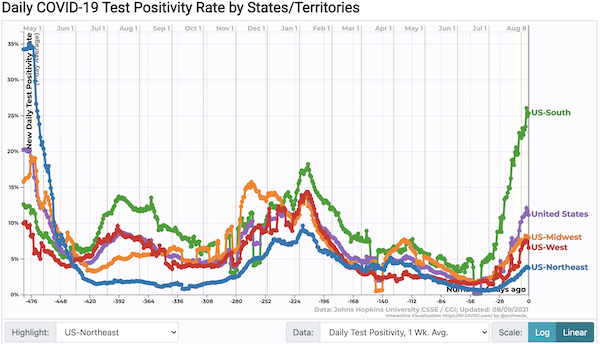 South running away with the field. But other regions now playing catch-up.
Hospitalization (CDC):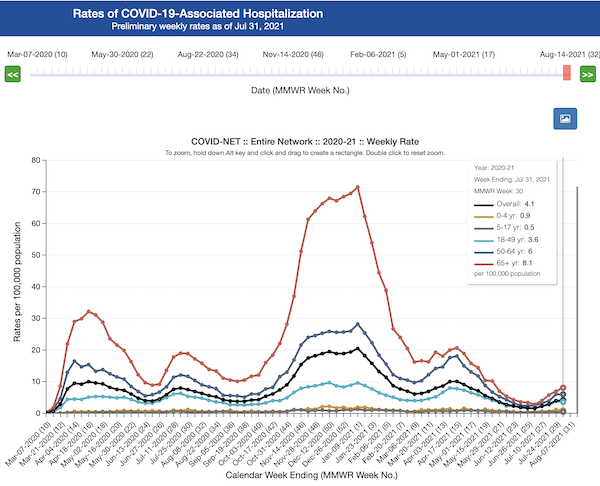 NEW Here the CDC's hospitalization visualization, from the source above: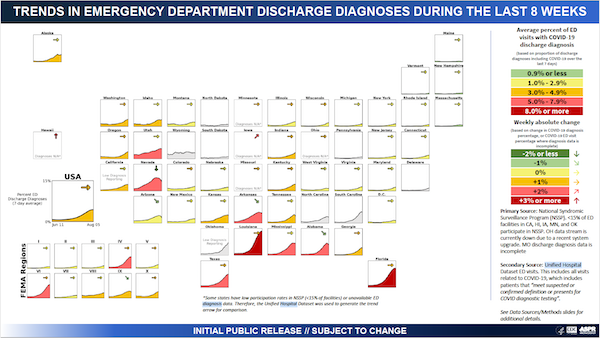 The, er, red states (Florida, Louisiana) are as yet still buried in the aggregated national data.
Deaths (Our World in Data):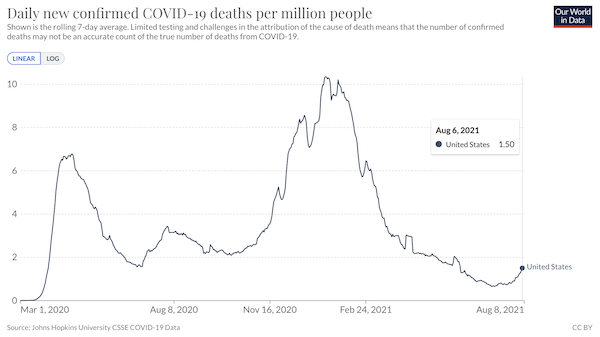 Deaths definitively rising, although nowhere near meriting an anti-triumphalist black line, being an order of magnitude less than there were at peak. (Adding: I know the data is bad. This is the United States. But according to The Narrative, deaths shouldn't have been going up at all. Directionally, this is quite concerning.)
Covid cases worldwide: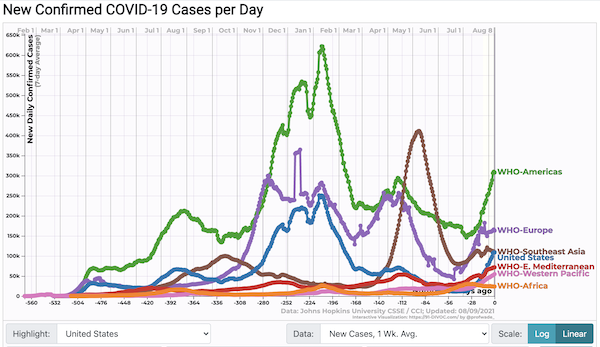 Every region is trending up. US sphere of influence under the Monroe Doctrine not doing so well.
* * *
Politics
"But what is government itself, but the greatest of all reflections on human nature?" –James Madison, Federalist 51
"They had one weapon left and both knew it: treachery." –Frank Herbert, Dune
"They had learned nothing, and forgotten nothing." –Charles Maurice de Talleyrand-Périgord
Biden Administration
Lambert here: Biden has been a better President than Obama, so far. But they share one feature: Obama pulled away from McCain in 2008 when the Crash was clear to all; voters gave him a mandate to solve the problem, because Democrats had some good will on the balance sheet for "the economy." Voters gave Biden a mandate to solve the Covid pandemic, because Democrats had some good will on the balance sheet for effective governance (not Trump's strength). Obama did not deliver. Biden is not delivering on his crisis either, as Yves' post this morning shows. Happy 2022!

* * *

"Biden yet to nominate new FDA chief even as delta surges" [The FDA]. "Biden selected Woodcock, a longtime FDA regulator, to serve as the acting commissioner in January but has since received pushback, including from senators and anti-opioid advocates on that move. Several Democratic senators have voiced opposition to Woodcock, citing her time at the FDA when opioid painkillers were approved, later contributing to an epidemic that has left many Americans dead." That was a bug? Oh. More: "Other names floated for commissioner include Zeke Emanuel, former health policy adviser in the Obama administration and an architect of the 2010 Affordable Care Act [yikes]; Michelle McMurry-Heath, CEO of the Biotechnology Innovation Organization; Katherine Luzuriaga, director of the University of Massachusetts Center for Clinical and Translational Science; and Florence Houn, who worked at the FDA during multiple administrations. Experts said they are puzzled by the delay in nominating a commissioner amid a pandemic. Scott Becker, CEO of the Association of Public Health Laboratories, called it 'very odd' that there's no permanent head or even a nomination in the pipeline, saying he would have expected 'this would have been one of the first agencies' to get its confirmed leader. 'Now's the time to nominate someone. … Three months ago I would have said the same thing,' he said." • Perhaps the sausage on the Pfizer approval is much more difficult to make than any of the insider are letting on? So nobody wants the job?

"Fauci hopeful COVID vaccines get full OK by FDA within weeks" [Associated Press]. "The U.S. government's top infectious disease expert, Dr. Anthony Fauci, said Sunday that he was hopeful the Food and Drug Administration will give full approval to the coronavirus vaccine by month's end and predicted the potential move will spur a wave of vaccine mandates in the private sector as well as schools and universities." • "Hopeful"? Or "directs that"? We're gonna approve the Pfizer vaccine with either an Acting Commissioner (after eight months) or a Commissioner who's been on the job for a few days and knows enough about issues in the approval to wield a rubberstamp and that's about it? How does this make sense?

UPDATE When you've lost Jeff Stein:

No $15/hour minimum wage hike in Dems' budget plan, from what I can see

Has just entirely disappeared from the Washington policy debate after the parliamentarian's non-binding opinion

Very, very hard to see how it would get done in Biden's first 2 years … so, then: When?

— Jeff Stein (@JStein_WaPo) August 9, 2021

How about on the First of Never? Throwing the working class under the bus on the $15/hour minimum wage is pretty egregious, but there's more:

THREAD: Today marks 200 days since Biden became President. Here is every promise he has broken so far. 1/ pic.twitter.com/spPZnjdawo

— Holding Biden Accountable (@WaitingOnBiden) August 7, 2021

UPDATE "Biden Is Ignoring An Easy Climate Victory" [David Sirota, The Daily Poster]. "The Biden administration has signaled its commitment to tackling the financial risks posed by climate change through executive orders and key appointments. But advocates say the president is missing an easy opportunity for big climate progress: divesting the Thrift Savings Plan (TSP), the federal employee pension fund. The TSP is the largest defined contribution plan in the world, with assets worth nearly $700 billion. It has also steadfastly refused to embrace the growing trend of pensions divesting from fossil fuels, since its governing body, the Federal Retirement Thrift Investment Board (FRTIB) says it does not have the authority to divest from fossil fuel assets. But other public pension funds have done exactly that. In June, Maine became the first state to order its public pension funds, worth about $17 billion, to divest from fossil fuels through legislation. Earlier this year, three New York City pension funds announced that they would be divesting about $4 billion worth of assets following years of activist pressure. Federal employees and lawmakers are now escalating a campaign to pressure the FRTIB to divest from fossil fuels, arguing that it is the board's fiduciary duty to do so. Their demands were aided in recent weeks by a new report from the Government Accountability Office (GAO), which concluded the board was exposing the fund to financial risks by not assessing the impact of climate change."

"The Kamala Files: One" [Alice from Queen, Her Own Devices]. "But let's not be morbid. Say that forty months from now, Biden and Harris win a second term, and Biden survives it in fair health. Survival beyond one's mid-eighties is indeed the likeliest fate for any nonsmoking, non-obese American his age who lives and travels with an emergency room. In that case, Harris becomes 'merely' the 2028 Democratic front-runner. This is not to mention Harris's chances in 2024, should Biden retire after one term.1 As a big-time DC-based political reporter told me when I asked about Harris's future, "How to put this nicely and neutrally? There is more precedent for a VP running to succeed a president than there is for a president to run for re-election at age 81." On [knee-jerk reaction here] Willie Brown: "[A] deeper dive into Brown's role will have to wait for a future File. The point here is peripheral to Brown, and concerns the young, relatable Kamala's special aptitude for friendship and its close cousin, networking. The personality you see on stage annoying you with her laugh now wasn't invented for cameras. It came from a private talent for ingratiation that served her marvelously as she gathered the proverbial Rolodex of high-level donors and sherpas needed to run for San Francisco DA. Her bench only deepened when tech wealth took over the city and the generation of donors and politicians beholden to Brown began to fade… we may not admire the results of Kamala's rise. But if you're going to bother with this level of social climbing, for God's sake, it shouldn't be an end in itself. And however unpleasant it is to watch the political sausage getting made, an early triumph like Harris's is exceedingly rare. It's not something that can be credited entirely to Willie Brown. Many young pretty things are called to the periphery of a charity circuit; few are chosen to sit on a museum board." • Well worth a read.
Democrats en Deshabille
Missed this at the time:

NEW: Shontel Brown's campaign paid secretive Biden-linked* consulting firm SKDKnickerbocker $1M+ in Q2 for media production and related consulting.

*Biden's longtime confidant and advisor, Anita Dunn, is a founding partner at @SKDK.https://t.co/NdfCmtgSCa pic.twitter.com/EPSwtwrpfJ

— Robbie Jaeger 🔎 (@RobletoFire) July 23, 2021

UPDATE "Shock poll shows Gavin Newsom losing recall vote by double digits" [San Francisco Chronicle]. "The poll came from Survey USA and the San Diego Union Tribune, and was conducted among 1,100 Californians from Aug. 2 to Aug. 4. It found that 51% of respondents were in favor of recalling Newsom, while only 40% wanted to keep him in power. The previous Survey USA/San Diego Union Tribune poll from May found 36% in favor of the recall with 47% opposed. Unlike a recent UC Berkeley/Los Angeles Time poll that was weighted by whether the respondent was likely to vote in the Sept. 14 recall election, the Survey USA carried no such weight, which is even more alarming for the governor. The Berkeley/Los Angeles Time poll found double-digit opposition to the recall, but a dead heat when weighted by likelihood to vote. Polls have consistently shown a large enthusiasm gap, strongly suggesting Republicans are more likely to turn out…. The new poll's other shocking finding is a new leader on question two ('Which candidate should replace Newsom if he loses question one'): YouTuber Kevin Paffrath, the most high-profile Democrat on the bottom of the ballot." • I dunno…. You can't beat something with nothing, even if Newsome is very close to nothing…..

UPDATE "Who the heck is Kevin Paffrath? Recall could make him California governor" [East Bay Times]. "Now Paffrath, a real estate investor from Ventura who has built a large following on YouTube with videos that teach people how to build wealth, said he's ready to extend an offer to Newsom. If the governor agrees to a live, two-hour debate, Paffrath will donate $1 million of his own money to a charity of Newsom's choice…. On the right, there are his proposals to make all coronavirus safety measures optional, to ditch income tax for anyone making less than $250,000, to use the National Guard to get all unhoused Californians off the streets and to give trained gun owners more rights. His introduction video also features clips from Fox News and from conservative media host Ben Shapiro. On the left, Paffrath calls for a version of universal basic income, more solar and wind farms, support for marriage equality and higher pay for teachers. 'I've always been looking for somebody with centrist solutions who can bridge that gap between Democrats and Republicans to just solve problems,' Paffrath said. In today's hyper-partisan political era, a lot of voters might find that appealing. But some people who work in the areas Paffrath wants to tackle say his platform illustrates the downside of people with zero political experience running for office. They say some of his ideas have already proven ineffective and others simply aren't legal." • Hmm. I could be playing with fire here, but I wonder what Paffrath thinks of CalPERS?
Obama Legacy
"Branding," eh?

obama is so hilariously vain to have put this "44×60" branding (44th prez turning 60 y/o) on all of his party favors *including* face masks 😩https://t.co/x50OGzIHxg pic.twitter.com/UCdlLdVXdW

— bryan metzger (@metzgov) August 8, 2021

Unfortunate, to say the least (and I can't say I think much of the "44×60" logo design either; it's not legible. Of course, that's Obama, so….).
Realignment and Legitimacy
A big "if":

I continue to think that if the GOP manages to pull its head out of white-nationalism's ass, they have a very good shot at creating a renewed conservative majority in this country.

— Noah Smith 🐇 (@Noahpinion) August 8, 2021

But agreed.
Stats Watch
Employment Situation: "United States Job Openings" [Trading Economics]. "The number of job openings in the US rose by 590,000 from a month earlier to a series high of 10.073 million in June 2021, and well above market expectations of 9.281 million, adding to signs of labor supply constraints as the world's largest economy consolidates its recovery."
Inflation: "United States Consumer Inflation Expectations" [Trading Economics]. "Median year-ahead inflation expectations in the US stayed at a series high of 4.8 percent in July, following a substantial jump in June. Meantime, expectations for inflation over the next three years rose to 3.7 percent from 3.6 percent in the prior month, reaching the highest level since August 2013."
* * *
Retail: We're flipping cars now?
hung out yesterday with someone who works at a car dealership. Crazy stories. Says there are 12 new cars on the lot. They usually have 700. Sold a car for 35k in January, bought it back from the person at 39k 6 months and 9k miles later and sold it for 43k.

— Sam🔔 (@sam_a_bell) August 9, 2021
Shipping: "A.P. Moller-Maersk is signaling more and bigger acquisitions may be on the way. The parent of container shipping giant Maersk Line just spent nearly $1 billion to add two logistics companies that will bring the ocean carrier parcel-delivery capabilities" [Wall Street Journal]. "Maersk CEO Soren Skou [says] that with $11.5 billion in free cash flow in a surging shipping market, the operator has 'quite a substantial war chest' and may even complete more acquisitions this year…. Maersk's capacity strategy right now is focused on land, as it looks to build up more stable business with big enterprise customers under long-term contracts."
Shipping: "Container equipment prices double in the space of 12 months" [Splash 247] "'Pricing has been driven by soaring demand for newbuild containers as shipping lines and lessors have been seeking to rebuild fleets in the face of chronic equipment availability due to widening disruption across the container supply chain,' said John Fossey, head of container equipment and leasing research at Drewry. 'But also increased input costs, particularly for corten steel and flooring materials have also played a part. We expect dry box prices to peak in the third quarter and to soften thereafter, easing further over subsequent years as trade normalises.'"
The Bezzle: DoorDash is a thoroughly nasty company, like all the "sharing economy" companies:
This labor exploitation is at the heart of every app-based gig business, and as you might expect, companies that are willing to cheat their workers in one way are willing to cheat them in other ways, too. Doordash is no exception.

7/

— Cory Doctorow (@doctorow) August 7, 2021
Good thread.
The Bezzle: "Self-driving cars would be nowhere without HD maps" [Axios]. "Self-driving vehicles may be loaded with sensors and artificial intelligence, but they're limited without a really good map…. High-definition maps are critical to the safe, wide-scale deployment of autonomous vehicles. More accurate than satellite-based GPS, they provide richly detailed models of the operating environment and important context to help AVs avoid mistakes…. Most AV developers get to know a test city the same way any new resident does: by driving around…. They spend a few weeks manually driving their test cars in complex urban environments, collecting sensor data and annotating everything about the streetscape, from signs and lane markings to crosswalks and speed limits. Developers can repeat that map-making process city by city." • This is insane. Such a map would need to be refreshed daily, and by a human. Robot car maps would need to be at least an order of magnitude better than Google maps, where I never assume a landmark is pinpointed within less than a hundred yards. Of course, there could other reasons, and perhaps other funders, for extremely detailed maps of the urban environment. But the maintenance requirement does not go away.
Manufacturing: "Pontifications: A deeper hole for the Boeing 737 MAX market share" [Leeham News and Analysis]. "Boeing's 737 MAX market share vs Airbus is in a deeper hole than may be generally realized. Aviation Week last week complied a list of the top seven low-cost carrier [LCC] airlines in Asia with orders for 90 or more A320s or 737 family members." Handy chart: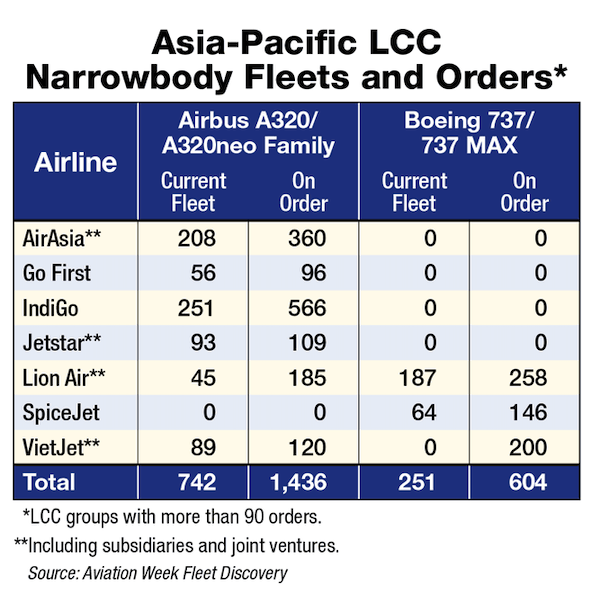 More: "A moon shot is needed for Boeing to return to its glory days as the world's leading airplane provider." • As the MBAs retract their sucking mandibles from Boeing's dried out husk and scurry off elsewhere…..
Supply Chain: "The scramble for warehouse workers is getting more intense, and more expensive. Walmart is offering special bonuses to many of its warehouse employees to work every hour they are scheduled and giving temporary pay raises to some employees… as the retail giant ramps up for the holiday shopping season amid a tight labor market and stretched supply chains" [Wall Street Journal]. "Some workers have been offered $1,000 over four weeks for not skipping any scheduled shifts during the second half of the summer." • In other words, their real wage should be whatever they're getting, plus a thousand dollars.
* * *
Today's Fear & Greed Index: 36 Fear (previous close: 36 Fear) [CNN]. One week ago: 24 (Extreme Fear). (0 is Extreme Fear; 100 is Extreme Greed). Last updated Aug 9 at 12:06pm.
Rapture Index: Closes unchanged [Rapture Ready]. Record High, October 10, 2016: 189. Current: 187 (Remember that bringing on the rapture is a good thing, so higher is better.)
Health Care
"Prophylactic Role of Ivermectin in Severe Acute Respiratory Syndrome Coronavirus 2 Infection Among Healthcare Workers" [Cureus]. I've said that I've been waiting for an Indian Ivermectin study, because they used it at scale. Here is one such study. Peer-reviewed, journal looks legit. n = 3532. Methods: "A prospective cohort study was conducted at AIIMS Bhubaneswar, which has been providing both COVID and non-COVID care since March 2020. All employees and students of the institute who provided written informed consent participated in the study. The uptake of two doses of oral ivermectin (300 μg/kg/dose at a gap of 72 hours) was considered as exposure. The primary outcome of the study was COVID-19 infection in the following month of ivermectin consumption, diagnosed as per Government of India testing criteria (real-time reverse transcriptase polymerase chain reaction [RT-PCR]) guidelines. The log-binomial model was used to estimate adjusted relative risk (ARR), and the Kaplan-Meier failure plot was used to estimate the probability of COVID-19 infection with follow-up time." Conclusion: "." • Not an RCT, but supports the conclusions of many clinicians. So I would say this is a very big deal.
"Medical-equipment suppliers have gone from shortages to brimming stockpiles during the coronavirus pandemic. A $197 million inventory reserve was the main driver of a 40% drop in supplier Cardinal Health's operating earnings in the most recent quarter…. in a sign that supply and demand remain off balance in the sector providing masks, gloves and other personal protective equipment" [Wall Street Journal]. "Cardinal Health has added warehouse space and taken other steps as it rebuilds inventories amid swings in demand. The inventory isn't going to waste. Cardinal Health and its customers remain concerned about the shortfalls in vital equipment last year, and hospitals also are stocking up on PPE and in some cases looking for Cardinal Health to help manage the supplies. ." • Democrats nudging people with the tax code so much, you'd think there's be a tax incentive for "just-in-case" pandemic supplies (if such must remain privatized, as apparently they must).
* * *
"A Walk Between Two Poutines with Scaachi Koul" [Walk It Off]. "[(Scaachi Koul) SK]: Anger is such a wonderful tool. It's protected me my entire life. Which means it's very hard to let go of, because it's taken care of me. But I'm at an age where it's starting to turn on me. It's not making me feel very good. I have to get to a point where I'm not engaging with every single thing—either online or in the real world—that makes me angry. Because it's poison. The only good advice I ever got about the internet was, 'You don't have to do it if it's not fun.' Another one is, 'There's no shame in taking yourself out of an un-winnable position.' And that's a hard lesson for me. Because I grew up on the internet. That's where my rage lives. But I understand that anger maybe isn't serving me in the ways that it once was. So I'm trying to find a balance. More equilibrium. [(Isaac Fitzgerald) I: Ok, So that's anger. Let's talk about sadness. This has been a very sad year. SK: This has been a very sad year. I: How are you managing to not avoid sadness? To not treat it like battery acid? SK: I don't have a choice. I don't have an option. My sadness is in my neck. It is right here. I'm full. So I'm trying to learn how to deal with it." • There seems to be an emerging genre of New Yorkers discussing their pandemic emotions. I'm not sure how interesting, as a genre, it is. Although it's worth noting that society-wide organic damage can have profound effects. Though looking at the statistics, the emotions that should be centered are those of the near-and-dear of restaurant workers, especially cooks. But it looks like the PMC will be centering theirs, at least in the first drafts of history. Plus ça change….
UPDATE "Delta variant is sucking the joy out of back-to-school 2021" [Los Angeles Times]. "Back-to-school 2021, with California campuses fully open for 6 million children, was supposed to herald relief — even celebration — for a mostly normal school year ahead. But a surge in the highly contagious Delta variant of the coronavirus has reignited parents' anxiety — and, for many, the safety and quality of schooling once again feel uncertain and tenuous." • Same story, different venue.
UPDATE "What to Do With Our Covid Rage" [New York Times]. Despite the headline, better than the previous two. "Our national conversation has reached the point where many Americans are done with any and all excuses offered by the unvaccinated. Some of the inoculated are not just self-righteous but downright venomous, arguing on social media that hospitals should refuse to admit unvaccinated Covid-19 patients, calling them trash and wishing them a painful death. Residents of blue America have pronounced this a red-America problem. "Our state did a great job fighting the pandemic," one person tweeted. "Our reward? The mouth-breathing knuckle-draggers in adjacent red states flooded their hospitals and spilled over into ours."… This archetypal bumpkin villain of post-Trump America has long received too much credit in a country where Trumpism thrives in affluent, white urban communities bursting with college degrees. In handling the pandemic, such misdirection of attention keeps us from what we should be doing: trying to reach the vast group of people who might choose vaccination if barriers to access and knowledge were removed. One overlooked barrier, as ever in this country, is socioeconomic class. Polls conducted by the Kaiser Family Foundation earlier this year found that working-class people — white, Black, Hispanic, Democrat, Republican — were less likely to be vaccinated. " • And by "overlooked," we mean "erased":
Thus, the propensity of liberal media elites to talk about the unvaccinated and vaccine-unwilling as ignorant, selfish troglodytes means they're heaping scorn on the very people they claim to speak for — but are hiding it by, as usual, disappearing those who are inconvenient. pic.twitter.com/6vpYU4PciQ

— Glenn Greenwald (@ggreenwald) August 9, 2021
Our Famously Free Press
"Angels, demons, and videotape" [Ian Leslie, The Ruffian]. On the Central Park birdwatching incident, Amy Cooper v. Christian Cooper. "Amy had accidentally walked into the middle of a polarised battle between dog walkers and birdwatchers that has been rumbling on for years in Central Park, and indeed other city parks across the country. In New York, Christian [Cooper] was known by locals as one of its most energetic combatants. Foster tracks down other dogwalkers, including a black man, who got almost exactly the same treatment from Christian, right down to the gripping of the bike helmet, and who found it intimidating for the same reasons. Of course, for a woman alone there is an extra dimension of peril. Amy, who was a victim of a sexual assault while at college, was not 'performing' distress. She was absolutely terrified. She was by herself in a secluded place with a hostile man who was acting erratically and threatening her. Put yourself in her position – how would you feel? From this angle, the moral polarity of the story seems somewhat different. It starts to sound almost like a 'Me Too' incident: a man using his superior physical power to dominate an isolated woman. If you're going to do what you want to do, then I'm going to do what I'm going to do. But you're not going to like it. The news media did not even try and see it differently, however. Journalists accepted Christian's account of the incident uncritically, and were uninterested in Amy's version." • Ugh. The dogpiling. What a sorry mess.
The Conservatory
More from Rail Yard Ghosts (hat tip, alert reader amfortas):
Black Injustice Tipping Point
You knew it was coming:
Silencing is violencing. pic.twitter.com/SMtoDeiOXe

— James Lindsay, in the passing lane doing 185 (@ConceptualJames) August 7, 2021
(Lindsay is one of the "grievance study" provocateurs.)
Guillotine Watch
So damn "sophisticated" they think the vaccines are sterilizing:
A NYT reporter on CNN justifying Obama's huge maskless birthday bash because he only invited "a sophisticated, vaccinated crowd" is about as emblematic of liberal discourse as it gets.

What happened to all the concerns about vaccinated people passing Delta to the unvaccinated? https://t.co/9g8qGkYQEO

— Glenn Greenwald (@ggreenwald) August 8, 2021
Class Warfare
"The antidote is always turning deeper towards each other" (interview) [Garrett Bucks, Culture Study]. "The reason why I will never love any place like I love Missoula, Montana isn't actually because of Rattlesnake Creek sparkling at twilight or Pattee Canyon under a perfect blanket of snow. It's because it used to be the kind of town where the folks I washed dishes with at Finnegans (RIP) could afford to live here on a dishpit salary, which meant in turn that they could spend the rest of their time playing in punk bands at Jay's (RIP) and writing mind-blowing stuff in the Indy (RIP) and, in doing so, change the lives of teenagers like me. It's because it used to be the kind of the town that, when I was spending a summer doing anti-WTO organizing (wow that's the most turn of the millenia phrase possible), I discovered that some of the most consistent, committed, community-minded activists in town made their income selling incense on the street in front of the Wilma. And the moment that this town has a dollar-sign gate on it, where the barrier to living in this valley is a six or seven figure income, it's not just that you hurt people… you also make this town into a shell of itself. " • Poetic, but a dissonant note.
News of the Wired
"'Tortured phrases' give away fabricated research papers" [Nature]. "In April 2021, a series of strange phrases in journal articles piqued the interest of a group of computer scientists. The group, led by Guillaume Cabanac at the University of Toulouse in France, could not understand why researchers would use the terms 'counterfeit consciousness', 'profound neural organization' and 'colossal information' in place of the more widely recognized terms 'artificial intelligence', 'deep neural network' and 'big data'. Further investigation revealed that these strange terms — which they dub 'tortured phrases' — are probably the result of automated translation or software that attempts to disguise plagiarism. And they seem to be rife in computer-science papers. Research-integrity sleuths say that Cabanac and his colleagues have uncovered a new type of fabricated research paper, and that their work, posted in a preprint on arXiv on 12 July1, might expose only the tip of the iceberg when it comes to the literature affected. To get a sense of how many papers are affected, the researchers ran a search for 30 tortured phrases in journal articles indexed in the citation database Dimensions. They found more than 860 publications that included at least one of the phrases, 500 of which were published in a single journal: Microprocessors and Microsystems. 'It harms science. You cannot trust these papers, so we need to find them and retract them,' says Cabanac." • I wonder if there are "tortured phrases" in medicine?
News you can use:
While others have been growing out their beards during the pandemic, I have been growing my ear hair instead. Some observations: 1/x

— Troy Karkula (@troykarkula) August 8, 2021
"Do not ascend to heaven!" (photo essay) [I, Bodger]. "I sometimes wonder whether reusing old materials isn't a false economy. On the one hand, the materials are free, but on the other, they usually require a fair amount of labor, scraping, cleaning, repainting and refinishing, adjusting constantly for variations, fixing, replacing worn or missing parts, and worrying over. The trouble with poverty is that it takes time. And I suppose time gets more costly as we go along." • This looks like a lovely house, to me. I think Christopher Alexander would approve. I bet there is a "sunny nook."
* * *
Readers, feel free to contact me at lambert [UNDERSCORE] strether [DOT] corrente [AT] yahoo [DOT] com, with (a) links, and even better (b) sources I should curate regularly, (c) how to send me a check if you are allergic to PayPal, and (d) to find out how to send me images of plants. Vegetables are fine! Fungi and coral are deemed to be honorary plants! If you want your handle to appear as a credit, please place it at the start of your mail in parentheses: (thus). Otherwise, I will anonymize by using your initials. See the previous Water Cooler (with plant) here. Today's plant (Carla):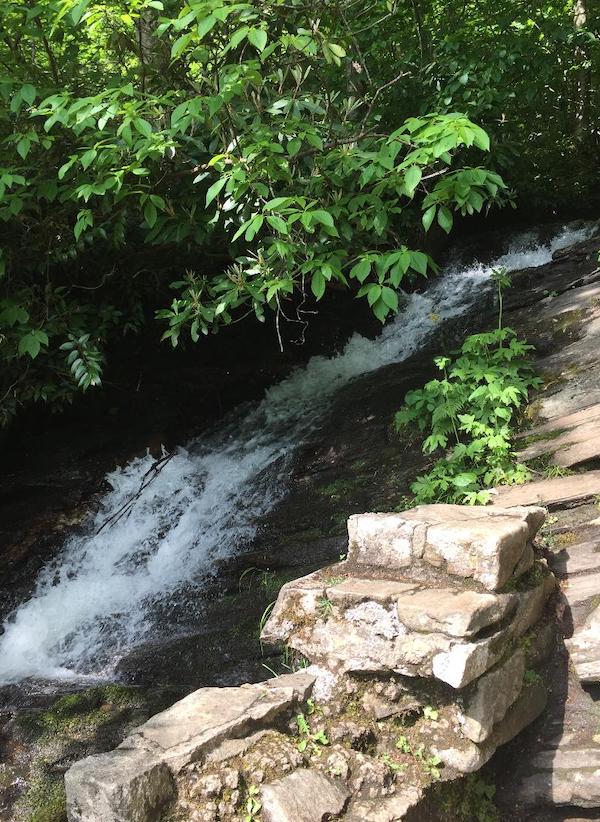 Carla writes: "Plant life along a section of the Cascades waterfall in the EB Jeffries Park of the Blue Ridge Parkway."
* * *
Readers: Water Cooler is a standalone entity not covered by the recently concluded and — thank you! — successful annual NC fundraiser. So if you see a link you especially like, or an item you wouldn't see anywhere else, please do not hesitate to express your appreciation in tangible form. Remember, a tip jar is for tipping! Regular positive feedback both makes me feel good and lets me know I'm on the right track with coverage. When I get no donations for five or ten days I get worried. More tangibly, a constant trickle of donations helps me with expenses, and I factor in that trickle when setting fundraising goals:
Here is the screen that will appear, which I have helpfully annotated.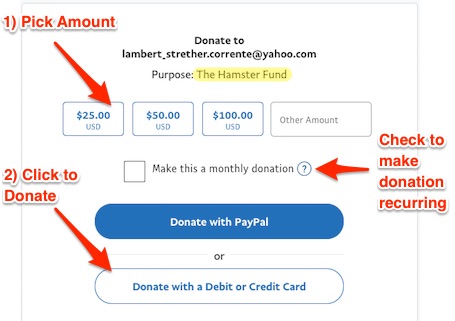 If you hate PayPal, you can email me at lambert [UNDERSCORE] strether [DOT] corrente [AT] yahoo [DOT] com, and I will give you directions on how to send a check. Thank you!2:00PM Water Cooler 6/8/2021