By Lambert Strether of Corrente.
Bird Song of the Day
Bane of office parks, magnificent in flight!
* * *
#COVID19
At reader request, I've added this daily chart from 91-DIVOC. The data is the Johns Hopkins CSSE data. Here is the site. I feel I'm engaging in a macabre form of tape-watching….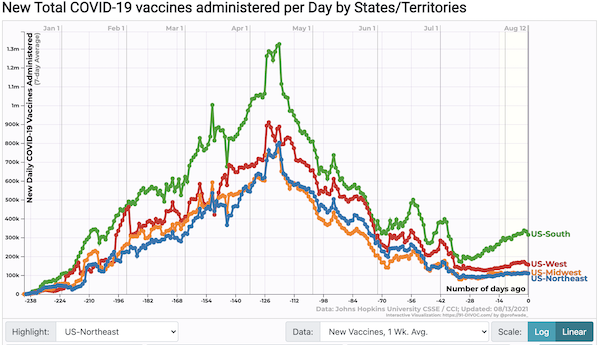 A little dip in the South (and this is a seven-day average, so the dip is real).
50.4% of the US is fully vaccinated, a big moment, breaking the psychological 50% barrier. Every day, a tenth of a percentage point upward.
Case count by United States regions: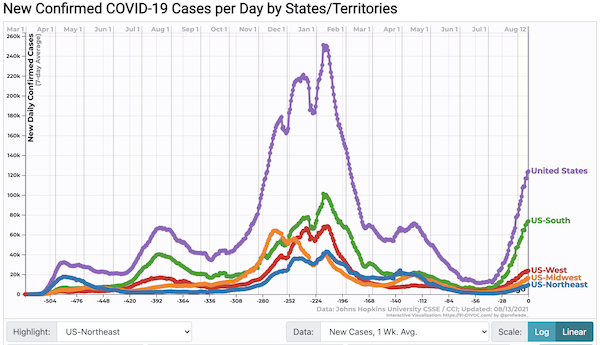 Still near vertical. As far as reaching the peak of January 8, 2021, with 295,257 cases per day … I'm not that pessimistic (modulo a new variant brought into the country by our ridiculously lax policies on international quarantines). What we might call, after Everest, the "First Step" (November 25, 2019) with 178,466 looks in striking distance, especially if the case count purple line continues go near vertical. When you look at those "rapid riser" counties on the CDC map, you've got to think this rise has a way to run. If things go on as they are, we should hit the first step just in time for Labor Day. But what do I know, I'm just a tape-watcher.
Covid cases top ten states: for the last four weeks (hat tip, alert reader Lou Anton):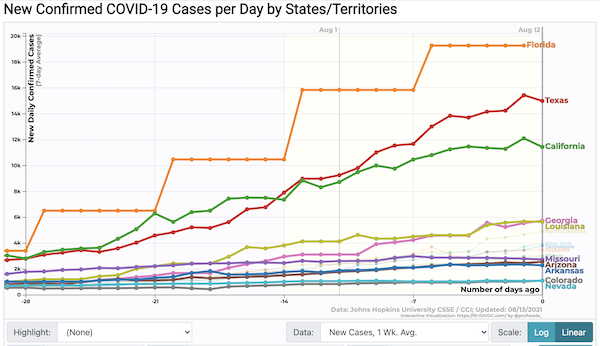 California and Texas drop again. Waiting on Florida sure is tedious.
NEW From CDC: "Community Profile Report August 11, 2021" (PDF), "Rapid Riser" counties, this release: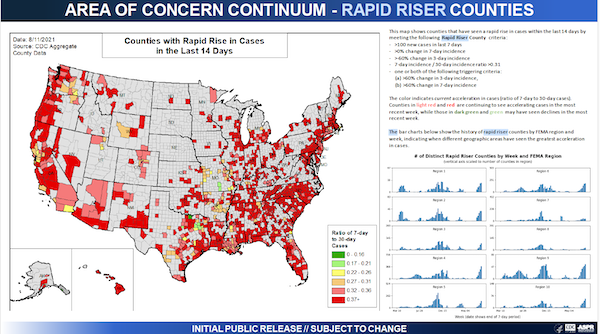 Some red to pink and pink to yellow out west. The rest of the county looks just as red to me. This map blows the "Blame Bubba" narrative out of the water. Not a banjo to be heard. Previous release: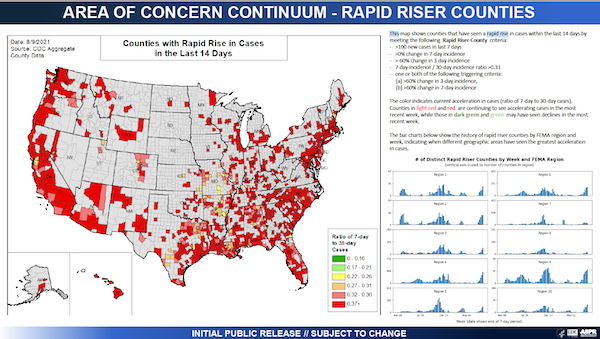 (Red means getting worse, green means bad but getting better. This chart updates Tuesdays and Fridays, presumbly by end-of-day.)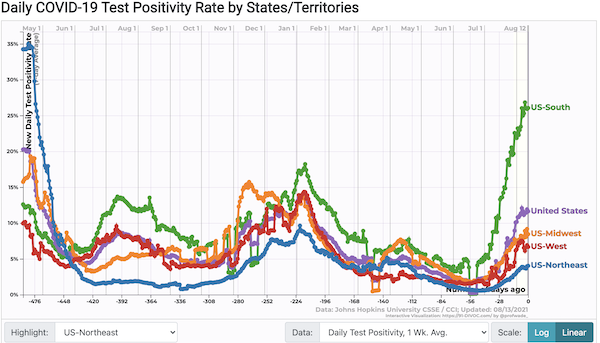 South running away with the field. But other regions now playing catch-up.
Hospitalization (CDC):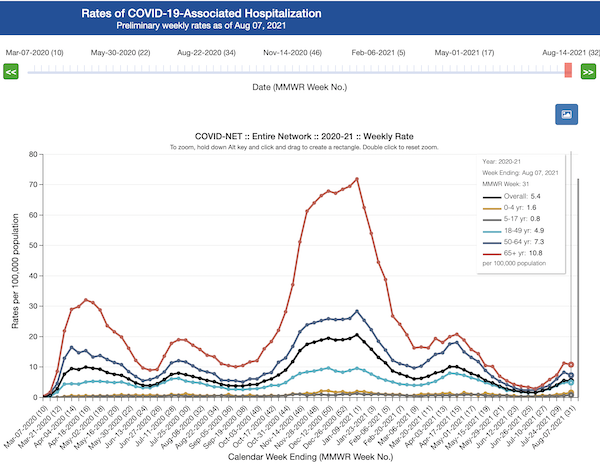 Here the CDC's hospitalization visualization, from the source above: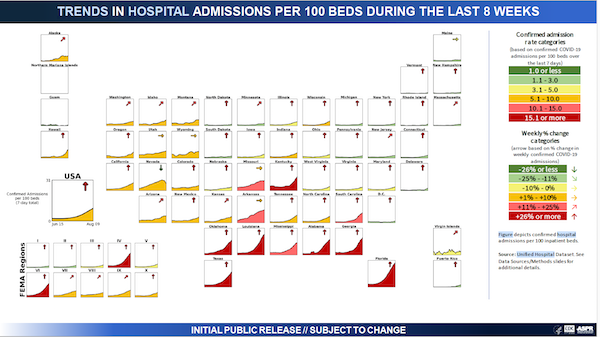 More red now, still in the South.
Deaths (Our World in Data):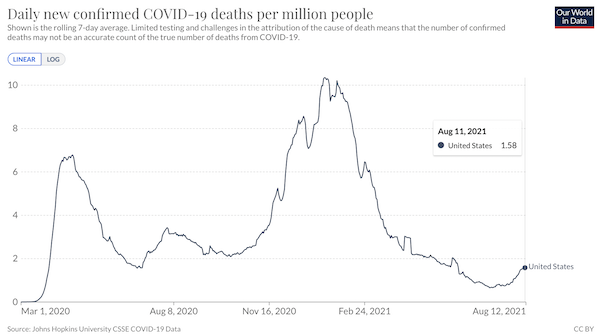 Deaths definitively rising, although nowhere near meriting an anti-triumphalist black line, being an order of magnitude less than there were at peak. (Adding: I know the data is bad. This is the United States. But according to The Narrative, deaths shouldn't have been going up at all. Directionally, this is quite concerning.)
Covid cases worldwide: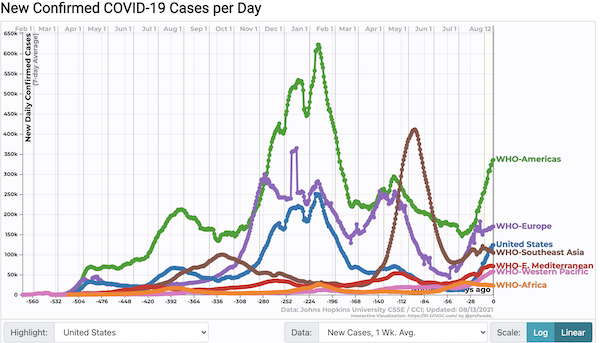 Every region is trending up. US sphere of influence under the Monroe Doctrine not doing so well.
* * *
Politics
"But what is government itself, but the greatest of all reflections on human nature?" –James Madison, Federalist 51
"They had one weapon left and both knew it: treachery." –Frank Herbert, Dune
"They had learned nothing, and forgotten nothing." –Charles Maurice de Talleyrand-Périgord
Biden Administration
"By pushing for more oil production, the US is killing its climate pledges" [Adam Tooze, Guardian]. "Yes, you read that correctly. One of the most senior figures in the Biden administration, the administration that promised climate was 'everywhere' in its policy, is declaring that an increase in petrol prices to $3.17 per gallon is a matter of national security and that the US reserves the right to cajole Opec and Russia into flooding the world with more oil. We should not mince words: if this is the stance of the Biden administration then its decarbonisation agenda has been well and truly buried. According to no less an authority than the IEA, if we are to reach net zero by 2050, we need to end fossil fuel capacity expansion now."

"Democrats Might Create A Tax Break For Union Membership In Budget Bill" [HuffPo]. • Card check? No way. But Democrats love them their tax breaks! (I checked for means-testing. Maybe that will be in the final bill.)

"How Anita Dunn got 'to the table' and has helped other women follow" [CNN]. "Dunn is a senior White House adviser, and is one of the few people to be in the inner circle of two presidential campaigns, and two administrations: Barack Obama's and Joe Biden's…. Looking back at her 20-year-old self, a college student interning for Carter chief of staff Hamilton Jordan, Dunn said she did actually imagine herself climbing the ranks to the heights of Democratic politics, despite the fact that she had so few female role models back then." • This puff piece doesn't mention that former Obama Adviser Anita Dunn helped Harvey Weinstein strategize. What it takes, I guess.
Democrats en Deshabille
"Manchin Bailed Out Plant That Pays Millions to His Family's Coal Company" [Sludge]. "t was the coal brokerage he co-founded in 1988, Enersystems, that has provided the vast majority of Joe Manchin's outside income since becoming a U.S. senator: over $4.5 million in total, including nearly half a million dollars last year. While he serves as chair of the Senate Energy Committee, Manchin reports that his stake in his family coal company, which has a fuel agreement with the waste coal-fired power plant in Grant Town, West Virginia, is worth up to $5 million. Enersystems, now run by Joseph Manchin IV, has virtually no online presence and is inaccurately tagged as "permanently closed" in its Google Maps listing.'" • As it still is. I wonder how Manchin got Google to do that?

"Anatomy of an Officer-Involved Explosion: a Post-Mortem on LAPD's E. 27th Street Fireworks Blast" [StreetsBlog LA]. The Deck: "A year ago, a councilmember co-authored a motion to shift $150mil from LAPD's budget. A month ago, LAPD called everyone but his office to watch them detonate fireworks in his district." Crass even for the LAPD.

"Inside Cuomo's 'Hotel California' for Albany Aides: You Can Never Leave" [The City]. "A former staffer described to THE CITY Cuomo's 'cycle of abuse, abuse, abuse — then there's something really unexpected and nice…and then it's abuse, abuse, abuse. And then he adjusts the cycle when he can see the cycle needs to be adjusted.'… State Sen. Alessandra Biaggi, who previously worked for the Cuomo administration and became a vocal critic, acknowledged the same people were often subjected to and the perpetrators of the 'culture of toxicity.' 'It really also is kind of like a mind game because sometimes the same people are told, 'You did a great job,' and then they'll be yelled at in the next hour. So it makes you feel very destabilized,' she said. 'You're constantly seeking their approval, but also want to run away from them.'" • Sounds a little like… Trump?
Republican Funhouse
"Brett Kavanaugh Without Tears" [Washington Monthly]. • I had no idea Kavanaugh worked the Vince Foster investigation for Ken Starr — and milked it for three years. Starr went to work in 1994, so Kavanaugh has been a made man for a long, long time.
2024
"Trump Hires Iowa Political Veterans, Signaling Interest in 2024" [Bloomberg]. "Donald Trump's fundraising committee has hired two political operatives familiar with campaigns in Iowa, the state that typically kicks off the race for the White House, signaling his interest in running in 2024. An aide with Save America, the leadership political action committee that Trump began after losing the 2020 election, told staff and advisers in a memo Thursday that Eric Branstad and Alex Latcham are joining as senior advisers. A Save America spokesman, Taylor Budowich, confirmed the hires and said Latcham and Branstad will help on 'many political matters.' Trump has been hinting about another presidential bid, even as he has tried to steer clear of activities that would trigger federal election laws that would require him to register as a candidate — and limit spending. Some Republicans had been hoping that Trump would fade away, as he continues to falsely claim he won last year's election. 'We are going to make you very happy,' Trump said in May on 'The Dan Bongino Show' when asked about his 2024 plans. 'And we're going to do what's right.'"
Realignment and Legitimacy
"Public health" going the way of "public schools" and "the public interest" (and "the public" too, I suppose):

I kinda of hate how the shift to focus on individuals (not) getting vaccinated feels like letting the government off the hook for gross mishandling of the pandemic.

— Hurt Vonnegut (@TrulyTafakari) August 11, 2021

(The author knows about the typo.)

"The Sunrise Movement's Members Of Color Say The Group 'Tokenized' And 'Used' Them For Years" [Buzzfeed]. "As the youth-led Sunrise Movement helped catapult racial justice to the center of the national conversation on climate change, many of its members of color repeatedly charged over the last three years that they felt 'tokenized,' 'used,' 'ignored,' and 'dismissed.' That's according to a series of internal memos and letters, signed by at least 100 young climate activists and obtained by BuzzFeed News. The activists said they were overworked and underpaid; warned that the group was unable to attract or retain members of color, especially Black ones; bemoaned the lack of diversity among Sunrise leaders; and demanded resources to build up support in communities of color. 'Staff and movement leaders have poured hundreds of hours into trying to convince top leadership to truly live out our slogan to '

"Texas Senate Passes Republican Voting Bill, Overcoming Dem Obstruction" [National Review]. "The Texas Senate voted to advance a major Republican voting bill on Thursday in an 18-11 vote, along party lines. Senate Bill 1 passed after state Senator Carol Alvarado finished a 15-hour talking filibuster in an attempt to delay the vote. Filibuster rules prohibited Albarado from eating, sitting down, leaning on her desk, taking a bathroom break or speaking about subjects unrelated to the bill. The all-night filibuster came one day after Texas House Speaker Dade Phelan, a Republican, signed arrest warrants for 52 Democrats who did not return during the fourth day of the House's second special session. The Democrats' absence left the chamber eight members short of a quorum. As Republicans hold the majority in both chambers, Democrats do not have the votes to stop the bill from passing. Instead, they have been working to delay the vote since June, when Democrats walked out of a legislative session to deny a quorum for Republicans to advance the bill. Last month, 57 Texas House Democrats traveled to Washington, D.C., on private chartered jets, using their physical absence to deny Republicans of their needed quorum. They planned to hide out in the Capitol and fight for federal voting legislation until the Texas special legislative session expired."

"Inside the Texas Democratic Legislators' Hectic Month in Washington, D.C." [Texas Monthly]. "Many Texas Democrats felt emboldened. They were getting lots of attention. But nobody knew how to convert that publicity into tangible progress. Federal legislation could easily pass the Democratic-controlled U.S. House. But in the Senate, it would face a Republican-led filibuster. The only way to overcome that obstacle would be to change the rules regarding filibusters—a move opposed by two Senate Democrats, Joe Manchin, of West Virginia, and Kyrsten Sinema, of Arizona, as well as Biden. But Texas Democrats weren't certain how long they could hold out in D.C. waiting for Biden and Congress to act." • They flew to Washington on the assumption the Democrats would get rid of the filibuster? Am I reading this right?
Stats Watch
Inflation: "July 2021 Import Year-over-Year Inflation 'Declines' To +10.2%" [Econintersect]. "Year-over-year import price indices inflation marginally declined from +11.3 % to +10.2 %… Inflation continues to be hot."
Rails: "Rail Week Ending 07 August 2021 – Positive Growth Continues But Year-over-Year Growth Is Being Compared To Shutdown Period Last Year" [Econintersect]. "Week 31 of 2021 shows the same week total rail traffic (from the same week one year ago) improved according to the Association of American Railroads (AAR) traffic data."
* * *
Commodities: "Any rebound in the crude tanker market will have to wait. The International Energy Agency is downgrading its near-term outlook for global oil demand… saying in a report that the worsening impact of the Covid-19 Delta variant is cutting into economic growth prospects" [Wall Street Journal]. "The IEA now sees crude orders expanding in 2022, when the group expects the world's thirst for oil to return to pre-pandemic highs in the second half of next year. That's a poor sign for tanker operators that have been looking for a rebound since business turned downward at the onset of the pandemic in 2020. Shipping analyst group Bimco said in a report this week that daily rates for tankers are hovering below break-even levels."
Commodities: "The U.S. natural-gas industry is trying to clean up its production in an effort with important implications for the shipping sector. Investors, policy makers and buyers of liquefied natural gas are rethinking the fuel's role in their energy mix because of worries over methane emissions" [Wall Street Journal]. "[T]he concerns are particularly pronounced in Europe and increasingly arising in Asia, creating problems for LNG shippers like Cheniere Energy as they look to tap overseas markets…. Much of natural gas's carbon-intensity comes in the production stage, and Cheniere is working with U.S. producers to figure out the best way to monitor and quantify methane emissions, and to deliver a cleaner product."
Retail: "Amazon's Power Will Only Keep Expanding in the Near Future" [Jacobin]. "The landscape is being sorted into what you could call three different kinds of cities. There's the headquarters cities, like Seattle and now Washington, DC, where the company chooses a city that's already the wealthiest metro area in the country for a second headquarters, even though it's going to make that city even more expensive and congested. You'd think they wouldn't want to be there, but they do, because it has the workforce they want. With DC, it's the seat of federal power, so they want to be close to that, now that federal intervention is a threat…. Then you have the warehouse towns, in places like Baltimore, where you now have four warehouses. I can't keep up with it: in the book, I described there being two, with a third one coming in Baltimore, and now we're about to get a fourth. Three of them are going to be at Sparrows Point, at the former steel mill outside Baltimore. In Ohio, you have something similar. When Amazon first came to Ohio a few years ago, they put the warehouses in the center of the state, but at the southern edge of the Columbus beltway, because that makes those warehouses barely accessible to the poorest parts of the state. Southern and southeastern Ohio are struggling, and the company knows that if it puts its warehouses at that edge of the beltway, it's about an hour drive for a lot of people. A lot of people are desperate enough in those parts of the state to make that commute every day, whereas the data centers end up in the wealthier exurbs….. So, you've ended up with headquarters cities, warehouse towns, and then the data-center exurbs in Northern Virginia and in Severn, Maryland, in Columbus, and in a few other places around the country. Amazon is now so powerful that its decisions about where to put stuff reshapes our economic landscape. A single decision by this one company about where to put a second headquarters has an incredibly outsize effect on our economy."
Apparel: "Shein Launches Eco Campaign Amid Copycat Accusations" [Jing Daily]. "According to industry watchdog Diet Prada, Shein has been increasingly ripping off indie designers, otherwise described as 'those who haven't had the chance to break out on a bigger scale.' Among its latest victims are knitwear designer Bailey Prado, Black-owned fashion brand Elexiay, and earring maker Kikay…. Shein's knockoffs also have ethical and environmental repercussions. By recreating trendy clothing, the company has been able to churn out products quickly, cheaply, and at a lower quality level. In fact, Shein's production pace is every speedier than other "ultra-fast" sites like Fashion Nova, as it reportedly can churn out the same amount of styles in one day (about 1,000) that its competitors put out in a week. Although this theoretically limits overproduction as the company can send smaller orders to factories, there is no word on what this means for its carbon footprint or work conditions…. [But] as long as consumers continue to buy, the king of fast fashion is unlikely to relinquish its throne anytime soon."
Tech: "Exclusive: Apple's child protection features spark concern within its own ranks -sources" [Reuters]. "Apple employees have flooded an Apple internal Slack channel with more than 800 messages on the plan announced a week ago, workers who asked not to be identified told Reuters. Many expressed worries that the feature could be exploited by repressive governments looking to find other material for censorship or arrests, according to workers who saw the days-long thread…. A fundamental problem with Apple's new plan on scanning child abuse images, critics said, is that the company is making cautious policy decisions that it can be forced to change, now that the capability is there, in exactly the same way it warned would happen if it broke into the terrorism suspect's phone."
Manufacturing: "Machine Tool Orders +40% Higher at Midyear" [American Machinist]. "U.S. manufacturers' new orders of machine tools rose to $490.3 million during June, up 8.9% from May and 41.7% from June 2020. Even more encouraging, the year-to-date total for new manufacturing technology orders increased to $2.509 billion, a rise of 48.6% over the January-June 2020 total." • Now if only we made machine tools in this country….
Supply Chain: "There Is A Tennis Ball Shortage Too Now" [Vice (Re Silc)]. "There are two dominant players in the tennis ball scene: Head (which owns Penn) and Wilson, which was recently bought by a Chinese conglomerate. But, ironically, it is Head that manufactures its tennis balls in China, while Wilson makes them in Thailand. Either way, both brands have to get their balls across the Pacific—Penn closed its Arizona factory in 2009—which, like all other products from China, is subjecting them to delays at port facilities on the west coast as more ships with more containers come to understaffed ports. It's not clear when the tennis ball shortage will ease."
Mr. Market: "Mystery Hedge Fund Bolsters 500% Return on Curious Nasdaq Stock" [Bloomberg]. "Six thousand miles from Wall Street, in the ancient Silk Road city of Almaty, lies the private redoubt of a little-known financial empire…. Few can explain exactly what's going on here — how an obscure brokerage in Kazakhstan, of all places, has outrun Wall Street firms…. How? The young billionaire with the answers, Timur Turlov, is sitting at the table over there. Wearing a tailored blue suit and sipping a Red Bull, Turlov, 33, sketches out a grand vision for the broker. 'We remain one of the few floodgates to the Western market for customers from our region,' Turlov says in his native Russian, while detailing the unique arrangement he says has helped secure Freedom access to newly listed U.S. stocks. There's a mysterious hedge fund with deep connections across Wall Street; a trading conduit through Belize that Turlov personally controls; an obscure New York brokerage with a troubled past…. According to Freedom marketing materials, clients have gotten in on more than 100 U.S. IPOs since 2020,… Turlov says his firm's way in is an affiliate of a hedge fund that buys the shares from underwriters and passes them along. Its identity is confidential, he says, and no mention of it appears in U.S. filings. Even inside Freedom, the name is closely guarded, according to current and former employees…. The arrangement is unusual, to say the least. Reena Aggarwal, director of Georgetown University's Center for Financial Markets & Policy, says she's never seen anything like it."
Mr. Market: "Inside The Coronavirus Haul Of A Wall Street Whiz Kid" [Forbes]. "'Buying value really works in a crisis because it is about mean reversion. The stocks that are cheap going into a crisis tend to be cyclical and they tend to be companies driven by gross domestic product,' [Daniel Rasmussen] says. 'Not only are you buying the cheapest companies, you're actually buying the companies that grow the fastest when the economy recovers.""
* * *
Today's Fear & Greed Index: 46 Neutral (previous close: 42 Fear) [CNN]. One week ago: 36 (Fear). (0 is Extreme Fear; 100 is Extreme Greed). Last updated Aug 13 at 12:00pm. Finally we arrive at neutral.
Health Care
"Effectiveness of favipiravir in COVID-19: a live systematic review" [European Journal of Clinical Microbiology & Infectious Diseases]. A meta-study. "There is no significant difference in fatality rate and mechanical ventilation requirement between Favipiravir treatment and the standard of care in moderate and severe COVID-19 patients."
"How The Pandemic Now Ends" [Ed Yong, The Atlantic]. "Here, then, is the current pandemic dilemma: Vaccines remain the best way for individuals to protect themselves, but societies cannot treat vaccines as their only defense. And for now, unvaccinated pockets are still large enough to sustain Delta surges, which can overwhelm hospitals, shut down schools, and create more chances for even worse variants to emerge. To prevent those outcomes, "we need to take advantage of every single tool we have at our disposal," [Shweta Bansal, an infectious-disease ecologist at Georgetown University] said. These should include better ventilation to reduce the spread of the virus, rapid tests to catch early infections, and forms of social support such as paid sick leave, eviction moratoriums, and free isolation sites that allow infected people to stay away from others. In states where cases are lower, such as Maine or Massachusetts, masks—the simplest, cheapest, and least disruptive of all the anti-COVID measures—might be enough." • But there's no such thing as society. There is only freedom. Therefore, we don't need to worry about ventilation, testing, paid sick leave, evictions, or free quarantine sites And all those things cost money. More: "If endemicity is the future, then masks, distancing, and other precautions merely delay exposure to the virus—and to what end? "There's still so much for us to buy time for," Bansal told me. Suppressing the virus gives schools the best chance of staying open. It reduces the risk that even worse variants will evolve. It gives researchers time to better understand the long-term consequences of breakthrough infections. And much like last year, it protects the health-care system."
The Biosphere
"Iowa wildflower Wednesday: A lawn-to-native plant garden conversion" [Bleeding Heartland]. From 2020, still germane: "The more I learned about native plants, the more I thought they might be a good fit for me. Native plants, once established, really sort of know how to take care of themselves. Being indigenous to our climate, they don't generally require any sort of regular watering or chemicals. They spread–some more than others–when given the space to do so and will quickly fill in to become lush and colorful. Environmentally speaking, they help retain water in the land because of their deep roots, and they lessen the wastewater that makes it to our sewers, creeks and rivers, especially important in Davenport because we are prone to flooding. Native plants are incredibly crucial to our local bird, bee and insect populations as well. Many types of caterpillars can only eat specific leaves of specific plants. Without those plants, we will have no caterpillars and without those caterpillars, we will have no butterflies. Caterpillars make up a big part of the diet of baby birds, so if we don't have caterpillars, bird populations suffer as well. After learning of some of the benefits, I decided to take on the project of adding some more native plant beds to my yard. I decided to start in my front yard, which is a bit of an unusual choice because in my neighborhood, most front yards are very grass-focused…large expanses of green, with maybe a few shrubs or lilies thrown in here and there. I decided to start on my front yard mainly because I see it more than I see my backyard. I wanted to see a sea of beautiful flowers when I pulled into my driveway, or while sitting near my living room and bedroom picture windows. First step: killing off the grass." • Indeed! Well worth reading in full if this is your situation.
"Extreme Weather Makes Everything Harder, Except Climate-Risk Analysis" [Bloomberg]. "A new feature of this year's IPCC report was the discussion of "compound events." These include concurrent heatwaves and droughts, or floods from multiple sources such as a storm surge that combines with river flooding. They are the kinds of tragedies that break the systems that humans rely upon, with devastating effects…. Compound events weren't mentioned in the last IPCC science summary even though we now know they were likely already occurring. A 2018 paper cited in this year's report traces three events in 2010 that researchers found "strong evidence" of being linked by atmospheric dynamics. A heatwave in Russia led the country to restrict wheat exports, which may have contributed to instability and uprising in Egypt. It hit at the same time as Pakistan suffered record-breaking floods. Knowing such calamities are linked to common climate change drivers is useful, of course, but this example illustrates how hard it will be to ever confidently predict how the effects of extremes will unfold." • The headline seems a little off?
Water
"Droughts shrink hydropower, pose risk to global push to clean energy" [Reuters]. "The emerging problems with hydropower production in places like the United States, China and Brazil represent what scientists and energy experts say is going to be a long-term issue for the industry as climate change triggers more erratic weather and makes water access less reliable. They also could pose a threat to international ambitions to fight global warming by hindering one of the leading forms of existing clean power. Hydropower is the world's top source of clean energy and makes up close to 16% of world electricity generation, according to the International Energy Agency (IEA). This year, climate-driven droughts have triggered the biggest disruptions in hydropower generation in decades in places like the western United States and Brazil. China is still recovering from the effects of last year's severe drought on hydro production in Yunnan province in the southwestern part of the country."
"Remembering John Wesley Powell in a Dry Year" [Counterpunch (ctlieee)]. "[Powell's] root idea, well researched, was brutally simple: the West is an arid land, which can only support a limited number of people and a limited irrigation agriculture. It is an area that has no normal climate, although it tends toward drought interspersed with times of flood. Therefore, development must respect the limitations of the natural resources and not exceed the carrying capacity of the different regions…. [W]hat you are not hearing this hot, dry summer in the Western public dialogue is a strategy for reducing the load on the natural resources, permanently fallowing land which now holds permanent crops like the export-led industries of almonds, grapes and dairies. Golf courses should be forbidden in California except where we learn to play on sand and dirt…. Some cities should be given back to the Indians."
"Under Water" [Texas Observer]. "For years, community organizers in colonias have fought for better drainage, housing improvements, and basic infrastructure. In makeshift homes relegated to the outskirts of cities, colonia residents have long been left to fend for themselves. As climate change intensifies storms and flooding, advocates in colonias are grappling with a particularly acute version of a question that poor communities around the country are facing: how, or whether, to keep rebuilding in a place that won't stop flooding." • No houses on stilts?
Film Strip
"New Zealand loses its precious 'Rings' series to Britain" [Associated Press]. "In a major blow to the nation's small but vibrant screen industry, Amazon Studios announced Friday it would film the second season of its original series, inspired by the books of J.R.R. Tolkien, to Britain. 'The shift from New Zealand to the U.K. aligns with the studio's strategy of expanding its production footprint and investing in studio space across the U.K., with many of Amazon Studios' tentpole series and films already calling the U.K. home,' the company said in a statement. The move came as a blow to many in New Zealand. The production is one of the most expensive in history, with Amazon spending at least $465 million on the first season, which just finished filming in New Zealand, according to government figures. The series employed 1,200 people in New Zealand directly and another 700 indirectly, according to the figures." • Oh, Amazon's Ring series. I thought they meant the real one. Have any readers seen the Amazon Rings? Do the hobbits work in happy warehouses?
Zeitgeist Watch
"Britney Spears's Dad Jamie Agrees to Step Down From Conservatorship" [Teen Vogue]. The deck: "Though the decision isn't effective immediately." Spears' lawyer: " I look forward to taking Mr. Spears's sworn deposition in the near future," • The story is by no means finished…
Class Warfare
"Passion Projects" [Columbia Journalism Review]. "Freelance workers occupy a vexed position within labor law. Should they be understood as having the capacity to engage in price-fixing, they must first be understood as small-business owners who control the means of production and therefore maintain a share of the market's surplus value. But, as Nicole S. Cohen, a scholar of communication, points out in Writers' Rights, most freelancers are in a 'position of disguised or misclassified dependent employment.' Unlike traditional businesses that sell a service (e.g., internet providers), freelance media workers sell labor that might otherwise be completed by full-time––and sometimes unionized––employees. Like shop owners, they are said to experience a high degree of self-control, arranging their work environment, hours, and clients as they please. But as artists engaged in a creative process, they're also presumed happy being compensated in units of personal growth. As the economist Fritz Machlup wrote in 1962, the 'psychic income' experienced by artists is 'so large that [the artist] continues to supply his services at earnings rates far below what persons of similar qualifications could obtain in other occupations.' In the past three years, however, a growing body of freelance journalists have been attempting to renegotiate their place within the industry. In the spring of 2018, following a wave of unionization among staff writers in digital newsrooms, a group of around twenty media workers—many of them former staff employees who had recently been laid off—began discussing how the principles of collective bargaining could benefit freelancers. They subsequently formed the Freelance Solidarity Project, a division of the [National Writers Union (NWU)] that has injected new life into the organization's long-lost publishing agreements." • "Psychic income." As if Shakespeare or Rembrandt didn't expect (or deserve) to be paid!
Community land trusts:
Here's the link for more details https://t.co/frwJDIS7dB

— Wigs🐞 (@WiggyGrayson) August 9, 2021
News of the Wired
"Introducing the New and Improved Biff-TEK" [The Baffler]. "Biff-TEK's signature line of meat-based protein powders will help you develop muscle, improve your cognitive function, and facilitate key personal development growth metrics. It's made with real beef and a proprietary blend of neuro-enhancers. Just one scoop of Biff-TEK in your morning hydration workflow will up your game—as a pre-workout or pre-workday boost."
"Brains Might Sync As People Interact — and That Could Upend Consciousness Research" [Discover]. Very interesting, and hard to extract: "People synchronize in various ways when we interact with one another. We subconsciously match our footsteps when we walk. During conversations, we mirror each other's postures and gestures. To that end, studies have shown that people synchronize heart rates and breathing when watching emotional films together. The same happens when romantic partners share a bed. Some scientists think we do this to build trust and perceive people as similar to ourselves, which encourages us to behave compassionately. …. Surprisingly, people synchronize their neural rhythms, too. … Functional links appeared across people's brains when they cooperated during certain tasks. In other words, different people's neural oscillations aligned when they cooperated… Functional links across brains increase when people work together, but not for those who are competing or taking on identical tasks simultaneously." • Hmm.
* * *
Readers, feel free to contact me at lambert [UNDERSCORE] strether [DOT] corrente [AT] yahoo [DOT] com, with (a) links, and even better (b) sources I should curate regularly, (c) how to send me a check if you are allergic to PayPal, and (d) to find out how to send me images of plants. Vegetables are fine! Fungi and coral are deemed to be honorary plants! If you want your handle to appear as a credit, please place it at the start of your mail in parentheses: (thus). Otherwise, I will anonymize by using your initials. See the previous Water Cooler (with plant) here. Today's plant (Expat2Uruguay):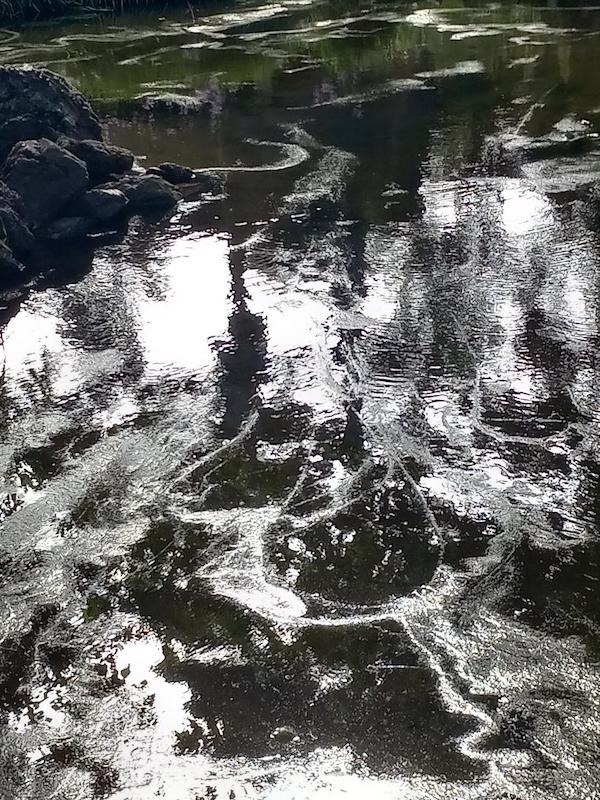 Expat2Uruguay writes:
So I'm taking the winter off from Uruguay with some travel in the US. I'm currently dog sitting for my brother in San Francisco and this Pond is in the Golden Gate Park. The picture looks like a black and white because it's taken from an odd camera angle with odd lighting.

After walking around this beautiful area for the last couple of days I've gained a better appreciation for how the PMC see the world with such Blissful ignorance of how the other 90% live.
* * *
Readers: Water Cooler is a standalone entity not covered by the recently concluded and — thank you! — successful annual NC fundraiser. So if you see a link you especially like, or an item you wouldn't see anywhere else, please do not hesitate to express your appreciation in tangible form. Remember, a tip jar is for tipping! Regular positive feedback both makes me feel good and lets me know I'm on the right track with coverage. When I get no donations for five or ten days I get worried. More tangibly, a constant trickle of donations helps me with expenses, and I factor in that trickle when setting fundraising goals:
Here is the screen that will appear, which I have helpfully annotated.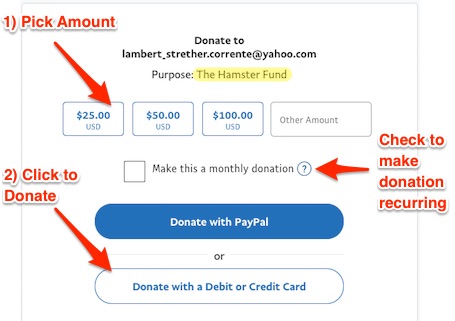 If you hate PayPal, you can email me at lambert [UNDERSCORE] strether [DOT] corrente [AT] yahoo [DOT] com, and I will give you directions on how to send a check. Thank you!2:00PM Water Cooler 6/8/2021