By Lambert Strether of Corrente.
Bird Song of the Day
Quite the chorus!
* * *
#COVID19
At reader request, I've added this daily chart from 91-DIVOC. The data is the Johns Hopkins CSSE data. Here is the site. I feel I'm engaging in a macabre form of tape-watching….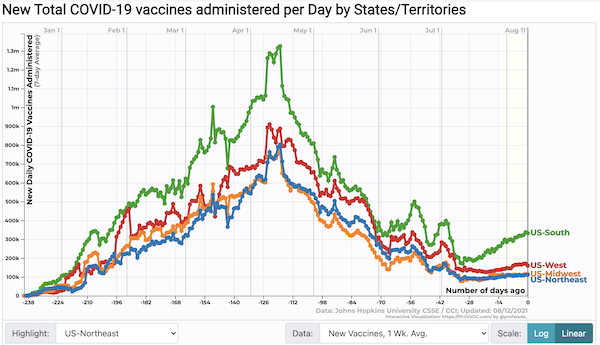 50.3% of the US is fully vaccinated, a big moment, breaking the psychological 50% barrier. Every day, a tenth of a percentage point upward. NOTE Except today!
Case count by United States regions: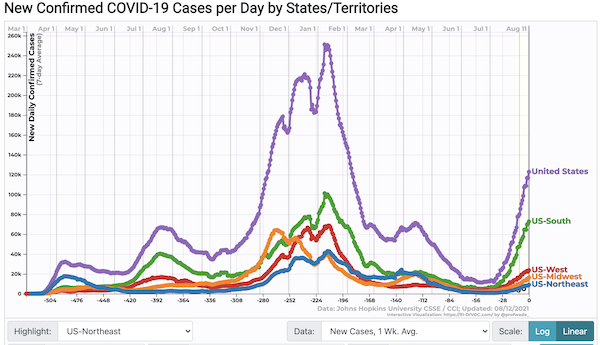 As far as reaching the peak of January 8, 2021, with 295,257 cases per day … I'm not that pessimistic (modulo a new variant brought into the country by our ridiculously lax policies on international quarantines). What we might call, after Everest, the "First Step" (November 25, 2019) with 178,466 looks in striking distance, especially if the case count purple line continues go near vertical. When you look at those "rapid riser" counties on the CDC map, you've got to think this rise has a way to run. If things go on as they are, we should hit the first step just in time for Labor Day. But what do I know, I'm just a tape-watcher.
Covid cases top ten states: for the last four weeks (hat tip, alert reader Lou Anton):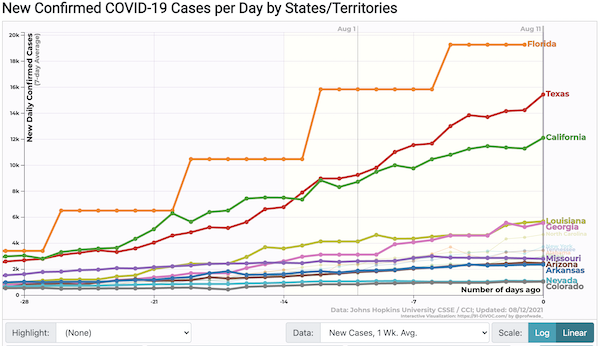 California and Texas speed up again.
NEW From CDC: "Community Profile Report August 11, 2021" (PDF), "Rapid Riser" counties, this release: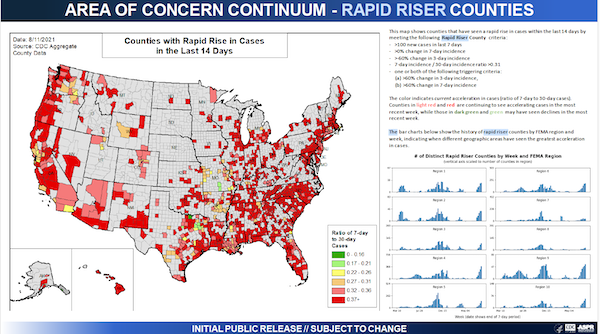 Some red to pink and pink to yellow out west. The rest of the county looks just as red to me. This map blows the "Blame Bubba" narrative out of the water. Not a banjo to be heard. Previous release: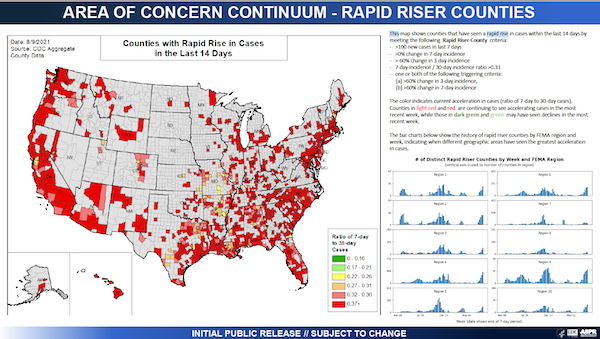 (Red means getting worse, green means bad but getting better. This chart updates Tuesdays and Fridays, presumbly by end-of-day.)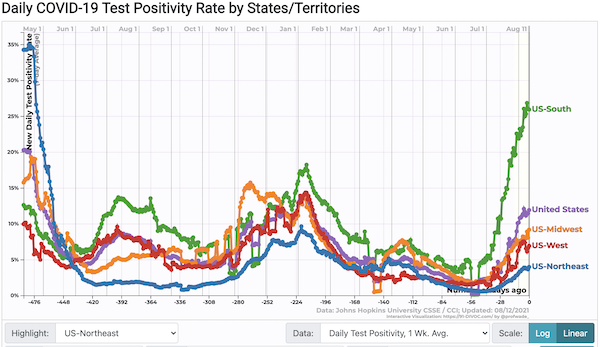 South running away with the field. But other regions now playing catch-up.
Hospitalization (CDC):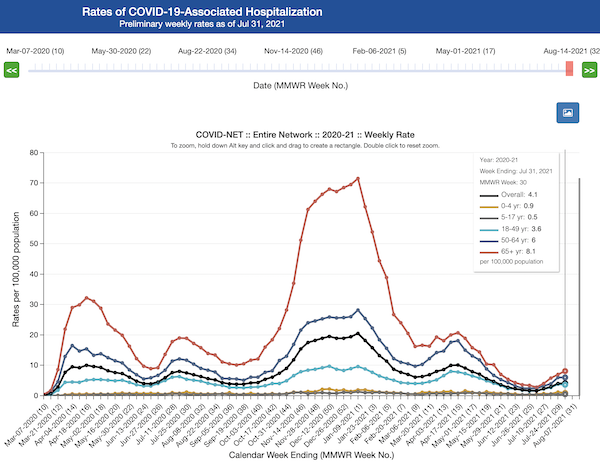 Here the CDC's hospitalization visualization, from the source above: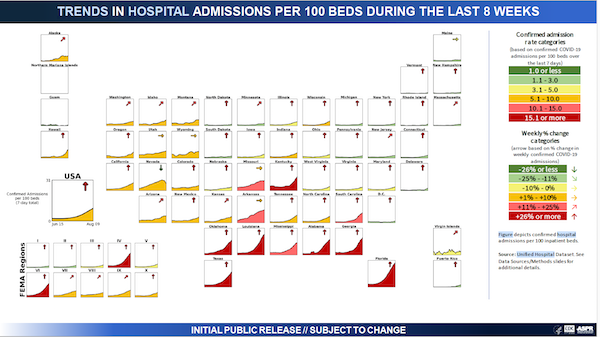 More red now, still in the South.
Deaths (Our World in Data):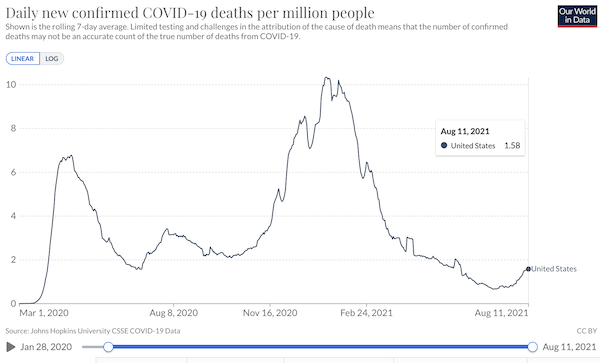 Deaths definitively rising, although nowhere near meriting an anti-triumphalist black line, being an order of magnitude less than there were at peak. (Adding: I know the data is bad. This is the United States. But according to The Narrative, deaths shouldn't have been going up at all. Directionally, this is quite concerning.)
Covid cases worldwide: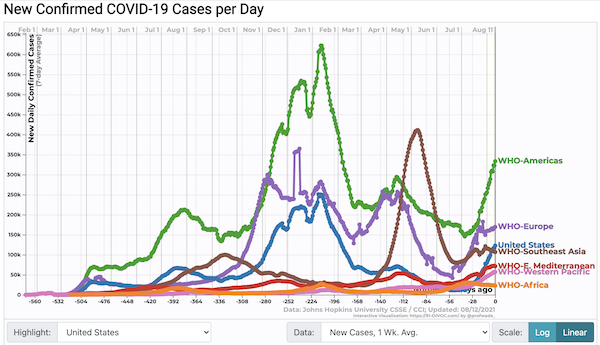 Every region is trending up. US sphere of influence under the Monroe Doctrine not doing so well.
* * *
Politics
"But what is government itself, but the greatest of all reflections on human nature?" –James Madison, Federalist 51
"They had one weapon left and both knew it: treachery." –Frank Herbert, Dune
"They had learned nothing, and forgotten nothing." –Charles Maurice de Talleyrand-Périgord
Biden Administration
So this is the outcome of last summer's uprising, good job:

"The Republicans are joining the Democrats in supporting Joe Biden's cops program."
"We stand with Joe Biden's program and glad that you've joined us."
– @SenatorDurbin #MustSeeTV pic.twitter.com/TMx7aoxJNK

— Michael LaRosa (@MichaelLaRosa46) August 12, 2021

A-a-a-a-n-d so much for Cory Booker:

"This is a gift," Cory Booker says in an animated speech praising Tommy Tuberville's non-binding amendment to punish localities that defund the police.

"I am sure I will see no political ads attacking anybody here over defund the police."

It passed 99-0, all Dems voted for it. pic.twitter.com/GUqAfcSlxH

— Andrew Solender (@AndrewSolender) August 11, 2021

"EXCLUSIVE: 'The Russians have videos of me doing crazy f***ing sex!' Hunter Biden is seen in unearthed footage telling prostitute that Russian drug dealers stole ANOTHER of his laptops" [Daily Mail]. • That Hunter. What a loveable scamp!
2022
"Road Map to Redistricting 2021-2022" [Cook Political Report].

It's Census data day! Here's @CookPolitical's breakdown of which party controls the redistricting process where. Our current outlook: a GOP gain of 0-7 House seats from redistricting alone, w/ a high initial degree of uncertainty. pic.twitter.com/usPQ9wYmHL

— Dave Wasserman (@Redistrict) August 12, 2021

Thanks for 2010, Obama, good job. Lordie, has it really been eleven years….

"DNC members grow frustrated over increasing White House influence" [The Hill]. ""People are super frustrated in the trenches around what's happening with the DNC and the White House's control of it," said a DNC member, who asked to speak on the condition of anonymity to candidly discuss the internal dynamics at play. 'The White House is not thinking about how to build the electorate writ large, but they're concentrating on [a] few states,' the source said. 'It's all about [the] presidential reelect.' The strong footprint from Biden's inner circle is becoming an annoyance for some within the DNC structure who argue the White House is attempting to mount a reelection effort at a time when state members are trying to build an infrastructure to last well beyond the next presidential cycle." • Lol, what a hoot. The DNC has never tried to do that. I would bet this is DNC consultants ticked off because they can't bill the White House.
Realignment and Legitimacy
Business as usual:

1/n

On 5/21, Nancy Pelosi played $AMZN + $AAPL calls. 50 calls of strikes 3000 + 100 respectively, 6/17/22. Also did $GOOGL before record earnings beat (July 2021) + $NVDA PRESPLIT on 6/3. 6/17/22.$AMZN gets 50% of JEDI contract one month later.

Pelosi beats indices by 25%. pic.twitter.com/cuNkeeJeDo

— unusual_whales (@unusual_whales) July 27, 2021

UPDATE "Blue Dogs Seek to Delay Democratic Budget Plan After Their PAC Takes Millions From Corporate America" [Brick House]. "Both the Blue Dogs and New Dems have PACs that raise millions of dollars every cycle from hundreds of corporate PACs, then send maximum donations of $10,000 back out to their members and more business-friendly Democratic House candidates, sometimes helping Democrats like Golden dodge a pledge not to accept corporate PAC contributions. Members of the Blue Dogs and Problem Solvers are also bolstered in their careers by outside spending in their races by caucus groups that raise large donations from business interests. The Blue Dogs have been affiliated with a nonprofit, Center Forward, that has a super PAC that takes in millions in large donations from pharmaceutical companies and spends millions on ads to help re-elect the coalition's members. The Problem Solvers Caucus was founded by the organization No Labels, which according to records reviewed by The Daily Beast has been funded by Republican megadonors like David Koch and Home Depot founder Ken Langone, as well as by hedge fund and private equity moguls. No Labels' super PAC spent over $3.7 million in the 2018 election cycle supporting Democratic candidates, according to OpenSecrets."

"Rand Paul discloses 16 months late that his wife bought stock in company behind covid treatment" [WaPo]. "Sen. Rand Paul revealed Wednesday that his wife bought stock in Gilead Sciences — which makes an antiviral drug used to treat covid-19 — on Feb. 26, 2020, before the threat from the coronavirus was fully understood by the public and before it was classified as a pandemic by the World Health Organization." • No wonder Paul hates Fauci. Fauci ramped Gilead's stock over remdesivir, and his wife lost money on the deal.

"'Who Are They Paying Secretly Now?': Signs Of UAE Meddling In U.S. Politics Go Ignored" [HuffPost]. "On July 20, federal prosecutors accused the United Arab Emirates of infiltrating Donald Trump's 2016 presidential campaign by using his adviser Tom Barrack as an agent. The new charges suggested that the wealthy Persian Gulf monarchy interfered in the 2016 election to a stunning degree: The Justice Department was already prosecuting a group of men for allegedly funneling over $3.5 million from UAE royal adviser George Nader to Trump's rival, Hillary Clinton. According to law enforcement, one of America's closest Middle East partners played both sides in one of the most consequential contests in U.S. history ― breaking the law and undermining democracy…. But despite growing suggestions of UAE election interference and cases targeting American citizens like Barrack and Nader, the Emiratis appear to have avoided any consequences or any pressure that would deter similar schemes in the future." • Ka-Ching.

* * *

"Whither the Cuomosexual?" [New York Magazine]. "[R]ecall the stan culture that once enfolded Cuomo. As the pandemic crested in New York, his regular press briefings attracted a national audience, and the governor built an unexpectedly enthusiastic, sometimes worshipful fan base. Comedian Randy Rainbow dubbed himself a 'Cuomosexual' in a Youtube video that has been viewed over 2 million frightening times. Like the namesake, the Cuomosexual now faces a reckoning. On Instagram, the fashion brand Lingua Franca announced that it would update its 'Cuomosexual' and 'Cuomo for President' sweaters for anyone who asks. The former sold for $400: an expensive embarrassment." Update to what? Mueller? Fauci? Walensky? Biden? Harris?

"What is ranked choice voting? A political scientist explains" [The Conversation]. "Although it was new for New Yorkers this summer, Australians have been using ranked choice voting, which they call "preferential voting," for more than 100 years to elect members to their House of Representatives." • After listening to enough Clarke and Dawe, I think RCV may be a good thing, but I wouldn't expect too much:
Stats Watch
Employment Situation: "07 August 2021 Initial Unemployment Claims Rolling Average Marginally Worsens" [Econintersect]. "Market expectations for weekly initial unemployment claims (from Econoday) were 365 K to 393 K (consensus 378 K), and the Department of Labor reported 375,000 new claims. The more important (because of the volatility in the weekly reported claims and seasonality errors in adjusting the data) 4 week moving average moved from 394,500 (reported last week as 394,000) to 396,250."
Inflation: "July 2021 Producer Price Final Demand Inflation Continues To Heat Up" [Econintersect]. "The Producer Price Index (PPI) year-over-year inflation increased from +7.3 % to +7.8 %…. The PPI represents inflation pressure (or lack thereof) that migrates into consumer price."
Coincident Indicators: "07 August 2021 New York Fed Weekly Economic Index (WEI): Index Declines" [Econintersect]. "The New York Fed's Weekly Leading Index (WLI) declined this past week. This index's trend is worsening based on the 13-week rolling average…. This data set should be considered a high-frequency coincident indicator…. The WEI is an index of ten daily and weekly indicators of real economic activity scaled to align with the four-quarter GDP growth rate."
* * *
Commodities: "EXCLUSIVE Exxon, Chevron look to make renewable fuels without costly refinery upgrades -sources" [Reuters]. "The companies are looking into how to process bio-based feedstocks like vegetable oils and partially-processed biofuels with petroleum distillates to make renewable diesel, sustainable aviation fuel (SAF) and renewable gasoline, without meaningfully increasing capital spending."
The Bezzle:
Don't forget—they gutted the American system of labor regulation along the way. https://t.co/3X2xyQbn4y

— Marshall Steinbaum 🔥 (@Econ_Marshall) August 12, 2021
As I wrote yesterday: "Unprofitable as a firm, Uber could — I don't know how to do the math on this — be profitable for the capitalist class taken as a whole; destroying public transportation but more importantly legalizing new forms of exploitation by creating the new class of gig workers (which we should all be, right?)." So a real economist just said the same thing in politer language. Interesting!
* * *
Today's Fear & Greed Index: 42 Fear (previous close: 39 Fear) [CNN]. One week ago: 34 (Fear). (0 is Extreme Fear; 100 is Extreme Greed). Last updated Aug 12 at 1:00pm.
The Biosphere
"Scientists are sending a 500-million-year-old brainless 'Blob' that can think into space" [EuroNews]. "Meet 'Blob,' an unclassifiable organism that will fly into orbit on Tuesday to be the subject of an educational experience organised by French astronaut Thomas Pesquet…. Better known as "slime mould," Blob appeared on Earth over 500 million years ago, way before animals began colonising the land…. Blob, or Physarum polycephalum as it is known, is made up of only one cell and several nuclei. A spongy yellow mass in appearance, it is devoid of a mouth, brain and legs. And yet it eats, grows, moves (albeit very slowly), and has amazing learning abilities…. 'When most organisms use two sexual types, the blob has more than 720! It is an organism which tells us that life is made of a multitude of original features,' the professor added." • Who can forget Lord Running Clam, the slime-mold character in Philip K. Dick's Clans of the Alphane Moon?
Health Care
"Don't Panic, But Breakthrough Cases May Be a Bigger Problem Than You've Been Told" [Benjamin Wallace-Wells, New York Magazine]. The desk: "Current public-health messaging may understate the scale and risk." Hard to believe the Administration would screw up Covid messaging, but here we are. Fire up the espresso machine for this one, it's worth it. Picking out some important numbers:
Unfortunately, more accurate month-to-month data is hard to assemble — because the CDC stopped tracking most breakthrough cases in early May, before the Delta wave had begun, and the states maintaining their own databases often update them irregularly and, in some cases, according to idiosyncratic logic — but over the last week, I've tried. And while several states show prevalence rates roughly in line with Kaiser's ballpark one percent estimate (in Virginia, for instance, breakthroughs represent 2.3 percent of new cases and 5.2 percent of deaths), in others the patterns were divergent. In Delaware, between July 1 and July 22, "breakthrough" cases were 13.8 percent of the total. In Michigan, between June 15 and July 30, the figure was 19.1 percent. In Utah, 8 percent of new cases were breakthroughs in early June, but by late July, as Delta grew, the share grew, too, to 20 percent (even while the total number of cases almost doubled). According to those leaked CDC documents, there were, as of late last month, 35,000 symptomatic breakthrough cases being recorded each week — about 10 percent of the country's total. Presumably many more breakthrough cases were asymptomatic, which would drive the share up further.

…But the piecemeal data does begin to tell you something, . When I ran these figures by Topol, he said, "I think the numbers are right on, and I think they've clearly been getting worse as Delta became fully dominant, now approaching 100 percent of all U.S. infections."
And that's before we get to the long interview with Harvard's Michael Mina:
[MINA:] Many people have tried to stay in line with the official public-health message — whether that's because they don't have enough confidence in their own understanding of how the virus works or if it's because they want to stay consistent with the public-health message of the country, I don't know. It's never been clear to me why. I think everyone has their own reasons for not being willing to be a little bit more outspoken during this, particularly given that the official message has often been weeks or months behind the virus. But I think the message that breakthrough cases are exceedingly rare and that you don't have to worry about them if you're vaccinated — that this is only an epidemic of the unvaccinated — that message is falling flat. If this was still Alpha, sure. But with Delta, . Plenty of transmission is going on. And my personal opinion is that the whole notion of herd immunity from two vaccine doses is flying out the window very quickly with this new variant. And it's probably going to fly out the window even more quickly with the variants to come.
"Plenty of people are getting sick." As I thought Yves remarked, but cannot find, word of mouth counts. I hope readers will take time over this one and give responses. NC may well return to it.
"You may need a better mask for Covid-19 variants and Wildfires" [Patient Knowhow (Verifyfirst)]. " Below are a short list of off-the-shelf options you can purchase online as well as a number of new mask designs that push the envelope in these dimensions. Please also see notes on testing and valves below." • Very interesting! The page on how to do research is also interesting.
"A Tiny Hospital in Texas Might Help Solve the Mask Shortage" [Elemental (Verifyfirst)]. "[A]t the Texas Center for Infectious Disease (TCID), staff receive a special mask on the first day of their orientation — it's theirs to keep and maintain throughout the year. The mask, known as an elastomeric respirator, is made of durable plastic and has a facepiece that goes over the mouth and nose attached to two cartridge filters that attach on the left and right sides…. The durable masks given to hospital workers at TCID are called North 7700 respirators and they're much more effective than N95 masks. Unlike N95 masks, which filter 95% of particles larger than 0.3 microns in diameter, the P100 cartridges used in the North 7700 masks at the Texas hospitals filter out 99.97% of particles. In fact, there is a strict policy against wearing N95s at the hospital unless you are a visitor." • Kinda like Darth Vader; there should be a fashion forward version. This is from 2020, so I'd be interested in hearing what readers have to say. One of the frustrating things for me about Delta is that there seems to be little I can do to up my game (I'm already pretty socially isolated, being an introvert). However, a greatly improved mask might be one such thing.
Our Famously Free Press
"New York Times Puts Newsletters Behind Paywall to Boost Subscribers" [Bloomberg]. "New York Times Co. is putting 18 newsletters behind a paywall, going toe to toe with rival offerings from Twitter, Facebook and Substack Inc. in an effort to boost subscribers. The subscriber-only emails will be a mix of new and existing newsletters written by Times journalists and contributors in its news and opinion sections. They'll focus on a range of topics, including politics, technology, religion, economics, health and lifestyle… The company leads the newspaper industry, with more than 8 million total subscriptions. But ." • They need Trump back so bad. And then of course:
it's cool that information which may be beneficial to public health is paywalled. I wonder why disinformation is such a problem pic.twitter.com/nqT3jjD5sZ

— hi, I'm gay actor Michael Douglas (@Bowsnonk) August 11, 2021
>
Journals like NEJM. JAMA, The Lancet, Nature, and Science — to name a few — have moved their Covid content outside the paywall. Not so the more prestigious Times!
The 420
"An inconvenient truth (about weed)" [Politico]. "America's patchwork approach to legalizing weed has helped make cannabis cultivation one of the most energy-intensive crops in the nation. And as states increasingly embrace marijuana, a growing source of greenhouse gases is going essentially unnoticed by climate hawks on Capitol Hill. Nationally, 80 percent of cannabis is cultivated indoors with sophisticated lighting and environmental controls designed to maximize the plant's yield. It's a setup that can consume up to 2,000 watts of electricity per square meter, 40 times what it takes for leafy greens like lettuce, when grown indoors. 'For being such a 'green' industry, there's some skeletons in the closet," said Kaitlin Urso, an environmental consultant with the Colorado Department of Public Health and Environment. Despite piecemeal attempts by states and some growers to reduce their power consumption, at least one expert estimates the industry's footprint already accounts for more than 1 percent of U.S. electricity consumption and continues to rise. Complicating matters further, federal laws also bar the flow of weed over state lines. That requires companies to grow cannabis in each state where they want to do business and deprives them of the scale that makes other industries more efficient." • Being a petty bourgeois utopian, I always figured people could just grow it themselves. Oh well.
Zeitgeist Watch
UPDATE "The case against crisis-mongering" [Matt Yglesias, Slow Boring]. "What would be interesting and useful is reporting and analysis on how to solve significant practical problems in the policy domain. But to get there, everyone needs to chill out a bit." • Well… Yglesias is getting dogpiled for this. There's not a whole lot for me to agree with here, but I do agree that "mongering" is not helpful.
Class Warfare
"Elite Feminists Ran Cover for Andrew Cuomo" [Jacobin]. "The New York Times reported that Tina Tchen, the chief executive of Time's Up, was also among those who reviewed the anti-[accuser Lindsey] Boylan letter for Cuomo. , has since clarified on Twitter that Kaplan did consult with her about the letter by phone and that her advice was, 'No survivor should be attacked and the truth should be told.' She has in some statements claimed not to remember much about these conversations, almost certainly a lie. She also tweeted that she's 'furious that the Governor used me and Time's Up as a justification for their defense.' However, a statement by Time's Up seemed to acknowledge that an organization in which any of this would happen has a giant problem: 'We are looking within,' it read. That moment of introspection comes not a moment too soon. Hilary Rosen, a board member of Time's Up — and a music industry lawyer who made her career on finding ways to use the carceral state against ordinary music listeners back in the file-sharing days — described the outrage against Time's Up as an example of the principle that 'no good deed goes unpunished,' claiming that [Roberta Kaplan, chair of Time's Up] and Tchen had simply advised Cuomo's office to tell the truth and not to attack the accuser. Even if that were true, giving Cuomo that advice would still amount to helping the abusive boss, since it would not have been in the governor's best interest to publish an angry letter defaming Lindsey Boylan. However, Tish James's report casts doubt on Tchen's account: that the two had suggested removing a reference to Boylan's interactions with male staffers but had said that otherwise the letter 'was fine.'" • They ran interference for The Big Dog, so why wouldn't they run interference for Ratface Andy?
News of the Wired
"The importance of Taleb's system" [Branko Milanovic, Global Inequality and More]. I don't know if Taleb has blessed this, but in the absence of any thunderbolts from the mountainstop, this layperson finds it a useful translation. "Like Moliere's Mr. Jourdain we have become Gaussian without thinking or knowing that we are. This can have nefarious consequences. Take an example that Taleb mentions. The distribution of personal weight is Gaussian; thus when we build elevators that carry people we can at most assume that there may be, at any given time, (say) eight persons weighting 250 pounds each in the elevator. Let us add another 1000 pounds for safety and we can be pretty confident that an elevator that can handle 3000 pounds will be safe. But then suppose we are constructing a flood dyke. Flood levels are not normally distributed. Moreover even the last highest flood value does not guarantee that the following flood cannot be worse…. These are the phenomena where the averages carry very little informational content." • Phenomena like pandemics. Or climate change.
\34
* * *
Readers, feel free to contact me at lambert [UNDERSCORE] strether [DOT] corrente [AT] yahoo [DOT] com, with (a) links, and even better (b) sources I should curate regularly, (c) how to send me a check if you are allergic to PayPal, and (d) to find out how to send me images of plants. Vegetables are fine! Fungi and coral are deemed to be honorary plants! If you want your handle to appear as a credit, please place it at the start of your mail in parentheses: (thus). Otherwise, I will anonymize by using your initials. See the previous Water Cooler (with plant) here. Today's plant (diptherio):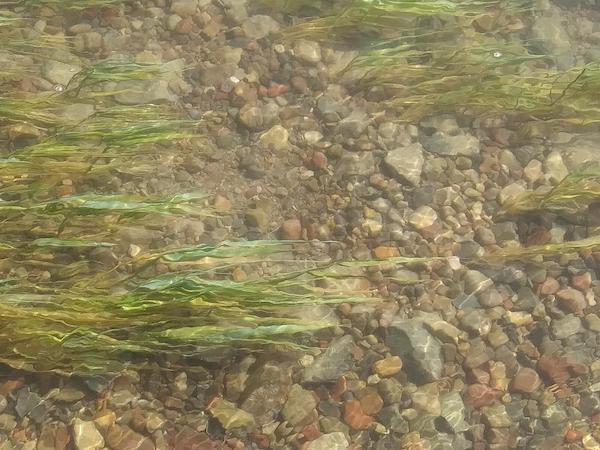 diptherio writes: "Here's some lovely grass from my soaking spot on the Flathead, making a go of things despite being inundated by the rising river for a couple of weeks now. May we all show such resolve!"
Also, alert reader Larry Y brings INaturalist to our attention: "iNaturalist helps you identify the plants and animals around you. Get connected with a community of over a million scientists and naturalists who can help you learn more about nature! What's more, by recording and sharing your observations, you'll create research quality data for scientists working to better understand and protect nature." I note the presence of National Geographic and a "Stakeholder Engagement Strategist," so I wish it were wholly academic, but maybe it's OK.
* * *
Readers: Water Cooler is a standalone entity not covered by the recently concluded and — thank you! — successful annual NC fundraiser. So if you see a link you especially like, or an item you wouldn't see anywhere else, please do not hesitate to express your appreciation in tangible form. Remember, a tip jar is for tipping! Regular positive feedback both makes me feel good and lets me know I'm on the right track with coverage. When I get no donations for five or ten days I get worried. More tangibly, a constant trickle of donations helps me with expenses, and I factor in that trickle when setting fundraising goals:
Here is the screen that will appear, which I have helpfully annotated.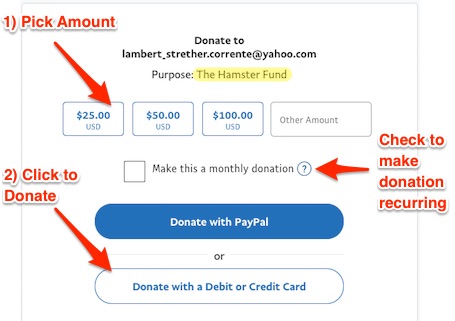 If you hate PayPal, you can email me at lambert [UNDERSCORE] strether [DOT] corrente [AT] yahoo [DOT] com, and I will give you directions on how to send a check. Thank you!2:00PM Water Cooler 6/8/2021