By Lambert Strether of Corrente.
Bird Song of the Day
Whoops, yesterday I grabbed a goose from the goose tab, not a stork from the stork tab. My bad! So today we are totally back to bill-clapping, apparently with a very admiring audience! Here is a make-good for my error:
Frank Sinatra was once asked if he ever kept herons as pets…

"Egrets? I've had a few…" he replied.

— The Dad Joke Man (@DadJokeMan) August 18, 2021
* * *
#COVID19
At reader request, I've added this daily chart from 91-DIVOC. The data is the Johns Hopkins CSSE data. Here is the site. I feel I'm engaging in a macabre form of tape-watching….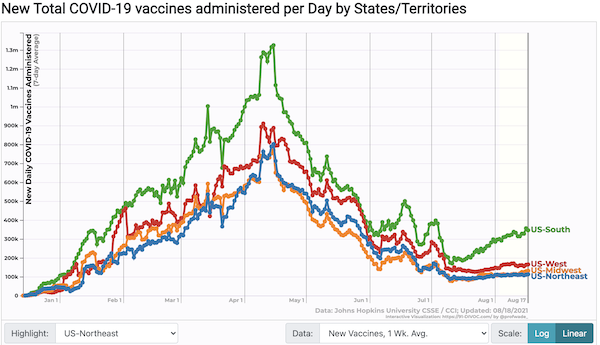 Back up in the South.
50.9% of the US is fully vaccinated, a big moment, breaking the psychological 50% barrier. Every day, a tenth of a percentage point upward.
DC They build dashboards:
DC Health is now calculating the daily case rate separately for vaxxed and unvaxxed. As of 8/11, Vaxxed: 9.2 cases per 100,000. Unvaxxed: 35.6 cases per 100,000.

The director hopes the updated dashboard helps residents understand the importance of getting vaxxed against covid. pic.twitter.com/Co7xokTDMi

— Amanda Michelle Gomez (@amanduhgomez) August 16, 2021
Now do breakthrough infections. NOTE Hat tip to alert reader Bradford: They did!
Case count by United States regions: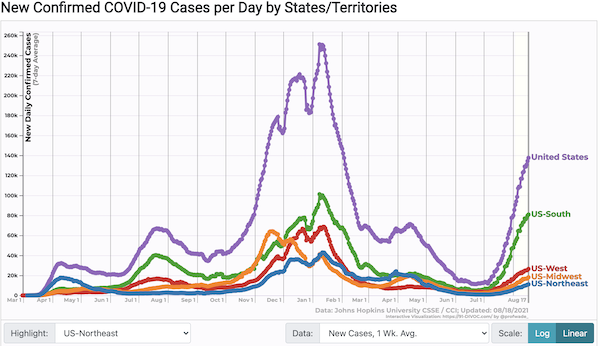 Still near vertical. As far as reaching the peak of January 8, 2021, with 295,257 cases per day … I'm not that pessimistic (modulo a new variant brought into the country by our ridiculously lax policies on international quarantines). What we might call, after Everest, the "First Step" (November 25, 2019) with 178,466 looks in striking distance, especially if the case count purple line continues go near vertical. If things go on as they are, we should hit the first step just in time for Labor Day. But what do I know, I'm just a tape-watcher.
Covid cases top ten states: for the last four weeks (hat tip, alert reader Lou Anton):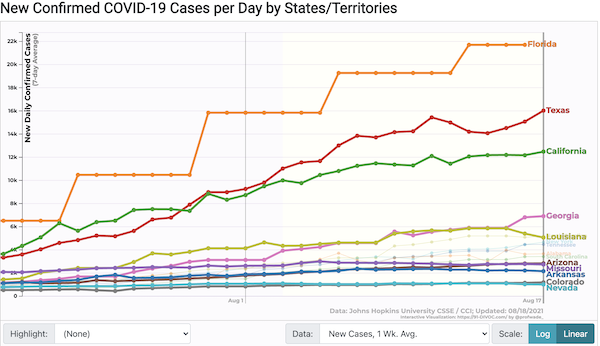 California is Texas's wingman. Meanwhile, Florida staggered ahead.
NEW From CDC: "Community Profile Report August 17, 2021" (PDF), "Rapid Riser" counties, this release: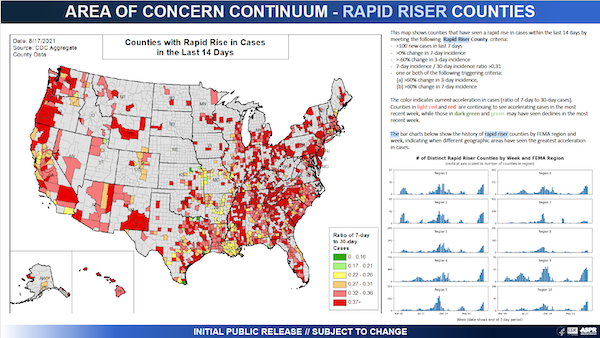 I'm seeing a lot more pink in the South: Louisiana, Georgia, North Carolina, even Florida, and some pink in the Acela Corridor as well. Remember, however, that this chart is about acceleration, not absolute numbers. For our case count to come off the vertical, we need to see a lot more green. This map blows the "Blame Bubba" narrative out of the water. Not a (Deliverance-style) banjo to be heard. Previous release: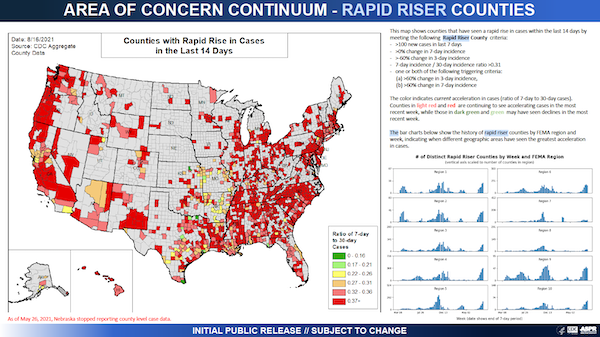 (Red means getting worse, green means bad but getting better. This chart updates Tuesdays and Fridays, presumbly by end-of-day.)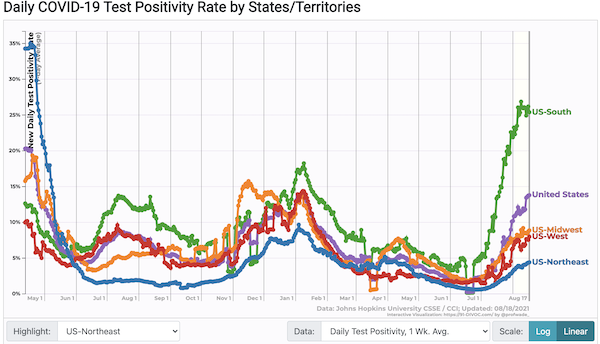 South running away with the field. But other regions now playing catch-up.
Hospitalization (CDC):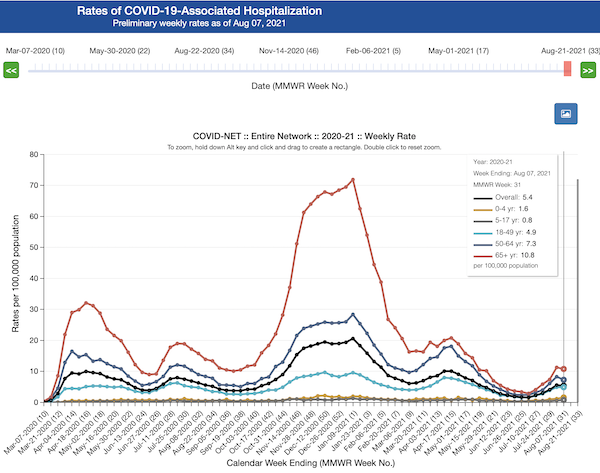 A little dip across all age groups, oddly.
NEW Here the CDC's hospitalization visualization, from the source above: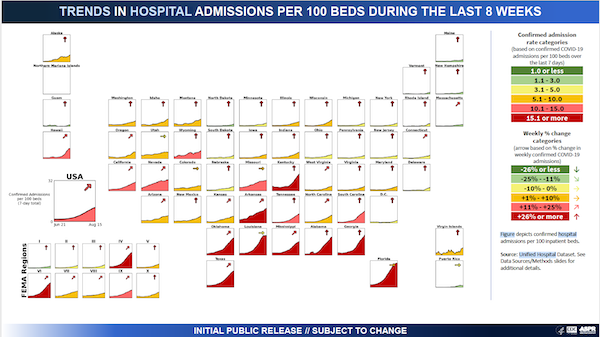 Yet more red states now, still in the South. Not good.
Deaths (Our World in Data):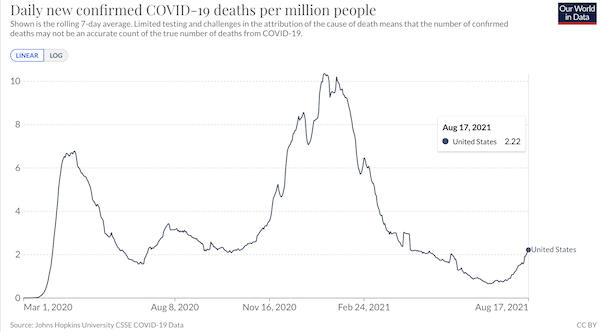 Deaths on trend rising; nowhere near meriting an anti-triumphalist black line, being an order of magnitude less than there were at peak. (Adding: I know the data is bad. This is the United States. But according to The Narrative, deaths shouldn't have been going up at all. Directionally, this is quite concerning.)
Covid cases worldwide: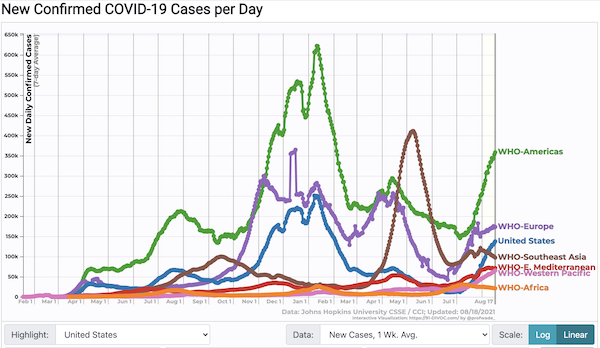 Southeast Asia doing better, I presume because little-covered Indonesia is past a peak. US sphere of influence under the Monroe Doctrine not doing so well.
* * *
Politics
"But what is government itself, but the greatest of all reflections on human nature?" –James Madison, Federalist 51
"They had one weapon left and both knew it: treachery." –Frank Herbert, Dune
"They had learned nothing, and forgotten nothing." –Charles Maurice de Talleyrand-Périgord
Biden Administration
"In Praise of Joe Biden" [Counterpunch]. "I don't like Joe Biden. I think his working class shtick is as phony as a street corner Rolex. He's a liar. He's a corporate sycophant. He's a masher creep around women and girls. And he's kind of an asshole in general (I know, takes one to know one). His political record is one long disaster. But…. Joe Biden did not fuck up with Afghanistan. He made the cleanest getaway possible, and this was altogether the right thing to do, no matter the fallout. There was no other way…. The fallout — those dramatic images we are seeing of the Taliban re-establishing its authority — was built into the whole enterprise…. I'm praising Joe Biden. This departure took guts. It takes guts in a culture so steeped in simulacra, manufactured myth, and incessant political maneuvering to do a thing that's simultaneously necessary and sure to produce unsavory results. Whatever else Biden does that pisses me off in the future — and that's a sure thing — he deserves credit, not all this hand-wringing and blame…. God bless Joe Biden for ending this obscenity." • This is where I am. I can only hope that this is another example of Biden being a better politician than the yammering backstabbers who dominate the Democrat Party. What Greenwald said:

I know some are sincere that they favored withdraw but object to "how it was done." But precisely because the US Govt lied — there was no Afghan Security Forces — there was no good way to leave. And that's the pretext they use for Endless War: "not now," "not this way," etc.

— Glenn Greenwald (@ggreenwald) August 17, 2021

UPDATE PowerPoint corrupts absolutely:

Also, there's no easy way to say, "To do PowerPoint, so that we can win" to an 8yo.

Or, anyone, for that matter.

— Angry Staff Officer (@pptsapper) August 18, 2021

UPDATE "Child Tax Credit: Democrats look to extend 'transformational' expansion" [Yahoo Money]. "The Biden administration is trying to extend the expanded Child Tax Credit through 2025 and permanently keep in place a key provision that helps low-income families. The moves could prove popular. Under President Joe Biden's $3.5 trillion, 10-year spending plan, the increased tax credit and the advance monthly payments would continue through 2025, while the credit would be made fully refundable permanently. 'Biden proposed to make the most critical part for child poverty permanent,' Robert Greenstein, a fellow at the Brookings Institution, told Yahoo Money. 'There is a real distinct possibility that that is indeed what Congress could do and that would be transformational.' The one-year expansion of the credit has the potential to cut child poverty by more than 40%, according to the Center on Poverty and Social Policy at Columbia University. Additionally, society is estimated to reap $794 billion in benefits from the one-year expansion, or nearly eight times the $100 billion price to implement it."

UPDATE "CNN gets an inside look at Space Force" [CNN]. • They're called "Guardians." "Space Delta 8 Commander" is a thing. Hilarity ensues.
Democrats en Deshabille
UPDATE "It's time to start taking the California recall seriously" [Chris Cilizza, CNN]. "In 28 days, California voters will decide whether to recall Gavin Newsom. And the governor is getting nervous…. An initial glance at new CBS polling numbers seems to suggest decent news for Newsom, with majority of registered voters (54%) saying they don't think he should be recalled and 46% saying he should.

But dig a little deeper and the problem for Newsom becomes much more apparent. Among likely voters, just 52% oppose the Newsom recall while 48% support it…. What makes Democrats' position even more tenuous is that they purposely did not offer up any other prominent candidate for voters to choose if Newsom is recalled. (The ballot will have two parts. The first is whether Newsom should be recalled; the second is a a very long list of candidates who are running to replace him. That decision was made in hopes of keeping Democrats entirely unified behind Newsom — and in opposition to the recall. And there's no question it raises the stakes of the first vote on September 14. But it also means that if Newsom is recalled, a Republican is going to be elected governor of the nation's biggest state…. A low-turnout election quite clearly puts [Newsom] in danger. And at the moment, that is a real possibility."
Republican Funhouse
"DeSantis donor got $50 million in emergency pandemic work" [Politico]. " Gov. Ron DeSantis' administration awarded nearly $50 million in no-bid Covid-related work to a controversial Utah company that lobbied his administration for the contracts, then gave the Republican governor a $100,000 political contribution. The company, Nomi Health, Inc. has received $46 million under two separate contracts it signed with the state for Covid-19 testing and vaccine work throughout Florida between February and June, state records show. The spending was approved under a DeSantis-signed pandemic executive order, which gave the administration broad legal authority to spend state funds without legislative approval or going through a normal procurement process. After getting lucrative work from the administration for the first time, on July 23, Nomi Health gave a $100,000 political contribution to a committee controlled by DeSantis, who is raising huge sums of campaign cash ahead of 2022 re-election bid. The company previously had never had a political presence in the state." • All things work together for good!

UPDATE "DeSantis' top donor invests in COVID drug governor promotes" [FOX]. "Florida Gov. Ron DeSantis — who has been criticized for opposing mask mandates and vaccine passports — is now touting a COVID-19 antibody treatment in which a top donor's company has invested millions of dollars. DeSantis has been flying around the state promoting Regeneron, a monoclonal antibody treatment that was used on then-President Donald Trump after he tested positive for COVID-19. The governor first began talking about it as a treatment last year. Citadel, a Chicago-based hedge fund, has $15.9 million in shares of Regeneron Pharmaceutical, according to filings with the U.S. Securities and Exchange Commission. Citadel CEO Ken Griffin has donated $10.75 million to a political committee that supports DeSantis — $5.75 million in 2018 and $5 million last April." • All things work together for good again!

"Texas Governor Greg Abbott Tests Positive For COVID-19 Despite Receiving Vaccination" [CBS DFW (Re Silc)]. "Back in 2020, Gov. Abbott on Tuesday, Dec. 22, joined the ranks of governors receiving the COVID-19 vaccine on live television in hopes of assuring the public that the inoculations are safe. Back in April, he issued an executive order stopping government agencies and state-funded organizations from requiring proof of vaccination. Then, on Thursday, July 29, he issued a new executive order to bring "clarity and uniformity" to the state's COVID-19 response. The new order bans any local government in the state from requiring residents to get vaccinated. It also allows any business to continue operating at full capacity, no matter the virus' rate of spread or how many people are hospitalized with COVID-19. Abbott also appealed for out-of-state help Monday, August 9 to fight the third wave of COVID-19 fueled by the highly contagious delta variant in Texas." • So a breakthrough infection. Masks would have helped with that, but here we are:

.@GregAbbott_TX is at the Republican Club at Heritage Ranch meeting tonight! pic.twitter.com/oIuabG72lU

— Texans for Abbott (@AbbottCampaign) August 17, 2021

"Now Would Be A Great Time For George W Bush To Shut The Fuck Up" [Caitlin's Newsletter]. • Too late. Bush gave Michelle candy, so he's one of the good guys now. Untouchable,
Obama Legacy
Hope and change:

Obama would say anything, in the same bland agreeable voice. Seems like he saw his job as attorney to a senile family: Tell them whatever they want to hear, then do real talk with the accountants.https://t.co/7Hezv1dJRC

— The War Nerd (@TheWarNerd) August 18, 2021
Clinton Legacy
UPDATE "Chelsea Clinton's Oxford Whirl" [Vanity Fair]. From 2002, still germane. "Still, Chelsea found her way to an anti-war demonstration that took place in November at the [Oxford's] town hall. As a Labour M.P., Jeremy Corbyn, spoke, a group of American boys unfurled a large American flag. Chelsea was with them. 'Remember the September dead!' one of them screamed. They were asked to leave." • I know who came out of that demo looking good, and who didn't.
Realignment and Legitimacy
Certainly is odd how identity politics dovetails so neatly with CIA recruiting requirements:

Levi's and the CIA team up to make a new recruitment video. pic.twitter.com/PNCxKLMddX

— Turncoat Don (@TurncoatD) May 9, 2021

A play in two acts:

You racialize a stranger. Publicly disrespect their entire career. Receive backlash. Refuse to apologize, dig in deeper and paint yourself as the victim in a gratuitous pile-on you started. Then the coup de grace? You solicit donations from strangers to finance your self-care 😵‍💫 pic.twitter.com/ybw9p5hpxn

— Thomas Chatterton Williams (@thomaschattwill) August 18, 2021

I understand the concept of "appropriation," but… Intersectionality is all very well, except when it comes time to protect one's vertical.

* * *

Sanity in New York:

UPDATE "Perkins Loses Harlem Council Primary Recount by 114 Votes to Democratic Socialist" [The City]. "The New York City 2021 primary is finally officially over and Harlem has a new Democratic nominee for its City Council seat. In a major leadership shakeup for the area, Democratic Socialist and first-time political candidate Kristin Richardson Jordan has clinched her win over incumbent Bill Perkins, a New York politics veteran. Jordan, who was endorsed by Rep. Alexandria Ocasio-Cortez's political action committee, secured 9,034 votes — just 114 votes over Perkins, who was vying for another term while suffering from apparent memory loss."

UPDATE "Nassau County Executive Vetoes Bill That Would Punish People For Making Cops Feel Bad" [TechDirt]. "Good news in Nassau County, New York. The stupid law that turned not being sufficiently deferential to cops (or other first responders) into a quasi-hate crime has been rejected by the head of Nassau County's government, accompanied by a message to the stupid legislators who passed it…. [T]he bill was passed by a margin of 12-6. That the consensus is wrong about the bill's necessity and the quality of the craftsmanship is the larger problem and it indicates there will be similar proposals in the future, especially since local law enforcement can't seem to be disabused of the notion that a career choice isn't an immutable characteristic worthy of protection from discrimination."

UPDATE "City Disapproves Botanic Garden-Adjacent Mega Development" [Brooklyn Paper]
Stats Watch
Construction: "July 2021 Residential Building Growth Rate Continues To Slow" [Econintersect]. "Headline residential building permits and construction completions rate of growth slowed. The rolling averages also slowed for both permits and construction completions…. We seem to be seeing and bad month, followed by a good month, and then another bad month. The softening year-over-year growth rates are caused by comparisons to the improving economic conditions of the post-recession period one year ago. The backward revisions this month were small."
Trade: "July 2021 Import Sea Container Growth Continues At A Record Pace" [Econintersect]. "The import container counts for the Ports of Los Angeles and Long Beach rate of growth continues in record territory. Exports are still having the worst year since 2006…. Import container counts continue to surge. In the last six months, import container counts have been at all-time highs. There is chaos in container movements with containers in the wrong place, continuing COVID port shutdowns in China, and shortages of rail cars to move containers, containers stacking up in the midwest, and not being able to get back to Asia – there continues a shortage of containers and unloading berths. Imports are having their best year ever and exports the worst year since 2009. The slowing of year-over-year growth is caused by comparisons to the improving economy one year ago… Import container counts give an indication of the U.S. economy's state and the data this month is suggesting strong economic growth."
* * *
Finance: "Rich Investors Are Buying Risky Credit That Banks Won't Touch" [Bloomberg]. "Blackstone Group Inc., Carlyle Group Inc., Apollo Global Management Inc. and other large firms have started offering products for individuals to invest in loans to midsized companies that banks won't touch. The lure is a potential annual return at times surpassing 8%, when corporate bond return indexes are negative, plus a relatively low initial investment. Their push coincides with a broader democratization in financial markets, with apps such as Robinhood Markets Inc. helping people find their way into everything from SPACs to Dogecoin. The meme-stock phenomenon in the U.S. this year showed the potential return for retail investors in distressed companies such as AMC Entertainment Holdings Inc., up more than 1,500%." • "Democratization of finance." Who invented that one?
Finance: "Kids Jump on the Retail Investing Bandwagon, $5 at a Time" [Bloomberg]. Picture caption: "Financial planner Mac Gardner reads his book, The Four Money Bears, to children at an elementary school in Tampa, Florida, in November 2018." I was going to propose The Little Bezzler, but of course bears are far more cute.
Retail: "Americans are spending $765 more a month than they did in 2020, survey finds" [CNBC]. "Between dining out and taking trips, Americans are now spending an average of $765 more a month compared with last year when much of the country was shut down due to the coronavirus pandemic, according to the MassMutual Consumer Spending & Saving Index. Young adults, in particular, are determined to make up for lost time. Millennials and Gen Z, who reported feeling the financial impact from the rise in reopenings and social gatherings, said they are shelling out $1,016 more a month, , than they did during summer of 2020. MassMutual polled 1,000 U.S. adults from July 21 to 28." • Averages conceal. $765 is a lot of money. There's no way essential workers are spending the rent money on brunch and trips.
Commodities: "Despite dire warning about climate change and fossil fuels, energy investors aren't swayed" [Los Angeles Times]. "The sobering United Nations-backed report on global warming last week prompted a lot of hand-wringing from governments and the general public about fossil fuels. The response from investors in the oil and gas industry? A big shrug. Shares of energy companies, which led the Standard & Poor's 500 index higher for much of the year, ended the week little changed. Oil prices rebounded from a sell-off earlier in the month, despite the warnings that the world must wean itself off fossil fuels, and fast. Investors must now weigh the industry's soaring revenue and improving profitability against the long-term prospect of a carbon-light world. The key is how long it will take for countries to phase out internal combustion engines in the coming decades and what kind of supply and demand imbalances occur along the way. 'Investors for the most part are not buying into the sky-is-falling climate change narrative,' said Martin Pelletier, portfolio manager at Wellington-Altus Private Counsel. 'There is no doubt a transition towards renewables, but the pace of that transition is what is under question.'" • On this one, I'm long stupid.
Shipping: "Mounting backups at Southern California ports are adding to the pain for U.S. importers already grappling with delays ahead of the holiday season. More than three dozen container ships are anchored off the ports of Los Angeles and Long Beach as surging volumes of consumer and industrial goods clog the main gateway for U.S seaborne trade and strain domestic logistics networks that are already thin on labor and equipment" [Wall Street Journall]. "[T]he congestion marks a return to the worst logjams seen earlier this year, when up to 40 ships waited for berths. Some businesses such as Adidas are switching to more costly airfreight when possible, and port officials say worried shippers are pulling imports forward, adding to the crush of containers. Most must simply wait it out as a cost of accessing the best-equipped terminals to move tens of thousands of containers inland quickly." • Funny how "three dozen" is such a small number in absolute terms.
The Bezzle, via dk:
Human-assisted robots.

Most robo-cars/trucks/delivery bots require constant human aides either in them, near them, or via cell connection (no cell, no go).

These vehicles aren't independent systems, they're dependent subsystems.

This bot is functioning as a fancy wheelbarrow. https://t.co/AXe5THs5pL

— John Berry (@aniccia) August 18, 2021
Did the guy throw the scooter up in the tree? And from the same thread:
Per @jjricks_ 's description, sounds like Waymo has 3 levels of customer and/or WD support:

1) ~classic first level CS phone support (Other Safety)

2) remote navigation (Driving Safety) hidden from passenger

3) ~classic roadside assistance (Driving) https://t.co/cnbZJdgJWc

— John Berry (@aniccia) May 29, 2021
On the bright side, I didn't think Google even had customer support.
The Bezzle: The middleman's end-game:
They killed local competition through lobbying and artificially low rates. Now that they're the biggest game in a lot of places, they can do all sorts of unethical stuff. https://t.co/Uv8ist0VEJ

— Dwayne David Paul (@DwayneDavidPaul) August 17, 2021
The Populist farmers would have understood immediately.
The Bezzle: "Autonomous trucking companies are rushing to tap public markets, but their road to commercial success remains anything but clear. Navigating highways without a driver in the cab is just one of the hurdles that TuSimple, Plus and other self-driving trucking startups face… as the companies to launch systems that backers say will cut labor costs and transit times while making roads safer" [Wall Street Journal]. "Investors have ploughed billions into autonomous ventures whose success also depends on factors outside their control, including crafting highway regulations and insurance policies for robot trucks hauling heavy loads down public roads. Recent test drives show the technology's potential but also how far it has to go before it can operate safely without a human at the wheel. Freight-industry skepticism hasn't stopped logistics providers from taking equity stakes in startups whose success could shave significant costs from their businesses."
The Bezzle: "What I learned visiting two cutting-edge Amazon grocery stores" [Full Stack Economics]. On the "Just Walk Out" technology: "But we shouldn't count grocery incumbents out yet. For one thing, we don't know how well Just Walk Out technology is really working. A couple of things give me pause. I visited the DC Amazon Fresh location twice the week of August 2. Both times, it took Amazon about three hours to send me my receipt. I don't know why it took Amazon so long to generate my receipt (the company didn't answer an email seeking comment about this) but one possibility is that Amazon has human workers reviewing footage to make sure the software classified items correctly. • Yes, of course they would. "Depending on how often this happens, it could negate a lot of the technology's cost savings. Another curious fact: Amazon seems to be scaling back its footprint for Amazon Go, the original chain of convenience stores based on Just Walk Out technology. Back in December 2019, Amazon had 25 Amazon Go locations. Today, that number has declined to 22 locations, with six of those listed as "temporarily closed." This is particularly interesting because Bloomberg reported in 2018 that Amazon was planning to open up to 3,000 Amazon Go stores by 2021. Maybe the Bloomberg report was mistaken, or maybe the pandemic forced Amazon to shutter stores for reasons unrelated to the Just Walk Out system. But Amazon isn't acting like it has a game-changing retail technology that it's eager to scale up. More broadly, Amazon's foray into the grocery business seems somewhat half-hearted." • Amazon is throwing off so much cash they can simulate whatever they want……
Tech: "Why CAPTCHA Pictures Are So Unbearably Depressing" [OneZero]. "CAPTCHA images are never joyful vistas of human activity, full of Whitmanesque vigor. No, they're blurry, anonymous landscapes that possess a positively Soviet anomie…. Looking at these leaden vistas of America makes you, slightly but noticeably, feel worse than you did before…. CAPTCHA photos are a nonstop brutalist slideshow of metal and concrete. It is as if someone took you on a tour of a lovely scenic town, but strapped you into horse blinders and forced you to stare only at fire hydrants…. Here's the thing, ultimately, about Google's CAPTCHA images: They weren't taken by humans, and they weren't taken for humans. They are by AI, for AI. They thus lack any sense of human composition or human audience. They are creations of utterly bloodless industrial logic. Google's CAPTCHA images demand you to look at the world the way an AI does. It's no wonder we wind up feeling so numbed and depressed as we click through them, day in and day out." • This is absolutely great. And the "depressing" comment makes me wonder if the little hell-mouth Google makes you step through before you get to what you want actually does inflict measurable psychic damage.
Tech: "Autocorrect errors in Excel still creating genomics headache" [Nature]. "Five years after a study showed that autocorrect problems were widespread, the academic literature is still littered with error-riddled spreadsheets, according to an analysis of published gene lists. And the problem may be even worse than previously realized. The long-standing issue often occurs when the abbreviated form of a gene's name — known as a gene symbol — is incorrectly recognized as a date and autocorrected as such by Excel or Google Sheets. For example, SEPT4 (septin 4) and MARCH1 (membrane associated ring-CH-type finger 1) will be automatically changed to 4-Sep and 1-Mar…. In 2016, Mark Ziemann and his colleagues at the Baker IDI Heart and Diabetes Institute in Melbourne, Australia, quantified the problem. They found that one-fifth of papers in top genomics journals contained gene-name conversion errors in Excel spreadsheets published as supplementary data. These data sets are frequently accessed and used by other geneticists, so errors can perpetuate and distort further analyses. However, despite the issue being brought to the attention of researchers — and steps being taken to fix it — the problem is still rife, according to an updated and larger analysis led by Ziemann, now at Deakin University in Geelong, Australia3. His team found that (see 'A growing problem')." And: "Microsoft has never indicated that it will alter its software to accommodate the genetics community." • No, of course not.
Supply Chain: "Higher transport costs and other supply-chain disruptions are weighing on retailers as the Delta variant casts a shadow over U.S. consumer demand. Retail giant Walmart is adding extra lead time to orders and chartering vessels specifically for the company's goods… as increased supply chain costs and wage hikes muted quarterly gains in U.S. profits" [Wall Street Journal]. "The merchant said it is working with suppliers to keep prices low and that some items continue to be hard to find on store shelves. Growth at Home Depot also slowed as supply-chain snags and rising prices for materials such as lumber cut into the company's gross margin."
Mr. Market: "Covid Fear Is Back in Markets, and It's Global" [Bloomberg]."Viewed positively, this could create a nice buying opportunity. It still isn't clear that the delta variant, for all its infectiousness, can do anything like the damage that the first waves wrought on the global economy, before there were vaccines and when the medical profession hadn't yet developed techniques to keep patients alive. The American record is worse than that of the U.K. (the benchmark for developed economies these days as it led in both the alpha and delta variants, and in implementing its vaccination program). But, as demonstrated by this chart from Deutsche Bank AG, the U.S.'s problem is keeping people out of hospital, not keeping them alive."
* * *
Today's Fear & Greed Index: 31 Fear (previous close: 37 Fear) [CNN]. One week ago: 39 (Fear). (0 is Extreme Fear; 100 is Extreme Greed). Last updated Aug 18 at 2:33pm. Big swing back to Fear!
Health Care
"Biden admin to offer Covid-19 booster shots starting Sept. 20" [Politico]. "The Biden administration plans to begin offering Covid-19 booster shots to all American adults starting Sept. 20, amid growing evidence that a third dose of the vaccine will be needed to maintain immunity against the virus…. The policy will apply to people over 18 who have received the Moderna or Pfizer vaccines, and is contingent on authorization from the FDA and a review by CDC's vaccine advisory committee…. The booster decision came after weeks of intense debate inside the top echelons of the administration's Covid-19 task force about whether new data on vaccine effectiveness over time suggested Americans needed a second round of shots…. In a meeting Sunday, Biden administration officials reviewed vaccine data collected by the CDC that showed protection from vaccines declined in recent months as the Delta variant took hold and infections began to rise across the country. A study tracking adults in New York found that vaccine effectiveness against infection declined from 91.7 percent in early May to 79.8 percent by late July, according to held for public health experts on Wednesday morning. The agency released the analysis, which included information on vaccinated and unvaccinated people gathered by city and state reporting systems, on Wednesday." • Well, with the P-Town study, the data was released after the policy change, which wasn't a good look. Now, we're making the data public at the same time as the policy change, which I suppose is an improvement. Idea: Since this is a democracy, not a utopia run by PMC philosopher kings, how about having the public briefing at the same time as the private briefing? (In this case, last Sunday.) Would that be so very hard?
"COVID-19 booster shot for Pfizer, Moderna vaccines will be available Sept. 20" [USA Today]. "Americans who are eligible can receive a third shot beginning Sept. 20, pending authorization from the U.S. Food and Drug Administration, which is expected in the coming weeks, according to a statement from the Department of Health and Human Services and other administration medical experts. The initial doses will go to those who were fully vaccinated earliest in the vaccine rollout, including health care providers, nursing home residents and other seniors. The administration plans to also begin delivering booster shots directly to residents of long-term facilities, according to the statement. The announcement comes as the highly contagious delta variant now accounts for more than 98.8% of U.S. cases, according to the Centers for Disease Control and Prevention. Officials emphasized that mRNA vaccines like Pfizer and Moderna continue to be effective in reducing risk of hospitalization and death, but conceded that recent data made clear that protections begin to wane after the initial doses and amid the dominant delta variant."
"No need for COVID-19 booster jabs for now, vaccine supplies short: WHO" [Channel News Asia]. "Current data does not indicate that COVID-19 booster shots are needed, World Health Organisation (WHO) chief scientist Soumya Swaminathan said on Wednesday (Aug 18). WHO adviser Bruce Aylward, referring to booster shots being administered in high-income countries, told the same Geneva press conference: 'There is enough vaccine around the world, but it is not going to the right places in the right order.' Two doses should be given to the most vulnerable worldwide before boosters are administered to those fully-vaccinated, he said, adding: 'We are a long, long way from that.'"
* * *
"Israeli data: How can efficacy vs. severe disease be strong when 60% of hospitalized are vaccinated?" [Covid 19 Data Science]. Cutting to the chase: "How can there be such a discrepancy between the age-stratified and overall efficacy numbers? This is an example of Simpson's Paradox, a well-known phenomenon in which misleading results can sometimes be obtained from observational data in the presence of confounding factors." • This article seems to be well-received on the Twitter (for example), and not just by journalists, but the statistics are way above my paygrade. Perhaps some knowledgeable readers can work through it and comment.
"Use of portable air cleaners to reduce aerosol transmission on a hospital coronavirus disease 2019 (COVID-19) ward" [Infection Control & Hospital Epidemiology]. "Aerosols rapidly travelled from the patient room into other parts of the ward. Air cleaners were effective in increasing the clearance of aerosols from the air in clinical spaces and reducing their spread to other areas. With 2 small domestic air cleaners in a single patient room of a hospital ward, 99% of aerosols could be cleared within 5.5 minutes…. Air cleaners may be useful in clinical spaces to help reduce the risk of acquisition of respiratory viruses that are transmitted via aerosols. They are easy to deploy and are likely to be cost-effective in a variety of healthcare settings." • Belatedly, even hospitals get into the act!
"The Best Covid-19 Testing Method for International Travel? There Are Problems" [Frommers]. Travel to the United States. "In January 2021, the CDC began requiring everyone flying into the United States to show a negative Covid-19 test result. The results must be provided by anyone over the age of 2 within 3 days of departure and must be either from an antigen test or a nucleic acid amplification (NAAT) test. The airlines are responsible for inspecting those results. In May, the CDC started allowing so-called "take-at-home" tests as well as ones administered in local clinics. Bringing your own test should be the easiest method, but some serious wrinkles have arisen in recent months." • Reviews of the pros and cons of the various tests.
The Biosphere
UPDATE "This town is the first in America to ban new gas stations – is the tide turning?" [Guardian]. "In March, Petaluma in Sonoma county became the first city in the US to ban future gas station construction or any new pumps on existing sites. In July Sonoma county's Regional Climate Protection Authority voted to explore ways to support the nine cities in the county considering bans of their own. A final vote on the resolution is scheduled for September. It's the beginning of what could be a seismic shift. California now has the highest sales of electric vehicles (EVs) in the country…. But it's not all good news. The long-term shift to electric and a mass closures of gas stations will create toxic "brown sites" across the country. A typical gas station can spill up to 100 gallons of gasoline annually, according to Coltura, an environmental activism group, poisoning groundwater and making repurposing the sites expensive and difficult. As gas stations disappear these poisoned plots will present an environmental problem of monumental proportions. That will be another problem to deal with but for now, at least in Petaluma, the end of the gas station is getting off to a surprisingly uncontentious start."
UPDATE "U.S. Gulf of Mexico oil producers consolidation accelerates" [Reuters]. "Oil and gas producers in U.S. Gulf of Mexico have consolidated at a faster rate during the pandemic, new government data shows, as crashing prices squeezed out smaller drillers who had been seen as the industry's future…. Smaller, private-equity backed firms that pushed into offshore fields last decade have struggled, leading several to exit while others slipped into bankruptcy… The top 10 producers — led by Royal Dutch Shell, BP, and Chevron — this year pumped 86% of the region's 1.6 million barrels per day (bpd), up about 11 percentage points since 2017."
UPDATE "PG&E cuts power to Bay Area customers across parts of 5 counties" [SFGATE]. "The lights went off in more than 10,000 households across five San Francisco Bay Area counties Tuesday night as PG&E preemptively cut power across Northern California to reduce the risk of wildfires caused by energized power lines…. The shutoff was implemented as dry offshore winds picked up, increasing the risk of fallen and damaged power lines sparking wildfires… The fire risk in California is high this year after back-to-back dry winters that have left vegetation parched and flammable." • No, the fire risk is high because real estate interests built a lot of houses in the woods (and building codes didn't do enough to protect them from forest fires, or mitigate their effects).
UPDATE "There is a fungus among us! Soils Matter" [Soils Matter, Get the Scoop!]. "For over four hundred million years, arbuscular mycorrhizal fungi have been forming symbiotic relationships with plants around the globe. Found on almost every continent and in approximately 80% of vascular plants, these important fungi play a pivotal role in plant nutrient uptake in diverse ecosystems…. Plants seek to interact with arbuscular mycorrhizal fungi to create a mutually beneficial relationship. Once the fungi and plant roots meet, the fungi penetrate the root cells. From there, the fungi create and establish incredible structures called arbuscules, which were named for their tree-like structure…. Sometimes referred to as "living fertilizers," arbuscular mycorrhizal fungi have the potential to maintain yield while reducing some need for fertilizer. These fungi boost nutrient and water uptake. They can enhance soil structure. They even have been shown to improve plant responses stresses, such as soil salinization, heavy metal contamination, and extreme temperatures."?
Water
"Starving cows. Fallow farms. The Arizona drought is among the worst in the country" [Los Angeles Times]. "In Arizona, 99% of the land is undergoing years-long drought that has accelerated. Large swaths of the region are now in extreme distress and the picture may well get worse, with less reliable mountain snowfall to feed streams and a morphing monsoon season that has only proved a temporary reprieve and even led to flooding. The state, where more than a third of all water can trace itself up the Colorado River to Lake Mead, will also be forced to make do with less beginning next year because of the lake's dwindling supply. 'Arizona is pretty much an irrigated state and we've managed our water resources generally well," said Stephanie Smallhouse, a fifth-generation cattle rancher on the far outskirts of Tucson who is the president of the Arizona Farm Bureau. "But it's near impossible to manage yourself out of a drought." • I dunno. Fly over the Southwest and you can see the land wasn't meant for farming. That's the other way of saying "an irrigated state."
"Bolivia's lake Poopo dries up and scientists fear refill unlikely" [Reuters]. "Bolivia's Lake Poopo was once a fountain of life for local inhabitants, who fished from its teeming waters and farmed along its banks. Now it is a desert. Scientists say the one-time lake, which sprawls across Bolivia's sun-drenched, high-altitude altiplano, has fallen victim to decades of water diversion for regional irrigation . And a warmer, drier climate has made its recovery increasingly unlikely. 'It's like a perfect storm," says Jorge Molina, a researcher with the Universidad Mayor de San Andres. 'Every year that passes the situation gets worse.' The lake, Bolivia's second largest, is very shallow, and has traditionally ebbed and flowed, according to both scientists and the lake's long-time Aymara inhabitants. Valerio Rojas, who once made a living from fishing the lake, says village elders tell of the lake recharging every 50 years. But looking out across the parched, white-rimmed salt flat that remains, he has his doubts." • "Needs"?
Zeitgeist Watch
Kill it with fire:
It's funny watching these things – like there's something intrinsically cool about it, and one can imagine a world where this tech is for saving people from burning buildings or whatever. But one is filled with the grim certainty it'll actually be used for brutalising protestors. https://t.co/gyeU0hReHF

— Liam Bright (@lastpositivist) August 18, 2021
"With unruly passenger incidents on the rise, flight attendants turn to self-defense training" [ABC]. "The 'friendly skies' are becoming almost unrecognizable, with record numbers of flight attendants being verbally and physically attacked on flights. The Federal Aviation Administration received 3,810 reports of unruly passengers this year alone – 2,786 of those involving travelers who refused to wear a mask. As a result, flight attendants are increasingly turning to self-defense training to learn how to defuse situations as well as protect themselves and their passengers…. While this type of training is free, flight attendants must come on their own time and pay for their travel and lodging. The head of the country's largest flight attendant union is pushing for the government to make the course a federal mandate. 'This is the biggest direct threat to flight attendants that we have ever faced,' Sara Nelson, flight attendant and president of the Association of Flight Attendants-CWA, told ABC News. 'It really is something that should be a part of our regular training with repeated muscle memory actions so that you can respond so that you're not in shock and you can respond to those immediate actions.'"
Class Warfare
Tsk:
I am grieved to tell you that @nathanjrobinson has effectively fired me & most of the @curaffairs staff because we were trying to organize into a worker's co-op. This isn't a bit. I wish it was. https://t.co/0lmnJlzAEX pic.twitter.com/5P6U88d4VR

— lyta gold, fired for doing socialism (@lyta_gold) August 18, 2021
So Russia was a dry run for deaths of despair?
When we say that Russia suffered a mortality crisis in the 1990s, it is important to be clear that it was, in fact, working-class Russians who did. Life expectancy for highly educated men actually increased. https://t.co/IJ20yy5kkJ pic.twitter.com/3OU79LsbxG

— Adam Tooze (@adam_tooze) August 18, 2021
"The Leisure Class Always Wins" [The Atlantic]. "This is decor that, much like the wealthy guests it is meant to delight, does not know when to stop. It is decor that suggests the voracious appetites of people who will keep consuming not because they want to, but simply because they can. The guests of the White Lotus assume that the world revolves around them. The resort's decor, gaudy and grim, proves them right." • Rather like that Afghan warlord's decor, though that may have been classier….
News of the Wired
"Over 100 Unpublished Hokusai Drawings Resurface in New Exhibition" [HyperAllergic]. "[S]ome of the most intriguing works Hokusai created over the course of his seven-decade career have remained comparatively secretive. Among them is a group of 103 small drawings the artist produced for an unpublished encyclopedia titled Banmotsu ehon daizen zu (The Great Picture Book of Everything), to be shown at the British Museum in an eponymous exhibition opening this September." • Yay!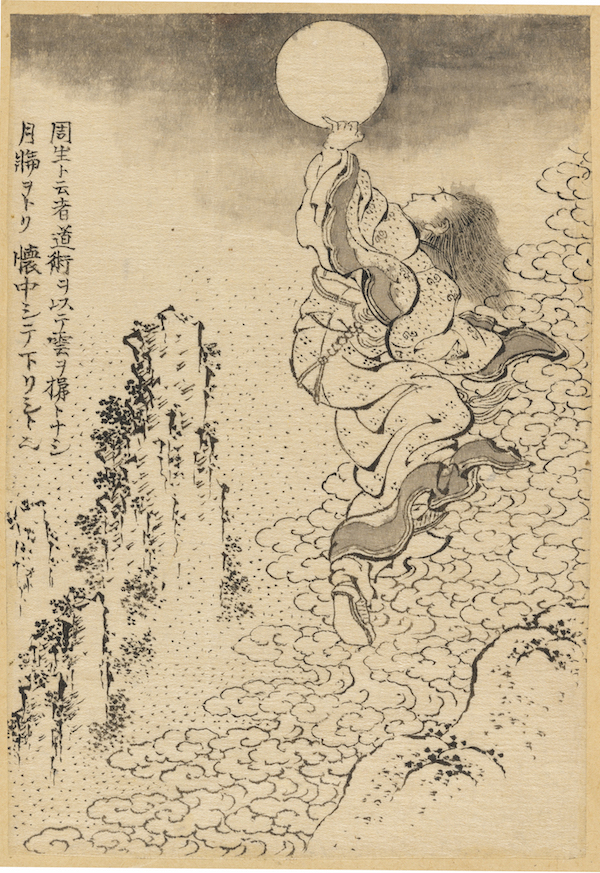 ("Daoist master Zhou Sheng ascends a cloud-ladder to the moon")
Like the Catbus, except a house:
Built in the 18th century, this is one of the oldest buildings in Hattfjelldal municipality in Norland, Norway. (Photo: Elin Kristina Jåma) https://t.co/y1TFIwHcla pic.twitter.com/mpVe0KnLKo

— Cory Doctorow (@doctorow) August 17, 2021
* * *
Readers, feel free to contact me at lambert [UNDERSCORE] strether [DOT] corrente [AT] yahoo [DOT] com, with (a) links, and even better (b) sources I should curate regularly, (c) how to send me a check if you are allergic to PayPal, and (d) to find out how to send me images of plants. Vegetables are fine! Fungi and coral are deemed to be honorary plants! If you want your handle to appear as a credit, please place it at the start of your mail in parentheses: (thus). Otherwise, I will anonymize by using your initials. See the previous Water Cooler (with plant) here. Today's plant: (TH):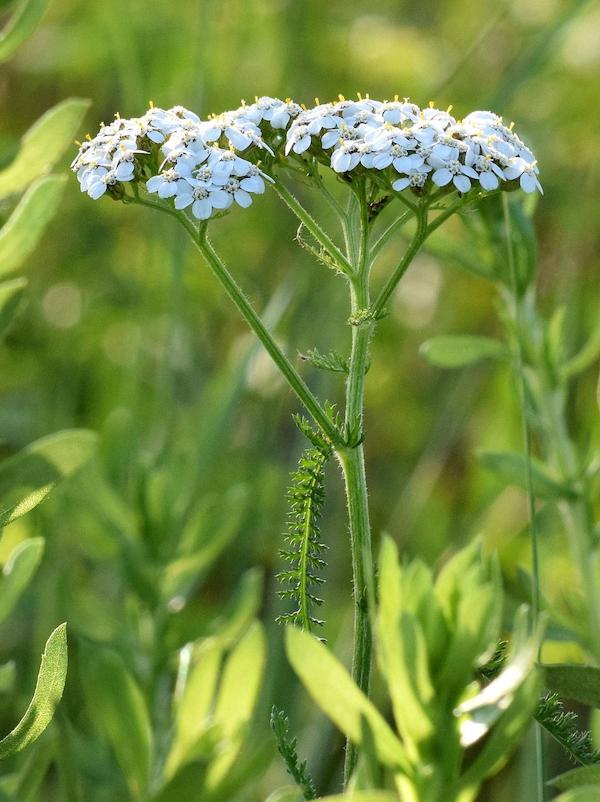 TH writes: "I love flowers like this Milfoil that are a little bouquet all by themselves."
* * *
Readers: Water Cooler is a standalone entity not covered by the recently concluded and — thank you! — successful annual NC fundraiser. So if you see a link you especially like, or an item you wouldn't see anywhere else, please do not hesitate to express your appreciation in tangible form. Remember, a tip jar is for tipping! Regular positive feedback both makes me feel good and lets me know I'm on the right track with coverage. When I get no donations for five or ten days I get worried. More tangibly, a constant trickle of donations helps me with expenses, and I factor in that trickle when setting fundraising goals:
Here is the screen that will appear, which I have helpfully annotated.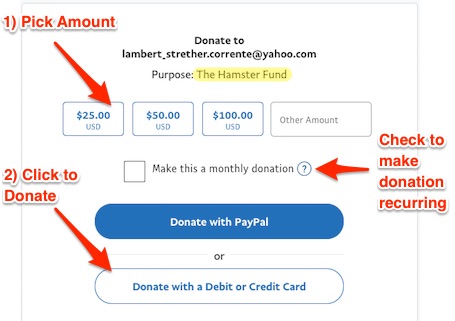 If you hate PayPal, you can email me at lambert [UNDERSCORE] strether [DOT] corrente [AT] yahoo [DOT] com, and I will give you directions on how to send a check. Thank you!2:00PM Water Cooler 6/8/2021