By Lambert Strether of Corrente.
Patient readers, this Water Cooler is a bit thin. Unfortunately, I could not ingest my normal amount of media krill today. Hopefully I will be back on form tomorrow. –lambert
Bird Song of the Day
Mercifully, not all storks clap their bills (at least in recordings). I like the sound of the waves.
* * *
#COVID19
At reader request, I've added this daily chart from 91-DIVOC. The data is the Johns Hopkins CSSE data. Here is the site. I feel I'm engaging in a macabre form of tape-watching….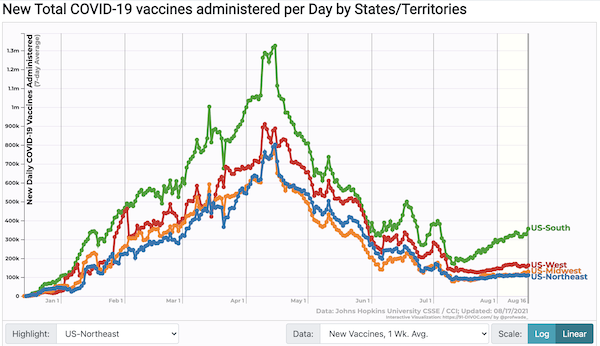 Back up in the South.
50.8% of the US is fully vaccinated, a big moment, breaking the psychological 50% barrier. Every day, a tenth of a percentage point upward.
Case count by United States regions: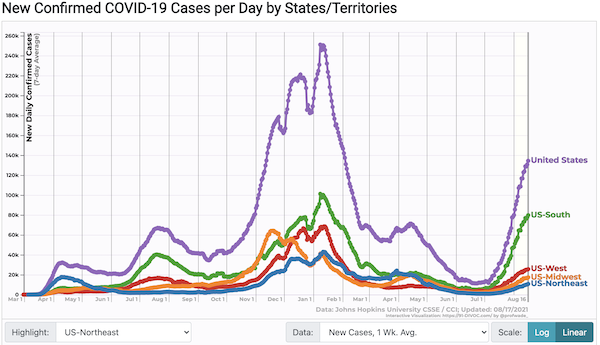 Still near vertical. As far as reaching the peak of January 8, 2021, with 295,257 cases per day … I'm not that pessimistic (modulo a new variant brought into the country by our ridiculously lax policies on international quarantines). What we might call, after Everest, the "First Step" (November 25, 2019) with 178,466 looks in striking distance, especially if the case count purple line continues go near vertical. When you look at those "rapid riser" counties on the CDC map, you've got to think this rise has a way to run. If things go on as they are, we should hit the first step just in time for Labor Day. But what do I know, I'm just a tape-watcher.
Covid cases top ten states: for the last four weeks (hat tip, alert reader Lou Anton):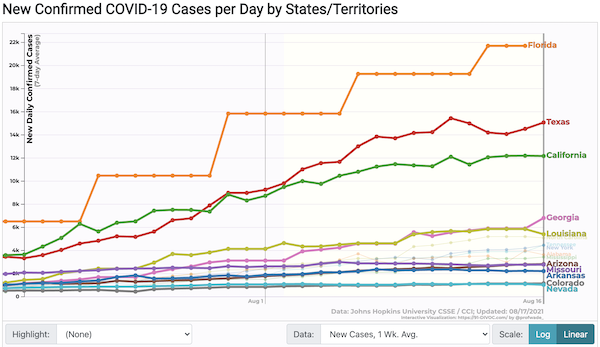 California is Texas's wingman. Meanwhile, Florida staggered ahead.
NEW From CDC: "Community Profile Report August 16, 2021" (PDF), "Rapid Riser" counties, this release: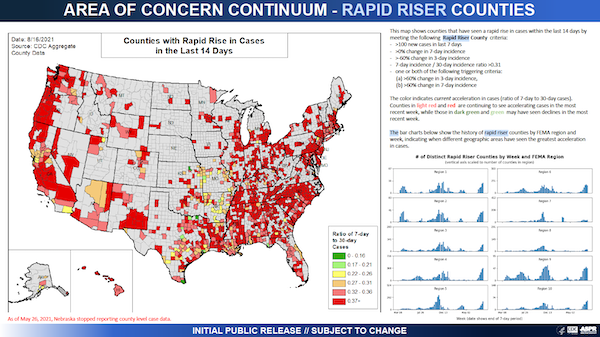 This does look a smidge better in Texas, Arkansas, and Missouri; "green and yellow shoots." The rest of the county looks just as red to me. This map blows the "Blame Bubba" narrative out of the water. Not a banjo to be heard. Previous release: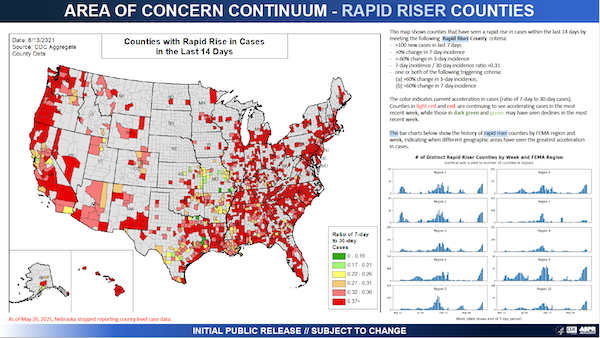 (Red means getting worse, green means bad but getting better. This chart updates Tuesdays and Fridays, presumbly by end-of-day.)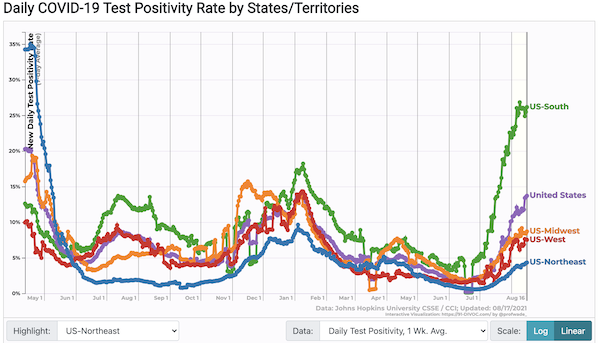 South running away with the field. But other regions now playing catch-up.
Hospitalization (CDC):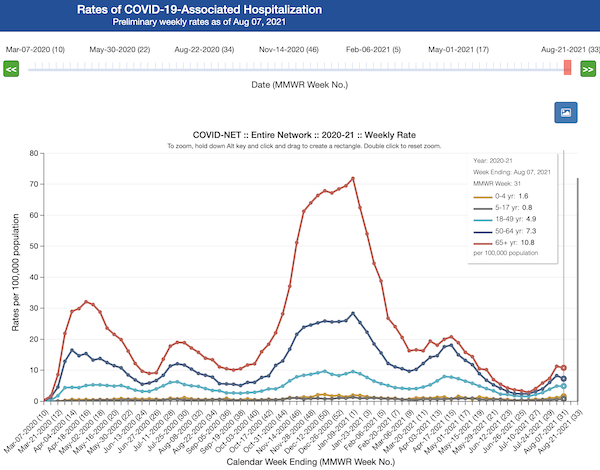 A little dip across all age groups, oddly.
NEW Here the CDC's hospitalization visualization, from the source above: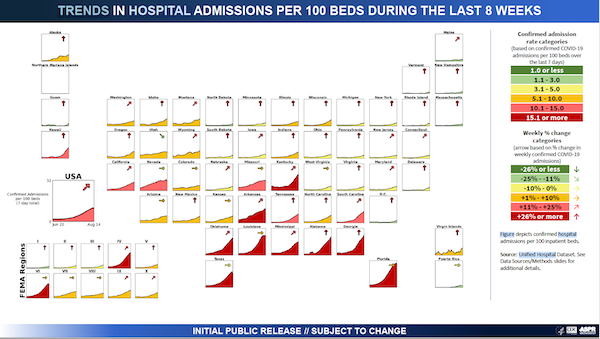 \
Yet more red states now, still in the South. Not good.
Deaths (Our World in Data):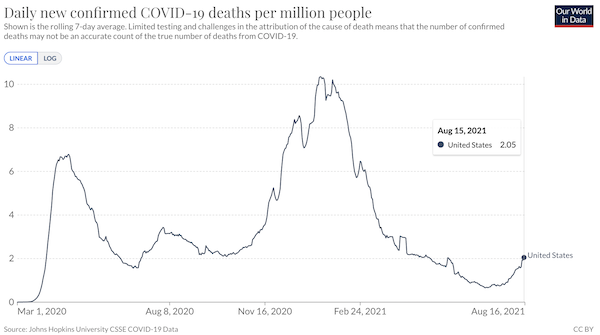 Deaths on trend rising; nowhere near meriting an anti-triumphalist black line, being an order of magnitude less than there were at peak. (Adding: I know the data is bad. This is the United States. But according to The Narrative, deaths shouldn't have been going up at all. Directionally, this is quite concerning.)
Covid cases worldwide: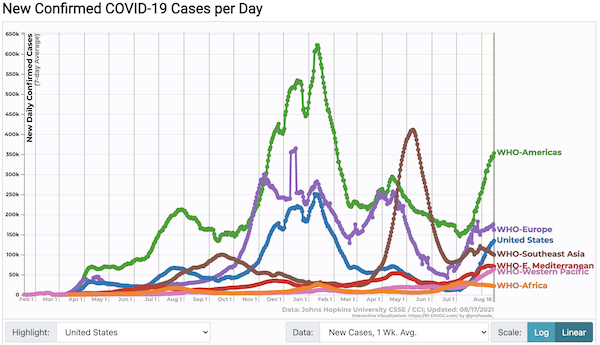 Southeast Asia doing better, I presume because little-covered Indonesia is past a peak. US sphere of influence under the Monroe Doctrine not doing so well.
* * *
Politics
"But what is government itself, but the greatest of all reflections on human nature?" –James Madison, Federalist 51
"They had one weapon left and both knew it: treachery." –Frank Herbert, Dune
"They had learned nothing, and forgotten nothing." –Charles Maurice de Talleyrand-Périgord
Biden Administration
"The U.S. government is stepping in to help cash-strapped families cope with surging food prices. The Biden administration is boosting benefits through the nation's food-stamp program by more than 25%…. as the steepest inflation in a decade pushes up prices for soup, meat and other staples" [Wall Street Journal]. "The increase to the Supplemental Nutrition Assistance Program is the largest in its nearly 60-year history and reflects higher costs for a nutritious diet, the U.S. Department of Agriculture said. Upheaval across food supply chains has supermarkets and restaurants charging more to cover higher costs for labor and transport, along with rising prices for ingredients such as corn and soybean oil."

"Democrats' Dare on Debt Sets Up High-Stakes Shutdown Fight" [Bloomberg]. • "It is a tale Told by an idiot, full of sound and fury, Signifying nothing."

"Axelrod says Biden should have 'embraced' failures of Afghanistan exit" [The Hill]. Axelrod: "I think he would have served himself well if he had just embraced it. Yes, there were failures on the part of the — clearly on the part of the Afghans. Yes the government there is corrupt. Yes Donald Trump left him with a mess. All of that is true, but he is the commander in chief now. He is in charge of this operation, and he should have said it did not go as it should have and taken responsibility for that." • Amazing all the liberal Democrats shoving their knives into Biden's back, when all he did was the right thing that Obama didn't have the stones to do. It's almost like their loyalty to wars over-rides their loyalty to persons, even party. Dear Lord.
Republican Funhouse
"George W Bush says he feels 'deep sadness' watching 'tragic events' in Afghanistan" [The Hill]. • George Bush should stick to painting, where he's just bad, instead of evil. Note that liberal Democrats carefully engineered Bush's ability to go on the teebee and spout nonsense like this with the "He gave Michelle candy" indicident.
Realignment and Legitimacy
"Reflections On The Looming Revolution In America" [The American Conservative]. "America is on the precipice of a second revolution. The first led to the creation of a constitutional republic and the second one could end it. The Democrats, deeply frustrated by the federal government's dysfunction, are pursuing revolutionary changes. They are especially eager to fundamentally alter the design of the Senate and Electoral College, which serve to protect the interests of states. The most imminent potential change is removal of the Senate filibuster…. The Democrats almost have enough votes to remove the Senate filibuster, which they believe is necessary to overcome partisan gridlock and effectively govern. But instead of partisan gridlock, there would be partisan oppression. In our closely divided country, the parties would take turns imposing their will while earnestly seeking to reverse gains made by the other when in power. Partisan oppression would ensure the republic-killing factionalism that James Madison warned about in Federalist Papers No. 10. This factionalism would almost certainly eliminate any real interest in bipartisan compromise, which has been a defining characteristic of our republic." • Tosh. The only time bipartisan compromise has been "a defining characteristic of our republic" was under neoliberalism, starting with Carter (a second example might be the foundation of the national security state, under Truman, but I don't know the era well). And that was bad. Neither the Civil War nor the New Deal were brought about through bipartisan compromise.
Stats Watch
Retail: "Headline Retail Sales Slow in July 2021" [Econintersect]. "Retail sales slowed according to US Census headline data. The three-month rolling average declined. Year-over-Year growth also declined due to the comparison to reopening after the lockdown period one year ago….. The real test of strength is the rolling averages which slowed. Overall, this report is considered about the same as last month. Please consider that this data is not adjusted for inflation." • Mr. Market seems to disagree.
Manufacturing: "July 2021 Headline Industrial Production Continues To Improve" [Econintersect]. "The headlines say seasonally adjusted Industrial Production (IP) improved month-over-month – and remains in expansion year-over-year due to comparison to the recovery period one year ago. Our analysis shows the three-month rolling average improvement slowed."
Inventories: "June 2021 Business Inventories Remain Normal For Times Of Economic Expansion" [Econintersect]. "Headlines say final business sales data (retail plus wholesale plus manufacturing) improved month-over-month. The rolling averages improved. Inventories are within normal ranges for times of economic expansion…. This data is about the same as the previous month – except if one adjusts for inflation which means the data is worse…. Our primary monitoring tool – the 3-month rolling averages for sales – declined (mostly due to comparisons to the recovery period one year ago)."
Housing: "June 2021 CoreLogic Single-Family Rents Growth Increased More than Five-Fold Year Over Year in June" [Econintersect]. "The Single-Family Rent Index (SFRI) shows a national rent increase of 7.5% year over year, up from a 1.4% year-over-year increase in June 2020…. Hot housing market conditions have exacerbated the challenges of finding affordable rental properties for some consumers. According to a recent CoreLogic survey, 85% of consumers searching for a home said they prefer single-family homes. However, for-sale inventory remains in short supply as construction continues to lag. Not only is this keeping many would-be buyers on the hunt for single-family rentals, but it's also contributing to the dwindling availability and increasing prices of these properties."
* * *
Commodities: "The end of fossil fuels: World's largest mining company could be leaving oil and gas behind" [EuroNews]. "Mining behemoth BHP Group has announced it is considering selling its petroleum business in order to cut ties with the oil and gas sector. It appears the move is thanks to shareholder pressure on the company to reduce its carbon footprint. BHP has oil and gas fields in Australia, the Gulf of Mexico, Trinidad and Tobago and Algeria. These produce approximately 300,000 barrels of oil equivalent per day. The Australia-based company said on 17 August that it may be striking up a deal with Woodside Petroleum, its biggest rival. By selling its fossil fuel division, BHP would be losing out on over €11 billion – how much the portfolio is worth."
Shipping:
Container rates China-> West have surged. At first it was really bad to Europe. Now California hit hard too. @rbrtrmstrng thinks it may be lasting. https://t.co/G9fhQe2Lg3 pic.twitter.com/FWKBgfuCzD

— Adam Tooze (@adam_tooze) August 17, 2021
Retail: "Why Is Everything More Expensive Right Now? Let This Stuffed Giraffe Explain" [Time]. "If you want to understand what's driving inflation in the U.S. economy right now, look no further than Jani the giraffe. Jani used to cost around $87. Now she's around $116, as costs went up on every step of her journey." • This is very interesting. Handy chart:

Nothing here that a dose of autarky won't solve. Plus the whole commissions and profits thing. Or maybe — hear me out — we need fewer things? We actively need to have fewer things?
The Bezzle: "Ackman SPAC Hit With Investor Suit Questioning Its Legality" [Bloomberg]. "The largest SPAC to ever hit the market is operating illegally as an investment company, a new lawsuit against billionaire Bill Ackman's Pershing Square Tontine Holdings Ltd. claims. Less than a month after the blank-check company abandoned plans for a deal with Universal Music Group, it's facing a civil suit from a shareholder claiming that it fits the description of an investment company and should be regulated as one, starting with the "staggering" compensation paid to Pershing Square Capital Management as investment adviser."
Labor Market: "The rush to recruit holiday labor is hitting earlier in labor-strapped distribution networks. Discount supermarket chain Aldi is the latest example and aims to hire more than 20,000 workers this year… with pay for warehouse jobs at $19 an hour as employers compete in a tight U.S. labor market" [Wall Street Journal]. "Rival retailers cite challenges recruiting distribution and retail workers. Kroger has been trying to hire 10,000 people this summer, while Walmart is offering special bonuses and pay raises to retain warehouse staff through January as its networks field high volumes ahead of the seasonal peak. Aldi says its jobs come with healthcare and retirement plans and paid time off. The sector-wide scramble extends to online fulfillment, with operators such as Deutsche Post's DHL looking to recruit thousands of seasonal workers ahead of the holiday peak."
Mr. Market: "Dow falls over 300 points after weaker-than-expected retail sales data" [MarketWatch]. "U.S. retail sales fell as supply disruptions weighed on automobile purchases, with sales at auto dealerships down 3.9% after declining 2.2% in June. Vehicle production has been hampered by a global shortage of semiconductors. Meanwhile online purchases dropped after Amazon pulled forward its Prime Day sale to June from July…. The fall in retail sales "could be a sign that the rapid spread of the delta coronavirus variant is convincing some consumers to stay away from public spaces again and is consistent with real consumption growth slowing sharply in the third quarter," said Andrew Hunter, senior U.S. economist at Capital Economics, in a note."
* * *
Today's Fear & Greed Index: 34 Neutral (previous close: 49 Neutral) [CNN]. One week ago: 36 (Fear). (0 is Extreme Fear; 100 is Extreme Greed). Last updated Aug 17 at 12:40pm. Hoo boy, massive swing back to fear!
Rapture Index: Closes up one on earthquakes. "A powerful magnitude 7.2 earthquake struck southwestern Haiti" [Rapture Ready]. Record High, October 10, 2016: 189. Current: 188 (Remember that bringing on the rapture is a good thing, so higher is better.)
Health Care
"Americans are creating their own vaccine mandates by cutting ties with the unvaccinated" [MarketWatch]. "According to new data from The Harris Poll, at least 30% of Millennials or Gen Zers in the U.S. say they have cut ties with a friend, family member or acquaintance because they wouldn't get the COVID-19 vaccine…. Of all four generations surveyed, millennials are the group most likely to have younger children who are unvaccinated, which could contribute to the divide as parents may be concerned about the safety of their kids — none of the COVID-19 vaccines have been approved by the FDA for children under the age of 12 in the U.S. In addition, older Americans tend to have a higher COVID-19 vaccination rate, which could contribute to the survey's generational divide. Older Americans may know fewer unvaccinated people as 90.1% of Americans 65 and older have received at least one dose of the vaccine, compared with 59.7% of the overall U.S. population."
"Your Holiday Gatherings Should Have Vaccine Mandates" [Slate]. "Your unvaccinated relatives should not be invited to Thanksgiving….. Excluding people has nothing to do with being mean or nice to them—it is about preventing the spread of a deadly disease. This is a matter of infection control. Plus, requiring vaccines for entrance in November doesn't mean you can't be kind. You're still free to be gentle and patient and listen to your unvaccinated relatives' concerns about getting the shot on the phone, before the holiday. If you live close enough, you can even meet up with them individually (while masked or distanced and outdoors) to make your pitch. But it's not fair to put others at risk of breakthrough infection by having these conversations at Thanksgiving. Family gatherings are places where people interact closely in a closed space, laughing, talking, and eating—ideal conditions for the virus to spread."
A brilliant thread on indoor air:
6/ The fact that we spend so much time in buildings means that our exposure to air pollution, even pollution of OUTDOOR origin, is dominated by the air that we breathe indoors. Even pollution of OUTDOOR origin!

— Dr. Richard Corsi (@CorsIAQ) August 8, 2021
Because I'm long stupid at the institutional level, I'm picturing a lot of infrastructure money being spent on buildings whose windows you can't open, that have bad HVAC, etc.
The Biosphere
"NTSB Seeks to Curb Injuries From Head-Slamming Jet Turbulence" [Bloomberg]. "'Turbulence is the most common airline accident type today and it's high time we reduce turbulence-related injuries,' NTSB acting Chairman Bruce Landsberg said… The NTSB report comes as evidence is growing that global warming is increasing the risks of jets encountering air turbulence. A 2019 study in the journal Nature found so-called wind shear — sudden changes in wind speed or direction — had increased 15% over the North Atlantic since 1979." • The NTSB proposes a number of sensible new regulations. What about stress on the airframe?
"Eyes wide shut: How newborn mammals dream the world they're entering" [Science Daily]. "A new Yale study suggests that, in a sense, mammals dream about the world they are about to experience before they are even born. Writing in the July 23 issue of Science, a team led by Michael Crair, the William Ziegler III Professor of Neuroscience and professor of ophthalmology and visual science, describes waves of activity that emanate from the neonatal retina in mice before their eyes ever open. This activity disappears soon after birth and is replaced by a more mature network of neural transmissions of visual stimuli to the brain, where information is further encoded and stored. 'At eye opening, mammals are capable of pretty sophisticated behavior,' said Crair, senior author of the study, who is also vice provost for research at Yale.' But how do the circuits form that allow us to perceive motion and navigate the world? It turns out we are born capable of many of these behaviors, at least in rudimentary form.' In the study, Crair's team, led by Yale graduate students Xinxin Ge and Kathy Zhang, explored the origins of these waves of activity. Imaging the brains of mice soon after birth but before their eyes opened, the Yale team found that these retinal waves flow in a pattern that mimics the activity that would occur if the animal were moving forward through the environment. 'This early dream-like activity makes evolutionary sense because it allows a mouse to anticipate what it will experience after opening its eyes, and be prepared to respond immediately to environmental threats,' Crair noted." • Yes, but how does the animal know to dream those dreams? And do adults have the same kind of dreams? For the same reasons?
"Beaver numbers in Scotland more than double in three years, study shows" [The Canary]. "NatureScot, the country's public body for natural heritage, found about 1,000 of the animals now reside in territories which have also more than doubled to 251. The range of where these territories are has grown too, from Glen Isla to Dundee and Stirling, Forfar to Crianlarich – and likely to expand into Loch Lomond in the future." • Excellent. See NC on beavers here, here, and here.
The 420
"The patchwork legalization of cannabis in the U.S. is giving a lift to businesses that help pot companies navigate singular distribution constraints. Organic garden center supplier GrowGeneration sells hydroponic equipment like heat lamps needed to grow plants indoors, and demand is booming as more states legalize marijuana" [Wall Street Journal]. "It's illegal to trade cannabis across state lines, so each time a new state goes legal growers have to build cultivation facilities from scratch, prompting brisk sales of gear that allows producers in colder states to grow crops that they can't import from warmer regions such as California. Strong cannabis sales during the pandemic helped push GrowGeneration's comparable sales up 60% in the second quarter. Cultivation is just one link in the cannabis supply chain, where specialized distributors are setting up in-state logistics services and transportation networks tailored for growers and retailers." • Businesses that shouldn't exist, but they all go to GNP, so….
Naked Capitalism Cooking Community™
No:
— 70s Dinner Party (@70s_party) July 4, 2021
Maybe I should have filed this under Zeitgeist Watch, I'm not sure….
Groves of Academe
"The Strange Case of Dr. Cahill and Ms. Hyde" [McGill]. "Bolstered by Cahill's academic and scientific credentials, her misinformed and hazardous claims have grown to the point where students at her university wrote a 33-page scientific rebuttal of these claims, a document that was signed by 133 students from the university's own School of Medicine and sent to its administrators. One of the claims these students had to debunk: that once you get COVID-19, you are immune for life. This brazen assertion's confidence is in contradiction with actual knowledge in the field, which is that we do not clearly know how long immunity does last. But this is the upside-down world at University College Dublin right now, where students are teaching their own professor basic facts about a topic she should be familiar with." • Without social media, this would be a (nearly) harmless eccentricity, and present no questions of academic freedom at all.
Class Warfare
"Does anyone have the right to sex?" [London Review of Books]. From 2018, still germane: "Since [Ellen] Willis, the case for pro-sex feminism has been buttressed by feminism's turn towards intersectionality. Thinking about how patriarchal oppression is inflected by race and class – patriarchy doesn't express itself uniformly, and cannot be understood independently of other systems of oppression – has made feminists reluctant to prescribe universal policies, including universal sexual policies. Demands for equal access to the workplace will be more resonant for white, middle-class women who have been forced to stay home than it will be for the black and working-class women who have always been expected to labour alongside men. Similarly, sexual self-objectification may mean one thing for a woman who, by virtue of her whiteness, is already taken to be a paradigm of female beauty, but quite another thing for a black or brown woman, or a trans woman. . If a woman says she enjoys working in porn, or being paid to have sex with men, or engaging in rape fantasies, or wearing stilettos – and even that she doesn't just enjoy these things but finds them emancipatory, part of her feminist praxis – then we are required, as feminists, to trust her. This is not merely an epistemic claim: that a woman's saying something about her own experience gives us strong, if not indefeasible, reason to think it true. It is also, or perhaps primarily, an ethical claim: a feminism that trades too freely in notions of self-deception is a feminism that risks dominating the subjects it wants to liberate."
News of the Wired
I hope this isn't true:
I dislike the anti homeless drm pic.twitter.com/pvV1FB85qg

— aerie ka (@AnemoneAndMe) July 29, 2021
If it is, from the partially obscured logo, somebody should call Chris Arnade.
* * *
Readers, feel free to contact me at lambert [UNDERSCORE] strether [DOT] corrente [AT] yahoo [DOT] com, with (a) links, and even better (b) sources I should curate regularly, (c) how to send me a check if you are allergic to PayPal, and (d) to find out how to send me images of plants. Vegetables are fine! Fungi and coral are deemed to be honorary plants! If you want your handle to appear as a credit, please place it at the start of your mail in parentheses: (thus). Otherwise, I will anonymize by using your initials. See the previous Water Cooler (with plant) here. Today's plant (Rainbow Clownfish):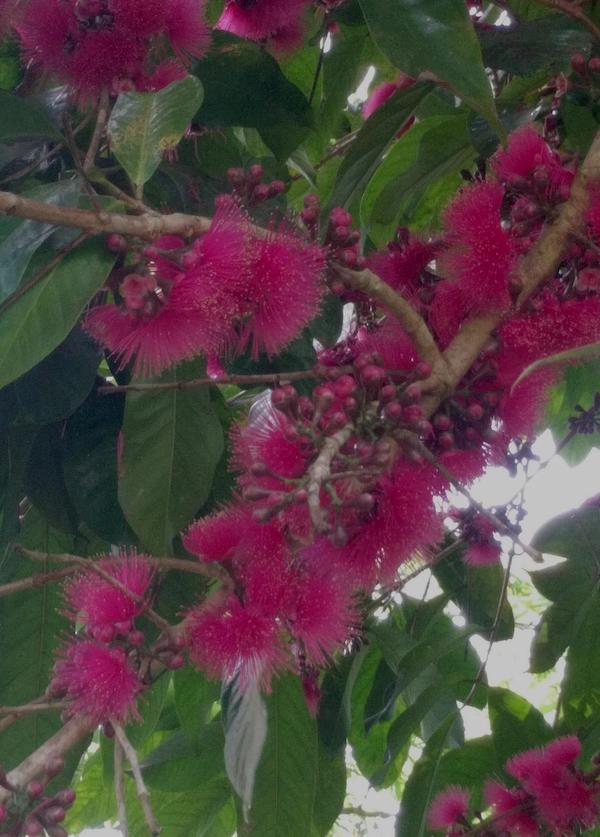 Rainbow Clownfish writes: "Syzygium malaccense, or malay apple tree. Called "pomarosa" here in Puerto Rico. Ripe fruits are about the same color as the flowers shown here, which have bloomed later this year than last year, due to a prolonged dry spell this spring. Various small birds, including hummingbirds, enjoy nectar from the flowers. The fruit is about as close as you can get to a pear here in the tropics, but is quite astringent unless you collect it from the tree at the moment of full ripeness, which is reached about 30 seconds before each fruit falls to ground and splits open. This tree is about 40 feet tall. In collecting fruit from the lower branches, there will be no difficulty; from the upper branches, there will be no hope." A little flare, but what an interesting plant!
* * *
Readers: Water Cooler is a standalone entity not covered by the recently concluded and — thank you! — successful annual NC fundraiser. So if you see a link you especially like, or an item you wouldn't see anywhere else, please do not hesitate to express your appreciation in tangible form. Remember, a tip jar is for tipping! Regular positive feedback both makes me feel good and lets me know I'm on the right track with coverage. When I get no donations for five or ten days I get worried. More tangibly, a constant trickle of donations helps me with expenses, and I factor in that trickle when setting fundraising goals:
Here is the screen that will appear, which I have helpfully annotated.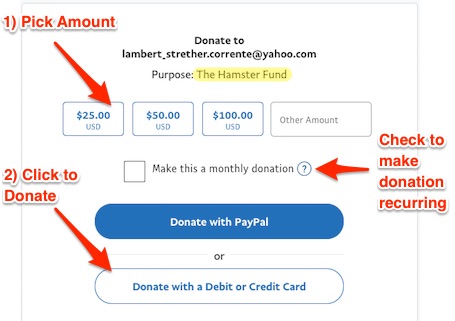 If you hate PayPal, you can email me at lambert [UNDERSCORE] strether [DOT] corrente [AT] yahoo [DOT] com, and I will give you directions on how to send a check. Thank you!2:00PM Water Cooler 6/8/2021