By Lambert Strether of Corrente.
Bird Song of the Day
* * *
#COVID19
At reader request, I've added this daily chart from 91-DIVOC. The data is the Johns Hopkins CSSE data. Here is the site. I feel I'm engaging in a macabre form of tape-watching….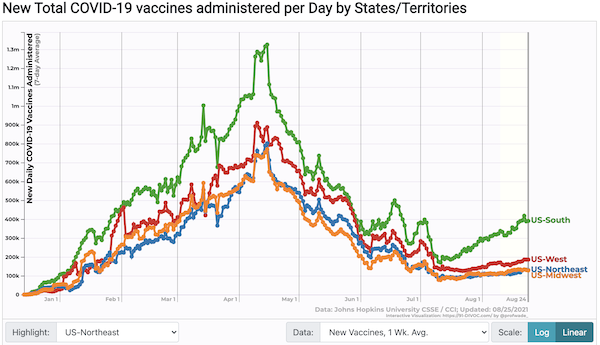 South still fiddling and diddling.
51.6% of the US is fully vaccinated, a big moment, breaking the psychological 51% barrier. Every day, a tenth of a percentage point upward. However, as readers point out, every day those vaccinated become less protected, especially the earliest. So we are trying to outrun the virus… (I have also not said, because it's too obvious, that if by Bubba we mean The South, then Bubba has done pretty well.)
Case count by United States regions: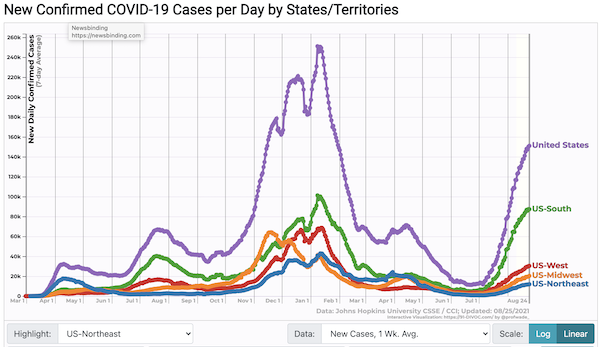 =
I would say we've moved off the vertical a bit, much in the same way that a golf drive does approaching its peak, conforming to the drop in "Rapid Risers," the drop in positivity, and the decrease in hospitalization in Florida and Texas. The South begins to slow, but other regions still rise. Still lots of momentum. As far as reaching the peak of January 8, 2021, with 295,257 cases per day … I'm not that pessimistic (modulo a new variant brought into the country by our ridiculously lax policies on international quarantines). What we might call, after Everest, the "First Step" (November 25, 2019) with 178,466 looks in striking distance, especially if the case count purple line continues go near vertical. If things go on as they are, we should hit the first step just in time for Labor Day. But what do I know, I'm just a tape-watcher.
Covid cases top ten states: for the last four weeks (hat tip, alert reader Lou Anton):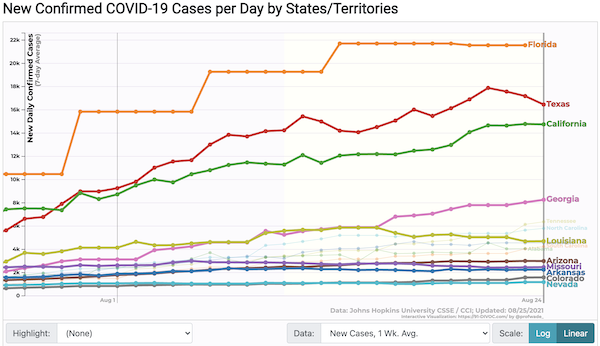 Cooking time for Florida's data seems to have increased. Texas slows to meet California. Meanwhile, Georgia and Lousiana have diverged.
From CDC: "Community Profile Report August 23, 2021" (PDF), "Rapid Riser" counties, this release: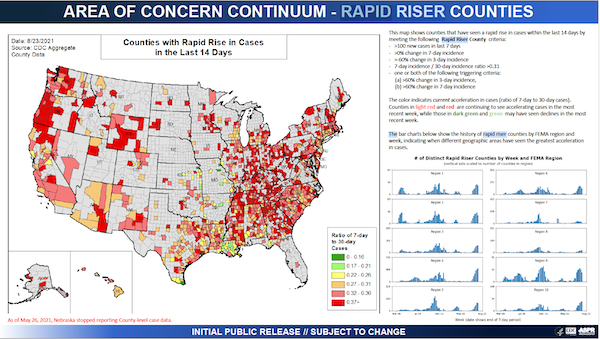 This looks slightly more pink, sadly. And South Dakota: Those red counties to the west look like Sturgis, to me. Remember, however, that this chart is about acceleration, not absolute numbers. This map, too, blows the "Blame Bubba" narrative out of the water. Not a (Deliverance-style) banjo to be heard. Previous release: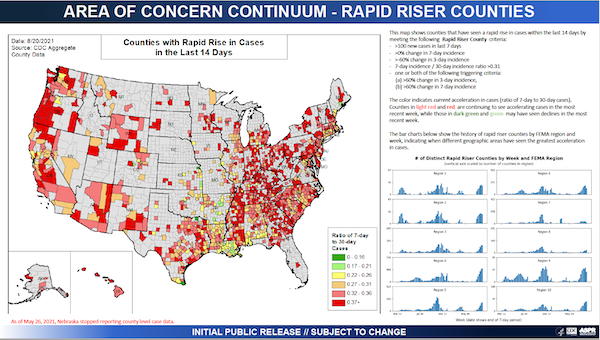 (Red means getting worse, green means bad but getting better. This chart updates Tuesdays and Fridays, presumbly by end-of-day.)
What happens in Sturgis stays in Sturgis:
Sturgis ended 9 days ago.

Today, 2 of the 3 fastest growing counties in the United States of America for COVID cases are Meade County (Sturgis) and Lawrence County (next door).

Via NYT tracker. https://t.co/fuUYJn1W7k pic.twitter.com/jDNDPSHXtp

— Steven Dennis (@StevenTDennis) August 24, 2021
And, of course, at birthday parties, dinners for donors, and so forth.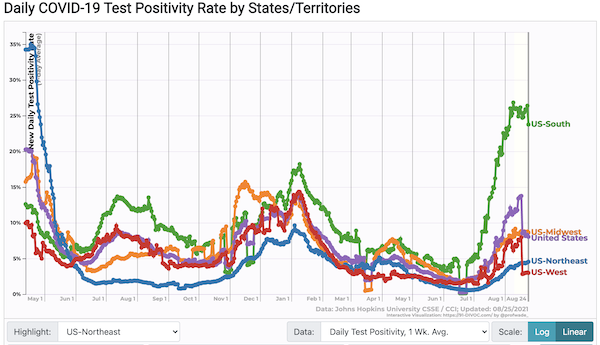 The South is now fiddling and diddling at more or less the same level, and the enormous drop in the West persists. Could be reporting problems.
NEW Hospitalization (CDC): Dammit, this one's gone dark. I wish CDC wouldn't do this. Here the CDC's hospitalization visualization, from the source above: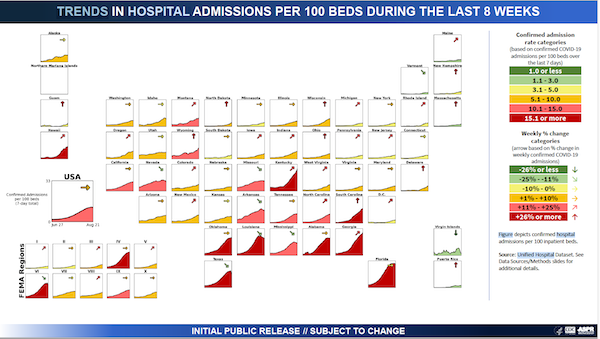 Yet more red states now, still in the South. Not good.
Florida and Texas are both red, but heading down.
Deaths (Our World in Data):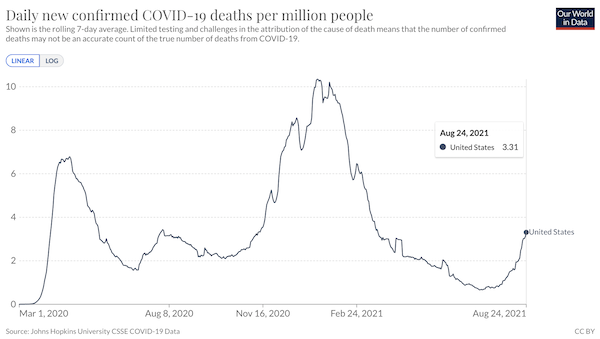 Deaths on trend rising. (Adding: I know the data is bad. This is the United States. But according to The Narrative, deaths shouldn't have been going up at all. Directionally, this is quite concerning. Needless to see, this is a public health debacle. It's the public health establishment to take care of public health, not the health of certain favored political factions.)
Covid cases worldwide: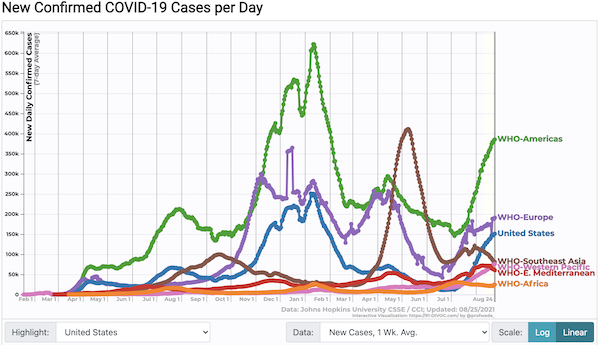 Southeast Asia doing better, I presume because little-covered Indonesia is past a peak. US sphere of influence under the Monroe Doctrine not doing so well.
* * *
Politics
"But what is government itself, but the greatest of all reflections on human nature?" –James Madison, Federalist 51
"They had one weapon left and both knew it: treachery." –Frank Herbert, Dune
"They had learned nothing, and forgotten nothing." –Charles Maurice de Talleyrand-Périgord
Biden Administration
I suppose this will play well with suburban Republicans:

In Memoriam: VP Kamala Harris lays flowers at the marker near Trúc Bạch lake where John McCain's plane was downed in 1967. The late senator from Arizona passed away exactly three years ago on August 25, 2018. pic.twitter.com/Ssyc1tqGA8

— Saigonese (@VietNamTweeter) August 25, 2021

I'm not sure how it played with the Vietnamese. There's a "Protection Center" for the "Victims of Agent Orange" in Da Nang; perhaps Harris and her handlers might have given consideration to the idea of laying a wreath there.

Letting the cat out of the bag on the infrastructure bill:

Thanks to the tireless work of the 10 House Democrats we now have a date certain for a vote on the infrastructure bill and it has been successfully decoupled from the reconciliation bill. #BIFdeal #InfrastructureNow

— U.S. Chamber (@USChamber) August 24, 2021

And stuffing the cat back in:

Our position remains unchanged. We'll only vote for the infrastructure bill when the House passes a reconciliation package that delivers on overdue promises – like lowering drug prices, fighting climate change, supporting childcare & providing vision & dental care to seniors. https://t.co/OOTATToqpA

— Rep. Alexandria Ocasio-Cortez (@RepAOC) August 24, 2021

One may hope.
2022
UPDATE "The Democrats Are Freaking Out About the 2022 Midterms. Good!" [The New Republic]. "At that grave meeting, New York Representative Sean Patrick Maloney (pictured above), with 'new polling that showed Democrats falling behind Republicans by a half-dozen points on a generic ballot in battleground districts' in hand, called on Democrats to 'course-correct' before 2022 by better promoting of the Biden agenda (which, we're told, 'polls strongly'). Democrats plan to respond to these headwinds with a 'messaging blitz' that will highlight the White House's 'ambitious plans to juice the economy' and 'better explain what Democrats have been doing to help the Covid-ravaged' country." • Of course, The Blob's hysteria about taking the L in Afghanistan is sucking all the oxygen out of every other discussion; which could be a blessing in disguise if the "national conversation" doesn't turn to Covid before the reconciliation bill comes up.
Our Famously Free Press
A brutal thread:

The employees of media corporations who have spent the last 3 weeks claiming to care so deeply about the lives of Afghans are engaged in a fraudulent charade. They ignored the country for years as large numbers of civilians were killed by US airstrikes. They just want more war.

— Glenn Greenwald (@ggreenwald) August 25, 2021

Greenwald is absolutely right. The propaganda just now is so, so thick.
Democrats en Deshabille
UPDATE "Time is up for Gov. Gavin Newsom in California. Here's why he deserves to be recalled" [Sacramento Bee]. "You name it, Newsom fouled it up. Republicans — aka the gang that couldn't shoot straight — could never lay a glove on him. But COVID-19 sent him to the mat with one punch. Make that three punches. Newsom decimated the state's restaurant industry; something he seemed unconcerned about while dining with lobbyists at Napa Valley's French Laundry in November. He failed to overhaul the state's pathetic Employment Development Department, overwhelmed with claims from jobless Californians who are still waiting for checks to pay their rent and buy groceries. And he never bonded with Latinos, taking for granted the support of the largest and most important ethnic group in the state. Newsom's argument for saving the only job he seems to care about — his own — boils down to this: 'I may be incompetent, but at least I'm not a Republican.' That line only gets you so far. And Newsom has reached the end of the road." • I dunno. Any bonding with Latinos going on over on the Republican side? Readers?

UPDATE "Gavin Newsom's Recall Election Divides Silicon Valley's Elite" [Wired]. "As of Tuesday, Newsom's opponents have raised less than half the funding that his supporters have. Polling, however, shows that voters are mostly split on the decision to recall the governor. Those who seek to replace him bring wildly different ideas to the table. Among the governor's challengers are a conservative talk show host, a reality TV star, and a YouTuber. If one is successful, the tech industry may have a new set of problems to contend with." • No Schwarzeneggers there. You can't beat something with nothing. Are California voters that determined to "throw the bum out"?

UPDATE "How Gavin Newsom's Recall Fight Could Come Back To Haunt Democrats" [Vanity Fair]. "Surveys suggest an enthusiasm gap and a tight race in the final stretch of the vote. 'Democrats have not had urgency, and that's Newsom's greatest challenge at this point,' political consultant Michael Soneff told CNBC at the beginning of August. Newsom's 'ability to convince Democrats to return their ballot over the course of a month is going to make all the difference in whether or not he wins against the recall.' Whether he's able to do so has huge implications for Democrats, not only in California, but across the country. Seeking to simplify things, Newsom and his allies have run a just vote 'no' campaign, urging residents to vote no on the recall question and to basically ignore the second question on the ballot: 'If Newsom is recalled, who should take his place?' The strategy could consolidate support behind Newsom, ensuring the Democratic vote isn't split between the governor and one of his intra-party challengers like YouTuber Kevin Paffrath. But it also makes it inevitable that Newsom would be replaced with a Republican should the recall vote go against him." • Seems like a risky strategy for a candidate who's not that strong as a campaigner or as an executive, I must say.

UPDATE "Democrats sweat turnout disaster in California without Trump to run against" [Politico]. "Donald Trump could swing the California governorship to a Republican. Merely by his absence. Democrats turned out in record numbers when they had Trump to vote against. But in one of the first, large-scale tests of voter enthusiasm for Democrats in the post-Trump era, California's surprisingly close gubernatorial recall election is laying bare just how hard it may be for the party to motivate its base without Trump as a foil. Even in this bastion of progressive politics, ominous signs for the Democratic Party are everywhere. A CBS News-YouGov poll last week found voters who cast ballots for Joe Biden were less likely than Trump supporters to be very closely following the recall — and less motivated to vote. In a Berkeley-IGS survey, registered Democrats and independent voters were nearly 30 percentage points less likely than Republicans to express a high level of interest in voting in the election. The lack of enthusiasm is so concerning to Democrats that Gavin Newsom, the state's Democratic governor, has been furiously working to yoke his main Republican opponent, Larry Elder, to Trump, while volunteers working with the progressive advocacy group Courage California texted voters a plea last week not to throw their mail ballots away. 'Can Democrats win without having Trump as their foil? This is the challenge,' said Gray Davis, the former California governor who was recalled in 2003." • You can't beat something with nothing cuts both ways. Why show up to vote against nothing? Whatever Larry Elder may be in his opinions, he's nothing like Trump in his capabilities.

UPDATE "Who is Kevin Paffrath and what would he do as governor?" [CalMatters]. "In his first year, Paffrath said that he will clear California's streets of unhoused people, pass a 'large infrastructure package' and introduce a pilot project for a new network of 'future schools' that would pay students $2,000 per month to learn trades. Paffrath's five-year plan includes eliminating income taxes for households earning less than $250,000, legalizing gambling, reforming the state's water and wildfire management systems and creating net-negative energy planned communities around the state. How would all of this be funded? Paffrath's ideas include repurposing money for the state's high-speed rail project, taxing casino proceeds and floating a bond — all of which would require voter or legislative approval. If any of that sounds far-fetched, Paffrath concedes 'none of it is simple.' But he views the main problem facing the state as elected leaders who offer 'very small patchwork solutions for big problems.' 'We have the money…we have the super majority of Democrats…we just need the willpower.'" • Oh. More: "Paffrath has made homelessness his top priority. And true to form, his plan to tackle the problem is big and unconventional. His vision: The state would employ the National Guard to help shepherd unhoused Californians into 80 new emergency facilities. During the interview, Paffrath pulled up an image on his computer of the Javits Center in Manhattan, which was converted into a temporary field hospital during the early months of the pandemic. Paffrath said he would look to vacant malls and warehouses to replicate the model. These centers would provide meals, mental health, addiction and social service treatment — all for 'ideally under $15, closer to $10 per day' per person, he said." • More palatable than simply giving the homeless houses, I suppose. And those costs are surely off by a decimal point or too. $10 a day for an all-inclusive package? I don't think so.

* * *

UPDATE ""I Don't Think He Has the Capacity to Do Anything Differently": Andrew Cuomo's Political Career Ends (Maybe) with a Whimper" [Vanity Fair]. "New York governor Andrew Cuomo was reeling. The state's attorney general, Letitia James, had released the results of a nearly five-month-long investigation into accusations of sexual harassment against him earlier than expected, catching the governor off guard. Worse, the results were damning… So the governor and top staffers met to craft a response—but also to vent their anger that Cuomo was the one who had been wronged. 'The tone was, 'I can't believe Tish did this to us. She stabbed us in the back. It's so unfair!" a Cuomo associate who was told of the discussion says, still incredulous three weeks later. 'The king of backstabbing complaining about an attorney general undermining people? Let's review when Cuomo was A.G.—what happened to Eliot Spitzer and David Paterson? It's a total lack of self-awareness.'" • California and New York, the dominant Blue States, both have their governorships in overly dynamic situations. It's very odd.

Priorities:

And here was always what Cuomo/aides feared would be the real focus at the impeachment hearings https://t.co/6YPquyClpu

— Maggie Haberman (@maggieNYT) August 25, 2021

"Gov. Kathy Hochul's daughter-in-law is top lobbyist at pharma firm that has sought to influence NY lawmakers" [CNBC]. • Well, naturally.
Stats Watch
Durable Goods: "Headline Durable Goods New Orders Marginally Slowed In July 2021" [Econintersect]. "The headlines say the durable goods new orders declined. Our analysis shows the rolling averages were little changed… In the adjusted data, the big weaknes was due to civilian aircraft."
* * *
Commodities: "Afghanistan minerals: a monkey trap for aspiring miners" [Financial Times]. "Positioned on the Tethyan belt, Afghanistan is well endowed with gold, copper, gems and lithium, prompting suggestions regime change will improve access. Some experts have seen the war-torn country as literally sitting on a gold mine, with total mineral deposits of $1tn — a 2010 figure dismissed by geologists and other less buccaneering types as hopelessly optimistic. In truth, any number is a shot in the dark. Much of the data hark back to the 1980s, based on exploration carried out under the Russians…. Estimates of the value of resources are deceptive, however. They leave out hefty production and shipping overheads. The cost of capital must also allow for political volatility. In Afghanistan, this has historically been off the scale. All the gold in the world is worth nothing if stuck under a land run by feuding warlords." And then: "Problems dog even some of the most worthwhile projects. State-owned China Metallurgical Group and Jiangxi Copper Company secured the licence for Mes Aynak, one of the world's biggest copper deposits, in 2018. Their latest issue is that the ore lies beneath a Unesco heritage site — which the miners can hardly bulldoze." • Seems like China going to Afghanistan was like Japan going to Hollywood, another land run by feuding warlords.
Commodities: "Guy on Rocks: Copper supply crunch 'to end all supply crunches' is coming" [Stockhead]. "here are some interesting statistics on copper showing declining grades (figure 4) and reserves (table 1). Looks like a supply crunch to end all supply crunches is on its way." • FWIW: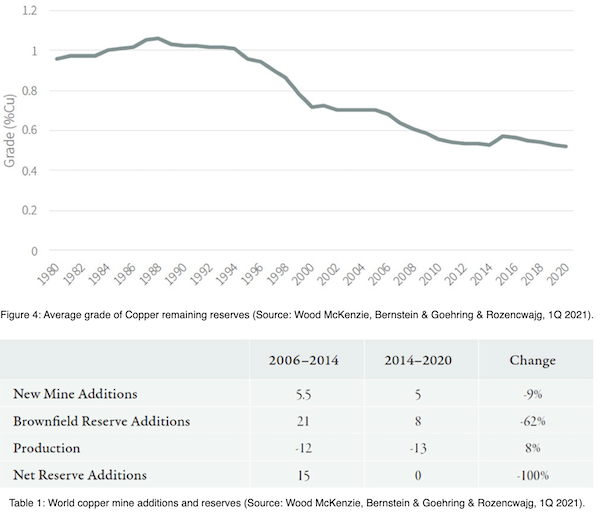 Commodities: "The Farm Belt is withering under a drought and blistering heat that is cutting yields for key U.S. cash crops. Extreme temperatures are baking much of the Midwest and…. North Dakota and Minnesota are being particularly hard hit, with near-record lows in soil moisture. That has wilted many crops planted this spring" [Wall Street Journal]. "Federal forecasters are scaling back expectations for U.S. crop production, driving up prices and pushing stocks of corn, wheat and soybeans down to their lowest levels since 2013. The weather concern is spreading around the world, with forecasts for crop production in countries including Brazil and Russia also being slashed. Farm shipments in U.S. supply chains have been turning downward this summer, with agriculture loads on railroads down 8.5% in July and grain shipments tumbling at a double-digit pace so far this month, according to the Association of American Railroads." • Soil isn't meant to hold moisture; soil is meant to hold chemicals. What's wrong with these people?
Commodities: "A Taste of Whiskey Acres: How Farmers Turned the Napa Valley of Corn into a Whiskey Wonderland" [Farm Journal]. "'We're nothing in DeKalb County, Ill., if not the Napa Valley of corn,' Jamie says. DeKalb County, Ill., known as the birthplace of DeKalb corn seed, is known for its corn. Now, thanks to the Walters, it's now known for its whiskey. One of the founding tenants with Whiskey Acres, versus most of the competition out there is that if we don't grow it, we don't make it,' Jamie says. From whiskey, rye to even corn vodka, it was an untapped market that the Walters were able to serve up to customers. 'I think it's been a good diversification, we've certainly moved away from price taking to price making,' Jim says." • Takes me back to my childhood in the Midwest, DeKalb does: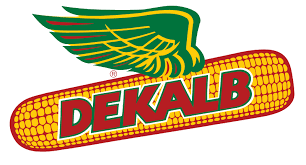 I think they should make a deal and get that logo on their bottle.
Shipping: "China reopens world's third busiest port after partial COVID-19 halt" [Channel News Asia]. "China reopened a key terminal at the world's third-busiest cargo port on Wednesday (Aug 25), after a shutdown to control the coronavirus caused major backlogs elsewhere and worsened export already extended delays caused by the pandemic. The halt at the eastern Ningbo-Zhoushan port started two weeks ago, when a worker at its Meishan terminal tested positive for the disease. The terminal handles a fifth of the container volume at Ningbo-Zhoushan and the hold-up forced ships to other Chinese ports, which were left facing their worst levels of congestion in seven years, reported Chinese media outlet Caixin this week. The closure added stress to an already stretched global shipping network, with soaring demand for goods from Western consumers in the pandemic piling pressure on Chinese exporters who face strict domestic virus controls."
Retail: "The retailer rush to restock is accelerating as competition for holiday sales looks likely to develop into a battle over inventory. Electronics retailer Best Buy says a concerted effort to refill depleted store shelves and distribution centers is working out… with inventories up sharply and the merchant claiming it's ready for expected strong sales growth" [Wall Street Journal]. "Best Buy ended its most recent quarter with inventories up 23% over the pre-pandemic period two years ago. That's a contrast with the broader retail sector, which has struggled to bring in goods amid production slowdowns and continuing supply-chain bottlenecks. Best Buy has been pulling forward orders this year and making adjustments at stores based on product availability." • 23%? Not exactly "just in time."
Apparel: "Covid-19 outbreaks in Vietnam and other parts of Southeast Asia are adding new challenges to strained international supply chains. Vietnam has become a major exporter of footwear to the U.S. as it has expanded manufacturing" [Wall Street Journal]. "Now, economists and supply-chain experts say Vietnam's low vaccination rate has some companies reconsidering how much they can rely on the country. Footwear company Wolverine World Wide says it has already moved some production back to China amid a 'really choppy supply chain situation.'"
Tech: "OnlyFans says it will no longer ban porn in stunning U-turn after user backlash" [CNBC]. "OnlyFans said Wednesday it has 'suspended' plans to ban pornography, in a stunning U-turn that came after fierce backlash from its users. A spokesperson for the online subscription platform told CNBC that the proposed changes were no longer required "due to banking partners' assurances that OnlyFans can support all genres of creators.'" • Commentary:
Never underestimate the power of community, together we demanded our voices were heard. 'Suspended' is not canceled, and Onlyfans is not to be trusted, but now more than ever, it is time we come together and fight for our rights at work. https://t.co/hbxXOUxMuw

— United Sex Workers (@unitedswers) August 25, 2021
Tech: "Google Says Staff Have No Right to Protest Its Choice of Clients" [Bloomberg]. "Federal labor law prohibits retaliating against employees for collective action related to their working conditions, but the exact scope of that protection has been debated for decades. Biden's appointees have signaled they interpret the scope of what that covers much more broadly than their Trump-era predecessors. [Google's attorney Al Latham] said he isn't aware of any case in the labor board's eight decades of existence in which it has held 'an employer's choice of customer' to be an issue workers have a right to protest. 'What we have here is a protest that does not seek to improve employees' terms and conditions of employment,' but rather 'a purely political protest that sought to use Google's government contracts, or potential government contracts, as leverage,' he said. Google violated the law 'to discourage employees from engaging in' legally-protected activism, according to a July complaint issued by labor board prosecutors. Along with accessing information about and circulating a petition against Google's work with U.S. Customs and Border Protection, the activities for which employees allegedly were punished included creating a Google form to help co-workers express concerns about working conditions; organizing a protest on company premises; and reviewing code for a pop-up message about labor law rights that would show up when workers visited certain sites online." • Turn Google into a co-op?
Tech: "A Misused Microsoft Tool Leaked Troves of Data From 47 Organizations" [Gizmodo]. "New research shows that misconfigurations of a widely used web tool have led to the leaking of tens of millions of data records. Microsoft's Power Apps, a popular development platform, allows organizations to quickly create web apps, replete with public facing websites and related backend data management. A lot of governments have used Power Apps to swiftly stand up covid-19 contact tracing interfaces, for instance. However, incorrect configurations of the product can leave large troves of data publicly exposed to the web—which is exactly what has been happening…. Researchers with cybersecurity firm UpGuard recently discovered that as many as 47 different entities—including governments, large companies, and Microsoft itself—had misconfigured their Power Apps to leave data exposed." Exposed entities include "the state governments of Maryland and Indiana and public agencies for New York City, such as the MTA. Large private companies, including American Airlines and transportation and logistics firm J.B. Hunt, have also suffered leaks." • Oops.
Manufacturing: "2022 Tesla Model S Plaid Review: A New 1,020-HP Chapter in American Luxury" [The Drive]. Apparently the luxury Tesla isn't an unmitigated heap of junk plus a monitor piled on top of a battery and power train: "The quintessential American luxury cars were big, soft, powerful, and effortless to drive. Their guiding philosophy was to make transportation as easy and comfortable as possible. Air conditioning first appeared in American luxury cars, as did V8 engines that required fewer manual gear changes, and then automatic transmissions which required none at all. Rolls-Royce was forced to license production of the original Hydramatic from GM when it debuted in 1952—a sign of how low-effort driving was and still is a well-recognized sign of luxury. This Model S fundamentally understands that and embodies the next iteration of those aspects. Two-pedal driving is now one-pedal driving. Flat floors offer more space and more comfort, as do electric motors. The soft, distant rumble of a V8 in cars like Cadillac's venerable Escalade is replaced by a gentle electric whirr when power is demanded. And when that power is demanded, it's delivered in tremendous excess. And what is more American than sheer excess?" • Indeed.
* * *
Today's Fear & Greed Index: 43 Fear (previous close: 37 Fear) [CNN]. One week ago: 25 (Extreme Fear). (0 is Extreme Fear; 100 is Extreme Greed). Last updated Aug 25 at 12:04pm.
Health Care
"Are We Jumping the Gun on COVID Boosters?" [MedPage Today]. "No matter what vaccine effectiveness is against preventing COVID-19 illness generally, the important question for boosters is whether they further lower the risk of severe disease or death. The only way to show this is through randomized controlled trials of the size and duration to measure that outcome. It is entirely possible that vaccine effectiveness is not perfect over time, or slightly lower than initial trials, but it's also possible that boosters do not further reduce the risk of SARS-CoV-2. Only trials can answer this. While emerging data from Israel suggest boosters may diminish the risk for COVID-19 infection and severe illness in people 60 and older, the data are not based on the types of studies we need. Pfizer has only submitted early trial results to the FDA to support their boosters, with phase III trial data forthcoming. But again, the data may be insufficient if severe outcomes are not captured. Moreover, we have to consider the risk of new, compounding, and worse toxicity. Randomized trials and close observation will be needed to exclude worse safety signals, particularly increases in myocarditis and pericarditis. These rare adverse events are more common after the second mRNA dose — will they be even more common after dose three? ." • Funny to see boosters hoist on the RCT petard…
"The Messiest Phase Of The Pandemic Yet" [The Atlantic]. "It's time for a data-driven reset on the basic knowns and unknowns of this pandemic, a task that must be undertaken with great humility. The virus keeps changing, and so does our understanding of the social and biological components of the pandemic. But in exploring both the knowns and the unknowns, we can see how complex the pandemic has become—and that we're still lacking crucial data because of the failings of state and federal government." • We're lacking crucial data on breakthrough infections because CDC actively refused to collect it, oddly not mentioned in the article.
"Holes in reporting of breakthrough Covid cases hamper CDC response" [Politico]. "The Centers for Disease Control and Prevention is using outdated and unreliable data on coronavirus breakthrough infections to help make major decisions, such as who gets booster shots, according to three officials with direct knowledge of the situation….
'Nothing has changed since the pandemic began,' one senior Biden health official said. 'We're still dealing with this patchwork system — and it continues to fail us.'" • Well, who's responsible for that? (I remember very well the screeching when the Trump administration moved hospital data collection out of the CDC's hands; now we see, over a year later, that this decision was completely justified.)
"Why Hospitals and Health Insurers Didn't Want You to See Their Prices" [New York Times]. " This year, the federal government ordered hospitals to begin publishing a prized secret: a complete list of the prices they negotiate with private insurers. The insurers' trade association had called the rule unconstitutional and said it would 'undermine competitive negotiations.' Four hospital associations jointly sued the government to block it, and appealed when they lost. They lost again, and seven months later, ." Oh. More: "But data from the hospitals that have complied hints at why the powerful industries wanted this information to remain hidden." Stoller:
In perhaps the most important non-pandemic health care reform of the last five years, Donald Trump forced hospitals to release their prices, which revealed a nest of corrupt and monopolistic conduct. https://t.co/pMgWO08Oy0

— Matt Stoller (@matthewstoller) August 24, 2021
"Geisinger rolls out AI-backed payment plans for out-of-pocket medical expenses" [Fierce Heatlh Care]. "Geisinger is teaming up with fintech startup PayZen to offer a new artificial-intelligence-backed medical billing tool that aims to make care more affordable for patients. Patients will have the option to pay their bills in a lump sum or over several months on a timeline that is customized to meet their personal financial needs, Geisinger said. If they choose the latter option, the payment plans include no interest or additional fees." But the last sentence: "[Itzik Cohen, PayZen CEO and co-founder said] said the company is now working to get more health systems on board and to find ways to look even further upstream. The goal would be to ensure people enroll in payment options before they receive a service such as surgery to ensure they're not passing on critical care due to cost."
The Biosphere
"Concrete construction 'offsets around one half' of emissions caused by cement industry says IPCC" [Dezeen]. "Around half of the carbon emissions from cement production are reabsorbed by the material when used in buildings and infrastructure, according to the latest IPCC climate report. The 'cement carbonation sink' absorbs an estimated 20 million tonnes of carbon every year, according to an overlooked section of the report published earlier this month ahead of the Cop26 climate conference. 'Direct CO2 emissions from carbonates in cement production are around four per cent of total fossil CO2 emissions,' says the full version of the Sixth Assessment Report from the Intergovernmental Panel on Climate Change. 'The uptake of CO2 in cement infrastructure (carbonation) offsets about one half of the carbonate emissions from current cement production.'" • So do better.
Water
"The incredible shrinking Colorado River" [High Country News]. "The Colorado River watershed is terminally ill. Two decades of climate change-induced drought and rising temperatures, combined with ever-growing demand, have put the entire water system — and the flora and fauna and more than 40 million people that rely on it — into serious trouble. Now local, state and federal water managers are being forced to reckon with a frightening reality: the incredible shrinking Colorado River system." • Handy chart: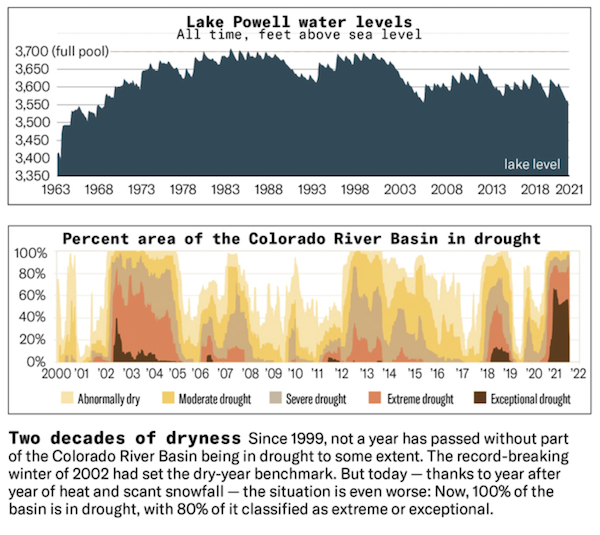 100% of the basin in drought…
Imperial Collapse Watch
From 2018, talking to old-timer sailors:
And I learned (since I'm not a sailor) that it wasn't until the 1970s or so that GPS arose, and the old art of navigating was largely abandoned over time.

— Rudy Havenstein, mutating. (@RudyHavenstein) January 26, 2018
And:
So then the retired Coast Guard guy says, "You know, they started teaching the sextant again in recent years."

Why?

"They're afraid the Chinese could shoot our satellites down"

— Rudy Havenstein, mutating. (@RudyHavenstein) January 26, 2018
Readers, is this true? Or some version of true?
Another artbot:
Manifest #359 from Topaz 3 (Q CLEARANCE)

1. Warehouse of Broken Regolith
2. Pagan Memory Furnace pic.twitter.com/yHZY2o6Gg7

— Weird Spy Satellite (@WeirdSatellite) August 25, 2021
Under the Influence
The Kleedashians:
My mom drunk falls into the chair, 1940 #klee #paulklee pic.twitter.com/dvJeaUuXEV

— Paul Klee (@artistklee) August 23, 2021
Groves of Academe
"My University Mandates Exposure to the Virus but Does Not Mandate Vaccination: Part I" [Academe Blog]. Part II. Lots of horrid examples of university administrators in action: "My title comes directly from a Facebook posting by a colleague who wishes not to be identified. He teaches at Louisiana State University, where vaccination is not required of any campus employees, students, or visitors. Last year, the university instituted a policy of social distancing for classes of over one hundred students, regardless of the capacity of the classroom in which they were held. This year, even this minimally responsible policy has been discontinued. Whereas last year faculty officially taught in person, the administration did not insist on it; this fall, despite the fact that they are now going to be exposed to the even more virulent delta variant, faculty must be physically present. Only with ADA accommodations – for which the committee reading applications is currently running at a three-week delay – may instructors be exempted from in-person teaching. As the policy stands, if a student can't show vaccination (or recent recovery from infection), they have to get tested once a month, far less often than the CDC recommends. Not only is this testing regime essentially meaningless, but further, there appears to be no corresponding enforcement or accountability mechanism. Courses requiring group transportation in close quarters (i.e., in vans) to research sites put faculty and students especially at risk. Although there is a mask mandate, the lack of social distancing or vaccination protocols means that the fall semester looks hazardous for everyone, but especially for those with underlying health conditions or with immunosuppressed loved ones or young children in their care." • The point on vans is especially good. Absolute ignorance of the conditions under which the work is actually done.
Zeitgeist Watch
Ha:
Like many businesses, immune systems switched to a subscription model in 2021.

— Mark Changizi (@MarkChangizi) June 19, 2021
Oh for pity's sake:
The man whose baby portrait was used for the cover of Nirvana's 'Nevermind' has filed a lawsuit alleging that the nude image constituted child pornography. https://t.co/4Zw5BpvbWW

— NBC News (@NBCNews) August 25, 2021
Class Warfare
Always be loathing:
We are making space. Also centering. And amplifying. But also listening. While at the same time elevating.

— Shit Nonprofits Say (@nonprofitssay) August 23, 2021
News of the Wired
I'm afraid this is the best I can do today:
"I bought my wife an electric guitar yesterday"

"A Fender ?"

"No, she loved it…"#Fridaymorning

— The Dad Joke Man (@DadJokeMan) August 20, 2021
* * *
Readers, feel free to contact me at lambert [UNDERSCORE] strether [DOT] corrente [AT] yahoo [DOT] com, with (a) links, and even better (b) sources I should curate regularly, (c) how to send me a check if you are allergic to PayPal, and (d) to find out how to send me images of plants. Vegetables are fine! Fungi and coral are deemed to be honorary plants! If you want your handle to appear as a credit, please place it at the start of your mail in parentheses: (thus). Otherwise, I will anonymize by using your initials. See the previous Water Cooler (with plant) here. Today's plant (TH):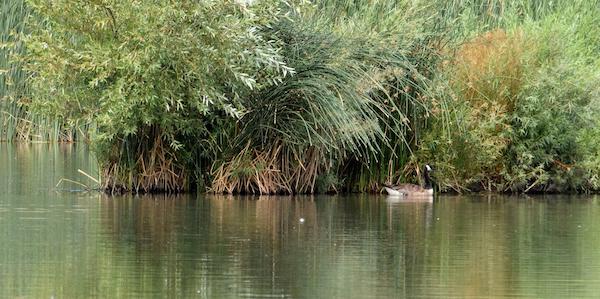 TH writes: "We recently discovered that along our 3 hour drive from Westminster to Trona, is a park (Mojave Narrows Regional) out there in the middle of the desert (Victorville), that's sort of like an oasis, with honest-to-goodness greenery, and even couple of tule lined lakes-complete with Canadian Geese."
* * *
Readers: Water Cooler is a standalone entity not covered by the recently concluded and — thank you! — successful annual NC fundraiser. So if you see a link you especially like, or an item you wouldn't see anywhere else, please do not hesitate to express your appreciation in tangible form. Remember, a tip jar is for tipping! Regular positive feedback both makes me feel good and lets me know I'm on the right track with coverage. When I get no donations for five or ten days I get worried. More tangibly, a constant trickle of donations helps me with expenses, and I factor in that trickle when setting fundraising goals:
Here is the screen that will appear, which I have helpfully annotated.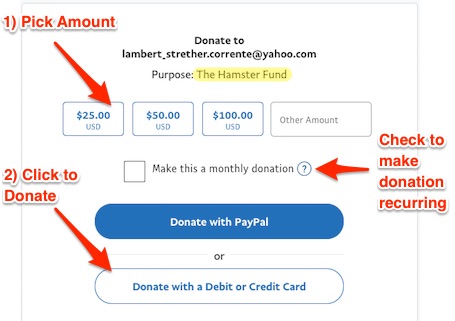 If you hate PayPal, you can email me at lambert [UNDERSCORE] strether [DOT] corrente [AT] yahoo [DOT] com, and I will give you directions on how to send a check. Thank you!2:00PM Water Cooler 6/8/2021