By Lambert Strether of Corrente.
Bird Song of the Day
A Veery.
* * *
#COVID19
At reader request, I've added this daily chart from 91-DIVOC. The data is the Johns Hopkins CSSE data. Here is the site. I feel I'm engaging in a macabre form of tape-watching….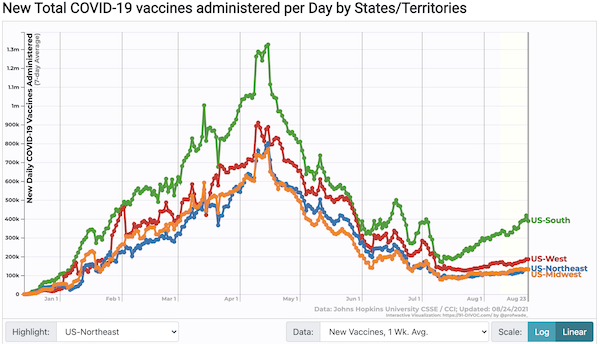 South still fiddling and diddling.
51.5% of the US is fully vaccinated, a big moment, breaking the psychological 51% barrier. Every day, a tenth of a percentage point upward. However, as readers point out, every day those vaccinated become less protected, especially the earliest. So we are trying to outrun the virus… (I have also not said, because it's too obvious, that if by Bubba we mean The South, then Bubba has done pretty well.)
Case count by United States regions: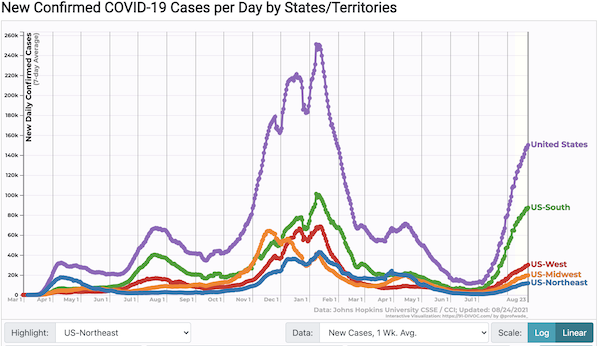 I would say we've moved off the vertical a bit, conforming to the drop in "Rapid Risers" and the drop in positivity. The South begins to slow, but other regions still rise. Still lots of momentum. As far as reaching the peak of January 8, 2021, with 295,257 cases per day … I'm not that pessimistic (modulo a new variant brought into the country by our ridiculously lax policies on international quarantines). What we might call, after Everest, the "First Step" (November 25, 2019) with 178,466 looks in striking distance, especially if the case count purple line continues go near vertical. If things go on as they are, we should hit the first step just in time for Labor Day. But what do I know, I'm just a tape-watcher.
Covid cases top ten states: for the last four weeks (hat tip, alert reader Lou Anton):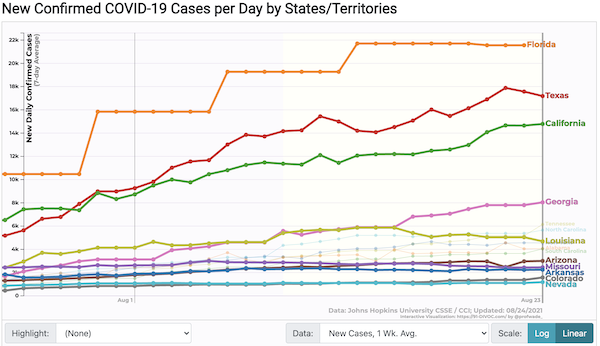 California is Texas's wingman. Cooking time for Florida's data seems to have increased. Meanwhile, Georgia and Lousiana have diverged.
From CDC: "Community Profile Report August 19, 2021" (PDF), "Rapid Riser" counties, this release: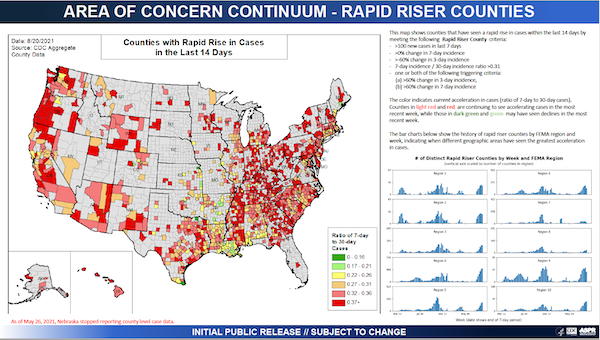 Looks like everywhere but Wyoming and Utah is slowing down a bit, especially the Mississippi river basin. Remember, however, that this chart is about acceleration, not absolute numbers. This map, too, blows the "Blame Bubba" narrative out of the water. Not a (Deliverance-style) banjo to be heard. Previous release: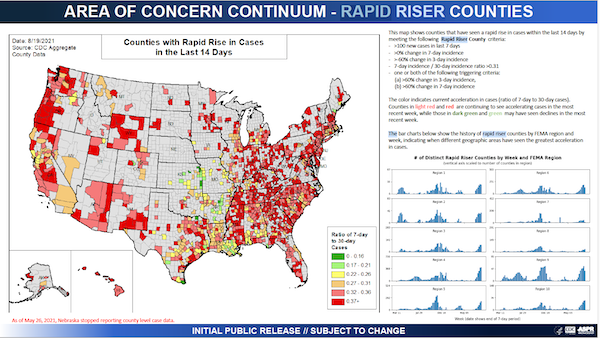 (Red means getting worse, green means bad but getting better. This chart updates Tuesdays and Fridays, presumbly by end-of-day.)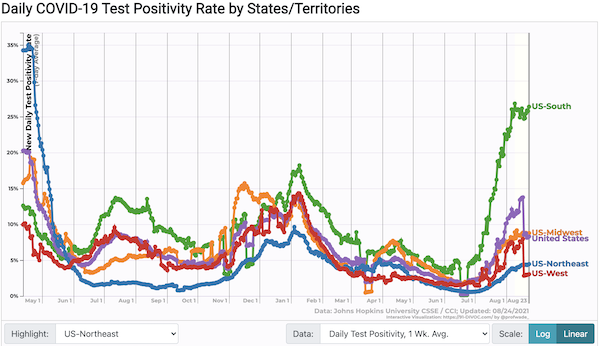 The South is now fiddling and diddling at more or less the same level, and the enormous drop in the West persists. Could be reporting problems.
NEW Hospitalization (CDC): Dammit, this one's gone dark. I wish CDC wouldn't do this. Here the CDC's hospitalization visualization, from the source above: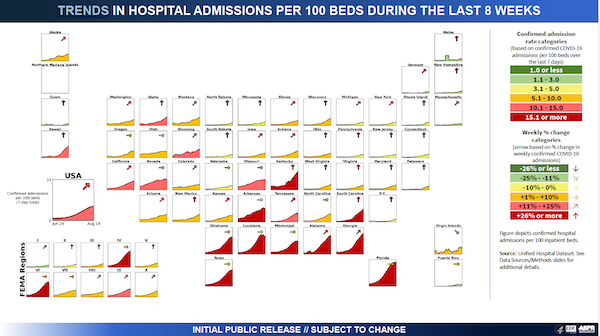 Yet more red states now, still in the South. Not good.
Deaths (Our World in Data):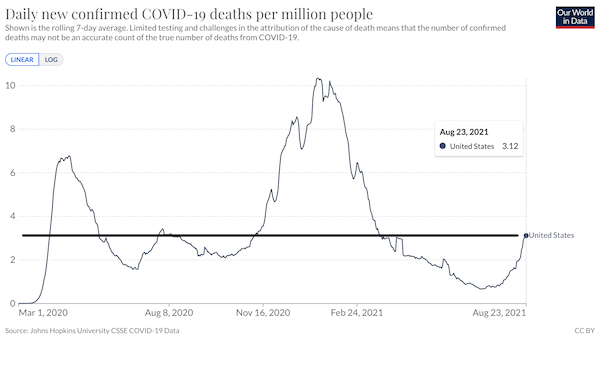 Deaths on trend rising. At reader request, I have added an antitriumphalist black line; we are where we were at the peak a year ago. (Adding: I know the data is bad. This is the United States. But according to The Narrative, deaths shouldn't have been going up at all. Directionally, this is quite concerning. Needless to see, this is a public health debacle. It's the public health establishment to take care of public health, not the health of certain favored political factions.)
Covid cases worldwide: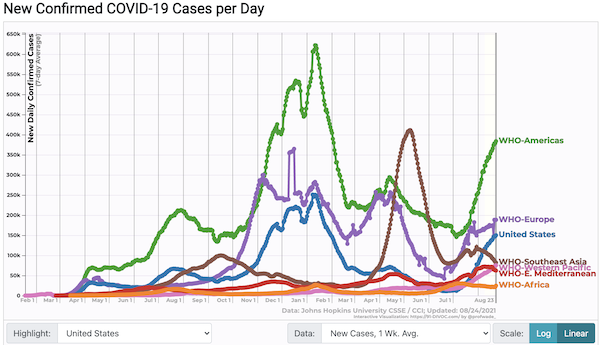 Southeast Asia doing better, I presume because little-covered Indonesia is past a peak. US sphere of influence under the Monroe Doctrine not doing so well.
* * *
Politics
"But what is government itself, but the greatest of all reflections on human nature?" –James Madison, Federalist 51
"They had one weapon left and both knew it: treachery." –Frank Herbert, Dune
"They had learned nothing, and forgotten nothing." –Charles Maurice de Talleyrand-Périgord
Capitol Seizure
UPDATE "Bad Information" [Boston Review]. The lead: "Like picture day at school, the January 6 march on the Capitol was about wearing your best outfit. For the rank-and-file, the uniform would do—heavy-duty workwear and a MAGA cap—but the more exuberant went for superhero costumes, Roman togas, animal pelts, or ghillie suits. The optics were all the more important because not much else was at stake. In the absence of any clear agenda and organizational capacity, posing inevitably took the place of politics: it was all about showing up and showing off. Only violence saved the bravado from complete ridicule. When the clueless mob moved in to take the country back by force, all it was able to get its hands on were a stolen pulpit and other memorabilia of parliamentary procedure. The real trophies of the day were the selfies." But it gets more interesting: "If one had to designate a culprit for the tendency to turn conspiracy theories into a problem of individual psychology and rationality, it would be Hofstadter. According to the glowing editorial blurbs that ushered the recent reedition of 'The Paranoid Style in American Politics' in the prestigious Library of America collection, Hofstadter's work on 'irrationalism, demagoguery and conspiratorial thinking' was a 'touchstone for making sense of events in 2020.' Such endorsements not only reflect Hofstadter's relevance to American political culture. They also pay tribute to a historian who saw in conspiracy theories an atavistic mindset, a sort of lacustrine monster that occasionally surfaced in American history but was better understood in terms of 'depth psychology.' Paradoxically, Hofstadter brought the cachet that comes with a Pulitzer Prize to the notion that history had relatively little to teach us about what was really an archaic mentality, sometimes woken up by the disruptions of modernity but ultimately impervious to it. It should come as no surprise that his revival takes place in the day and age of the cognitive sciences and paternalistic policies of 'nudging.'" And: "The proliferation of conspiracy theories reflects the dismal poverty of a political culture that fails millions of individuals confronted with the loss of their world. Because they are a desperate and impoverished attempt at making sense of the catastrophic dimensions of the present when the available cultural resources fail to do so, conspiracy theories are a direct outgrowth of this political vacuum. A fine observer, [sociologist Edgar Morin] also impugned 'the incapacity of the intelligentsia to address these problems.'" • No "impugning" about it!
Biden Administration
UPDATE "Biden calls on companies to mandate vaccines following FDA full approval" [The Hill]. Biden: "Today I'm calling on more companies in the private sector to step up the vaccine requirements that'll reach millions more people,' Biden said during an address. 'If you're a business leader, a nonprofit leader, a state or local leader, who has been waiting for full FDA approval to require vaccinations, I call on you now to do that." • Business, non-profits, government. Our three estates?

"Bernie Sanders's Third Campaign" [The Nation]. "'What we are trying to do is bring forth transformative legislation to deal with the structural crises that have impacted the lives of working people for a long, long time,' Sanders says. 'Whether it is child care, whether it's paid family and medical leave, whether it's higher education, whether it is housing, whether it's home health care—we're an aging population; people would prefer to get their care at home—whether it is expanding Medicare to take care of dental and eyeglasses and hearing aids, what we are trying to do is show people that government is prepared to respond to their needs.' That's an echo of the big-government-can-do-big-good message that Sanders has carried for the past five decades through all of his campaigns. Yet now, for the outsider who has become a somewhat uncomfortable insider, the message has found its moment. He is heading to the White House to consult with President Joe Biden about strategy. He is taking on what Politico describes as 'a central role in the Democratic caucus' of a chamber where critics once dismissed him as a left-wing scold. He is appearing with Schumer to declare, not from the sidelines anymore but from the eye of the media maelstrom, that "the wealthy and large corporations are going to start paying their fair share of taxes, so that we can protect the working families of this country.'" • I'll take the money or the services. I don't think it will be enough though, and I trust our system to deliver them about as much as I trust our aging pipes to deliver water.

UPDATE "Dem Obstructionists Are Bankrolled By Pharma And Oil" [Daily Poster]. "The small group of conservative Democratic lawmakers that has been threatening to help Republicans halt Democrats' budget package have raked in more than $3 million from donors in the pharmaceutical and fossil fuel industries that could see reduced profits if the plan passes. As the House reconvenes today to tackle the budget reconciliation process, nine Democrats legislators have been promising to kill their party's $3.5 trillion budget bill until Congress first passes a separate, smaller infrastructure spending measure, which has garnered some Republican support… In the narrowly divided House, obstructionism from these conservative Democrats could decouple the infrastructure and budget measures from one another. Many believe that would kill the latter by letting conservative Democrats in the Senate such as Kyrsten Sinema (D-Ariz.) and Joe Manchin (D-W.Va.) get the infrastructure bill they want without having to provide the votes necessary to enact the much larger and more progressive budget measure." • This is the House Pelosi built….

UPDATE "Where the centrist rebellion goes from here" [Politico]. "Yet any moderate Democrat who casts a deciding vote to quash the social spending plan promoted by President Joe Biden would be yanking away benefits — or at least halting the establishment of new ones — from the public, donning a black hat by stopping legislation that's poised to expand paid leave, universal pre-K, free community college and Medicare coverage… But their ultimate goal is to gain influence inside their party, particularly as the 100-plus members of the Congressional Progressive Caucus start making demands for the forthcoming social spending bill. The best way to get that influence isn't by tanking the speaker's priorities, McCain-style — especially when Gottheimer is trying to repeal the cap on state and local tax deductions in the same bill he's holding up."

UPDATE "Senior DOJ antitrust lawyer heads to Paul Hastings" [Reuters]. "Michael Murray, a senior U.S. Department of Justice antitrust lawyer has joined Paul Hastings as a partner, the firm announced Monday, adding another lawyer to its growing antitrust practice…. Murray cited the 'new' and 'exciting' antitrust environment in the U.S when discussing his reason for moving to private practice. He said Paul Hastings' antitrust practice is 'humming' and 'still growing,' and he trusts the vision of the firm." • I'll bet. Lina Kahn seems to be cleaning house. Though in general I deprecate depicting one's political opponents as vermin, rats leaving the sinking ship isn't the right metaphor. Perhaps cockroaches scuttling toward the darkness?

UPDATE "Amtrak's plans for a cash infusion aren't good enough" [Matthew Yglesias, Slow Boring]. "Amtrak should not double down on pointless money-losing routes, but it also shouldn't spend $0 on new infrastructure. What it ought to do is spend money on good routes!… The NEC has great geography for passenger rail, better than anything in Europe and comparable to Asia, but the passenger train service on the NEC is obsolete by European or Asian standards. The fact that Amtrak has a successful business running trains at Acela speeds just goes to show that demand for trains on this corridor is really high. If you upgraded the quality of the service to something that would be considered good in Spain, Italy, France, Germany, Korea, Japan, or Taiwan, you'd get many more riders. Right now, for example, the NEC runs from D.C. to Boston, but actually riding from D.C. to Boston is pretty unattractive compared to a plane. If you can make that a three-hour train trip (versus an hour flying) then that's a very competitive offering. What's more, the train can service markets like D.C./Providence or Wilmington/Boston (or even Providence/Wilmington) that don't have convenient plane alternatives. So while Ratner is right to be down on Amtrak's actual 'vision' for adding more low-performing routes, he's wrong to argue for the approach of just sticking with the NEC. Amtrak ought to increase its investment in its most promising area and then use that as a cornerstone for future expansions." • I don't know what's wrong with me, Yglesias actually sounds sensible.
Democrats en Deshabille
UPDATE "Cuomo's dog Captain left at mansion after governor departed" [Times-Union]. "Gov. Andrew M. Cuomo, who has been staying with one of his sisters in Westchester County in the final days of his third term, recently has asked staff members at the Executive Mansion if anyone would like to keep his dog, Captain, who has remained at the state-owned residence after the governor moved out last week…. [A] State Police source said they were told "he tried giving the dog to the (a mansion employee). … Apparently (the employee) took the dog home and it didn't work — the dog walks him, he don't walk the dog.'… In a tweet late Monday night, Cuomo posted a photo of himself on Twitter holding Captain's face, and saying they were reunited, as members of his family looked on…. One of the State Police sources who provided the information to the Times Union stood by the account Tuesday, saying: "He planned on keeping that dog as much as he planned on living over his big sister's garage at (age) 63.'" • The State that produced the Super Stewards program (see Biosphere) also produced this unseemly wrangle. I'm with the cops on this one.
Stats Watch
Manufacturing: "United States Richmond Fed Manufacturing Index" [Trading Economics]. "The Manufacturing Activity Index in the US fifth district including the District of Columbia, Maryland, North Carolina, South Carolina, Virginia, and most of West Virginia slipped to 9 in Aug
ust of 2021 from 27 in July and defying market expectations of 25. It was the lowest reading since July of 2020. Shipments, new orders, and employment decreased but remained positive. Survey contacts also noted that lead times continued to increase and inventories remained low. Survey results suggested that many firms increased employment and wages in August, as the wage index hit a record high, but they struggled to find workers with the necessary skills, a difficulty that manufacturers expected to continue in the coming months. Overall, respondents were optimistic that conditions would improve in the next six months."
* * *
Commodities: "The price of iron ore is flaming out even as the cost to ship the commodity remains red-hot. Prices for the foundation of industrial production have fallen roughly 40% since mid-July… on concerns over demand from China and the potential that rising Covid-19 cases could hobble the global recovery" [Wall Street Journal]. "The pullback marks the fastest rate that iron ore has fallen since spot prices were established some 12 years ago, says Morgan Stanley, casting a cloud over producing countries including Australia and Brazil. The price plunge risks undercutting earnings at miners including BHP Group and Rio Tinto, along with new entrants that entered the market when prices were high. Rising commodity prices have helped push up dry-bulk shipping rates, with Baltic Exchange measures pushing past decade highs."
Tech: "OnlyFans has tons of users, but can't find investors" [Axios]. "Sex sells, based on company financials leaked to Axios, but it also scares off venture capitalists… Any other company with growth like OnlyFans would be able to raise big money in a matter of minutes." • The culture that invented the "cuddle puddle" suddenly goes soft when confronted with commercial success?
Tech: "The Great OnlyFans Exodus" [Protocol]. "When OnlyFans announced it would be banning porn this fall, server traffic at porn-only competitor JustFor.fans jumped to three times its average — and stayed there. In the last five days, thousands of former OnlyFans sex workers have created new accounts at JustFor.fans. Even if OnlyFans doesn't want to sell sex, sex definitely still sells… Even if JustFor.fans attracts most of OnlyFans' current sex work business, [Dominic Ford, the founder of JustFor.fans] has no plans to ever expand beyond pornography. 'I don't know what [OnlyFans'] play was, but our play is to make money in the adult entertainment space, period,' Ford said. 'Those eyes are wide enough, I don't need wider eyes. If we can replace OnlyFans, who evidently were pulling in something like $150 million a month, trust me, I'll be fine.'"
Tech: "S.Korea set to curb Google, Apple commission dominance" [Reuters]. "South Korea is likely to bar Google and Apple from requiring software developers to use their payment systems, effectively stopping them from charging commissions on in-app purchases, the first such curbs on the tech giants by a major economy. The parliament's legislation and judiciary committee is expected on Tuesday to approve the amendment of the Telecommunications Business Act, dubbed the "Anti-Google law," that takes aim at app store operators with dominant market positions." • Why can't we do this? Apple is whinging about fraud, but the decimal point in its 30% "Because We Can" commission is in the wrong place. 3% would be more like it. Or 0.3%. Come on, man.
Tech: "A new NSO zero-click attack evades Apple's iPhone security protections, says Citizen Lab" [TechCrunch]. "ABahraini human rights activist's iPhone was silently hacked earlier this year by a powerful spyware sold to nation-states, defeating new security protections that Apple designed to withstand covert compromises, say researchers at Citizen Lab…. Citizen Lab, the internet watchdog based at the University of Toronto, analyzed the activist's iPhone 12 Pro and found evidence that it was hacked starting in February using a so-called 'zero-click' attack, since it does not require any user interaction to infect a victim's device. The zero-click attack took advantage of a previously unknown security vulnerability in Apple's iMessage, which was exploited to push the Pegasus spyware, developed by Israeli firm NSO Group, to the activist's phone. The hack is significant, not least because Citizen Lab researchers said it found evidence that the zero-click attack successfully exploited the latest iPhone software at the time, both iOS 14.4 and later iOS 14.6, which Apple released in May. But the hacks also circumvent a new software security feature built into all versions of iOS 14, dubbed BlastDoor, which is supposed to prevent these kinds of device hacks by filtering malicious data sent over iMessage."
Marketing: "'I haven't even told my wife': Inside the frantic and secretive sprint to name the Covid-19 vaccines" [STAT]. "The process of christening a new medicine typically involves about two years of semiotic labor. But in 2020, just as drug companies collapsed their standard development timelines to fight a global pandemic, the naming process has been condensed into a six-month sprint, said Scott Piergrossi​, president of operations and communications at the Miami-based Brand Institute, which has worked on Covid-19 vaccine naming projects…. "How are you going to find a name that tells you what it's for, is easy to pronounce, simple when you read it, and helps people who are maybe vaccine hesitant as well?" Tworek said. The drug industry's tendency toward nominative futurism, with its X's, Y's, and Z's, could be problematic at a time of rampant medical distrust. "You want to try and forestall the Bill Gates microchip conspiracy theory, and if you choose a name that sounds more banal and quotidian, you might avoid that," she said. • "Nominative futurism"!!! More: "Pfizer and BioNTech seem to be split between sonorous abstractions and names that get at the underlying technology of their vaccine, which uses messenger RNA to spur immunity to Covid-19. That helps explain "RnaxCovi" and "KoviMerna," two trademarks that attempt to fuse the technology behind the vaccines and the indication into a branded portmanteau. Then there's "Comirnaty" and "Covuity," which fall more on the conceptual end of the naming spectrum." • I still think "Comirnaty" is a horrid name that sounds vaguely Russian, of all things.
* * *
Today's Fear & Greed Index: 35 Fear (previous close: 29 Fear) [CNN]. One week ago: 37 (Fear). (0 is Extreme Fear; 100 is Extreme Greed). Last updated Aug 24 at 12:16pm.
Health Care
"Pfizer Full FDA Approval and What It Means for Covid Vaccine Mandates" [Rolling Stone]. "Though the review process ahead of granting EUA to the Pfizer-BioNTech vaccine — which will now be marketed as Comirnaty (pronounced ko-meer-nah-tee) — was extremely thorough, the one for full FDA approval was even more exhaustive. "We evaluated scientific data and information included in hundreds of thousands of pages, conducted our own analyses of Comirnaty's safety and effectiveness, and performed a detailed assessment of the manufacturing processes, including inspections of the manufacturing facilities," Dr. Peter Marks, director of FDA's Center for Biologics Evaluation and Research, said in a statement." • Dammit, if they want me to pronounce "naty" "nah-tee" then they need to spell it with two t's: "natty." Of course, then there's the whole "natty dread" problem. What is wrong with these people? More: [pause]. No, not more. This article is all "what it means" with nothing about the approval process whatever. For example, how do we assess Mark's claim that "the one for full FDA approval was even more exhaustive" when the data isn't public, and there was no public meeting?
CDC up to its old tricks on data (GM):
August 16th US Breakthroughs Report!
This is surreal. Not only CDC didn't start counting BT infections, but it changed the method of reporting breakthrough hospitalizations & deaths AGAIN. They reverted to a method last & only used in the May 10 report.https://t.co/4uCQULZU9r pic.twitter.com/VSRaTqwoGR

— Double Individual Speculator (@x2IndSpeculator) August 23, 2021
At this point, and after CDC's refusal to collect data on breakthrough infection (not only hospitalization and death), it looks more and more like the public health establishment has decided to fly blind. That's not reassuring. Another example–
"Millions of Rapid Covid-19 Test Results Risk Going Uncounted" [Bloomberg]. "Popular at-home Covid-19 tests from Abbott Laboratories and Quidel Corp., available without a prescription, were launched without a mechanism for reporting results to health officials, potentially leaving many cases uncounted by authorities as the delta variant spreads around the U.S… 'We should be doing a better job of keeping track,' [Michael Mina, an epidemiologist at the Harvard T.H. Chan School of Public Health] said in an interview. 'We should be planning and creating ways that really allow us to capture that information, for no other reason than for monitoring and planning at the public health level.' • Assuming that's important at this point, yes. More: "Instead, once a person finds out they're positive, 'then their families are going out and buying the same kind of test. And nobody knows that there's a little cluster of people that are infected right here,' he said. 'The public health authorities don't have any view into that.'"
"'Stop it': FDA warns people not to take veterinary drugs to treat Covid-19" [NBC]. More on the FDA tweet we posted yesterday. "Ivermectin, which is not an anti-viral drug, is generally used to treat or prevent parasites in animals." • "Generally" is doing so much work there. Ivermectin is FDA-approved for use in humans. Therefore, if your doctor wishes, they can write a scrip for off-label use. NBC does not say this, which is why this story falls into the category of propaganda — however well-meant — as opposed to news.
Let's keep calling them animals, except more, that will surely do it:
Mehdi Hasan: "With the vaccine reluctant or hesitant…can we get to herd immunity without them?"

Dr. Fauci: "I don't think so" pic.twitter.com/mkle7Dnw0F

— MSNBC (@MSNBC) August 24, 2021
Assuming that herd immunity for respiratory viruses is a thing. Anyhow, I'm surprised Fauci was able to even find the herd immunity goalposts and drag them back onto the field. Speaks well of him, I suppose.
"Thailand to explore injecting coronavirus vaccines under skin" [Reuters]. "Thailand is studying the possibility of injecting coronavirus vaccines under the skin to try to stretch its limited supply, a health official said on Thursday, as the country races to inoculate the public faster amid a worsening epidemic. 'Our previous experience shows that intradermal injections uses 25% of a muscular injection, but triggers the same level of immunity,' head of the medical science department, Supakit Sirilak told reporters…. If its research confirms intradermal injections are effective, regardless of brand, Thailand could vaccinate four to five times the number of people with the same amount of vaccine, Supakit said." • Something to watch for. (Sirilak is from the Ministry of Public Health, not a university, as "department" would suggest.)
The Biosphere
"Sweden's SSAB last week shipped what it says was the world's first commercial shipment of steel made without fossil fuels to truck maker Volvo…. [T]he 24-ton shipment made with hydrogen rather than coal could mark the beginning of what the steel industry hopes is a new era of cleaner production" [Wall Street Journal]. "Steelmakers like ArcelorMittal and Cleveland-Cliffs have stepped up their efforts to curb carbon emissions, but analysts say progress is slow and unlikely to yield benefits soon. Steel generates 7% of global carbon-dioxide emissions related to energy consumption, more than any other industrial sector, and demand for the metal is only growing. Several initiatives are underway, but experts say they are costly and likely to raise prices for the final product."
"Embrace kelp forests in the coming decade" [Science]. "Kelp forests hold unprecedented potential for restoration success." • On kelp, see NC here.
"California faces new dangers amid heat, dryness and winds" [Los Angeles Times]. "With more than a million acres burned fairly early in the fire season, California is entering uncharted territory as the record dry conditions that have fueled so much destruction will soon combine with seasonal winds that fire officials fear will bring unprecedented dangers…. [M]any experts fear that the impending arrival of strong Santa Anas and Diablos — which typically move in around mid-September — could mark even more misery for weary residents and beleaguered fire crews…. Like monsoons and other weather patterns, Santa Anas and Diablos are hard to predict more than a few days out, Williams said, so climate experts can't say for sure whether or when they will happen in a given year. If they don't arrive, there is a chance that California could see some reprieve from fire. But there is a strong probability that they will show up."
"The Latest: Greenwood Fire more than doubles in 24 hours" [WDIO]. Minnesota, near Superior National Forest. "The Greenwood Fire more than doubled in size in 24 hours, reaching an estimated 19,493 acres as of Tuesday morning after a day of "extreme" fire behavior caused more than 150 additional dwellings to be evacuated. The fire had been at 8,862 acres on Monday morning. It grew quickly Monday with 'torching, wind-driven runs and long-range spotting,' according to Tuesday's update from fire officials coordinating the response. Officials said Monday's conditions forced them to pull air resources, heavy equipment, and ground crews for their safety. 'We are expecting more favorable weather and less active fire conditions for the next few days,' the Tuesday update said."
"I Tackled My Climate Anxiety by Becoming a Parks Department Super Steward" [New York Magazine]. "[I]n the past couple of years, one very important new relationship has acted as an invaluable balm on my climate anxiety — my relationship with the Earth itself…. I wanted a reciprocal relationship with the trees and bushes I'd harvested from. I started learning about New York City's worst invasives…. I reached out to the Forest Park Trust and asked if I could volunteer with an expert. The woman who took my call sounded surprised that I was asking to pull weeds, but she connected me with the Super Stewards… which trains and organizes a volunteer army to protect the city's youngest, most vulnerable trees… Thanks to training by Stein and two veteran Parks gardeners, Irena and Mike, I know how to identify and remove several aggressive invasives, including porcelain berry and bittersweet vines. The gardeners also taught me how to identify edible cruciferous mustards; how to find plants that smell like pepper and spice and burnt rubber; how to find jewelweed to rub on poison-ivy rashes —I'm getting a comprehensive horticultural education." • This sounds like a great, great program that every city could (and should) emulate.
Our Famously Free Press
"Quality gap":
— Mike Bird (@Birdyword) August 23, 2021
Class Warfare
"Turn on the blood spigot baby!" [Welcome to Hell World]. "'…when my uncle died, and I had to serve as his pallbearer, then skip the actual burial, and rush back to work, because, and I quote 'your dad died last year, you can't keep doing this." You can't keep suffering losses in your family it's bad for the CVS bottom line. It sounds almost absurdly ghoulish and almost unbelievable that a manager would say that right? But if you know you know. If you're a lower wage worker especially in the service industry your poor health and your family's poor health and/or death are almost always viewed as a scam you're trying to get over on your boss and evidence of your laziness and poor work ethic. A reliable worker simply does not have deaths in the family too regularly. Weird how being lower income is also a determinant for worse health! So it works like this: You have a shitty job and you can't take care of your health because you have to work so much then you get sicker then you get fired for finally calling out then you have to start the process all over again at the bottom at the next place if any of them are still willing to hire you. After all you're probably not getting a good recommendation from your last job because you got sick that one time. All the while you're putting more miles on your body and letting problems go unaddressed with a doctor like how letting a minor problem with your car go unfixed turns it to junk sooner. We're all broken down 2006 Toyota Corollas with 150,000 miles a permanent check engine light on and a backseat full of Gatorade bottles. It is much easier to take time off when you have a fancy white collar job of course." • Well worth reading in full.
"The Problems Solved by Debutantes" [Culture Study]. "When Americans became super-(nouveau) riche during the Gilded Age, status-seeking fathers arranged symbiotic (but often miserable) marriages between their heiress daughters and cash-poor European aristocrats. These marriages created a new international and interconnected upper class that resembles the one we still have today. There were tons of these marriages—they continued until World War I, at which point the debut stopped solving the original problem of getting daughters married. The war fractured society so completely that the debut quickly lost that utility. Only the social performance remains, and it has been an effective way to maintain class connections and to vet rich newcomers since then. Photos of debutantes and balls still sell newspapers and magazines." • This is worth reading in full also.
News of the Wired
Tiffany blue?
they been hiding a basquiat for decades just to use it for a Tiffany's ad? https://t.co/LH0XiXbEu9

— phinneas flynn 💫 (@ScBayScJohnson) August 23, 2021
Not Tiffany blue:
Slave Auction, 1982 #basquiat #americanart pic.twitter.com/dgPDQBaCn6

— Jean-Michel Basquiat (@artistbasquiat) August 22, 2021
* * *
Readers, feel free to contact me at lambert [UNDERSCORE] strether [DOT] corrente [AT] yahoo [DOT] com, with (a) links, and even better (b) sources I should curate regularly, (c) how to send me a check if you are allergic to PayPal, and (d) to find out how to send me images of plants. Vegetables are fine! Fungi and coral are deemed to be honorary plants! If you want your handle to appear as a credit, please place it at the start of your mail in parentheses: (thus). Otherwise, I will anonymize by using your initials. See the previous Water Cooler (with plant) here. Today's plant (SC):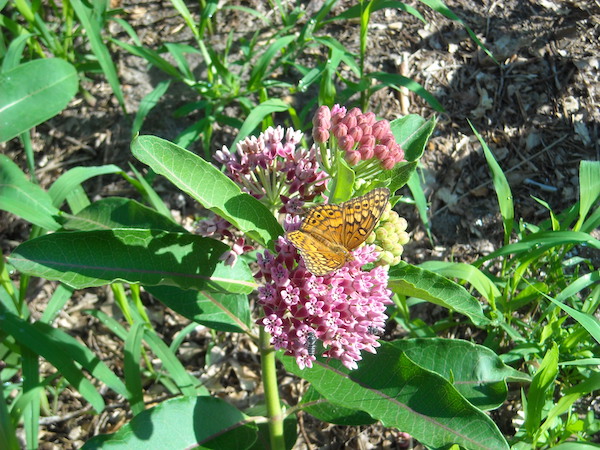 SC writes: "Happy news on the "Prp MW project. A second, smaller plant (the first photo) opened a blossom cluster this AM and the purple hue is somewhat more vivid than in the first plant. I think that these really are Purple Milkweed. I don't understand the source of the hue variations, but it has been suggested to me that soil and other growing conditions might be responsible. I also wonder if the speed at which these plants developed could be a factor. It is less than 7 months from the beginning of the outdoor cold treatment of the seeds, and they germinated only in April, were potted up in May and set in soil in June. And here they are in bloom in July. I provided a generous supply of slow-release fertilizer in the pots; perhaps that has something to do with the haste with which these have bloomed,, and maybe that influenced the color of the blossoms.
While I was rejoicing over the hue of the 2nd plant to bloom, a Variegated Fritillary alighted on the first plant and spent enough time nectaring there for a few photos."
* * *
Readers: Water Cooler is a standalone entity not covered by the recently concluded and — thank you! — successful annual NC fundraiser. So if you see a link you especially like, or an item you wouldn't see anywhere else, please do not hesitate to express your appreciation in tangible form. Remember, a tip jar is for tipping! Regular positive feedback both makes me feel good and lets me know I'm on the right track with coverage. When I get no donations for five or ten days I get worried. More tangibly, a constant trickle of donations helps me with expenses, and I factor in that trickle when setting fundraising goals:
Here is the screen that will appear, which I have helpfully annotated.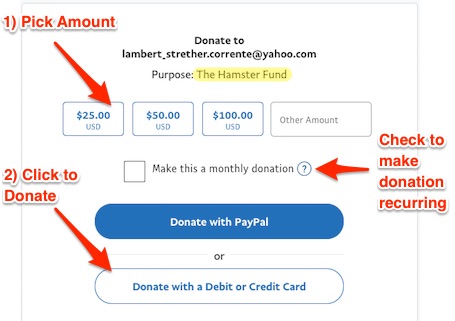 If you hate PayPal, you can email me at lambert [UNDERSCORE] strether [DOT] corrente [AT] yahoo [DOT] com, and I will give you directions on how to send a check. Thank you!2:00PM Water Cooler 6/8/2021