By Lambert Strether of Corrente.
Bird Song of the Day
The descending WOOO-wooo-woo-woo-woo is the Potoo. There is also the usual chorus of insects, along with a sharp cracking noise — snapping wood? Another insect?
* * *
#COVID19
At reader request, I've added this daily chart from 91-DIVOC. The data is the Johns Hopkins CSSE data. Here is the site. I feel I'm engaging in a macabre form of tape-watching….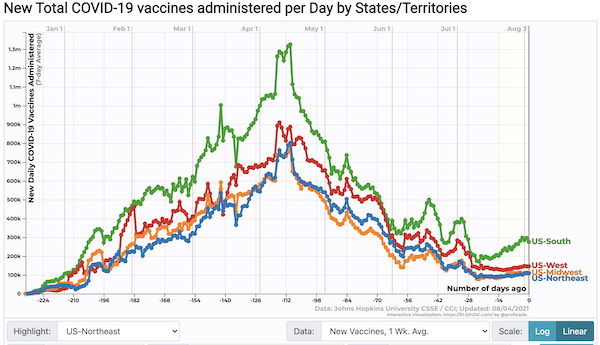 South falters a little.
Case count by United States regions: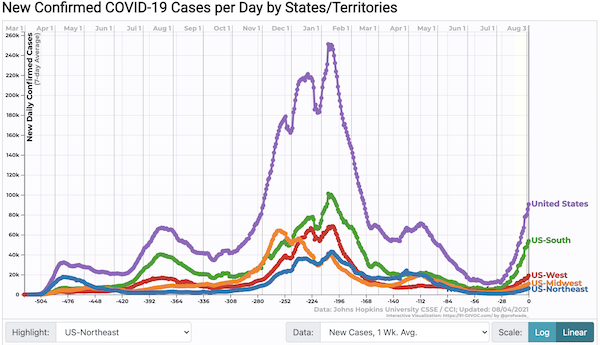 As far as reaching the peak of January 8, 2021, with 295,257 cases per day … I'm not that pessimistic (modulo a new variant brought into the country by our ridiculously lax policies on international quarantines). What we might call, after Everest, the "First Step" (November 25, 2019) with 178,466 looks in striking distance, especially if the case count purple line continues go near vertical. When you look at those rising counties on the CDC map, you've got to think this rise has a way to run. But what do I know, I'm just a tape-watcher.
Covid cases top ten states: for the last four weeks (hat tip, alert reader Lou Anton):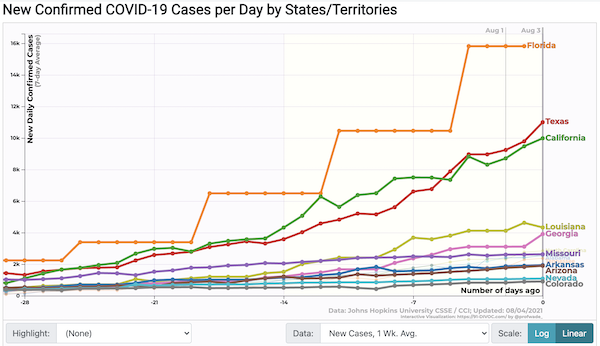 California back on form. Musical interlude for Florida data.
From CDC: "Community Profile Report August 2 2021" (PDF), "Rapid Riser" counties, this release: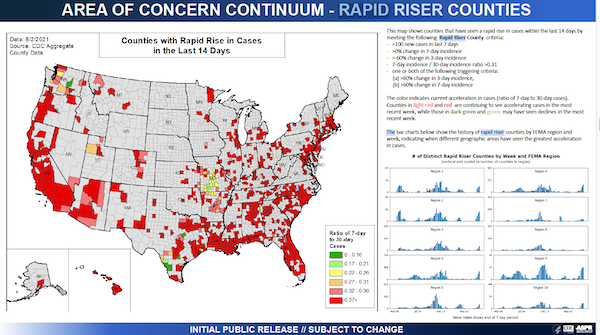 Red areas spreading. OTOH, some green relief in Missouri and Texas. This map blows the "Blame Bubba" narrative out of the water. Not a banjo to be heard. Previous release: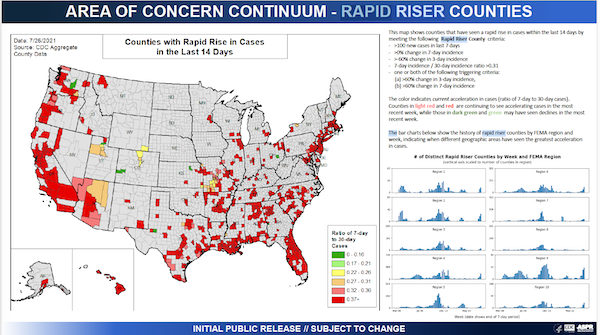 (Red means getting worse, green means bad but getting better. This chart updates Tuesdays and Fridays, presumbly by end-of-day.)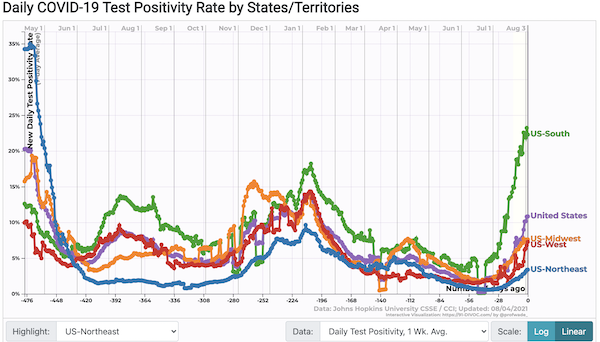 South running away with the field. But other regions now playing catch-up.
Hospitalization (CDC):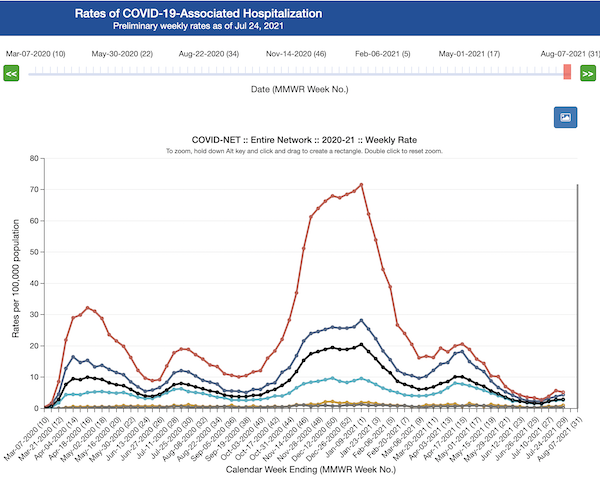 A little dip in 65+. But–
Deaths (Our World in Data):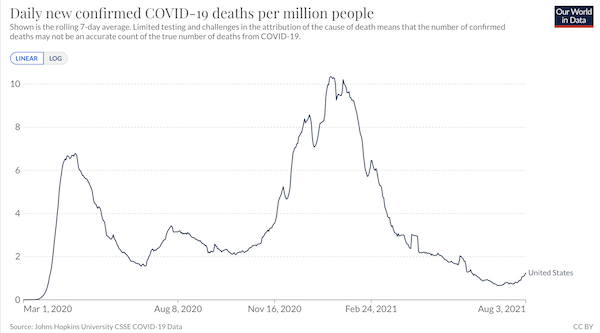 Deaths definitively rising, although nowhere near meriting an anti-triumphalist black line.
Covid cases worldwide: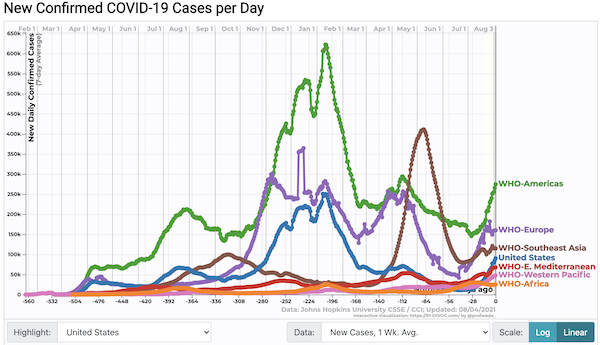 Every region is trending up. US sphere of influence under the Monroe Doctrine not doing so well.
* * *
Politics
"But what is government itself, but the greatest of all reflections on human nature?" –James Madison, Federalist 51
"They had one weapon left and both knew it: treachery." –Frank Herbert, Dune
"They had learned nothing, and forgotten nothing." –Charles Maurice de Talleyrand-Périgord
Biden Administration
"Top House Democrat says party would lose elections if they were held today: report" [The Hill]. "Politico reported Maloney made the remarks based off new polling conducted by the DCCC." • Well, I think OH-11 shows the way forward: Republican and Israeli money.

UPDATE "House Dem campaign chief warns the majority at risk without message reboot" [Politico]. Story above is based on this. Sorry! "Party leaders are already stepping up their offense in response to the growing agita. A Democratic messaging blitz this month on Biden's priorities is set to get help from a White House communications war room that will activate while members are back in their districts. Around the country, Biden's Cabinet is being dispatched to talk up jobs and infrastructure in swing districts in states such as Iowa, New York and New Jersey. For now, it's too early to say that Democrats have no path to keeping their majority. But they would need a lot of factors to break in their favor in order to hang on next November. For now, both parties remain neck-and-neck on fundraising, and the new congressional maps — which could largely determine Democrats' fate — are still months out. Meanwhile, Pelosi and Senate Majority Leader Chuck Schumer are hustling to pass a massive Biden-led spending package that Democrats hope will further boost their chances of averting the historic pattern of a party in full control of Washington losing ground in its first midterm." • Hustling? It's [family blogging] August for [family blog's] sake. If the Democrats think the retaining the filibuster is more important than winning the midterms, then [family blog] 'em. Democrats seem to think that passing a bill is enough. No. People need to see and spend the money.

UPDATE "Biden vaccine rule sets stage for onslaught of lawsuits" [The Hill]. "Vaccine requirements typically allow exemptions for religious or medical reasons. Biden's policy doesn't specify any exemptions, instead allowing anyone who chooses not to vaccinate to undergo once or twice weekly testing and may face travel restrictions alongside the masking and social distancing requirements. ."
Democrats en Deshabille
"POSITION STATEMENT OF GOVERNOR ANDREW M. CUOMO CONCERNING THE SEXUAL HARASSMENT ALLEGATIONS MADE AGAINST HIM" (PDF) [Rita M. Glavin GLAVIN PLLC, Attorney for Governor Andrew M. Cuomo (Keith)]. • I haven't read enough to comment on the merits, but the pictures, which show various political figures embracing, are splendid (though Glavin goes very light on Biden and Clinton). I think this is the best:

But I have to give credit to Cuomo for including his own mother:

If Cuomo wants to take down the entire Democrat Party apparatus for what he is being accused of, I'm here for it. Meanwhile, apparently it's A-OK with liberal Democrats that a few thousand New York elders choked to death on their own lung tissue in the nursing homes Cuomo sent them to. Hardly an impeachable offense! No, Merrick [genuflects] Garland put that one safely back in the box.

"Biden Calls On New York Gov. Andrew Cuomo To Resign" [HuffPo]. "'I think he should resign,' Biden said at a press conference. He said he had not spoken to Cuomo ahead of calling for him to resign…. Cuomo was defiant Tuesday. He recorded a statement ― allowing for no questions from reporters ― making clear he intends to stay in office and fight the allegations, which he denied. He portrayed himself as a feminist hero and a champion of women, claiming that his concern and caring nature were just misunderstood…. In March, Biden said he believed Cuomo should resign if the harassment allegations against him were confirmed to be true. 'I think he'll probably end up being prosecuted, too,' Biden added at the time."

UPDATE "Entire NY Democratic congressional delegation now calling for Cuomo's resignation" [The Hill]. "Most of the 19 Congressional Democrats previously called for Cuomo to resign in in March. At the time, Jeffries, Meeks, and Suozzi were the only three New York House Democrats who did not." • Now they are.

* * *

"S.F. Mayor Breed to be fined nearly $23,000 for series of 'significant' ethics violations while in office" [San Francisco Chronicle]. "San Francisco Mayor London Breed has agreed to pay a $22,792 city fine to settle allegations that she committed a series of ethics violations while in office, including asking former Gov. Jerry Brown to release her brother from prison and allowing Mohammed Nuru, the disgraced former head of Public Works, to pay for repairs to a car she owned. While it's not unusual for city supervisors and candidates to be hit with fines from the Ethics Commission, Breed, who is also accused of failing to properly report a 2015 campaign contribution, appears to be the first sitting mayor in San Francisco to settle such a case, according to records. It is also one of the commission's biggest fines in recent history. The proposed fine, first obtained by The Chronicle on Tuesday, is part of an agreement stating that Breed's violations were 'significant,' involving the misuse of her title as mayor for personal gain." • Hmm.

"The Truman Show How the 33rd president finagled his way to a post–White House fortune — and created a damaging precedent" [New York Magazine]. "What neither the general public nor the politicians that Truman successfully pressured [to create Presidential pensions] knew at the time was that this lobbying effort was based on falsehoods. Harry Truman was a very rich man on the day he left the White House, and he became a good deal richer in the five and a half years between that day and the passage of the FPA. Moreover, Truman departed from the White House with so much money because he apparently misappropriated what in today's terms would be millions of dollars from the United States government. The relatively recent release of some of Truman's financial records has made it possible to nail down the precise details of this story. Yet the fact that it has taken more than 60 years for that story to come to light also tells us a great deal about what could be called the politics of nostalgia: of the tendency of everyone from professional historians to the public at large to cast a sentimental haze around certain historical figures and periods, when we assume honorable men ruled the land and America was still truly great. This tendency has produced a historical myth about Harry Truman that still has contemporary consequences, as it continues to be deployed to rationalize the unjustifiable practice of showering millions of dollars per year of government benefits on our uniformly wealthy ex-presidents." And: "A large portion of the wealth Truman accumulated during his years in the White House seems to have come from a more than $2 million (in 2021 terms) expense account that Congress created a few days before the beginning of his full elected term. Truman apparently illegally pocketed the bulk of this money and filed fraudulent tax returns to disguise that fact." • Sigh.
Obama Legacy
"Obama scales back big birthday bash amid Covid worries" [CNN]. "This outdoor event was planned months ago in accordance with all public health guidelines and with covid safeguards in place," Hannah Hankins, a spokeswoman for Obama, said in a statement Wednesday provided to CNN. "Due to the new spread of the delta variant over the past week, the President and Mrs. Obama have decided to significantly scale back the event to include only family and close friends." • Or maybe he couldn't make bank?

My dear friend @BarackObama is turning 60 tomorrow. For his birthday gift, I'm asking you to chip in $6 or $60 to help us bring the Obama Presidential Center to life in Chicago. Donate at https://t.co/pak27yKqbz #HappyBdayObama pic.twitter.com/AvWnExCSNE

— Valerie Jarrett (@ValerieJarrett) August 3, 2021

The responses to this seemed pretty scathing.
Realignment and Legitimacy
"Nina Turner Learns the Hard Way That Democrats Like Joe Biden" [New York Magazine]. "Turner lost a special primary election for Congress in Cleveland on Tuesday to rival Shontel Brown, a county councilwoman, by a margin of 50-45 percent…. It seemed like a lock for Turner, a former state senator who raised the most money and went on TV the earliest. But then the campaign turned into an intra-Democratic proxy fight between the party's left wing and "normie Democrats." Although Turner was originally a vocal leader in the "Ready for Hillary" Clinton presidential effort in 2014, she became one of Bernie Sanders's most prominent surrogates in the actual 2016 presidential campaign…. This was an opportunity for Brown, her top opponent in a splintered field, to turn the race into a referendum on Biden and loyalty to the Democratic Party in a district heavily populated by Black and Jewish members of the party's base." • Accepting for the sake of the argument that OH-11 was a nationalized race, I'd turn this around: 45% of Democrat voters are perfectly happy comparing voting for Biden to eating "half a bowl of shit" instead of a whole one. That to me suggests that "Democrats Like Joe Biden" is subject to dynamics not necessarily apparent from the windows of the Acela (assuming the curtains are open). Here is a map of where Brown won and where Turner won:

Shontel Brown defeated Nina Turner in a much-anticipated Ohio special Democratic primary last night. Brown is virtually guaranteed to win the general election in this heavily Democratic district to succeed Marcia Fudge, who is now the HUD Secretary. pic.twitter.com/NtoQWp7vCh

— Eli (@elium2) August 4, 2021

Looks like Turner did well in central Cleveland, not so well in Akron. Why? And so forth.

Sirota takes the Acela view, though in despair, not schadenfreude:

.@NinaTurner ran a brave campaign. More Dem voters supported her corporate opponent not just because an overwhelming amount of super PAC money was spent to destroy Nina, but also because in general more Dem voters want a corporate government than something else. This is reality.

— David Sirota (@davidsirota) August 4, 2021

I think everybody should try to stay calm. For example, people erase that Sanders won California. There are plenty of Democrats — and in some jurisdictions, a majority — who don't want corporate rule (and again, the issue with 2020 is why Biden won Texas). The possibility also exists that Turner didn't run a very good campaign; her role in South Carolina, for example, was said to be not stellar (which doesn't detract from Turner's personal virtues or political views in the slightest). Since the reporting on all of this has been so light, we'll have to wait for some local post mortems — or the views of Ohio readers.

"More on the Movement for a People's Party: Authoritarian, Inept Leadership Plus Bird-Brained Political PR Stunts Leading to Disaster" [Washington Babylon]. Bracing stuff. One nugget: "But member attrition is the least of [Movement for a People's Party's] worries. In my last article, I suggested that it had about $80,000 cash on hand, a paltry sum for a group pledging to run multiple congressional campaigns by the next electoral cycle. According to their latest filing, updated just in the nick of time on July 30 at 11:51PM (9 minutes before the deadline), it had only added about $25,000 to its coffers. In a national call on May 27, [National Coordinator Nick] Brana had confidently asserted that MPP would raise 50 percent more than the Green Party. It's clear, however, that he was either lying or that the MPP had a disastrous second quarter." • There was also a donnybrook over the party logo. I remember the same donnybrook over trade dress when I followed the Greens.
Stats Watch
Employment Situation: "July 2021 ADP Employment Grew 330,000" [Econintersect]. "ADP reported non-farm private jobs growth of 330,000 which was below expectations. A quote from the ADP authors: 'The slowdown in the recovery has also impacted companies of all sizes. Bottlenecks in hiring continue to hold back stronger gains, particularly in light of new COVID-19 concerns tied to viral variants.'" • Let's wait for the BLS tomorrow.
Services: "United States Services PMI" [Trading Economics]. "The IHS Markit US Services PMI was revised slightly higher to 59.9 in July of 2021, from a preliminary estimate of 59.8. The upturn softened to the slowest since February, but was much quicker than the series average. Contributing to the less marked upturn in output was a softer rise in new business. Nonetheless, domestic and foreign client demand remained historically strong."
Services: "United States ISM Non Manufacturing PMI" [Trading Economics]. "The ISM Non-Manufacturing PMI rose to 64.1 in July 2021, from 60.1 in the previous month and well above market expectations of 60.5. The latest reading pointed to the steepest pace of expansion in the service sector since comparable records began in 1997, as business activity and new orders rose at sharp rates, due to growing demand following the easing of coronavirus-induced restrictions."
* * *
Manufacturing: "You Won't See Teslas in India Anytime Soon" [Bloomberg]. "If India wants to implement a China-style, top-down industrial policy, it has its work cut out. Opening up to foreign manufacturers would be a start, but it must learn to be nimble as successes mount. Tesla's sales to China started to comprise a big portion of revenue as early as 2017, before the company began manufacturing there. While that was partly thanks to relatively low import tax rates of 25% at the time, it also reflected Beijing's desire to build out the market. The government's stance helped electric cars gain traction, boosting the entire supply chain and tipping off a self-fulfilling cycle of hype. When it was time to let foreign carmakers in, Beijing had its own budding electric champions. Now Tesla is exporting cars from its Shanghai factory to Europe. As China knows all too well, building a large auto industry isn't the same as creating a high-quality, domestic one. State planners' years-long struggle to produce the best cars in the world were hampered by unfocused subsidies and plans. With green vehicles, however, Beijing's policies have evolved year after year, targeting separate parts of the value chain — from consumers and manufacturers to the types and quality of batteries. That's precisely what India needs now — its own holistic model that touches on auto parts, infrastructure and consumer incentives for electrics and hybrids." • Ya know, we used to call that "holistic model" "central state planning."
Tech: "Sunisa Lee blames Twitter for Olympic bronze medal performance" [NBC]. "Lee, who earned gold at the Tokyo Olympics in the individual all-around but considered bars to be her strongest event, missed a few connections during her routine. Now, she said she's going to 'stay off social media for a little bit.' 'I'm probably going to delete Twitter,' Lee told People. 'Instagram is not as bad because I can't really see what people say, but [on] Twitter it's just so easy to see everything. So I'm probably going to have to end up deleting that.'"
Tech: Not wrong:
instagram: look at my new boyfriend

twitter: I can't get a boyfriend

reddit: my [21F] boyfriend [53M] boyfriend forbids me from going into the basement and has a sock drawer full of missing women's driver's licenses, AITA for being uncomfortable? the wedding is in three hours

— Janel Comeau (@VeryBadLlama) August 3, 2021
* * *
Today's Fear & Greed Index: 27 Fear (previous close: 30 Fear) [CNN]. One week ago: 25 (Extreme Fear). (0 is Extreme Fear; 100 is Extreme Greed). Last updated Aug 3 at 12:29pm.
Health Care
"The C.D.C. Needs to Stop Confusing the Public" [Zeynep Tufecki, New York Times]. Tufecki is measured in her tone, but she says here what Yves and I have been saying for a long time, and it's brutal. She concludes:
The Epidemic Intelligence Service unit of the C.D.C. has a core principle that needs to remain at the forefront of everything the administration does: A pandemic is a communications emergency as much as it is a medical crisis. Effective communication is much more than choosing the right words. It needs a wholesale approach starting with clarity of purpose, a realistic assessment of where things are including factors outside the agency's control, collection and presentation of detailed data when possible and an open acknowledgment of uncertainty and underlying reasoning when precautionary steps are being advised. The agency must have a laser focus on what it can do with what it has, despite the challenges, rather than looking for justifications for what doesn't work well — even if those exist.

So remember, C.D.C.: Be first, be right and be credible. The conditions may not be ideal, but that's the job.
Worth reading in full. There's also a fine play-by-play on CDC's botched change in masking guidance.
"Analysis: Don't Want a Vaccine? Be Prepared to Pay More for Insurance." [Elisabeth Rosenthal and Glenn Kramon, Kaiser Health News]. "Tough love might be easier if the Food and Drug Administration gives vaccines full approval, rather than the current emergency use authorization. Even so, taxpayer-financed plans like Medicaid and Medicare must treat everyone the same and would encounter a lengthy process to secure federal waivers to experiment with incentives, according to Larry Levitt, executive vice president of KFF, a nonprofit focusing on health issues. (Kaiser Health News, where Rosenthal is editor-in-chief, is one program under KFF.) These programs cannot charge different rates to different patients in a state. KFF polling shows such incentives are of limited value, anyway. Many holdouts say they will be vaccinated only if required to do so by their employers. But what if the financial cost of not getting vaccinated were just too high? If patients thought about the price they might need to pay for their own care, maybe they would reconsider remaining unprotected." • Rosenthal, once the Times health reporter, is now editor-in-chief of KHN. There's a lot of unpack here, starting with the infantilization of "tough love." We also see why Rosenthal might prefer existing health care to single payer ("Medicaid and Medicare must treat everyone the same," heaven forfend). Note that while Rosenthal thinks FDA approval is a nice-to-have, not a have-to-have. So, what we have here is deregulation and (hmm) the merger of State and corporation to achieve Rosenthal's policy goal. This is also amazing: "A harsher society might impose tough penalties on people who refuse vaccinations and contract the virus." So, Rosenthal's advocacy of financial muscle isn't "harsh"?
UPDATE "F.D.A. Aims to Give Final Approval to Pfizer Vaccine by Early Next Month" [New York Times]. "President Biden said last week that he expected a fully approved vaccine in early fall. But the F.D.A.'s unofficial deadline is Labor Day or sooner, according to multiple people familiar with the plan. The agency said in a statement that its leaders recognized that approval might inspire more public confidence and had 'taken an all-hands-on-deck approach' to the work." Pfizer filed on May 7. Moderna filed on June 1, "but the company is still submitting data and has not said when it will finish." Johnson and Johnson will file later this year. "Full approval of the Pfizer vaccine will kick off a patchwork of vaccination mandates across the country." "Full approval typically requires the F.D.A. to review hundreds of thousands of pages of documents — roughly 10 times the data required to authorize a vaccine on an emergency basis. The agency can usually complete a priority review within six to eight months and was already working on an expedited timetable for the Pfizer vaccine." Six months from May 7 is 183 days. From May 7 to Labor Day is 122 days. So FDA would need to hack around 60 days off their schedule. "The regulators want to see real-world data on how the vaccine has been working since they authorized it for emergency use in December. That means verifying the company's data on vaccine efficacy and immune responses, reviewing how efficacy or immunity might decline over time, examining new infections in participants in continuing clinical trials, reviewing adverse reactions to vaccinations and inspecting manufacturing plants." • If you read Yves post on Pfizer's consent form, you'll see that "verifying the company's data" is no easy task. And then there's this gem:
Officials in Contra Costa County, home to 1.1 million people in Northern California, were so eager to offer boosters that on July 23 they told vaccine providers to give extra shots to people who asked for them "without requiring further documentation or justification."

Then, realizing that policy violated the F.D.A. rules on vaccines authorized for emergency use, the county reversed it this week.
When the PMC hive mind comes to a consensus, that over-rides both law and the regulatory process. That's where we are!
Sports Desk
"Many 'twisties' and turns, but Simone Biles exits Games a champion" [Reuters]. "While Biles did not rewrite the Olympic record book as planned, she did leave an indelible mark on the Tokyo Games, changing the narrative from winning medals to championing athlete mental health and well-being…. 'Mentally I still have a lot of things that I have to work on but to bring the topic of conversation on mental health to light means the world to me,' said Biles. 'People have to realise that at the end of the day we're humans, we're not just entertainment.'" • Or perhaps Citius – Altius – Fortius all have physical/material limits, and Biles was at them?
Zeitgeist Watch
Pay attention!
If there's one bit of advice I can give you after spending gobs of time researching disasters, it's this: pay attention to where exits are whenever you go into any place, and if possible try to avoid the main ones everyone is flocking to in a crisis.

— Abandoned America 🏚️🇺🇲 (@abandonedameric) August 4, 2021
For whatever reason, this horrid ad keeps showing up in my timeline:
Time after time, there is one element that secures an investor's portfolio.

— World Gold Council (@GOLDCOUNCIL) July 15, 2021
I think the shadowy silhouette of the dude at the start and finish of the ad is truly creepy. Who is he, Patrick Bateman?
Under the Influence
"'I Got a Second Chance': From Puff Daddy to Diddy to Love" [Tressie McMillan Cottom, Vanity Fair]. "HAIR, MARCUS P. HATCH; GROOMING, LUCIA RODRIGUEZ (SEAN COMBS). HAIR, SHANNA ANISE THOMASSON; MAKEUP, ASHLIE DOXEY (CHANCE COMBS, D'LILA STAR COMBS, JESSIE JAMES COMBS). TAILOR, TATYANA CASSANELLI. SET DESIGN, BETTE ADAMS. PHOTOGRAPHY ASSISTANTS: BYRON NICKLEBERRY, KENDALL PACK, WILLIAM AZCONA, CHRIS NOWLING; SET DESIGN ASSISTANTS: GEORGE DEACON, JASON VALDEZ, JEREMY REIMNITZ; FASHION ASSISTANTS: OLOLADE AIYEKU, JUN CHOI, SAMANTHA GASMER; POST-PRODUCTION: PICTUREHOUSE+THESMALLDARKROOM; SPECIAL THANKS: BEN BONNET, ZOE MCNICOL, MILK STUDIOS. PRODUCED ON LOCATION BY WESTY PRODUCTIONS. FOR DETAILS, GO TO VF.COM/CREDITS." • I'm reading this, and — I hope I'm not being unkind — my first though was that Cottom was angling to be the next Oprah. Good for her, I suppose. The article is beautifully written, but a little too rich for my blood.
Gunz
"America is on a gun-buying spree. Here's what is driving the surge" [CNN]. From June, still germane. "About 40% of buyers in early 2020 were first-time buyers, according to the [National Shooting Sports Federation]. In 2020, half of all gun buyers were women, researchers say. One-fifth were Hispanic, and one-fifth were Black, according to the Northeastern University & Harvard Injury Control Research Center. It's women and people of color, like Armstrong, who are helping gun sales surge around the country." • Well, that's interesting. I would imagine the new buys see guns as weaponry, as opposed to fetish objects or cosplay?
Black Injustice Tipping Point
"Who Actually Gets to Create Black Pop Culture?" [Current Affairs]. "A closer look at the economics of Black pop culture reveals that most Black creators (outside music) come from middle-to-upper middle class backgrounds, while the Black poor are written about but rarely get the chance to speak for themselves." "Outside music" is a pretty big qualifier though! And: "In total, Black students from poor families received 1.4 percent of all the bachelor's degrees handed out in 2020; the other 98.6 percent of those degrees went to students from other backgrounds. "
Class Warfare
"Column: California's usury law caps loan rates. Bizarrely, most lenders are exempt" [Los Angeles Times]. It's all horrid, but I think this is the best sentence: "[T]rade groups representing financial services say a 36% national rate cap would be harmful to consumers." • 36%?!?!?!?!?
"Where Are The Robotic Bricklayers?" [Construction Physics]. "Masonry seemed like the perfect candidate for mechanization, but a hundred years of limited success suggests there's some aspect to it that prevents a machine from easily doing it. This makes it an interesting case study, as it helps define exactly where mechanization becomes difficult – what makes laying a brick so different than, say, hammering a nail, such that the latter is almost completely mechanized and the former is almost completely manual? There seems to be a few factors at work. One is the fact that a brick or block isn't simply set down on a solid surface, but is set on top of a thin layer of mortar, which is a mixture of water, sand, and cementitious material. Mortar has sort of complex physical properties – it's a non-newtonian fluid, and it's viscosity increases when it's moved or shaken. ." • Lots of tacit knowledge, and inconsistent materials. Robot cars foundered on the same issues, did they not?
News of the Wired
Fun:
And possibly metaphorical…
* * *
Readers, feel free to contact me at lambert [UNDERSCORE] strether [DOT] corrente [AT] yahoo [DOT] com, with (a) links, and even better (b) sources I should curate regularly, (c) how to send me a check if you are allergic to PayPal, and (d) to find out how to send me images of plants. Vegetables are fine! Fungi and coral are deemed to be honorary plants! If you want your handle to appear as a credit, please place it at the start of your mail in parentheses: (thus). Otherwise, I will anonymize by using your initials. See the previous Water Cooler (with plant) here. Today's plant (AM):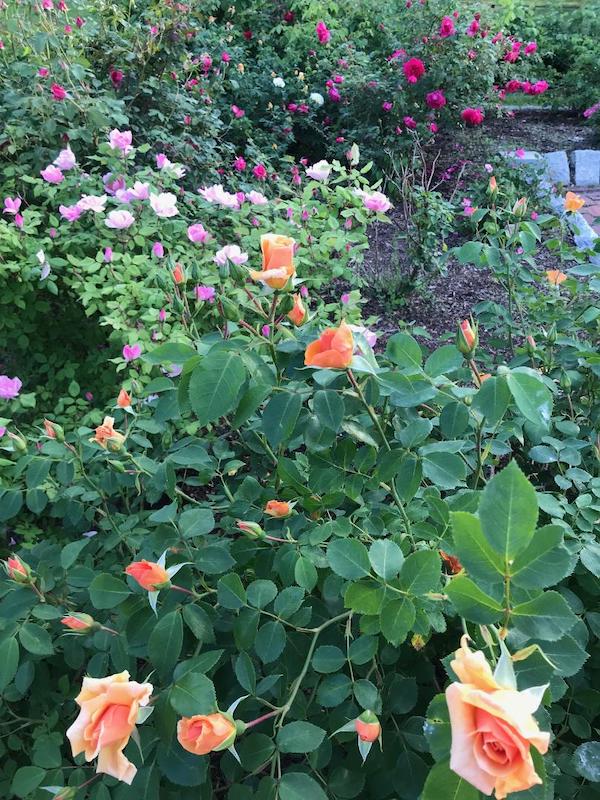 AM writes: "The rose garden in Roger Williams Park, Providence RI brought a bit of color to my walk. Love roses."
* * *
Readers: Water Cooler is a standalone entity not covered by the recently concluded and — thank you! — successful annual NC fundraiser. So if you see a link you especially like, or an item you wouldn't see anywhere else, please do not hesitate to express your appreciation in tangible form. Remember, a tip jar is for tipping! Regular positive feedback both makes me feel good and lets me know I'm on the right track with coverage. When I get no donations for five or ten days I get worried. More tangibly, a constant trickle of donations helps me with expenses, and I factor in that trickle when setting fundraising goals:
Here is the screen that will appear, which I have helpfully annotated.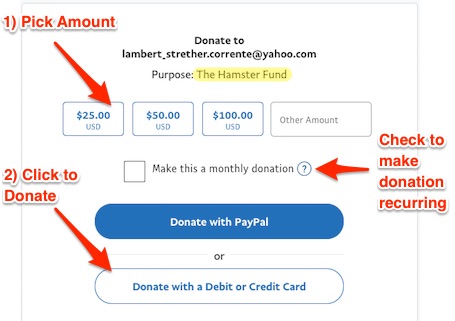 If you hate PayPal, you can email me at lambert [UNDERSCORE] strether [DOT] corrente [AT] yahoo [DOT] com, and I will give you directions on how to send a check. Thank you!2:00PM Water Cooler 6/8/2021