By Lambert Strether of Corrente.
Patient readers, more soon! –lambert UPDATE Not entirely done, but done for the day.
Bird Song of the Day
Apparently, that low-pitched awwwk-k-k-k-k is it. That's the song. But the insect sounds. Sounds like a lovely summer evening.
* * *
#COVID19
At reader request, I've added this daily chart from 91-DIVOC. The data is the Johns Hopkins CSSE data. Here is the site. I feel I'm engaging in a macabre form of tape-watching….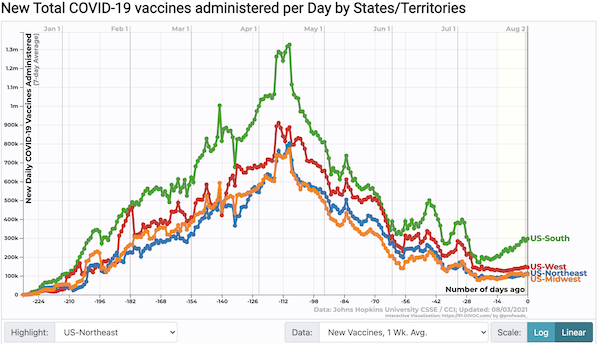 South rising.
Case count by United States regions: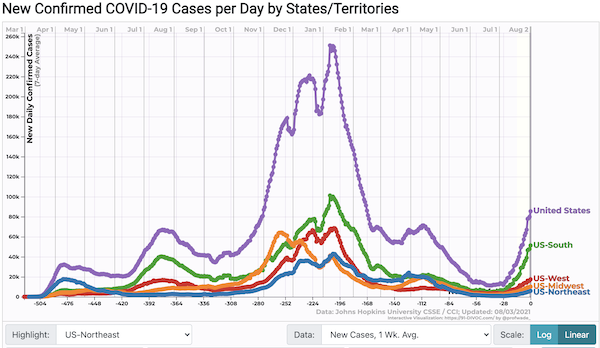 As far as reaching the peak of January 8, 2020, 295,257… I'm not that pessimistic (modulo a new variant brought into the country by our ridiculously lax policies on international quarantines). Still, when you look at those rising counties, you've got to think this rise has a way to run. I haven't added an anit-triumphalist black line. I'll do that when we reach the foothills of January 8, 2020
Covid cases top ten states: for the last four weeks (hat tip, alert reader Lou Anton):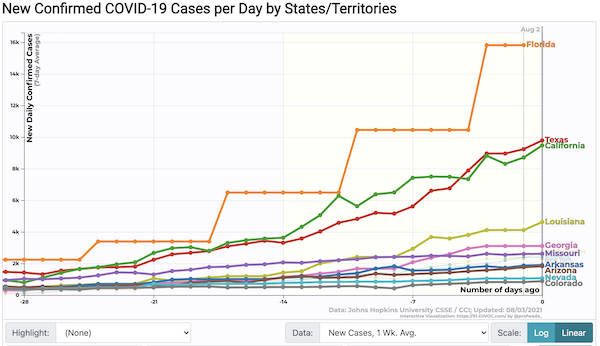 California back on form. Musical interlude for Florida data.
NEW From CDC: "Community Profile Report August 2 2021" (PDF), "Rapid Riser" counties, this release: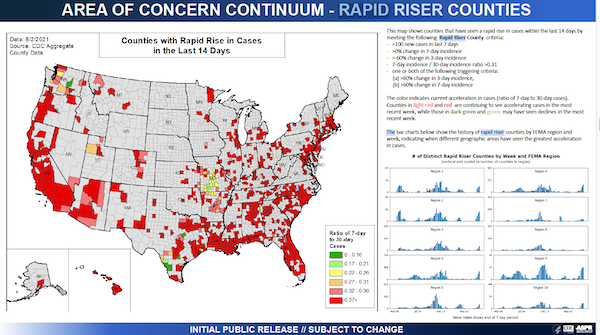 Red areas spreading. OTOH, some green relief in Missouri and Texas. This map blows the "Blame Bubba" narrative out of the water. Not a banjo to be heard. Previous release: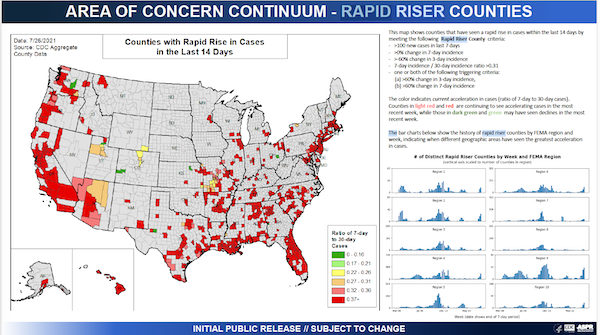 (Red means getting worse, green means bad but getting better. This chart updates Tuesdays and Fridays, presumbly by end-of-day.)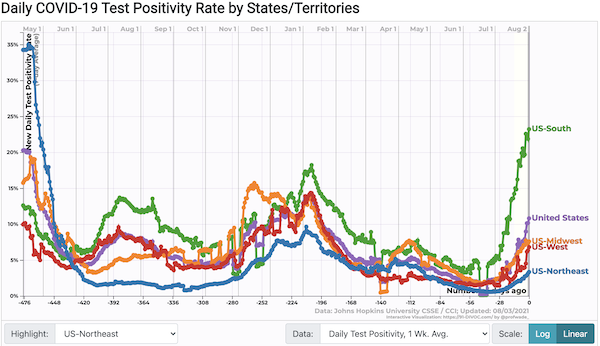 South running away with the field. But other regions now playing catch-up.
Hospitalization (CDC):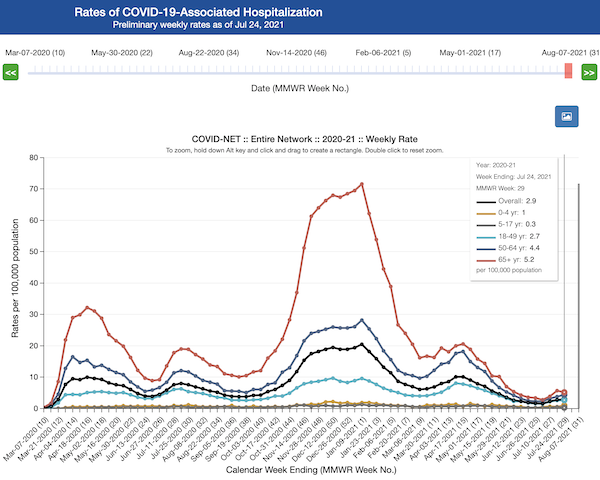 A little dip in 65+. But–
Deaths (Our World in Data):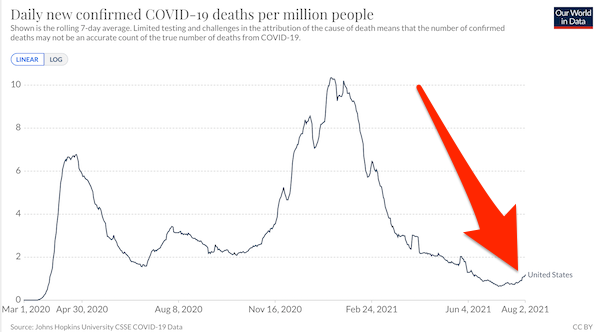 Deaths definitively rising, although nowhere near meriting an anti-triumphalist black line.
Covid cases worldwide: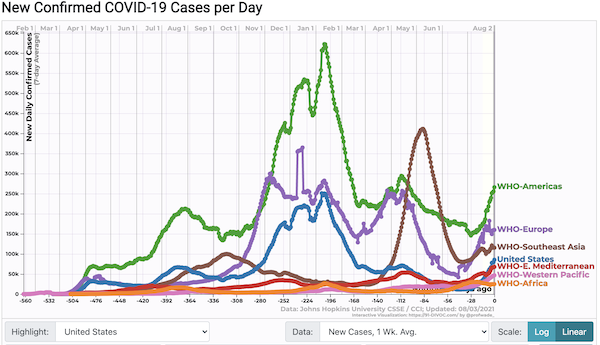 Every region is trending up. US sphere of influence under the Monroe Doctrine not doing so well.
* * *
Politics
"But what is government itself, but the greatest of all reflections on human nature?" –James Madison, Federalist 51
"They had one weapon left and both knew it: treachery." –Frank Herbert, Dune
"They had learned nothing, and forgotten nothing." –Charles Maurice de Talleyrand-Périgord
Biden Administration
UPDATE "Why Joe Biden's Racial Justice Agenda Is Stalled" [New York Magazine]. "Pushing for less than what America's crises demand is the price that has to be paid for victory and hence any chance at progress at all. So instead of universal health care, tinkering with the Affordable Care Act so more people have coverage. Instead of a Green New Deal, a commitment to reducing carbon emissions by half within a decade, which experts say is insufficient. This pattern has also played out on the issue Biden has imbued with the most moral urgency: racial inequality."

UPDATE "Who Holds the Power in Joe Biden's White House?" [Labor Notes]. "Biden's stimulus bill was a big shift from Barack Obama's stingy response to the 2008 crisis and Donald Trump's tax cut orgy. But the question for working people is not where Biden's heart is at. It's this: who holds the power in his administration? The answer to that question will determine the opportunities and limits for reform in the next four years. So far, every indication we have suggests that business is still calling the shots in Washington, D.C. For decades, big business has wanted politicians to pursue austerity when it comes to people's needs. Slash budgets for education. Cut back on health care. Whittle away at unemployment benefits. But last year, the Covid crisis and the specter of economic collapse forced business to change its tune. And it's this change in business's policy preferences that should get the credit for Biden's stimulus. The question now is what comes next. In the spring, Biden and the Democrats announced new goals of boosting infrastructure spending and expanding the social safety net. But unlike the relief bill, which was paid for by borrowing money, these new initiatives initially were to be paid for with higher taxes. The corporate tax rate would go up to 28 percent, from 21 percent. And various taxes on the wealthy would be increased. Business would have none of it."

Infrastructure:

Republican Bill Cassidy makes the infrastructure case:

"Trump recommended a $1.5 tril infrastructure package … If Republicans were on board for Trump— we are one-third the cost and have it paid for. It seems like something that should be acceptable." https://t.co/oSNGHBKjgR

— Kyle Griffin (@kylegriffin1) August 1, 2021

Wait a minute. We're getting a bipartisan bill one-third the size of Trump's proposal, and that's a victory?

UPDATE "FTC's economics witness out, in new blow to court fight with Facebook" [Politico]. "The lead economics expert in the Federal Trade Commission's antitrust suit against Facebook has parted ways with the agency, two individuals familiar with the case said — adding yet another impediment to the regulator's largest court fight. The FTC is now looking for a new expert, just three weeks before the agency must decide whether to file the new version of the Facebook lawsuit after a D.C.-based judge threw it out last month. The expert, University of California-Berkeley economist Carl Shapiro, didn't respond to multiple phone calls and an email asking the reasons for his departure. But he has criticized new FTC Chair Lina Khan's aggressive approach to antitrust enforcement, and she in turn has faulted the agency's traditional reliance on economists' analyses in its fights against alleged monopolists." • So the FTC "lost" (probably) a saboteur and a potential snitch. Sounds like addition by subtraction to me.

"Biden taps lawyer to help rescind Trump immigration policy" [Politico]. "'The anxiety levels are higher than I've ever seen them in my 25 years here in Washington in terms of trying to undo what was done because who were really focused on, on making mischief,' said Ben Johnson, executive director of the American Immigration Lawyers Association." • Molasses brains in the White House….

UPDATE "Biden administration to keep Trump-era rule of turning away migrants during pandemic" [The Hill]. "The Biden administration will keep in place a Trump-era policy of turning migrants away at the southern border without allowing them to claim asylum due to the COVID-19 pandemic. The Centers for Disease Control and Prevention announced an extension of the policy in a statement on Monday, determining that 'introduction of such noncitizens, regardless of their country of origin, migrating through Canada and Mexico into the United States creates a serious danger of the introduction of COVID-19 into the United States.'"

"Congress Is Slashing a $30 Billion Plan to Fight the Next Pandemic" [The Atlantic]. "Biden proposed $30 billion to address the [the country's pandemic-preparedness budget], which advocates say could permanently mitigate the risks of future outbreaks. The investment would replenish medical stockpiles, proactively develop vaccines for major types of viruses, and ensure that the United States has a permanent production base of face masks and respirators. In effect, it would amount to an Apollo program–like push to guarantee that a global pandemic could never shut down the country again. Yet those funds have been slashed in the current negotiations over the $3.5 trillion reconciliation package as part of a push to slim it down, according to a source familiar with the situation. (I agreed not to name this person because they were not authorized to speak publicly about the negotiations.) While the exact amount is still in flux, it is significantly less than requested." And this contrast:

Looming over this funding fight is a broader question: What reforms, if any, will the federal government make to its public-health agencies after their significant failures over the past 16 months? After 2,977 people were murdered on September 11, 2001, Congress started a war and revised the country's approach to policing, surveillance, and national security within six weeks; it opened a new federal agency and commissioned a bipartisan fact-finding panel within 14 months. Although the wisdom of some of those decisions is debatable, COVID-19 has now killed more than 600,000 Americans. .

"Little haste"? I'd say "no appetite." As I've said, genocidal oligarchs is a parsimonious explanation for this. And I hate to think this way, I really do. But if that $30 billion gets cut… that's going to be wonderfully clarifying. Why doesn't Biden just go ahead and give each one of the Sacklers a Presidential Medal of Freedom?

UPDATE "Congress Is Already Botching the Next Pandemic" [Eric Levitz, New York Magazine]. "The Senate's bipartisan infrastructure bill includes no significant investment in public health. Meanwhile, Congressional Democrats are reportedly planning to scale back Joe Biden's proposed investment in pandemic preparedness by more than 80 percent. . This move is understandable, if indefensible. Democrats have a razor-thin majority in the House. And to pass partisan legislation out of the Senate, the party cannot afford a single defection. Moderates in both chambers have a limited tolerance for both deficit spending and taxing the wealthy. It's not clear that the party has the votes to pass a $3.5 trillion spending bill, let alone one greater than that sum. And yet, the party's myriad ambitions for public investment cost far more than $3.5 trillion. So something has to go. Pandemic preparedness is an easy line-item to shrink for the same reason that it was an easy one to underfund pre-COVID: The constituency with the greatest stake in preventing or mitigating the next public health crisis is unidentifiable, let alone, organizable. The 600,000 Americans who died of COVID-19 over the past 17 months did not know in 2019 that they had a potentially life-or-death stake in the size of the CDC's budget. If Democrats go small on pandemic preparedness, the victims of the next novel virus will not light up Congress's phone lines." • A strange definition of "moderate," I must say. "Nancy Pelosi & Co" are even stupider than Palmer and his boss.
Democrats en Deshabille
"Attorney general concludes Cuomo sexually harassed women" [Albany Times-Union]. "ALBANY — State Attorney General Letitia James on Tuesday announced that her office's five-month investigation 'has concluded that Gov. Andrew M. Cuomo sexually harassed multiple women and in doing so violated federal and state law.' 'The investigation found that Gov. Andrew Cuomo sexually harassed current and former New York state employees by engaging in unwelcome and non-consensual touching … that created a hostile work environment for women,' James said. The attorney general said the investigation independently corroborated and substantiated the women's allegations, including interviewing 179 individuals, including the women who had accused Cuomo of sexual harassment. They also reviewed more than 74,000 pieces of evidence, including emails, photos and documents." • The report. Biden on Cuomo:

Biden on Cuomo in March:

Stephanopoulos: "If the investigation confirms the claims of the women, should he resign?"

Biden: "Yes. I think he'll probably end up being prosecuted, too." https://t.co/qJchEJtZRM

— Christopher Cadelago (@ccadelago) August 3, 2021

Hoo boy.

""We Have To Impeach": NY State Lawmakers Call for Cuomo to Resign or Be Removed" [Eoin Higgins, The Flashpoint]. ""It took 179 witnesses and a statewide investigation by the Attorney General to hold one powerful man accountable—tell me again that New York doesn't have a power problem," Assembly Member Yuh-Line Niou said. Niou, who told me 'we have to impeach' the governor, is one of Cuomo's fiercest critics and called for the governor's resignation months ago when allegations of harassment and misconduct were first reported by former aide Lindsay Boylan and others. She said she's had impeachment articles drafted for a long time. 'I had them drafted yesterday,' Niou said. "I had them drafted months ago.'"

* * *

"Dems Scored Real Estate Cash Before Letting Eviction Ban Expire" [Daily Poster]. "George Marcus, chairman of both the massive real estate brokerage Marcus & Millichap and the real estate investment trust Essex Property Trust, donated $1 million on June 1 to House Majority PAC, a super PAC that works to elect Democratic lawmakers. The donation amounted to nearly 7 percent of the total funding the committee has raised so far this year. Marcus also donated $263,400 in June to a joint fundraising committee benefiting House Speaker Nancy Pelosi's campaign, her leadership PAC, and the Democratic Congressional Campaign Committee (DCCC), the party committee that works to elect House Democrats. During the 2020 election cycle, Marcus donated a combined $1 million to the DCCC and the Democratic Senatorial Campaign Committee, which elects Democratic Senate candidates. He contributed millions more to the party-aligned super PACs that aid those committees: $3.5 million to Senate Majority PAC and $3 million to House Majority PAC. Marcus, who has a net worth of $1.7 billion, has also been a huge Biden supporter. He donated $4 million to super PACs that supported Biden: Priorities USA ($2 million), Unite the Country ($1 million), and American Bridge PAC ($1 million). He also hosted a Biden fundraiser in 2019, and donated $500,000 to the Biden Victory Fund, a joint fundraising committee benefiting the Biden campaign, the Democratic National Committee, and state parties." • That's nice.

Passing the buck:

WASHINGTON (AP) — White House says CDC was 'unable' to find authority to revive expired eviction moratorium, calls on states to act.

— Jonathan Lemire (@JonLemire) August 2, 2021

A time-honored practice…
2020
"Maricopa County and Dominion won't comply with new subpoenas issued by Arizona Senate" [AZ Central]. "The subpoenas demanded routers, machine passwords and voter registration records from the county, and the same machine passwords from Dominion. Instead of complying, attorneys for Dominion and the supervisors sent letters to the Senate. The supervisors said they have given what they are legally and responsibly able to provide, and Dominion said that they don't legally have to provide anything, given they are a public company. Much of what the Senate demanded it had already asked for in the initial subpoenas that made the audit possible — the county provided everything but the routers in response to those subpoenas, and stated again Monday it won't provide the routers for security concerns. Additionally, the county said it doesn't have any additional passwords to the machines." • The passwords? What could go wrong?
Realignment and Legitimacy
UPDATE Word Church in Cleveland:

The pastor maintained a veneer of neutrality but emphasized his relationship with Shontel Brown. At one point there was applause for her.

In this line up: Clyburn, Brown, then further down Ellison, Turner. pic.twitter.com/W49XTUbLtp

— Briahna Joy Gray (@briebriejoy) August 1, 2021

As for Clyburn, Matt 23:5. Why are crooks like Clyburn even allowed in church?

UPDATE "Ohio special election tests Trump's grip on Republican party" [Financial Times]. "Donald Trump's grip on the Republican party will face a major test on Tuesday when a coal lobbyist endorsed by the former president faces off against 10 fellow Republicans in a closely watched special election in Ohio…. Trump endorsed Carey, chair of the Ohio Coal Association, in June. His stamp of approval boosted the name recognition of the political novice and longtime lobbyist who was for years an associate of Bob Murray, the late energy executive. Murray was the founder and chief executive of Murray Energy, an Ohio-based mining company that filed for Chapter 11 bankruptcy in 2019 and is now known as American Consolidated Natural Resources. The company donated millions of dollars to Trump, his political campaigns and affiliated super PACs while Carey was its vice-president of government affairs. When Trump endorsed Carey in June, he called the lobbyist a 'courageous fighter for the people and our economy.'"

UPDATE "47 percent of Republicans say time will come 'to take the law into their own hands': poll" [The Hill]. "The GW Politics Poll, conducted among more than 1,700 registered voters from June 4 to June 23 and released this week, found that support for principles like free and fair elections, free speech and peaceful protest were nearly unanimous among Democratic and Republican voters. Approximately 55 percent of GOP respondents, however, said they support the potential use of force to preserve the 'traditional American way of life,' compared to just 15 percent of Democrats. Only 9 percent of Democrats agreed with the statement that 'a time will come when patriotic Americans have to take the law into their own hands.'"

UPDATE DSA convention:

Nearly 1,500 delegates and alternates are busy debating, deciding, and plotting the course of DSA for the next two years at #DSACon2021. Flight Attendants President @FlyingWithSara will be on later. You can watch all main sessions live right here: https://t.co/CcA4HruKX3 pic.twitter.com/MgDY45Q0Vj

— DSA 🌹 (@DemSocialists) August 1, 2021

DSA seems completely under the radar. That's probably wise.
Stats Watch
Housing: "June 2021 CoreLogic Home Prices: Home Price Gains Skyrocket To 40-plus Year High" [Econintersect]. "Despite the economic ups and downs brought on by the pandemic, the housing market is still going strong. As supply and demand pressures endure and construction costs spike, in June, home price gains reached the highest annual growth since 1979…. Home prices are continuing to rise aided by low inventory."
Logistics: "United States LMI Logistics Managers Index Current" [Trading Economics]. "The Logistics Manager's Index was little changed at 74.5 in July of 2021 pointing to the third-highest growth ever in the logistics sector fuelled by metrics from across the index. The gauge for warehousing prices was at an all-time high (88 vs 85.4 in June) mostly because of the lack of available capacity. Inventory levels continued to rise at an above-average rate (66.4 vs 67.8) as and ordering earlier and in larger quantities to avoid stockouts." • Note the underlined passage
Vehicle Sales: "United States Total Vehicle Sales" [Trading Economics]. "Total Vehicle Sales in the United States decreased to 15.36 Million in June from 16.99 Million in May of 2021."
* * *
Commodities: "Some of the biggest international markets for coal may start drying up. Banks are cutting off funding for new coal-fueled power plants in poorer Asian countries… and even some financiers in China are signaling they plan to stop or slow backing for projects outside their borders" [Wall Street Journal]. "The pullback led by banks in Japan and South Korea could force poorer countries that lack their own funding sources to crimp coal-expansion plans and accelerate transitions to alternative energy sources. Asian financiers provide the bulk of funding for new coal projects in countries such as Vietnam and Bangladesh. "
Retail: "Clorox Plunges Most Since 2000 as Pandemic Boom Fades Away" [Bloomberg]. • They can't sell tickets to the Hygiene Theatre any more…
Supply Chain: "Asia is emerging as a surprising weak link in an otherwise strong global economic recovery. Factory production is contracting across Southeast Asia and measures of manufacturing activity in China last month were at their lowest levels in more than a year" [Wall Street Journal]. "The flagging factory output comes as new Covid-19 outbreaks are hitting several countries and fresh pandemic restrictions restrain manufacturing and hit export flows. In the West, relatively higher vaccination rates are allowing economic activity to return to normal levels. Covid clusters have hit shipping operations, first at the Yantian port in Shenzhen, China, and recently in Vietnam. The impact is reaching deeper into supply chains, with restrictions like Malaysia's closure of factories in nonessential sectors such as apparel sharply limiting suppliers. Such actions are leading to problems in other countries because of the region's tightly integrated supply chains."
* * *
Today's Fear & Greed Index: 28 Fear (previous close: 24 Extreme Fear) [CNN]. One week ago: 26 (Fear). (0 is Extreme Fear; 100 is Extreme Greed). Last updated Aug 3 at 12:29pm.
The Biosphere
"How do soils and humans impact one another?" [Soils Matter, Get the Scoop!]. "With regard to land cover, one of the challenges of Los Angeles County is the amount of land covered with impervious surfaces such as cement and asphalt – buildings, roads, parking lots, etc. This means the rainfall we do get is often not collected in the soil but moves through our stormwater management system. But, with the number of forests we have in the county, almost a quarter of our land is covered with trees, and another 16% has shrubs or grasses. About 11% of our land is bare soil." • Impermeable surfaces are bad. Water should soak into the soil, not run into a storm drain. If you live in a small enough town, take a look it in the Satellite view in Google maps. You will be amazed at the area covered by impermeable surfaces — mostly roads and parking lots.
"A mega-dairy is transforming Arizona's aquifer and farming lifestyles" [High Country News]. "Smaller dairy farmers nationwide have weathered years of milk prices below the cost of production that culminated in an industry-wide economic crisis. Now they face a new adversary: mega-dairies, or dairy CAFOs (concentrated animal feeding operations). In Franklin, southwest of Minneapolis, James Kanne struggles to hang onto his small family dairy even as mega-dairies like Riverview compete for the few remaining milk processors. This investigation follows Riverview's rapid expansion in two of the five states it operates in, linking the environmental and economic consequences — and the lives of those who are impacted. The people we spoke with in Minnesota and Arizona are 1,500 miles apart, connected only by the ever-growing presence and power of Riverview. But their communities have much in common: The local industry and resources have been monopolized by a deep-pocketed entity. The groundwater is being depleted and polluted. Incessant traffic, dust, lights and the stench of livestock cause home values to plummet and strain the emotional ties locals have to the places they call home." • What kind of sense does a dairy farm in Arizona make?
Health Care
1/ Here is one way to do a quick & dirty test of leakage around mask. Place several small mirrors or reading glasses in the fridge for 2 to 3 min. Avoid putting them in the freezer, as they will get too cold and you will get condensation on lenses when you remove it.

— Dr. Richard Corsi (@CorsIAQ) August 3, 2021
I'm buying two small mirrors tomorrow.
"Protection of previous SARS-CoV-2 infection is similar to that of BNT162b2 vaccine protection: A three-month nationwide experience from Israel" (preprint) [medRxiv]. From the Abstract: "We analyze an updated individual-level database of the entire population of Israel to assess the protection efficacy of both prior infection and vaccination in preventing subsequent SARS-CoV-2 infection, hospitalization with COVID-19, severe disease, and death due to COVID-19. Vaccination was highly effective with overall estimated efficacy for documented infection of 92·8% (CI:[92·6, 93·0]); hospitalization 94·2% (CI:[93·6, 94·7]); severe illness 94·4% (CI:[93·6, 95·0]); and death 93·7% (CI:[92·5, 94·7]). Similarly, the overall estimated level of protection from prior SARS-CoV-2 infection for documented infection is 94·8% (CI:[94·4, 95·1]); hospitalization 94·1% (CI:[91·9, 95·7]); and severe illness 96·4% (CI:[92·5, 98·3]). Our results question the need to vaccinate previously-infected individuals."
"For many, the belated realization that Covid will be 'a long war' sparks anger and denial" [STAT]. "Coast to coast, and across the political spectrum, contempt for unvaccinated people is rising." Well, if blaming, shaming, and lottery tickets didn't work…. More: "For those who've made a living studying pandemics, they see another lesson in the current outpouring of outrage — the danger of setting unrealistic expectations…. For much of the first year of the pandemic, many top public health officials [***cough*** Fauci ***cough***] touted the idea that our way out of the pandemic was reaching herd immunity… A more likely scenario for exiting the pandemic phase of Covid-19, many scientists told STAT earlier this year, was that over time, likely a period of years, our immune systems would learn enough about SARS-CoV-2 to stave off the deadliest symptoms of infection. In this way the pandemic pathogen would become an endemic one — circulating among us and causing smaller, seasonal surges of milder illness…. Epidemiological researchers like Emory University's Jennie Lavine have turned to models to try to project when SARS-CoV-2 might transition from pandemic pathogen to endemic. In a paper published in Science, Lavine and her co-authors predicted that this transition might take anywhere from a few years to a few decades, depending on how quickly the pathogen spreads and how widely vaccines are adopted. That's not the timespan most people have been thinking along. As a result, people are now not just angry, but in denial, that after all we've been through — the lockdowns, the staggering death toll, the historic race to build a Covid vaccine — after all that, SARS-CoV-2 is still with us, a threat that still needs to be navigated. ." • Biden and Walensky: "You fools! When we told you "you're protected," you believed us!
Lambert here: Yes, it's certainly easier for the PMC to blame "the unvaccinated" [banjo music plays] than to look in the mirror for setting over-optimistic expectations, for over-reliance on vaccines, for discrediting non-pharmaceutical interventions, and for ridiculous media concoctions like "Hot Vax Summer," still current just weeks ago. And for the Noble Lies. And now, having failed in its strategies of shaming and bribery, the PMC wants to bring the force of the State to bear on the unvaccinated — for a drug the FDA has not approved! (To be clear, I'm pro-vax and vaccinated. But mandates for a drug that's still "experimental"? Have they lost their minds?) Worse, they're justifying State mandates with war rhetoric. Not that there's anything wrong with that, every liberal Democrat loves a good war, but America has a habit of losing long wars, so not the ideal mindset. What a mess.
UPDATE "Time for Covidnomics" [David Frum, The Atlantic]. "he COVID-denial policies of so many state governments did not result from inattention or incompetence. They were intentionally adopted to serve influential constituencies and uphold powerful ideologies. They are not mistakes. They are plans. But if ideologically deformed local government defines 21st-century America, so too does the ingenuity and adaptability of the private sector. Science did its part by developing the vaccines in record time. The federal government and many state governments did their part by getting vaccines into willing arms. Now here's where markets get to do their part. Thanks to gerrymandering and the overrepresentation of rural areas in legislatures and Congress, unvaccinated America exerts disproportionate political power. Vaccinated America, however, has more market power. And it's time for individual consumers to start using it. Ordering an Uber or a Lyft? Ask the driver whether he is vaccinated. If not, refuse the ride. If the company tries to charge you for the refusal, complain. Pretty soon, Uber and Lyft will require that their drivers be vaccinated. Contemplating a holiday? Cruises departing from Florida are forbidden to require proof of vaccination from passengers. Cruises departing from almost all other ports do require it. Plan accordingly. Hundreds of bars and restaurants in New York, San Francisco, and other cities require proof of vaccination from their patrons. When making your next reservation, ask whether that establishment does too."
"Tyson Foods mandates vaccines for its U.S. work force." [New York Times]. • With a vaccine that has not received FDA approval.
"McDonald's makes masks mandatory for some U.S. customers, staff" [Reuters]. "McDonald's Corp. on Monday confirmed that all its customers and staff will need to start wearing masks again inside its U.S. restaurants in areas with high or substantial transmission, regardless of whether they are vaccinated or not."
"Flawed ivermectin preprint highlights challenges of COVID drug studies" [Nature]. • This is the Elgazzar study, which Nature is a little late getting to. The reproducibility crisis is everywhere, I guess….
The Agony Column
"Depression as a Disorder of Consciousness" [British Journal for the Philosophy of Science]. "The hypothesis proposed is that when an individual becomes depressed, the individual departs from a state of ordinary wakeful consciousness and enters a distinctive global state of consciousness akin to dreaming and the psychedelic state. After unpacking and motivating this hypothesis in the context of research in consciousness science, I outline two of its important implications for the neurobiology of depression and psychedelic psychiatry. The upshot is a promising and conceptually well-motivated hypothesis about depression which is apt for empirical uptake and development." • Concludes with a rather veiled discussion of psychedelic therapy.
Sports Desk
"Biles returns to Olympic competition, wins bronze on beam" [Associated Press]. "Asked if there was anything she would change about her experience in Japan, she shook her head. 'Nothing,' she said. 'I would change nothing.'"
"Olympians Describe Their Biggest Heartbreaks At The Games" [The Onion]. Simone Biles: "I would've loved to have ended up in a wheelchair to appease a bunch of people who didn't give a sh*t about gymnastics until a week ago."
Class Warfare
"NLRB election official recommends new union election at Amazon in Bessemer" [AL.com]. "An official with the National Labor Relations Board has recommended that the results of this year's union vote at Amazon's Bessemer fulfillment center be set aside, determining that the online retailer violated labor law… Despite the recommendation, a decision must still be rendered by the NLRB's regional director. Amazon can also appeal that decision. A final determination will take several weeks." • Fascinatingly, although the local reporters from AL.com got quotes from Amazon and the union, they did not actually say what the NLRB official based their recommendation on!
"NLRB officer says Amazon violated US labor law" [The Verge]. "[I]n the aftermath of the result, the Retail, Wholesale and Department Store Union (RWDSU) alleged that Amazon had illegally influenced the drive and petitioned the NLRB to invalidate the result. In particular, the RWDSU raised questions around a USPS mailbox installed in the fulfillment center parking lot during the drive. The union alleged it gave some workers the impression that Amazon had improper access to mailed ballots. The officer's report gives new details on Amazon's interactions with USPS in encouraging the installation of the box, as well as the effect of a 'privacy tent' installed during the union drive. 'It is clear that absent the tent, employees had reason to believe that the Employer could observe which employees accessed the CBU and/or used the box to deposit ballots,' the report reads. 'Employees believed that the Employer had cameras that were tracking, at the very least, which employees entered the CBU tent.'" • The employees aren't dumb, are they.
"The Great Resignation: From Full-Time to Freelance" [Upwork]. "Using a new survey of 4,000 professionals in the U.S., Upwork finds that many professionals are less than enthused about the return to the office and are making moves as a result. Beyond just the expected move from one full-time role to another, there are also a substantial number of professionals who are considering making the move from full-time roles to freelancing. Already, businesses are dealing with an elevated level of resignations in a trend coined 'The Great Resignation.' Our survey indicates that this is far from over… The 10 million people considering freelancing would represent a significant 17 percent increase in the total freelance workforce when compared to the 57 million people that freelanced in all of 2019."
UPDATE "How Much is the Rule of Law Worth to Markets?" [Barry Ritholtz, The Big Picture]. "If you want to see what it looks like when a nation allows the government to dictate how companies can operate — not setting up guardrails and rational regulations for a level playing field, but full-on control — look at China." • Interestingly, the article doesn't really answer the question in the headline. Anyhow, China whacked tech and popped a bubble. Why the pearl-clutching?
News of the Wired
Sadly, I am not wired today. Perhaps tomorrow.
* * *
Readers, feel free to contact me at lambert [UNDERSCORE] strether [DOT] corrente [AT] yahoo [DOT] com, with (a) links, and even better (b) sources I should curate regularly, (c) how to send me a check if you are allergic to PayPal, and (d) to find out how to send me images of plants. Vegetables are fine! Fungi and coral are deemed to be honorary plants! If you want your handle to appear as a credit, please place it at the start of your mail in parentheses: (thus). Otherwise, I will anonymize by using your initials. See the previous Water Cooler (with plant) here. Today's plant (RM):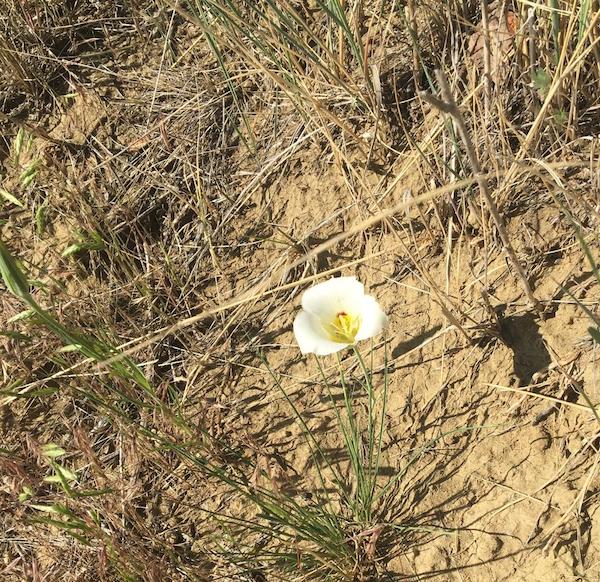 RM writes: "An inch of rain and hail and what cha know, a Gumbo Lily pops out." So this is what a Gumbo Lily looks like!
* * *
Readers: Water Cooler is a standalone entity not covered by the recently concluded and — thank you! — successful annual NC fundraiser. So if you see a link you especially like, or an item you wouldn't see anywhere else, please do not hesitate to express your appreciation in tangible form. Remember, a tip jar is for tipping! Regular positive feedback both makes me feel good and lets me know I'm on the right track with coverage. When I get no donations for five or ten days I get worried. More tangibly, a constant trickle of donations helps me with expenses, and I factor in that trickle when setting fundraising goals:
Here is the screen that will appear, which I have helpfully annotated.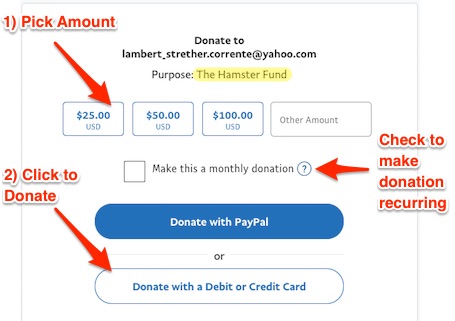 If you hate PayPal, you can email me at lambert [UNDERSCORE] strether [DOT] corrente [AT] yahoo [DOT] com, and I will give you directions on how to send a check. Thank you!2:00PM Water Cooler 6/8/2021