These female hummingbirds don flashy male feathers to avoid unwanted harassment Popular Science (resilc)
Massive nest containing 1,500 'murder hornets' discovered in US The Hill
Common pesticide may contribute to global obesity crisis MedicalXPress (Robert M)
How a Volcanic Surge 56 Million Years Ago Cut Off The Arctic Ocean From The Atlantic ScienceAlert (Kevin W)
Tepco to build undersea tunnel to release Fukushima water offshore Japan Times
Greenhouse Gas Concentrations In 2020 Highest Ever Recorded NPR (David L)
Single-use plastic plates and cutlery to be banned in England Guardian (Kevin W)
What will our eco-friendly homes of the future look like? Guardian (David L)
Pupil Size Is a Marker of Intelligence Scientific American (Dr. Kevin)
What To Say When Someone Asks Why You Don't Have Kids The Onion. My favorite: "I lost them in poker."
#COVID-19
Photo from a Facebook friend.

Starbucks at Shenzhen Airport in China. pic.twitter.com/waPtM7cXpC

— Paul Brian (@paulrbrian) August 27, 2021
Science/Medicine
Mutation rate of COVID-19 virus is at least 50 percent higher than previously thought PhysOrg (Robert M) I recall that up to December 2020, the science press remarked from time to time about how little Covid mutated. Funny how that changed.

Delta variant doubles risk of hospitalisation, new study finds Guardian (Kevin W). Counters the repeatedly made assertion that viruses evolve to be less deadly, which we've said is not a given, citing studies, as well as earlier claims that Delta might be milder than wild type.

Does Delta Variant Pose Less Risk With 6 Feet Of Distance? NPR

Having SARS-CoV-2 once confers much greater immunity than a vaccine—but no infection parties, please Science (Li). Lambert featured this article and the link to the paper proper (Comparing SARS-CoV-2 natural immunity to vaccine-induced immunity: reinfections versus breakthrough infections MedRxIV (preprint)). From GM via e-mail:

This doesn't make much sense.

When Novavax was doing trials in South Africa, the placebo arm had both seropositive and seronegative individuals in it, and they compared those groups. And they saw no difference between them at all, i.e. with B.1.351 prior infection provided zero protection (and it was about 6 months from the first wave).

That was an actual RCT, even if the numbers were not huge.

It might be a little bit better with B.1.617.2, but I doubt it will by all that much.

That Science is highlighting such a preprint is quite notable though. This week they could have highlighted the Moderna preprint that showed third doses waning as fast as the second, but they did not, and I don't remember them highlighting the Moderna papers and preprints from March and April that clearly predicted what is happening now when those came out either.

Now we are in the "infections is good for you" phase. Where some people wanted us to be from the beginning…

Covid infection protection waning in double jabbed BBC. Sorry to be rely on GM so much today, but the propaganda is coming in awfully thick:

This is quite incredible to read and I am left speechless. Quotes:

================

Protection after two shots of Pfizer decreased from 88% at one month to 74% at five to six months.

For AstraZeneca, the fall was from 77% to 67% at four to five months.

Waning protection is to be expected, say experts.

[…]

Prof Spector said: "Waning protection is to be expected and is not a reason to not get vaccinated.

[…]

He estimates that protection against infection could drop to 50% by the winter and boosters will be needed, but other experts urge caution about making predictions for the months ahead.

[…]

Prof Spector said: "Many people may not need them. Many people may have had a natural booster because they've already had a natural Covid infection, so will effectively have had three vaccines.

"So I think the whole thing needs to be much more carefully managed than just giving it to everybody which would be a huge waste and ethically dubious given the resources we have. I think we need a more targeted approach than last time."

This study once again illustrates why we need to get used to Covid circulating – this is not a virus that's going to go away.

The vaccines do not work like they do for measles which provide life-long immunity. Immunity against Covid was always expected to wane.

[…]

Whatever the cause though, experts have been clear we should expect to be repeatedly infected over our lifetimes.

The important thing is that each re-infection should be milder as the vaccines remain highly effective at preventing serious illness.

What the vaccines have effectively done is taken the edge off the virus – given our immune system a head-start so those early infections are milder than they would have been for most.

[…]

================

So it was "always expected" after many months of touting the extremely high efficiency and talking about lifetime protection.

And it was also "always expected" that everyone will get COVID multiple times…

Contrast with:

'Attempts to reach 'herd immunity' through exposing people to a virus are scientifically problematic & unethical.

Letting #COVID19 spread through populations, of any age or health status will lead to unnecessary infections, suffering & death' -WHOhttps://t.co/XcKBLXZRhH

— Orla Hegarty (@Orla_Hegarty) August 28, 2021

'Tired of worrying': As some parents press for vaccines off-label, pediatricians call for patience STAT

Covid-19 origins still murky after Biden administration's 90-day investigation Politico

The @ODNIgov report requested by @POTUS on the origins of #SARSCoV2 concludes the virus originated in the Wuhan area in November 2019, most likely NOT as a result of gain-of-function research or bioweaponry.
MORE pic.twitter.com/xlhrdVKNuJ

— Laurie Garrett (@Laurie_Garrett) August 27, 2021
US
Delta-driven Covid surge puts renewed strain on US hospitals Financial Times. Alabama is at negative 40 ICU beds, state chief medical officer said on TV it's never been this bad.

No Covid-19 vaccine? No green card Quartz (resilc)

UGA professor resigns mid-class after student refuses to wear mask Red&Black (Paul R)

Better Covid Data Will Guide Us Out of This Pandemic New York Times (furzy). Over 600,000 dead in the US, a visibly incompetent CDC that went out of its way to tell public health official not to collect important information, and now the PMC realizes the US has chosen to fly blind?

States Pull Back on Covid Data Even Amid Delta Surge Kaiser Health News

DeSantis' school mask mandate ban is unlawful, Florida judge rules NBC

Florida, facing staff shortages, to close some prisons Miami Herald. Resilc: "Florida could care less about kids in school, so why would they care about prisoners and guards???"
China?
US paradigm shifts from engaging to handling China Asia Times

U.S. Destroyer Transits Taiwan Strait in Signal to Asia Partners Bloomberg

Nearly 65,000 Hong Kongers apply for UK visa scheme Bangkok Times (furzy)
Old Blighty
Post-Brexit Britain can't be realistic until it's truthful Chris Grey (guurst)
Nayib Bukele is Latin America's first millennial dictator. Slate (resilc)
Syraqistan
The War in Afghanistan Is What Happens When McKinsey Types Run Everything Matt Stoller (KLG, resilc)

Stories on clip above: US Marines officer relieved of duties after video seeking 'accountability' over Afghanistan Guardian and Active duty Marine battalion commander is relieved of duties after posting furious video rant hammering senior leaders for not admitting 'we messed this up' Daily Mail (Alison L)

US Troops caught up in ISIL-K – Taliban Civil War: Why it Proves Biden was Right to Leave Juan Cole (resilc)

Taliban forces in Kabul airport ready to take over -Taliban officials Reuters

Who profits from the Kabul suicide bombing? Asia Times (Kevin W)

Like Ordering Pizza London Review of Books (Anthony L)

Leon Panetta says US troops will need to go back to Afghanistan New York Post

US officials are denying it though but sources on the ground saying otherwise

— Nafiseh Kohnavard (@nafisehkBBC) August 27, 2021
Big Brother is Watching You Watch
T-Mobile Investigating Claims of Massive Customer Data Breach Vice
Biden
Biden's Declining Approval Rating Is Not Just About Afghanistan FiveThirtyEight
Larry Elder's private charity was a bust, and questions swirl over where the money went Los Angeles Times (furzy)
Chicago Sues DoorDash, Grubhub For Allegedly Deceiving Customers CNBC
RFK assassin moves closer to freedom with help of 2 Kennedys Seattle Times (furzy)
Drain is a total monster. https://t.co/mcJzORUYii

— Matt Stoller (@matthewstoller) August 27, 2021
Lake Tahoe Suffocates With Smoke New York Times (David L). A wake up call that the squillionaires that hang there are guaranteed to ignore.
Rural America is Gearing Up For a Generation of Change Austin Vernon (resilc). See in particular the discussion of plant-based "meat".
Powell's benign view on inflation is getting pushback at the Fed, and elsewhere CNBC
The Evolution of American Capitalism Project Syndicate (David L)
Class Warfare
Antidote du jour. La Peruse:
Been monitoring some motion sensor cameras supplied by Landcare Australia on our place in East Gippsland since the devastating fires of 2019/20. This area was hot burnt to bare earth.

Swamp Wallabies have nothing to do with swamps…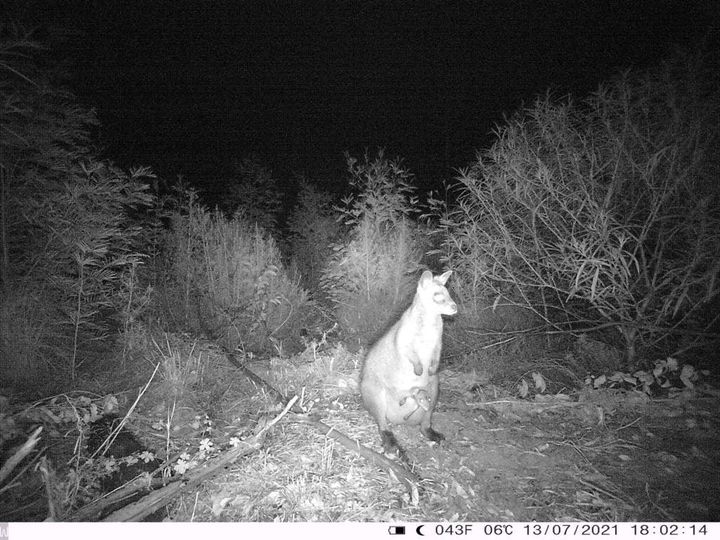 And a bonus:
no dog left behind pic.twitter.com/7lowA3LPn9

— Humor And Animals (@humorandanimals) August 27, 2021
See yesterday's Links and Antidote du Jour here.