By Lambert Strether of Corrente
Last Friday, the CDC published "Outbreak Associated with SARS-CoV-2 B.1.617.2 (Delta) Variant in an Elementary School — Marin County, California, May–June 2021" ("Outbreak"). This got a lot of play in the Northern California press, with a good deal of reporting done (or at least original stories written), because the study was led by Marin County Public Health, and they with other California epidemiologists and experts wrote the study up and then submitted it to the CDC, which accepted it. Good for them! However, there is a question "Outbreak" does not ask, and that the press did not ask. Carefully avoiding spoilers — though few NC readers will be surprised at the plot twist — I will first quote the "Outbreak" on the incident. Then I will switch into media critique mode, and present the headlines from Northern Califonia. After that, I will present the implications drawn from the outbreak by the press (which are more broad spectrum than the headlines). Finally, I will give the unasked question from "Outbreak" a thorough airing, and conclude.
Here is what "Outbreak" says in the "Investigation and Findings" section:
The outbreak location was an elementary school in Marin County, California… Each grade includes 20 to 25 students in single classrooms. Other than two teachers, one of whom was the index patient, all school staff members were vaccinated (verified in California's Immunization Registry). The index patient became symptomatic on May 19 with nasal congestion and fatigue. This teacher reported attending social events during May 13–16 but did not report any known COVID-19 exposures and attributed symptoms to allergies. The teacher continued working during May 17–21, subsequently experiencing cough, subjective fever, and headache. The school required teachers and students to mask while indoors; interviews with parents of infected students suggested that students' adherence to masking and distancing guidelines in line with CDC recommendations (3) was high in class. However, the teacher was reportedly unmasked on occasions when reading aloud in class. On May 23, the teacher notified the school that they received a positive result for a SARS-CoV-2 test performed on May 21 and self-isolated until May 30. The teacher did not receive a second COVID-19 test, but reported fully recovering during isolation.

The index patient's students began experiencing symptoms on May 22. During May 23–26, among 24 students in this grade, 22 were tested…. Twelve (55%) of the 22 students received a positive test result, including eight who experienced symptom onset during May 22–26. Throughout this period, all desks were separated by 6 ft. Students were seated in five rows; the attack rate in the two rows seated closest to the teacher's desk was 80% (eight of 10) and was 28% (four of 14) in the three back rows…

On May 22, students in a another classroom, who differed in age by 3 years from the students in the class with the index case and who were also ineligible for vaccination began to experience symptoms. The two classrooms were separated by a large outdoor courtyard with lunch tables that were blocked off from use with yellow tape. All classrooms had portable high-efficiency particulate air filters and doors and windows were left open. Fourteen of 18 students in this separate grade received testing; six tests had positive results. Investigation revealed that one student in this grade hosted a sleepover on May 21 with two classmates from the same grade. All three of these students experienced symptoms after the sleepover and received positive SARS-CoV-2 test results. Among infected students in this class, test dates ranged from May 24 to June 1; symptom onset occurred during May 22–31.
So that's the outbreak. Here are the headlines:
There is a unanimity of opinion by the headline-writing editors that the source of the problem was the index case: the unvaccinated teacher. Indeed, that's without justification — that is, is not only a matter of aghastitude — given the "Implications for Public Health Practice" in the Summary section of "Outbreak":
Vaccines are effective against the Delta variant, but transmission risk remains elevated among unvaccinated persons in schools. In addition to vaccination, strict adherence to multiple nonpharmaceutical prevention strategies, including masking, are important to ensure safe school instruction.
(I presume the Summary is tacked on to the submitted study by CDC.) Now let's turn to the bodies of the stories, where there is a broader spectrum of opinion than in the headlines. In the same order as above:
The rash of infections highlights just how contagious the delta variant is, underscoring " as schools reopen," the CDC report said.

However, Lam-Hine said that it's impossible to know if the unmasking was the cause of the outbreak or if it was a combination of small lapses in the protective measures.

"When there's things that are very high risk, you have , and when one fails, you hope that the other three or four that you have in place hold up," he said. "In this case, something didn't line up."
ABC7:
"We had someone let their guard down," said Mary Jane Burke, Marin County Superintendent of Schools.'

Luz Pena [reporter]: "?"

Mary Jane Burke: "I do, I do."
KTVU (FOX):
The CDC says 18 of the 27 cases were sequenced, and they all were found to be the Delta variant.

The CDC says that this incident illustrates just .
Nothing on interventions, pharmaceutical or not.
KSBW:
The report, released Friday, emphasizes the significance of vaccination and in ensuring the safety of students and teachers now that in-person learning is the norm at Bay Area schools.

UCSF chair of medicine .

"I doubt this teacher wanted to infect half of her class or thought she was putting them in danger," Wachter said in a tweet Friday. "But she did and she was."
In a case that illustrates both and in an indoor classroom setting with unvaccinated students, the Marin outbreak holds lessons that should be learned nationwide.

At the time of this outbreak, another occurred in Marin County that was centered in San Anselmo and Fairfax. Health Officer Dr. Matt Willis said at the time, because both outbreaks lasted only two weeks and appeared to be stopped short by the vaccines, "This is what looks like."
Assuming "herd immunity" for respiratory viruses is a thing; we simply don't know (and Fauci's nimble goalpost moving hasn't helped).
The CDC recommends for They also recommend staying home if showing symptoms, getting tested routinely, and wearing face masks inside.
Note that "close contact" is not a means of transmission.
So, we have a rich bouillabaisse of opinion, with teacher vaccination mandates predominating, but also the contagiousness of Delta, and non-pharmaceutical interventions, including masking. Marin County's Lam-Hine, the corresponding author for "Outbreak," has, to my mind, the best perspective of all: "When there's things that are very high risk, you have , and when one fails, you hope that the other three or four that you have in place hold up." However, there is one level of protection after vaccination that none of the reporting mentions; it's as if masking and social distancing were the only forms of non-pharmaceutical intervention. Ironically — and this is the plot twist — Lam-Hine's "Outbreak" also fails to give adequate consideration to it. That level of protection:
Ventilation. How effective was the ventilation in the school room?[1]
At least in my recollection, aerosol transmission broke through to the mainstream in this lucid and compelling interactive article in the English version of El Pais, "A room, a bar and a classroom: how the coronavirus is spread through the air." Here is a graphic about aerosols in schools, directly on point "Outbreak":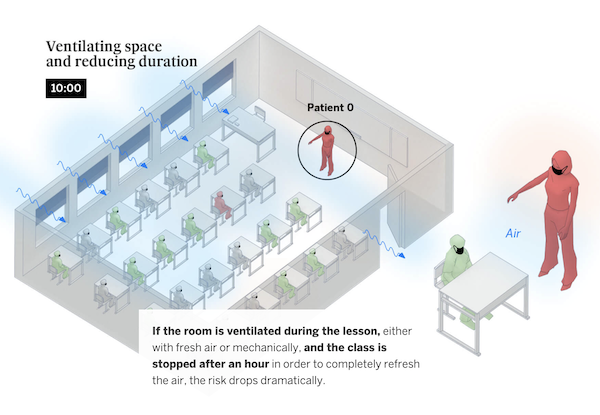 And here is "Outbreak's" seating chart, which shows, like El Pais, a pattern of transmission extremely suggestive of aerosol transmission from a superspreading teacher to multiple students: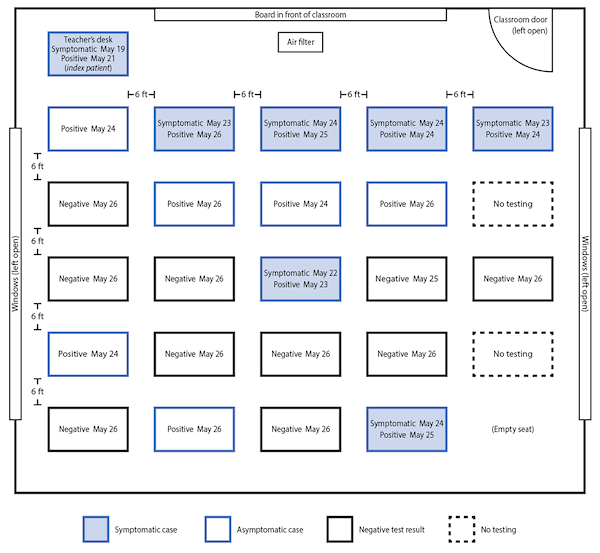 (So apparently being one of Chris Arnade's "back row kids" is no guarantee of protection, although the front row kids are worse off.) SFist describes the "Outbreak" seating chart admiringly:
Much like an early study out of China that illustrated how the airborne coronavirus spread in a restaurant, the CDC study provides a map of where the teacher's desk was located in relation to students' desk, and where each of the infected students sat. Students in the class, included many in the front two rows of the classroom, began showing symptoms on May 23 and 24, and subsequently tested positive. All told, 12 out of 24 students in the class were infected and tested positive, including several in the back rows of the class. The infection rate for the front two rows of the class was 80%.

These transmissions occurred despite students adhering to mask protocols, the presence of an air filter at the front of the class, six feet of distancing between desks, windows left open on both sides of the classroom, and the door of the classroom being kept open.
I too, admire seating charts; I find epidemiological diagrams far more persuasive than models[2]. But I have questions. I note that the diagram indicates open windows, an open door, and an air filter. From the text of "Outbreak":
All classrooms had portable high-efficiency particulate air filters and doors and windows were left open.
"Outbreak," in other words, answers the question: What was the physical arrangement in the room?[3] However, the question that needs to be answered is: How well was the room ventilated?
In terms of physical arrangement, were the windows and doors always left open? How do we know? Were the windows small and high up[4], so a good draft would not be possible? What brand of HEPA filter was used, and was it suitably sized to the room? Were the filters running at all times? A fan or Corsi box was apparently not thought necessary, but why? And who decided? In terms of metrics, why on earth were no CO2 measurements taken with the room populated and under protocol? And what are the Air Changes per Hour? Saying that a room is well ventilated because there's a HEPA filter in it is like saying children are learning music. Joseph Allen of the Harvard T.H. Chan School of Public Health tweets:
— Joseph Allen (@j_g_allen) August 27, 2021
And how on earth did CDC's editors allow this paper to be published without revisions? Perhaps because the policy objective of mandating vaccines for teachers — so happily propagate in the headlines — is of over-riding importance to them, and not [genuflects] the science?
* * *
The CDC supports, as Marin County's Lam-Hine correctly points out, a layered strategy against Covid:
CDC recommends a layered approach to reduce exposures to SARS-CoV-2, the virus that causes COVID-19. This approach includes using multiple mitigation strategies, including improvements to building ventilation, to reduce the spread of disease and lower the risk of exposure. In addition to ventilation improvements, the layered approach includes physical distancing, wearing face masks, hand hygiene, and vaccination.
This layered strategy has been characterized as "The Swiss Cheese Model (of which California educators are aware, at least in Bakersfield):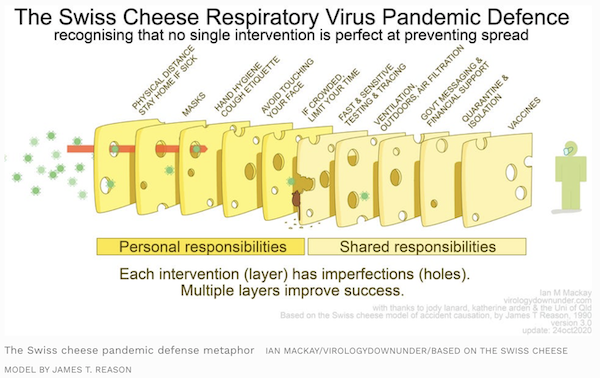 It is, therefore, deeply ironic that "Outbreak" fumbles its analysis of one of the layers: Ventilation. From the data in Outbreak, we cannot know — pace Bob Wachter — that this is "a case study of why a vaccine mandate is necessary" because we cannot know, from the information before us, how the room was ventilated.[5]
It is also ironic — and I suppose here by "ironic" I mean teeth-grindingly typical — that even though CDC says that it supports a layered strategy, they can't adjust their messaging accordingly. For example, all they had to do was add two words (which I have helpfully underlined) to their "implications for public health practice":
Vaccines are effective against the Delta variant, but transmission risk remains elevated among unvaccinated persons in schools. In addition to vaccination, strict adherence to multiple nonpharmaceutical prevention strategies, including masking , are important to ensure safe school instruction.
If CDC had done that, all the coverage would have picked that wording right up, as they did the existing wording.
If I were a parent, I would find this whole episode enraging, because none of the players are upholding what, in the Swiss Cheese model, is labelled a "shared responsibility": Ventilation. I cannot go before the school board and argue for improved ventilation to protect my child based on "Outbreak," its press clippings, or CDC's messaging.
Finally, nobody should construe this post as being anti-vax; I am vaccinated and pro-vax. That said, vaccination is but one layer, and multiple layers of protection are critical, in the age not only of Covid, but of variants and breakthrough cases. Vaccinations are not a magic bullet, no more than forms of treatment, favored or disfavored. What I dislike about the press coverage of "Outbreak" is that it makes us more stupid, by reinforcing the PMC's single-minded focus on vaccination alone. What I dislike about "Outbreak" is that it had the chance to make us smarter, and didn't. And I dislike the CDC for both reasons.
NOTES
[1] It's rather remarkable that CDC can present a study that assumes aerosols as the primary mode of transmission en passant, without actually using the word — perhaps the Marin County officials were savvy enough to avoid it — and without incorporating aerosol transmission into their messaging ("It's like cigarette smoke") or indeed admitting any error.
[2] The Chinese restaurant study, if the study SFist refers to is the one I am thinking of, was considerably more rigorous than "Outbreak." The study authors broke down CCTV film to rule out fomite tranmission.
[3] Compare "Outbreak"s "portable high-efficiency particulate air filters" to this followup study on the Skagit Valley superspreading event:
Limited information is available about the heating and ventilating system; what was learned from personal communications is summarized here. The Fellowship Hall is heated and ventilated with a mechanical air heating system including an outdoor air intake and air recirculation. The air handling unit has a relatively new commercial forced-air furnace (see Supplemental Information for the system capacity details). The furnace is installed with an outside make-up air function and it also has a separate combustion air intake, which is standard for gas appliances. But it is not known how much outside make-up air was supplied to the building that evening. The furnace is also outfitted with a MERV 11 filter, which has a rated single-pass efficiency of ≥30%-65% for aerosol particles of diameter 1 µm or larger.29, 30 Three supply air registers are situated 2.4 m above the floor on one wall with a single return on an adjacent wall, just above the floor (~0.15 m). Someone in the front office reportedly turned on the heating system prior to the rehearsal to warm the space, and the thermostat was set to 20°C (68 °F). It was about 7°C (45°F) outside, so the heating was on at the start of the rehearsal, but with so many people in the room, it did not need to stay on to maintain a comfortable temperature. During the entire rehearsal no exterior doors were open. It is not known whether the forced-air furnace fan operated (only) under thermostatic control or whether it ran continuously.
"Portable high-efficiency particulate air filter" seems awfully vague by comparison. What was the rating of the filter?
[4] CDC does not name the school at which the outbreak occurred, nor do the stories linked. There was an outbreak in the May timefrom at Our Lady of Loretto School in Novato, Marin County; "Outbreak" appears to have happened in that school. If so, I am dubious that the windows open fully. Via Google Maps: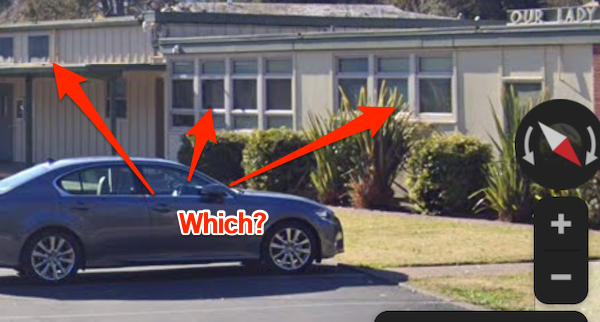 The state of California requires all businesses to implement a Site Specific protection plan. I looked at Our Lady of Lorretto's. It is replete with hygiene theatre. I searched the document for the strings "venti," "window," "door," "filter," "MERV," and "air." "Door" appears once in the context "car door." "Air" appears once in the context "We will air on the side of caution." (There is a standard template for schools, which does mention ventilation, but Our Lady of Lorretto did not use it, perhaps because they are Catholic.) At some point, given the open windows and doors described by "Outbreak," and the filter, their plans changed, but I can't find any documents explaining why or when. This concerns me, because of Our Lady of Loretto is as fanatical about hygiene theatre as their protetion plan indicates, ventilation may have been an afterthought, and carelessly implemented (as indeed the teacher lowering her mask would suggest).
[5] Yes, I know that Delta is extremely contagious, statistically, and I know that "fleeting contacts" in Australia were sufficient for transmission. However, to the best of my knowledge, those fleeting contacts were not between masked people. It does indeed seem likely to me that aerosol spread from the unmasked and unvaccinated to the masked is the case here, but because of "Outbreak's" methodological sloppiness on ventilation, we cannot know.