By Lambert Strether of Corrente.
Readers, more to come in the politics section. As usual, I collected too much over the weekend! –lambert UPDATE All done!
Bird Song of the Day
* * *
#COVID19
At reader request, I've added these daily charts from 91-DIVOC. The data is the Johns Hopkins CSSE data. Here is the site. I feel I'm engaging in a macabre form of tape-watching….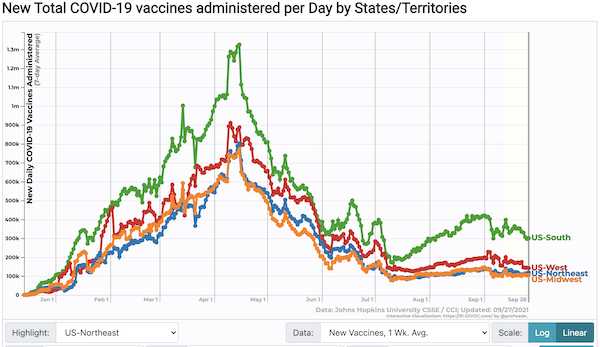 Now going down everywhere, including the South. So far as I can tell, Biden's speech had no impact at all. If the measures he announced have any impact, that has not appeared yet. I would bet that the stately rise = word of mouth from actual cases.
55.3% of the US is fully vaccinated (mediocre by world standards, being just below Czech Republic, and just above Switzerland and Malaysia). We are back to the 0.1% stately rise per day. This is the number that should change if Biden's mandates "work." However, as readers point out, every day those vaccinated become less protected, especially the earliest. So we are trying to outrun the virus… (I have also not said, because it's too obvious, that if by Bubba we mean The South, then Bubba has done pretty well.)
Case count by United States regions: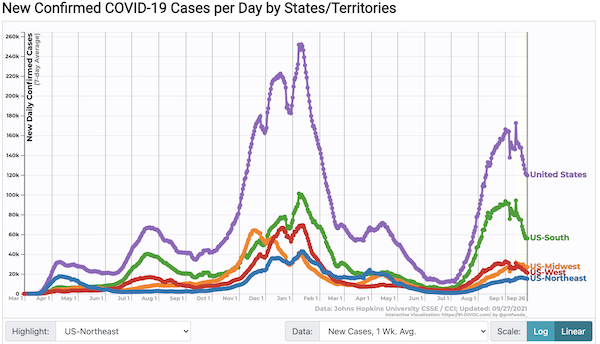 Simply tape-watching, this descent is as steep as any of the three peaks in November–January. It's also longer than the descent from any previous peak. The question is whether we will ascend to a second (or third) peak, as in last December-January, or not, as in last August. Note also that the regions diverge: The South, which drove the peak, is finally dropping. The West was choppy too, and is now falling. However, all this drama has masked the steady rise in the Northeast and Midwest.
We could get lucky, as we did with the steep drop after the second week in January, which nobody knows the reasons for, then or now. Today's populations are different, though. This population is more vaccinated, and I would bet — I've never seen a study — that many small habits developed over the last year (not just masking). Speculating freely: There is the possibility that natural immunity is much, much greater than we have thought, although because this is America, our data is so bad we don't know. Also, if the dosage from aerosols drops off by something like the inverse square law, not linearly, even an extra foot of distance could be significant if adopted habitually by a large number of people. And if you believe in fomites, there's a lot more hand-washing being done. Finally, quite frankly, I don't see why we're not seeing what happened in the schools in the UK and Canada happen here. On the other hand, Delta is much more transmissible,
NEW From CDC: "Community Profile Report September 27, 2021" (PDF), "Rapid Riser" counties, this release: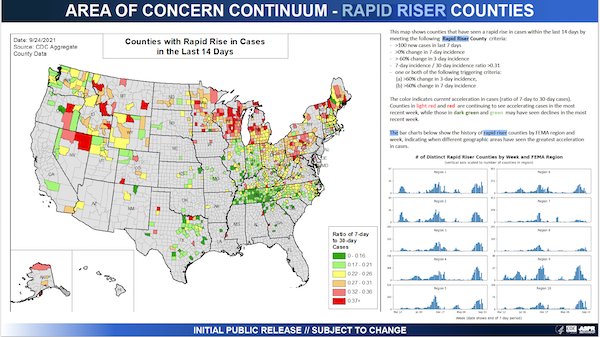 Northern latitudes improving, including Maine and Upstate New York. Speculating freely: One thing the consider is where the red is. If air travel hubs like New York City or Los Angeles (or Houston or Miami) go red that could mean (a) international travel and (b) the rest of the country goes red, as in April 2020 and following. But Minnesota is not a hub. If Minnesota goes red, who else does? Well, Wisconsin. As we see. Remember, however, that this chart is about acceleration, not absolute numbers. This map, too, blows the "Blame Bubba" narrative out of the water. Not a (Deliverance-style) banjo to be heard. Previous release: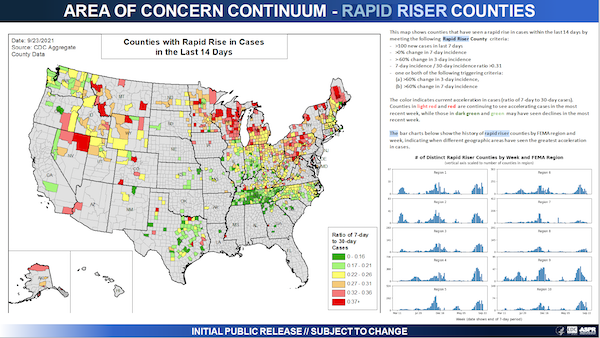 (Red means getting worse, green means bad but getting better.)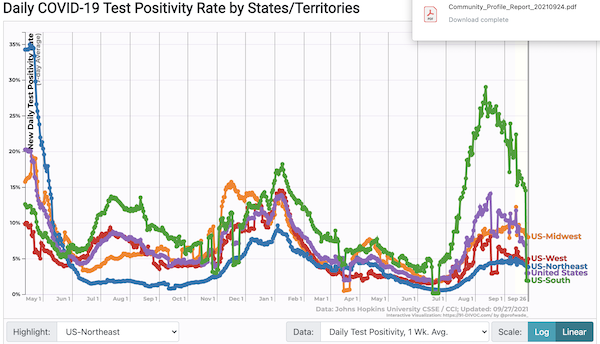 An unprecedented, enormous drop in the South. Surely data.
Hospitalization (CDC). Everything works again today, CDC, good job: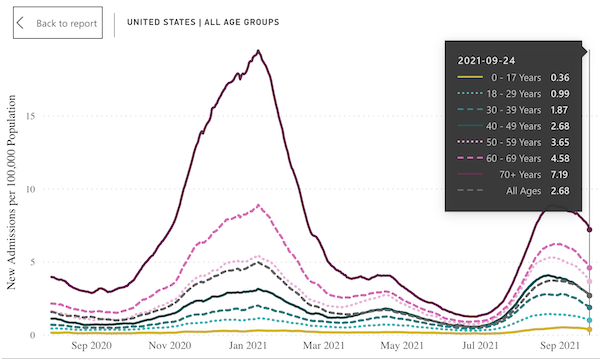 Here the CDC's hospitalization visualization, from the "Community Profile" report above: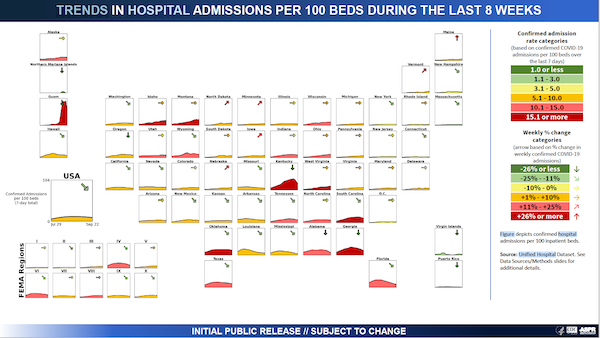 Alabama now headed down, fortunately. Things are picking up in the Northern latitudes (note the up arrows in Wisconsin and Minnesota). From this chart, pediatric hospitalization, in the aggregate, is down. I should dig out some regional or better yet county data.
Death rate (Our World in Data):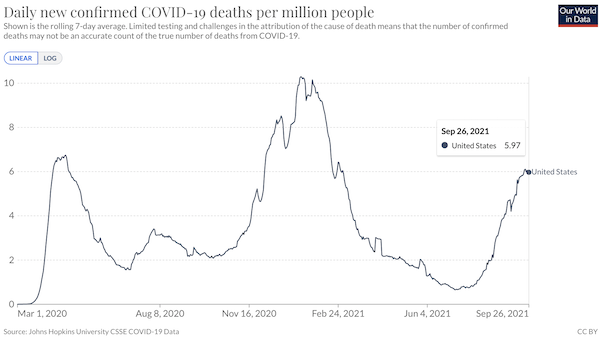 Total: 706,338 703,043. Looks like a downward trend, mercifully. We approached same death rate as our first peak last year. Which I am finding more than a little disturbing. (Adding: I know the data is bad. This is the United States. But according to The Narrative, deaths shouldn't have been going up at all. Directionally, this is quite concerning. Needless to see, this is a public health debacle. It's the public health establishment to take care of public health, not the health of certain favored political factions.) (Also adding: I like a death rate because it gives me a rough indication of my risk should I, heaven forfend, end up in a hospital/)
Covid cases worldwide: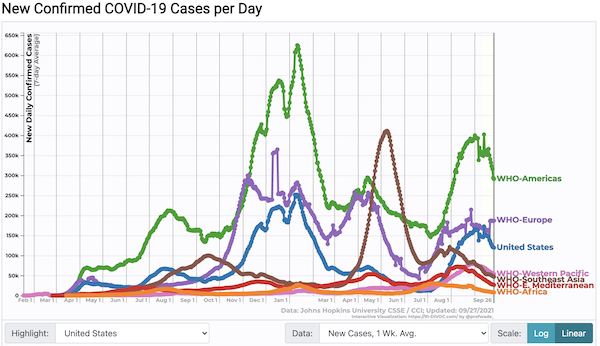 European exceptionalism?
* * *
Politics
"But what is government itself, but the greatest of all reflections on human nature?" –James Madison, Federalist 51
"They had one weapon left and both knew it: treachery." –Frank Herbert, Dune
"They had learned nothing, and forgotten nothing." –Charles Maurice de Talleyrand-Périgord
Biden Administration
The week to come:

A WILD WEEK ON CAPITOL HILL

—Senate votes today on gov't funding + debt limit hike (GOPs say they'll filibuster)

—Gov't shuts down Thurs midnight

—House votes Thurs on infrastructure bill

—Progressives plan to block it unless mega-bill is done

—Mega-bill isn't close to done

— Sahil Kapur (@sahilkapur) September 27, 2021

UPDATE "It's Always A Battle Against Corruption" [Daily Poster]. "Similarly, John Podesta — who ran the corporate-funded Center for American Progress — circulated a memo on Capitol Hill telling progressives to suddenly back off the $3.5 trillion framework, even though it already passed the House and Senate, even though $3.5 trillion is already a compromise from $6 trillion, and even though $3.5 trillion is a comparatively paltry sum that's less than what the government is expected to shovel out the door to the Pentagon in just the next 5 years alone. Podesta has declared that "we will not secure the full $3.5 trillion investment" — demanding Democrats once again back off and live to never fight another day, all in the name of protecting the party's prospects in the upcoming midterm elections. Somehow forgotten is how the same demands for compromise and capitulation were made during President Obama's first two years, resulting in an all-too-small stimulus that did not adequately boost the economy, and that helped create the conditions for Democrats' electoral shellacking in 2010." • The top line matters, obviously, because Podesta says it doesn't. If "progressives" want to wield real power, and be seen to do so, they need to arrange for both bills to fail if the $3.5 trillion top line is not met. [Family blog] 'em if they can't take a joke. Comment:

If the bi-partisan infrastructure bill passes the House on Thursday, there's no chance corporate owned Democrats will vote to lower drug prices, tax the 1% or combat climate change. Progressives must stand strong & vote no. No bluffing. No $3.5 trillion reconciliation, no deal.

— Warren Gunnels (@GunnelsWarren) September 27, 2021

The pieces can always be picked up the morning after. And re-arranged, with corrupt moderates disempowered.

UPDATE UPDATE You will pry means-testing from the cold, dead hands of liberal Democrats:

Sources tell me that White House and Democrats considering attaching means test to a number of key agenda items – from EV rebates and free community college – as a way to shrink reconciliation bill and pacify spending hawks.

— Jarrett Renshaw (@JarrettRenshaw) September 27, 2021

UPDATE "Kyrsten Sinema Used The Winery Where She Interned to Fundraise with Private Equity" [The Intercept]. "The Democratic Senator threatening to block the party's ambitious social policy agenda in order to preserve former President Donald Trump's tax cuts for corporations and for the wealthy spent last summer interning at a winery owned by the private equity baron Bill Price. In the summer of 2020, Sen. Kyrsten Sinema, D-Ariz., interned at Three Sticks, a winery in Sonoma, California, owned by Bill Price, co-founder of the private equity leviathan TPG Capital. According to the job description, interns "assist in all facets of harvest work including cleaning and sanitizing equipment, sorting fruit, punchdowns, making basic additions and managing fermentations according to winemaker instructions, barrel work, and other winery-related tasks." Sinema's personal financial disclosures show that she was paid $1,117.40 in wages for her work. But an ensuing fundraiser at Three Sticks, held in August, netted her campaign coffers much more." • Yecch. The DSCC got Sinema nominated and ran their campaign. So the Democrat Party we are seeing now is, again, the Party the leadership built, and it is doing what they built it to do.

UPDATE "Dentists' Group Fights Plan to Cover Dental Benefits Under Medicare" [Wall Street Journal]. "he American Dental Association is mobilizing its 162,000 members to fight a proposal to include dental coverage for all Medicare recipients, opposition that could prove pivotal as Democrats look to make cuts in their $3.5 trillion domestic policy agenda. Giving dental, vision and hearing benefits to the 60 million older and disabled Americans covered by Medicare will provide needed care to people who otherwise might not afford it, supporters say." • I've experienced American dentistry. If there were war crimes in class warfare, American dentistry would be one. (Of course, to be unironically fair, there are good dentists, just as there are good doctors. But the system in which these good people are forced to operate is reprehensible.)

* * *

"Why Biden Bet It All on Mandates" [The Atlantic]. "'Months ago, because of the potential political blowback, no one wanted to resort to mandates," a senior Biden-administration official told me, speaking on the condition of anonymity to talk more freely. '. We tried trusted messengers [to promote the vaccines]. We made it very convenient. It wasn't enough." • I bet that senior official is Ron Klain.

Lambert here: They're lying. The Administration didn't pull out all the stops, even on vaccination, and the continued PMC preening that they did makes me want to claw my eyes out. First and foremost, they didn't arrange for paid time off to get vaccinated (and for any adverse reactions). Second, they never attempted to make workplaces vaccination sites. Third, they seem to have expected no resistance from the right ("freedom") and made no effort to prepare for it or head it off. Fourth, there was no national advertising campaign, on the model of "this is your brain on drugs." Fifth, even simple measures like making sure, as Toronto did, that there were programs for those who fear needles were ignored. UPDATE Sixth, the "trusted messengers" obviously weren't; perhaps the author thinks Fauci and Walensky are trusted, but that says more about the contagiousness of West Wing Brain than anything else. Seventh, calling people animals because they seek cheap and safe medications is at the very least an unconventional trustbuilding technique (as is lying about the medication itself). Eighth, the messaging strategy of the Biden administration has been bungled from pre-Inaugural planning to this very day; during the Trump era liberal Democrats kept whinging that Trump didn't follow the "playbook" Obama left him. Well, it wasn't a playbook, but it had some good ideas on messaging, and Biden didn't follow them either. Ninth, the Biden administration never promoted a layered strategy, including especially ventilation. Why in the name of all that is holy wasn't Jill Biden building a Corsi box on Good Morning America with some cute kids? It's beyond belief — or would have been, once — that the liberal Democrats could talk themselves into the idea that "We did everything we could" when their intellectual laziness and policy flaccidity is so very, very obvious to the few of us who are paying attention. A less trusting soul than mine would give consideration to the idea that coercion was the endgame the whole time.
Democrats en Deshabille
"Socialist India Walton Faces Treacherous Path in Buffalo Despite Court Victory" [Truthout]. "Brown's campaign, though it's now suffered a critical setback, has generally been building momentum, amassing some powerful allies. It has long been evident that Brown's base of labor support would be found in the building trades unions, which tend toward political conservatism and have benefited from Buffalo's redevelopment. Structurally, they're incentivized to back Brown, since his tax giveaways to development companies, along with his efforts to ensure project labor agreements, have made for increased union construction work. Few unions among the trades are likely to look kindly upon a socialist mayor, especially one promising to staunch the flow of tax abatements to developers in favor of funding public goods."

Obviously, Schumer's gonna come back strong:

WATCH: Schumer gets shoutout, standing ovation from crowd at Tony Awards https://t.co/KWicoSk0uR pic.twitter.com/bO6yeB2MvD

— The Hill (@thehill) September 27, 2021
RussiaGate
Correct:

Russell Brand: "Russiagate was a Democratic conspiracy." pic.twitter.com/J4RCfqxWpM

— LivePDDave 🇺🇸 🚨 🥊 (@LivePDDave1) September 25, 2021
Obama Legacy
Please, no more:

The Obamas are "so excited to have this opportunity to give back to the city that they love, to create this beacon of hope that will be a catalyst…for positive change," Valerie Jarrett says as they prepare to break ground on their presidential center. https://t.co/g9MQSaotBg

— MSNBC (@MSNBC) September 27, 2021
Trump Post Mortem
Very true:

How did Trump take over the Republican Party so completely?

I often criticize Trump's negative attributes but I am about to compliment one skill that he possesses which all bullies have. He can smell weakness and fear from a mile away.

— TheValuesVoter (@TheValuesVoter) September 25, 2021

We can therefore conclude that if Trump still wants in the game, it's not only because he wants the money, not only because he wants revenge, not only because he wants vindication and revenge, and not even because he's crazy (he's not), but because he senses weakness.
Realignment and Legitimacy
"What Is Political Writing For?" [Columbia Journalism Review]. "Of course, there was never a time when the world could be expected to move at the stroke of a hack's pen. But we're living in a moment at which the basic premises justifying conventional engagement with national politics no longer seem plausible, and our structural stasis has been belied by the unprecedented volume and intensity of our punditry. Certainly, the internet has had some positive effects on the industry and helped diversify it with more writers from under-represented backgrounds. But that only makes it all the more surprising that online conversations feel as homogeneous and repetitive as they do. The tonal and stylistic differences between writers and publications are eroding; the dynamics of the internet have driven competing outlets to make similar judgments about what's worth writing about and how. The morsels of rage and misery we offer might not have much political effect, but they do feed an online writing economy that rewards speed, quantity, and deference to algorithms designed for the profit of three or four tech companies—an economy that offers few incentives to generate writing that lingers in the mind longer than half a day or half an hour. Exploratory writing—ruminative, tentative—is simply a riskier bet than tidy, punchy, reductive, and nut-graph-ready arguments destined to be skimmed by a predictable subset of a subset of the public before disappearing into the Web's ever-decaying memory. The whole system is one of the bleakest forms of entertainment imaginable." • One of the nicest things about NC, if I may say so, is that we don't give a [family blog] about the algos.

UPDATE "Armed Assembly: Guns, Demonstrations, and Political Violence in America" [ACLED]. "Armed demonstrations comprise nearly 10% of all violent or destructive demonstrations in the United States, and are violent much more often than unarmed demonstrations. Contrary to claims that the presence of guns in public spaces makes people safer, demonstrations involving at least one armed individual tend to be violent or destructive 16% of the time."
Stats Watch
Durable Goods: "United States Durable Goods Orders" [Trading Economics]. "New orders for US durable goods surged 1.8% mom in August of 2021, following an upwardly revised 0.5% rise in July, and beating market forecasts of a 0.7% increase. Main rises were seen in orders for nondefense aircraft and parts (77.9%), capital goods (6.7%), transportation (5.5%) and manufacturing (3.3%). On the other hand, orders for defense aircraft and parts dropped 17.8% and defense capital goods went down 8.3%. Orders for non-defense capital goods excluding aircraft, a closely watched proxy for business spending plans, rose 0.5%, above forecasts of 0.4%."
Manufacturing: "United States Dallas Fed Manufacturing Index" [Trading Economics]. "The Federal Reserve Bank of Dallas' general business activity index for manufacturing in Texas decreased by 4.4 points from the previous month to +4.6 in September 2021. The production index, a key measure of state manufacturing conditions, rose 3.4 points to +24.2, suggesting Texas factory activity continued to increase at a solid pace. Meanwhile, movement was mixed for other measures of manufacturing activity."
* * *
Tech: "You Should Probably Stop Using ExpressVPN" [Gizmodo]. "For years, ExpressVPN has been one of the most popular and widely used privacy products of its kind on the market. … However, all of this has been called into question following the revelation that ExpressVPN Chief Information Officer Daniel Gericke previously worked as a hacker-for-hire at DarkMatter—a cybersecurity firm based in the United Arab Emirates. Between 2016 and 2019, Gericke helped to hack systems and devices all over the world as part of 'Project Raven,' a secretive operation designed to help the UAE monarchy track and surveil critics of its regime, including activists, journalists, and some individuals based in the U.S."
The Bezzle: "Here's everything going wrong at Binance, the world's biggest crypto exchange" [Protocol]. "Binance, the largest global crypto exchange, has been hit by a raft of regulatory challenges worldwide that only seem to increase…. Binance has grown due to its focus on being the place for crypto enthusiasts to trade almost any digital asset, investors say. While many exchanges operating in the U.S. such as Coinbase take time and have a process for adding coins for trading, Binance has aggressively added new cryptocurrencies and more recently NFTs. That long tail is appealing to investors looking to speculate on the hot new crypto thing. Originally founded in China, Binance reportedly pulled its employees and any official presence out of the Chinese market in 2017 after China banned ICOs. But Binance has launched quickly around the world in many countries. Regulators in many of those countries have said Binance is operating without permission." • Followed by a country list. A long one.
The Bezzle: "This Is All Exactly What It Looks Like" [Defector]. "But also there is just the reality of how and what cryptocurrency actually is, which is, as SEC chair Gary Gensler said last week, 'a highly speculative asset class.' When the Biden Administration tentatively moved to tax and regulate cryptocurrency transactions, Treasury Secretary Janet Yellen explained the decision by saying, "To the extent [cryptocurrency] is used, I fear it's often for illicit finance. It's an extremely inefficient way of conducting transactions, and the amount of energy that's consumed in processing those transactions is staggering." Advocates' response to this series of basically true observations is less a rebuttal than a blithe counterproposal to the effect that 1) none of that matters and also is all being fixed, and 2) the new money will bring about world peace so honestly how dare you…. The hucksterish utopian rhetoric and blustering ambient scuzz of the broader cryptocurrency thing as it exists in this moment—the clammy slew of posturing experts, the open mendacity and barely concealed rube-running bad faith, the actual criminality and simple goonery that define its day-to-day—do the idea at the center of it no favors, but that is, more or less, the thing that always happens to any idea once people get ahold of it. Again, this is something that most people understand without really understanding how they understand it. At some point, when you are being lied to all the time and everywhere, you just know when it's happening. With that in mind, it seems safest to look at the various characters on the grind here and assume that they want what they usually want, which is wealth without end or accountability or excuse, and something fun to play with, and also to get over on someone else. There's something heartbreakingly cretinous about it—they just invented money, again—but the more interesting questions have to do with who buys, and who sells." • And just at this point, Tom Brady arrives. Well worth a read!
Manufacturing: "Pontifications: 787 deliveries, suspended a year, look for restart soon" [Leeham News and Analysis]. "In a few weeks it will be a year since Boeing suspended delivery of virtually all 787s. Inspections revealed some flaws in production. Despite a year-long effort, Boeing hasn't been able to persuade the Federal Aviation Administration, yet, to grant authority to resume deliveries….. Boeing's marquis wide-body airplane is bedeviled by flaws in mating fuselage sections that are variously described as no bigger than the width of paper, a coat of paint or human hair. Calling these flaws "gaps" conjures up something larger. These aren't safety of flight issues, meaning the in-service fleet didn't have to be grounded. (Eight 787s were grounded for inspection and analysis soon after the issue was first discovered in August 2019.) But any in-production 787s went into inventory for inspection and, when necessary, fixes that could include rework. …. The fix for the planes in inventory involves inserting shims—again, imagine the widths we're talking about. For planes still on the assembly line, the fixes are incorporated there…. It remains unclear why these issues surfaced in 2019 and 2020. The 787 has been in production since 2004 and final assembly since 2007. One would think these issues would have surfaced long before. Coming as they did during the MAX crisis only exacerbated Boeing's cash flow crunch. But production of the 787 has been troubled from the start." • Maybe some disgruntled employee "dropped" whatever device they use to measure the fuselage?
The Fed: "Boston Fed's Eric Rosengren announces his early retirement amid trading controversy" [MarketWatch]. "His retirement follows the recent disclosure that Mr. Rosengren traded stocks and other investments while also helping to set monetary policy. Mr. Rosengren's trading, along with more significant trading by Dallas Fed leader Robert Kaplan, alarmed some central bank watchers. Recently disclosed information from the Boston Fed showed that Mr. Rosengren, who would have held a voting role on the rate-setting Federal Open Market Committee next year, had traded stocks and other investments related to the real estate industry last year." • Lol:
In wake of stock trading controversy, Boston Fed leader Rosengren announces retirement effective Sept. 30, cites health condition.

— Michael S. Derby (@michaelsderby) September 27, 2021
Or spending more time with his family.
* * *
Today's Fear & Greed Index: 34 Fear (previous close: 33 Fear) [CNN]. One week ago: 21 (Extreme Fear). (0 is Extreme Fear; 100 is Extreme Greed). Last updated Sep 27 at 12:05pm.
Rapture Index: Closes up one on volcanoes. "Cumbre Vieja volcano has been erupting at La Palma, Canary Islands" [Rapture Ready]. Record High, October 10, 2016: 189. Current: 188 (Remember that bringing on the rapture is a good thing, so higher is better.)
Health Care
"Safety and efficacy of a MEURI Program for the use of high dose ivermectin in COVID-19 patients" [Zenodo]. n = 3266, controls = 17966. From the Abstract: "The aim of this report is to inform on the results of a MEURI Program of high-dose ivermectin in COVID-19 carried out by the Ministry of Health of the Province of La Pampa, Argentina." And: "ICU admission was significantly lower in the ivermectin group compared to controls among participants ≥40 year-old (1.2% vs 2.0, odds ratio 0.608; p=0.024). Similarly, mortality was lower in the ivermectin group in the full group analysis (1.5% vs 2.1%, odds ratio 0.720; p=0.029), as well as in subjects ≥ 40 year- old (2.7% vs 4.1%, odds ratio 0,655; p=0.005)." • Can an RCT maven look at this and evaluate it? As a substitute for the peer review this "report" evidently did not get?
"Red Covid" [New York Times]. "It's worth remembering that Covid followed a different pattern for more than a year after its arrival in the U.S. Despite widespread differences in mask wearing — and scientific research suggesting that masks reduce the virus's spread — the pandemic was if anything worse in blue regions. Masks evidently were not powerful enough to overcome other regional differences, like major metro areas, which tend to be ." • Do notice the artful avoidance of agency in "international travel that flows through." Because, and I keep saying — using words like "tend to be" myself — if you ask "Who brought Covid here?" then the headline should read "Blue Covid." I mean, "We gave it to you, now accept our cure for it" could possibly be a problematic message… (I realize that I am an outlier using this framing, and the Republicans haven't picked up on it, maybe because it has nothing to do with freedom. But, and as the article itself admits, that is the dynamic.)
"Conservatives are killing themselves with COVID, and no, it's not our fault" [Kos, Daily Kos]. • See above.
Big Q&A thread for returning teachers:
Big Thread coming on 'returning to on-site teaching'. Intended mainly for universities (because I work in one), but may also be useful for schools. Mute thread if not interested. I'll base it around real questions I've been asked.
1/

— Trisha Greenhalgh (@trishgreenhalgh) September 26, 2021
"COVID-19 Cases Projected to Decline Steadily Through March" [MedScape]. "The recent surge in COVID-19 cases due to the contagious Delta variant appears to be peaking and will likely decline now through the spring, according to NPR." According to NPR? GTFO. More: "At the same time, the latest update from the COVID-19 Scenario Modeling Hub assumes that childhood vaccinations will take off later this year and that no new contagious variants will emerge. 'Any of us who have been following this closely, given what happened with Delta, are going to be really cautious about too much optimism," Justin Lessler, an epidemiologist at the University of North Carolina who helps run the hub, told NPR. 'But I do think that the trajectory is towards improvement for most of the country,' he said. The forecast combines nine different mathematical models from different research groups across the country to project what may happen in the next six months. They calculated four potential scenarios, which accounts for childhood vaccinations and potential new variants.The most likely scenario is that children get vaccinated and no contagious variant emerges." • This is insane. We now have "models" that incorporate regulatory and political decsisions? Or seek to nudge them? Again, what business is CDC in?
"Op-Ed: Delusional reactions to epidemics are as old as time. COVID has been no different" [Los Angeles Times]. "If anyone should have been prepared for this — this surreal, tragic phase of the pandemic and the derangement of our collective response — it might be me. I am both a red-state native and a historian who studies infectious diseases." • And yet… everyone was caught by surprise. Why be a historian if you don't learn from history?
Naked Capitalism Cooking Community™
"Eating sustainably is one of the easiest ways to combat climate change, experts say" [ABC]. "But the easiest thing individuals can do in their daily lives to make an impact in the climate fight is simple switches to their diets — and they don't even have to become a vegetarian or give up animal products altogether to do it, experts say. 'We're not turning them into vegans,' Marty Heller, senior research specialist at the University of Michigan's Center for Sustainable Systems, told ABC News. 'We're just saying, hey, eat something that is an average [carbon] footprint.' The easiest way to make a meal more sustainable is to eat less meat and more organic, plant-based foods — the closer they were grown, the better, according to the experts." • I know that throwing all consumption decisions on the individual is wrong and dumb. At the same time, we see from the success of non-pharmaceutical interventions, small changes in daily life made by hundreds of millions do have impact. No reason not to bring everything to bear on the problem…
The Agony Column
"Invisible gorillas in the mind: Internal inattentional blindness and the prospect of introspection training" [PsyArxiv]. "Making an analogy to perceptual consciousness research, I argue that much of the unconsciousness of high-level cognition is plausibly due to internal inattentional blindness: missing an otherwise consciously-accessible internal event because your attention was elsewhere. In other words, rather than being structurally unconscious, many higher mental processes might instead be "preconscious", and would become conscious if a person attended to them. I synthesize existing indirect evidence for this claim, argue that it is a foundational and largely untested assumption in many applied interventions (such as therapy and mindfulness practices), and suggest that, with careful experimentation, it could form the basis for a long-sought-after science of introspection training."
Book Nook
"Orwellian Propaganda on 1984" [Historic.ly]. "I posit that George Orwell was describing a different government. A government more familiar to him. Like many authors, Orwell drew bits and pieces from his experience when creating this dystopian science fiction novel. In 1984, Orwell describes Winston's place of work, the Ministry of Truth. His description was that it was 'startlingly different from any other object in sight. It was an enormous pyramidal structure of glittering white concrete, soaring up, terrace after terrace, 300 meters into the air.' It is a perfect description of the Broadcasting House, where the BBC has its headquarters since 1932. George Orwell worked as a radio producer for the BBC during World War II. He hated his time at the BBC and described it as, "something half-way between a girls' school and a lunatic asylum.'" And the clincher: "Room 101 is a torture chamber. Room 101 was also the conference room at BBC, where Orwell had to sit through unending meetings. Presumably, any transgression would be followed by a lecture from the manager."
Guillotine Watch
"The Suburbs Beckoned, but They Found a Way to Stay in the City" [New York Times]. "For Ralph and Shamita Etienne-Cummings, the suburbs have long held a certain allure — especially since 2010, when their son, Blaze, was born and Mr. Etienne-Cummings's mother moved into their 1876 rowhouse in Washington, D.C. 'Space became more of a premium,' Ms. Etienne-Cummings said. Her husband, she explained, is 'from Seychelles; I'm from India. Culturally, we always have family that lives with us.' 'Our son grew up walking everywhere with his grandmother,' said Ms. Etienne-Cummings, 52, a lawyer. 'We really wanted to stay in our neighborhood, but definitely needed more space, and that was difficult to do in an area that's already filled up.' In a stroke of luck, the rowhouse next door came on the market in 2016, and to expand laterally and increase their total living space to around 7,000 square feet. Their idea was to merge the two houses into a cohesive whole, with light, open spaces for entertaining. But they knew it wouldn't be easy." • Awwwww! Commentary:
Personally, I can't help judging people by the books on their bookshelves. Wait, never mind. pic.twitter.com/wHm0Hwg977

— Felix Salmon (@felixsalmon) September 27, 2021
Sports Desk
"Beyond the Nation-State" [Boston Review]. "Commentators disagree about the significance of this "post-Westphalian" order, and whether it is desirable for international organizations to intervene in states' affairs is on its own a great source of debate. Yet there is widespread agreement about the events of the story that have taken us to the present moment. The Westphalian conceit, in short, forms the descriptive foundation of dominant analyses of global politics…. The problem with this story is that a lot of it is spectacularly wrong. … Over the last few decades, scholars working on the history of international order—in a variety of disciplines, including global history, international relations, and international law—have shown that this traditional account is not only false but diametrically opposed to historical reality. In fact, the single most famous debunking exercise, Andreas Osiander's 'Sovereignty, International Relations and the Westphalia Myth,' turns twenty this year. As these scholars emphasize, the treaties of the Peace of Westphalia, which put an end to the Thirty Years' War (1618–1648) that devastated Europe, make no mention of state sovereignty or of non-intervention, let alone a desire to reorganize the European political system. Far from enshrining the principle of religious tolerance known as cuius regio eius religio ("whose realm, his religion") that had been put in place with the 1555 Peace of Augsburg, these treaties actually overturned it, finding that it had been the cause of instability. The treaties also make no mention of the concept of the balance of power. In fact, the Peace of Westphalia strengthened a system of relations that was precisely not based on the concept of the sovereign state but instead on a reassertion of the Holy Roman Empire's complex jurisdictional arrangements (landeshoheit), which allowed autonomous political units to form a broader conglomerate (the 'empire') without a central government." • So this is wrong too, OMG:
Better take this out of the curriculum!
Class Warfare
"American Gentry" [Patrick Wyman, The Atlantic]. "The conspicuously consuming celebrities and jet-setting cosmopolitans of popular imagination exist, but they are far outnumbered by a less exalted and less discussed elite group, one that sits at the pinnacle of the local hierarchies that govern daily life for tens of millions of people. Donald Trump grasped this group's existence and its importance, acting, as he often does, on unthinking but effective instinct. When he crowed about his 'beautiful boaters,' lauding the flotillas of supporters trailing MAGA flags from their watercraft in his honor, or addressed his devoted followers among a rioting January 6 crowd that included people who had flown to the event on private jets, he knew what he was doing. Trump was courting the support of the American gentry, the salt-of-the-earth millionaires who see themselves as local leaders in business and politics, the unappreciated backbone of a once-great nation. This class of people exists all over the United States, usually in midsize metropolitan areas such as Yakima, Washington, the agricultural city where I grew up…. Yakima isn't a tiny hamlet; it has a population of about 90,000 and sits at the heart of an extended metropolitan area that's home to nearly a quarter of a million people. Millions of Americans live in small metropolitan areas much like it: exurban, surrounded by rural territory and wilderness, but not exactly isolated in the middle of nowhere…. Yakima's economy revolved then, and revolves to an ever greater extent now, around commercial agriculture. As a result, the whole region is dominated by its wealthy, largely agricultural property-owning class….. The owners have a trusted and reasonably well-paid cadre of managers and specialists in law, finance, and the like—members of the educated professional-managerial class that my close classmates and I have joined—but the large majority of their employees are lower-wage laborers…. These elites' wealth derives not from their salary—this is what separates them from even extremely prosperous members of the professional-managerial class, such as doctors and lawyers—but from their ownership of assets. Those assets vary depending on where in the country we're talking about; they could be a bunch of McDonald's franchises in Jackson, Mississippi; a beef-processing plant in Lubbock, Texas; a construction company in Billings, Montana; commercial properties in Portland, Maine; or a car dealership in western North Carolina. Even the less prosperous parts of the United States generate enough surplus to produce a class of wealthy people. Depending on the political culture and institutions of a locality or region, this elite class might wield more or less political power. In some places, it has an effective stranglehold over what gets done; in others, it's important but not all-powerful." • Readers, what does the local gentry look like where you live?
"Amazon Has to Disclose How Its Algorithms Judge Workers Per a New California Law" [Interesting Engineering]. "On Wednesday, California Governor Gavin Newsom signed a bill into law that will bar 'mega-retailers' like Amazon, from firing warehouse workers for missing quotas, according to the San Francisco Gate. Mega-retailers, those companies that employ more than 1,000 warehouse workers, will now have to disclose how their algorithms judge worker productivity. 'We cannot allow corporations to put profit over people,' Newsom, said in a news release announcing he had signed the law according to the San Francisco Gate. The new law will also ensure that mega-retailers cannot discipline workers for following health and safety laws and will allow employees to sue for suspension of unsafe quotas or combating retaliation. The bill, AB 701, goes into effect on January 1 and gives mega-retailers just 30 days to disclose 'each quota to which the employee is subject.' Mega-retailers will now have to outline 'the quantified number of tasks to be performed, or materials to be produced or handled, within the defined time period, and any potential adverse employment action that could result from failure to meet the quota.'" • We'll see how it goes….
Media consumption by income according to Pew: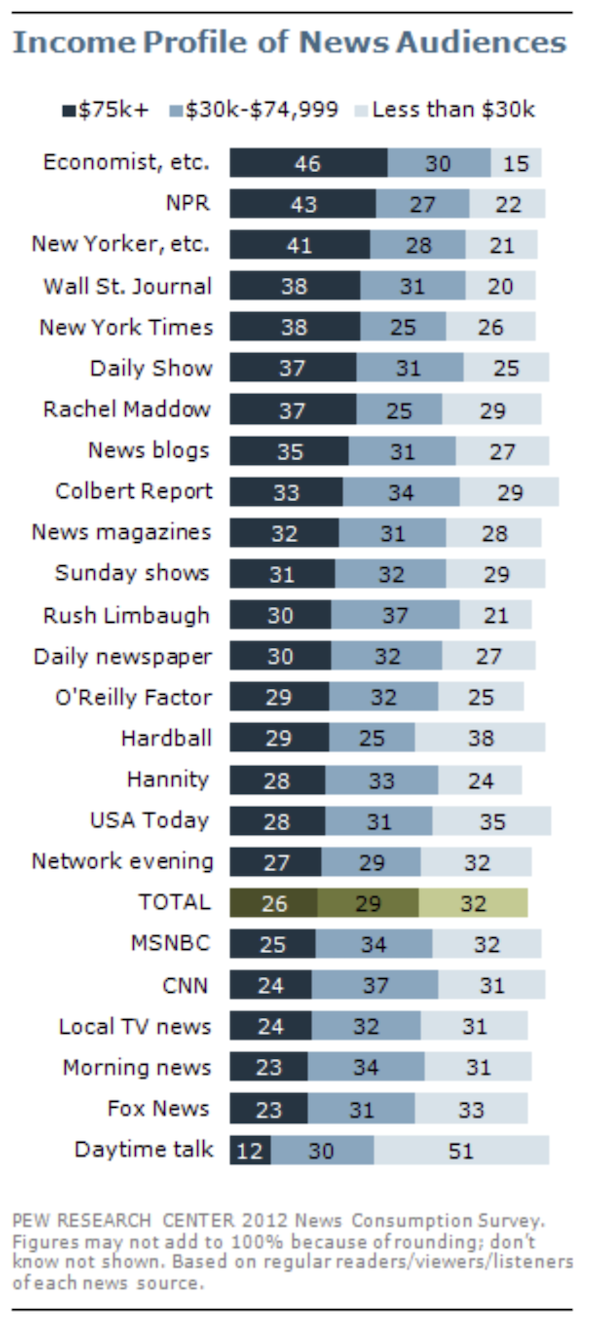 "Indignity Vol. 1, No. 20: The nice kind of calipers." [Indignity]. "And that is all there ever is to phrenology. No evidence can have the power to contradict it, let alone disprove it, because it insists on going where it's designed to go. The existence of genetic differences between populations, any populations—Basque, Dinka, Cornish—proves humans are not the same, which (with a quick wave of the hand) proves that the differences between Black and white people are ordained by nature. [Kathryn Paige Harden] believes, and The New Yorker invited its readers to believe, that it's possible to make this landslide of motivated reasoning flow uphill. It's desirable, even. 'The left's decision to withdraw from conversations about genetics and social outcomes leaves a vacuum that the right has gaily filled," [New Yorker profiler] Lewis-Kraus writes. If liberals and leftists don't inquire into the natural-born basis of human inequality, then they'll leave the job of explaining why inequality is natural to the right-wingers. This is structurally and morally identical to the argument that liberals and leftists must embrace harsh anti-immigrant positions to prevent right-wing xenophobes from attacking immigrants; not surprisingly, the New York Times' studiously reasonable-branded conservative columnist Ross Douthat approves of both. It is important to note here that Harden does not, in fact, study the question of how genes produce social outcomes. Frustrated by the slow progress of assigning clear social results to scientists' ever-more-complicated understanding of how genes operate, the behavior geneticists have simply skipped over the whole 'how' business. Harden's work, Lewis-Kraus explained, relies on the use of the GWAS—genome-wide association study—in which computation is used 'to identify hundreds or even thousands of places in the genome where differences in our DNA sequence could be correlated with a trait or an outcome.' '[E]ven if researchers don't fully understand what they're learning, this is how the genome is used now," an unnamed population geneticist told Lewis-Kraus.'"
News of the Wired
Filing this one away:
"He puts the douche in fiduciary" is going to be a good tweet some day.

— Alice (@AliceFromQueens) September 27, 2021
"Simone Biles Chose Herself 'I should have quit way before Tokyo.'" [New York Magazine]. Nice get. "For an athlete of Biles's ability, the mind remains the most important organ. It tells the body what to do, and the body remembers. Anything that shakes that clear-mindedness is a life-risking liability." • Commentary:
Boom. https://t.co/qXyA8Ka2m5

— deray (@deray) September 27, 2021
Deray, yecccccch. I think Biles has a shining future ahead of her, and it's not necessarily what anybody thinks it might be (especially including horrid "voices" like deray). Who knows, perhaps she won't get corrupted…
* * *
Readers, feel free to contact me at lambert [UNDERSCORE] strether [DOT] corrente [AT] yahoo [DOT] com, with (a) links, and even better (b) sources I should curate regularly, (c) how to send me a check if you are allergic to PayPal, and (d) to find out how to send me images of plants. Vegetables are fine! Fungi and coral are deemed to be honorary plants! If you want your handle to appear as a credit, please place it at the start of your mail in parentheses: (thus). Otherwise, I will anonymize by using your initials. See the previous Water Cooler (with plant) here. Today's plant (PM):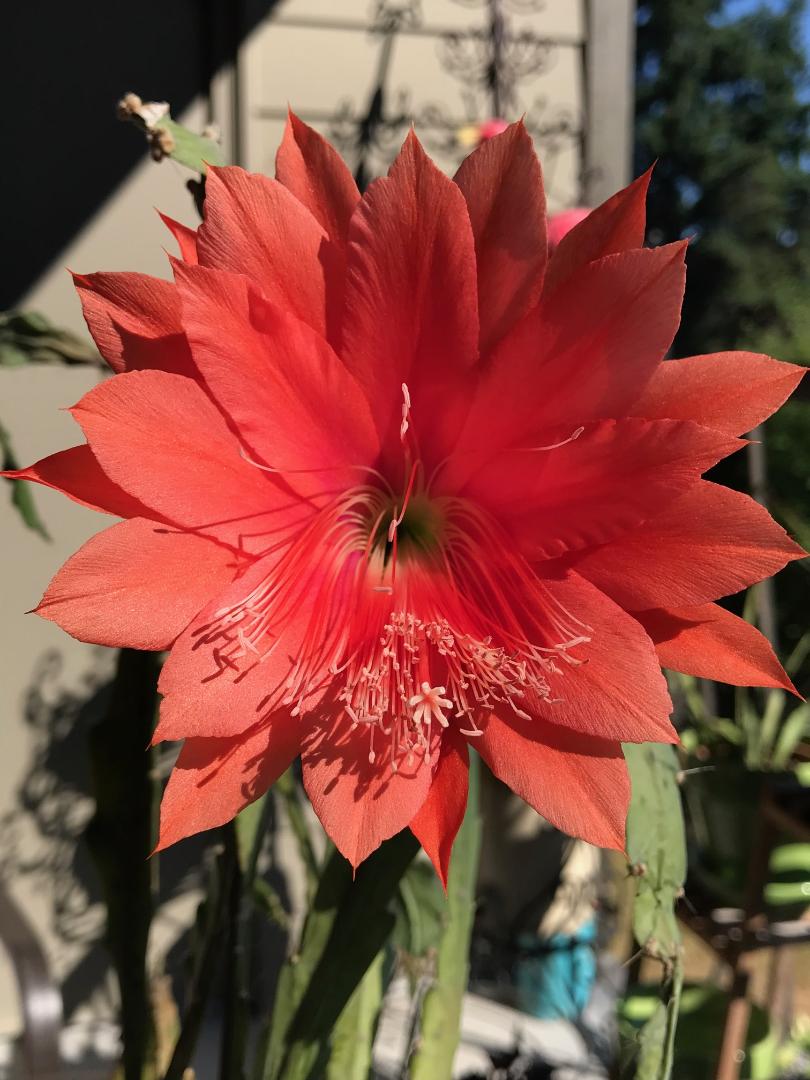 PM writes: "An Epiphyllum. This one blooms once a year for 4-5 days. For the rest of the time it looks very weak."
* * *
Readers: Water Cooler is a standalone entity not covered by the recently concluded and — thank you! — successful annual NC fundraiser. So if you see a link you especially like, or an item you wouldn't see anywhere else, please do not hesitate to express your appreciation in tangible form. Remember, a tip jar is for tipping! Regular positive feedback both makes me feel good and lets me know I'm on the right track with coverage. When I get no donations for five or ten days I get worried. More tangibly, a constant trickle of donations helps me with expenses, and I factor in that trickle when setting fundraising goals:
Here is the screen that will appear, which I have helpfully annotated.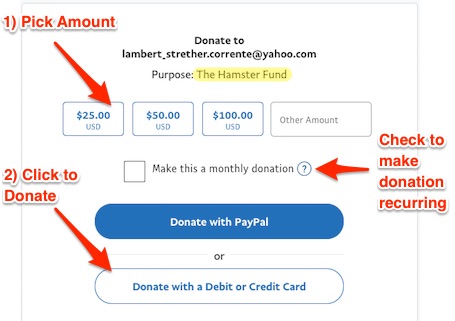 If you hate PayPal, you can email me at lambert [UNDERSCORE] strether [DOT] corrente [AT] yahoo [DOT] com, and I will give you directions on how to send a check. Thank you!2:00PM Water Cooler 6/8/2021