By Lambert Strether of Corrente.
Bird Song of the Day
Amazing jungle chorus! "[L]ow frequency explosive single note in minutes: 2.36, 2.43, 2.51, 2.54 (soft), 2.59 (soft), 3.06 (soft) 3.12. 3.18 3.24 (muy tenue) 3.28."
* * *
#COVID19
At reader request, I've added this daily chart from 91-DIVOC. The data is the Johns Hopkins CSSE data. Here is the site. I feel I'm engaging in a macabre form of tape-watching….
We already start to an instant rebound from Labor Day, I assume because reporting is returning to normal. Nevertheless, Labor Day, as the end of summer, also signals life changes for Americans, so those changes will affect the numbers too. We shall see!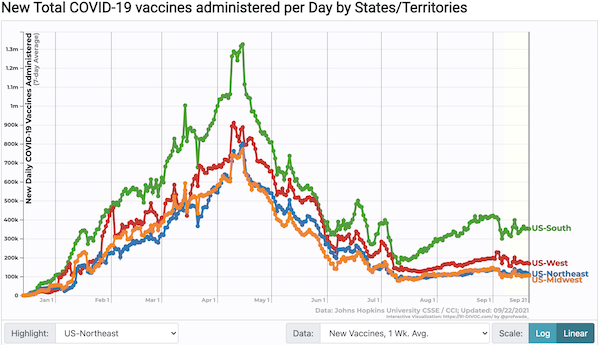 Flat everywhere but the South. Anecdotes aside, we ought to be seeing some pop soon from measures taken after Biden's speech, which was given September 9.
54.8% of the US is fully vaccinated (mediocre by world standards, being just below Czech Republic, and just above Switzerland and Malaysia). We are back to the 0.1% stately rise per day. This is the number that should change if Biden's mandates "work." However, as readers point out, every day those vaccinated become less protected, especially the earliest. So we are trying to outrun the virus… (I have also not said, because it's too obvious, that if by Bubba we mean The South, then Bubba has done pretty well.)
Case count by United States regions: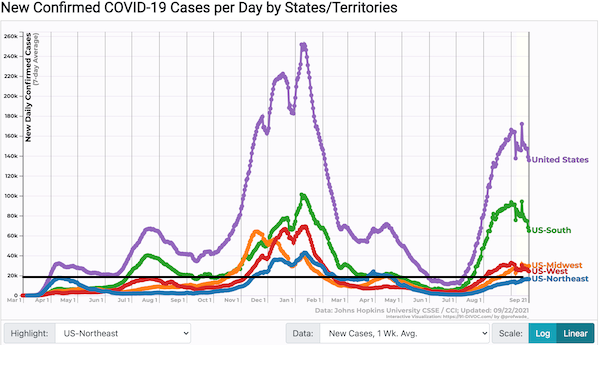 Weirdly choppy, but it does look like we're descending from a peak. Note also that the regions diverge: The South, which drove the peak, is finally dropping. The West was choppy too, and is now falling. However, all this drama has masked the steady rise in the Northeast and Midwest. I have drawn an anti-triumphalist black line to show that the case count in the Northeast today is the same as it was during the crisis of the first peak, in April of last year.
We could get lucky, as we did with the steep drop after the second week in January, which nobody knows the reasons for, then or now. Today's populations are different, though. This population is more vaccinated, and I would bet — I've never seen a study — that many small habits developed over the last year (not just masking). Speculating freely: If the dosage from aerosols drops off by something like the inverse square law, not linearly, even an extra foot of distance could be significant if adopted habitually by a large number of people. And if you believe in fomites, there's a lot more hand-washing being done. On the other hand, Delta is much more transmissible.
NEW From CDC: "Community Profile Report September 20, 2021" (PDF), "Rapid Riser" counties, this release: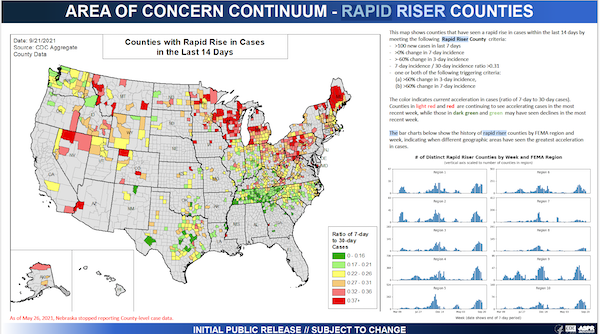 Red in the northern latitudes: Minnesota improves, Wisconsin worse, Michigan holding, Maine worse. Speculating freely: Kids have gone back to school and the windows are closed (Minneapolis, MN ranges from the mid-50s to mid-60s Fahrenheit right now.) Rockies still suffering, Ohio Valley and now Pennsylvania improving. Tennessee feeling great relief, mostly green. Remember, however, that this chart is about acceleration, not absolute numbers. This map, too, blows the "Blame Bubba" narrative out of the water. Not a (Deliverance-style) banjo to be heard. Previous release: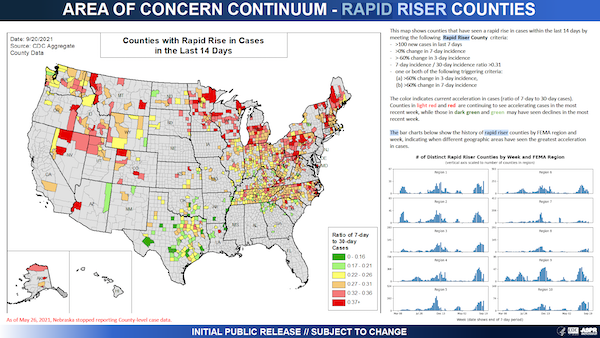 (Red means getting worse, green means bad but getting better.)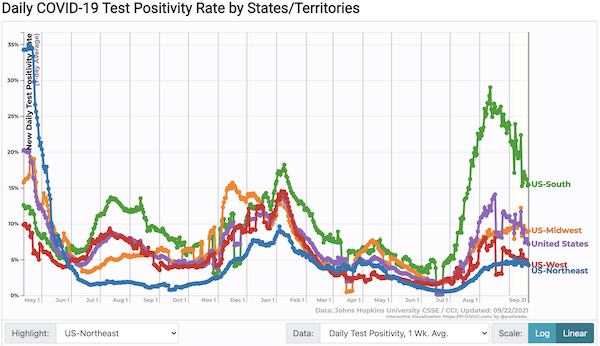 The South, the leader, steadily dropping.
Hospitalization (CDC). Everything works today!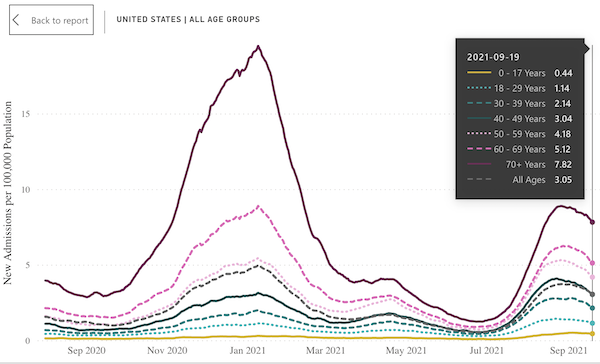 Here the CDC's hospitalization visualization, from the "Community Profile" report above: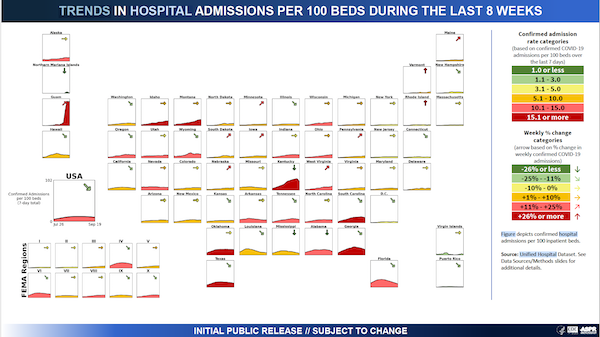 Alabama now headed down, fortunately. Things are picking up in the West.
Death rate (Our World in Data):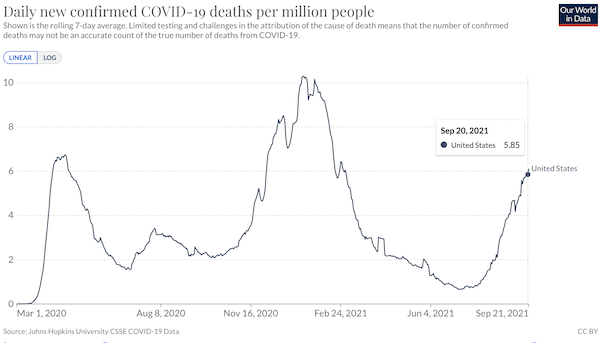 Total: 697,041 694,795. We are approaching the same death rate as our first peak last year. Which I am finding more than a little disturbing. (Adding: I know the data is bad. This is the United States. But according to The Narrative, deaths shouldn't have been going up at all. Directionally, this is quite concerning. Needless to see, this is a public health debacle. It's the public health establishment to take care of public health, not the health of certain favored political factions.) (Also adding: I like a death rate because it gives me a rough indication of my risk should I, heaven forfend, end up in a hospital. I should dig out the absolute numbers, too, now roughly 660,000, which is rather a lot.)
FL: "Florida leads nation in nursing home resident, staff deaths: AARP" [Washington Examiner]. "Florida led the nation in nursing home resident and staff deaths in the four weeks ending Aug. 22, the American Association of Retired People (AARP) reported Wednesday in a 'four-week snapshot' analysis. According to the Florida Fact Sheet webpage accessible via AARP's Nursing Home COVID-19 Dashboard, 237 residents and 13 staff in state nursing homes died from the disease during the span, accounting for 21% of all nursing home resident deaths and 17% of all staff deaths due to the virus nationwide. Meanwhile, Florida's 73.6% vaccination rate of 160,000 residents in 700-plus nursing homes is third-worst among all states except Nevada and Arizona, and its 48.5% vaccination rate among nursing home employees – up 3% from July – is still the nation's lowest percentage other than Louisiana's 47.9% rate."
Covid cases worldwide: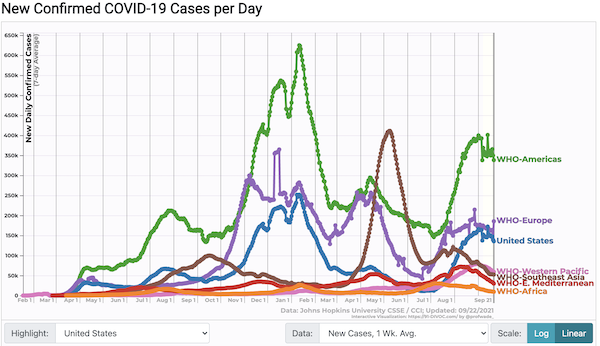 American exceptionalism?
* * *
Politics
"But what is government itself, but the greatest of all reflections on human nature?" –James Madison, Federalist 51
"They had one weapon left and both knew it: treachery." –Frank Herbert, Dune
"They had learned nothing, and forgotten nothing." –Charles Maurice de Talleyrand-Périgord
Biden Administration
UPDATE "$3.5 Trillion Is Not a Lot of Money" [Eric Levitz, New York Magazine]. "Perhaps these lawmakers really would rather see Biden's entire domestic agenda collapse than abet the passage of a $3.5 trillion spending bill. If this position is credible, however, it's anything but moderate. The centrists' stance rests on one basic premise: that the reconciliation bill is radical in both the scale of its spending and the tax increases it entails. The lawmakers' avowed preference for undercutting their own party, and forfeiting all of their own objectives for federal spending, is plainly an extremist position, unless one accepts that the $3.5 trillion bill is extraordinary in scope or content. And yet, by an array of reasonable metrics, Biden's agenda is neither…. [In terms of] immediate, single-year fiscal cost… the Democrats' reconciliation package isn't a $3.5 trillion bill; it's a $350 billion one…. What about its implications for taxes? Just how 'painful' are the leadership's proposed revisions to the tax code? Well, the reconciliation bill would raise the corporate tax rate from 21 percent to 26.5 percent. For context, before Donald Trump took office, America's top corporate rate was roughly 39 percent. In 2012, Mitt Romney campaigned on lowering that rate to 25 percent. So the Democratic leadership's preferred corporate rate is a hair to the left of a Utah Republican's and much to the right of the last Democratic president's. As for individual income taxes, the reconciliation bill would cut taxes for the roughly 90 percent of American households who earn less than $200,000 a year. It would, however, raise the top income tax rate all the way to … where it was under Barack Obama." • A welcome breath of sanity.

"Biden slips into political quicksand amid Haitian migrant buildup" [Politico]. "In the past 24 hours, the White House has responded to images and videos of aggressive tactics used by Border Patrol agents to corral those migrants by supporting an internal investigation into the matter. What it hasn't done, yet, is figure out a solution to the crowding and sanitary issues arising in what's become a makeshift encampment — or stop its policy of deporting migrants upon arrival. That's left the president and his team with few supporters and allies." • Lol, I thought they put Harris on that. Oh well, nevertheless. Interesting the way it became open season on Biden as soon as he ended a war.

UPDATE "Officials: Many migrants from border camp staying in US" [Associated Press]. "Many Haitian migrants camped in a small Texas border town are being released in the United States, two U.S. officials said, undercutting the Biden administration's public statements that the thousands in the camp faced immediate expulsion. Haitians have been freed on a 'very, very large scale' in recent days, according to one U.S. official who put the figure in the thousands. The official, who has direct knowledge of operations, was not authorized to discuss the matter Tuesday and spoke on condition of anonymity. Many have been released with notices to appear at an immigration office within 60 days, an outcome that requires less processing time from Border Patrol agents than ordering an appearance in immigration court and points to the speed at which authorities are moving, the official said. The Homeland Security Department has been busing Haitians from Del Rio to El Paso, Laredo and the Rio Grande Valley along the Texas border, and this week added flights to Tucson, Arizona, the official said. They are processed by the Border Patrol at those locations." • Well, Haitian Revolution -> Louisiana Purchase -> Manifest Destiny. So it's not like we don't owe Haiti anything….

From BoJo's visit, this is odd:

As Johnson finished his own answer to the 3rd question about his reluctance, senior White House aides began shouting, seemingly cutting off the PM. We were then escorted from the Oval Office.

— Ed O'Keefe (@edokeefe) September 21, 2021

White House aide shouting, let alone shouting at the press? What?

"Thousands of teachers rejected for public service loan forgiveness program, new data shows" [Politico]. "Thousands of teachers have been rejected for federal student loan forgiveness because they could not get the government to approve their work as public service, a key requirement for the long-troubled program, according to new data shared with POLITICO. In some cases, educators were rejected for seemingly minor mix-ups, such as checking the wrong box or missing a date next to a signature. Others were rejected on the basis that their school did not qualify as a public service employer, according to the data. The disclosure suggests further bureaucratic problems with the management of the Public Service Loan Forgiveness program, which has come under fire from Democrats in recent years for rejecting more than 98 percent of all borrowers who applied. Much of the controversy has centered on borrowers being rejected because they had the wrong type of federal loan or enrolled in the wrong repayment plan. But the new data shows, in granular detail for the first time, how the Education Department has rejected teachers and other school employees even though there's no dispute that teachers qualify under the law." • If teachers were seen as professionals, this wouldn't be happening. Stoller comments:

The government staff at the Department of Education do not want to forgive this debt. We have a serious civil service problem everywhere. It's not polite to say it but Trump was right about the deep state. https://t.co/FgdVHu7BJ8

— Matt Stoller (@matthewstoller) September 22, 2021

I reject "deep state" as a concept, but in effect, this is correct.
Democrats en Deshabille
"The Decline of the Working-Class Voter" [Ross Barkan, Political Currents]. On the New York mayoralty election. "[Kathryn Garcia and Maya Wiley] together racked up far more first-place votes than Adams in the ranked-choice voting primary, the first of its kind in a citywide contest. , compared to Adams's roughly 31 percent. The ranked-choice tabulation, in subsequent rounds, would have only favored this hypothetical candidate more. When absentee votes were counted, Garcia came one percentage point away from defeating Adams outright. She did this without the support of most major labor unions, elected officials, and political clubs, defying many of the traditional institutions that uplift municipal Democrats. For the many New Yorkers who still fancy their city a working-class hub, a place where bus drivers and custodians and home health aides can survive and even thrive, the results of the Democratic primary might be quietly unsettling. Garcia and Wiley, together, demonstrated that another city has taken shape, one with the power to rival or even eclipse working-class New York. Garcia nearly became mayor, even as Adams trounced her in low-income communities of color. Wiley, who is Black, also outpaced Garcia there, but never enough to be seriously competitive with Adams. Affluent, college-educated voters—renters and homeowners, white and nonwhite alike—are now a force in local Democratic primaries. The gentrifying neighborhoods of western Queens and northern Brooklyn, long derided as outposts for hipster transients, have become legitimate voting blocs, with the power to tilt future citywide elections. And the higher-income neighborhoods, like the Upper West Side and Park Slope, that have always produced robust turnout continue to punch at their weight or even above it."
2022
"Democrats launch $30 million field organizing program to keep Senate control in 2022" [NBC]. "enate Democrats are accelerating their 2022 midterm election efforts with a $30 million field organizing push targeting nine states that will help determine control of the chamber. The program, Defend the Majority, details of which were shared with NBC News, represents the Democratic Senatorial Campaign Committee's largest financial commitment this early in a cycle, officials with the group said… Democrats control the Senate with Vice President Kamala Harris' tiebreaking vote. The chamber's even split guarantees expensive and competitive races next year. Democrats hope to grow their majority and take away leverage from moderates like Sen. Joe Manchin, D-W.Va. Republicans seek to regain a majority that can block President Joe Biden's agenda." • I would be extremely surprised to learn that the DSCC wants to take away leverage from Joe Manchin.
Republican Funhouse
UPDATE "People close to Trump say he 'wants back' in national spotlight: report" [The Hill]. "'And you start to hear a certain refrain from people who really know him, that he wants back, that he feels he has the political capital with his core supporters,' [Robert] Costa said Tuesday during an appearance on MSNBC's 'Morning Joe.' 'He likes playing golf and he jokes; he's off Twitter and he has more time.' Trump believes the Republican Party is still very much in his grip, Costa said and that 'people are going to war with him at the highest rank of the party.' 'And this time, even though there are others out there with ambition like Vice President Pence, Florida Gov. Ron DeSantis, it's president Trump who really wants back, based on our own reporting,' Costa added. Trump has not announced whether he plans to run for president again in 2024, but allies and top operatives are reportedly preparing for a scenario in which he does." • "The man must die. He tried to help my enemies." –Baron Harkonnen. Now, I can see Trump wanting revenge (and it is true that cauterizing the intelligence community and the Washington press corp as richly deserved revenge for RussiaGate might not be such a bad thing). But does Trump really want to do the work it would take? I can't see it.

"Kevin McCarthy's Extreme MAGA Makeover" [Rolling Stone]. "For four years, McCarthy dutifully served as one of Trump's most loyal wingmen in Congress, defending the president after the latest racist tweet, running interference in both impeachment cases, and generally making himself available to do whatever necessary to defend the MAGA cause. When Trump tumbled down the conspiratorial rabbit hole after the last election, McCarthy followed after him, adding his name to a long-shot lawsuit seeking to overturn the result in several blue states and voting to invalidate the vote count in Arizona and Pennsylvania mere hours after the January 6th insurrection. McCarthy's alliance with Trump has served him well: He now stands at the precipice of becoming the most powerful member in Congress, next in line to be speaker of the House if the GOP wins back the majority in 2022. Yet McCarthy's embrace of MAGAdom is rich with irony. Long before he was 'my Kevin,' McCarthy was a 'Young Gun' conservative, the face of a new generation alongside the likes of Paul Ryan and Eric Cantor (remember him?) that couldn't be more aligned with big business and the K Street crowd. McCarthy was the swampy Beltway creature that Trump raged against, the kind of Republican who was more at ease at a corporate fundraiser than a tarmac rally, the sort of insider who said behind closed doors that Trump was on Russian President Vladimir Putin's payroll. (He later said he was joking.)" • Oh, and speaking of rabbit holes, so-called–
RussiaGate
"New Proof Emerges of the Biden Family Emails: a Definitive Account of the CIA/Media/BigTech Fraud" [Glenn Greenwald]. "A young reporter for Politico, Ben Schreckinger, has published a new book entitled "The Bidens: Inside the First Family's Fifty-Year Rise to Power." To his great credit, he spent months investigating the key documents published by The New York Post and found definitive proof that these emails and related documents are indisputably authentic. His own outlet, Politico, was the first to publish the CIA lie that this was 'Russian disinformation,' but on Tuesday — without acknowledging their role in spreading that lie — they summarized Schreckinger's findings this way: the book 'finds evidence that some of the purported Hunter Biden laptop material is genuine, including two emails at the center of last October's controversy.' In his book, the reporter recounts in these passages just some of the extensive work he did to obtain this proof:

A person who corresponded with Hunter in late 2018 confirmed to me the authenticity of an email in the cache. Another person who corresponded with Hunter in January 2019 confirmed the authenticity of a different email exchange with Hunter in the cache. Both of these people spoke on the condition of anonymity, citing fears of being embroiled in a global controversy.

The Greenwald article is a must-read, because it lays out the whole sorry episode in detail. Greenwald comments:

A key point: the same media outlets that spread the CIA lies that this was "Russian disinformation" — all to protect Biden — are the same ones now who insist they *combat* disinformation and need to censor the internet to protect you from it. Look at what slimy frauds they are: pic.twitter.com/ElyIX8z4bB

— Glenn Greenwald (@ggreenwald) September 22, 2021

Of course, you can well imagine what would be happening if this was a story about Trump instead of Biden. The moral panic would have been instant, and would have gone on for weeks. I also wonder what a Venn diagram of "horse paste" people vs. "It's Russian disinformation!" people would be. Not a circle, I would think. But pretty close to one! Certainly Maddow is in the overlap.
Stats Watch
Housing: "United States Existing Home Sales" [Trading Economics]. "Existing-home sales in the US unexpectedly declined by 2% mom to 5.88 million in August of 2021, well below market forecasts of 5.89 million as prices grew further and supply remained tight. Each of the four major U.S. regions experienced declines on both a month-over-month and a year-over-year perspective, breaking a two-month streak of increases."
* * *
The Bezzle: "Facebook says it underreported ad performance due to Apple's iPhone privacy update" [CNBC]. "Facebook estimated it underreported web conversions on Apple's iOS by about 15% in the third quarter, noting there's a 'broad range' for different advertisers. 'We believe that real world conversions, like sales and app installs, are higher than what is being reported for many advertisers," Graham Mudd, vice president of product marketing at Facebook, wrote in a blog post. Facebook shares were down more than 3% on Wednesday morning. Facebook CFO David Wehner warned of the potential effect of the iOS changes on the company's July earnings call, saying he expected to see a greater impact from the changes in the third quarter." • Hmm. I would say that if Facebook didn't take a hit, what Apple did isn't working.
Tech: "The porn industry turns to K Street to fight Trump-fueled internet regulations" [Politico]. "A trade organization for the adult entertainment industry has hired a D.C. lobbying firm to build its relationships with lawmakers and to advocate on behalf of key policies that affect the industry. Most notably it is trying to beat back major changes to Section 230 of the Communications Decency Act — a shield for internet platforms that safeguards them from liability for what their users post. The provision has become a flashpoint for conservatives after former President Donald Trump seized on the issue as a means of firing back at the platforms that have policed his posts. Like the large and powerful social media companies, the porn industry says that Section 230 is key to its ability to exist. The same law that protects Instagram and YouTube from being sued over illegal content posted by its users — such as threats or hate speech — also protects sites like PornHub and OnlyFans from their own unlawful content, like child pornography or revenge porn."
Tech: "File Not Found" [The Verge]. The deck: "A generation that grew up with Google is forcing professors to rethink their lesson plans." "Catherine Garland, an astrophysicist, started seeing the problem in 2017. She was teaching an engineering course, and her students were using simulation software to model turbines for jet engines. She'd laid out the assignment clearly, but student after student was calling her over for help. They were all getting the same error message: The program couldn't find their files. Garland thought it would be an easy fix. She asked each student where they'd saved their project. Could they be on the desktop? Perhaps in the shared drive? But over and over, she was met with confusion. "What are you talking about?" multiple students inquired. Not only did they not know where their files were saved — they didn't understand the question. Gradually, Garland came to the same realization that many of her fellow educators have reached in the past four years: the concept of file folders and directories, essential to previous generations' understanding of computers, is gibberish to many modern students. Professors have varied recollections of when they first saw the disconnect. But their estimates (even the most tentative ones) are surprisingly similar. It's been an issue for four years or so, starting — for many educators — around the fall of 2017." • Agnotology! I can't imagine not knowing where my data is stored. Remarkable. It's like not knowing where to put the bread in a toaster. And I wouldn't call students who lack this knowledge jackpot-ready. I would, however, call them jackpot-compliant.
Supply Chain: This thread on the supply chain from last year is terrific. Here is a nugget:
A single shipment importing to/exporting from the US is going to have some/all of the following entities involved:

Shipper
Consignee
Third parties (forwarder/customs broker)
US Customs
Ocean carrier
Port
Terminal at port
Drayman (trucker)
Railroad
Chassis provider

5/

— HUNTSMAN 🇺🇸 (@man_integrated) March 20, 2020
I seem to recall some wannabe unicorns wanted to do all this with an app a year or so ago. That died quickly. Here is the start of the thread. Do read it all:
🚢𝐏𝐞𝐛𝐛𝐥𝐞 𝐈𝐧 𝐓𝐡𝐞 𝐏𝐨𝐧𝐝

The US, above all, depends on its ports to keep the retail supply chains moving – we are a net importer, with a trade deficit of $600B for 2019.

What happens if the ports – our lifeblood – are bottlenecked?

Thread. pic.twitter.com/z63lrr7pTa

— HUNTSMAN 🇺🇸 (@man_integrated) March 20, 2020
Note, again, that Huntsman asked this excellent question a year ago.
Concentration: "ShortageWatch: 'Sorry. No French Fries with any order. We have no potatoes.'" [Matt Stoller, BIG]. This is a must-read. Buckle up. "In the last BIG issue, I asked you for help identifying shortages in your neck of the woods. Hundreds of you responded, so I'll talk about some of the shortage stories you are sharing, as well as how this problem is resonating among policymakers. My favorite story is quintessentially American, and un-American, at the same time. It's from a Florida realtor who was in a hurry and stopped at a Burger King for lunch. He saw a sign, 'Sorry. No French Fries with any order. We have no potatoes.' At first he thought he was imagining things. What kind of fast food place runs out of fries? Is this, he wondered, a sign of things to come? It's a good question. Fast food exists in a land of plenty, of surplus, of mass produced food with a reliable infrastructure of trucks, trains, farms, and distributors. Shortages of everyday goods conflicts not only with most of our lived experiences, but also with our very conception of who we are. There's a name for this framework, and it's called affluence…. So what is happening in the case of this particular Burger King? It's hard to say, but the problem is clearly widespread. Taco Bell, Chick-fil-A, and Starbucks are having trouble sourcing ingredients, as are school and college cafeterias….. One culprit is the food distribution industry, which is highly consolidated (due to the standard litany of anti-competitive tactics like mergers and exclusive contracts with customers and suppliers). … If you listen to transportation executives, they'll tell you the real cause. "It comes down to money for drivers in many respects," said Mark McKendry, regional vice president of intermodal at NFI Industries. 'If we get the pay right, you know, we'll have a little more flexibility.' Driving a truck, which used to be a middle class job in the 1970s, has become a cyclical low-paid profession with high burnout and little stability, a so-called 'sweatshop on wheels.' While it's tempting to blame this situation on trucking firms, the reality is that the problem is due to the market structure of transportation created by the deregulation of the 1970s." • I note that Stoller was adopted the NC tactic of asking the readers. And this makes sense, because we don't have any data.
Mr. Market:
was evergrande zoonotic or a lab leak?

— Steve Randy Waldman (@interfluidity) September 22, 2021
* * *
Today's Fear & Greed Index: 26 Fear (previous close: 23 Extreme Fear) [CNN]. One week ago: 36 (Fear). (0 is Extreme Fear; 100 is Extreme Greed). Last updated Sep 22 at 12:50pm. Suddenly Evergrande looks like it's not contagious?
The Biosphere
"Extinction of Indigenous languages leads to loss of exclusive knowledge about medicinal plants" [Monga Bay]. "Many of today's mass-market medications are derived from medicinal plants. They range from acetylsalicylic acid—commonly known as aspirin, whose active ingredient is extracted from white willow (Salix alba L.)—to morphine, which is extracted from poppies (Papaver somniferum). As Indigenous groups traditionally rely on the spoken word for intergenerational knowledge transfer, the disappearance of these languages will take with it a universe of information. The study's scientists analyzed 3,597 vegetal species with 12,495 medicinal uses and linked this data with 236 Indigenous languages from three biologically and culturally diverse regions—the northwestern Amazon, New Guinea and North America. From this, they concluded that in these regions, 75% of the medicinal uses for medicinal plants are known in only one language. 'We found that those languages with unique knowledge are the ones at a higher risk of extinction,' says [Jordi Bascompte, researcher in the Department of Evolutional Biology and Environmental Studies at the University of Zurich]. 'There is a sort of a double-problem in terms of how knowledge will disappear.' The Americas stood out in the study as a hotspot for Indigenous knowledge in which most of the medicinal knowledge is linked to endangered languages, and the northwestern Amazon particularly proved to be a prime example of the double-problem mentioned by Bascompte. The study evaluated 645 plant species and their medicinal uses according to oral tradition in 37 languages and found that 91% of this knowledge exists in a single language only. Therefore if a language is extinguished, as could happen with many in the Amazon in coming years, the medicinal knowledge therein will also die."
Health Care
"CDC Stands Up New Disease Forecasting Center" (press release) [CDC]. "Today, the Centers for Disease Control and Prevention (CDC) is announcing a new center designed to advance the use of forecasting and outbreak analytics in public health decision making. Once established, the Center for Forecasting and Outbreak Analytics will bring together next-generation public health data, expert disease modelers, public health emergency responders, and high-quality communications, to meet the needs of decision makers. The new center will accelerate access to and use of data for public health decision-makers who need information to mitigate the effects of disease threats, such as social and economic disruption. The center will prioritize equity and accessibility, while serving as a hub for innovation and research on disease modeling." • American Rescue Plan funding.
"Can we learn lessons from the FDA's approval of aducanumab?" [Nature Reviews]. "On 7 June 2021, aducanumab was granted accelerated approval for the treatment of Alzheimer disease (AD) by the FDA on the basis of amyloid-lowering effects considered reasonably likely to confer clinical benefit. This decision makes aducanumab the first new drug to be approved for the treatment of AD since 2003 and the first drug to ever be approved for modification of the course of AD. Many have questioned how scientific evidence, expert advice and the best interests of patients and families were considered in the approval decision. In this article, we argue that prior to approval, the FDA and Biogen's shared interpretation of clinical trial data — that high-dose aducanumab was substantially clinically effective — avoided conventional scientific scrutiny, was prominently advanced by patient representative groups who had been major recipients of Biogen funds, and raised concerns that safeguards were insufficient to mitigate regulatory capture within the FDA." • Ouch.
"Hospital ICUs At Capacity With Reporters Covering Anti-Vaxxers Dying From Covid" [The Onion]. • Never happened with opioids, I would imagine because the press didn't feel personally endangered.
Household Tips
"How to Buy Clothes That Are Built to Last" [New York Times]. Fabric: "As a rule of thumb, thicker fabrics last longer than thinner ones. For T-shirts, you should look for a fabric weight of around six ounces per square yard. 'Imagine a 36 by 36-inch piece, and when you put it on a scale it will weigh six ounces,' said Sean Cormier, a professor at the Fashion Institute of Technology. Since most of us don't go shopping with a scale, it's easier to simply put a hand between the top and bottom layer of the T-shirt. If you can see through it, it's too thin. The hand rule applies to things like button-down shirts and sweaters as well. If you can see your hand through it, it's too thin." And stitching: "It's important to make sure your clothes are stitched together well. For bras, Ms. Harrington recommends, 'making sure your stitches are even, that you don't have skipped stitches or loose stitches or places where you already see the stitching coming apart.'" • I was also taught, years and years ago, to test for 100% cotton: Pull out a thread and put a match to it. If any part of the thread melts, it's not 100% cotton. Readers will no doubt have other suggestions.
The first good reason I've heard for men to wear makeup:
the secret to defeating facial recognition with make-up is … contouring? left and right are before and after applying adversarial makeup; an advance over more obvious alterations, though only tested against the ArcFace model https://t.co/JDZYLKa9tU pic.twitter.com/QqYlWfAe6S

— James Vincent (@jjvincent) September 21, 2021
"Adversarial makeup" — great phrase!
Famous Last Words
W.E.B. DuBois:
I have been uplifted by the thought that what I have done well will live long and justify my life; that what I have done ill or never finished can now be handed on to others for endless days to be finished while I rest.

And that peace will be my applause. – W. E. B. Du Bois pic.twitter.com/abtl2rSjiR

— Socialism with Welsh characteristics. (@WelshSocialism) September 22, 2021
It occurs to me that we are governed by elites who don't believe any part of this.
Poetry Nook
In honor of the today's equinox:
FALL

How I love to catch
the falling leaves
in autumn

I
sit

and wait

beneath

the
trees

until

I've

cautumn

— Brian Bilston (@brian_bilston) September 22, 2021
Class Warfare
And then famous Progressive Democrat Woodrow Wilson threw them all in jail:
Extremely interesting map of towns and cities in the US that were governed by socialists between 1900 and 1920. pic.twitter.com/NJPlEXr8jP

— Séamus Malekafzali (@Seamus_Malek) September 22, 2021
News of the Wired
"Scroll" [Ryan Hanson]. • For some reason, the brain geniuses at Apple decided to make the surface of the Mac's Magic Mouse™ — you know, the mouse Apple encourages you to buy two of, by making it impossible to mouse and recharge at the same time — work like a trackpad. In other words, if you rest your fingers on the mouse pad, and then make the slightest movement with them, the "content" on the screen will move too. Needless to say, when I'm doing desktop publishing, that makes me insane, because I rest my fingers on the mouse at all times, preparatory to clicking, and that good habit (minimizing finger motions being one way to avoid carpal) causes my document to randomly jerk around. Anyhow, I very rarely do product endorsements, but this little app makes that behavior go away.
And speaking of UI/UX:
I think one of my favourite skeuomorphs is signalling for the bill in a restaurant by miming writing a check.

— Moose Allain Ꙭ (@MooseAllain) September 21, 2021
Other examples in the thread.
* * *
Readers, feel free to contact me at lambert [UNDERSCORE] strether [DOT] corrente [AT] yahoo [DOT] com, with (a) links, and even better (b) sources I should curate regularly, (c) how to send me a check if you are allergic to PayPal, and (d) to find out how to send me images of plants. Vegetables are fine! Fungi and coral are deemed to be honorary plants! If you want your handle to appear as a credit, please place it at the start of your mail in parentheses: (thus). Otherwise, I will anonymize by using your initials. See the previous Water Cooler (with plant) here. Today's plant (johnnyme):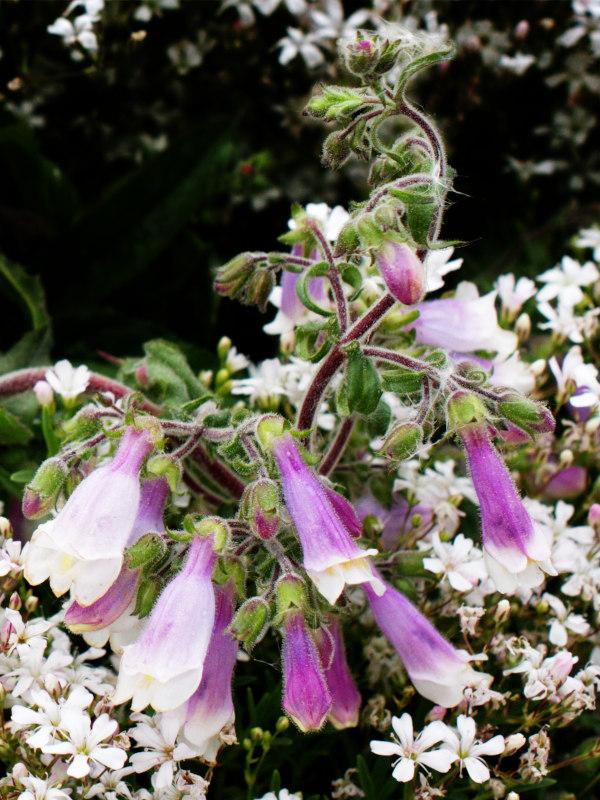 I forget the name of this flower, but I've always liked the way the furry stems catch the light, particularly late in the afternoon.
* * *
Readers: Water Cooler is a standalone entity not covered by the recently concluded and — thank you! — successful annual NC fundraiser. So if you see a link you especially like, or an item you wouldn't see anywhere else, please do not hesitate to express your appreciation in tangible form. Remember, a tip jar is for tipping! Regular positive feedback both makes me feel good and lets me know I'm on the right track with coverage. When I get no donations for five or ten days I get worried. More tangibly, a constant trickle of donations helps me with expenses, and I factor in that trickle when setting fundraising goals:
Here is the screen that will appear, which I have helpfully annotated.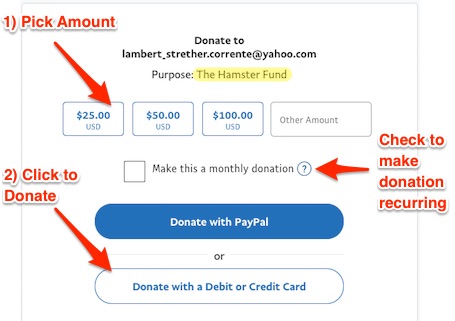 If you hate PayPal, you can email me at lambert [UNDERSCORE] strether [DOT] corrente [AT] yahoo [DOT] com, and I will give you directions on how to send a check. Thank you!2:00PM Water Cooler 6/8/2021