By Lambert Strether of Corrente.
Patient readers, I will return with more on the overly dynamic Capitol Hill situation shortly. –lambert
Bird Song of the Day
Papua New Guinea is so noisy and busy!
* * *
#COVID19
At reader request, I've added these daily charts from 91-DIVOC. The data is the Johns Hopkins CSSE data. Here is the site. I feel I'm engaging in a macabre form of tape-watching….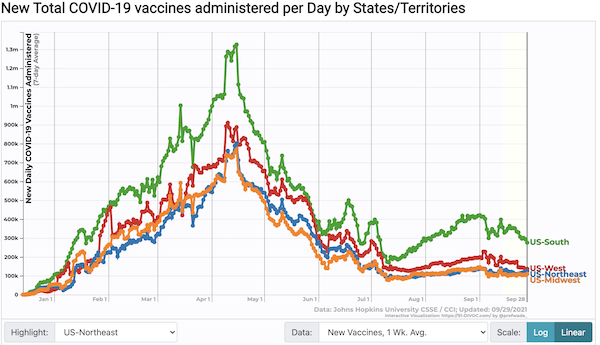 Now going down everywhere, including the South. So far as I can tell, Biden's speech had no impact at all. If the measures he announced have any impact, that has not appeared yet. I would bet that the stately rise = word of mouth from actual cases.
55.8% of the US is fully vaccinated (mediocre by world standards, being just below Czech Republic, and just above Switzerland and Malaysia). We had been back to the stately 0.1% rise per day. 0.3% is the first non-Monday jump in that rate I can recall. Since is the number that should change if Biden's mandates "work," perhaps the mandates are having some effect. However, as readers point out, every day those vaccinated become less protected, especially the earliest. So we are trying to outrun the virus… (I have also not said, because it's too obvious, that if by Bubba we mean The South, then Bubba has done pretty well.)
Case count by United States regions: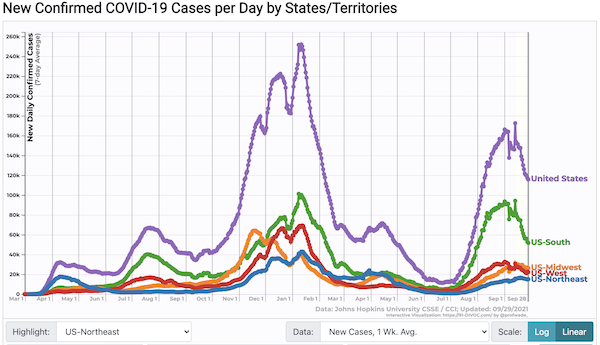 Simply tape-watching, this descent is as steep as any of the three peaks in November–January. It's also longer than the descent from any previous peak. The question is whether we will ascend to a second (or third) peak, as in last December-January, or not, as in last August. Note also that the regions diverge: The South, which drove the peak, is finally dropping. The West was choppy too, and is now falling. Ditto the Midwest. However, all this drama has masked the steady rise in the Northeast.
We could get lucky, as we did with the steep drop after the second week in January, which nobody knows the reasons for, then or now. Today's populations are different, though. This population is more vaccinated, and I would bet — I've never seen a study — that many small habits developed over the last year (not just masking). Speculating freely: There is the possibility that natural immunity is much, much greater than we have thought, although because this is America, our data is so bad we don't know. Also, if the dosage from aerosols drops off by something like the inverse square law, not linearly, even an extra foot of distance could be significant if adopted habitually by a large number of people. And if you believe in fomites, there's a lot more hand-washing being done. On the other hand, Delta is much more transmissible. And although readers will recall that I have cautioned against cross-country comparisons, I'm still not understanding why we're not seeing the same aggregates in schools that we've see in Canada and especially the UK, despite anecdotes. Nothing I've read suggests that the schools, nation-wide, have handled Covid restrictions with any consistency at all.
NEW From CDC: "Community Profile Report September 27, 2021" (PDF), "Rapid Riser" counties, this release: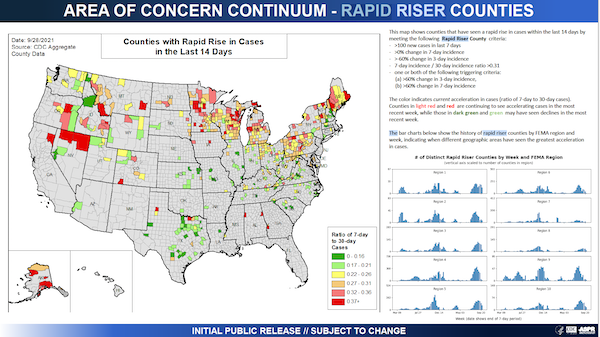 Better everywhere, including the Northern Latitudes and even the Rockies. Speculating freely: One thing the consider is where the red is. If air travel hubs like New York City or Los Angeles (or Houston or Miami) go red that could mean (a) international travel and (b) the rest of the country goes red, as in April 2020 and following. But Minnesota is not a hub. If Minnesota goes red, who else does? Well, Wisconsin. As we see. Remember, however, that this chart is about acceleration, not absolute numbers. This map, too, blows the "Blame Bubba" narrative out of the water. Not a (Deliverance-style) banjo to be heard. Previous release: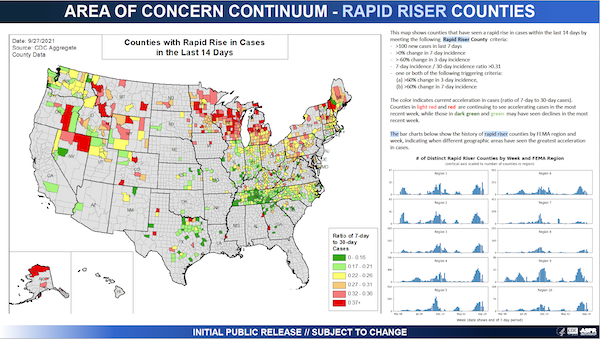 (Red means getting worse, green means bad but getting better.)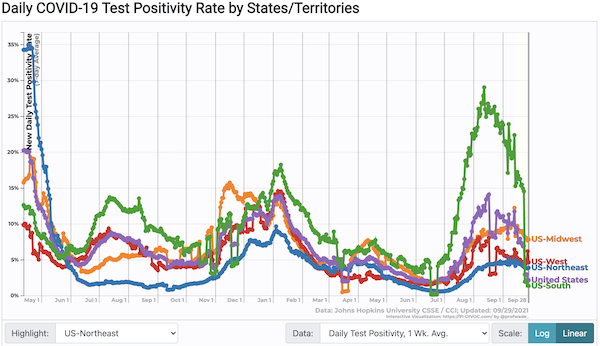 An unprecedented, enormous drop in the South. Almost no rebound. Surely data? It seems not. I've never seen anything like it.
Hospitalization (CDC). Everything works again today, CDC, good job: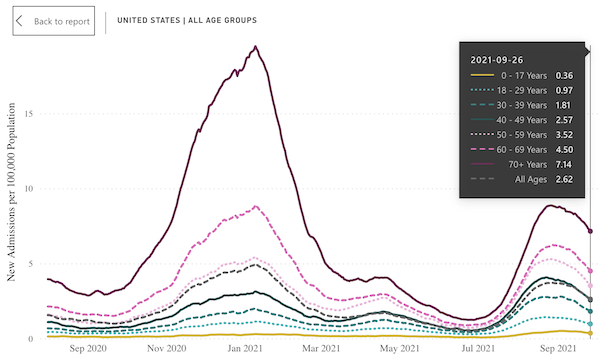 From this chart, pediatric hospitalization, in the aggregate, is down. I should dig out some regional or better yet county data.Here the CDC's hospitalization visualization, from the "Community Profile" report above: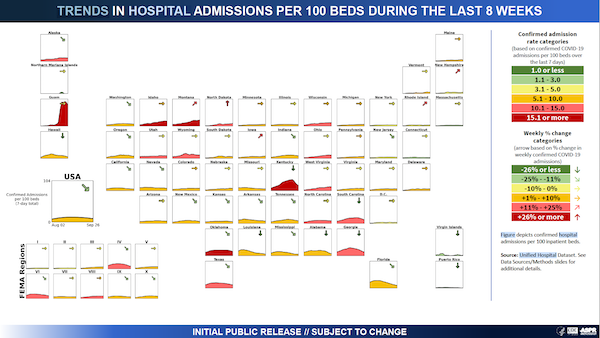 Alabama now out of the red.
Death rate (Our World in Data):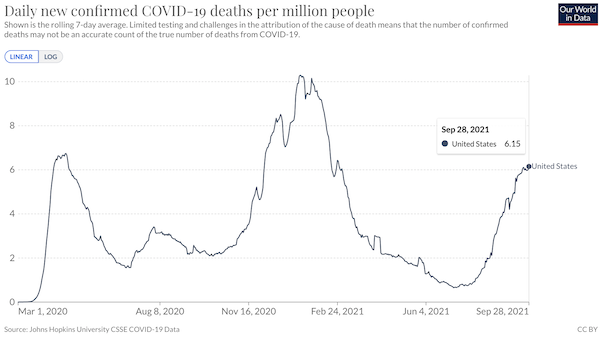 Total: 711,222 709,218. Now it's gone up…. Looks like a downward trend, mercifully. We approached same death rate as our first peak last year. Which I am finding more than a little disturbing. (Adding: I know the data is bad. This is the United States. But according to The Narrative, deaths shouldn't have been going up at all. Directionally, this is quite concerning. Needless to see, this is a public health debacle. It's the public health establishment to take care of public health, not the health of certain favored political factions.) (Also adding: I like a death rate because it gives me a rough indication of my risk should I, heaven forfend, end up in a hospital. I should dig out the absolute numbers, too, now roughly 660,000, which is rather a lot.)
Covid cases worldwide: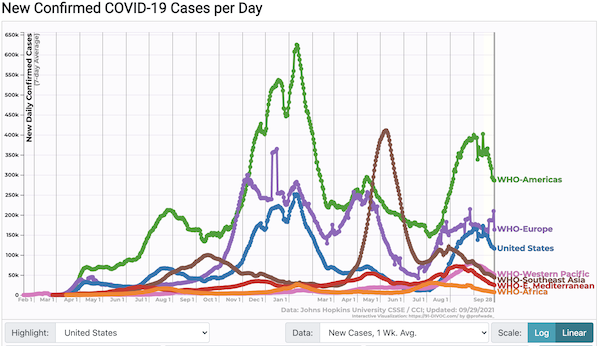 European exceptionalism?
* * *
Politics
"But what is government itself, but the greatest of all reflections on human nature?" –James Madison, Federalist 51
"They had one weapon left and both knew it: treachery." –Frank Herbert, Dune
"They had learned nothing, and forgotten nothing." –Charles Maurice de Talleyrand-Périgord
Biden Administration
NOTE: Time-stamps are publication dates, not event dates. Nevertheless, they approximate the sequence of events.

Life's rich pageant:

[09-29, 13:51PM] "Democrats expect Pelosi will reschedule infrastructure vote" [The Hill]. "Two Democratic senators say they expect Speaker Nancy Pelosi (D-Calif.) to cancel a scheduled vote Thursday on the $1 trillion bipartisan infrastructure bill, saying she will not have the votes to get it passed. The two Democratic senators said they had been in contact with House members and that they did not believe the votes would be there for the bill with at least two-dozen progressives planning to vote 'no' on infrastructure without a separate vote on a larger social spending package. 'They will not pass it on Thursday. Enough of the House members understand that they would be gutting the Build Back Better agenda,' said a Democratic lawmaker familiar with the internal discussions.' '.' We're pretty sure she won't put it up for a vote. She'll meet with the moderates and she'll say, 'Listen, I don't put these things up when the votes aren't there. It doesn't help your cause to see it fail, it doesn't help the president to see it fail,'' one of the two senators said. Pelosi had promised the bill would receive a vote on Monday and then delayed the vote to Thursday." • Big if true, since (a) this would mean that Pelosi can't count, and (b) "progressives" muscled her, implying (c) that Jayapal can count. Of course, the anonymous Senators could be hoping that saying these words will make them come true…

[09-29, 13:19PM] "Pelosi defuses debt standoff with centrists, turns to rest of crises" [Politico]. "During a closed-door meeting Wednesday morning, a furious Pelosi chided roughly half a dozen moderates who had been privately threatening to tank a measure to hike the debt limit, which they saw as a pointless political maneuver with the Senate GOP firmly opposed, according to several people listening… By lunchtime Wednesday, Democratic leaders had struck a deal with those centrists — led by Reps. Stephanie Murphy (D-Fla.) and Kathleen Rice (D-N.Y.) — to secure the votes for the debt limit raise. In exchange, Pelosi offered a vote on a measure that would essentially create a report card on the nation's fiscal standing." • Oh. A report.

[09-29, 12:53PM] "Pelosi signals House vote on bipartisan infrastructure bill may not occur Thursday" [MarketWatch]. "Speaker Nancy Pelosi on Wednesday suggested the U.S. House of Representatives may not vote Thursday as planned on a $1 trillion bipartisan infrastructure bill, as she and her fellow Democrats struggle to reach agreements on their spending proposals…. Progressive House Democrats continue to say they won't support the infrastructure bill unless the party's $3.5 trillion package targeting 'human infrastructure' moves ahead in tandem, but moderate Democratic senators are opposed [***cough*** ka-ching ***cough***] to the larger measure's price tag. 'There was this, 'Oh, my God, we can't go to that number. Well, that completely sets off the timetable,' Pelosi told reporters on Wednesday." • Commentary:

Your regular reminder that @SpeakerPelosi has *unlimited* authority under rule XIX of the House rules to delay a vote for any reason.

There is absolutely nothing — nothing, no deal, no nothing — that forces her to have the infrastructure vote tomorrow.

— Jake Sherman (@JakeSherman) September 29, 2021

[09-29, 11:37AM] "In A Win For Progressives, Nancy Pelosi Raises The Bar For Infrastructure Vote" [HuffPo]. "House Speaker Nancy Pelosi (D-Calif.) suggested Wednesday that Democrats need to agree among themselves on the text of a major budget bill before the House can vote on a bipartisan infrastructure bill. Her comments appeared to raise the bar for an infrastructure bill to move forward, making it far less likely a vote will occur on Thursday as planned. Progressive Democrats in the House have threatened to withhold their votes from the infrastructure bill until the House and Senate also pass the Build Back Better bill, which contains major Democratic priorities on paid leave and child care. In response to a question about the progressive threat, Pelosi implied there does need to be an agreement on 'legislative language' for the budget bill in order for the infrastructure vote to occur. 'I think that we come to a place where we have agreement in legislative language ― not just principal ― in legislative language that the president supports,' Pelosi said Wednesday."

UPDATE [09-29, 11:06AM] "Sanders: Nothing 'God Given' About House Voting Tomorrow" [Talking Points Memo]. "After Pelosi's very, very important pivot to saying that there needs to be an agreement on the reconciliation package's legislative language (that has Biden's support) before the House votes on the bipartisan infrastructure bill (which is scheduled for tomorrow), Sen. Bernie Sanders (I-VT) reacts. 'I don't think there's anything God-given about tomorrow,' he told reporters. 'I think that what in fact needs to happen is that the Senate needs to pass a strong reconciliation bill. And then the House can pass the infrastructure bill. I was never a great fan of picking a particular date in the House. And if that is pushed back, I think that's fine.' He added that, after consulting with his House counterparts, he thinks there is a 'reasonable chance' that the bill would be defeated if it came up tomorrow." •

UPDATE [09-29, 9:26AM]:

a bit of a nugget: @Richmond46 is coming to @WhipClyburn's whip meeting today.

— Jake Sherman (@JakeSherman) September 29, 2021

Yesterday, Clyburn said (paraphrasing) he didn't feel like whipping. Perhaps he changed his mind because Pelosi decided she couldn't get the infrastructure bill through with Republican votes. And perhaps the result of Clyburn testing the water is what caused the flurry of stories about Pelosi pulling the bill.

UPDATE [09-29, 8:39AM] "Kill the Bill" [Josh Marshall, Talking Points Memo]. "To the extent we can be clear on goals, to the extent we must shape transitory tactics with a clear understanding of where we want to end up, a final outcome that is an infrastructure bill and nothing else is just not tenable. It leaves too many critical priorities unaddressed – especially climate – and makes a mockery of the whole Democratic coalition. If it's the BIF and nothing else, kill the BIF." • I don't know what I'm doing quoting Josh Marshall. It's a funny old world. Commentary:

I think this is exactly right. Either both bills pass or neither does, since the consequences of letting Sinema et al win this game are much worse than the consequences of not passing a glorified highway funding bill. https://t.co/LqZEuYn1a5

— b-boy bouiebaisse (@jbouie) September 29, 2021

Worth noting that neither Marshall nor Bouie are wild-eyed radicals.

UPDATE [09-29, 6:32AM] "Why Biden won't beg" [Axios]. "'He's not gonna beg,' said an official with firsthand knowledge of the president's mindset. 'His view is: 'You're Democrats, and you're with your president or you're not." The hardball is driven by several factors, according to people who have discussed the negotiations with Biden: He's from a generation of politicians for whom party loyalty is automatic; He's confident Speaker Pelosi will deliver; He believes he'll ultimately get a big win." • The FiveThirtyEight post one-half-hour before this, immediately below, makes the same point in a different way.

UPDATE [09-29, 6:00AM] "Why House Democrats May Be More United Than They Seem" [FiveThirtyEight]. "[I]t's really the narrowness of Democrats' congressional majorities that makes passing big legislation difficult, as even a small number of defectors can make the difference in a bill passing or failing. For instance, the number of House moderates who attempted to hold up the reconciliation bill last month was only nine — enough to make the difference in a tight chamber, yes, but a drop in the bucket compared with the entire Democratic caucus, and plenty of moderate Democrats in the House didn't stand in the way….. When it comes down to brass tacks, Democrats are (so far) the most united House caucus of the last three sessions of Congress. According to FiveThirtyEight's Biden Score, which measures how often individual members of Congress vote in line with Biden's position, 203 out of the House's 223 Democrats1 have voted with Biden 100 percent of the time, and all but two have voted with him at least 90 percent of the time. This makes the current Democratic caucus far more cohesive than both the current Republican caucus and the Democratic caucus during the 115th Congress."

UPDATE [09-29, 4:30AM] "Biden bets it all on unlocking the Manchinema puzzle" [Politico]. "Biden's game plan: Get an agreement framework from Manchin and Sinema soon so he can show progressives there is a path forward on reconciliation. The White House is hoping such a framework can convince progressives to then back the bipartisan infrastructure bill, even if it means the vote on reconciliation comes later. Key to that is a commitment from the president and Democratic leadership that they would push through a social spending plan before year's end, two people familiar with the White House's thinking said." Except "before year's end" wasn't the deal. "As the president works the Senate, administration officials are reassuring progressive House members that Biden wants both bills to pass and that the White House is focused on 'the 5 percent of Democrats in Congress who are not on board with both bills,' said a progressive source familiar with the White House's conversations." • Why not tell Manchin the Justice Department will play nice and not prosecute his daughter? As for Sinema, I don't know what to do about her, except send her up in a small plane.

* * * Yesterday * * *

[09-28, 7:30PM] "'Mutually assured destruction': House liberals dig in on halting infrastructure bill" [NBC]. "Rep. Jamaal Bowman, D-N.Y., said there's a lack of trust that the Senate will act after it has ignored many other bills that the House has passed. 'We have to hold fast and strong to make sure that we pass reconciliation in both houses before we move forward to [infrastructure],' he said. 'Because if we don't, who knows what reconciliation is going to look like after Manchin and Sinema and others take a chopping block to it.'" • Exactly. That was the rationale for the original deal.

[09-28, 4:17PM] "The Senate's rules referee will be out for two weeks, during a critical period for Democrats" [Politico]. "The Senate parliamentarian, the arbiter of what can be included in Democrats' sprawling reconciliation bill, will be out for two weeks for surgery to treat stage 3 breast cancer. How lawmakers learned: Senate Majority Leader Chuck Schumer and Senate Minority Leader Mitch McConnell made the announcement to their respective caucuses Tuesday." • Nice timing. Hopefully, Schumer installs a pliant stooge. I'm tired of this "Let's consult with our elected President, the Senate Parliamentarian" crap.

UPDATE [09-28, 3:26PM] Here is Sanders' statement:

Senate Budget Cmte chair Sanders out with a statement on the infrastructure vote on Thursday: pic.twitter.com/fwnhD6rY2K

— David Dayen (@ddayen) September 28, 2021

(I checked, and this is the complete statement.) OK, but I don't know what "strong" means. The $3.5 trillion top line is conspicously absent.

[09-28, 3:09PM] Sanders to the House:

I strongly urge my House colleagues to vote against the bipartisan infrastructure bill until Congress passes a strong reconciliation bill.

— Bernie Sanders (@SenSanders) September 28, 2021

UPDATE [09-28, 3:02PM] "'Betrayal': Progressives Rage After Nancy Pelosi Walks Back Infrastructure Promise" [HuffPo]. "At a private Democratic caucus meeting on Monday, Pelosi told members that passage of the bipartisan infrastructure bill the Senate passed earlier this year cannot wait for the Build Back Better Act, Democrats' ambitious social safety net and climate package. The circumstances had changed, Pelosi added, and the subsequent $3.5 trillion bill that progressives are pushing won't be ready for floor action in time before a scheduled vote on the bipartisan bill this week… The announcement ― delinking passage of the two bills on the so-called "two-track" process that Democratic leaders talked up for months ― angered progressives in both the House and Senate. … Rep. Rashida Tlaib (D-Mich.), of the 95-member Congressional Progressive Caucus, called the move a and threatened to vote no on the bipartisan infrastructure bill. … Rep. Pramila Jayapal (D-Wash.) confirmed the group's stance in a statement, pledging that "a majority of our members will only vote for the infrastructure bill after the President's visionary Build Back Better Act passes.'… 'I voted for the bipartisan infrastructure bill under the impression that the two were tied together. Had I known they weren't, I might have approached it differently,' Sen. Chris Murphy (D-Conn.) told HuffPost. 'I get it, circumstances change, but there's no doubt it's frustrating for those of us who believe it would have been better keeping them together.' ',' Sen. Elizabeth Warren (D-Mass.) added. 'And that deal was in place long before we voted here in the Senate.'" • Warren is, in fact, correct. And the leadership trying to retrade the deal just because Manchin and Sinema got bought, when the leadership also installed Manchin and Sinema precisely so that they could be bought…. Well, that's a little rich.

[09-28, 2:51PM] Sanders on the deal:

No infrastructure bill should pass without a $3.5 trillion reconciliation bill. That is the agreement that was made & that is the agreement that must be kept. Physical infrastructure is important, but the needs of working families & combatting climate change is more important.

— Bernie Sanders (@BernieSanders) September 28, 2021

Underlining: "" There's a running gag limit to Lucy and the Football, and perhaps we've reached it.

* * *

"Kamala Harris sees solution to migration crisis in coffee beans, credit cards and Wi-Fi" [Los Angeles Times]. "[T]he expansion of a collaboration between small coffee farmers and Nespresso, a Swiss coffee giant, exemplifies the hope and limitations of a broader U.S. plan spearheaded by Vice President Kamala Harris to address the so-called root causes of migration from El Salvador, Guatemala and Honduras. Pitched to American audiences as a way to curb migration, the plan is premised on enlisting government and private companies to address crises in the region, which include drug cartel violence, natural disasters, environmental degradation, poverty and corruption. It calls for spending as much as $4 billion in American taxpayer dollars and spurring at least $750 million in private investments seeding an array of economic and social programs intended to instill everything from a more functional digital economy to democratic values. In the case of Nespresso, the U.S. administration hopes that the company's practice of paying farmers more for coffee beans and the expertise of its agronomists will diminish the allure of smugglers offering would-be migrants a perilous journey to the U.S.-Mexico border." • Well, we put Harris in charge, and this is what we got. Will the School of the Americas be rebranded again?
Realignment and Legitimacy
"There is No Such Thing as 'Punching Up' or 'Punching Down'" [Freddie DeBoer, FdB]. "What if – what if – "punching up vs. punching down" is a totally artificial construct that bends to accommodate whatever the person invoking it wants to believe? There is one rule: people I like are punching up, people I don't are punching down. There is no deeper meaning to be had here. It's just another tool for the overeducated and very online to dismiss stuff they don't like. So perhaps we might just jettison the entire juvenile business. … I think it's a sacred political duty to insist to these self-aggrandizing liberals that no, the world is not simple, no, you are not the protagonist of history, no, all of your heroes do not share your boutique collegiate politics, no, you don't get to rest easy that you're one of the good ones. You must remind them that they live in the confusing scrum of history like all the rest of us, and all of the trite political shorthand they've developed for good people and bad is just bullshit Twitter signaling for the already convinced.
Stats Watch
There are no official statistics of note today.
* * *
Tech: "YouTube to remove videos containing vaccine misinformation" [MarketWatch]. "YouTube said it would continue to allow videos on vaccine policies, new vaccine trials and historical vaccine successes or failures, as well as personal testimonials related to the vaccines. Those exceptions reflect what the company sees as the importance of public discussion and debate, it said."
Tech: Google's first data center, a thread:
A trip down memory lane…exactly 23 years ago Google signed its first datacenter contract. Let's walk through the lease in a thread. First, the copy you see here was sent by a "fax machine" which was something people used back then. pic.twitter.com/RnNmt4fnag

— Urs Hölzle (@uhoelzle) September 26, 2021
* * *
Today's Fear & Greed Index: 29 Fear (previous close: 26 Fear) [CNN]. One week ago: 25 (Extreme Fear). (0 is Extreme Fear; 100 is Extreme Greed). Last updated Sep 29 at 12:58pm.
The Biosphere
"CFC ban bought us time to fight climate change, say scientists" [BBC]. "A worldwide ban on ozone-depleting chemicals in 1987 has averted a climate catastrophe today, scientists say. The Montreal Protocol on Substances that Deplete the Ozone Layer, banning chemicals such as chlorofluorocarbons, has now simulated our 'world avoided'. Without the treaty, Earth and its flora would have been exposed to far more of the Sun's ultraviolet (UV) radiation. Former UN Secretary General Kofi Annan has called it "perhaps the single most successful international agreement". Continued and increased use of chlorofluorocarbons (CFCs) would have contributed to global air temperatures rising by an additional 2.5°C by the end of this century, the international team of scientists found. Part of that would have been caused directly by CFCs, which are also potent greenhouse gases."
"A River Reawakened" [Orion]. "We return each autumn to watch for salmon, the headline success story of dam removal, but this trip is timed for a different annual ritual. When the takedown of Elwha dams shifted from a crazy idea to imminent reality, revegetation specialists planned for the moment when water would drain away from two reservoirs, exposing land buried for a hundred years. An estimated 24 million cubic yards of sediment collected behind the dams, creating a challenge for ecologists who hoped to jump-start the process of plant succession. Their goal was to outrace invasive plant species in eight hundred acres laid bare by dewatering, and to set the stage for a future forest. Crews collected seeds from the Elwha Valley long before the dams came down, propagating native plants by the thousands. Volunteers transplanted more than 300,000 starts while teams prepared to scatter tons of natively sourced seed. As the final day approached, restoration ecologist Joshua Chenoweth added one last seed species to the master plan, despite limited supply: lupine, known for its nitrogen-fixing capacity. Ten years later, the trail into the former reservoir, once known as Lake Mills, begins at an abandoned boat ramp. Our family pushes through a young forest of cottonwood and willow saplings, crowding the ramp where kayaks once launched. We call out as we enter a dense thicket of growth, hoping to alert black bears. The sweet smell of lupine reaches us before we emerge from the willows, into a sea of purple. The former reservoir is awash in lupine. These flowers are the first step in a slow transformation from stranded sediment to mature forest." • Gorgeous photographs.
Health Care
"Canada's culture of silence on airborne virus transmission leaves many confused on how to best avoid infection" [Toronto Star]. "[M]any of our infectious disease and public health specialists — including our chief medical officers of health — seem to be unable to say the word 'airborne' or 'aerosol' out loud, and instead continue to emphasize measures such as deep cleaning and plexiglass panels…. Canada's top public health organization, the Public Health Agency of Canada (PHAC), has produced strong, unbiased summaries of the evidence for airborne transmission…. But these summaries are very hard to find. They are not posted publicly, and PHAC has specifically requested that the reviews not be shared. In order to receive a copy, you first have to discover its existence, find the title and email PHAC for a copy. Evidently, our public health leaders have also not seen these documents, as they consistently dismiss the evidence. As such, Canadians remain confused as to the best methods of avoiding transmission. The focus is still on the neverending cleaning of surfaces and putting up splash guards (which are ineffective against airborne particles), instead of using properly fitting masks, moving our interactions outdoors, and improving our indoor air through ventilation upgrades (including easy solutions like opening windows and doors) and air filtration.
MMT
"The Meaning of MMT" [Working Paper Series no. 833, Banque de France]. This is a rather huffy attempted takedown of MMT, which I will let others more expert than me deal with. This sentence, however, caught my eye: "A major criticism is that MMT is unable to prove its claims given the lack of formal modelling." Since when did "formal modeling" prove anything?
Zeitgeist Watch
I wonder who got the contract for the kits:
A new program in Chicago will place bleeding control kits in buildings around the city that leaders hope will save lives. @shaqbrewster explains the program and how it may be another sign of how chronic gun violence is in Chicago. – @NBCNewsNow https://t.co/P0OKQgkD2A

— NBC News (@NBCNews) September 29, 2021
Sorta like the way they have vending machines for all the essentials in Japan. Next, air.
Guillotine Watch
"The Ultra-Rich Have an Unusual Tax Problem: Not Knowing When to Sell" [Bloomberg]. "Clarity on the timing of tax hikes would make them easier to avoid, but almost everything about the proposals by the Biden administration and the Democrats is up in the air." • That's a damn shame.
Class Warfare
"Instacart Workers Are Asking Users to #DeleteInstacart" [Vice]. "A group of Instacart gig workers is requesting that all customers who shop on the platform boycott the grocery delivery app to pressure it to improve conditions for workers. Using the hashtag #DeleteInstacart, workers are trying to pressure the company ahead of a rumored IPO, one of the most highly anticipated of the year. 'Continuing to utilize Instacart's services would only enable its unethical behavior, endorse its continued exploitation of workers, and reward its corporate greed,' the collective of Instacart gig workers wrote in an open letter to customers published Monday. Instacart workers on the platform are demanding a reinstatement of a commission based pay model, the reinstatement of 10 percent default tip, a more transparent system for assigning orders to workers, occupational death benefits, and a rating system that does not punish workers for reasons that are beyond their control, such as inventory issues at a grocery store. Until these demands are met, the Instacart gig workers say they'll continue to call for a boycott from customers. According to Gig Workers Collective organizers, Instacart's gig workers are predominantly women, many of them single moms with childcare responsibilities."
I owe my soul….
Just like 2 weeks ago I bought my mom a Scrip coin from the coal mine her grandpa worked at. You're telling me Amazon wants to do WHAT now?? https://t.co/PuChy43yRO

— Naomi Smalls Saying "But…" (@lilMisChrysalis) September 21, 2021
Lateral thinking:
I think it was James C Scott who suggested that the improvements to working class health and lifespans as an unintended consequence of Haussmann's rebuilding of Paris helped contribute to the Commune

— Aaron Freedman (@freedaaron) September 20, 2021
"Retirees worried about the stock market cratering can use these portfolio strategies" [CNBC]. • What a good idea it was to replace Social Security with playing the ponies.
"'Most Americans Today Believe the Stock Market Is Rigged, and They're Right'" [Bloomberg]. "In the U.S., an insider is defined as a senior executive, board member, or any shareholder who owns 10% or more of a company. There are about 82,000 of them, and every time they trade they're required by law to file a disclosure, known as a Form 4, within two days." There are not very many of the Shing. More: "It's not just [insiders] at the top of the rankings who constantly beat the market. Purchases made by U.S. executives outperformed the S&P 500 over the ensuing 12 months by an average of five percentage points between 2015 and 2020, according to a TipRanks analysis. The gap might seem scandalous to those with only a passing acquaintance with U.S. insider trading rules, which make it illegal for insiders to trade using material—or financially significant—nonpublic information. And yet on Wall Street it's long been an open secret that insiders trade on what they know…. growing body of research suggests that many insiders are trading well thanks to something more than luck or judgment. It indicates that insider trading by executives is pervasive and that nobody—not the regulators, not the Department of Justice, not the companies themselves—is doing anything to stop it. 'There is a lack of appreciation for the amount of opportunistic abuse that exists under the current system, the amount of egregiousness,' says Daniel Taylor, a professor at the Wharton School and the head of the Wharton Forensic Analytics Lab. 'Most Americans today believe the stock market is rigged, and they're right.'"
News of the Wired
"How Smartphone Cameras Have Impacted Documentary Photographers" (interview) [Martin Parr, PetaPixel]. ";'So, the only thing that counts now is the quality of the story and the quality of the images that you're taking. The technical thing is all being sorted,' he explains." • Hmm. I doubt very much this is true. I would urge that for any creative medium, including writing, the "technical thing" is never sorted.
"Danish artist makes off with pile of cash intended to be art" [Associated Press]. "A Danish artist who was was given a pile of money by a museum with which to create a piece of artwork, submitted two empty canvases — titled 'Take the Money and Run.' Jens Haaning was given the equivalent of nearly $84,000 in Danish kroner and euro bank notes by the Kunsten Museum of Modern Art in Aalborg. For its exhibition on labor conditions and money, entitled 'Work It Out' that opened Sept. 24, the museum commissioned him to recreate two of his earlier pieces, which featured bank notes attached to a canvas representing the average annual wage in Denmark and Austria. As well as lending him the notes, the museum also paid him 25,000 kroner ($3,900) for the work. But when museum officials received the completed artworks, they were blank. Haaning told a radio show on the P1 channel that is part of Danish broadcaster DR this week. He declined to say where the money was."
* * *
Readers, feel free to contact me at lambert [UNDERSCORE] strether [DOT] corrente [AT] yahoo [DOT] com, with (a) links, and even better (b) sources I should curate regularly, (c) how to send me a check if you are allergic to PayPal, and (d) to find out how to send me images of plants. Vegetables are fine! Fungi and coral are deemed to be honorary plants! If you want your handle to appear as a credit, please place it at the start of your mail in parentheses: (thus). Otherwise, I will anonymize by using your initials. See the previous Water Cooler (with plant) here. Today's plant (ChiGal):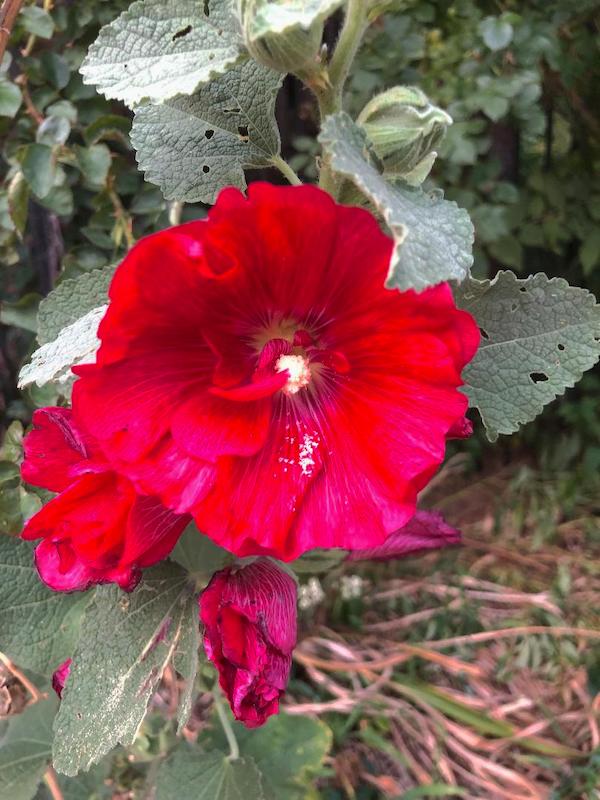 ChiGal writes: "Late summer, Chicago."
* * *
Readers: Water Cooler is a standalone entity not covered by the recently concluded and — thank you! — successful annual NC fundraiser. So if you see a link you especially like, or an item you wouldn't see anywhere else, please do not hesitate to express your appreciation in tangible form. Remember, a tip jar is for tipping! Regular positive feedback both makes me feel good and lets me know I'm on the right track with coverage. When I get no donations for five or ten days I get worried. More tangibly, a constant trickle of donations helps me with expenses, and I factor in that trickle when setting fundraising goals:
Here is the screen that will appear, which I have helpfully annotated.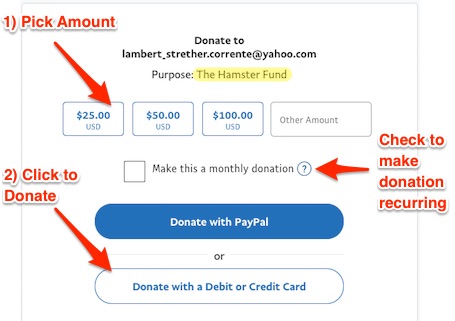 If you hate PayPal, you can email me at lambert [UNDERSCORE] strether [DOT] corrente [AT] yahoo [DOT] com, and I will give you directions on how to send a check. Thank you!2:00PM Water Cooler 6/8/2021