By Lambert Strether of Corrente.
Patient readers, I will have more under politics shortly. Things on Capitol Hill are overly dynamic. –lambert
Bird Song of the Day
The Greater (yesterday) and Lesser Ground Robin have very different calls.
* * *
#COVID19
At reader request, I've added these daily charts from 91-DIVOC. The data is the Johns Hopkins CSSE data. Here is the site. I feel I'm engaging in a macabre form of tape-watching….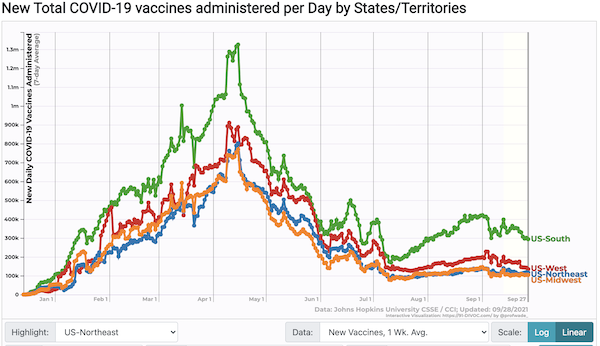 Now going down everywhere, including the South. So far as I can tell, Biden's speech had no impact at all. If the measures he announced have any impact, that has not appeared yet. I would bet that the stately rise = word of mouth from actual cases.
55.4% of the US is fully vaccinated (mediocre by world standards, being just below Czech Republic, and just above Switzerland and Malaysia). We are back to the 0.1% stately rise per day. This is the number that should change if Biden's mandates "work." However, as readers point out, every day those vaccinated become less protected, especially the earliest. So we are trying to outrun the virus… (I have also not said, because it's too obvious, that if by Bubba we mean The South, then Bubba has done pretty well.)
Case count by United States regions: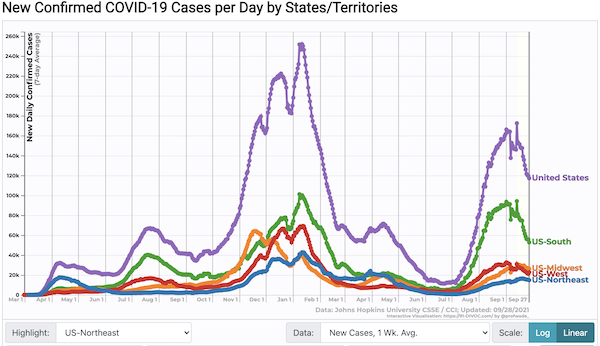 Simply tape-watching, this descent is as steep as any of the three peaks in November–January. It's also longer than the descent from any previous peak. The question is whether we will ascend to a second (or third) peak, as in last December-January, or not, as in last August. Note also that the regions diverge: The South, which drove the peak, is finally dropping. The West was choppy too, and is now falling. Ditto the Midwest. However, all this drama has masked the steady rise in the Northeast.
We could get lucky, as we did with the steep drop after the second week in January, which nobody knows the reasons for, then or now. Today's populations are different, though. This population is more vaccinated, and I would bet — I've never seen a study — that many small habits developed over the last year (not just masking). Speculating freely: There is the possibility that natural immunity is much, much greater than we have thought, although because this is America, our data is so bad we don't know. Also, if the dosage from aerosols drops off by something like the inverse square law, not linearly, even an extra foot of distance could be significant if adopted habitually by a large number of people. And if you believe in fomites, there's a lot more hand-washing being done. Finally, quite frankly, I don't see why we're not seeing what happened in the schools in the UK and Canada happen here. On the other hand, Delta is much more transmissible,
NEW From CDC: "Community Profile Report September 27, 2021" (PDF), "Rapid Riser" counties, this release: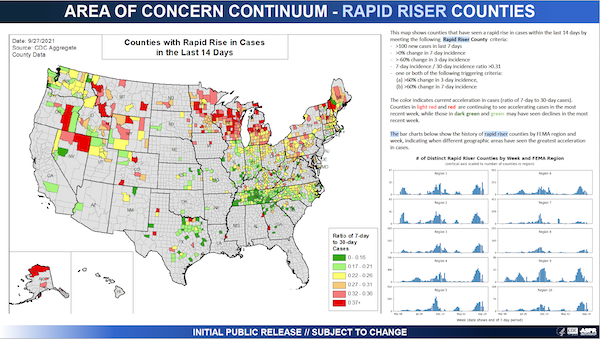 Northern latitudes improving, including Maine and Upstate New York. Speculating freely: One thing the consider is where the red is. If air travel hubs like New York City or Los Angeles (or Houston or Miami) go red that could mean (a) international travel and (b) the rest of the country goes red, as in April 2020 and following. But Minnesota is not a hub. If Minnesota goes red, who else does? Well, Wisconsin. As we see. Remember, however, that this chart is about acceleration, not absolute numbers. This map, too, blows the "Blame Bubba" narrative out of the water. Not a (Deliverance-style) banjo to be heard. Previous release: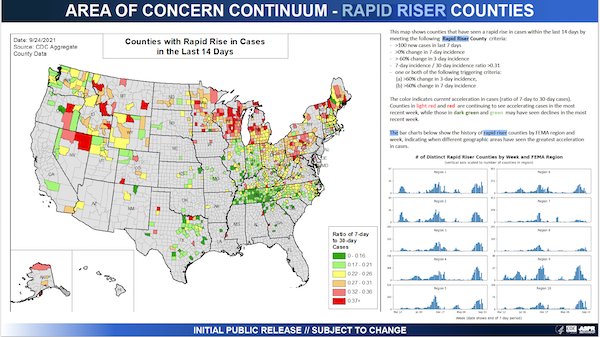 (Red means getting worse, green means bad but getting better.)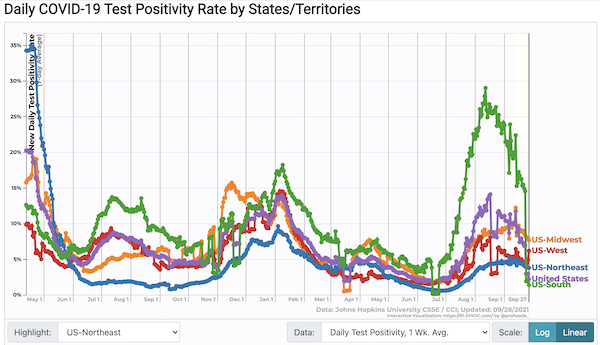 An unprecedented, enormous drop in the South. Almost no rebound. Surely data?
Hospitalization (CDC). Everything works again today, CDC, good job: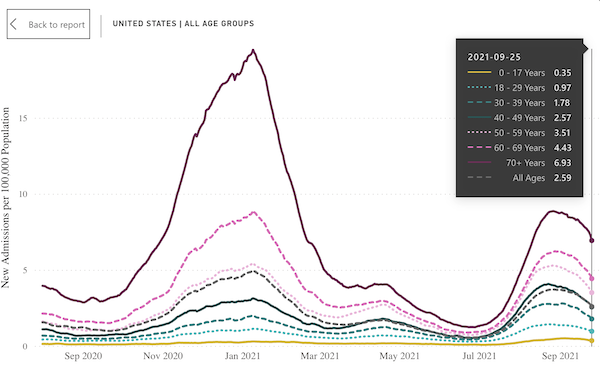 From this chart, pediatric hospitalization, in the aggregate, is down. I should dig out some regional or better yet county data.Here the CDC's hospitalization visualization, from the "Community Profile" report above: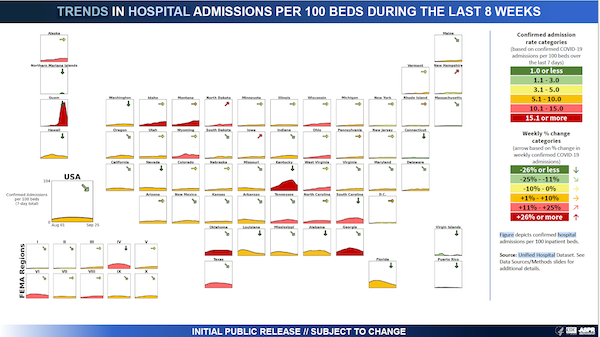 Alabama now out of the red.
Death rate (Our World in Data):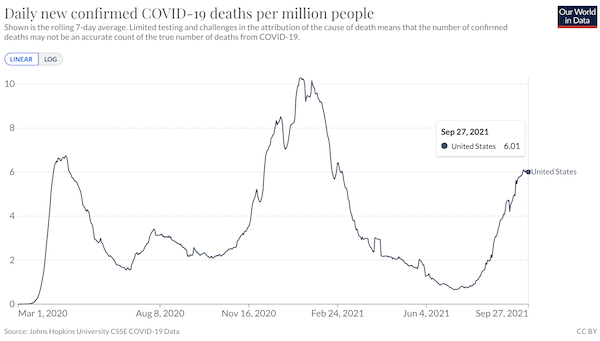 Total: 709,218 706,338. Looks like a downward trend, mercifully. We approached same death rate as our first peak last year. Which I am finding more than a little disturbing. (Adding: I know the data is bad. This is the United States. But according to The Narrative, deaths shouldn't have been going up at all. Directionally, this is quite concerning. Needless to see, this is a public health debacle. It's the public health establishment to take care of public health, not the health of certain favored political factions.) (Also adding: I like a death rate because it gives me a rough indication of my risk should I, heaven forfend, end up in a hospital. I should dig out the absolute numbers, too, now roughly 660,000, which is rather a lot.)
Covid cases worldwide: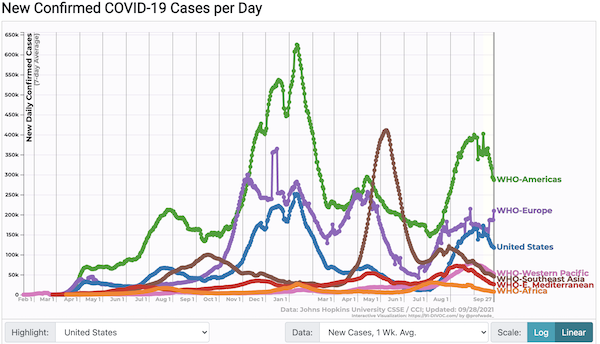 European exceptionalism?
* * *
Politics
"But what is government itself, but the greatest of all reflections on human nature?" –James Madison, Federalist 51
"They had one weapon left and both knew it: treachery." –Frank Herbert, Dune
"They had learned nothing, and forgotten nothing." –Charles Maurice de Talleyrand-Périgord
Biden Administration
Lambert here: Combine "131 Federal Judges Broke the Law by Hearing Cases Where They Had a Financial Interest" [Wall Street Journal] with "Big Pharma's Dems Score Ad Blitz" [Daily Poster] and "Dallas, Boston Fed presidents announce resignations following controversial stock trades" [New York Post], and you might come to the conclusion that Washington D.C. is a Third World-level cesspit of corruption, where political figures are openly bought and sold. Then again, you might think "Oh, it's just a few bad apples" idk.

* * *

"The Memo: Biden faces crunch time amid Democratic divisions" [The Hill]. "Distrust is festering between moderates and progressives as crunch time looms on two huge bills: a $1 trillion package dealing with traditional infrastructure and another, originally capped at $3.5 trillion, that vastly expands social spending and would be the most significant piece of domestic legislation since the 2010 Affordable Care Act. It would be a political catastrophe for Biden and the Democratic Party if the bills failed."

"Obama says US 'desperately needs' Biden legislation ahead of key votes" [The Hill]. "Obama, in a rare television interview, told ABC's Robin Roberts that the infrastructure bill and reconciliation package backed by Biden 'is something that America desperately needs.' The former president did not weigh in on the intraparty dynamics at play as progressives and moderates jostle over which piece of legislation to prioritize. But he touted the benefits for families, and he offered support for paying through the reconciliation bill by raising taxes on the wealthiest Americans. 'So when you look at the overall package, it's got a headline price tag of $3.5 trillion, but that's not a single year. It's spread out over a number of years,' Obama said. 'And, most importantly, it's paid for by asking the wealthiest of Americans, who have benefited incredibly over the last several decades — and even in the midst of a pandemic, saw their wealth and assets rise enormously — asking them to pay a few percentage points more in taxes in order to make sure that we have a economy that's fair for everybody." • So, by implication, Obama's calling Biden "desperate." That should help Biden with the moderates!

"'No backup plan': Democrats reject grueling debt limit off-ramp" [Politico]. "Experts and congressional aides estimate that adding the debt limit to Democrats' party-line spending bill could take about two weeks, requiring revisions to the budget measure that the party deployed to steer it past a Senate GOP blockade. Two weeks is an eternity, given that Congress could slam into a debt wall in as little as three to six weeks, according to a new estimate from the Bipartisan Policy Center — which helps explain why Democratic leaders aren't publicly talking about ripping up their spending bill, for now…. Never has either party reopened a budget resolution — the legislation used to unlock the reconciliation process — and revised it to tackle the debt limit. Doing so would require a lot of back-and-forth with the Senate parliamentarian, the upper chamber's nonpartisan arbiter of rules." • Oh no. I wonder what the Parliamentarian would think of this alternative:

Rep. Jerry Nadler raised #MintTheCoin in a Dem conversation on the debt limit, Pelosi tells reporters.

— Jack Fitzpatrick ☘️ (@jackfitzdc) September 28, 2021

"Pelosi says Biden's infrastructure bill can't wait for social safety net bill" [NBC]. "House Speaker Nancy Pelosi told Democrats on Monday that passage of the $550 billion infrastructure bill must not wait for President Joe Biden's multitrillion-dollar safety net bill, saying the larger package is not yet ready for a vote. In a private caucus meeting, Pelosi, D-Calif., said the party must 'make difficult choices,' because the dynamics have changed and Democrats have not yet agreed to a spending level, according to a source familiar with the meeting." • The "dynamic changed" because the Moderates were bought. The plot twist is that the Democrat leadership put the Moderates in place in order that they might be bought. Both Sinema and Manchin, for example, are DSCC creatures through and through. Oh well, nevertheless:

Rep. @Ilhan: "The infrastructure bipartisan legislation would not have passed with [Bernie Sanders] support and the support of so many other Democrats in the Senate if an agreement wasn't reached that we will be able to pass these two bills together." pic.twitter.com/fN8UMVsqXW

— The Hill (@thehill) September 28, 2021

Ilhan seems not to have understood that the Democrats are the party of betrayal (hat tip, Thomas Frank). It will be interesting to watch her this week, because I think she actually has a spine (though maybe Pelosi's "bone digester" will take care of that this week). And then there's AOC:

Rep. @AOC says Pelosi's decision to delink the two bills affects her calculus Thursday

AOC tell us she's a NO on the infrastructure bill unless "I get some new information"

Added she doesn't know how many progressives are opposed but said several of her colleagues aren't happy

— Heather Caygle (@heatherscope) September 28, 2021

So AOC can't count votes? Interesting. Perhaps Jayapal can, however:

Climate action can't wait.
Health care can't wait.
Child care can't wait.
Dreamers can't wait.
Education can't wait.
Housing can't wait.

Progressives are ready to pass the President's entire Build Back Better agenda because working families and our communities can't wait. https://t.co/y0g3aus9pR

— Rep. Pramila Jayapal (@RepJayapal) September 28, 2021

I would love to see Jayapal take the whole edifice down. The Moderates are openly on the take; we have NBC reporter Sahil Kapur writing: "Manchin/Sinema, who have not named their price, meet w Biden today" (i.e., today, Tuesday). Why, then, is anybody treating Manchin, Sinema, etc., as representatives, when they clearly are not? I am not a fragile flower, and I've seen plenty of logrolling, and I understand how Tammany Hall worked, but the level of corruption today is off the charts. Either it ends, or we might as well throw in the towel on the Republic some of us hoped to keep. On the bright side, perhaps Pelosi's sell-by date has passed:

The captain of the ship is issuing wildly contradictory and fluctuating orders and everyone is like "The captain is smart, the captain is wise, the captain always knows best" and then everyone's gonna wonder why the ship sunk

— Will Stancil (@whstancil) September 28, 2021

So, the issue everyone talks about is whether Pelosi can count. The issue that nobody is talking about is whether Jayapal can count (and for what purpose).

* * *

"The Competency Question" [Amy Walter, The Cook Political Report]. "However, the challenge for Biden is that these early mistakes go directly to the very rationale of his presidency; that it would be low drama and high competence. This was especially true with Afghanistan. While Americans are eager to have our troops out of the country, and may even have assumed there'd be some chaos due to that drawdown, they also expected that this administration's deep expertise and experience, would prepare them for any unexpected snafu. That turned out not to be the case. Immigration is never an easy issue for Democrats. Like Obama before him, this president is caught between Democratic activists who want to see fewer restrictions and swing voters who are wary of lax enforcement and porous borders. Moreover, it's an issue that animates the GOP base, but rarely motivates Democrats. But, the situation on the border today — with images of thousands of people crowded under a Texas underpass in squalid conditions as border agents use horses to corral them — is one that angers both left and right. And, as with Afghanistan, the situation reeks of mismanagement and chaos, two things this administration promised it would not allow. As for the COVID situation, early on the Biden administration got much of it right. Bureaucracy cranked into gear, replacing the ad hoc disarray of the Trump Administration. But, the rise of the Delta variant — and the continued politicization of the virus — put the administration on their back foot…. On top of it all, the former senator and vice president looks more like a helpless bystander than an experienced Capitol Hill deal maker, watching from the sidelines as his party struggles with internal divisions over critical legislation. For many voters, things in Washington look like more of the same; politicians squabbling instead of solving problems." • See "competence," sense 4. "Soundness of mind" is, I think, the subtext here.
Democrats en Deshabille
"Sinema to hold fundraiser with groups opposed to social spending package" [The Hill]. "Sen. Kyrsten Sinema (D-Ariz.) is reportedly scheduled to hold a fundraiser this week with business groups opposed to the $3.5 trillion budget reconciliation package being crafted by her party. Sinema has emerged as a critical voice in the Senate on the legislation and opposes a package with a top line of $3.5 trillion, saying it must be smaller. Progressives have insisted $3.5 trillion should be the floor for the bill." • Now she's just trolling us. "Critical voice" = "openly bought." That's where we are.

"Arms biz cash swirls around House votes blocking Pentagon cuts" [Responsible Statecraft]. "Campaign contributions aren't the only form of influence. In a conversation with Responsible Statecraft, William D. Hartung, the director of the Arms and Security Program at Center for International Policy, identified four key ways the weapons industry impacts decision-making in Congress. Aside from campaign contributions and lobbying, they donate to think tanks and spread defense industry jobs throughout the country so that they impact as many congressional districts as possible. Additionally, the revolving door between the weapons industry and the Pentagon remains unchecked on Capitol Hill and beyond. House members also often hold their money in weapons industry stock, which Hartung called 'an outrage and a conflict of interest.' In the House, 20 Republicans and 16 Democrats hold stock in the defense industry with a total value of about $5 million. Hartung said that the practice of war industry influencing politicians goes back 'decades.' … Hartung concluded that 'for people on the cutting edge of the defense spending, it's really about reinforcing the existing relationship and making sure they have the help to get reelected.'" • Business as usual.

I thought these guys were the adults in the room:

"US would "have to figure out how to have serious, continuous commercial activity" w/o undermining national security."
US Commerce Sec Raimondo

Why do Biden admin folks so often sound as though they are starting with blank slate? Still no actual policy? https://t.co/HeY9blReD3

— Adam Tooze (@adam_tooze) September 28, 2021

It's just the same with Covid.
Republican Funhouse
"GOP to massively step up 2022 poll watching efforts in Michigan and across U.S." [USA Today]. " The GOP will massively increase its poll watching and election litigation efforts in 2022 and beyond after so far failing to overturn the results of the 2020 presidential election through a series of lawsuits and audits, a top Republican National Committee official said Friday. Josh Findlay, election integrity director for the RNC, said one problem with GOP operations in 2020 was that attorneys for former President Donald Trump and other conservative groups went to court too late." • They were terrible lawyers! When I could even find the briefs, they were uniformly awful!
Our Famously Free Press
Greenwald is correct (1):

That means that CNN, NBC News, MSNBC, PBS, @HuffPost, @TheIntercept and so many others spent weeks before the 2020 election spreading what they know is a lie from CIA.

And now that there's new proof from a mainstream reporter that they lied, they won't even mention that.

— Glenn Greenwald (@ggreenwald) September 27, 2021

Greenwald is correct (2):

The most damaging and aggressive agents of disinformation in the United States are large corporate media outlets.

All journalists make mistakes. The way to know that they're deliberate disinformation agents is when they ignore evidence that they lied. That shows it's purposeful.

— Glenn Greenwald (@ggreenwald) September 27, 2021

Good litmus test. Holy moley, we can't even get a "mistakes were made" from these guys!
Clinton Legacy
Oh no:

pacing around the room after learning that Chelsea Clinton's children's book includes the words "Harriet Tubman was born a slave, and her story could have ended there. Instead, she persisted,"

— Alex Press (@alexnpress) September 27, 2021
Realignment and Legitimacy
"Cabal Anthropology – or whether the anthropology of belief helps us understand conspiracism" [Focaal Blog]. "Let me come back to the question of "Why people believe this stuff"?…. Anyone who has argued with a conspiracy theorist, a religious zealot or political true believer of any kind knows that refutation of their evidence is fruitless. You point out contrary facts or illogical arguments and your remarks are simply cast aside as irrelevant or confirmation of the conspiracy. This is because the conspiratorial narrative is in fact an expression of belief. I decided to re-read a bunch of anthropological analyses of belief…. If we are to understand conspiratorial movements like QAnon or those following the Deep State conspiracy, we anthropologists need to promote our own insights about what belief is all about. While Needham argued that the concept of belief was useless for anthropology, we still need to explain what it means to be a believer. We need to go beyond the conventional wisdom that every conspiracy theorist suffers from some kind of cognitive deficiency, emotional damage or social isolation. The leaders and mobilizers may be emotional, committed, even fanatic (as so many leaders of social movements are), but the followers and adherents are much more like us than we'd like to admit. Resorting to a psychological explanation is not sufficient. Who among us has not suffered from anxiety, depression, loneliness or a traumatic event that might lead us to fall down the proverbial rabbit hole? Who among us has not spent hours on line immersed in some incessant search to solve a puzzle? The conspiracy followers are hardly exotic. Take away their beliefs, and they suddenly become just like us, ordinary men and women with family obligations, precarious jobs, worried about their future and their place in it. They are both strange and familiar at the same time. And it is this contrast that makes them the perfect object of anthropological scrutiny. The task of anthropology, after all, is to show that the strange is actually familiar, and that the familiar has its exotic elements. We need more cabal anthropology." • More research needed!
Stats Watch
Manufacturing: "United States Richmond Fed Manufacturing Index" [Trading Economics]. "The Manufacturing Activity Index in the US fifth district including the District of Columbia, Maryland, North Carolina, South Carolina, Virginia, and most of West Virginia dropped to -3 in September 2021, its lowest level since May 2020. The indexes for shipments and new orders declined to -1 and -19, respectively, also the lowest readings in 16 months. Meanwhile, the gauge for employment rose 2 points to +20. Manufacturers continued to see low inventories, lengthening lead times and backlogs of orders. In addition, firms reported weakening local business conditions, but they were optimistic that conditions would improve in the next six months."
Inventories: "United States Wholesale Inventories" [Trading Economics]. "Wholesale inventories in the US increased 1.2 percent month-over-month to $731 billion in August of 2021, following a 0.6 percent rise in July, a preliminary estimate showed. It was the 13th consecutive month of gains…."
Housing: "United States S&P Case-Shiller Home Price Index" [Trading Economics]. "The S&P CoreLogic Case-Shiller 20-city home price index in the US increased at a fresh record 19.9 percent yoy in July 2021, following a 19.1% rise in June and compared to market forecasts of a 20% jump. Phoenix (32.4%), San Diego (27.8%), and Seattle (25.5%) continued to post the biggest increases. The National Composite Index marked its fourteenth consecutive month of accelerating prices with a record 19.7% gain from year-ago levels. New York joined Boston, Charlotte, Cleveland, Dallas, Denver, and Seattle in recording their all-time highest annual gains. "
* * *
The Bezzle: "UNLOCKED! The Lamest Show On Earth (Part 3)" (podcast) [TrueAnon]. "Welcome to TrueAnon Presents: The Lamest Show on Earth, a three-part mini series on the phenomenon that is Tesla Motors and the carnival barker at the center of its show: Elon Musk. We've often said that Jeffrey Epstein offers us a lens through which to view larger networks of power and influence and ways to ascertain how they operate and impact the world. The story of Tesla Motors offers us the same opportunity: how a nerdy dot-com gold chaser hacked the self-satisfied neoliberal green political regime and orchestrated a cacophonous symphony of thirsty social media marketeers, auto industry executives, captured and bought off media, and the bull market ride of the century. At the center of all of this is the pied piper of the redditmen, our very own epic bacon PT Barnum — Elon Musk — who rightly understands that branding really is everything and that so long as you can keep the music going the party doesn't have to end. Now that Tesla has a gun to the head of the American economy, there's only one question left: how long can the show go on?" • One forgets how horrid the Tesla saga has been. Good job by the TrueAnon crew, well worth a listen. (Also, TrueAnon has great production, the podcasters have very good voices, and they are very, very funny.
Labor Market: "New York health-care workers who are fired for refusing to be vaccinated won't be eligible for unemployment benefits — in most cases" [MarketWatch]. "Employees at New York state hospitals, adult care, and long-term care facilities who are fired or quit because they don't want to follow the state's vaccine mandate for health-care workers won't be allowed to collect unemployment benefits in most cases. 'Absent a valid request for accommodation,' these workers won't be able to collect unemployment benefits 'because these are workplaces where an employer has a compelling interest in such a mandate, especially if they already require other immunizations,' according to the New York Department of Labor website." • It's interesting that the two most, er, innovative techniques of disciplining labor originated in Blue States: Proposition 22 for gig workers, in California; and now this, in New York.
Labor Market: "Deadline Looming, Thousands of Health Care Workers in New York Get Vaccinated" [New York Times]. "With just days or even hours to spare, thousands of health care workers got inoculated, according to health officials across the state. And while thousands more workers remained unvaccinated, and thus in danger of being suspended or fired, the rush of last-minute vaccinations appeared to blunt the worst-case scenarios for staffing shortages that some institutions had feared. … Statewide, the vaccination rate for hospital employees rose by Monday night to 92 percent of workers receiving at least one dose, according to preliminary data from the governor's office. The rate for nursing homes also jumped to 92 percent on Monday from 84 percent five days earlier. Still, many nursing homes were already facing serious staffing shortages before the mandate, making any new staff reductions potentially dangerous."
The Fed: "Sen. Warren Opposes Renomination of 'Dangerous Man' Fed Chief Jerome Powell" [Barron's]. "Warren questioned Powell's banking regulation policy at a hearing Tuesday before the Senate Banking Committee, criticizing him for weakening the Fed's regulatory power over big banks. 'Your record gives me grave concern,' Warren said. 'Over and over you have acted to make our banking system less safe, and that makes you a dangerous man to head up the Fed.' Warren joins a growing group of Democrats that have pressured President Joe Biden to nominate a new leader for the central bank. 'Renominating you means gambling that for the next five years, a Republican majority at the Federal Reserve with a Republican chair who has regularly voted to deregulate Wall Street won't drive this economy over a financial cliff again,' Warren said."
* * *
Today's Fear & Greed Index: 27 Fear (previous close: 34 Fear) [CNN]. One week ago: 23 (Extreme Fear). (0 is Extreme Fear; 100 is Extreme Greed). Last updated Sep 28 at 12:31pm.
Health Care
On that new Argentina Ivermectin study (here, linked to yesterday):
The new large Argentinian Ivermectin study dominates the data on the Ivermectin early treatment mortality benefit.

50%!

If Ivermectin proponents are wrong, given the safety profile, nothing will happen.

If Ivermectin opponents are wrong, they will double the Covid deaths. pic.twitter.com/RpxmwD7P62

— Covid19Crusher (@Covid19Crusher) September 28, 2021
They're not wrong, are they?
"Top CDC official steps aside as head of pandemic task force" [Politico]. "Henry Walke, who has overseen the CDC's Covid-19 response for more than a year, will be replaced by Barbara Mahon, the deputy chief of the agency's enteric-disease branch, those sources said. Walke will remain at the agency as director of the CDC's Division of Preparedness and Emerging Infections…. Walke's departure from the Covid-19 team raises questions about the agency's future pandemic response and whether he stepped aside because of increasingly untenable working conditions at the agency. His change in role comes after two prominent CDC leaders — Anne Schuchat, the agenc]y's former number two official, and Nancy Messonnier, the agency's top respiratory official and Covid-19 vaccine lead — left the agency earlier this year…. CDC Director Rochelle Walensky is in the middle of trying to rebuild the pandemic response team in an attempt to combat recent surges driven by the Delta variant and . But Walensky is having difficulty staffing that team, in part because CDC employees say they are overworked after nearly two years fighting the pandemic. Some member of the agency's pandemic response team have returned to their regular duties; other employees who have not worked on Covid-19 are resisting calls for help knowing the time and energy it demands." • I'm not sure I buy that "workload" explanation. Maybe…. CDC doesn't have the reputation it once had? Or… people don't want to work for Walensky? After all, your professional careerist, especially the younger sort, doesn't mind sleeping under their desk if the payoff is advancement, especially in a hot field like Covid. Oh, and that underlined part? It's totally not Narrative-compliant. I can't imagine how it got past the Politico editors. Please put it out of your mind at once.
"Viral dynamics of SARS-CoV-2 variants in vaccinated and unvaccinated individuals" (preprint) [medRxiv]. From August. The NBA testing program. From the Conclusions: "Alpha, delta, and non-VOI/VOC infections feature similar viral trajectories. Acute infections in vaccinated and unvaccinated people feature similar proliferation and peak Ct [Cycle threshold], but vaccinated individuals cleared the infection more quickly. Viral concentrations do not fully explain the differences in infectiousness between SARS-CoV-2 variants, and mitigation measures are needed to limit transmission from vaccinated individuals."
"Risk prediction of covid-19 related death and hospital admission in adults after covid-19 vaccination: national prospective cohort study" (PDF) [British Medical Journal]. From the Abstract: "Several clinical risk factors for severe covid-19 outcomes despite vaccination have been identified: Down's syndrome, kidney transplantation, sickle cell disease, care home residency, chemotherapy, recent bone marrow transplantation or a solid organ transplantation ever, HIV/AIDS, dementia, Parkinson's disease, neurological conditions, and liver cirrhosis The QCovid3 risk algorithms (https://bmjSept2021.qcovid.org) showed high levels of discrimination for identifying adults at highest risk of covid-19 related death and hospital admission after vaccination; these risk stratification tools can help support public health policy and prioritise patients for targeted, early interventions."
"Vaccine nationalism and the dynamics and control of SARS-CoV-2" [Science]. "Intuitively, our results indicate that unequal vaccine allocation will result in sustained transmission and increased case numbers in regions with low vaccine availability and thus to a higher associated clinical burden compared with a vaccinated population. Under certain scenarios, sustained local transmission could lead to an increased potential for antigenic evolution, which may result in the emergence of variants with novel antigenicity and/or transmissibility and affect epidemiological characteristics globally. Overall, our work underlines the importance of rapid, equitable vaccine deployment and the necessity to export vaccines to regions with low availability in parallel to their becoming available in regions with high access. Coordinated vaccination campaigns across the world, combined with improved surveillance and appropriate nonpharmaceutical interventions to prevent case importation, are imperative." • We are so, so far from that. Let 'er rip!
"How America Dropped to No. 36" [The Atlantic]. "The U.S. was arguably more responsible than any other country for the invention, manufacturing, and distribution of the mRNA vaccines. How did the pace-setting effort to vaccinate Americans peter out and leave us behind most of the developed world?… he data point to three key reasons the United States is 36th and falling: It is unusually uninsured, unusually contrarian, and unusually polarized. These are three familiar—even defining—attributes of American life. A sizable proportion of unvaccinated Americans aren't unpersuaded and skeptical but rather uninsured and scared. Polling from the Kaiser Family Foundation indicates that no group is more likely to reject the vaccines than young Americans without insurance. Members of this group are disproportionately young and low-income and lack easy access to a doctor if something goes wrong. Many of them don't know that the vaccine is free. Meanwhile, the fear of side effects is one of the most common reasons people give for avoiding the vaccines. This fear, compounded by a feeling of estrangement from the health system, is clearly keeping many Americans from getting vaccinated… What makes the U.S. exceptional, he said, is our unusually low support for vaccines in general. The U.S. had significant levels of vaccine hesitancy before the pandemic, and Petersen's research found low acceptance of the vaccines in 2020, before their authorization. While support for the vaccines exceeded 70 percent in countries like Denmark and the U.K. last year, only about half of Americans consistently expressed interest in being inoculated…. The U.S. is distinctly unlucky in having a polarized two-party system, in which one party's elites take up vaccine resistance as a prominent cause. While GOP governors and even former President Donald Trump have admitted to being vaccinated and occasionally recommended the shots, the party's most significant media organs, including Fox News, have consistently questioned the benefits of the vaccines, amplified the side effects, celebrated evidence-free skepticism, and blasted attempts to promote vaccinations." And: "',' [Michael Bang Petersen, a Danish researcher] told me. 'It's much harder to build trust as the crisis is ongoing.' The same could be said for institutions, policy, and culture. In a pandemic, you go to war with the country you've got, and you learn what kind of country you've got only after you go to war. Underinsured, paranoid, and polarized, the U.S. rolled into 2021 with a uniquely impenetrable bedrock of vaccine skepticism." • Well worth a read. Funny, however, that a single payer system would have solved the problem of young, uninsured people. But liberal Democrats are fighting single payer tooth and nail. Preventing it has long been their #1 policy priority.
This teacher sounds like they need help properly deploying the blame cannons:
5 weeks back in person with students = I have COVID. All the isolation, all my efforts for the past 18 months are for naught. I spent every holiday alone last year, the depression was awful. All the suffering to try to avoid COVID, and here I am. Alone, very sick, and very angry

— Dr. Lauren Gillespie 🏳️‍🌈 (@thebluebirdgirl) September 27, 2021
Do not blame the administrators. Blame Bubba.
Class Warfare
"Amazon Vs. The Union (Again)" [Kim Kelly, Discontents]. "With all that in mind, when anonymous person sent me an email last week telling me to check out the Amazon Bessemer facility's Facebook page, I wasn't surprised with what I found. You can read more about that here (it's a public post because I wanted to ensure the info got out there, but I'd sure appreciate it if you considered subscribing!)….
"In Murdaugh family scandal, tiny South Carolina town shaken" [Associated Press]. "Ask any of the 2,600 residents in this South Carolina town whether they know Alex Murdaugh, and you'll probably get a quick nod. Nearly everyone does in Hampton, a tiny place where every road in has just two lanes. Ask them to tell you about Murdaugh, though, and you'll get a firm head shake, followed by: 'You're not going to quote me, are you?' No one wants to talk about the influential lawyer whose wife and son were killed and who's now accused in a string of controversies — at least, not in the open. For the past century, the Murdaughs have steered much of the legal world in this remote corner of South Carolina — north of Savannah, Georgia, and far from the interstate or just about anything else. Running the prosecutor's office and a large civil law firm allowed the Murdaughs to do it quietly, until recently. Murdaugh's wife, Maggie, and son Paul were killed June 7, shot multiple times at the family's sprawling estate. No one's been arrested in their deaths, which brought scrutiny into every nook of Murdaugh's life. Six investigations are underway, over the killings, stolen money, death coverups and a Sept. 4 shooting in which a bullet grazed Murdaugh's head on a lonely highway. Police said he tried to arrange his own death and make sure a $10 million life insurance policy would pay off for his surviving son." • American gentry!
"An NYC restaurant owner raised staff wages to $25 an hour. She's had no trouble recruiting – but still doesn't think she pays employees enough." [Business Insider]. "Cohen said that the wage hikes meant she had to raise prices by around 30%. She streamlined the restaurant's menu, too. Previously, it offered tasting menus of five and ten courses, but now it just offers one five-course menu, which she said slashed the restaurant's food costs and meant she could afford to pay staff more. 'We put the focus on staff comes first and everything comes second,' Cohen said. 'I can't succeed without a staff.' Other restaurants have voiced concerns that price hikes could lead to fewer visitors, but Cohen said her menu changes hadn't deterred diners. She said that the restaurant, which seats 44, was serving between 85 and 90 diners on an average night, which was roughly the same as pre-pandemic.'"
"Revealed: exploitation of meat plant workers rife across UK and Europe" [Guardian]. "Meat companies across Europe have been hiring thousands of workers through subcontractors, agencies and bogus co-operatives on inferior pay and conditions, a Guardian investigation has found. Workers, officials and labour experts have described how Europe's £190bn meat industry has become a global hotspot for outsourced labour, with a floating cohort of workers, many of whom are migrants, with some earning 40% to 50% less than directly employed staff in the same factories. The Guardian has uncovered evidence of a two-tier employment system with workers subjected to sub-standard pay and conditions to fulfil the meat industry's need for a replenishable source of low-paid, hyper-flexible workers." • This is news?
News of the Wired
"Elizabeth Loftus, "The Malleability of Memory" (Open Agenda, 2021)" (podcast) [New Books in Law]. "The Malleability of Memory is based on an in-depth filmed conversation between Howard Burton and Elizabeth Loftus, a world-renowned expert on human memory and Distinguished Professor of Psychological Science; Criminology, Law, and Society; Cognitive Science and Law at UC Irvine. This extensive conversation covers her ground-breaking work on the misinformation effect, false memories and her battles with "repressed memory" advocates, the introduction of expert memory testimony into legal proceedings and the effect of DNA evidence on convincing judges of the problematic nature of eyewitness testimony." • I don't listen to every podcast in the New Books Network, because some of the voices aren't soothing, but the overall quality is consistently excellent. Lots of interesting scholarship being done!
* * *
Readers, feel free to contact me at lambert [UNDERSCORE] strether [DOT] corrente [AT] yahoo [DOT] com, with (a) links, and even better (b) sources I should curate regularly, (c) how to send me a check if you are allergic to PayPal, and (d) to find out how to send me images of plants. Vegetables are fine! Fungi and coral are deemed to be honorary plants! If you want your handle to appear as a credit, please place it at the start of your mail in parentheses: (thus). Otherwise, I will anonymize by using your initials. See the previous Water Cooler (with plant) here. Today's plant (RH):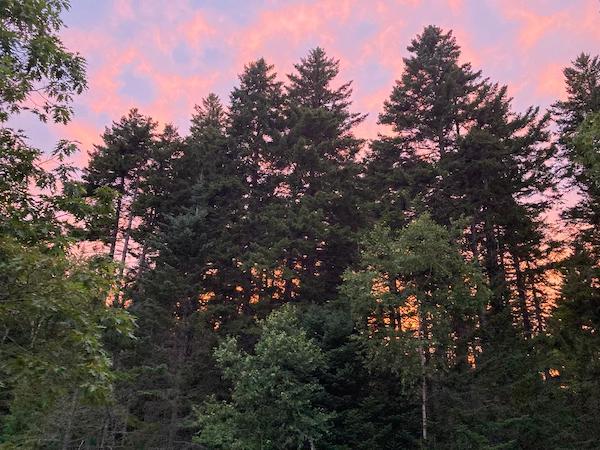 RH writes: "Sun setting behind a hill."
* * *
Readers: Water Cooler is a standalone entity not covered by the recently concluded and — thank you! — successful annual NC fundraiser. So if you see a link you especially like, or an item you wouldn't see anywhere else, please do not hesitate to express your appreciation in tangible form. Remember, a tip jar is for tipping! Regular positive feedback both makes me feel good and lets me know I'm on the right track with coverage. When I get no donations for five or ten days I get worried. More tangibly, a constant trickle of donations helps me with expenses, and I factor in that trickle when setting fundraising goals:
Here is the screen that will appear, which I have helpfully annotated.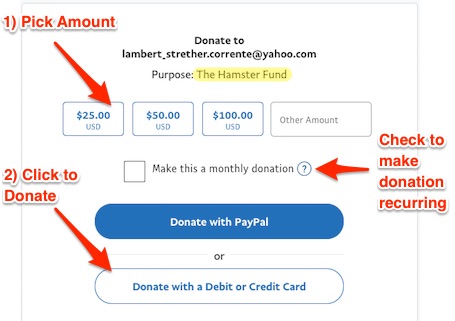 If you hate PayPal, you can email me at lambert [UNDERSCORE] strether [DOT] corrente [AT] yahoo [DOT] com, and I will give you directions on how to send a check. Thank you!2:00PM Water Cooler 6/8/2021