By Lambert Strether of Corrente.
Patient readers, I will return with more on the overly dynamic Capitol Hill situation shortly. –lambert UPDATE All done!
Bird Song of the Day
Another busy day in Papua!
"Wild Bird Diseases Update: Feeding Restrictions Are Lifted" [Birds & Blooms]. "we have an update on a new mystery illness that affected birds in certain regions of the U.S. There is good news to share—cases of this mystery bird disease are no longer being reported. All 11 states that had issued do-not-feed recommendations have now lifted their restrictions, or they were allowed to expire. This means you can safely start feeding birds in your yard again…. The biggest question is whether this ailment is contagious. So far we don't know, so it's best to continue to be cautious and keep cleaning your feeders regularly. If you find birds suffering or dying from these symptoms, don't pick them up unless you're wearing rubber gloves. Don't take them to a wildlife rehab center without calling first to make sure they are prepared to receive such birds. Call your state wildlife agency, because most of these wildlife departments are keeping track of reports. If birds with these symptoms are again found near where you live, most scientists and wildlife professionals agree that it's best to take down all bird feeders and bird baths right away. Wash them thoroughly with a 10% bleach solution, rinse them very well, and keep them down for at least a couple of weeks. If this mysterious ailment is contagious, feeders and baths would be prime areas for it to spread from one bird to another. We shouldn't take that chance. Birds can find abundant natural food, which would be the safer option in this unusual situation." • Unusual?
* * *
#COVID19
At reader request, I've added these daily charts from 91-DIVOC. The data is the Johns Hopkins CSSE data. Here is the site. I feel I'm engaging in a macabre form of tape-watching….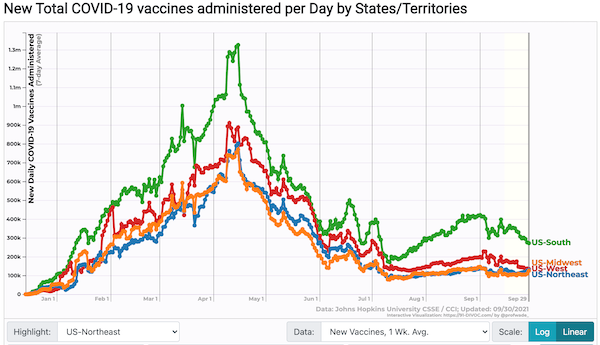 A little jump in the Northeast, oddly. Job mandates? Otherwise, so far as I can tell, Biden's speech had no impact at all. If the measures he announced have any impact, that has not appeared yet. I would bet that the stately rise = word of mouth from actual cases.
55.5% of the US is fully vaccinated (mediocre by world standards, being just below Czech Republic, and just above Switzerland and Malaysia). We are back to the stately 0.1% rise per day; yesterday's 0.3% is no more. However, as readers point out, every day those vaccinated become less protected, especially the earliest. So we are trying to outrun the virus… (I have also not said, because it's too obvious, that if by Bubba we mean The South, then Bubba has done pretty well.)
Case count by United States regions: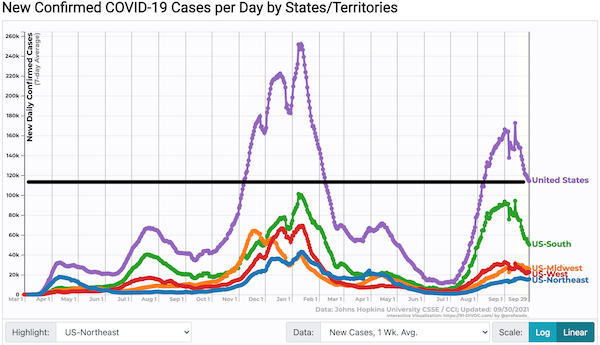 I have drawn an anti-triumphalist black line to show how bad the case level still is, despite the press having decided (it seems) that Covid is no longer a story (except for Bubba death bed conversions, and vax vax vax).
Simply tape-watching, this descent is as steep as any of the three peaks in November–January. It's also longer than the descent from any previous peak. The question is whether we will ascend to a second (or third) peak, as in last December-January, or not, as in last August. Note also that the regions diverge: The South, which drove the peak, is finally dropping. The West was choppy too, and is now falling. Ditto the Midwest. However, all this drama has masked the steady rise in the Northeast.
We could get lucky, as we did with the steep drop after the second week in January, which nobody knows the reasons for, then or now. Today's populations are different, though. This population is more vaccinated, and I would bet — I've never seen a study — that many small habits developed over the last year (not just masking). Speculating freely: There is the possibility that natural immunity is much, much greater than we have thought, although because this is America, our data is so bad we don't know. Also, if the dosage from aerosols drops off by something like the inverse square law, not linearly, even an extra foot of distance could be significant if adopted habitually by a large number of people. And if you believe in fomites, there's a lot more hand-washing being done. On the other hand, Delta is much more transmissible. And although readers will recall that I have cautioned against cross-country comparisons, I'm still not understanding why we're not seeing the same aggregates in schools that we've see in Canada and especially the UK, despite anecdotes. Nothing I've read suggests that the schools, nation-wide, have handled Covid restrictions with any consistency at all.
NEW From CDC: "Community Profile Report September 29, 2021" (PDF), "Rapid Riser" counties, this release: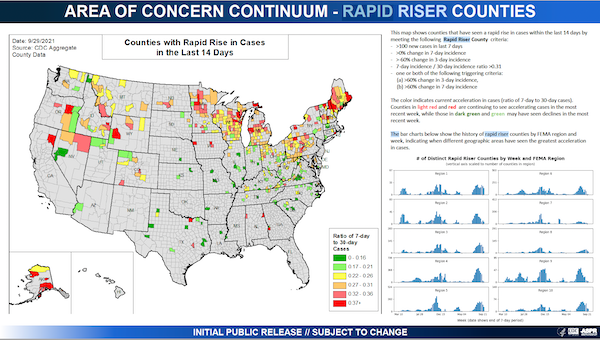 Better everywhere, including the Northern Latitudes and even the Rockies. Speculating freely: One thing the consider is where the red is. If air travel hubs like New York City or Los Angeles (or Houston or Miami) go red that could mean (a) international travel and (b) the rest of the country goes red, as in April 2020 and following. But Minnesota is not a hub. If Minnesota goes red, who else does? Well, Wisconsin. As we see. Remember, however, that this chart is about acceleration, not absolute numbers. This map, too, blows the "Blame Bubba" narrative out of the water. Not a (Deliverance-style) banjo to be heard. Previous release: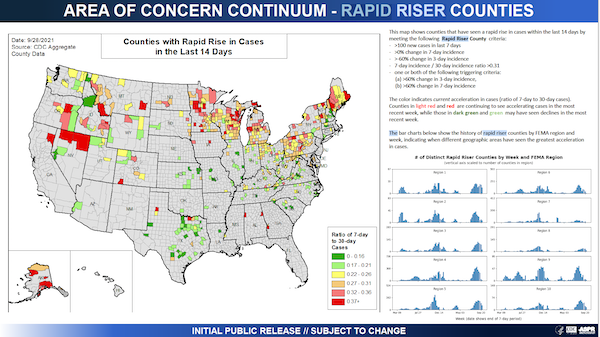 (Red means getting worse, green means bad but getting better.)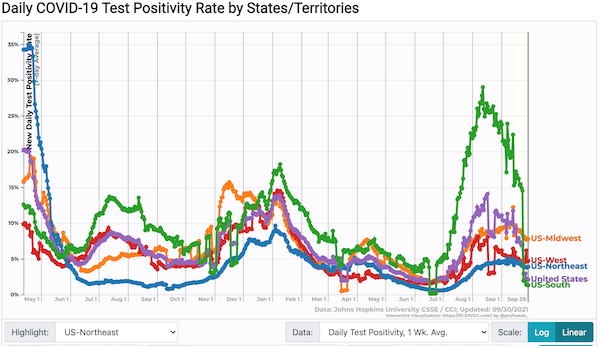 An unprecedented, enormous drop in the South. Almost no rebound. Surely data? It seems not. I've never seen anything like it. Did Walmart roll out a home test kit in all the states of the South, simultaneously?
Hospitalization (CDC). Everything works again today, CDC, good job: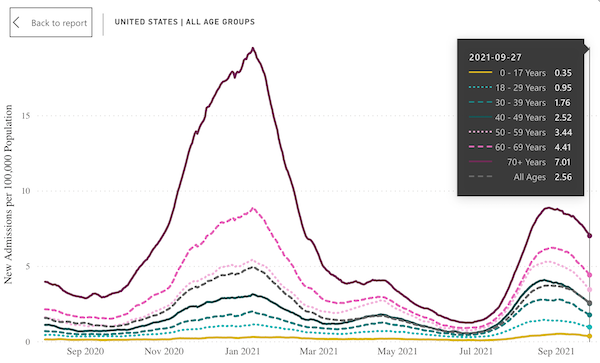 From this chart, pediatric hospitalization, in the aggregate, is down. I should dig out some regional or better yet county data.Here the CDC's hospitalization visualization, from the "Community Profile" report above: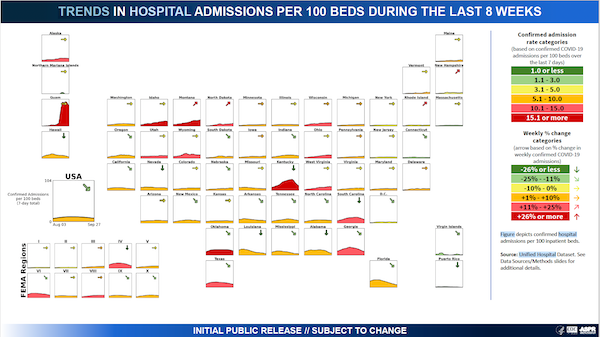 Alabama now out of the red.
Death rate (Our World in Data):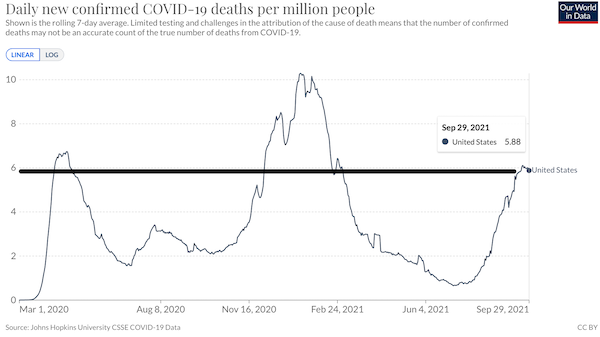 Total: 713,969 711,222. I have drawn an anti-triumphalist black line to show how bad the death rate still is. Looks like a downward trend, mercifully. We approached same death rate as our first peak last year. Which I am finding more than a little disturbing. (Adding: I know the data is bad. This is the United States. But according to The Narrative, deaths shouldn't have been going up at all. Directionally, this is quite concerning. Needless to see, this is a public health debacle. It's the public health establishment to take care of public health, not the health of certain favored political factions.) (Also adding: I like a death rate because it gives me a rough indication of my risk should I, heaven forfend, end up in a hospital. I should dig out the absolute numbers, too, now roughly 660,000, which is rather a lot.)
Covid cases worldwide: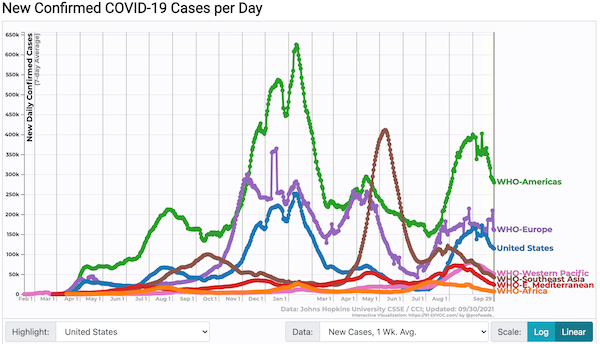 European exceptionalism?
* * *
Politics
"But what is government itself, but the greatest of all reflections on human nature?" –James Madison, Federalist 51
"They had one weapon left and both knew it: treachery." –Frank Herbert, Dune
"They had learned nothing, and forgotten nothing." –Charles Maurice de Talleyrand-Périgord
Biden Administration
NOTE: Time-stamps are publication dates, not event dates. Nevertheless, they approximate the sequence of events.

Life's rich pageant:

[09-30, 1:34PM] "Fresh Out Of Meeting With Pelosi, Jayapal Says There Still Aren't The Votes For BIF To Pass Today" [Talking Points Memo]. "When asked if Pelosi said during the meeting that the bipartisan infrastructure bill vote would happen today, Jayapal said to a group of us that 'there's always a chance.' She reiterated that Pelosi will not bring a bill to the floor if she lacks the vote to pass it — "she knows because I've been very transparent and clear with her about where our members are that there aren't the votes to pass it,' Jayapal said. 'All kinds of things could happen very quickly,' she said. 'All I can say is we said that we're gonna stay here all weekend if we need to to see if we can get to a deal, but if we can't, then we'll have to continue to work on it until we do.'" • Godzilla vs. Mothra!

[09-30, 12:52PM]. "Pelosi vows to press ahead with make-or-break infrastructure vote" [Financial Times]. "Pelosi, a longtime legislator with a record of emerging victorious from tough negotiations, has repeatedly said she will not hold a vote until she is confident she will win. Yet despite the Speaker's optimistic tone on Thursday, many on Capitol Hill remained sceptical that she would be able to get the infrastructure package over the line this week." • Hence the word "defiant" in Axios's headline.

UPDATE [09-30, 12:34PM] "Manchin says his spending limit is $1.5 trillion" [The Hill]. "Sen. Joe Manchin (D-W.Va.) announced Thursday that his top-line spending number for the budget reconciliation package is $1.5 trillion, far below the $3.5 trillion spending goal set by the budget resolution that he and every other Senate Democrat voted for last month. 'My top-line has been $1.5 [trillion],' he said, explaining that he doesn't want 'to change our whole society to an entitlement mentality.' Manchin also said that he had shared his figure with President Biden." • This is retrading the deal with a vengeance. So why hasn't Biden threatened to site a nuclear waste dump in one of Manchin's coal mines?

[09-30, 11:58AM]

Entering Pelsoi's office: head of the Progressive Caucus @RepJayapal and @RepEscobar

— Emily Wilkins (@emrwilkins) September 30, 2021

[09-30, 11:56AM] "Pelosi defiant on infrastructure vote" [Axios]. "It's still unclear what time the House will vote on the bill, as well as whether there will be a vote at all, as negotiations on the issue are developing every hour."

[09-20, 11:14AM]

REPORTER: If the [infrastructure] vote happens today are you confident that it will pass?

HOYER: Nope.

— Sahil Kapur (@sahilkapur) September 30, 2021

UPDATE [09-30, 11:05] From Pelosi's presser:

Speaker Pelosi: "You cannot tire. You cannot concede. This is the fun part."

— Kyle Griffin (@kylegriffin1) September 30, 2021

UPDATE [09-30, 11:04AM] From Pelosi's presser:

Speaker Pelosi, moments ago, when asked by press about her dialogue with Joe Manchin: "You think I'm going to talk with you about my conversations with Joe Manchin in here? What are you going to do, promise not to tell anyone?"

If anyone has savvy to navigate this, it's Pelosi.

— Duty To Warn 🔉 (@duty2warn) September 30, 2021

Yes, she's still sharp.

UPDATE [09-30, 10:58AM] From inside the presser:

PELOSI: "I just told members of my leadership that the reconciliation bill was a culmination of my service in Congress… Remove all doubt in anyone's mind that we will not have reconciliation. We will have a reconciliation bill. That is for sure."

— Sahil Kapur (@sahilkapur) September 30, 2021

"A" reconciliation bill is an adroit use of the indefinite article! And I can't imagine Jayapal was reassured.

[09-30, 10:45AM] Pelosi's weekly presser:

As readers know, I far prefer transcripts, but I watched this one for the news value. I've never seen Pelosi live for an extended period; it was interesting. She's still sharp, as the exchanges with reporters show. But oh, that walk off the podium and out: The Biden Shuffle.

UPDATE [09-20, 10:30AM]

We aren't backing down, because — even though big corporations and a few conservative Democrats are against us — 70% of people want paid leave, childcare, climate action, affordable housing, and health care.

And we will deliver.https://t.co/SSTo9Cyf8D

— Rep. Pramila Jayapal (@RepJayapal) September 30, 2021

Right before Pelosi's presser…..

UPDATE [09-30. 9:34AM] "Manchin says reconciliation bill must include controversial Hyde Amendment" [The Hill]. "Sen. Joe Manchin (D-W.Va.) said late Wednesday that an expansion of Medicaid that Democrats are seeking to pass as part of their massive reconciliation bill must include the Hyde Amendment to get his support. 'Yeah, we're not taking the Hyde Amendment off. Hyde's going to be on,' Manchin told National Review when asked about a proposed Medicaid-like program in the reconciliation bill. 'It has to be. It has to be. That's dead on arrival if that's gone,' Manchin, who has described himself as 'pro-life, and proud of it,' added." • Sounds like a poison pill, to me.

UPDATE [09-30, 4:30AM] "White House gives a wink to progressives as they threaten Biden's infrastructure bill" [Politico]. "One by one, liberal lawmakers have announced that they will vote to defeat a bipartisan infrastructure bill if moderate Democrats and the White House do not offer a firm outline for an accompanying social and climate spending package as well. And just as tensions within the party were at a seeming boiling point this week, Sen. Bernie Sanders (I-Vt.) turned it up even further, urging House Democrats to vote against that bipartisan infrastructure bill when it is scheduled to hit the floor on Thursday. Though some of those same progressives have loudly complained that President Joe Biden isn't doing enough to reach out to them individually on his legislative agenda, the White House seems utterly unbothered by it. Instead, they're hoping that the prospect of a progressive revolt will only add to the pressure they're attempting to exert on Sens. Kyrsten Sinema of Arizona and Joe Manchin of West Virginia, the two moderate Senators most noncommittal about supporting a party-line reconciliation bill. Two sources familiar with the White House's messaging to progressives said that officials have made it clear to them that they are not displeased with all the talk about voting down the infrastructure package."

* * * Yesterday * * *

UPDATE [09-29, 03:39PM] "White House believes Sinema supports passing reconciliation bill this year" [The Hill]. "The White House believes Sen. Kyrsten Sinema (D-Ariz.) supports passing a large reconciliation package this year, press secretary Jen Psaki said Wednesday. 'Our sense is she does,' Psaki said when asked if President Biden believes Sinema is in favor of moving a bill with various Democratic priorities. Asked if the administration believes Sinema supports doing it this year, Psaki said: 'That's our sense.'" • Well, that's reassuring.

UPDATE [09-29, 5:54PM] "Schumer, Pelosi toil to ease cross-Capitol rifts over Biden agenda" [Politico]. "Democratic senators are watching Pelosi's House machinations on the bipartisan infrastructure bill with exasperation, worried the speaker's planned break from the two-track process that coupled Biden's jobs and families plan to a roads and bridges bill will provoke disaster. Schumer told his members that he had not been consulted about Pelosi's plan to decouple the two and forge ahead with a solo vote on the bipartisan bill this week…. Democrats who wrote the bipartisan infrastructure bill are agog that Pelosi's progressive members might tank it or get it pulled from the floor."

UPDATE [09-29, 12:05AM]. When you've lost Jonathon Chait:

Chait understands the stakes. pic.twitter.com/nBoJnR4mkG

— Jeet Heer (@HeerJeet) September 29, 2021

* * *

"Top Democrat says Biden failed to take 'clear-eyed look' at Afghanistan" [WaPo]. "House Armed Services Committee Chairman Adam Smith (D-Wash.) faults President Biden's administration for not taking "a clear-eyed look" at the capabilities of the Afghan government and its security forces ahead of the Aug. 31 American withdrawal after 20 years of war…. "But I think the thing that ultimately, you know, made it hard for them to make that clear-eyed hard set of decisions is the Ghani government," Smith said, referring to former Afghan president Ashraf Ghani. "The Ghani government wasn't saying 'when you pull out, we're going to bail.' They were telling us the exact opposite."… Smith also said he was working with the top Republican on the committee, Rep. Mike D. Rogers (Ala.), to set up a bipartisan "task force" to look at the war over its two-decade span, one of many efforts he hopes to see in the aftermath of the withdrawal." • Oh, good. Funny how open season on Biden started immediately after he ended a war.

UPDATE "The sucking political void of Democratic centrists" [The Week]. "The remarkable thing about the key votes on this package — Sens. Joe Manchin (D-W.V.) and Kyrsten Sinema (D-Ariz.), the latter of whom increasingly seems to be the most stubborn holdout — is how they refuse to say outright what they want. This is political 'centrism' as a vacuous nullity, a lidless reptilian eye ever gazing into a lightless political tomb where no truth is spoken and nothing ever happens. Let me review some background. Since the passage of the American Rescue Plan in March, the Democratic Party has been stuck in a prolonged negotiation about how it will use its majority. First, a handful of Senate Democratic moderates insisted on negotiating an infrastructure bill with Republicans — which, to my surprise, the GOP was willing to do, almost certainly because Republicans correctly calculated it would drive a wedge deep into the Democratic coalition. The result was a dressed-up highway bill: some money for Amtrak and other mass transit and much more money to cement pollution-spewing car dependency. On balance, it's barely better than nothing. On the other side of the wedge, distrust of moderate Democrats grew. Democratic leadership and progressive Democrats determined, once the bipartisan infrastructure bill was done, to negotiate a big reconciliation bill (to address health care, paid leave, climate change, and all other priorities) without Republican involvement. Then, the two bills would pass together so neither Democratic faction could betray the other. After spending precious months of this Democratic-majority Congress on that deliberation, now the moderates are trying to renege on the deal, demanding the bipartisan bill be passed before they'll consider passing the reconciliation package. Realistically, they want to kill the Democratic bill." • Well, it makes sense that the "moderates" are not agreement-capable. After all, the United States isn't.
Realignment and Legitimacy
"There Just Aren't Enough College-Educated Voters!" [Ruy Teixeira, The Liberal Patriot]. Quoting a great slab of this:

In 2012, the difference in Democratic support between college-educated and noncollege (working class) voters in the Presidential election was about 4 margin points (Catalist data, two party vote), with college voters being more favorable to the Democrats than noncollege voters. In 2016 that difference ballooned to 18 points. And in 2020, it went up again to 22 points.

Democrats seem remarkably relaxed about this polarization, despite liking to style themselves as the party for "working people". One reason for this is the general perception that the college-educated population is growing while the working class is declining. True as far as it goes but the fact remains that noncollege voters far outnumber college voters. In the 2020 Catalist data, the tally was 63 percent noncollege/37 percent college. That means that any given shift among noncollege voters is significantly more consequential than a similarly-sized shift among college voters. This situation will continue for many election cycles, as the noncollege voter share is likely to decline only gradually.

Another reason for Democratic complacency is the firm belief that Democrats' working class problem is solely confined to whites and that white working class voters are so racist/reactionary that it is a badge of honor to ignore them. This is highly questionable as a matter of political strategy and arithmetic, given that they are 44 percent of voters and a lot more than that in key swing states and districts.

But there is a deeper problem. The perception that nonwhite working class voters are a lock for the Democrats is no longer tenable. In the 2020 election, working class nonwhites moved sharply toward Trump by 12 margin points, despite Democratic messaging that focused relentlessly on Trump's animus toward nonwhites. According to Pew, Trump actually got 41 percent of the Hispanic working class vote in 2016. Since 2012, running against Trump twice, Democrats have lost 18 points off of their margin among nonwhite working class voters.

Given this development, how did the Democrats manage to win in 2020? In broad brush terms, Democrats' modest gains among the white working class—still by far the largest part of the working class—were about enough to cancel out the nonwhite working class losses, thereby allowing the Democrats' white college gains to put them over the top. But if both segments of the working class move in tandem against the Democrats, that will be a big, big problem that gains among college voters—even if they continue—may not solve.

Savagely ironic, since nobody was more influential ideologically than Ruy Teixeira in the Democrat turn from the working class; his concept of the "coalition ascendant" was the justification not only for identity politics (and the dense thicket of NGOs that support it), but for the pervasive Democrat belief that they never actually had to deliver on anything, because demographics would to their work for them. Biden, interestingly, seems to have abandoned that notion, or is old-fashioned enough never to have bought into it.
Stats Watch
Corporate Profits: "United States Corporate Profits" [Trading Economics]. "Corporate profits in the United States climbed 10.5% to a record high of USD 2.44 trillion in the second quarter of 2021, after rising 4.5% in the previous period and compared with a preliminary estimate of a 9.7% jump. Undistributed profits climbed 21.4% to $1.03 trillion and net cash flow with inventory valuation adjustment, the internal funds available to corporations for investment, advanced 7.9% to $3.08 trillion. Also, net dividends rose 3.8% to $1.41 trillion."
Employment Situation: "United States Jobless Claims 4-week Average" [Trading Economics]. "The 4-week moving average of US jobless claims, which removes week-to-week volatility, rose to 340.0 thousand in the week ending September 25th, from 335.75 thousand in the previous period."
Manufacturing: "United States Chicago PMI" [Trading Economics]. "The Chicago Business Barometer fell to 64.7 in September of 2021, the lowest level since February and down from 66.8 in August. Figures came slightly below market forecasts of 65. Order backlogs saw the largest decline, followed by supplier deliveries and new orders. Only employment increased through the month."
* * *
Real Estate: "What's Google Up To?" [Boondoggle]. "Tech giant Google recently announced that it bought a building in New York City in a massive $2.1 billion deal, which is the largest real estate purchase in the U.S. since the pandemic began. Google also said it would not avail itself of the corporate subsidy programs offered by New York State when it builds out a new campus centered on that building. A Google spokesperson reportedly specifically confirmed that the corporation won't be applying for two of New York's largest tax handout programs…. This is the third straight subsidy-free new office facility Google has announced, following those in San Jose, California, and Raleigh, North Carolina…. My guess is that Google learned from the public relations fiasco that was Amazon's HQ2 experience. Though Amazon did receive a major subsidy from Virginia for its new "headquarters," the further we get from that episode the more it looks like a strategic blunder. Not only did it help galvanize an anti-corporate power movement in New York State, but since then, more and more communities have organized opposition to local Amazon subsidies. The Teamsters union has also sensed an opportunity to challenge Amazon at the local level and moved in. The combination of normal people seeing hundreds of cities joining an Amazon competition that was rigged from the start, the corporation's sky-high pandemic profits, and former CEO Jeff Bezos' penchant for being in the news for everything from divorces to taxpayer-funded space flights has put the spotlight on Amazon's actions in a way that it wasn't pre-HQ2. In many ways, Amazon has made the transition to full political villain. Google sees that, and would like to avoid a repeat…."
Shipping: "California Port's 24-Hour Operation Is Going Unused" [Wall Street Journal]. "A pilot program offering 24-hour container operations at the Port of Long Beach hasn't attracted any truckers more than two weeks since the extended hours began, highlighting challenges facing Southern California seaports as dozens of ships back up off the coast….. Mario Cordero, the executive director of the Port of Long Beach and a proponent of 24-hour operations, said the port has asked major retailers to direct truckers to use overnight gates, but it will take time to set up new work patterns. 'We need their buy-in so they can direct their drayage companies to move this cargo,' he said…. Drayage companies, which specialize in hauling cargo by truck from ports to local yards and distribution facilities, say the overnight system is burdensome. Truckers can only make an appointment to pick up a container if they are able to drop off a specific type of container and chassis during the same run. Getting everything to match up can be difficult, said Matt Schrap, chief executive of the Harbor Trucking Association. 'I commend [Total Terminals International LLC, among the largest terminals at Long Beach] for what they are trying to do,' said Mr. Schrap, who represents hundreds of West Coast motor carriers. 'But if you can't get the appointment in the first place because it doesn't line up, then it doesn't make a difference.' TTI's Mr. Peratt noted the terminal accepts containers from seven ocean carriers but that truckers are limited by the types of chassis they are able to drop off."
Shipping: "Why Container Ships Can't Sail Around the California Ports Bottleneck" [Wall Street Journal]. "Newly arriving vessels are adding to a record-breaking flotilla waiting to unload cargo that on Sunday reached 73 ships…. Big vessels are continuing to join the bottleneck, experts say, because shipping lines and their cargo customers have few options for resetting countless supply chains moving goods into the U.S. that have been constructed over decades around the critical San Pedro Bay gateway now staggered by the overflowing demand for imports…. Shipping executives say other West Coast ports, like Oakland or Seattle, simply aren't large enough to handle the hundreds of thousands of containers that Los Angeles and Long Beach unload, store and move by truck or rail each week…. 'Shipping into the East Coast was the great secret for those of us advising early in the crisis," said Bjorn Vang Jensen, vice president of global supply chain at Denmark-based marine data company Sea-Intelligence ApS. 'But the secret got out and now those ports are just as screwed as other ports are because everyone wants to go there.' In recent weeks, the Port of Savannah has had 20 or more ships at anchor waiting for a berth."
Mr. Market: "The problem with individual stock buying" [Felix Salmon, Axios]. "Buying and selling individual stocks is a hobby for rich people that, over the course of the pandemic, also became a hobby for millions of new investors using free trading apps. But given the number of conflicts involved, it's a hobby that many people should probably give up…. The recent headlines mostly concern boomers whose formative investment years predate the height of the passive revolution. As apps try to make stock-picking "easier and more delightful," in the words of Robinhood CEO Vlad Tenev, it's becoming increasingly likely that we'll see similar headlines about the boomers' kids."
* * *
Today's Fear & Greed Index: 29 Fear (previous close: 26 Fear) [CNN]. One week ago: 25 (Extreme Fear). (0 is Extreme Fear; 100 is Extreme Greed). Last updated Sep 29 at 12:58pm.
The Biosphere
"US to declare ivory-billed woodpecker and 22 more species extinct" [Guardian]. "The US Fish and Wildlife Service officially proposed taking 23 plants and animals off the endangered species list Wednesday, because they have not been spotted in the wild and are believed to be completely gone from an earth experiencing human population growth and a climate crisis. Only 11 species previously have been removed due to extinction in the almost half-century since the Endangered Species Act was signed into law. The move underscores an extinction crisis that is growing worldwide. The rate at which extinction would naturally occur is about one to five species per year, according to Michael Reed, a biologist at Tufts University. He adds that now, species are going extinct at 1,000 to 10,000 times that background rate."
Health Care
"Why We Need to Upgrade Our Face Masks—and Where to Get Them" [Scientific American]. "There is now a cornucopia of high-filtration respirator-style masks on the market, including N95s, Chinese-made KN95s and South Korean–made KF94s. They have been widely available and relatively affordable for months and provide better protection than cloth or surgical masks. Yet it was not until September 10 that the CDC finally updated its guidance to say the general public could wear N95s and other medical-grade masks now that they are in sufficient supply. Still, however, the 'CDC continues to recommend that N95 respirators should be prioritized for protection against COVID-19 in healthcare settings,' wrote CDC spokesperson Jade Fulce in an e-mail to Scientific American last week. 'Essential workers and workers who routinely wore respirators before the pandemic should continue wearing N95 respirators,' she continued. 'As N95s become more available they can be worn in non-healthcare settings, however, cloth masks are an acceptable and recommended option for masking.' The agency announced in May that supplies of approved respirator masks had 'increased significantly.' When asked why it only updated it guidance on N95 use by the public in September, Fulce replied that the 'CDC regularly reviews and updates its guidance as more information becomes available.'" • As I suspected. Note that the rewriting of history on CDC mask policy is positively Orwellian, but in the present day, Scientific American is doing OK.
The 420
"New York misses deadline to allow medical cannabis home-grows" [Times-Union]. "The Marijuana Regulation and Taxation Act allows limited home cultivation of medical cannabis. But it also specifies that patients will not enjoy that right until after the Office of Cannabis Management issues regulations governing it, which it was obligated to do "no later than six months after the effective date" of the law. But after a series of delays, staffing of that office is still underway. That means lawmakers' intention for the law to allow medical marijuana card holders to begin growing plants this week is on hold indefinitely. The delay is the latest in a series of stumbles in the medical cannabis program, and they are occurring in spite of the explicit intent of legislators who drafted and championed the new law."
"Has Florida kept Black marijuana farmers from succeeding?" [Tampa Bay Times]. " It's been a long four years for Florida's Black farmers. In 2017, the Legislature passed a law that created the modern Florida medical marijuana industry. It set steep barriers to entry. It limited the number of licenses the state could award to companies. By no later than Oct. 3 of that year, a new marijuana license was to be given to a business owner belonging to a 'Pigford Class' — one of two groups of Black farmers who had won a judgment from the U.S. Department of Agriculture for that agency's history of racial discrimination. One full presidential term later, no such cannabis license has been awarded."
The Agony Column
"What If Trigger Warnings Don't Work?" [The New Yorker]. "Because trigger warnings involve assumptions about emotional reactions, particularly with respect to P.T.S.D., psychology researchers have begun to study whether trigger warnings are in fact beneficial. The results of around a dozen psychological studies, published between 2018 and 2021, are remarkably consistent, and they differ from conventional wisdom: they find that trigger warnings do not seem to lessen negative reactions to disturbing material in students, trauma survivors, or those diagnosed with P.T.S.D. Indeed, some studies suggest that the opposite may be true…. A large study by Jones, Bellet, and McNally found that trigger warnings reinforced the belief on the part of trauma survivors that trauma was central (rather than incidental or peripheral) to their identity. The reason that effect may be concerning is that trauma researchers have previously established that [Harvard Ph.D. candidate Benjamin] Bellet called this "one of the most well documented relationships in traumatology." The perverse consequence of trigger warnings, then, may be to harm the people they are intended to protect." • I would imagine this applies as well to "centering" trauma victims in policy decision-making about what caused their trauma?
Zeitgeist Watch
"Why Is Every Young Person in America Watching 'The Sopranos'?" [New York Times]. "One oddity that can't be ignored in this "Sopranos" resurgence is that, somewhat atypically for a TV fandom, there is an openly left-wing subcurrent within it — less "I feel so seen by this" lefty than "intricate knowledge of different factions within the Philadelphia D.S.A." lefty. This is especially true on Twitter, where just about everything takes on a political valence. But it goes beyond that: There's a Socialist "Sopranos" Memes account on Facebook with 22,000 followers, run by a Twitter user called @gabagoolmarx. There's a podcast called "Gabagool & Roses," "the ONLY leftist 'Sopranos' podcast," a presumably ironic claim, because there's also the much more popular "Pod Yourself a Gun," which frequently brings in guests from the expanded Brooklyn leftist podcast scene. The queens of downtown leftish podcasting, at "Red Scare," sell "Sopranos"-inspired merch; the "Irina Thong" ($21) and "Capo Tee" ($30) both have the podcast's name styled just like the Bada Bing's logo. The "leftist 'Sopranos' fan" is now such a well-known type that it is rounding the corner to being an object of scorn and mockery online." • Well, Stalin was a theology student…
"Inside the 'secret' meat menu at exalted 'vegan' spot Eleven Madison Park" [Page Six]. "Just call it Eleven Madison Pork: It emerges the city's most exalted vegan restaurant has a secret meat room for the mega-rich. This May chef Daniel Humm had announced with much flowery fanfare that his Eleven Madison Park restaurant would reopen in June from its pandemic closure with a fully plant-based vegan menu. But not just any meager meatless menu: It's 12 courses for $335…. The eaterie would only use animal products by offering milk and honey for coffee and tea service, he insisted. However, it seems those principles are off the plate in the restaurant's private dining room — which insiders tell Page Six is targeted to corporate events and is a big money-maker for the establishment. The private dining room at Eleven Madison Park comes complete with a meat-heavy menu that includes foie gras, beef tenderloin, roasted chicken and pork." • "Eaterie." Ouch. From the savage New York Times review: "In tonight's performance, the role of the duck will be played by a beet, doing things no root vegetable should be asked to do…. The [beet] at Eleven Madison Park tastes like Lemon Pledge and smells like a burning joint." •
Guillotine Watch
"Elizabeth Holmes 'deferred to' her COO-boyfriend when running Theranos, her lawyers argue" [Yahoo News]. "In the documents, Holmes contends that alleged abuse by her onetime boyfriend — former Theranos COO and president Ramesh 'Sunny' Balwani, who also faces criminal charges — influenced her beliefs about the startup's operations and financial well being." • The COO was the CEO's boyfriend? Really?
Class Warfare
Well, of course:
This looks like a fascinating essay from anthropologist @RyanCecilJobson , and an important book… https://t.co/P9f398xHUc

— FocaalBlog (@FocaalBlog) September 30, 2021
News of the Wired
"The frozen calm of normalcy bias" [Gizmodo]. From 2013, still germane. "People seeking shelter during tornadoes and cyclones are often called back, or delayed, by people doing normal activities, who refuse to believe the emergency is happening. These people are displaying what's known as normalcy bias. About 70% of people in a disaster do it. Although movies show crowds screaming and panicking, most people move dazedly through normal activities in a crisis. This can be a good thing; researchers find that people who are in this state are docile and can be directed without chaos. They even tend to quiet and calm the 10-15% of people who freak out. The downside of the bias is the fact that they tend to retard the progress of the 10-15% of people who act appropriately. The main source of delay masquerades as the need to get more data. Scientists call this "milling." People will usually get about four opinions on what's going on and what they should do before taking any action — even in an obvious crisis. People in emergency situations report calling out to others, asking, "What's going on?" When someone tells them to evacuate, or to take shelter, they fail to comply and move on, asking other people the same question…. More complicated, from a policy standpoint, is the need to personalize the risk. This information — that the present disaster will harm you, yes you, so take action — is the hardest to accurately disseminate. People mill, asking for opinions, because they want to be told that everything is fine. They will keep asking, and delaying, until they get the answer they want." • Milling around won't be helpful during the Jackpot…
* * *
Readers, feel free to contact me at lambert [UNDERSCORE] strether [DOT] corrente [AT] yahoo [DOT] com, with (a) links, and even better (b) sources I should curate regularly, (c) how to send me a check if you are allergic to PayPal, and (d) to find out how to send me images of plants. Vegetables are fine! Fungi and coral are deemed to be honorary plants! If you want your handle to appear as a credit, please place it at the start of your mail in parentheses: (thus). Otherwise, I will anonymize by using your initials. See the previous Water Cooler (with plant) here. Today's plant (Re Silc):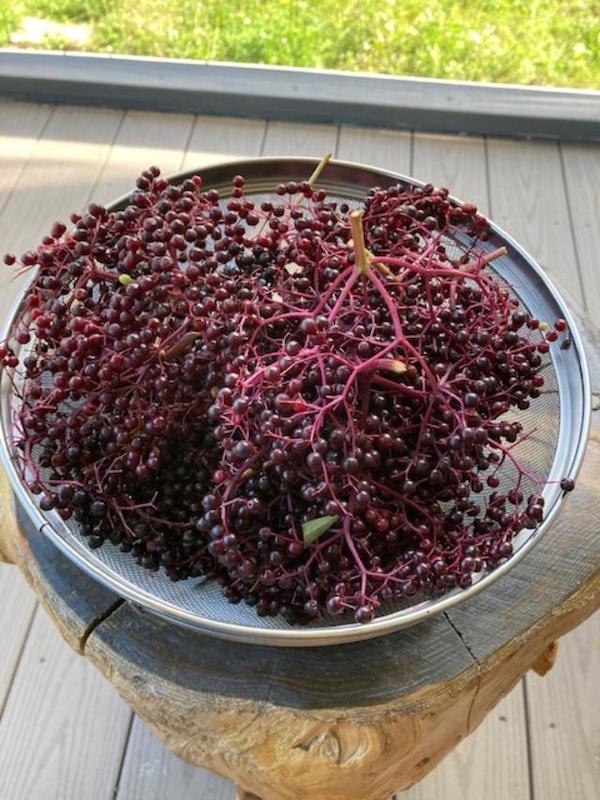 Re Silc writes: "Blueberries done. But elderberries ahoy!" Nice project. If anybody has sent me vegetable pictures, they are way ahead in the queue, where I haven't seen them yet. If you haven't, please do! Squash, corn, tomatoes, onions, garlic, etc., etc….
* * *
Readers: Water Cooler is a standalone entity not covered by the recently concluded and — thank you! — successful annual NC fundraiser. So if you see a link you especially like, or an item you wouldn't see anywhere else, please do not hesitate to express your appreciation in tangible form. Remember, a tip jar is for tipping! Regular positive feedback both makes me feel good and lets me know I'm on the right track with coverage. When I get no donations for five or ten days I get worried. More tangibly, a constant trickle of donations helps me with expenses, and I factor in that trickle when setting fundraising goals:
Here is the screen that will appear, which I have helpfully annotated.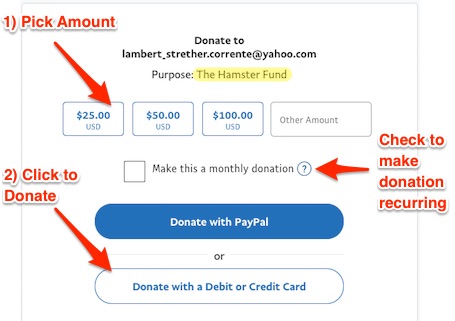 If you hate PayPal, you can email me at lambert [UNDERSCORE] strether [DOT] corrente [AT] yahoo [DOT] com, and I will give you directions on how to send a check. Thank you!2:00PM Water Cooler 6/8/2021