By Lambert Strether of Corrente
And now for something completely different. Commenters to Yves' post on rationing were discussing how to cook and store food under conditions of "disruption and shortages," as alert reader Eclair put it, discussing the Amish. It occurred to me that the Jackpot would be the ultimate form of rationing, albeit imposed opportunistically. Reader Hotflash mentioned pressure canning, but that's too ambitious for me; I'm nervous about the botulism the way others are nervous about exploding cookware. So I thought I'd look to see if pressure cooking — from which pressure canning technology derives — would help with rationing; if it was Jackpot-compliant. As it turns out, it's not; pressure-cooking will not help you comply with the rigors of collapse. However, pressure-cooking could be said to be Jackpot-ready: The values implicit in pressure cooking will help you to ready yourself for what is to come. Also, the topic is interesting in itself. Full disclosure: I don't cook food. I buy it. This is neither Jackpot-ready, since I am not sharpening skills, nor Jackpot-compliant, since Jackpot restaurants will surely very, very exclusive.
For those who want to cut to the chase, recipes, reviews, more reviews. And a particularly enthusiastic review:
Everyone in Spain has a Fagor pressure cooker. You can cook everything quicker and get deep, precise, perfect flavors and textures with one tool….

Beans and greens come out super creamy — only this pressure cooker can collapse cell walls like that. The best risotto takes only seven minutes. You can cook the most succulent boiled chicken you have ever had, and get a chicken broth in just 40 minutes that's perfectly clarified because the pressure cooker automatically stratifies your stock. Even when I make chickpeas, I'll save the broth because the clarity of flavors in the pot liquor from the pressure cooker is the best.
And a key distinction:
A pressure cooker is not a slow cooker. Slow cookers encourage poor technique — you're not engaged, and you don't use your intuition. When you're using the Fagor, you have to pay attention the whole 40 to 50 minutes because it's basically a pan with a pressurized top on it. You're not just dumping a few ingredients into a pot and leaving. It's an easy way to put really healthy, tasty food on the table that has bold flavor and is immediately satisfying. Sometimes when you cook for your family you'll make a loveless meal because you're in a hurry. We've all done it. I think this pressure cooker is free love, even if you're rushed.
Chicken broth that doesn't take, like days? I'm almost sold!
The pressure cooker opened the Age of Steam. French physician and scientist Denis Papin showed his "Digester" to the Royal Society in 1679. (The last Great Plague in London had ended only thirteen years before, so science was popping after the Jackpot of Papin's own day.) He published his book on it in 1681. Here's the cover: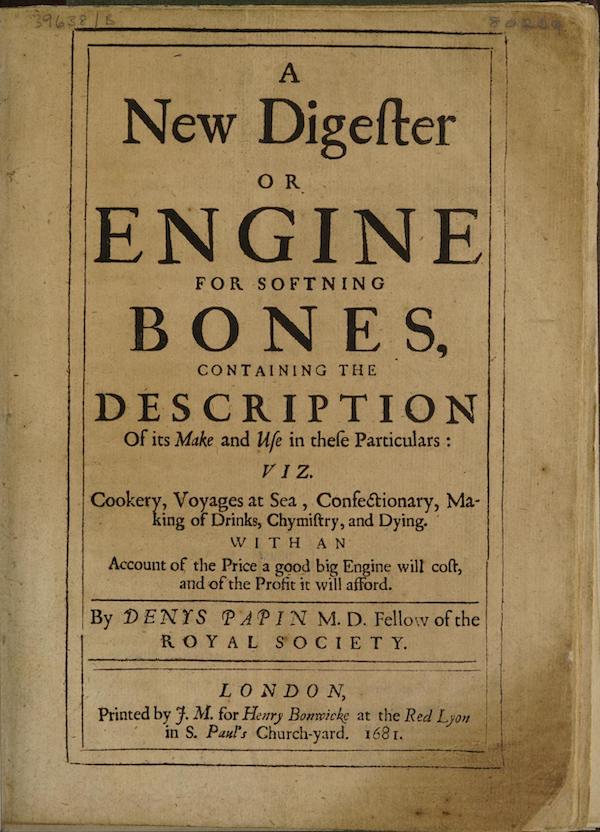 The whole book is at the Wellcome Collection in facsimile; it makes for fascinating reading. Pressure cooker manufacturer Presto says Papin was motivated by a desire to save cooking time; others say Papin sought to enable the poor to extract nutrition from bones; what is clear is that Papin was fascinated by his new addition to the art of cuisine; his book includes recipes for mutton, beef, rabbit, pigeons, fish, "gelly," sweetmeats, wine, and glue. (In 1681, Papin prepared a well-received meal for the Royal Society using his digester.)
As a scientist, Papin had worked for both Christian Huygens and Robert Boyle, the inventor of Boyle's Law, which drives the operation of the pressure cooker from Papin's day to this:
According to David Wootton, author of The Invention of Science: A New History of the Scientific Revolution, the Digester was nothing short of a revelation. A breakthrough in steam technology, it relied on simple but impactful science. "Making the Digester involved understanding that pressure relates to the temperature at which things boil," he says. "And when things boil, the result is pressure from steam. You've got a double process when you put something in a pressure cooker: You're raising the temperature at which steam emerges, and you're also producing pressure from the steam."

Papin's initial device required a custom-built furnace, which rested directly beneath a series of hollow cylinders—two made from brass, one from glass or pewter. Users placed food and water within the latter. The top of the device was sealed with a lid and kept taught with screws. Most notably, the device featured a safety valve with a weight on its end. When pressure reached unsafe levels, the weight lowered the valve and released excess steam, thereby preventing explosions.

Though bigger than the devices it later inspired, the Digester was strikingly similar to modern pressure cookers both in its basic components and its efficiency. "The principals are exactly the same," Wootton says. "You're cooking faster because you're cooking at a higher temperature, and because you are doing it in steam, you're not going to burn or dry things out. You're also releasing marrow while cooking animal substances until you can produce various sorts of broths and jellies."
Papin went on to develop a piston-based engine where steam was the prime mover; it has been suggested that Thomas Newcomen, the English inventor of the first practical steam engine in 1712, saw the plans, which Papin published in 1688 and 1690. So when you use your pressure cooker, you are also using an important historical artifact!
We must fast forward to the 1930s to see the pressure cooker become an item of mass manufacture:
But it wasn't until the 1930s that the pressure cooker finally made its way into the home kitchen, with the introduction of Alfred Vischer's "Flex-Seal Speed Cooker" in 1938, and later a model from the National Pressure Cooker Company (which is now named National Presto Industries and is still very much in the pressure cooker game) in 1939.

Since then, not much has changed, and pressure cooker designs can be classified by generations. The first and simplest "old type" pressure cookers feature a weighted "jiggler" valve that releases and regulates pressure, causing a rattling noise as steam escapes. Today, most pressure cookers you can find are first-generation designs, with small safety improvements like pressure-sensitive locking mechanisms, as well as the ability to adjust pressure by changing the weight of the valve.

Second-generation pressure cookers are quieter, have a hidden, spring-loaded valve, and allow you to choose at least two different pressure settings by adjusting a dial. Some cookers don't even release any steam while cooking; instead, they have an indicator that displays the pressure level. Overall, second-generation models offer more precision when cooking than do first-generation models.

Third-generation models are a relatively recent innovation. Unlike models belonging to the first two generations, these models all have an electric heat source that maintains proper pressure while cooking. They typically have a timer, and more elaborate models include digital controllers, delayed cooking functionality, and smart programming for cooking certain foods.
Obviously, third-generation models are neither Jackpot-ready or -compliant, since they depend on electricity; first- and second-generation pressure cookers, such as you might find anywhere from estate sales to Amazon — or, in my case, in the confused mass of unused cookware in my mother's cupboards — are, since they can be heated with flame[1].
So much for the Age of Steam[2]. What about the cooking? The values of pressure cooking are, as it were, immanent in the techology; they all have to do with resource efficiency, including the ultimate resource, your time, and empowerment as a cook. Here is a description from one user:
Today, pressure cookers are very safe and are very easy to use; though I do admit I was a little worried using one for the first time. With a pressure cooker, a rich beef stock can be made in 2 ½ hours rather than 12…
The value of using time efficiently
… making stock-making suddenly economically-viable.
The value of being empowered as a cook
This fact convinced me to give it a go. After a quick rummage in the freezer, I found not beef bones but hogget bones, leftover…
The value of using resources wisely (and indeed Papin's original use case. Besides softening bones and tough meat, pressure cooking preserves nutrients).
… from the legs I roasted for the podcast and Grigson blog last year (see here and here). The resulting stock was magnificent – richer and more delicious than any meat stock I had cooked before. Then, I tested it out on some pigeons, cooking them pie-style just as John Evelyn had mentioned in his diary [of the dinner cooked for him by Papin at the Royal Society].
(Here is an article from a prepper that takes a more pragmatic view, and recommends using one's pressure cooker for, among other things, canning, water distillation, and as an autoclave. In addition, if you want to cook without detection, a pressure cooker is sealed.)
* * *
Values are immanent in technology. The values immanent in the pressure cooker are using time efficiently, becoming empowered, and using resources wisely. Those are not such bad values to become Jackpot-ready by practicing in the kitchen. "You are what you repeatedly do," as Aristotle says.
NOTES
[1] One could argue that first- and second-generation pressure cookers are not Jackpot-Compliant because they are sealed with a rubber gasket between lid and cooker; it's hard to imagine a collapsed supply chain disgorging rubber gaskets. Perhaps engineering-minded readers can suggest an alternative gasket material? Or a design for a new sort of pressure cooker that with a lid that does not require a gasket? This antique pressure canner is said to have no gasket: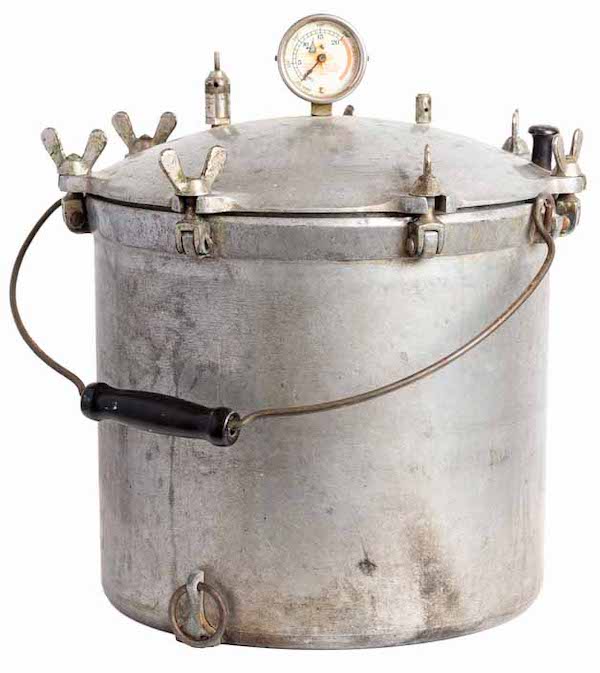 But it looks a little sketchy to me. Opening seems rather like undoing the lug nuts for a flat tire, except with a blast of steam as the price of a mistake.