By Lambert Strether of Corrente.
Patient readers, I got an extremely late start today. More later –lambert UPDATE All done!
Bird Song of the Day
A lively bunch! Especially the bongo player weighing in every so often….
* * *
#COVID19
Patient readers, I have started to revise this section, partly to reduce my workload, but partly to focus more as an early warning, if that is possible. Re workload: I eliminated charts for positivity, because I think private tests make those numbers useless. I cut back to a single hospitalization chart, because I think state-by-state data is more useful than a national aggregate. I retained vaccination (new administrations per day, plus percentage total), case count, and death rate (plus total). To spot new variants if and when they emerge, I changed the world chart to include countries that have form creating new variants: the UK, Brazil, and India, with Portugal as a baseline. I also retained rapid riser counties (though for now, with things so relatively quiet, I am including only this week's data). Winter is coming! Do feel free to make additional suggestions. (If there were a global map that showed the emergence of new variants dynamically, for example, that would be helpful.)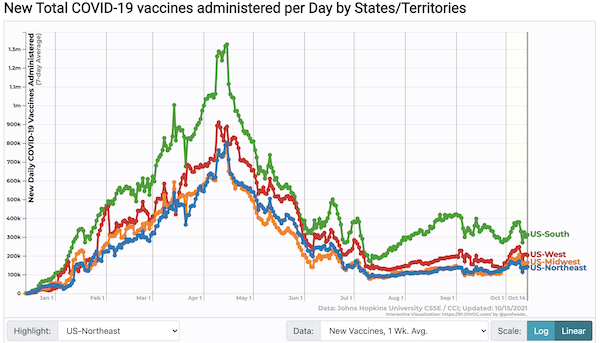 Coercion works? Or boosters? (I have also not said, because it's too obvious, that if by Bubba we mean The South, then Bubba has done pretty well on vax.)
56.7% of the US is fully vaccinated (CDC data. Mediocre by world standards, being just below Czech Republic, and just above Turkey, as of this Monday). We are back to the stately 0.1% rise per day. I would bet that the stately rise = word of mouth from actual cases. However, as readers point out, every day those vaccinated become less protected, especially the earliest. So we are trying to outrun the virus…
UPDATE A reminder that people who push the "Blame Bubba" narrative are full of it:
USA Disparities in vaccination by race and ethnicityhttps://t.co/dbjyCGKHE6 pic.twitter.com/QYy6I6Xhzh

— Irene Tosetti (@itosettiMD_MBA) October 15, 2021
UPDATE "The Unvaccinated May Not Be Who You Think" [Zeynep Tufecki, New York Times]. "Some key research on the unvaccinated comes from the Covid States Project, an academic consortium that managed to scrape together resources for regular polling. It categorizes them as "vaccine-willing" and "vaccine-resistant," and finds the groups almost equal in numbers among the remaining unvaccinated. (David Lazer, one of the principal investigators of the Covid States Project, told me that the research was done before the mandates, and that the consortium has limited funding, so they can only poll so often.) Furthermore, their research finds that the unvaccinated, overall, don't have much trust in institutions and authorities, and even those they trust, they trust less: 71 percent of the vaccinated trust hospitals and doctors "a lot," for example, while only 39 percent of the unvaccinated do. Relentless propaganda against public health measures no doubt contributes to erosion of trust. However, that mistrust may also be fueled by the sorry state of health insurance in this country and the deep inequities in health care — at a minimum, this could make people more vulnerable to misinformation. Research on the unvaccinated by KFF from this September showed the most powerful predictor of who remained unvaccinated was not age, politics, race, income or location, but the lack of health insurance." • Well, well, well. So that's what the moral panic was concealing (besides reinforcing partisan and class prejudice among liberal Democrats).
Case count by United States regions: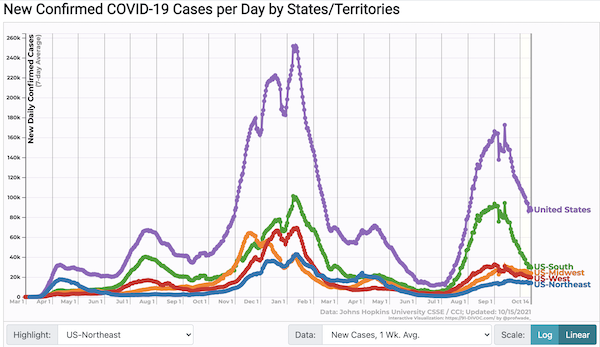 Seems to be a little bit of jitteriness and waffling in the descent, which is no longer so steady.
Simply tape-watching, this descent is as steep as any of the three peaks in November–January. It's also longer than the descent from any previous peak. We could get lucky, as we did with the steep drop after the second week in January, which nobody knows the reasons for, then or now. Today's populations are different, though. This population is more vaccinated, and I would bet — I've never seen a study — that many small habits developed over the last year (not just masking). Speculating freely: There is the possibility that natural immunity is much, much greater than we have thought, although because this is America, our data is so bad we don't know. Also, if the dosage from aerosols drops off by something like the inverse square law, not linearly, even an extra foot of social distance could be significant if adopted habitually by a large number of people. And if you believe in fomites, there's a lot more hand-washing being done. On the other hand, Delta is much more transmissible. And although readers will recall that I have cautioned against cross-country comparisons, I'm still not understanding why we're not seeing the same aggregates in schools that we've see in Canada and especially the UK, although we have plenty of anecdotes. Nothing I've read suggests that the schools, nation-wide, have handled Covid restrictions with any consistency at all. So what's up with that?
Even if hospitalizations and the death rate are going down, that says nothing about Long Covid, the effect on children, etc. So the numbers, in my mind, are still "terrifying", even if that most-favored word is not in the headlines any more, and one may be, at this point, inured.
MWRA (Boston-area) wastewater detection. Readers seemed to like this, so I'll add as a regular feature:=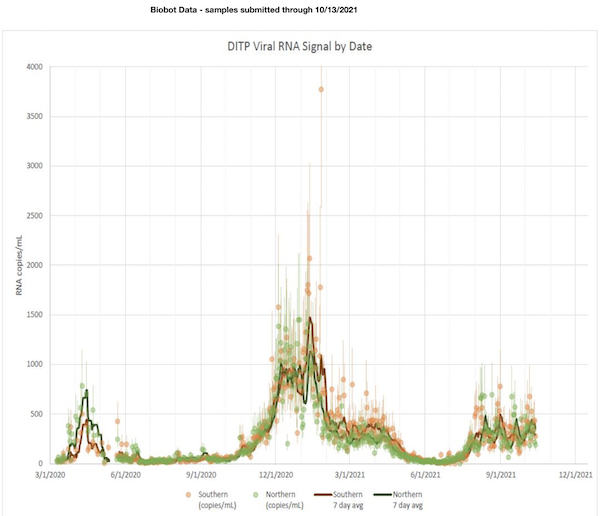 The Massachusetts Water Resources Authority (MWRA) service area includes 43 municipalities in and around Boston, including not only multiple school systems but several large universities. Since Boston is so very education-heavy, then, I think it could be a good leading indicator for Covid spread in schools generally.
From CDC: "Community Profile Report October 14, 2021" (PDF), "Rapid Riser" counties: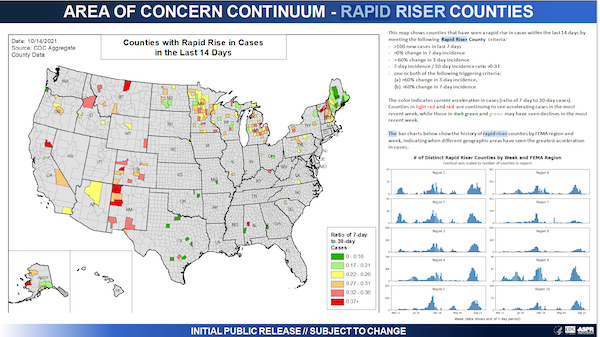 Speculating freely: One thing to consider is where the red is. If air travel hubs like New York City or Los Angeles (or Houston or Miami) go red that could mean (a) international travel and (b) the rest of the country goes red, as in April 2020 and following. But — for example — Minnesota is not a hub. If Minnesota goes red, who else does? Well, Wisconsin. As we see. Remember, however, that this chart is about acceleration, not absolute numbers. This map, too, blows the "Blame Bubba" narrative out of the water. Not a (Deliverance-style) banjo to be heard. (Red means getting worse, green means bad but getting better.)
Hospitalization (CDC Community Profile):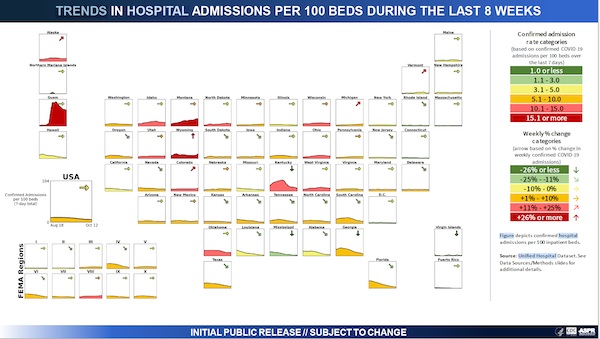 Death rate (Our World in Data):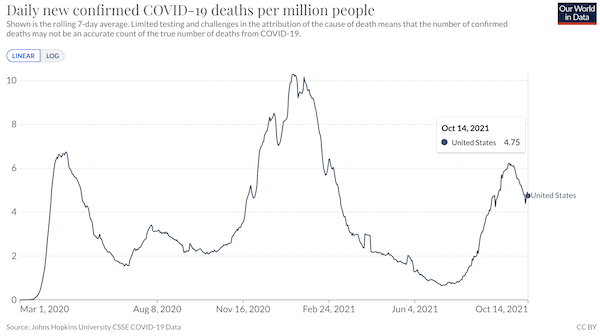 Total: 741,979 737,795. The downward trend in death rate begins anew, mercifully. We approached the same death rate as our first peak last year. Which I found more than a little disturbing. (Adding: I know the data is bad. This is the United States. But according to The Narrative, deaths shouldn't have been going up at all. Directionally, this is quite concerning. Needless to see, this is a public health debacle. It's the public health establishment to take care of public health, not the health of certain favored political factions. Also adding: I like a death rate because it gives me a rough indication of my risk should I, heaven forfend, end up in a hospital. I should dig out the absolute numbers, too, now roughly 660,000, which is rather a lot.)
Covid cases in historic variant sources: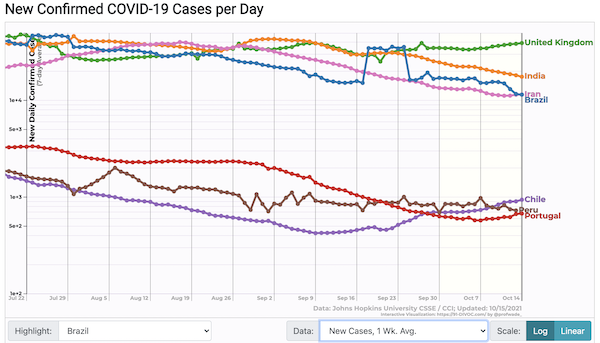 I added Chile, Peru, and Iran, based on remarks from the Brain Trust. I also changed to a log scale. Sorry for the kerfuffle at the left. No matter how I tinker, it doesn't go away.
* * *
Politics
"But what is government itself, but the greatest of all reflections on human nature?" –James Madison, Federalist 51
"They had one weapon left and both knew it: treachery." –Frank Herbert, Dune
"They had learned nothing, and forgotten nothing." –Charles Maurice de Talleyrand-Périgord
Biden Administration
"As Budget Bill Hangs in Limbo, Kyrsten Sinema Heads to Europe" [New York Times]. "Ms. Sinema's office declined to say how long she would be abroad, what countries she was visiting, how the trip was being paid for and whether she was doing any additional fund-raising for her own campaign. Her political team had reached out to set up meetings in London and Paris, according to two people familiar with the matter." • Since Schumer is silent, he wants her to do what he's doing. Lucy and the Football!

UPDATE "Pete Buttigieg has been on paternity leave amid Biden supply-chain crisis" [New York Post]. "The Department of Transportation revealed late Thursday that Secretary Pete Buttigieg has been on paternity leave since mid-August amid the massive ongoing supply-chain crisis that is threatening the timely delivery of everyday consumer goods and holiday gifts, according to a new report. Besides several recent television hits, Buttigieg has been lying low, Politico reported, citing his office. Buttigieg's team told the outlet that the secretary has been on paternity leave for nearly two months to spend time with his husband and two newborn babies and plans to continue to give them support in the coming weeks. The office had not previously announced his time off." • So Harris-Buttigieg 2024 not looking like a winner, then?
Republican Funhouse
"Anti-Trump Republicans endorsing vulnerable Democrats to prevent GOP takeover" [The Hill]. "A group of anti-Trump Republicans on Thursday endorsed a slate of Democrats and centrist Republicans in the 2022 midterm elections to fight against former President Trump's hold on the party. The Renew America Movement (RAM) announced it is backing a slew of lawmakers running for reelection. The group was founded by a group of moderates within the GOP after the Jan. 6 insurrection, which was fueled by Trump's lies about the election being stolen in November…. Also included in the list are 11 Democratic members of the House and Senate, most of whom are running in tight elections. Among them is Sen. Mark Kelly, who is running for a full term next year in a marquee Senate race in Arizona, as well as "front-line" House members such as Reps. Abigail Spanberger (Va.) and Jared Golden (Maine). "
2024
I like Briahna Joy Gray a lot. Via alert reader DJG:

Guest Burden-Stelly: "Kamala is a failed Condaleeza Rice." Ouch! Interestingly, both speakers think the Reconciliation Bill won't happen.
RussiaGate
"'Out of the Shadows: The Man Behind the Steele Dossier' | Oct 18 only on Hulu" [ABC]. • So they're cranking up RussiaGate again…

"Trump Shares His Thoughts On Golden Showers In Bonkers Off-Script Moment" [HuffPost] • As if the entire smear weren't bonkers! (Although perhaps Steele will revive it on the way to his book deal?)
Stats Watch
Manufacturing: "United States NY Empire State Manufacturing Index" [Trading Economics]. "The New York Empire State Manufacturing Index fell fifteen points to 19.8 in October of 2021 from 34.3 in September and well below market forecasts of 27, pointing to a slower factory growth in the NY state but solid overall. New orders and shipments increased, though by less than they did last month. At the same time, labor market indicators pointed to ongoing growth in employment and the average workweek. Meanwhile, the delivery times index inched up to a record high and both the prices paid and prices received indexes held near record highs. Looking ahead, firms were still very optimistic that conditions would improve over the next six months."
Retail Sales: "U.S. Retail Sales" [Trading Economics]. "Retail sales in the US unexpectedly increased 0.7 % mom in September of 2021, following an upwardly revised 0.9% surge in August, beating market forecasts of a 0.2% fall, in another sign of resilience from consumers despite supply constraints which affect vehicles and computers among other goods."
Consumer Sentiment: "United States Consumer Sentiment" [Trading Economics]. "The University of Michigan's consumer sentiment for the US fell to 71.4 in October of 2021 from 72.8 in September and below market forecasts of 73.1, preliminary estimates showed. The gauge of current conditions dropped to 77.9 from 80.1 while the expectations subindex went down to 67.2 from 68.1. Meanwhile, inflation expectations for the year-ahead edged up to 4.8% from 4.6% while the 5-year outlook eased to 2.8% from 3%. The Delta variant, supply chain shortages, and reduced labor force participation rates will continue to dim the pace of consumer spending into 2022. There is another, less tangible factor that has contributed to the slump in optimism: confidence in government economic policies has significantly declined during the past six months." • That last reading is odd; Democrats are supposed to be good on the economy.
Inventories: "United States Business Inventories" [Trading Economics]. "Manufacturers' and trade inventories in the US rose 0.6 percent from a month earlier in August of 2021, following an upwardly revised 0.6 percent gain in July and in line with market expectations." • And so they ought to be up.
* * *
UPDATE Commodities: "Rio Tinto cuts iron ore output guidance after 'difficult' third quarter" [Finance Politics]. "Rio Tinto has cut production guidance for its flagship iron ore business and several other divisions after a "difficult" third quarter and revealed another delay at its most important growth project, a huge underground copper mine in Mongolia's Gobi desert….. 'Not a great quarter for Rio with the collapse in the iron ore price and weaker than expected production in bauxite, aluminium and copper,' said Christopher LaFemina, analyst at Jefferies. 'An operational recovery is needed for these shares to work.""
Retail: "White House Warns Supply Chain Shortages Could Lead Americans To Discover True Meaning Of Christmas" [The Onion]. • A new angle on Christmas starting before Halloween, for sure.
Retail: "Domino's delivers rare fall in U.S. sales as slowing demand, labor crunch bite" [Reuters]. "Domino's Pizza Inc posted its first drop in U.S. same-store sales in over a decade on Thursday, as the world's biggest pizza chain grappled with a slowdown in delivery demand and a tight labor market that created a shortage of drivers. As COVID-19 curbs ease, Americans have started to eat out at restaurants after more than a year of ordering food at home, slowing sales at Domino's that gets most of its business from deliveries and take-away orders. Adding to its woes, Domino's also said a severe labor crunch in the United States dealt a blow to its business, forcing it to reduce store operating hours and compromise on delivery service times." • So, Domino's orders are a good proxy for Covid perceptions….
The Bezzle: "Antiquities Dealer Admits Mass-Producing Fakes He Sold for Years" [New York Times]. "'Over the course of three decades I have sold thousands of fraudulent antiquities to countless unsuspecting collectors,' [Mehrdad Sadigh] said, according to the statement he read in State Supreme Court in Manhattan, adding, 'I can only say that I was driven by financial greed.'…. In describing his scheme in court, Mr. Sadigh said that to hide his deceptions he had hired a company to flag, remove and bury Google search results and online reviews that suggested that some of what he had sold might be inauthentic. Mr. Sadigh also admitted to getting others to post glowing, but false, reviews of his gallery, inventing dozens of appreciative customers. After Mr. Sadigh was arrested in August, prosecutors said he appeared to be among the biggest purveyors of fake artifacts in the country, based on his 'substantial financial gains' and the longevity of his business…. Matthew Bogdanos, the chief of the district attorney's Antiquities Trafficking Unit, said in August that Mr. Sadigh had been using a sort of assembly-line process, involving varnish, spray paints and a belt sander, that seemed designed to alter contemporary mass-produced items so they would appear aged." • Sadigh gets probation, but the Sacklers get away clean. Go big or go home, I guess.
Manufacturing: "Maker of plane parts Boeing calls flawed supplied Spirit, others: Report" [Channel News Asia]. "An Italian sub-contractor at the centre of the latest snags to emerge on Boeing's 787 Dreamliner has worked for a broad set of aerospace companies including Spirit AeroSystems, according to industry sources and documents. Boeing and regulators said earlier some 787 jetliner parts were improperly made over the past three years. They were supplied indirectly by Manufacturing Process Specification (MPS), as a sub-contractor to Leonardo. In March, Boeing warned Spirit AeroSystems about suspected problems with parts at MPS and asked it to use alternative suppliers as it continued an audit of the Italian company's operations, according to a letter seen by Reuters. It also asked Wichita-based Spirit to trace any MPS parts it had used back to 2017 and to treat them as "suspect nonconforming," meaning they would be subject to further checks. 'Out of an abundance of caution while Boeing conducts further testing and evaluation, Boeing has also decided to consider all product processed by MPS to be suspect,' it said." • "A snag."
Manufacturing: "Ex-Boeing test pilot indicted for fraud in 737 Max probe" [ABC]. "Boeing's former 737 MAX test pilot, Mark Forkner, was indicted for fraud Thursday for allegedly misleading regulators about problems tied to the aircraft's two fatal crashes. The ex-chief technical pilot is the first Boeing employee to be charged over the 737 Max's failures…. 'In an attempt to save Boeing money, Forkner allegedly withheld critical information from regulators,' Acting U.S. Attorney Chad E. Meacham for the Northern District of Texas said in a release. 'His callous choice to mislead the FAA hampered the agency's ability to protect the flying public and left pilots in the lurch, lacking information about certain 737 MAX flight controls. .'" • Well, maybe things have changed at Justice since Obama's day:
* * *
Today's Fear & Greed Index: 48 Neutral (previous close: 39 Fear) [CNN]. One week ago: 34 (Fear). (0 is Extreme Fear; 100 is Extreme Greed). Last updated Oct 15 at 12:51pm.
The Biosphere
I linked to this lovely video on bears and salmon once before:
IIRC, the Taku River Tlingit got all of 300-odd hits for it. Now, they're up to over 3300! Maybe the NC link helped. So I thought I'd give it another bump.
Health Care
UPDATE How to assess the ventilation in a hotel room. A truly amazing thread:
The room I stayed in does not have shared air. This is typical for hotel rooms. Air in your room gets recirculated and conditioned within your room only – by design.

Pic for unit in my room: window unit with fan and cooling/heating coil. pic.twitter.com/ZIyb4Z4n17

— Marwa Zaatari (@marwa_zaatari) October 14, 2021
UPDATE "Why America Scrapped Its Pandemic Travel Bans" [The Atlantic]. "When the United States announced this week that it would relax its ban on travelers from Europe and other countries after 18 long months, the goal was not to aid the suffering travel sector, nor was it to appease frustrated European travelers who spent much of the summer watching Americans travel freely to their respective countries while being unable to make the same trip in reverse. It didn't even appear to be influenced by a shift in the pandemic situation, nor Europe's comparably higher COVID-19 vaccination rates. In the end, the impetus for the long-awaited (and arguably long-overdue) policy change appeared to be submarines…. But in giving its allies what they wanted, the U.S. also ended up confirming one of their key arguments: that these restrictions, like many of the byzantine rules that govern the way people live and travel, had little basis in fact or science. By lifting its travel restrictions in an apparent bid to appease jilted partners, the U.S. helped illustrate how nonsensical the ban was in the first place." • China would disagree that travel bans are nonsensical, as would New Zealand (until the variants we and the UK spread through our negligence or sociopathy overwhelmed their defenses. Our ban was nonsensical because it wasn't backed up by quarantines. As it is, given that even vaccinated individuals transnit, we've thrown the door open to the next variant (which current vaccines might not protect against, either). Let 'er rip!
UPDATE "Covid Testing, Turnaround Times Are Still Uneven This Far Into Pandemic" [Kaiser Health News]. "In one recent week, a New Yorker got a free covid-19 test in a jiffy, with results the next day, while a Coloradan had to shell out $50 for a test two cities from her hometown after a frantic round of pharmacy-hopping. A Montanan drove an hour each way to get a test, wondering if, this time, it would again take five days to get results. While covid testing is much easier to come by than it was early in the pandemic, the ability to get a test — and timely results — can vary widely nationwide. A fragmented testing system, complicated logistics, technician burnout and squirrelly spikes in demand are contributing to this bumpy ride. 'We're still where we were 18 months ago,' said Rebecca Stanfel, the Montana woman who had to wait five days for test results in Helena last month after being exposed to someone with the virus. Unpredictable waits can be a problem for those trying to plan travel, return to school from a quarantine — or even get lifesaving monoclonal antibody treatment within the optimal window if they do have covid. The White House said in early October it plans to buy $1 billion worth of rapid antigen tests to help improve access to the hard-to-find over-the-counter kits. But people are also facing problems getting molecular testing, including the gold-standard PCR tests." • So the adults in the room were in charge the whole time?
'
The Gallery
Good for Banksy, but what a metaphor:
A 10-minute bidding war broke out over "Love is in the Bin," which sensationally self-shredded during its first auction sale in 2018. https://t.co/TRxQmPa3mX

— HuffPost Politics (@HuffPostPol) October 15, 2021
Screening Room
"The Man Who Finally Made a 'Dune' That Fans Will Love" [New York Times]. Possibly. I hope so! But this is the most sycophantic, obsequious profile I have ever read. One of many gems: "Villeneuve's laughter, I would learn, often precedes statements of searching honesty."
Zeitgeist Watch
John Lewis — not that John Lewis — trolls everybody:
#JohnLewis Insurance Representative:
"No, I'm afraid your insurance policy doesn't cover you for any of that." pic.twitter.com/nvWjvwFtkz

— Joo (@JoosyJew) October 13, 2021
(Although I have to agree with the account's comment on insurance generally.) With excellent results:
#JohnLewis Insurance Representative:
"No, I'm afraid your insurance policy doesn't cover you for any of that." pic.twitter.com/nvWjvwFtkz

— Joo (@JoosyJew) October 13, 2021
See, identity politics does work…
Our Famously Free Press
Good question:
This was the most significant part of the Rogan-Gupta exchange, and it's not getting enough attention. The media class' open disdain for Rogan is turning him further and further against them, and now it's got him asking if western media run propaganda for US foreign policy. pic.twitter.com/26bEeaNJvZ

— Caitlin Johnstone ⏳ (@caitoz) October 14, 2021
"If they're lying about a comedian taking horse medication, what are they telling us about Russia?"
"Gupta tells Joe Rogan CNN shouldn't have called ivermectin 'horse dewormer'" [The Hill]. "'Do you think that's a problem that your news network lies,' Rogan asked. 'Dude, they lied and said I was taking horse dewormer.' 'Yeah, yeah yeah, they shouldn't have said it was horse' dewormer, Gupta responded. 'If you got a human pill, because there were people who were taking it, the veterinary medication, and you're not obviously because you got it from a doctor, so it shouldn't be called that.'" • It wasn't just CNN. They all did it. Pack journalists inciting a moral panic. And then every liberal Democrat blue check on the Twitter piled on. They even corrupted Trisha Greenhalgh!
Class Warfare
UPDATE "The Great Resignation Is Accelerating" [The Atlantic]. "[T]he basic terms of employment are undergoing a Great Reset. The pandemic thrust many families into a homebound lifestyle reminiscent of the 19th-century agrarian economy—but this time with screens galore and online delivery. More families today work at home, cook at home, care for kids at home, entertain themselves at home, and even school their kids at home. The writer Aaron M. Renn has called this the rise of the DIY family, and it represents a new vision of work-life balance that is still coming into focus. By eliminating the office as a physical presence in many (but not all!) families' lives, the pandemic may have downgraded work as the centerpiece of their identity." • Note the effortless transition from "employment" to "the office."
News of the Wired
Chris Arnade walking again:
Just a side note that downtown NYC has like only 3 alleys & they are always busy with film shoots because everyone films videos & shoots pics in them because everyone expects downtown NYC to have alleys pic.twitter.com/qqjahlgcA0

— Chris Arnade 🐢 (@Chris_arnade) October 15, 2021
Downtown Chicago seems empty and could be anywhere; but further out, more scenes that could be nowhere but America..
* * *
Readers, feel free to contact me at lambert [UNDERSCORE] strether [DOT] corrente [AT] yahoo [DOT] com, with (a) links, and even better (b) sources I should curate regularly, (c) how to send me a check if you are allergic to PayPal, and (d) to find out how to send me images of plants. Vegetables are fine! Fungi and coral are deemed to be honorary plants! If you want your handle to appear as a credit, please place it at the start of your mail in parentheses: (thus). Otherwise, I will anonymize by using your initials. See the previous Water Cooler (with plant) here. Today's plant (JB):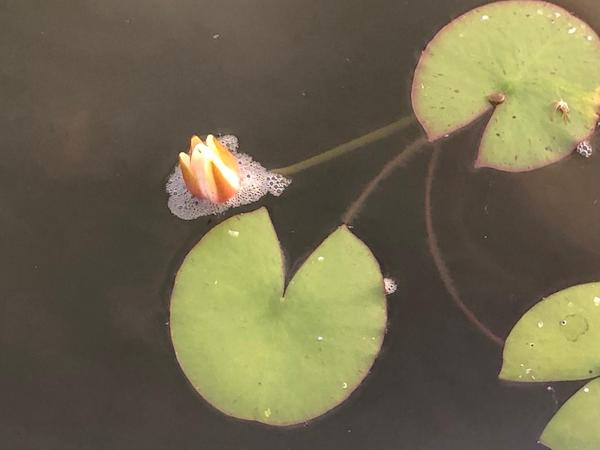 And also fish: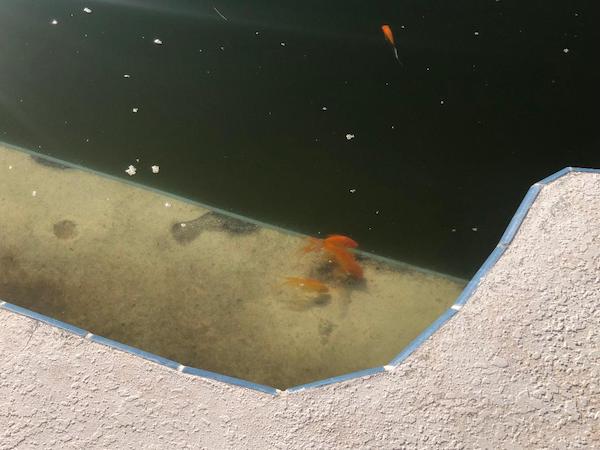 JB writes:
Like the Beverly Hillbillies, I have a cement pond. Back at the beginning of the pandemic (coincidentally but it's a handy way of keeping time for this), and frustrated with the swimming pool's general lack of use (maybe three or four times a year, max) I hit on a plan everybody told me wouldn't work . . . to turn it into a 20,000 gallon aquarium for the purpose of housing koi. Why wouldn't it work? Too deep to see the fish (I see them often enough to suit me), too hot in the FL sun (I've just begun planting water lilies in hopes of shading the water somewhat – more about that anon).

Anyway, you see, amongst other hobbies, I'm an aquarist of sorts. No, not to the extent you see amongst some, which I consider a bit overboard (like 10 aquaria in their homes), I've nevertheless kept a tank for more than forty years of marriage (both freshwater and marine, back to freshwater again at present). Had one as a kid living at home growing up beginning with an alligator and turtle as a child when these were still sold (and picked up the fish hobby from a neighbor as a preteen).

So I've one tank in the living room most would consider large. However, the big tank, the cement pond is a work in progress. One, which attracts various types of life in addition to the three goldfish with which I initially stocked it. These, incidentally now numbering over thirty because they're breeding. And I was told by many pros this wouldn't happen, either.

My point? I'm sharing a few photos to include some water lilies we have successfully introduced. Specifically a water lily blossom. And interesting (to me at least), is discovering they bloom during the day, fold up again in the evenings, and like an umbrella, unfurl again in the morning. How many times? Dunno, only discovered they do this today!

Note, I don't feed these fish. They subsist exclusively on whatever they catch – mosquito larva I presume, plus who knows what else, bugs of various sorts that fall in, algae, maybe?

There are also frogs inhabiting the pond. Food for the fish? I doubt it as they're generally as large if not larger than the fish. Maybe the other way around, dunno because I don't keep a close count of noses. But I will note I began with three goldfish and have counted more than 30.

And birds come by occasionally. Have seen a blue heron perched on the pool deck wall but the water depth (3′-9′) probably dissuades it. No photo but I did snap one today of a cow bird eying the menu. Anyway, the water lilies are planted in pots we sink with pieces of concrete block for weighting, and soil covered in gravel to keep it floating away. Also have some reeds of some type. I'm indiscriminate at present as just making it all live is the goal. Fine tuning can wait. The only green thing growing better than the water lilies, which are now growing like gangbusters? The algae. That shit really grows!

Anyway, I am deriving great pleasure from my experiment. It took about 6 months for the chlorine to dissipate 100% before I tried introducing the fish back in January, or so. The plan is for koi but the darned goldfish I introduced for biological cycling (and testing the concept) are more fun right now. Three are getting rather large so they must be eating enough. Who knows, maybe they plow through the spawn? Again, dunno.

Photos attached for your flora and fauna pleasure.
* * *
Readers: Water Cooler is a standalone entity not covered by the recently concluded and — thank you! — successful annual NC fundraiser. So if you see a link you especially like, or an item you wouldn't see anywhere else, please do not hesitate to express your appreciation in tangible form. Remember, a tip jar is for tipping! Regular positive feedback both makes me feel good and lets me know I'm on the right track with coverage. When I get no donations for five or ten days I get worried. More tangibly, a constant trickle of donations helps me with expenses, and I factor in that trickle when setting fundraising goals:
Here is the screen that will appear, which I have helpfully annotated.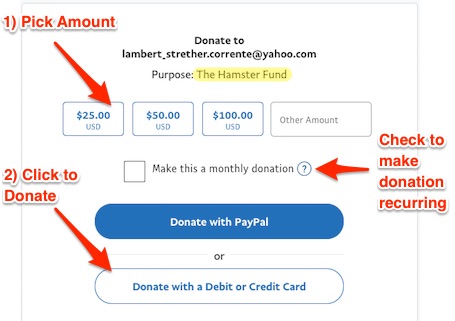 If you hate PayPal, you can email me at lambert [UNDERSCORE] strether [DOT] corrente [AT] yahoo [DOT] com, and I will give you directions on how to send a check. Thank you!2:00PM Water Cooler 6/8/2021