Naked Capitalism is strong on birds, strong on cats (both big and domestic), and occasionally strays into dog frens, but we're not so strong on fish (see here, here, here, and here). So as I perambulated through the biosphere and encountered salmon, I feel a llittle out of my depth. Here is a salmon: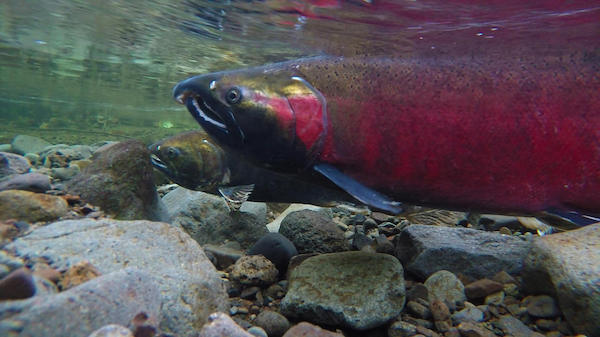 The term "fish" "describes a life-form rather than a taxonomic group." It's the same with trees. Is there some sort of crisis in taxonomy? Apparently. Britannica: "[F]ish share certain features with other vertebrates. These features are gill slits at some point in the life cycle, a notochord, or skeletal supporting rod, a dorsal hollow nerve cord, and a tail." But Wikipedia: "Fish are aquatic, craniate, gill-bearing animals that lack limbs with digits." No tail. On the the other hand, WikiPedia got the "fish live in the water" part right. And I love "lack limbs with digits" because that implies they can lack limbs altogether. Here is an anatomical diagram of a fish.
There are over 34,000 species of fish (that we know of; as of this date), which compares favorably to the number of mammals (6,399 extant). Salmon are successful fish if global distribution is the metric. Here is a horrid map of the range of all salmon[1]: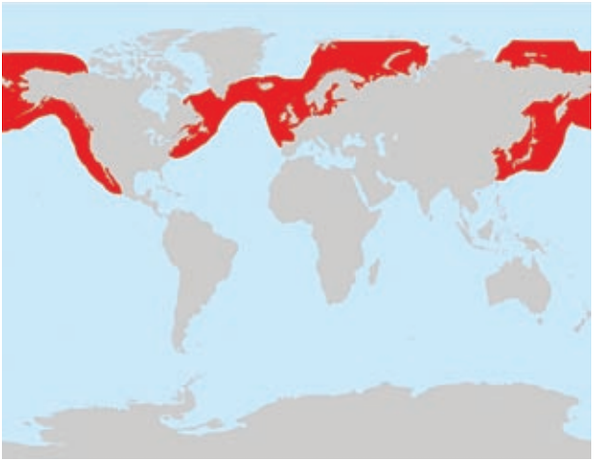 As a sidebar: Horrid the map is, with no global view of species, no hint of spawning grounds, no diagrams of life cycles… I spent a good deal of time looking for a better map, but never did find one; all the maps were siloed by ocean, or watershed, or species, or jurisdiction; this, I think, says something about the institutional problems with the NGOs that fund the environmental "movement." End sidebar.
In any case, I intend to drastically limit the scope of this post. I will not cover salmon farms, or salmon farms as a disease source. I will certainly not cover how to cook salmon, the health benefits of salmon, or salmon in the culture of the tribes (see also the APPENDIX). Here is a salmon FAQ that covers many other topics. Instead, I will glance at salmon's extraordinary life cycle, and then move on to the effects of this year's intense summer heat on Pacific salmon[2] in the Sacramento River and the Pacific Northwest. Then I'll look at two ecological systems that are so beautiful I can hardly stand it, involving two ecological engineers: beavers, and grizzly bears (!). I'll conclude with some brief muttering on the notion of ecosystem services.
The International Union for Conservation of Nature's Red List of Threatened Species describes the life cycle of salmon:
One of the most intriguing aspects of salmon is their extraordinary life cycle. Salmon eggs are laid in small pits (called 'redds') that are excavated in gravel-based freshwater streams by egg-bearing females. These nesting sites are selected because of their specific temperature, currents and oxygen levels.

Salmon eggs hatch after about three months, although juveniles remain dependent on the yolk-sac for several weeks after hatching. Eventually the juveniles begin their downstream migration during which time they develop a tolerance to saline waters. Young salmon may remain in fresh water for up to four years, before entering the ocean. It is during this period that juveniles are thought to be most vulnerable to predation.

Entry into the ocean coincides with planktonic blooms, upon which the juveniles feed. Older individuals may feed upon small invertebrates, squid and a diversity of marine fishes.

Depending on the species, salmon may spend between one and seven years at sea, where they continue to grow. Once sexually mature, the salmon migrate back to their original hatching grounds to reproduce. Such migrations (which can be extremely long) use a combination of chemical, magnetic and celestial cues for navigation. For most species this landward migration occurs throughout the summer and autumn months, with a few species, such as Chinook, coho and chum salmon, continuing to migrate through the winter months.

Salmons' spawning migration is both risky and energetically costly. [and dams]. As a result, many salmon die during the migration, and those that survive are often bruised and battered. Upon arrival at the nesting site a salmon will typically spawn several times before dying, although some species (notably Atlantic salmon) can survive and may even repeat spawn.
Left out from this already complicated description: "As salmon prepare to head out to the ocean, where they will spend from six months to seven years (again, depending on the species), their skin turns silver, they become more sleek for better swimming, and their cells change to allow them to breathe in salt water."
Unfortunately, salmon have been increasingly endangered since European contact:
Salmon have a tumultuous history in the Pacific Northwest. They've survived earthquakes, exploding volcanoes, and drastic swings in temperature, largely thanks to a complex life history. The five houses of Pacific salmon—coho, chinook, chum, pink, and sockeye—cover a lot of real estate over their lives. The details differ, because every population evolved to flourish in a hyper-specific waterway, like the Robertson River. … Salmon cross barriers that other animals can't, transforming physiologically as they move between fresh and salt water and back again on a mind-blowingly epic migration. Yet these evolutionary feats are not serving them well in the modern age. . Dams and development hinder migrations. Overfishing in the oceans and rivers cuts into population numbers, too. Now this resilient silver fish is facing a new, possibly insurmountable challenge. A warming climate is drying and disconnecting waterways they've traveled for millennia. As far as we know, a salmon has no evolutionary trick for surviving a dried puddle.
At least for salmon in California's Sacramento River, that "dried puddle" may already have arrived:
California officials are warning nearly all juvenile chinook salmon in the Sacramento River could die due to abnormally hot underwater conditions as heat waves continue to bake the West.

As temperatures near and surpass triple digits, many reservoirs in California's Central Valley have diverted more water to cities and farmers during the drought, making rivers shallower and too hot for the fish to develop from eggs, a process which can take at least 60 days to complete.

According to [California Department of Fish and Wildlife (CDFW)] officials, water is more insulated when it is deep. However, since more water is heating up and evaporating, the salmon are losing their insulation blanket, which normally makes it colder at the bottom of the river. The eggs will die when the water temperature rises above 56 degrees, officials said, warning only a few thousand of winter-run Chinook are left.

"It's an extreme set of cascading climate events pushing us into this crisis situation," said CDFW spokesman Jordan Traverso.
And:
Given that the salmon generally have a three-year life cycle, a near-total wipeout of one year's run of juveniles "greatly increases the risk of extinction for the species," said Doug Obegi, a lawyer with the Natural Resources Defense Council. The winter-run salmon endured two years of severe mortality during the last drought as well.
Salmon in the Columbia River basin also suffer from heat (and dams, unlike the Sacramento River salmon):
The Columbia River Basin was once the greatest salmon-producing river system in the world. But all remaining salmon on the Snake River, its largest tributary, now face extinction. Four dams in eastern Washington state — Ice Harbor, Little Goose, Lower Monumental and Lower Granite — slow passage along the lower Snake River, a major migration corridor linking pristine cold-water streams in central Idaho to the Columbia River and out to the Pacific Ocean.

The dams plus rising water temperatures in the reservoirs make the passage increasingly deadly, conservation groups contend. Many are calling for the four dams to be breached.

In 2015, some of the earliest and hottest weather on record produced warm river temperatures that killed more than 90% of all adult sockeye salmon returning to the Columbia Basin, conservation groups said. State agencies have since had to limit or cancel fishing seasons to protect the dwindling population. This summer could be a disaster for Snake River salmon with its record-breaking heat, the groups said.
(As of today, there doesn't seem to be much that can be done inside either river system, although water in existing reservoirs can be released to cool the rivers; and salmon can be trucked to new locations.)
From these two examples of anthropogenic global warming and its consequences, I'll turn to two beautiful examples of ecosystem engineering. First, beavers and salmon (see NC on beavers here and here). From the Seattle Times:
Beavers are back. It's not hard to tell.

The signs are everywhere: felled trees and branches, with telltale tooth marks. Soft sedge meadows dimpled with belly tracks from beavers hustling to and fro. And in thickets of young alder and willow — a 24/7 beaver cafe — multiple dams, built in a side channel of this reborn river.

The dams are subtle, just sticks pushed into a row, bank to bank, and a bit of mud. But the dams do the trick these genius eco-engineers are so good at, creating pools to ease their travels by swimming, rather than walking, to their favorite snack spot.

Created in the making of their dams, too, is a boost for salmon: …. [D]ensities of young salmon were five times greater in the pools than areas of the estuary without them

The intertwined lives of beaver and salmon emerging here is one more sign that the ecosystem-scale restoration of the Elwha, with the world's largest-ever dam removal project, begun in 2011 and completed in 2014, is taking hold.
It would be nice if there were an ecosystem engineer that could cool the water off for the Sacramento River chinook eggs. Ditto the sockeye salmon of the Snake River.
And now bears. Who can resist a bear cam?
Huge number of brown bears catching salmon over on the Brooks Falls bear cam https://t.co/Eaq9Pt2sgX https://t.co/63xZVZTc8j

— Prof Dolly Jørgensen (@DollyJorgensen) July 18, 2021
(This cam is from the Brooks River in Katmai National Park, Alaska. Sadlly, I cannot embed the live version.)
More centrally, who can resist a beautiful work of science? From Hakai Magazine, another epic:
Following the biorhythm of the bears, [biologist Tom Reimchen] began staying up all night and sleeping by day. He determined that under cover of darkness, six bears were working the stream for the biblical 40 days and 40 nights of the salmon run. As he watched them methodically hauling fish after fish into the deep bush, he conceived a whole new understanding of the flow of life between the land and the sea.

The impact of the salmon-bear connection, Reimchen now knew, surges far beyond the streamside. In Bag Harbour, he found that bears took 80 percent of the salmon run into the forest. When the young salmon leave the natal river, they roam the Pacific, feeding and growing until they return to spawn. Then, with the bears' help, they contribute their maritime harvest to the forest in the form of their flesh.

And the nutrient-seeking trees take up whatever is left over. In fact, . As the trees decompose, their nitrogen is released into the stream, feeding tiny plants and insects that nourish new generations of fish.
The whole article ("Salmon Trees") is worth reading in full. Wikipedia summarizes the extraordinary numbers:
Grizzly bears function as ecosystem engineers, capturing salmon and carrying them into adjacent wooded areas. There they deposit nutrient-rich urine and feces and partially eaten carcasses. Bears are estimated to leave up to half the salmon they harvest on the forest floor, in densities that can reach 4,000 kilograms per hectare, providing as much as 24% of the total nitrogen available to the riparian woodlands. The foliage of spruce trees up to 500 m (1,600 ft) from a stream where grizzlies fish salmon have been found to contain nitrogen originating from fished salmon.
(Reimchen wrote in 2000; I'm assuming the still high 24% is a result of further study.)
* * *
Stories and science like Reimchen's are why I'm really leery of pricing schemes for ecosystem services. When a child goes into a store with twenty bucks as birthday gift, and has to decide how to spend it, they may weigh candy, comic books, and some Transformers against a basketball, or possibly some books and a toy truck or two (using the cash as a unit of account). But none of that seems to be possible with ecosystem services. They are not commensurate by definition because they are interdependent, as salmon -> bear -> tree -> salmon (and beaver -> salmon) show. If you buy a book, you can't buy the Transformers; but buying (or not buying) the book doesn't affect the Transformers in any way; they remain on the shelf, unchanged. Similarly, if we optimize for Carbon — since there is a market for it — what happens to the substances we do not optimize for? I don't think it's possible to know, at least without a lifetime of study for each affected ecosystem. The entire effort feels hubristic to me; insane in the particular way our elites are insane. I'd be very grateful for any clarity readers can bring to these intuitions, because I have the feeling we will be hearing more, much more, about markets for ecosystem services. Because markets.
NOTES
[1] Salmon are said to be native to the Northern hemisphere, as the map implies, and only introduced in the Southern, presumably in farms; I don't know why they didn't spread to the Southern hemisphere naturally. The heat of tropical water?
[2] From the United States Geological Service (USGS): "There are seven species of Pacific salmon. Five of them occur in North American waters: chinook, coho, chum, sockeye, and pink. Masu and amago salmon occur only in Asia. There is one species of Atlantic salmon." I'm not going to differentiate between species here, though a serious post would surely do so.
APPENDIX
Here is a video from the Taku River Tlingit nation on bears and salmon:
Just a few hits, sadly. Perhaps readers can bump them up a bit.