By Lambert Strether of Corrente.
Patient readers, more soon. –lambert UPDATE All done!
Bird Song of the Day
If I were a field-mouse, that's one sound I would hate to hear….
* * *
#COVID19
Patient readers, I have started to revise this section, partly to reduce my workload, but partly to focus more as an early warning, if that is possible. Hopefully I will have a variant tracker soon.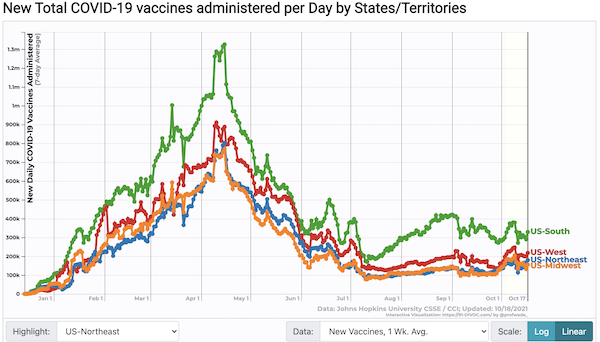 Coercion works? Or boosters? (I have also not said, because it's too obvious, that if by Bubba we mean The South, then Bubba has done pretty well on vax.)
57% of the US is fully vaccinated (CDC data. Mediocre by world standards, being just below Czech Republic, and just above Turkey, as of this Monday). We are back to the stately 0.1% rise per day. I would bet that the stately rise = word of mouth from actual cases. However, as readers point out, every day those vaccinated become less protected, especially the earliest. So we are trying to outrun the virus…
Case count by United States regions: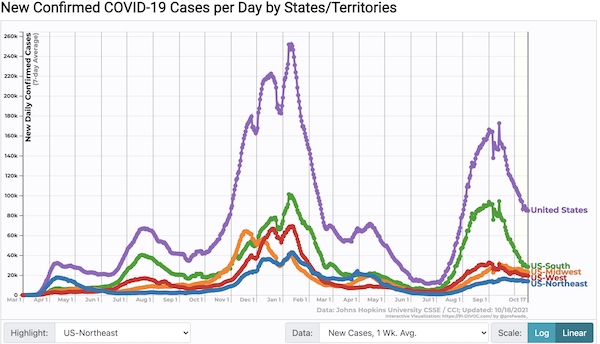 Those numbers were fiddling and diddling. Let's hope they keep going down.
Simply tape-watching, this descent is as steep as any of the three peaks in November–January. It's also longer than the descent from any previous peak. We could get lucky, as we did with the steep drop after the second week in January, which nobody knows the reasons for, then or now. Today's populations are different, though. This population is more vaccinated, and I would bet — I've never seen a study — that many small habits developed over the last year (not just masking). Speculating freely: There is the possibility that natural immunity is much, much greater than we have thought, although because this is America, our data is so bad we don't know. Also, if the dosage from aerosols drops off by something like the inverse square law, not linearly, even an extra foot of social distance could be significant if adopted habitually by a large number of people. And if you believe in fomites, there's a lot more hand-washing being done. On the other hand, Delta is much more transmissible. And although readers will recall that I have cautioned against cross-country comparisons, I'm still not understanding why we're not seeing the same aggregates in schools that we've see in Canada and especially the UK, although we have plenty of anecdotes. Nothing I've read suggests that the schools, nation-wide, have handled Covid restrictions with any consistency at all. So what's up with that?
Even if hospitalizations and the death rate are going down, that says nothing about Long Covid, the effect on children, etc. So the numbers, in my mind, are still "terrifying", even if that most-favored word is not in the headlines any more, and one may be, at this point, inured.
MWRA (Boston-area) wastewater detection. Readers seemed to like this, so I'll add as a regular feature:=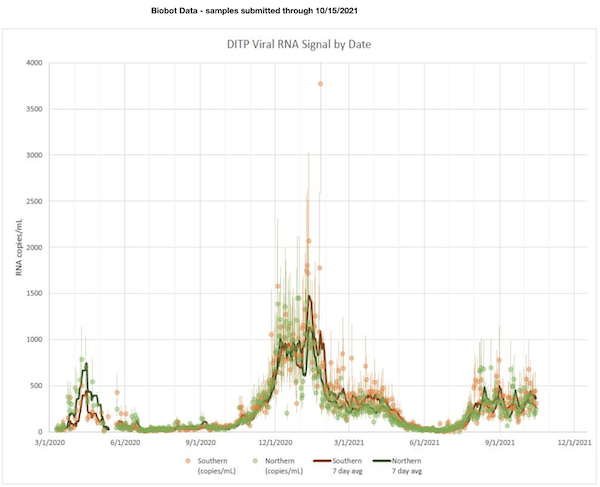 Fiddling and diddling here too.
The Massachusetts Water Resources Authority (MWRA) service area includes 43 municipalities in and around Boston, including not only multiple school systems but several large universities. Since Boston is so very education-heavy, then, I think it could be a good leading indicator for Covid spread in schools generally.
From CDC: "Community Profile Report October 14, 2021" (PDF), "Rapid Riser" counties: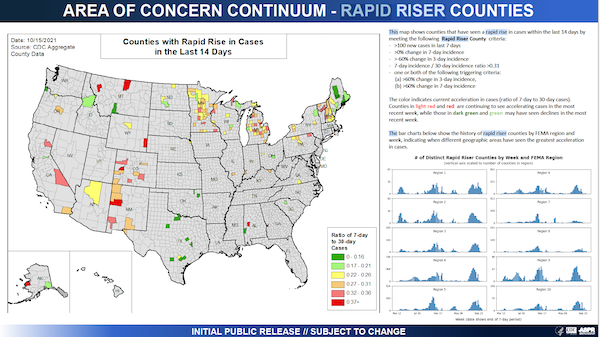 Speculating freely: One thing to consider is where the red is. If air travel hubs like New York City or Los Angeles (or Houston or Miami) go red that could mean (a) international travel and (b) the rest of the country goes red, as in April 2020 and following. But — for example — Minnesota is not a hub. If Minnesota goes red, who else does? Well, Wisconsin. As we see. Remember, however, that this chart is about acceleration, not absolute numbers. This map, too, blows the "Blame Bubba" narrative out of the water. Not a (Deliverance-style) banjo to be heard. (Red means getting worse, green means bad but getting better.)
Hospitalization (CDC Community Profile):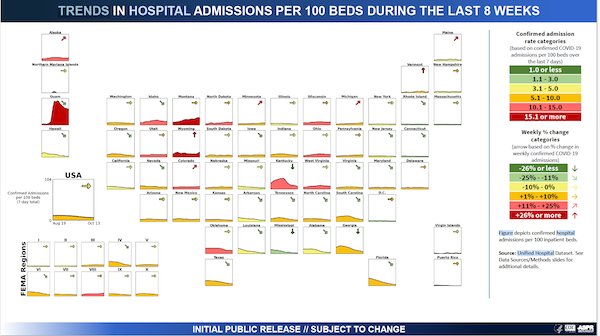 Death rate (Our World in Data):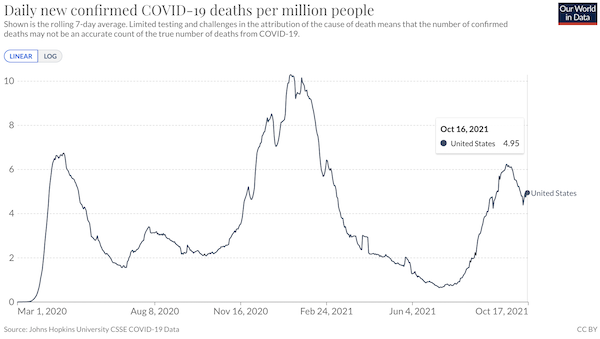 Total: 744,688 741,979. The upward trend in death rate begins anew. We approached the same death rate as our first peak last year. Which I found more than a little disturbing. (Adding: I know the data is bad. This is the United States. But according to The Narrative, deaths shouldn't have been going up at all. Directionally, this is quite concerning. Needless to see, this is a public health debacle. It's the public health establishment to take care of public health, not the health of certain favored political factions. Also adding: I like a death rate because it gives me a rough indication of my risk should I, heaven forfend, end up in a hospital. I should dig out the absolute numbers, too, now roughly 660,000, which is rather a lot.)
Covid cases in historic variant sources: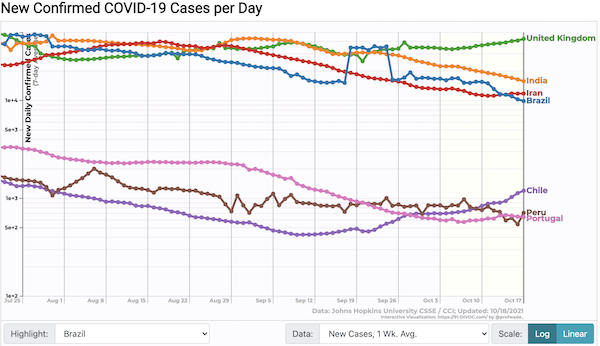 Chile and Peru rising. Remember this is a log scale. Sorry for the kerfuffle at the left. No matter how I tinker, it doesn't go away.
* * *
Politics
"But what is government itself, but the greatest of all reflections on human nature?" –James Madison, Federalist 51
"They had one weapon left and both knew it: treachery." –Frank Herbert, Dune
"They had learned nothing, and forgotten nothing." –Charles Maurice de Talleyrand-Périgord
Biden Administration
"Ethics watchdog accuses Psaki of violating Hatch Act" [The Hill]. "A government watchdog group on Friday filed an ethics complaint against White House press secretary Jen Psaki, alleging she violated the Hatch Act by appearing to endorse Virginia gubernatorial candidate Terry McAuliffe during a press briefing. Citizens for Responsibility and Ethics (CREW) filed a complaint with the Office of Special Counsel requesting an investigation into whether Psaki violated the Hatch Act, which prohibits federal government employees from engaging in campaign activity in their official capacity. The complaint cites Psaki's comments during a Thursday press briefing when she was asked whether the White House views the upcoming election in Virginia as a bellwether race. After saying she had to be careful to avoid campaigning from behind the podium, Psaki said 'we're going to do everything we can to help former Governor McAuliffe, and we believe in the agenda he's representing.' 'The last administration systematically co-opted the government for the president's reelection. While this conduct does not come close to rising to the level of the outrageous offenses of the Trump administration, that does not mean we should be casual about compliance with an important ethics law,' CREW president Noah Bookbinder said in a statement. "The Biden administration should not follow the Trump administration down that path.'" • Perhaps this was the best possible way to send a signal. Hard to believe Psaki wasn't "careful with [her] words." Words are her job. See below on Clinton creature McAuliffe.

"Democrats face growing storm over IRS reporting provision" [The Hill]. "The president's budget request proposed imposing the reporting requirement for accounts with flows of at least $600….. The administration said that it plans to focus enforcement efforts on high-income taxpayers, and that audit rates wouldn't increase for taxpayers with actual income of under $400,000." • That's what they say now, of course.

UPDATE "Scoop: Manchin's red lines" [Axios]. "Sen. Joe Manchin (D-W.Va.) has told the White House the child tax credit must include a firm work requirement and family income cap in the $60,000 range, people familiar with the matter tell Axios." • You will pry means-testing from liberal Democrats' cold, dead hands. I can well believe Manchin's motivation is as trivially venal as making sure there are a few jobs in West Virginia for people to do the gatekeeping.

UPDATE "Manchinema become K Street darlings" [WaPo]. Maximum fundraising, minimal governance. The Democrat Party is a beautiful big tent! "Manchin raised nearly $1.6 million from July 1 to Sept. 30 — nearly as much as in the third quarter of 2018, as he was locked in one of the most competitive Senate races in the country, adjusted for inflation. (The total doesn't include the more than $200,000 Manchin's leadership PAC raised in July and August; the PAC's report covering September, the final month of the quarter, isn't due until Wednesday.) Sinema brought in $1.1 million, including more than $125,000 — about 11 percent — from corporate and trade group PACs, lobbyists and others in the influence industry.

More than 30 lobbyists gave to Sinema's campaign, along with a handful of others who work in the influence industry but aren't registered to lobby, such as Debra DeShong, the executive vice president of public affairs for Pharmaceutical Research and Manufacturers of America.About $278,000 — 17 percent of the total — came from 87 corporate and trade groups as well as 19 lobbyists and former Rep. Steve Israel (D-N.Y.). Israel isn't registered to lobby but serves as a senior counsel at the lobbying firm Michael Best Strategies…." • First time I've heard the phrase "influence industry." Good to know we can still do industry in this country. Oh, and Steve Israel is a horrible human being. I'm not surprised he's leaving his usual trail of slime in Manchin's office.
2022
"Grieder: Ex-Bush adviser Matthew Dowd is eager to hold Dan Patrick accountable" [Houston Chronicle]. "Matthew Dowd, a political consultant based in Wimberley and former ABC News commentator, announced last month that he is seeking the Democratic nomination to run against Patrick. His decision to enter the race has caused some heartburn among Texas Democrats. For starters, he's a former Republican who joined George W. Bush's presidential campaign in 2000 and served as the chief strategist for Bush's re-election campaign in 2004. Democrats already have a proven vote-getter vying to unseat Patrick — former accounting executive Mike Collier, who came within 5 percentage points of unseating Patrick in 2018. As the national media has focused on the candidacy of the better-known and very quotable Dowd, Collier's campaign has practically been ignored. For Collier's supporters, Dowd's decision to jump in the race looks opportunistic. Dowd, 60, disputes that. He explains that he entered the arena as a Democrat, working for former Lt. Gov. Bob Bullock, before deciding to join Bush's 2000 presidential campaign. In 2007, he said in an interview that he had lost faith in Bush, then still the president — an admission that was covered on the front page of the New York Times. Dowd went on to spend some time in the political wilderness as an independent." • Bush's actual speechwriter is running as a Democrat… and getting all the attention from the national press, good job.
Democrats en Deshabille
"Virginia is for worriers: Governor race poses real risk to Dem agenda" [Politico]. "The Democratic Party's fortunes are increasingly tied to someone who's never served a day in federal office: Terry McAuliffe. Losing ground in a Virginia gubernatorial campaign once seen as a near-lock for Democrats, McAuliffe has sought to nationalize the race — calling out congressional inaction and President Joe Biden's waning popularity as he tries to mount a return to an office he held four years ago. If McAuliffe loses, it could put a chill on Democrats' agenda and prompt hand-wringing over whether the party failed to boost him enough in a difficult race against Republican Glenn Youngkin. If McAuliffe doesn't pull out a win, some pessimistic Democrats privately predicted a 'collapse' on Capitol Hill, where party leaders are already struggling to unite sparring progressives and centrists around a roughly $2 trillion social infrastructure package. Meanwhile, the Senate-passed $550 billion bipartisan infrastructure bill is sitting on the shelf because the votes aren't there in the House, much to Virginia Democrats' irritation… [D]espite public pronouncements of action by the end of October — when Congress will again be forced to address expiring highway and transit programs — Democrats appear far from even an outline of an agreement. Election day in Virginia [Nov. 2], not Oct. 31, is the real deadline for action on Democrats' domestic priorities for many on Capitol Hill….. But Pelosi has dismissed the idea that McAuliffe's race factors into her timing for a vote on the infrastructure bill. And progressive leaders still maintain they have the votes to sink the legislation — vowing not to relent until there's a firm agreement between the party's two factions. 'Oct. 31 is the day that the highway trust authority runs out. That's what we're interested in,' Pelosi said this week. 'It has nothing to do with anything outside.'" • McAuliffe was chair of Bill Clinton's 1996 campaign, Hillary Clinton's 2008 campaign, and was elected Virginia governor in 2013 (which was a long, long time ago). He's a bagman and a fixer.

UPDATE "Virginia Democratic Party files complaint with state board of elections against Youngkin campaign" [The Hill]. "The party accused Youngkin's campaign of violating Virginia law by not including 'an unobscured, full-screen picture containing the candidate, either in photographic form or through the actual appearance of the candidate on camera.' … [T]he campaign said that the issues of Youngkin's face in the ads being obscured were based on selective screenshots. The campaign also provided screenshots showing Youngkin's face in clear view in the ads." • He said, she said. The assumption is that the Youngkin campaign isn't run by professionals, who would not make this sort of amateur error. (The Youngkin campaign is not being advised by flaky Trump lawyers, for example.) So I read this as the initial Democrat delegitimization effort, nothing more. We shall see!
Republican Funhouse
"Just the idea of House Speaker Trump could be a dream or nightmare for each party" [NPR]. "If the Republicans take the House back in the 2022 midterm elections, they get to pick a speaker, and there's no requirement that the speaker has to be an elected representative…. Liz Harrington, a spokesperson for the former president, told NPR, 'We know a lot of people are talking about it. A lot of people like the idea, but it's nothing Mr. Trump is thinking about.'" • I know some find the picture of Pelosi handing the Speaker's gavel to Trump delicious, but Trump would have to redefine the job (as he might, in his own inimitable way). He'd have to count votes, for example, or have somebody do it for him.
RussiaGate
UPDATE "Out of the Shadows: Christopher Steele defiant on dossier, says Trump still 'potential' threat" [ABC]. • How can a man with a name like "Steele" not be an American hero?
Realignment and Legitimacy
"Dozens of Oregon law enforcement officers have been members of the far-right Oath Keepers militia" [Oregon Public Radio]. "According to data leaked earlier this month and reviewed by OPB, Webber — who is still a Portland police officer — is among more than two dozen current and former police officers, sheriff's deputies, corrections officers, and members of the military in Oregon who appear to have joined the Oath Keepers militia since the group was founded in 2009. OPB compared data in the Oath Keepers leak against public records, social media and state law enforcement certification information to verify the information. The Oath Keepers militia was founded by Army veteran and Yale Law School graduate Elmer Stewart Rhodes in 2009. The group recruits people with experience in law enforcement and the military to prepare for what the organization characterizes as an inevitable armed conflict with the U.S. government. The organization has been involved in or planned a number of criminal and violent actions over the past decade, according to University of Albany Assistant Professor Sam Jackson, who wrote a book on the Oath Keepers. 'It's really problematic if you have members of law enforcement saying, for example, that they're not going to comply with federal court orders because they think those federal court orders are unconstitutional,' Jackson said. The Oath Keepers gained national attention in 2014 when the group helped back Nevada rancher Cliven Bundy in an armed standoff with federal officers." • Ultimately, the liberal Democrat infatuation with coercion will depend on actual humans with the power to coerce. It's not clear how that will work out, or when and how it will become visible that it's not working out.

UPDATE A good political ad:

Our #RunThru video, inspired by former Sen. Wellstone, highlights the incredible work we've done together these past 4 years. Join us as we continue building a Saint Paul that works for all of us – we all do better when we all do better! Please retweet & be sure to vote Nov 2! pic.twitter.com/gM0ue2i62o

— Melvin Carter (@melvincarter3) October 17, 2021

Taking the ad at face value, it's hard to put Carter's record beside Obama's record as "community organizer" and State Senator and conclude that voters weren't defrauded in 2008. Badly.

Harry Potter liberals:

This fucking greentext might honestly be one of the smartest pieces of media critique I've ever read pic.twitter.com/ZDerBrObrG

— Mecca Allahzilla (@TheEpicDept) November 22, 2020

Twenty years ago, we were all excited that kids were reading Harry Potter. At least they were reading! And here we are….
Stats Watch
Manufacturing: "United States Industrial Production" [Trading Economics]. "Industrial production in the United States increased 4.6 percent year-on-year in September of 2021. Industrial output growth slowed for a fifth month after growing 17.8 percent in April due to low base effects from last year." • Industrial includes utilities and mining.
Manufacturing: "United States Manufacturing Production" [Trading Economics]. "Manufacturing production in the United States increased 4.8 percent in September of 2021 over the same month in the previous year, the least in 6 months- On a monthly basis, factory activity decreased 0.7 percent, the most in 7 months and following a revised 0.4% decline in August as production of motor vehicles and parts slumped 7.2% due to shortages of semiconductors."
Capacity: "United States Capacity Utilization" [Trading Economics]. "Capacity Utilization in the United States decreased to 75.2 percent in September from 76.4 percent in August of 2021. It is the lowest reading since May and well below market expectations."
Capital Flows: "United States Net Treasury International Capital Flows" [Trading Economics]. "The United States recorded a capital and financial account surplus of 126041 USD Million in July of 2021."
* * *
Shipping: "A growing number of logistics operators and industry observers see the snarls bottling up supply chains this year extending deep into 2022. Freight heavyweight J.B. Hunt Transport issued a sobering outlook that extends beyond the current chaotic peak season…. with seaport congestion growing heading toward the holidays and retailers looking to maintain restocking efforts into the first quarter" [Wall Street Journal]. "The assessment follows J.B. Hunt's checks with its retail customers, and it fits with new projections from economists that see logjams jarring the U.S. economy at least into next year's second quarter."
Shipping: "Airfreight operations aren't providing shippers much relief from global supply-chain hardships. Dubai's main air cargo handler has stopped accepting most imports at the emirate's main airport… as the business tries to reduce a backlog that has delayed delivery of goods across the United Arab Emirates. The halt at a key regional trading point is the latest hit to expedited shipping operations that have been buffeted during the pandemic" [Wall Street Journal]. "Passenger-plane belly capacity has been displaced and airfreight rates are rising on high demand as companies try to fly over severe backups at seaports. Dubai's airport has seen a recent rush in cargo volume as freight forwarders switch from sea freight. Airports from Hong Kong to Los Angeles are reporting double-digit gains in freight tonnage heading into the sector's peak season, suggesting Dubai won't be alone in coping with a flood of cargo.
* * *
Today's Fear & Greed Index: 55 Neutral (previous close: 50 Neutral) [CNN]. One week ago: 32 (Fear). (0 is Extreme Fear; 100 is Extreme Greed). Last updated Oct 18 at 12:46pm. Perhaps Mr. Market believes Build Back Better is no longer a thing?
Rapture Index: Closes unchanged [Rapture Ready]. Record High, October 10, 2016: 189. Current: 188 (Remember that bringing on the rapture is a good thing, so higher is better.)
Health Care
"Horse-Bleep: How 4 Calls on Animal Ivermectin Launched a False FDA-Media Attack on a Life-Saving Human Medicine" [Michael Capuzzo, Rescue]. "The FDA tweet arrived just as ivermectin prescriptions were soaring, up twenty-four-fold in August from before the pandemic. These were legal prescriptions written by doctors who, presumably, had read the studies, learned from experience, and decided for themselves. Indeed, 20 percent of prescriptions are written off-label, namely for other than an approved use. The effort to vilify ivermectin broadly has helped curb the legal supply of a safe drug. That's what drove people to livestock medicine in the first place." • This is a good media critique of the aftermath of the FDA "You are not a horse" tweet, and how happy the FDA brass hats were about it, but it assumes the "horse dewormer" nonsense began with the FDA's tweet. In fact, liberal Democrats had worked themselves into a lather about it long before.
Feral Hog Watch
Feral hogs learn to code:
The pigs being used to keep the skies safe around Amsterdam's Schiphol Airport https://t.co/Hx0y8Yb5bZ pic.twitter.com/bjboLY4bP1

— BBC News (World) (@BBCWorld) October 17, 2021
Zeitgeist Watch
Not wrong:
— 𝙇𝙪𝙘𝙮 𝘿𝙞𝙖𝙫𝙤𝙡𝙤 (@SatansJacuzzi) October 16, 2021
(I should know where those meme characters come from, but I don't. 4chan?)
Our Famously Free Press
"At Axel Springer, Politico's New Owner, Allegations of Sex, Lies and a Secret Payment" [New York Times]. • Yes, I would prefer that Axel Springer not own Politico or Axios, let alone both. But the article is just insufferable, implying that the true source of the Times' superiority is its woke newsroom, plus open and honest business dealings. Honestly. Did Springer ever do anything half as vile as RussiaGate? Come on, man.
UPDATE "New Politico Owner Says Will Enforce pro-Israel Policy" [Haaretz]. "Politico's new owner, Germany's Axel Springer, expects the U.S. website to adhere to the parent company's principles including support for Israel's right to exist, Springer's CEO told The Wall Street Journal Friday…. He told The Journal on Friday that this sentiment – and others such as support for a united Europe and a free-market economy – 'are like a constitution, they apply to every employee of our company.' Employees who disagreed "should not work for Axel Springer, very clearly.' Politico staffers, however, will not be required to sign a written commitment to these principles, as employees in Germany must, Döpfner said." • Sounds ideal! So, naturally, the Times focuses on a sex scandal, good job.
Groves of Academe
"The Yale Law School Email Controversy: An Interview With Trent Colbert" [Original Jurisdiction]. • Worth a read for the detail of the controversy, which I certainly hope the Yale administrators are trying to gracefully walk away from.
Black Injustice Tipping Point
"85. Liam Kofi Bright on Du Bois' Philosophy of Science" (podcast) [History of Philosophy]. (Bright's Twitter account: @lastpositivist.)
Class Warfare
Deere worker on two-tier:
A John Deere worker in Waterloo explains why workers are so determined to eliminate the two-tier compensation system that was instituted in 1997, giving new hires lesser benefits: pic.twitter.com/YtCPPuRg9X

— Dave Jamieson (@jamieson) October 15, 2021
Obviously two-tier is vile and should be abolished where found (that includes Social Security two-tier). I do find it a little unsettling that "family" is the metaphor chosen for solidarity; it speaks to a general impoverishment of social relations (and it's also deceptive. A firm is not a famlly. It's not structured like one, and I would urge that the moral obligations are not the same. Nor are the forms of dysfunction.)
Good for Fetterman:
NEWS: Fetterman has emailed his highly engaged supporter list asking them to donate directly to the UAW strike fund.

This is solidarity. pic.twitter.com/fdoCjEw9xp

— Joe Calvello (@the_vello) October 17, 2021
Bernie?
* * *
"Being-in-the-Room Privilege: Elite Capture and Epistemic Deference" [Olúfẹ́mi O. Táíwò, The Philosopher]. "Deference epistemology asks us to be less than we are – and not even for our own benefit. As Nick Estes explains in the context of Indigenous politics: 'The cunning of trauma politics is that it turns actual people and struggles, whether racial or Indigenous citizenship and belonging, into matters of injury. It defines an entire people mostly on their trauma and not by their aspirations or sheer humanity.' This performance is not for the benefit of Indigenous people, but 'for white audiences or institutions of power.' I also think about James Baldwin's realization that the things that tormented him the most were 'the very things that connected me with all the people who were alive, who had ever been alive.' That I have survived abuse of various kinds, have faced near-death from both accidental circumstance and violence (different as the particulars of these may be from those around me) is not a card to play in gamified social interaction or a weapon to wield in battles over prestige. It is not what gives me a special right to speak, to evaluate, or to decide for a group. It is a concrete, experiential manifestation of the vulnerability that connects me to most of the people on this Earth. It comes between me and other people not as a wall, but as a bridge."
"Fear and Loathing in 'Asian America' [New York Magazine]. "Like him or not, he is often right about the big stuff. Especially the limits of "Asian American." Because the term's a bust. It tries to mean so much that it means almost nothing. Its vagueness could get a pass if we needed it for politics, but "Asian American" doesn't help us there: When a demographic includes dozens of languages and a yawning wage gap, is it even a demographic at all? What is the Asian American vote? It's a term that demands caveats to even be usable…. I wonder when we'll be ready to force the issue. To stop saying 'Asian American' when we mean something specific, to insist on a politics that works without althoughs. Kang's book suggests that he, for one, isn't ready to go there yet. He's not an 'Asian American' abolitionist — more of a reform guy, really, and his solutions are hard to pin down…… In each section, Kang circles his themes, stopping now and then to bang on his argument: that the people who care most about 'Asian American' are second-gen professionals who are becoming functionally white anyway but cling to the term as proof of POC status." • Whatever "functionally white" means. Walmart greeter?
News of the Wired
The word of the day:
@MooseAllain, back like 2003, high, this factoid was reported by Snopes as a ✅ true "Ghost Word," and I'm not gonna lie and tell you that "dord" scared the absolute shit out of me for a while, imagining that merely saying it would bring about some actual ghost into your room. https://t.co/2YU2Gq2VqG

— Davin Wood (@DavinWood) October 17, 2021
The word of the day is not a word. That's practically zen!
* * *
Readers, feel free to contact me at lambert [UNDERSCORE] strether [DOT] corrente [AT] yahoo [DOT] com, with (a) links, and even better (b) sources I should curate regularly, (c) how to send me a check if you are allergic to PayPal, and (d) to find out how to send me images of plants. Vegetables are fine! Fungi and coral are deemed to be honorary plants! If you want your handle to appear as a credit, please place it at the start of your mail in parentheses: (thus). Otherwise, I will anonymize by using your initials. See the previous Water Cooler (with plant) here. Today's plant (petal):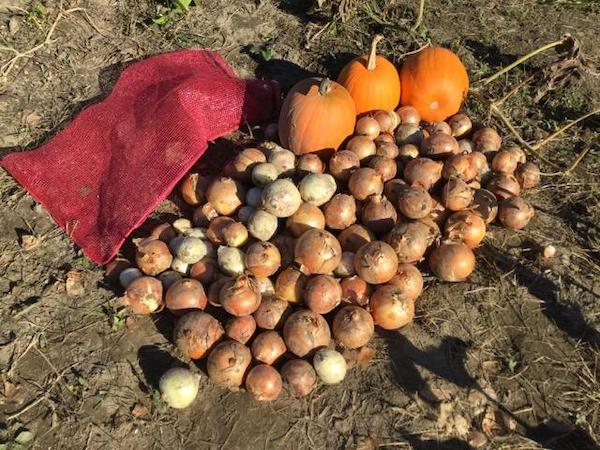 petal writes: "This is the sweet onion update. Not the whole crop, but some of it. There are also 5 total pumpkins. We haven't had a frost yet so the dahlias are still going strong. The bees are very happy."
* * *
Readers: Water Cooler is a standalone entity not covered by the recently concluded and — thank you! — successful annual NC fundraiser. So if you see a link you especially like, or an item you wouldn't see anywhere else, please do not hesitate to express your appreciation in tangible form. Remember, a tip jar is for tipping! Regular positive feedback both makes me feel good and lets me know I'm on the right track with coverage. When I get no donations for five or ten days I get worried. More tangibly, a constant trickle of donations helps me with expenses, and I factor in that trickle when setting fundraising goals:
Here is the screen that will appear, which I have helpfully annotated.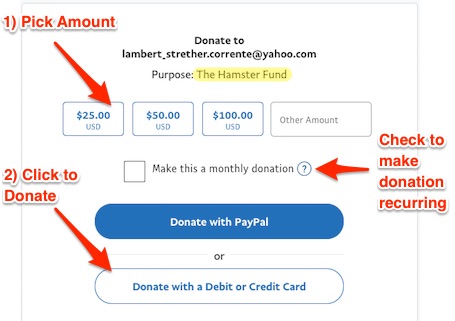 If you hate PayPal, you can email me at lambert [UNDERSCORE] strether [DOT] corrente [AT] yahoo [DOT] com, and I will give you directions on how to send a check. Thank you!2:00PM Water Cooler 6/8/2021