By Lambert Strether of Corrente.
Bird Song of the Day
* * *
#COVID19
Patient readers, I have started to revise this section, partly to reduce my workload, but partly to focus more as an early warning, if that is possible. Hopefully I will have a variant tracker map soon. In the meantime, I added excess deaths.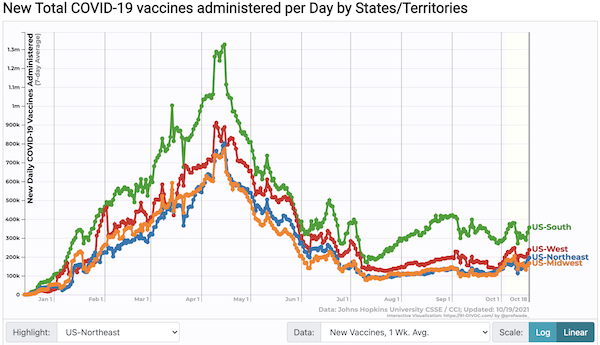 Coercion works? Or boosters? (I have also not said, because it's too obvious, that if by Bubba we mean The South, then Bubba has done pretty well on vax.)
57% of the US is fully vaccinated (CDC data. Mediocre by world standards, being just below Czech Republic, and just above Turkey, as of this Monday). We are back to the stately 0.1% rise per day. I would bet that the stately rise = word of mouth from actual cases. However, as readers point out, every day those vaccinated become less protected, especially the earliest. So we are trying to outrun the virus…
Case count by United States regions: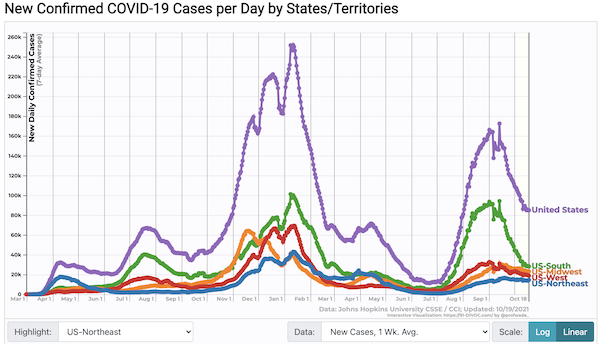 Still fiddling and diddling. Let's hope they start going steadily down again.
Simply tape-watching, this descent is as steep as any of the three peaks in November–January. It's also longer than the descent from any previous peak. We could get lucky, as we did with the steep drop after the second week in January, which nobody knows the reasons for, then or now. Today's populations are different, though. This population is more vaccinated, and I would bet — I've never seen a study — that many small habits developed over the last year (not just masking). Speculating freely: There is the possibility that natural immunity is much, much greater than we have thought, although because this is America, our data is so bad we don't know. Also, if the dosage from aerosols drops off by something like the inverse square law, not linearly, even an extra foot of social distance could be significant if adopted habitually by a large number of people. And if you believe in fomites, there's a lot more hand-washing being done. On the other hand, Delta is much more transmissible. And although readers will recall that I have cautioned against cross-country comparisons, I'm still not understanding why we're not seeing the same aggregates in schools that we've see in Canada and especially the UK, although we have plenty of anecdotes. Nothing I've read suggests that the schools, nation-wide, have handled Covid restrictions with any consistency at all. So what's up with that?
Even if hospitalizations and the death rate are going down, that says nothing about Long Covid, the effect on children, etc. So the numbers, in my mind, are still "terrifying", even if that most-favored word is not in the headlines any more, and one may be, at this point, inured.
MWRA (Boston-area) wastewater detection: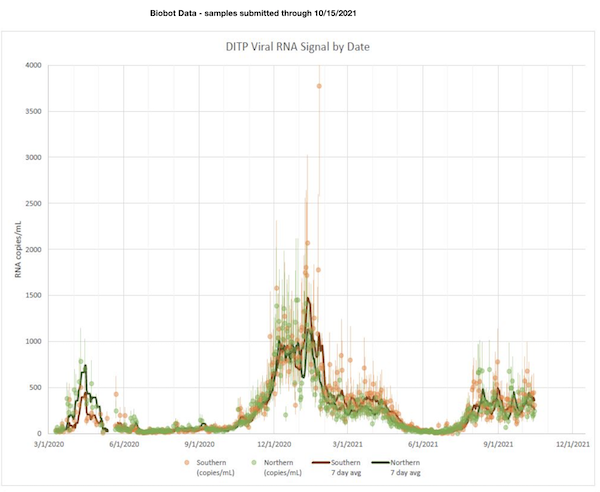 Fiddling and diddling here too.
The Massachusetts Water Resources Authority (MWRA) service area includes 43 municipalities in and around Boston, including not only multiple school systems but several large universities. Since Boston is so very education-heavy, then, I think it could be a good leading indicator for Covid spread in schools generally.
From CDC: "Community Profile Report October 14, 2021" (PDF), "Rapid Riser" counties: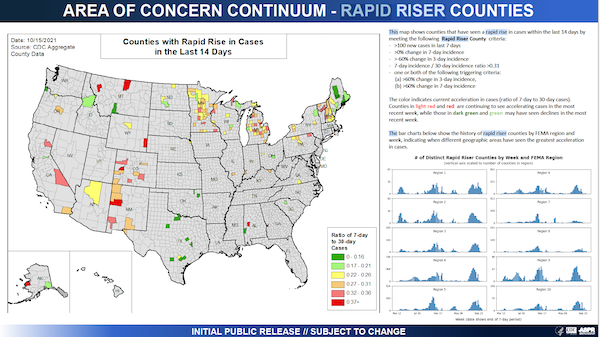 Speculating freely: One thing to consider is where the red is. If air travel hubs like New York City or Los Angeles (or Houston or Miami) go red that could mean (a) international travel and (b) the rest of the country goes red, as in April 2020 and following. But — for example — Minnesota is not a hub. If Minnesota goes red, who else does? Well, Wisconsin. As we see. Remember, however, that this chart is about acceleration, not absolute numbers. This map, too, blows the "Blame Bubba" narrative out of the water. Not a (Deliverance-style) banjo to be heard. (Red means getting worse, green means bad but getting better.)
Hospitalization (CDC Community Profile):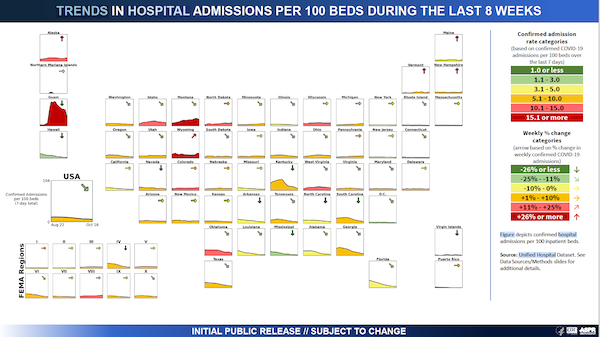 Death rate (Our World in Data):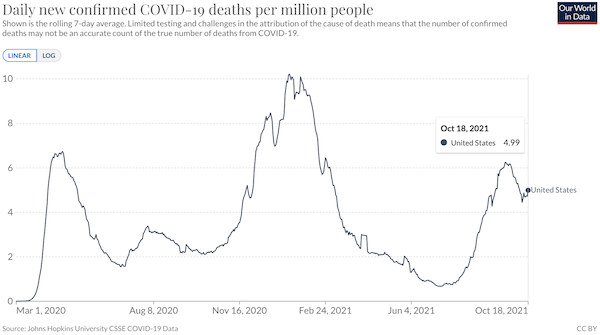 Total: 746,529 744,688. The upward trend in death rate begins anew. We had approached the same death rate as our first peak last year. Which I found more than a little disturbing.
Excess deaths (total, not only from Covid), for which I should give a hat tip to an alert readers, but cannot find their mail. Take a bow in comments, whoever you are!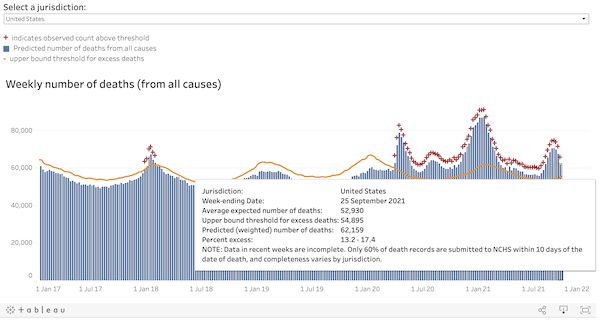 (Adding: I know the data is bad. This is the United States. But according to The Narrative, deaths shouldn't have been going up at all. Directionally, this is quite concerning. Needless to see, this is a public health debacle. It's the public health establishment to take care of public health, not the health of certain favored political factions. Also adding: I like a death rate because it gives me a rough indication of my risk should I, heaven forfend, end up in a hospital. I should dig out the absolute numbers, too, now roughly 660,000, which is rather a lot.)
Covid cases in historic variant sources, with additions from the Brain Trust: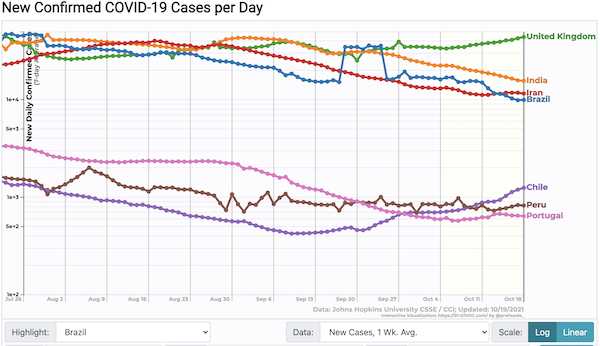 Chile and Peru rising. Remember this is a log scale. Sorry for the kerfuffle at the left. No matter how I tinker, it doesn't go away.
* * *
Politics
"But what is government itself, but the greatest of all reflections on human nature?" –James Madison, Federalist 51
"They had one weapon left and both knew it: treachery." –Frank Herbert, Dune
"They had learned nothing, and forgotten nothing." –Charles Maurice de Talleyrand-Périgord
Capitol Seizure
UPDATE "Trump files lawsuit to keep Jan. 6 materials hidden from Congress" [MSNBC]. "After the bipartisan House committee examining the Jan. 6 attack sought materials from the White House about Donald Trump's tenure, the former president did exactly what everyone expected him to do: Trump asked the White House to shield the documents. Traditionally, sitting presidents honor such requests, but not this time: President Joe Biden and his team recently announced that the insurrectionist violence creates 'unique and extraordinary circumstances.' As such, the Democratic White House has given the National Archives the green light to release materials — phone records, visitor logs, internal communications, etc. — to the congressional panel investigating the attack." • I have to admit I'm a little queasy about Congress doing what amounts to a criminal investigation, while the Justice Department, meanwhile, is letting a lot of small fish off with very light sentences. Was it an insurrection, or not? Commentary from WaPo:

Biden has custody over these documents, and should publish them on https://t.co/7J0sx384J2 as soon as possible, but no later than the first sign that a corrupt judge intends to sabotage the January 6 committee. https://t.co/JXbv4NDIsI

— Brian Beutler (@brianbeutler) October 19, 2021
Biden Administration
"Biden's dilemma: Satisfying Manchin risks losing other Dems" [Associated Press]. " It's Washington's enduring question: What does Joe Manchin want? But increasingly the answer is crystal clear. The conservative West Virginia Democrat wants to dismantle President Joe Biden's proposed climate change strategies and social services expansion in ways that are simply unacceptable for most in his party." • Thereby ensuring that Democrats don't actually have to govern, and continued submission of the left. It's win-win! A local view on Manchin:

In the years when there wasn't a viable Republican party in WV, the WV democratic party had two factions, the boss's and the worker's. Manchin is a WV democrat because he represents the bosses (who presided over the collapse of coal employment while *production* continued). pic.twitter.com/JmAlQf93D2

— Aaron Bady (@zunguzungu) October 18, 2021

UPDATE "Democrats Are Courting Manchin on Their Agenda. Here's What He Wants." [New York Times]. "Underscoring his place in the debate, Mr. Manchin and Mr. Biden spoke by phone on Monday, according to a person familiar with the call. The senator also met privately with Representative Pramila Jayapal of Washington, the chairwoman of the Congressional Progressive Caucus, to discuss the plan. And Mr. Manchin told reporters he met with Senator Bernie Sanders, the Vermont independent and chairman of the Budget Committee, who has been particularly critical of Mr. Manchin's views. The talks will continue on Tuesday, when the White House plans another series of meetings with moderate and liberal Democrats to try to find consensus…. Mr. Manchin has succeeded in prodding Democrats to trim back such programs in the past. He single-handedly held up action on a $1.9 trillion pandemic aid plan this year until the Biden administration and party leaders agreed to scale back unemployment benefits and to impose a stricter income cap on eligibility for another round of direct payments."

UPDATE "Jayapal and Manchin meet for first time as negotiations over spending bill ramp up" [NBC]. "Rep. Pramila Jayapal, the chair of the Congressional Progressive Caucus, met with Sen. Joe Manchin on Monday for the first time since broader negotiations over the Democrats' multitrillion-dollar spending bill began, sources familiar with the meeting said. Jayapal, D-Wash., and Manchin, D-W.Va., who have been on opposite sides of the debate for several months, had a two-hour discussion about President Joe Biden's social spending package. Democrats plan to pass the package through a procedural measure known as reconciliation without Republican support. The Democrats' effort to pass the legislation has highlighted intraparty conflicts over the price tag and its proposals. Jayapal and Manchin laid out their priorities for the bill and did not get into a back-and-forth over how to resolve their differences, a source said. They notably met after it was reported that a sweeping climate measure, known as the Clean Energy Performance Program, is likely to be removed from the spending plan because of Manchin's opposition."

"Manchin climate stance threatens to shatter infrastructure bargain" [The Hill]. "One Senate Democratic aide suggested that Biden may add more funding for social spending programs in the reconciliation package to make up for the loss of one of his central climate proposals and keep liberals happy. 'I think the White House has an opportunity here to figure out a way to get progressives to stay on board by giving them something else,' the source said." • Sending Biden to Glasgow with "just his **** in his hands."

"John Kerry says Glasgow COP26 is the last best hope for the world" [BBC News]. "Mr Kerry told the BBC that key countries were pursuing policies that border on being 'very dangerous'. He said that if greenhouse gas emissions were not reduced enough over the next nine years there was no chance of meeting long-term targets. The aim is to hold the rise in the earth's temperature to 1.5C. Scientists have said that would require global carbon emissions to fall by 45% from 2010 levels by the end of this decade. But apart from a brief period during Covid-19 lockdowns, emissions are still rising. China, the world's biggest emitter, will be key to any hopes of a strong outcome at COP26, when it is held in Glasgow from 31 October to 12 November…. Mr Kerry has previously said the US will push for rapid action after four years of 'reckless behaviour' under previous President Donald Trump. He said the US would now move forward with 'humility and ambition' in the global negotiations."

"Biden's DOJ uses a Trump tactic: Federal prosecutors label Black Lives Matter protesters terrorists" [New York Daily News]. "Federal prosecutors in the Eastern District of New York are continuing to pursue the Trump-era approach of labeling Black Lives Matter protesters as terrorists. Colinford Mattis and Urooj Rahman are two lawyers who were arrested in Brooklyn in May 2020 while protesting for racial justice. (I taught Mattis at NYU Law, but I am not on his defense team.) Mattis and Rahman allegedly threw a Molotov cocktail at an empty NYPD car during a night of mass protest after George Floyd's murder. Mattis and Rahman can hardly be called peaceful protesters; trying to destroy a police car, even if empty, crosses the line. So I am not questioning the decision to bring criminal charges. But the decision to bring federal rather than state charges is a different matter. No one was in the car, and no one was harmed. A case involving this kind of property damage would typically be pursued by a local district attorney, and first-time offenders like Mattis and Rahman would likely receive little if no jail time for their offense."

"'The Bidens': Is the First Family Corrupt, or Merely Crazy?" (excerpt) [Matt Taibbi, TK News]. On Ben Schreckinger's The Bidens, which I should clearly buy and read. "Hunter Biden's life is one long accident, and he's constantly leaving the scene of it. In one episode recounted later on, he follows up a crack rampage in L.A. by falling asleep at the wheel while driving east on I-10, leading him to jump a median strip at 80 m.p.h. and come to a halt facing oncoming traffic from the other direction. A tow truck leads him to a rental car, which he drives straight to Prescott, Arizona, leaving behind in the other vehicle a 'crack pipe, a Delaware attorney general's badge, and a Secret Service calling card.' Similarly, Hunter ended up leaving [Keith Ablow, a Fox News personality's] care in such a rush that he left a laptop behind. It wasn't that laptop, but this other laptop also ends up having a history, when the DEA raids Ablow a year later (people in Hunter Biden's orbit end up arrested by federal agents with such uncanny predictability that his arrival in anyone's life must be treated as divine warning). The feds seize that computer, only to turn it back over to Hunter "after a few weeks of haggling." Schreckinger is careful to note the irony that a Donald Trump-controlled federal agency at one point both collected and surrendered one of Hunter's laptops, unbeknownst to Steve Bannon, Rudy Giuliani and the other Trump agents who at the time were engaged in a ruthless private treasure-hunt for a different Hunter computer." • If Hunter has been spawned by Donald Trump…

UPDATE "Joe Biden and the Disappearing Elephant: How to Make a Full-Sized Scandal Vanish in Front of an Audience of Millions" [Jonathan Turley]. "This week marked the anniversary of one of the greatest political tricks in history: the disappearance of Hunter Biden scandal. New emails were released that added new details to what was a raw influence peddling operation that netted millions from foreign sources. A new tranche of emails connecting President Joe Biden to key accounts prove just how this political sleight of hand was worthy of Houdini. After all, Houdini only made an elephant disappear. The Bidens made the equivalent to an entire circus disappear in front of an audience of millions…. The laptop is, of course, now recognized as genuine even by some of the early deniers. Hunter remains under criminal investigation for possible tax and money laundering violations. But the greatest 'reveal' is the person referred to as 'the Big Guy' and 'Celtic' in these emails: President Biden. Recently released emails reference payments to President Biden from son's accounts and indicate the possible commingling of funds. Even more embarrassing, the shared account may have been used to pay a Russian prostitute named 'Yanna.' In one text, a former secret service agent warns Hunter (who was holed up with a prostitute in an expensive hotel) 'Come on H this is linked to Celtic's account.'" • Hunter, that lovable scamp! (I missed these New York Post stories from May and June). I missed this one too; oddly, the story isn't getting any traction on this side of the Pond at all–

UPDATE "Joe Biden could become embroiled in the FBI's probe into Hunter's finances, experts say: Emails reveal they SHARED bank accounts, paid each other's bills and the president may have even have funded his son's 2018 drug and prostitution binge" [Daily Mail]. At the end: "Hunter's claim that he and his father shared a bank account also raises serious questions whether funds from the alleged joint account were used for Hunter's May 2018 week-long bender with a prostitute in a Hollywood hotel. On May 24, 2018, a recently retired senior Secret Service officer, Robert Savage, texted Hunter warning he would 'have to assume you are in danger' and commandeer keys to the room if he didn't come out of his $470-per-night suite at The Jeremy Hotel in Los Angeles where he had been holed up with a Russian hooker to whom he wired $25,000. The agent added: 'Come on H this is linked to Celtic's account' – the Secret Service code name for Joe Biden. 'DC is calling me every 10. Let me up or come down. I can't help if you don't let me H.' It is unclear whether the agent's reference to 'Celtic's account' was about charges for prostitutes on a Joe Biden bank account, or his employment by Joe Biden to monitor his son."
Democrats en Deshabille
"Joe Manchin Slammed For Stealing Spotlight From Other Democratic Senators Who Also Oppose Progressive Legislation" [The Onion]. Chris Coons: "I'd love to be out there every day making up these nonsensical benchmarks and calling for compromise, but good luck getting oxygen when Joe Manchin is hogging all the attention. I've worked hard to block progressive legislation for years, and yet you don't see my face plastered all over the news. Senator Manchin, we are calling on you to share the phone numbers and email addresses of your contacts at ABC News immediately. It's time to think of the good of the party and share a bit of that limelight."
RussiaGate
UPDATE "Andrew McCabe's settlement with the Department of Justice is a signal to John Durham" [The Hill]. "The inspector general's public report states that McCabe lied to investigators on four occasions, three of them while under oath. His firing followed the standards consistently applied to all other FBI agents. By agreeing to rescind all references to his firing from his personnel record, the DOJ has established a double standard, one for regular agents and one for protected agents. Since McCabe's firing was easily defensible, this inexplicable settlement by Merrick Garland's DOJ takes on the odor of a reward for misusing the authorities of the FBI against a political enemy of the Democratic Party. While Andrew McCabe is being made whole, the FBI continues to struggle with the aftermath of the destruction left behind by initiatives that apparently opened an investigation into a presidential campaign without articulating any legal basis for doing so, abused the Foreign Intelligence Surveillance Act (FISA) court, and purposefully leaked official documents to the press to create an expensive special counsel investigation into their own manufactured nothingness. The trust of many Americans in the FBI dissipated in their wake…. DOJ's magnanimity comes as special prosecutor John Durham has begun noose-tightening indictments in his probe of individuals involved in creating and furthering the discredited 'Crossfire Hurricane' investigation. The DOJ cannot prevent Durham from pursuing indictments of any former FBI executives, including McCabe, should the evidence lead to that. However, if he does, McCabe's stunning absolution by a DOJ now controlled by the Democrats strongly indicates that a presidential pardon is likely in play for anyone who so vigorously investigated Republicans without an adequate basis to do so."
Trump Post Mortem
UPDATE "I alone can say it":

did you expect anything else? honestly. pic.twitter.com/5ivR4BhylD

— Sam Stein (@samstein) October 19, 2021
Realignment and Legitimacy
"Weak minds" [The Scrum]. "If we are to accept Galbraith or Thiel in their respective explanations for decline and their propositions for reversal, then the U.S. has two paths before it: a moderate approach using New Deal Lite economic mechanisms to achieve a slow yet growing economy—this appears to be the Biden administration's strategy—or a bold, risk-taking approach to governance that relies on the primordial scapegoating mechanism described by René Girard. This could arguably be identified as the Trump administration's way at our problems. The major issue with Galbraith's progressive approach is that the solidarity needed to achieve even the slow-growth approach he advocates is notoriously absent… The superior approach is a Thiel/Galbraith synthesis: dispense with the impotent saber-rattling and hostile stance toward the social safety net; instead direct wrath toward a largely parasitic and rent-extracting billionaire class, treat China as a powerful competitor, and concentrate on increasing domestic industrial capacity with an emphasis on the greatest threat to America (and mankind: climate change)."

"Are Your Republican Neighbors Planning On Killing You?" [Blue in Texas]. "I made a new Tik Tok account intending to get over to the right-wing side of the platform. For one, unlike Facebook or Twitter, since my feed (FYP, for your page) aligns so well with my interests, I never come across Republicans on Tik Tok. And two, I thought I would find idiots sticking spoons to their arms (vaccinations) or some other moronic thing. Instead, what I came across was shocking. The more I dug and the further I tailored my FYP, the more shocking the content became. Although I don't think they have given it a name, I'm pretty sure I curated my Tik Tok feed to #DomesticTerroristTok." • The algo works!

"Ohio student, 10, confronts anti-maskers at board meeting: 'Please be quiet. It's inappropriate'" [USA Today]. "Before 10-year-old Kaylan Park stepped up to the microphone at the contentious meeting, she had watched other pro-mask speakers get interrupted by heckles and boos from people who oppose the district's mask mandate. A couple of those opponents ended up walking out of the meeting in anger. Critics were protesting the district's decision earlier this month to extend its mask mandate until at least Oct. 29 to protect students and staff against COVID-19. But Kaylan, a fifth-grader, didn't let the tense environment intimidate her." • On the one hand, good for Park for attending the meeting and speaking. On the other, "inappropriate" makes my back teeth each.

UPDATE "Toward a unified theory of Blob-dom" [Robert Wright, Responsible Statecraft] (reprinted from Nonzero, an interesting connection). "My point is just that the Blob is not, strictly speaking, the institutions that undergird the American foreign policy establishment (the think tanks, public policy schools, media outlets, government bodies), and it's not, strictly speaking, all the inhabitants of those institutions. The Blob is of the people who inhabit those institutions—a subset whose members, while sometimes disagreeing, share certain proclivities that shape America's foreign policy." In other words, we tend to use "The Blob" as a synecdoche. More: "[N]ow for some positive blobology—a tentative list of inclinations exhibited by blobsters: 1. Threat inflation… 2. Manichaeism…. 3. American exceptionalism…. 4. Meddling…. 5. Naïve do-goodism…. 6. Hypocrisy when it comes to international laws and norms." • Interesting, but what's missing is an explanation of why one subset is dominant and not another. Money, I assume, but whose and in what form?
Stats Watch
Housing: "United States Housing Starts" [Trading Economics]. "Housing starts in the US unexpectedly fell by 1.6% mom to a seasonally adjusted annual rate of 1.555 million in September of 2021, compared to market forecasts of 1.62 million. It is the lowest reading in 5 months, as high costs for building materials, supply constraints and labor shortages weighed on the housing market."
* * *
Shipping: "Live Map" [Marine Traffic].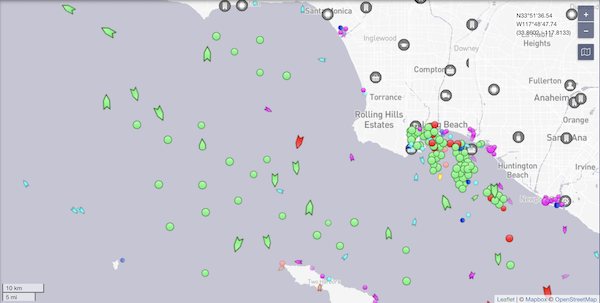 Looks crowded.
The Bezzle: "As Bitcoin goes mainstream, Wall Street looks to cash in" [Associated Press]. "Love cryptocurrencies or hate the very idea of them, they're becoming more mainstream by the day. Cryptocurrencies have surged so much that their total value has reached nearly $2.5 trillion, rivaling the world's most valuable company, Apple, and have amassed more than 200 million users. At that size, it's simply too big for the financial establishment to ignore. Firms that cater to the world's wealthiest families are increasingly putting some of their fortunes into crypto. Hedge funds are trading Bitcoin, which has big-name banks starting to offer them services around it. PayPal lets users buy crypto on its app, while Twitter helps people show appreciation for tweets by tipping their creators with Bitcoin. And in the latest milestone for the industry, an easy-to-trade fund tied to Bitcoin began trading on Tuesday. Investors can buy the exchange-traded fund from ProShares through an old-school brokerage account, without having to learn what a hot or cold wallet is. It's all part of a movement across big businesses that see a chance to profit on the fervor around the world of crypto, as a new ecosystem further builds up around it, whether they believe in it or not.
Tech: "Think your phone is snooping on you? Hold my beer, says basic physics" [The Register]. "So, if every Ethernet system is hissing secrets into the void, who's listening? Excluding your actual spies, it would seem nobody. Quite the opposite. Every bit of wireless kit on the planet tries hard not to listen, because most of the time your packets are just interference. These days, this filtering process is often a software function, and increasingly it knows a lot about the interference it's trying to reject – and listens to it quite closely to cancel it out, just like the microphones in noise-cancelling headphones. Guess what? Our new friendly AI/ML is poking its snout in. Yes, it will end up using the data it's trying to cancel out to build up patterns. And yes, that's the same as listening really hard to it. Will this data, collected invisibly by automatic agents and potentially containing useful behavioural signals, be safe from exploitation? You can answer that yourself."
Tech: "Apple finally listened to the pros" [The Verge]. "On Monday, Apple announced an intentionally thicker (in the case of the 16-inch model) and heavier MacBook Pro filled with ports — including HDMI, the SD card slot, and even the return of the MagSafe charging cable — plus three USB-C / Thunderbolt 4 connectors, the most capable port around." And they made that stupid touchbar go away. More: "In the quest for ever-thinner and flashier laptops, Apple had seemingly forgotten why people bought the MacBook Pro in the first place — and pros were happy to point that out. Five years later, Apple is giving those pros everything they said they wanted." • Now do price!
Tech: "A piece of cloth to clean your Apple devices will cost you $19" [The Verge]. • Does it require a dongle?
* * *
Today's Fear & Greed Index: 61 Greed (previous close: 55 Neutral) [CNN]. One week ago: 32 (Fear). (0 is Extreme Fear; 100 is Extreme Greed). Last updated Oct 19 at 12:31pm. Perhaps Mr. Market believes Build Back Better is no longer a thing?
Health Care
"I'll Tell You The Secret Of Cancer" [The Atlantic]. "And then [clinical psychologist Anne] Coscarelli told me the whole truth about cancer. If you're ready, I will tell it to you. Cancer occurs when a group of cells divide in rapid and abnormal ways. Treatments are successful if they interfere with that process. That's it, that's the whole equation." And: "Coscarelli remained just as neutral and said, 'There isn't a single bit of evidence that having a positive attitude helps heal cancer.'" • Simple and clean….
Sports Desk
"How the best soccer team in the world lost its luster" [strategy+business]. "With the club in decline… I sometimes felt as if I were writing about Rome in 400 AD with the barbarians already inside the gates or perhaps a chronicle of the humbling of GE, a once mighty industry giant whose management relied on past strategies for success with disappointing results. Barcelona's fall from grace offers lessons for companies that lead or aspire to lead their sectors. The club fell into the trap set for every company that's number one: it got lazy while its rivals copied its best ideas and built on them. It failed to create a sustainable succession plan for its aging players, and it was profligate with its finances. Barcelona failed to understand that greatness is always a moving target, not just on the pitch."
Groves of Academe
Administrators.
Heather Gerken, the Dean of Yale Law School, has emailed the entire law school about my story last week. She suggests our reporting was based "on partial facts" and announces that she has asked Deputy Dean Ian Ayers to "assess the situation." https://t.co/iJigk63LFe pic.twitter.com/iVrdnC8Kkk

— Aaron Sibarium (@aaronsibarium) October 18, 2021
Gerken is a terrible, terrible writer. "Recent events that have unfolded over the last few weeks." Clichéd ("events" "unfold") and redundant (the "last few weeks" would be something other than "recent?"). More clichés: "lifeblood," "core value", "stand ready," and of course the "norms." Gerken is paid in six figures to write so badly.
Black Injustice Tipping Point
"Activist Brittany Packnett Cunningham Creates "Rich List" To Redefine What Wealth Means" [Essence]. "Although she generally tends to stay away from corporate deals, [BCunningham Packnett decided a partnership she was presented aligned so perfectly with her belief system, she couldn't turn it down. She recently joined forces with Glenfiddich Single Malt Scotch Whisky to produce the #Richest25, 'a bold new body of work that challenges the collective idea of what it means to be rich.' The idea came about after the latest Forbes list was released which, while more diverse than it's been in the past, was still mostly filled with white men." • I'm happy Brittany is doing so well. I looked at the list. Oddly, no union people on it.
Class Warfare
"Flight attendants at Piedmont Airlines are in the final days of a strike vote" [Philadelphia Inquirer]. "Close to 360 flight attendants who work for an American Airlines regional carrier are heading into the last days of a strike vote this week over frustrations with low pay and stalled contract negotiations, union officials said. About 200 of the Piedmont Airlines flight attendants are based out of Philadelphia International Airport. The carrier is an American Airlines subsidiary that flies under the American Eagle brand. In addition to its PHL base, it operates a second one in Charlotte, N.C., and flies to more than 50 locations on the East Coast. Between 2019 and 2020, Piedmont flew about 9% of all passengers boarding at PHL. Contract talks between Piedmont and the flight attendants' union have stretched out for three years. Strike ballots went out to union members in late September, and the votes will be tallied Thursday."
Who know, "The Great Resignation" has a class dimension:
So far, the "Great Resignation" is mostly a blue-collar phenomenon — job-to-job transitions for non-college grads are soaring. For college grads, they're just returning to pre-Covid levels. pic.twitter.com/A2zY6oO3QT

— Ben Casselman (@bencasselman) October 19, 2021
Education being a proxy for class.
News of the Wired
"How Big Data Carried Graph Theory Into New Dimensions" [Quantum]. "when it comes to finding connections in big data, graph theory has its limits. A graph represents every relationship as a dyad, or pairwise interaction. However, many complex systems can't be represented by binary connections alone. Recent progress in the field shows how to move forward. Consider trying to forge a network model of parenting. Clearly, each parent has a connection to a child, but the parenting relationship isn't just the sum of the two links, as graph theory might model it. The same goes for trying to model a phenomenon like peer pressure…. The search for those higher-dimensional structures is where the math turns especially murky — and interesting. The higher-order analogue of a graph, for example, is called a hypergraph, and instead of edges, it has "hyperedges." These can connect multiple nodes, which means it can represent multi-way (or multilinear) relationships. Instead of a line, a hyperedge might be seen as a surface, like a tarp staked in three or more places. Such higher-order methods have already proved useful in applied research, such as when ecologists showed how the reintroduction of wolves to Yellowstone National Park in the 1990s triggered changes in biodiversity and in the structure of the food chain. And in one recent paper, [Emilie Purvine of the Pacific Northwest National Laboratory] and her colleagues analyzed a database of biological responses to viral infections, using hypergraphs to identify the most critical genes involved. They also showed how those interactions would have been missed by the usual pairwise analysis afforded by graph theory. 'That's the kind of power we're seeing from hypergraphs, to go above and beyond graphs,' said Purvine." • I believe that Facebook's "social graph," which models connections between its accounts, is a graph, not a hypergraph. Let's keep it that way!
"Walking America, part 3: Indianapolis" [Chris Arnade, Intellectual Inting]. "Walking east I passed mall after mall filled with shops for Mexicans, Middle Easterners, Africans, Jamaicans, Vietnamese, and Burmese. These weren't the type of shops you find in the upscale parts of bigger cities, that sell watered down ethnic stuff to a mostly educated, wealthy, and white crowd looking for a new experience, but shops run by immigrants for immigrants. Basic needs of life shops. Food, clothing, auto insurance, legal services, and venues to throw a big bash when your daughter graduates from high school or an uncle gets married. This level of diversity isn't what I had thought of Indianapolis, or what I suspect most well-educated North Easterners think of it. What was striking about the diversity, and what became clearer as I walked more, talked with people, and spent evenings in bars, restaurants, and hanging in McDonald's, was how interwoven it was a a personal level. It wasn't just statistical. Everyone in Indianapolis seemed pretty much the same, at a lived reality way. They all worked hard at the same type of jobs, all shopped in the same type of stores, all ate in and drank in the same type of bars. People intermingled because they were not all that different. Not to always pick on New York City (which I love), but that isn't the case there. New York City, which is extremely diverse by statistics, is more defined by its massive inequality…. While there are certainly big gaps in wealth in Indianapolis, nice neighborhoods filled with mostly white lawyers, doctors, and financiers, it isn't what dominates the personality of the city, isn't what most people experience, at least at the street level." • I grew up near Indianapolis, so this whole piece makes me happy.
Sarah Vaughan and Mel Torme:
* * *
Readers, feel free to contact me at lambert [UNDERSCORE] strether [DOT] corrente [AT] yahoo [DOT] com, with (a) links, and even better (b) sources I should curate regularly, (c) how to send me a check if you are allergic to PayPal, and (d) to find out how to send me images of plants. Vegetables are fine! Fungi and coral are deemed to be honorary plants! If you want your handle to appear as a credit, please place it at the start of your mail in parentheses: (thus). Otherwise, I will anonymize by using your initials. See the previous Water Cooler (with plant) here. Today's plant (hunkerdown):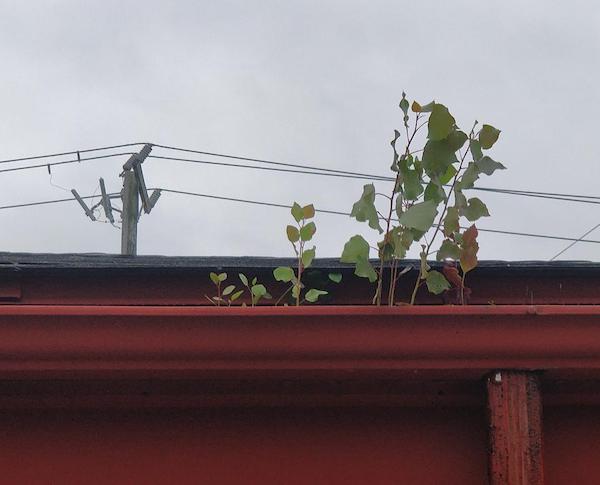 And from Re Silc: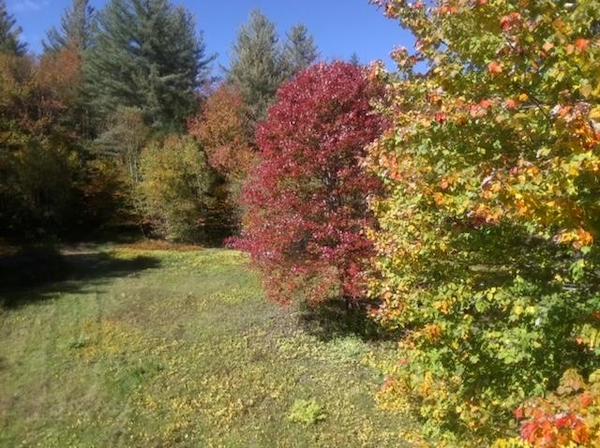 Re Silc writes: "Great day to drone!"
* * *
Readers: Water Cooler is a standalone entity not covered by the recently concluded and — thank you! — successful annual NC fundraiser. So if you see a link you especially like, or an item you wouldn't see anywhere else, please do not hesitate to express your appreciation in tangible form. Remember, a tip jar is for tipping! Regular positive feedback both makes me feel good and lets me know I'm on the right track with coverage. When I get no donations for five or ten days I get worried. More tangibly, a constant trickle of donations helps me with expenses, and I factor in that trickle when setting fundraising goals:
Here is the screen that will appear, which I have helpfully annotated.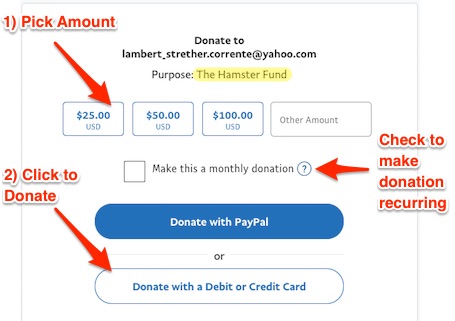 If you hate PayPal, you can email me at lambert [UNDERSCORE] strether [DOT] corrente [AT] yahoo [DOT] com, and I will give you directions on how to send a check. Thank you!2:00PM Water Cooler 6/8/2021