By Lambert Strether of Corrente.
No UPDATEs today. This is the lot! –lambert
Bird Song of the Day
I always like looking at the location. This cuckoo is from Nome, Alaska.
* * *
#COVID19
Patient readers, I have started to revise this section, partly to reduce my workload, but partly to focus more as an early warning, if that is possible. Hopefully I will have a variant tracker map soon. In the meantime, I added excess deaths.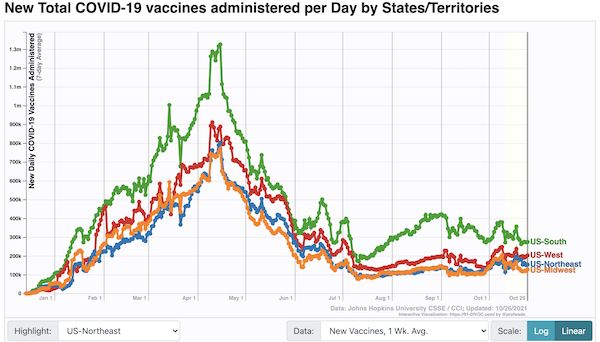 Coercion works? Or boosters? (I have also not said, because it's too obvious, that if by Bubba we mean The South, then Bubba has done pretty well on vax.)
57.4% of the US is fully vaccinated (CDC data. Mediocre by world standards, being just below Turkey, and just above the Czech Republic in the Financial Times league tables of this Monday). We are back to the stately 0.1% rise per day. I would bet that the stately rise = word of mouth from actual cases. However, as readers point out, every day those vaccinated become less protected, especially the earliest. So we are trying to outrun the virus…
Case count by United States regions: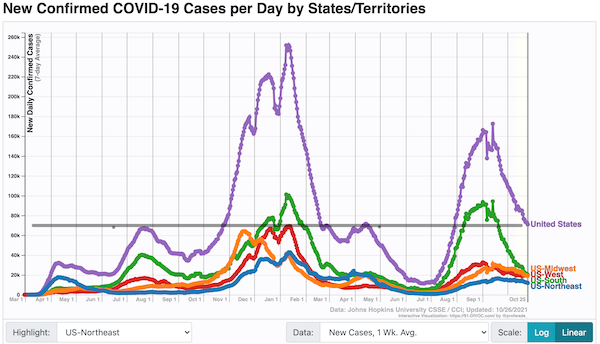 Downward trend resumes. I have drawn an anti-triumphalist black line to show that what was once a crisis is now not newsworthy (presumably because hospitals are not overwhelmed, normal medical billing is about to resume, etc.).
Simply tape-watching, this descent is as steep as any of the three peaks in November–January. It's also longer than the descent from any previous peak. We could get lucky, as we did with the steep drop after the second week in January, which nobody knows the reasons for, then or now. Today's populations are different, though. This population is more vaccinated, and I would bet — I've never seen a study — that many small habits developed over the last year (not just masking). Speculating freely: There is the possibility that natural immunity is much, much greater than we have thought, although because this is America, our data is so bad we don't know. Also, if the dosage from aerosols drops off by something like the inverse square law, not linearly, even an extra foot of social distance could be significant if adopted habitually by a large number of people. And if you believe in fomites, there's a lot more hand-washing being done. On the other hand, Delta is much more transmissible. And although readers will recall that I have cautioned against cross-country comparisons, I'm still not understanding why we're not seeing the same aggregates in schools that we've see in Canada and especially the UK, although we have plenty of anecdotes. Nothing I've read suggests that the schools, nation-wide, have handled Covid restrictions with any consistency at all. So what's up with that?
Even if hospitalizations and the death rate are going down, that says nothing about Long Covid, the effect on children, etc. So the numbers, in my mind, are still "terrifying", even if that most-favored word is not in the headlines any more, and one may be, at this point, inured.
MWRA (Boston-area) wastewater detection: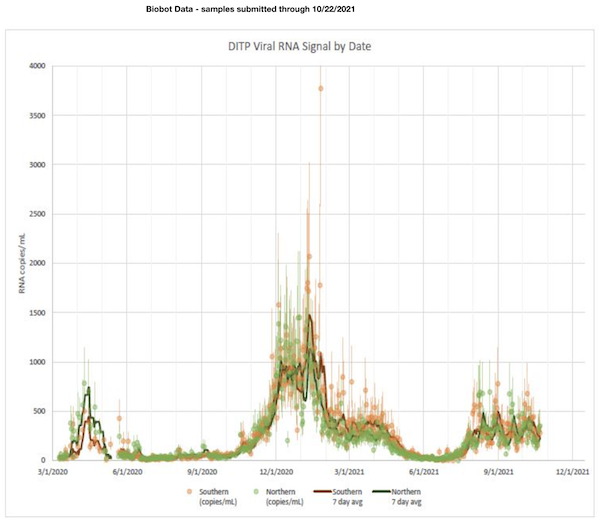 The Massachusetts Water Resources Authority (MWRA) service area includes 43 municipalities in and around Boston, including not only multiple school systems but several large universities. Since Boston is so very education-heavy, then, I think it could be a good leading indicator for Covid spread in schools generally.
From CDC: "Community Profile Report October 25, 2021" (PDF), "Rapid Riser" counties: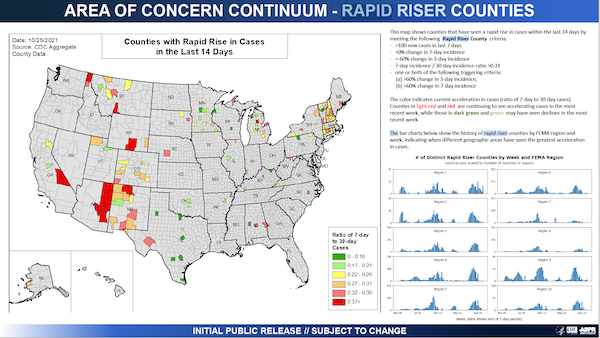 Upper Midwest improved. Trouble spots in the West. Wierd flare-ups, like flying coals in a forest fire. They land, catch, but — one hopes — sputter out. Look at the New Mexico-Arizona border, for example.
Speculating freely: One thing to consider is where the red is. If air travel hubs like New York City or Los Angeles (or Houston or Miami) go red that could mean (a) international travel and (b) the rest of the country goes red, as in April 2020 and following. But — for example — Minnesota is not a hub. If Minnesota goes red, who else does? Well, Wisconsin. As we see. Remember, however, that this chart is about acceleration, not absolute numbers. This map, too, blows the "Blame Bubba" narrative out of the water. Not a (Deliverance-style) banjo to be heard. (Red means getting worse, green means bad but getting better.)
The previous release: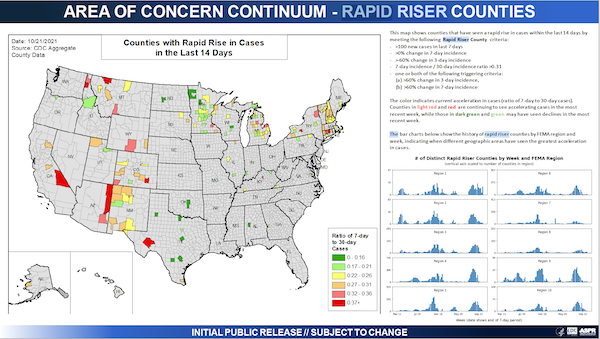 Hospitalization (CDC Community Profile):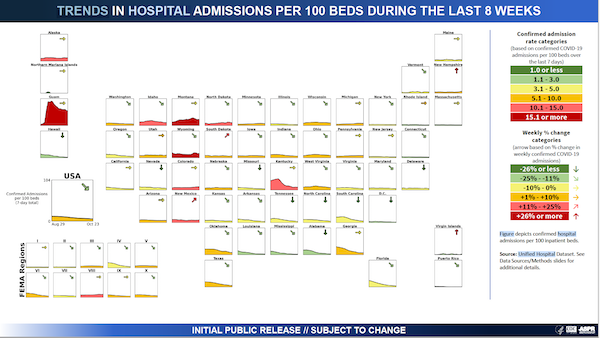 Finally some relief for the states of Idaho, Montana, and Wyoming, although I don't understand why they they have the bad luck to be so stubbornly still red.
Death rate (Our World in Data):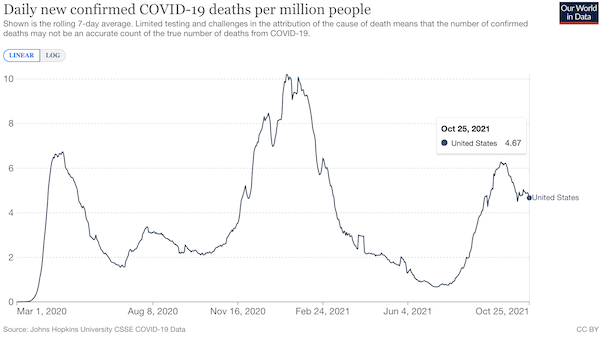 Total: 757,849 753,845. Going down again, mercifully. We had approached the same death rate as our first peak last year. Which I found more than a little disturbing.
Excess deaths (total, not only from Covid):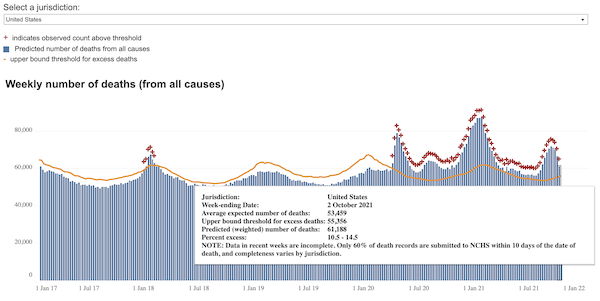 So how long does it take before 10% "excess" deaths becomes the new normal?
(Adding: I know the data is bad. This is the United States. But according to The Narrative, deaths shouldn't have been going up at all. Directionally, this is quite concerning. Needless to see, this is a public health debacle. It's the public health establishment to take care of public health, not the health of certain favored political factions. Also adding: I like a death rate because it gives me a rough indication of my risk should I, heaven forfend, end up in a hospital. I should dig out the absolute numbers, too, now roughly 660,000, which is rather a lot.)
Covid cases in historic variant sources, with additions from the Brain Trust: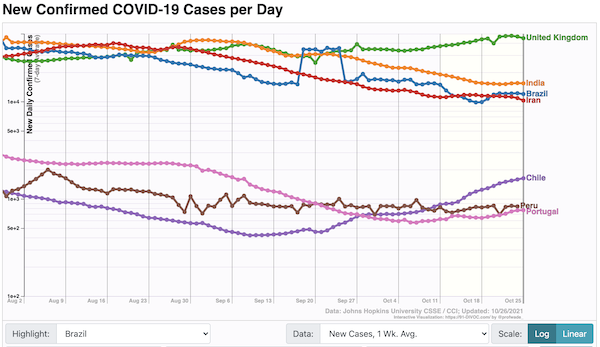 Chile and Chile rising. Also Portugal, oddly, which lifted restrictions about a month ago. Remember this is a log scale. Sorry for the kerfuffle at the left. No matter how I tinker, it doesn't go away.
* * *
Politics
"But what is government itself, but the greatest of all reflections on human nature?" –James Madison, Federalist 51
"They had one weapon left and both knew it: treachery." –Frank Herbert, Dune
"They had learned nothing, and forgotten nothing." –Charles Mice de Talleyrand-Périgord
I'm wondering if I should replace the Dune quote above — too obvious? — with this one: "It is said in the desert that possession of water in great amount can inflict a man with fatal carelessness."
Biden Administration
ZOMG!!!!!!!!!!!!!

President Biden's Build Back Better Agenda will increase access to coverage under the Affordable Care Act and reduce the price of an average plan by $50 per month.

— The White House (@WhiteHouse) October 25, 2021

West Wing brain! West Wing brain! Somebody actually thought this tweet would help Biden. Oh my heavens.

"Democratic Leaders Are Betting Progressives Will Fold" [Daily Poster]. "Over the past few days, Democrats dropped a pair of brutal news dumps indicating they intend to fully gut many of the progressive elements in President Joe Biden's health care, climate, and anti-poverty reconciliation spending bill. Now, it's up to progressive lawmakers to ensure the final Biden agenda bill doesn't end up a hollowed-out shell that won't meaningfully help anyone. The only way to change those expectations — and to actually wield power — is for CPC members to pledge to vote no on a hollowed-out shell, and finally make their demands clear. If they don't, they'll likely get rolled, and no barrage of tweets or press releases or email blasts will hide that avoidable outcome." • Burn it down, and let President Manchin and the centrists write whatever bill they want (obviously the end game all along, given that both Manchin and Sinema were installed by Democrat leadership). Commentary;

we're at the stage of capitalism where billionaires are creating a superheated market for yachts, while Joe Manchin is blocking help to low-income seniors who are trying to afford teeth

— David Sirota (@davidsirota) October 26, 2021

Tell me what good "our democracy" is if my teeth are falling out!

Manchin's Contract with America:

Manchin said the agreement he signed with Schumer was a "contract" he wrote, with the understanding that he would vote for the budget resolution if Schumer separated hard infra bill from social reform bill, and "[Schumer] asked me not to say anything"

— Morgan Rimmer (@morgan_rimmer) October 26, 2021

I read Manchin's document, and so far as I can tell, Schumer's "agreement" was equivalent to saying "I agree I read what you wrote." But take Manchin at his word. If the document was a contract, there was a consideration. Nolo (sorry): "[E]very valid contract must have consideration. Consideration is the benefit that each party gets or expects to get from the contractual deal — for example, Victoria's Secret gets your money; you get the cashmere robe." So what was the consideration? Did Schumer get money from Manchin, or a cashmere robe?

* * *

"The Stock Market Just Loves Biden Not Getting Things Done" [Bloomberg]. As I have said several times of Mr. Market at the Fear & Greed Index. "The market's rise to date this year reflects a serious lack of confidence in the Biden administration to deliver on tax hikes. The latest political news is therefore rather good for the stock market. But a fiscal boost along the lines of the "Blue Wave" narrative that propped up the market very nicely ahead of last year's election, and again after the Democrats' surprising victory in two Georgia seats gave them control of the Senate, is still something the market wants. Without some big new spending package, there is an unpalatable "fiscal cliff" coming next year, as people learn to live without pandemic emergency assistance. So far, not getting things done has worked well for Biden in the markets. It's a strategy that will soon stop working if Democrats aren't careful. "

"White House Releases Details of New International Travel Requirements" [MedScape]. "The White House released new plans today that take a layered approach to improve the safety of international travel to the United States ahead of the busy Thanksgiving travel season. Starting November 8, international travelers flying into the US will be required to show proof of vaccination, or prove that they meet very limited exemption requirements. Along with a vaccination record — which can be a digital or paper certificate — vaccinated passengers and children traveling with them will also have to show that they've gotten a negative COVID-19 test within 3 days of boarding the plane. Travelers will also need to prove that they were vaccinated with a COVID-19 vaccine authorized by the US or the World Health Organization (WHO) for emergency use. The US has authorized three vaccines, the WHO has authorized four more. International passengers who can't show proof that they are fully vaccinated and qualify for an exemption will have to provide negative test results within a day of departure. Unvaccinated US citizens or lawful permanent residents will need a negative test within 1 day of departure. Travelers will also need to provide simple contact information so they can be reached by public health authorities after they arrive in the event contact tracing is needed." • I don't see what good the contact tracing requirement does, since we don't contact trace. I remain unreconstructed on all this. I think anything short of quarantine on arrival is "let 'er rip," albeit more slowly than in the past, and I don't see how we can react in the case of a new and highly transmissable variant. Perhaps I'm too pessimistic? In any case, we're about to find out.
Democrats en Deshabille
"'Cruel' Fauci is condemned for spending $2m on experiments which saw beagles 'de-barked' and trapped in cages so flies could eat them alive. Bi-partisan fury at 'reprehensible misuse of taxpayer funds'" [Daily Mail]. Long ago, I wrote a post urging the thesis that the only real difference between Democrats and Republicans was that Republicans had a long history of torturing animals (I gave many examples). So now, Fauci has managed to erase that line. Of course, if Fauci gets nailed for torturing puppies, that's a lot like Cuomo resigning for sexual harrassment, instead of murdering tens of thousands of elders in nursing homes. But you take what you can get, I suppose.
Obama Legacy
This is idiotic:

When you look at the history of big social movements, they're usually started and sustained by young people who put in the work to make it happen. As we look to COP26, I'm inspired by the young people using their voices in the fight against climate change. https://t.co/IBdciqn8ml

— Barack Obama (@BarackObama) October 25, 2021

Yeah, you know, like the French Revolution, the Paris Commune, the Russian Revolution, Mao was just a kid, ditto Castro… Ho Chi Minh started out in high school…. Holy Lord!
Realignment and Legitimacy
Democrat bag man McAuliffe (1):

NEW: Obama looks to give new momentum to McAuliffe https://t.co/Nx00p5X7tI pic.twitter.com/UOUwXd9go5

— The Hill (@thehill) October 23, 2021

Democrat bag man McAuliffe (2):

Biden to stump for McAuliffe in test of his electoral branding https://t.co/lx9GuL6Kgj pic.twitter.com/Q0jv0J163G

— The Hill (@thehill) October 26, 2021

It's enough to make me root for the other guy…

"Was Radical Minnesota Senator Paul Wellstone Murdered to Secure Republican Control of the United States Senate?" [Covert Action News]. • Seemed pretty sketchy at the time…
Stats Watch
Manufacturing: "United States Richmond Fed Manufacturing Index" [Trading Economics]. "The Manufacturing Activity Index in the US fifth district including the District of Columbia, Maryland, North Carolina, South Carolina, Virginia, and most of West Virginia jumped to a 3-month high of 12 in October 2021, rebounding from -3 in September, which was the lowest since May 2020. "
Housing: "United States New Home Sales" [Trading Economics]. "New home sales in the US soared 14% to a seasonally adjusted annual rate of 800K in September of 2021, following a downwardly revised 702K in August, and well above market forecasts of 760K. It is the highest reading in 6 months, boosted by strong demand and a shortage of previously occupied homes for sales."
Housing: "United States Case Shiller Home Price Index YoY" [Trading Economics]. "The S&P CoreLogic Case-Shiller 20-city home price index in the US increased 19.7% yoy in August of 2021, slightly below a record 20% rate in the previous month and compared to forecasts of 20%. Phoenix (33.3%), San Diego (26.2%), and Tampa (25.9%) reported the highest annual gains among the 20 cities in August. Meanwhile, the National Composite Index increased 19.8%, the same as in the previous month and remaining a record high rate. As has been the case for the last several months, prices were strongest in the Southwest (+24.1%), but every region logged double-digit gains."
* * *
Finance: "Mastercard says any bank or merchant on its vast network can soon offer crypto services" [CNBC]. "Mastercard is preparing to announce that any of the thousands of banks and millions of merchants on its payments network can soon integrate crypto into their products, CNBC has learned. That includes bitcoin wallets, credit and debit cards that earn rewards in crypto and enable digital assets to be spent, and loyalty programs where airline or hotel points can be converted into bitcoin. To do so, the payments network is partnering with Bakkt, the crypto firm recently spun off by Intercontinental Exchange, which will be the behind-the-scenes provider of custodial services for those who sign up, executives at the two firms told CNBC. 'We want to offer all of our partners the ability to more easily add crypto services to whatever it is they're doing,' Sherri Haymond, Mastercard's executive vice president of digital partnerships, said in an interview. 'Our partners, be they banks, fintechs or merchants, can offer their customers the ability to buy, sell and hold cryptocurrency through an integration with the Baktt platform.' The announcement could lead to a significant expansion in the ways regular Americans earn and spend bitcoin and other cryptocurrencies."
Retail: "Now you can buy now, pay later for just about everything" [CNBC]. "'Buy now, pay later,' or BNPL, lets shoppers break their purchases into equal installment payments, often interest-free, which can make even the biggest-ticket items seem affordable and the smallest purchases seem almost negligible. It's similar to old-school layaway plans, except consumers get the product up front and pay for it in incremental amounts. As installment payments gain momentum along with a surge in online shopping, in general, in the wake of the Covid pandemic, about one-third of shoppers have already financed purchases this way and among those consumers, nearly two-thirds have done so five or more times, according to a recent survey by LendingTree…. Providers such as Afterpay, Affirm, Klarna, Sezzle and Zip are paving the way and big companies are also jumping on the bandwagon ahead of the holidays, with PayPal starting its own product, Amazon and Apple partnering up with Affirm and Target's recent team-up with Sezzle. While spreading out the cost of a big-ticket purchase like a Peloton often makes financial sense, especially at 0%, this type of financing is increasingly popular for small items, too. 'Our core was really smaller, everyday type purchases,' said Sezzle's CEO, Charlie Youakim. With Target, Sezzle will get to test out installment purchases for food and other categories, he added, 'to see how broad this can be.'" • "Buy now, pay later" for a pizza? Socks? Is that where we're heading?
The Bezzle: "Facebook was born, lives and thrives in scandal. It's been lawless for years" [Matt Stoller, Guardian]. " Lawlessness pays. We've known that Facebook is lawless and reckless for years. And yet despite all the light and heat, Facebook is still a globe-straddling monopoly over our information commons. One man is still in charge of it, making all key policy decisions, and he is worth $100bn and considered an important leader and philanthropist. To put it differently, when a bank robber robs a bank, blame the bank robber. When a bank robber robs 20 banks, and announces where he's going to steal from next, and does it in broad daylight, repeatedly, and no one stops him, we should be blaming the cops. And that's where we are with Facebook…. If we set up a policy system that offers a reward for destroying our social fabric in the neighborhood of $100bn and unlimited power, then this is what we'll get. The problem is not Facebook, it's a policy regime that creates an incentive for monopolization, securities fraud and surveillance advertising…. [T]his brings us to the reason we haven't done anything about Facebook. In order to actually address the problem of dominant market power and conflicts of interest, we the people would have to empower our government to govern." • What is this "law" of which you speak?
The Bezzle: "Op-Ed: Mark Zuckerberg makes a 'mwahahaha' metaverse move" [Los Angeles Times]. "'Metaverse' has begun to denote the sum total of physical, augmented and virtual reality. TV personality Jim Cramer put it non-succinctly on CNBC in July: 'The metaverse is … you're looking at basically — you can be in Oculus [using a virtual reality headset], whatever — and you say, 'I like the way that person looks in that shirt, I want to order that shirt."" Maybe we should just give the whole continent back to the Native Americans. More: "According to the latest Facebook whistleblower, engineer Frances Haugen, the company's methods are built to fill us with longing, contempt and bad ideas [, and no Oxford Commas]. To do this on an even grander scale — more efficiently, more immersively — cannot end well. Even if you like the idea of buying a shirt you see in a 3D movie you think you're part of, the full digitization of humanity means there will be much to grieve.
The Bezzle: NFTs, a thread:
First let's talk about what the NFT market actually is. Unlike buying bonds, equities, real estate, or actual art you're not buying something with any tangible existence, rights or utility. You're buying an expensive entry in someone else's database. (2/)

— Stephen Diehl (@smdiehl) October 6, 2021
The Bezzle: "Tesla Decided The Software It Was Testing On Public Roads Wasn't Safe After All" [Jalopnik]. "Ah, the joys of Tesla's 'public beta' of 4,000-pound cars careening around city streets with software that even Elon Musk says has 'some issues.'… I, for one, feel calm and happy that I could be walking down the street at any time and somebody driving next to me'd be "beta-testing" Tesla software not ready for primetime." • You're doing your part! (From a Musk tweet quoted by Reuters: "Regression in some left turns at traffic lights." • Oh.
Tech: "The MacBook Pro is the future of Apple's ports mess" [Wired]. "One rumour that lingers like a nasty smell is the "portless" iPhone. This means future iPhones may only charge wirelessly, and only transfer data wirelessly. No Lightning or USB-C…. Guess what? This lets Apple continue to rake in extra cash off accessories thanks to MagSafe. It's another Apple-owned standard, used in the latest iPhones for wireless charging. While you can use a standard Qi charging pad to recharge iPhones, only a MagSafe one offers the fastest possible charging rate…. There are two possible futures ahead of us, and much of it rests on how successful the EU Commission is at strong-arming Apple into using USB-C. If a "port-free" device becomes a get-out clause, the consumer is (at least mildly) screwed. This would see Apple mobile devices split into strata. You'd have Pro series gadgets with USB-C, and others with no charging port at all. If there's no major change to Apple's lines, and this all happens fairly quickly, this could include the iPhone 14, iPhone 14 mini and the entry-level iPad. Let's just hope it doesn't also include the MacBook Air…."
Tech: "Your ISP Might Be Collecting Much More Data Than You Think" [Interesting Engineering]. "The report identified several concerning data collection practices among several of the ISPs, including that 'they combine data across product lines; combine personal, app usage, and web browsing data to target ads; place consumers into sensitive categories such as by race and sexual orientation; and share real-time location data with third-parties.' The report further found that even though several of the ISPs promised not to sell consumers' personal data, they allowed it to be used, transferred, and monetized by others. They also hid disclosures about such practices in the fine print of their privacy policies. " • Oh, nice.
Tech: "How Close Are Flying Cars?" (interview) [Bloomberg]. CEO JoeBen Bevirt: "The capital cost of putting in a new sky port is a small fraction of what it costs to put in a new highway, and yet, it has exponentially more value, because it can take you anywhere. The medium-term future is that we're landing on lots and lots of rooftops. At launch, it's a discrete number of rooftops that are going to deliver the most value to our customers, that is the focus of our infrastructure team…. We've always believed that this had to be affordable, that this had to be something that was accessible to everyone. And so for us that's launching it at the price of a taxi and driving down as aggressively as possible towards the cost of personal car ownership. That is the key to unlock to making this something where everyone's flying instead of driving." • This didn't seem nearly as horrifying and dystopian as I thought it would. I don't know about the pricing, though. Will Bevirt's backers take losses to build the system out?
Manufacturing: "Hertz Rental Car Co. Orders 100,000 Tesla EVs" [Industry Week]. "In the business world's latest embrace of electric vehicles, Hertz Co. announced October 25 it had ordered 100,000 electric cars by 2022 from Tesla Motors for its fleet of rental vehicles and would install EV charging infrastructure at its locations around the world. Hertz interim CEO Mark Fields said the order would give his company the largest fleet of EV rental vehicles in North America…. According to a company statement, Tesla's Model 3 vehicles will make up 20% of Hertz's global fleet once the order is filled by the end of next year. That's barring any unforeseen disruptions that might be caused by semiconductor shortages, Hertz said."
Manufacturing: "Chinese magnesium shortage: Global car industry to grind to a halt within weeks amid 'catastrophic' halt" [New Zealand Herald (dk)]. "The world's largest carmakers and other users of aluminium could be forced to halt production within weeks amid a 'catastrophic' shortage of magnesium across Europe. Magnesium is a key material used in the production of aluminium alloys, which are used in everything from car parts to building materials and food packaging. China has a near-monopoly on global magnesium manufacturing, accounting for 87 per cent of production, but the Chinese government's efforts to reduce domestic power consumption amid rising energy prices have slowed output to a trickle since September 20. In Shaanxi and Shanxi provinces, the world's main magnesium production hubs, 25 plants had to shut down and five further plants slashed production by 50 per cent as a result of the power cuts Europe is expected to run out of magnesium stockpiles by the end of November. On Friday, a group of European industry associations representing cars, metals, packaging and other sectors issued a joint statement warning of the 'catastrophic impact' of the production cuts, which they said had already resulted in an 'international supply crisis of unprecedented magnitude'. The statement called for urgent action from the EU Commission and national governments to work with China to stave off the 'imminent risk of Europe-wide production shutdowns.'" • What with Chinese magnesium (or not) and Russian gas (or not), Mr. Europe would seem to be in his nervous space.
Mr. Market: "Netflix Rating Raised Two Notches to Investment-Grade by S&P" [Bloomberg]. • Dave, good job.
Mr. Market: "Tesla zooms past $1 trillion market cap on bet that the EV future is now" [Reuters]. After the Hertz buy: "Even Tesla Chief Executive Elon Musk expressed surprise at the velocity of the surge. "Strange that moved valuation, as Tesla is very much a production ramp problem, not a demand problem," Musk tweeted in reply to a comment by Ross Gerber, co-founder of the investment fund Gerber Kawasaki and a Tesla shareholder. 'Wild $T1mes!' Musk wrote in a separate tweet."
The Economy:
— Warren B. Mosler #MMT (@wbmosler) October 23, 2021
Mosler reminded of the Clinton surplus that brought about the Bush recession? If so, Democrat "moderates" are doing their best to follow Clinton down that path.
The Economy: "Inflation is not the emergency" [Claudia Sahm, Stay-At-Home Macro]. "Inflation is important. Prices at the pump are high which hurts. The cost of many things like cars, electronics, and home appliances are up too, if you can find them. But, inflation is not an emergency…. Demand matters for inflation too. This year spring demand surged. In fact, in April and May of 2021, the highest percent of consumers, on net, said it as a good time to buy big-ticket durables since the crisis began. That coincided with the surge in inflation. Now that measure of demand is lower than the depths of the recession. Again, it's hard to see a spiral inflation taking hold when consumers are willing to wait it out until inflation settles down, as they expect it will."
* * *
Today's Fear & Greed Index: 72 Greed (previous close: 71 Greed) [CNN]. One week ago: 62 (Neutral). (0 is Extreme Fear; 100 is Extreme Greed). Last updated Oct 26 at 12:11pm.
Rapture Index: Closes down one on drought. "Heavy rains bring drought relief to western states" [Rapture Ready]. Record High, October 10, 2016: 189. Current: 188 (Remember that bringing on the rapture is a good thing, so higher is better.)
Health Care
This is Ireland, but the infection control community in Canada and the United States seems just as dinosaur-like:
*Updated* HSPC guidance for hospitals

🤦🏻‍♀️❌"Although transmission of #COVID19 is typically the droplet pattern a pattern of airborne type spread has been associated with closed poorly ventilated spaces in which many people stay for long periods of time" https://t.co/WjVC9K3nJg

— Orla Hegarty (@Orla_Hegarty) October 26, 2021
No. There's no evidence whatever for "typically the droplet pattern." If there were, you can bet CDC and WHO would have flogged it all over the networks.
Ventilation, ventilation, ventilation:
Preventing transmission requires air sanitation, which means that everyone would have to address the miserable indoor air quality we have, especially in airtight buildings.

It's like we are trying to vaccinate ourselves out of cholera, rather than cleaning the water.

— Denise Dewald, MD 🗽 (@denise_dewald) October 19, 2021
As as if John Snow left the handle on the public water pump, but told all the people on Broad Street who used it to boil their own water.
"Patients hospitalized for COVID-19 this year could pay thousands in bills" [Healthcare Finance]. • Healthcare industry: "The moment we've been waiting for!"
Screening Room
Who among us:
The plot of Blade runner right here guys. https://t.co/40hJuD8fJd

— Chris McCrudden (@cmccrudden) October 23, 2021
Zeitgeist Watch
A newly annointed Times-person:

We live under neoliberalism, so this is perfect.
"The Science," a thread:
He began by showing us the text written by a student of Isaac Newton, which explained Newtonian forces and the motion of planets. Nevertheless, it had various mistakes and misunderstandings. He set it aside and moved to the next book, also excellent, but also flawed in some way.

— Joel David Hamkins (@JDHamkins) October 24, 2021
Class Warfare
"Capitalism's Core Problem: The Case for Universal Property" [Evonomics]. "Before we talk about universal property, we need to look at co-inherited wealth, for that is what universal property is based on. A full inventory of co-inherited wealth would fill pages. Consider, for starters, air, water, topsoil, sunlight, fire, photo­syn­thesis, seeds, elec­­tri­city, minerals, fuels, cultivable plants, domesticable animals, law, sports, religion, calendars, recipes, mathema­tics, jazz, libraries and the internet. Without these and many more, our lives would be incalculably poorer. Universal property does not involve all of all those wonderful things. Rather, it focuses on a subset: the large, complex natural and social systems that support market economies, yet are excluded from repre­sentation in them. This subset includes natural ecosystems like the Earth's atmosphere and watersheds, and collective human constructs such as our legal, monetary and communications systems. All these systems are enormously valuable, in some cases priceless. Not only do our daily lives depend on them; they add prodigious value to mar­kets, en­ab­ling corporations and private for­tunes to grow to gargan­tu­an sizes. Yet the systems were not built by anyone living today; they are all gifts we inherit together. So it is fair to ask, who are their bene­­ficial owners? There are, essentially, three possibilities: no one, government, or all of us together equally. This book is about what happens if we choose the third option, and create property rights to apply it." • I would have cross-posted this, but apparently I ran into a WordPress character limit (!). Do not length deter you, however; this is well worth breaking out the espresso machine for.
News of the Wired
A handy skillset for The Jackpot:
here's a repair job from a friend. it's a rather rare IBM PC accelerator card. it's very dirty. let's dig in! pic.twitter.com/AsdgHzYeSq

— Tube🎃Time (@TubeTimeUS) October 13, 2021
Quite a thread. Very vivid language, though I didn't understand a word of it after the tech dude fixed the board…
"In San Benito, Homecoming Mums Are an Over-the-top Texas Tradition" [Texas Monthly]. • I really shouldn't sneer at the gaucherie: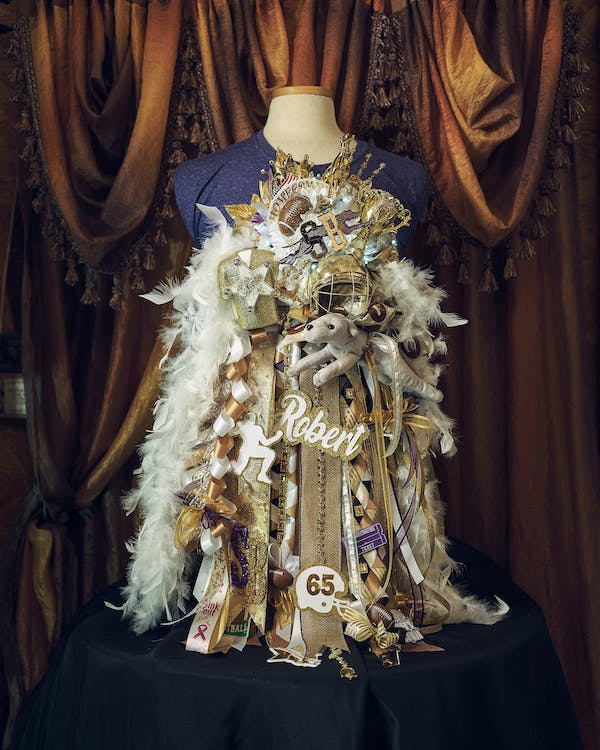 I would be glorying in the color and form, if "mums" were a strange custom in the Third World. Oh, wait….
* * *
Readers, feel free to contact me at lambert [UNDERSCORE] strether [DOT] corrente [AT] yahoo [DOT] com, with (a) links, and even better (b) sources I should curate regularly, (c) how to send me a check if you are allergic to PayPal, and (d) to find out how to send me images of plants. Vegetables are fine! Fungi and coral are deemed to be honorary plants! If you want your handle to appear as a credit, please place it at the start of your mail in parentheses: (thus). Otherwise, I will anonymize by using your initials. See the previous Water Cooler (with plant) here. Today's plant (Milton):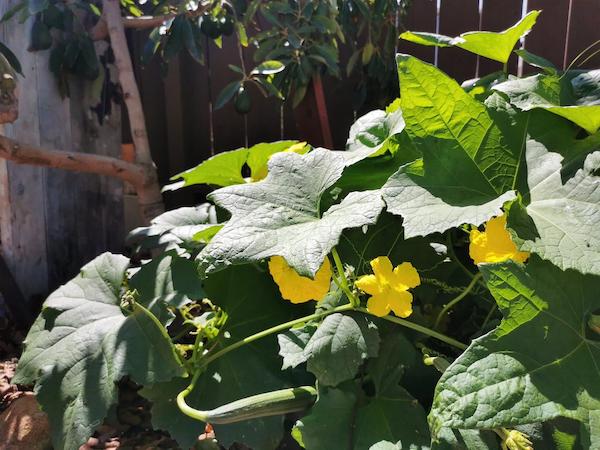 Milton writes: "New crop of loufas and avacados. I should have the loufas dried and skinned by the holidays. I'm leaving the 'cados on the tree until late next spring." Loufa as what one uses to scrub one's back in the shower? These can be grown in one's garden?
* * *
Readers: Water Cooler is a standalone entity not covered by the recently concluded and — thank you! — successful annual NC fundraiser. So if you see a link you especially like, or an item you wouldn't see anywhere else, please do not hesitate to express your appreciation in tangible form. Remember, a tip jar is for tipping! Regular positive feedback both makes me feel good and lets me know I'm on the right track with coverage. When I get no donations for five or ten days I get worried. More tangibly, a constant trickle of donations helps me with expenses, and I factor in that trickle when setting fundraising goals:
Here is the screen that will appear, which I have helpfully annotated.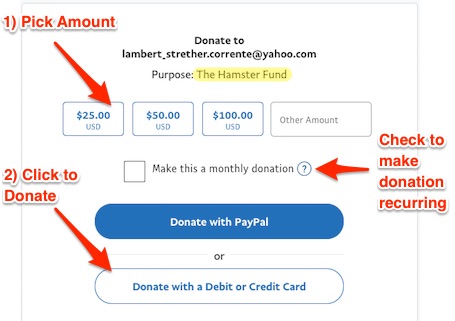 If you hate PayPal, you can email me at lambert [UNDERSCORE] strether [DOT] corrente [AT] yahoo [DOT] com, and I will give you directions on how to send a check. Thank you!2:00PM Water Cooler 6/8/2021