By Lambert Strether of Corrente.
No UPDATEs today. This is the lot! –lambert
Bird Song of the Day
A duet from the Himalayas.
* * *
#COVID19
Patient readers, I have started to revise this section, partly to reduce my workload, but partly to focus more as an early warning, if that is possible. Hopefully I will have a variant tracker map soon. In the meantime, I added excess deaths.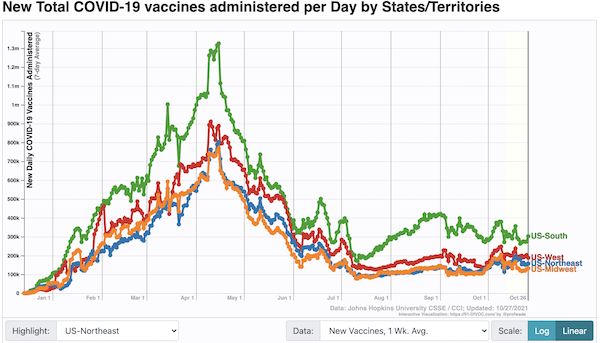 Coercion works? Or boosters? (I have also not said, because it's too obvious, that if by Bubba we mean The South, then Bubba has done pretty well on vax.)
57.5% of the US is fully vaccinated (CDC data. Mediocre by world standards, being just below Turkey, and just above the Czech Republic in the Financial Times league tables of this Monday). We are back to the stately 0.1% rise per day. I would bet that the stately rise = word of mouth from actual cases. However, as readers point out, every day those vaccinated become less protected, especially the earliest. So we are trying to outrun the virus…
Case count by United States regions: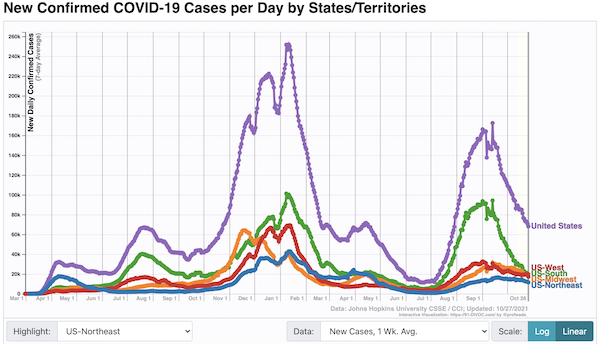 Downward trend resumes. Levels that once were a crisis is now not newsworthy (presumably because hospitals are not overwhelmed, normal medical billing is about to resume, etc.).
Simply tape-watching, this descent is as steep as any of the three peaks in November–January. It's also longer than the descent from any previous peak. We could get lucky, as we did with the steep drop after the second week in January, which nobody knows the reasons for, then or now. Today's populations are different, though. This population is more vaccinated, and I would bet — I've never seen a study — that many small habits developed over the last year (not just masking). Speculating freely: There is the possibility that natural immunity is much, much greater than we have thought, although because this is America, our data is so bad we don't know. Also, if the dosage from aerosols drops off by something like the inverse square law, not linearly, even an extra foot of social distance could be significant if adopted habitually by a large number of people. And if you believe in fomites, there's a lot more hand-washing being done. On the other hand, Delta is much more transmissible. And although readers will recall that I have cautioned against cross-country comparisons, I'm still not understanding why we're not seeing the same aggregates in schools that we've see in Canada and especially the UK, although we have plenty of anecdotes. Nothing I've read suggests that the schools, nation-wide, have handled Covid restrictions with any consistency at all. So what's up with that?
Even if hospitalizations and the death rate are going down, that says nothing about Long Covid, the effect on children, etc. So the numbers, in my mind, are still "terrifying", even if that most-favored word is not in the headlines any more, and one may be, at this point, inured.
MWRA (Boston-area) wastewater detection: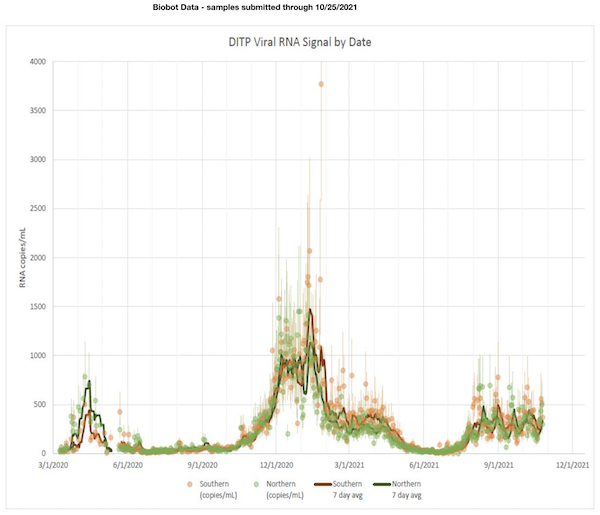 Seems like a sine-wave pattern on the right. Why?
The Massachusetts Water Resources Authority (MWRA) service area includes 43 municipalities in and around Boston, including not only multiple school systems but several large universities. Since Boston is so very education-heavy, then, I think it could be a good leading indicator for Covid spread in schools generally.
From CDC: "Community Profile Report October 25, 2021" (PDF), "Rapid Riser" counties: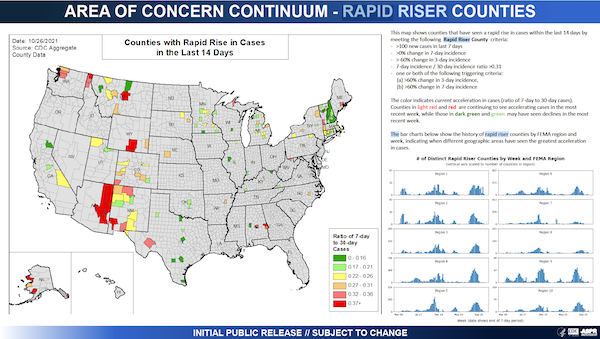 Arizona worse. Trouble spots in the West. Upper Midwest improved. Weird flare-ups, like flying coals in a forest fire. They land, catch, but — one hopes — sputter out.
Speculating freely: One thing to consider is where the red is. If air travel hubs like New York City or Los Angeles (or Houston or Miami) go red that could mean (a) international travel and (b) the rest of the country goes red, as in April 2020 and following. But — for example — Minnesota is not a hub. If Minnesota goes red, who else does? Well, Wisconsin. As we see. Remember, however, that this chart is about acceleration, not absolute numbers. This map, too, blows the "Blame Bubba" narrative out of the water. Not a (Deliverance-style) banjo to be heard. (Red means getting worse, green means bad but getting better.)
The previous release: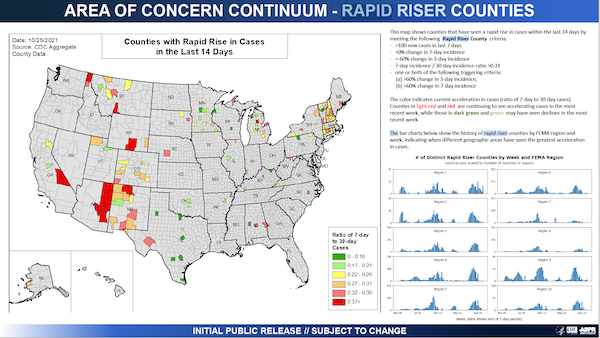 Hospitalization (CDC Community Profile):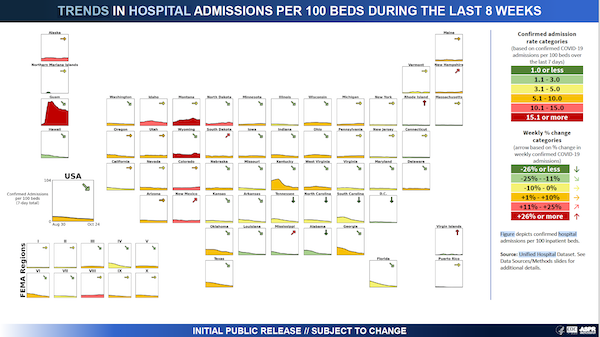 Finally some relief for the states of Idaho, Montana, and Wyoming, although I don't understand why they they have the bad luck to be so stubbornly still red.
Death rate (Our World in Data):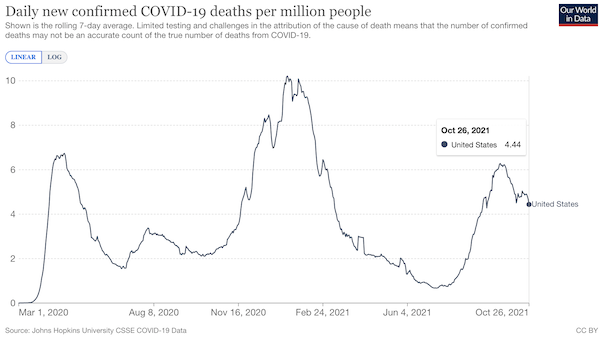 Total: 760,080 757,849. Going down again, mercifully. We had approached the same death rate as our first peak last year. Which I found more than a little disturbing.
Excess deaths (total, not only from Covid):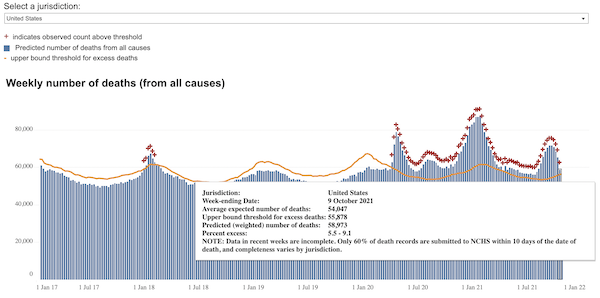 So how long does it take before 10% "excess" deaths becomes the new normal?
(Adding: I know the data is bad. This is the United States. But according to The Narrative, deaths shouldn't have been going up at all. Directionally, this is quite concerning. Needless to see, this is a public health debacle. It's the public health establishment to take care of public health, not the health of certain favored political factions. Also adding: I like a death rate because it gives me a rough indication of my risk should I, heaven forfend, end up in a hospital. I should dig out the absolute numbers, too, now roughly 660,000, which is rather a lot.)
Covid cases in historic variant sources, with additions from the Brain Trust: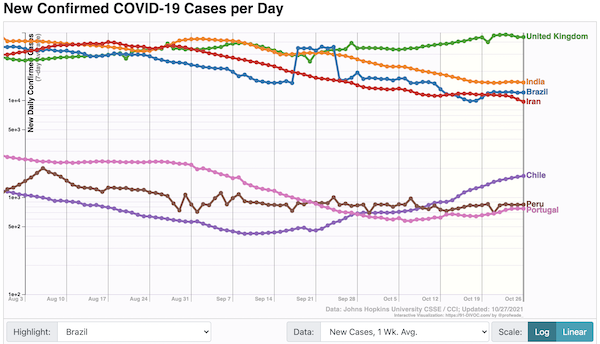 Chile and Chile rising. Also Portugal, oddly, which lifted restrictions about a month ago. Remember this is a log scale. Sorry for the kerfuffle at the left. No matter how I tinker, it doesn't go away.
* * *
Politics
"But what is government itself, but the greatest of all reflections on human nature?" –James Madison, Federalist 51
"They had one weapon left and both knew it: treachery." –Frank Herbert, Dune
"They had learned nothing, and forgotten nothing." –Charles Mice de Talleyrand-Périgord
Biden Administration
Shot:

Speaker Nancy Pelosi on Wednesday morning told other House Democratic leaders that she will lay out in the next couple of hours the next steps regarding President Joe Biden's economic proposals, says a official familiar. 1/5

— Billy House (@HouseInSession) October 27, 2021

Chaser:

Hearing at least 40 House progressives are prepared to vote against the infrastructure bill if all they are presented with is a framework on the larger social safety net package. They want a vote. Pelosi said y'day she thought framework was enough to move forward on infra vote.

— Annie Grayer (@AnnieGrayerCNN) October 27, 2021

In general, "progressives" have been very quiet. I'm not sure whether that's discipline, or lack of coverage, or a hunker down mentality, or what. Then again, it is a hostage situation. Those tend to be tense….

"White House: Biden can negotiate on world stage without spending deal at home" [Politico]. "'I don't think world leaders will look at this as a binary issue: is it done, is it not done,' [national security adviser Jake Sullivan] said. 'They'll say, 'Is president Biden on track to deliver what he said he's going to deliver?' And we believe one way or the other he will be on track.'… 'These global leaders are sophisticated,' [press secretary Jen Psaki] said. 'They're familiar themselves — although they all have different systems — with how you legislate here in the United States. They watch closely. They know it can take some time.'" • Throwing in the towel?

About those tax hikes:

?NEW ANALYSIS? — Build Back Better might deliver a net TAX CUT to the rich in the first two years.

A new @BudgetHawks analysis shows why SALT cap repeal could consume all the tax increases on the highest earners, and then some.https://t.co/N1it5umFGe pic.twitter.com/lRiKjRsNuW

— Marc Goldwein – GET VAXXED! (@MarcGoldwein) October 26, 2021
Democrats en Deshabille
"Cook Political Report shifts Virginia governor's race to 'toss-up'" [The Hill] (the original is paywalled). "The nonpartisan Cook Political Report shifted the Virginia gubernatorial race from "lean Democratic" to "toss-up" on Friday, just over a month from Election Day. The development comes as polls show the race, which is widely viewed as a barometer for next year's midterm elections, is becoming increasingly close. A University of Mary Washington survey released on Wednesday found Republican Glenn Youngkin leading former Virginia Democratic Gov. Terry McAuliffe 48 percent to 43 percent among likely voters. McAuliffe led Youngkin 43 percent to 38 percent among all registered voters." • It would be a damned shame if Obama and Biden together couldn't drag the bloated body of Clinton fixer and bagman McAuliffe over the finish line.

"McAuliffe-Youngkin Governor's Race Tests Democrats' Tenuous Hold on Virginia" [US News]. "Especially worrisome to Democrats was what political analysts call an 'enthusiasm gap.' For instance, one poll released Sept. 22 by the University of Mary Washington in Fredericksburg, Virginia, found registered voters preferring McAuliffe to Youngkin, 46% to 41%, but 'likely voters' – those deemed by the pollster to be likelier to actually cast a ballot – favored Youngkin to McAuliffe, 48% to 43%. That's a net shift of 10 points between the survey's two assessments. (More recent polls have had McAuliffe ahead among likely voters by between 3 points and 7 points.) Even worse for McAuliffe backers, there were anecdotal indications that Democratic turnout levels during early voting was lagging expectations. And unlike the California gubernatorial recall earlier in the year, in which Democratic performance ended up exceeding the level that the polls had indicated, Virginia does not send ballots to every registered voter. California's universal mail balloting made it easy for even soft supporters of the state's Democratic governor, Gavin Newsom, to cast a ballot in the recent recall election."

"Loudoun Co. judge rules teen sexually assaulted girl in school bathroom" [WTOP]. "The teens had 'sexually charged conversations,' and had engaged in consensual sexual relations twice in weeks prior, in a bathroom at the school. On May 28, the boy texted the girl and asked her to meet him in the girls bathroom, and she agreed. However, during that encounter, he forced himself on her, without her consent. The girl reported the incident to school administrators, and was questioned by sheriff's office investigators that day. DNA evidence was gathered and processed before the boy was charged with one felony count of forcible sodomy and one felony count of forcible fellatio… The girl's family has pledged to file a civil lawsuit against the school system, for failing to protect her by allowing the boy to transfer schools after being arrested. The family, and others are alleging the school system and school board engaged in a coverup." • Loudon Country, median household income: $142,299. Interestingly, "Incomes [ are so high in Loudoun that even after adjusting for a cost of living 12.3% above the national average, it remains the richest county in the U.S. by a wide margin." "Loudon County CIA" also brings up a lot of interesting hits. The Blocked and Reported podcast (36:20) devotes half an episode to the story, which was broken by (give credit) The Daily Wire. For whatever reason — the male perp was "allegedly" wearing a dress (!) — this episode has now entered the culture wars ("Loudoun County parents demand superintendent and school board members resign over 'cover-up' of sexual assault in order to 'push school's pro-transgender policies") and school board meeting attendance is through the roof. (The "CRT" controversy is also in play at the Loudon Country school board, but in parallel.) At this point I should point out that cross-dressing, even if motivated by "gender fluidity" — if that is why the perp wore a dress at all, as opposed to camouflage — is not at all the same thing as gender dysphoria, and that equating cross-dressers with trans people is prima facie a category error.

"Democrats' Betrayals Are Jeopardizing American Democracy" [David Sirota & Alex Gibney, Rolling Stone]. "Democrats' equivalent of a new New Deal — a reconciliation spending bill to bolster the social safety net — started out at $6 trillion, moved down to $4 trillion, then to $3.5 trillion, then below $2 trillion. And now party leaders are reportedly bowing to their corporate donors, stripping out wildly popular provisions to reduce medicine prices, expand Medicare benefits, and give workers paid family leave, after they already abandoned a promised $15 minimum wage. …. Meanwhile, Biden has refused to use his existing executive authority to lower drug prices, cancel student debt, and more widely distribute vaccine recipes to combat the pandemic." • Man, I wish we had Obama back. This wouldn't be happening with Obama.

Fundamentally, nothing will change:

"The reconciliation bill is gradually shifting from a Sanders product that encapsulates the policy thinking of the modern progressive movement to a much more business-friendly and targeted package of programs reminiscent of 1990s Clintonism."

FDR 2.0 – they said. ? pic.twitter.com/X0XLQfqWNE

— Murshed Zaheed (@murshedz) October 25, 2021

"The Owners of the Democrats' Big Data Firm Have a Side Gig: Working to Elect Far-Right Republicans" [David Corn, Mother Jones]. "one of the most important data outfits on the Democratic side—and, consequently, one of the more influential players in politics today—is a for-profit company that few Democratic voters, grassroots activists, or cable news junkies have ever head of: TargetSmart. It provides crucial services to the Democratic National Committee, state Democratic parties, and a wide assortment of progressive outfits and makes millions of dollars a year. On its website, the firm has posted a significant declaration: It "has always focused on the Democratic Party, Democratic candidates, and progressive organizations" and "does not work with Republican candidates." But a Mother Jones investigation found that the owners and founders of TargetSmart also own a company that earns millions by helping to elect Republicans, including far-right GOP state legislators who have tried to overturn the 2020 election results, who were involved in the January 6 march on the US Capitol that turned into a seditious riot, and who have been part of the Republican crusade to skew election laws against the Democrats. That is, the parent company of this vital Democratic data firm is profiting by aiding conservative and authoritarian political forces that seek to defeat the Democrats and progressives supported by TargetSmart." • One hand washes the other. What's the issue, here?
Our Famously Free Press
It's been open season on Biden ever since he ended a war:

Researchers now believe that Viking explorers reached Newfoundland as early as 1021 AD. Here's why that's bad new for Joe Biden.

— New York Times Pitchbot (@DougJBalloon) October 26, 2021
Stats Watch
Manufacturing: "United States Durable Goods Orders" [Trading Economics]. "New orders for US durable goods declined 0.4% mom in September of 2021, following a downwardly revised 1.3% rise in August and compared to market forecasts of a 1.1% drop. It is the first decline in five months, due to ongoing supply chain disruptions."
Inventories: "United States Wholesale Inventories" [Trading Economics]. "Wholesale inventories in the US rose 1.1 percent month-over-month to $739.5 billion in September of 2021, easing from a 1.2 percent increase in August, a preliminary estimate showed. Durable goods stocks rose less (1.1 percent vs 1.3 percent in August) while nondurable ones advanced faster (1.1 percent vs 1 percent). On a yearly basis, wholesale inventories advanced 12.7 percent in September. "
* * *
Commodities: "China traders hunt for coal price directions as Beijing reins in data providers" [Channel News Asia]. "Chinese coal traders say they are scrambling for price information on spot transactions, relying on personal communications as Beijing steps up scrutiny amid efforts to tame prices. The country's top economic planner, the National Development & Reform Commission said this week it would investigate coal and energy index providers over spreading 'fabricated' price information. The agency is also studying a new mechanism to guide coal prices within a reasonable range over the long term. The heightened scrutiny adds strains to the Chinese coal trading community, which is already struggling to keep up with rapid market and regulatory changes in the world's top coal consumer. The pricing confusion also compounds the country's worst power crunch in years, which is hampering industry while Beijing tries to lead a recovery from the pandemic. Beijing has since September unleashed a raft of measures – from ordering mines to immediately boost production to liberalising thermal power pricing. 'We stopped reading domestic indexes for a while as they are confusing. We now just call up other traders to get the daily prices,' said a Guangxi-based coal trader, who like others interviewed for this story declined to be named because of the sensitivity of the matter."
Real Estate: "Tighter Warehouse Space Adds to the Supply-Chain Squeeze" [Wall Street Journal]. "'Space in our markets is effectively sold out,' said Thomas Olinger, chief financial officer of logistics real-estate firm Prologis Inc., in an Oct. 15 earnings call. 'In the last 90 days, supply-chain dislocations have become even more pronounced, with customers acting with a sense of urgency to secure the space they need.'…. The squeeze on distribution space is adding to the broader congestion in supply chains, from tight container shipping capacity to backups at inland rail hubs, that has locked down inventory restocking efforts and dragged down economic recovery efforts during the Covid-19 pandemic. Space has been particularly hard to find near U.S. ports as shippers and logistics companies seek out warehouses to store containers and goods. The surging demand for warehouse space since the pandemic began has been driven by the move by consumers to online shopping and efforts by retailers to position goods closer to their customers for faster delivery. After the pandemic moved more shopping online, 'a good percentage of that behavior change, it turns out, has stuck,' said John Morris, who leads CBRE's industrial and logistics business in the Americas."
Shipping: "United Parcel Service profits keep growing as the company's shipment count keeps shrinking. The package giant's third-quarter revenue climbed 9.2% from a year ago to $23.2 billion and earnings reached $2.3 billion compared with $1.96 billion a year ago. The WSJ's Paul Ziobro writes the earnings reflect UPS's strategy to focus on business that generates more revenue and profit rather than sheer volume. The profit also shows the impact of stronger pricing and the leverage UPS holds in a market marked by strong demand and tight transportation capacity. Average revenue per piece grew at a double-digit pace across most of the company's business lines, including a nearly 15% increase in yield for overnight air shipments. The company is benefiting as more customers try to ship around bottlenecks. UPS will maintain its disciplined approach during the holidays, with plans to tightly control parcel volume to avoid overwhelming its network." • Oh good. Optimization.
Tech: "Five points for anger, one for a 'like': How Facebook's formula fostered rage and misinformation" [WaPo]. "Five years ago, Facebook gave its users five new ways to react to a post in their news feed beyond the iconic 'like' thumbs-up: 'love,' 'haha,' 'wow,' 'sad' and 'angry.'" Nothing for empathy or compassion, one notes. "Behind the scenes, Facebook programmed the algorithm that decides what people see in their news feeds to use the reaction emoji as signals to push more emotional and provocative content — including content likely to make them angry. Starting in 2017, Facebook's ranking algorithm treated emoji reactions as five times more valuable than 'likes,' internal documents reveal. The theory was simple: Posts that prompted lots of reaction emoji tended to keep users more engaged, and keeping users engaged was the key to Facebook's business. Facebook's own researchers were quick to suspect a critical flaw. Favoring 'controversial' posts — including those that make users angry — could open 'the door to more spam/abuse/clickbait inadvertently,' a staffer, whose name was redacted, wrote in one of the internal documents. A colleague responded, 'It's possible.' The warning proved prescient. The company's data scientists confirmed in 2019 that posts that sparked angry reaction emoji were disproportionately likely to include misinformation, toxicity and low-quality news." • Facebook continued to tinker with the algo, but you can't buff a turd. The whole process of ranking posts algorithmically should go away. The timeline should be subscription only, sorted by date. If users "like" something, they can forward it along* to their friends. The blogosphere was so, so much better than Facebook. NOTE * Assuming that Facebook gives URLs to posts, lol. What a mess.
Manufacturing: "Boeing's Dreamliner Pain Spreads to Suppliers" [Wall Street Journal]. "Boeing Co. manufacturing problems with its 787 Dreamliner are creating challenges for suppliers who expect production of the wide-body jets to remain low into next year. The Chicago-based plane maker has been producing about two of the wide-body jets a month, people familiar with the matter said, compared with a pre-pandemic high of 14. Boeing has halted deliveries for much of the past year since discovering flaws that have forced it to repair aircraft. The reduced production has choked the global supply chain for the aircraft, denting sales of parts and components sold by suppliers like Raytheon Technologies Corp. and Hexcel Corp. Analysts estimate Boeing has more than 100 new 787s awaiting delivery while it seeks regulatory approval for proposed inspections before handing the jets over to customers." • 100 aircraft seems like rather a lot. Hopefully the plastic wings aren't melting in the sun, or anything like that (this is a joke. I know carbon fibre isn't plastic).
Manufacturing: "TSMC founder chides U.S. plan for full chip supply chain onshore" [Nikkei Asia]. "s U.S. lawmakers look to invest $52 billion in the American chip industry, the founder of Taiwan Semiconductor Manufacturing Co. calls the plan far too small for rebuilding a complete supply chain in the country. Morris Chang, an American citizen who founded the company that is now the world's most valuable chipmaker, says it would be impossible for the U.S. to have a full chip supply chain onshore even if it spent far more — and that such a move may not be financially desirable in any case, 'If you want to reestablish a complete semiconductor supply chain in the U.S., you will not find it as a possible task,' Chang told a tech industry forum in Taipei on Tuesday night. "Even after you spend hundreds of billions of dollars, you will still find the supply chain to be incomplete, and you will find that it will be very high cost, much higher costs than what you currently have.'" • But he would say that.
Supply Chain: I'm hoisting my own comment (in response to this brilliancy prize comment by Dave in Austin) because I think it will be helpful for readers to get a sense of what modern railroading is all about, and have the overpowering scale fixed in their minds. On awe-inspiring stack trains:
Here is a video, which doesn't capture the sound of the engines, but does capture the sound of the extremely lengthy train:

As I said, trains like this are what the railroads want to do (and what an engineering feat this is; the country can still do some things). Notice also the variety of containers, all the different colors. For the railroads, containers are fungible. For ships, judging by the colors one sees of stacked up containers, the same applies. But not for ports. An impedance mismatch of insane proportions, driven solely by rents [at the ports], so far as I can tell.
Supply Chain: "Workers in the U.S. are finding that supply-chain logjams are following them back to the office. Deliveries of laptops, desktop monitors and other necessities of technology-driven work are running late… as shortages of components like semiconductors weigh on production while port delays and other transportation bottlenecks tie up distribution" [Wall Street Journal]. "It's a turnabout from the scramble that companies faced last year, when millions of workers locked down at the start of the pandemic and sought to set up office work stations at home. The return to work is triggering surging demand for the electronics to provide shared desks and hybrid home-work arrangements. But supply chains haven't caught up, and research group Gartner says deliveries may be delayed by several months. Manufacturers are trying to adjust operations to get more goods moving. But Gartner says world-wide personal computer shipments actually declined last quarter."
* * *
Today's Fear & Greed Index: 67 Greed (previous close: 70 Greed) [CNN]. One week ago: 67 (Greed). (0 is Extreme Fear; 100 is Extreme Greed). Last updated Oct 27 at 1:22pm.
Dear Old Blighty
Material realities:
mike graham misunderstands absolutely everything pic.twitter.com/Kb5JDzAVyn

— Michael Spicer (@MrMichaelSpicer) October 27, 2021
Screening Room
"'Dune: Part 2' Officially Greenlit, Release Date Set for 2023" [Variety]. "The first part of the sci-fi epic, which opened Oct. 22 in the U.S., earned $41 million in ticket sales in its first weekend. That result was the best film opening of the year for Warner Bros. and a sign of fans' desire to not only stream "Dune," but see it on the big screen. The film has also performed well overseas, earning nearly $225 million globally. Its domestic opening results were roughly in line with what Warner Bros. expected the film to generate when it was greenlit, which is notable because that's long before COVID-19 upended the media landscape." • I still think there should be three parts. Part 2 (ecology and culture): Paul and Jessica integrate with the Fremen. Part 3 (ecology and strategy): Paul takes down Shaddam with "desert power." Let the story breathe just a bit!
Our Famously Free Press
I don't know what The Jeff Bezos Daily Shopper™s agenda might be, but there certainly is one:
Facebook A1 front page streak at 4 days counting. pic.twitter.com/0Q8RjnCr5A

— Jason Kint (@jason_kint) October 27, 2021
Remember this?
Facebook A1 front page streak at 4 days counting. pic.twitter.com/0Q8RjnCr5A

— Jason Kint (@jason_kint) October 27, 2021
Raymond Williams stans rejoice:
Raymond Williams is incredibly prescient here when he discusses both the emancipatory potential of TV and new media, but also the danger that it could enslave us if it's power ended up in the hands of a few individuals. We know what direction it went pic.twitter.com/PUOQH8u5oK

— Mr Demos of Pnyx (@gem_ste) October 27, 2021
Zeitgeist Watch
"10 Things People Don't Know How to Do Around the House Anymore" [Family Handyman]. • "Unclogging a Toilet"? People don't know how to use a pliunger? Really? Let me make up a suitable Silicon Valley name… Plumbr™: Uber for plungers!
Black Injustice Tipping Point
"Design Thinking is a Rebrand for White Supremacy" [Flat Journal]. "The Italian graphic designer Massimo Vignelli often is cited as defending the practice of using only four typefaces and disparaging 'visual pollution.' Whether Vignelli realized or not, his belief in the designer's fight 'against the ugliness' further cemented Modernist practice of erasure and consolidation." • Come on, man. Still, this is a great chart: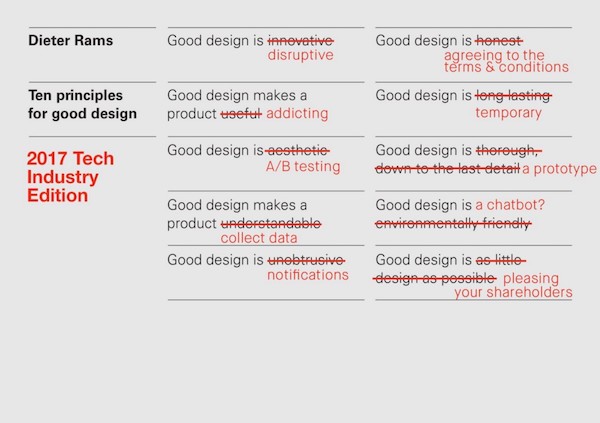 All true!
Class Warfare
"IATSE and Studios Reach Tentative Area Standards Agreement Deal" [Hollywood Reporter]. "According to the union, key gains in the tentative Area Standards Agreement — like those in the Basic Agreement — include low-wage IATSE members seeing a boost of up to 60 percent in hourly minimum wages, members receiving a minimum of a 9 percent scale wage increase by the end of the three-year contract, changes to rest periods and meal breaks, and improved compensation from streaming services. No more specifics were provided by press time. 'We were able to achieve gains in all of our core areas,' [IATSE international president Matthew Loeb] said in a statement. 'Quality of life issues were at the top of our priority list. The protective terms we negotiated in this agreement and the agreement reached earlier establish a defined weekend with the studios for the first time. The two agreements incorporate stiff penalties for failing to provide meals and breaks. Taken together, the improvements we made at the bargaining table are very significant and directly due to the solidarity of our members.' Within the next few weeks, members should be receiving a memorandum of agreement that will fill them in on the fine print of the Basic Agreement and Area Standards Agreement tentative deals. The ratification votes for the Area Standards Agreement and Basic Agreement will occur simultaneously online, the union has said." • Workers will have to read the memorandum, obviously.
I've always hated this heart-warming "equality v. equity" cartoon, because either way, the kids aren't empowered; they're just onlookers to the game. As we see in this revision:
Let's get real about the world today where the richest 1% control half the world's wealth. pic.twitter.com/a7OXMG9X2b

— Taimur Rahman (@Taimur_Laal) October 27, 2021
A thread on The Great Resignation. Averages conceal, as usual:
1/10
THREAD: There's No "Great Resignation"
There's this idea that a post-pandemic "labor shortage," yielding wage inflation, is caused by disinterest in work.
A good example of the "paralysis of aggregates" I spoke of in this @Bloomberg podcast this week:https://t.co/CW0XCMlQyo

— Dan Alpert (@DanielAlpert) October 26, 2021
Good for Marty Walsh:
Wednesday October 27, 2021 at 3pm we will have BCTGM President Anthony Shelton, Harry Kaiser and United States Secretary of Labor @SecMartyWalsh coming to our picket lines to support our fight for current and future employees. Come out and show what solidarity looks like! @BCTGM pic.twitter.com/CU1sP4FuzF

— BCTGM Local 374G Lancaster, Pennsylvania (@lancbctgm374g) October 26, 2021
Remember when Obama promised he'd put on his "comfortable shoes" and walk the picket lines? Good times.
News of the Wired
Well, hardly ever:
I'm never passive aggressive. Unlike some people.

— The Headless Strxwmxn 🎃 (@strxwmxn) October 26, 2021
* * *
Readers, feel free to contact me at lambert [UNDERSCORE] strether [DOT] corrente [AT] yahoo [DOT] com, with (a) links, and even better (b) sources I should curate regularly, (c) how to send me a check if you are allergic to PayPal, and (d) to find out how to send me images of plants. Vegetables are fine! Fungi and coral are deemed to be honorary plants! If you want your handle to appear as a credit, please place it at the start of your mail in parentheses: (thus). Otherwise, I will anonymize by using your initials. See the previous Water Cooler (with plant) here. Today's plant (JALP):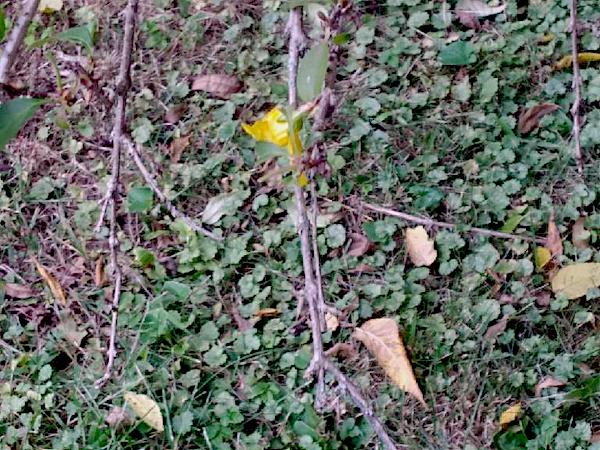 JALP writes from Mid-Michigan: "Forsythia in very late blossom — they didn't do much this spring, and in fact the lilac bushes next to them had hardly any bloom at all. But maybe the very warm and occasionally very wet weather here brought the yellow flowers back out." The same thing happened to me several years ago with my forsythia. I walked out the driveway one September morning, and there they were. I put it down to global warming. Have other readers had the same experience with their forsythia? (The photo is a little bit soft, but documents blooming forsythia and fallen leaves.)
* * *
Readers: Water Cooler is a standalone entity not covered by the recently concluded and — thank you! — successful annual NC fundraiser. So if you see a link you especially like, or an item you wouldn't see anywhere else, please do not hesitate to express your appreciation in tangible form. Remember, a tip jar is for tipping! Regular positive feedback both makes me feel good and lets me know I'm on the right track with coverage. When I get no donations for five or ten days I get worried. More tangibly, a constant trickle of donations helps me with expenses, and I factor in that trickle when setting fundraising goals:
Here is the screen that will appear, which I have helpfully annotated.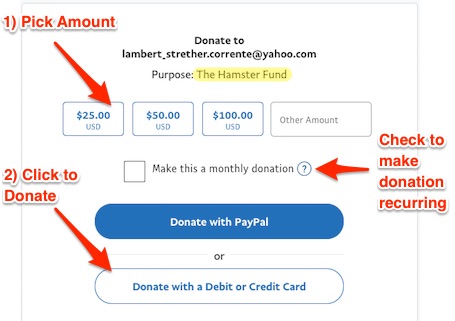 If you hate PayPal, you can email me at lambert [UNDERSCORE] strether [DOT] corrente [AT] yahoo [DOT] com, and I will give you directions on how to send a check. Thank you!2:00PM Water Cooler 6/8/2021