By Lambert Strether of Corrente.
If you've been listening to Mike Duncan's Revolutions podcast ("Good Riddance to Dear Nicky") you know that one of the causes of Imperial gridlock — the inability of Czarist Russia to mobilize for whatever purpose, no matter the laws passed or reforms made — was sheer incompetence; people placed in positions of authority, whether high or low, who had no idea of getting the job done (whether through cronyism, corruption, ineptitude, institutional pettifoggery, or sheer bloody-minded indifference). So you will see why the Romanovs immediately sprang to my mind when I started looking into the container crisis at the Ports of Los Angeles and Long Beach, hereafter "the Port." (The container crisis is one part of a larger crisis in the supply chain generally, which is out of scope for this post, and a good thing, too, because it's enormous and not immediately tractable.)
The proximate cause of my disgruntlement was a Twitter thread from Ryan Petersen that Yves posted, upon which I am about to expand. The only people I read who seemed to have a handle on the Port situation, or the supply chain generally, were logistics specialists — Petersen is CEO of a logistics firm — or truckers on the Twitter. Everybody else, and especially the press, just seemed to be hand-waving. (Dashboards, anyone?) I'm going to be using images, because sometimes I need to quote and highlight several tweets at the same time.
Petersen begins: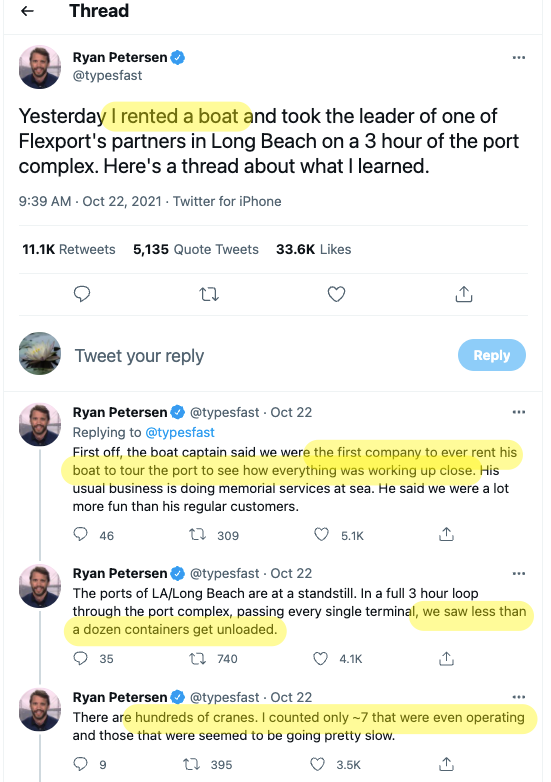 There are (as of today) 76 ships waiting at the Port, with 430,000 container cargoes worth $26 billion. So you can see that moving a dozen containers and operating seven cranes won't be putting a dent in that any time soon. I had no idea things where this ridiculously bad, and I do try to keep track.
But I had already started grinding my teeth with the first two tweets: Where was everybody? Why was Petersen "the first company" to go down to the Port and actually look at what was happening? The crisis at the port has been going on since at least August. Did no news-gathering organization think to write a story? The Los Angeles Times? The New York Times?
You'd think the clogged Port would be a wonderful photo op, especially for a publicity-hungry McKinsey Consultant. Leaving the (Democratic) Los Angeles City Council, the (Democratic) Los Angeles Mayor, the (Democratic) California governor, and the (Democratic) California Congressional delegation aside, where was the Secretary of Transportation? On paternity leave, that's where, since August, and then doubling down on it. Otherwise, "lying low," as Politico puts it.
The beauty of containers is that they are as modular as Legos. But that beauty comes at a cost: Containers have no wheels. So, what the cranes should be doing is moving containers from ships to trucks, which do have wheels, on which they drive away, bearing the container. The truck bed onto which the crane placed the container is called a chassis. It should be simple and clean, but there are problems. Petersen again: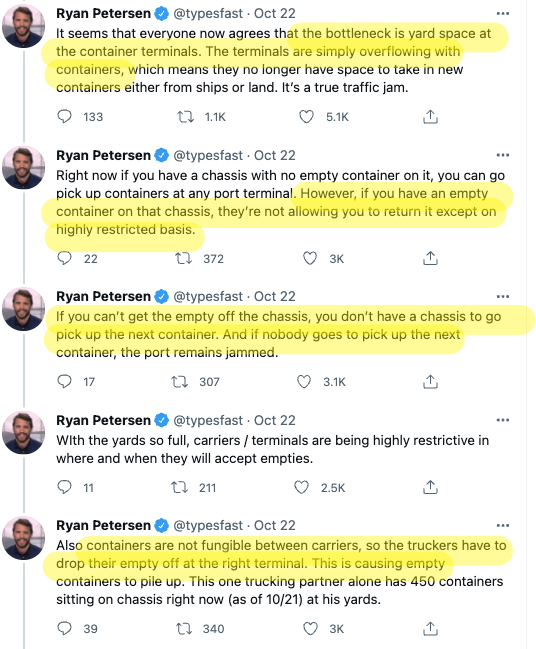 Note that one of the key blockages is a business requirement: Containers are "not fungible." They must be dropped off at the same place they are picked up. (Note that railroads don't have this business requirement at all; that's why you see a BNSF engine pulling (say) CSX cars, and billing for them. BNSF can settle up with CSX later because railroads can track their cars. I don't know what the Ports problem is.
Goods having been delivered, the containers, on their chassis, are returned by truck to the Port, empty. But there's no place to put the container. So the truck waits at the trucking company. Peterson again: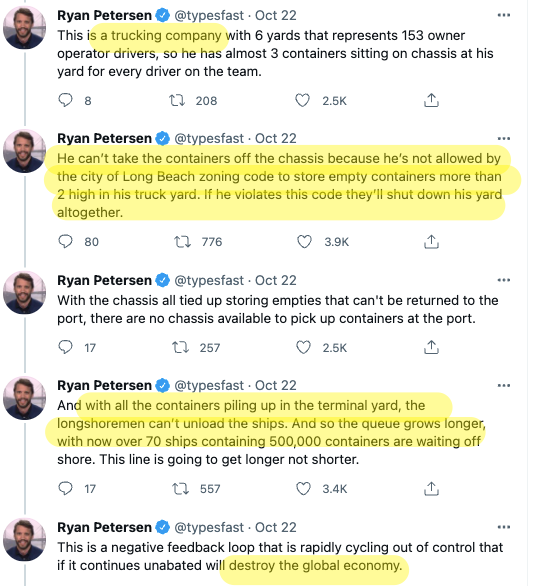 (I think "destroy the global economy" is harsh; the supply chain has more problems than the container crisis at the Port).
Here at last we have a ray of hope. As alert reader Flora points out:
One of his ideas gets a quick response from the mayor of LB.
As we see:
Update: The city of LB just announced it has temporarily suspended container stacking limitations.

Thank you everybody who called the governor and the mayor to request. They got the message, you can stop now… https://t.co/jp3S07NS4l

— Ryan Petersen (@typesfast) October 22, 2021
Again I ask: Where was everybody? Why on earth did it take a Tweet storm — @jack, hat tip, you've singlehandedly done more good than Zuckerberg has ever done — to get this small thing done? Why did the Mayor's office not think of this? Did nobody ever look out the window? Why did the trucking company not get the Mayor's attention? If they got the cold shoulder, this is trucking. Couldn't they have escalated?
Having identified the key problems — and I'm assuming that the container bottleneck is the only problem at the Port — Petersen turns to solutions: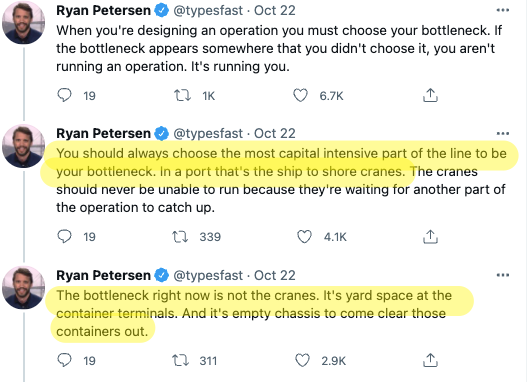 I like this argument. In a past life, I used to buy printing, and so I would visit printing plants. You never want to see empty bottles tossed under the workbenches. But the key sense is not sound but hearing: You want to hear the press running as soon as you open the door. If the press is not running, that tells you the firm isn't managing their most expensive item of fixed capital up to capacity (or it's broken, which is worse).
Petersen's first step towards a solution was actually adopted, as Flora has shown, the Romanov bureaucracy having acted once someone, anyone, gave them some guidance. Here is Petersen's second step:

This I'm not so sure of, partly because I'm not sure how easy it would be to wrest containers from the hands of the military, but mostly because I'd like to see numbers. All of the coverage is marked by a paucity of numbers, except for the containers piled up at the Port. (That's also why I reacted so strongly to the two numbers Petersen proferred in his original tweets: a dozen containers, seven cranes.) Petersen's next step:

Presumably, there aren't any railheads near Redwood forests; or, to be more bureaucratic, a President is not a CEO. There's a lot of site selection to do, and permitting that would need to be waived, to get this done. Even assuming everything is maximally expedited, we'd be looking at months not weeks let alone days. And that's assuming we're not dealing with the Romanovs. Petersen's penultimate step:

Lol, the railroads love them their "1500 mile train journeys to Dallas," because that's the highest margin business they have. (I believe this is called "precision railroading." No stops, no switching, no dealing with tiresome businesses along the way.) So the idea of railroad management howling is almost enough to sell me on the idea. My hesitation comes because the railroads, like everything else, are highly optimized. They don't have any slack either. So when their capacity is diverted to this laudable new purpose, what gets sacrificed? (I suppose the argument is that nothing does, since the ports that the railroads unload at are blocked; but I'd like to see that proved, and I'd like to know the effect on other ports that are not blocked as the Port is.)
And finally:

Here again I want numbers. How much capacity does the West Coast (and, I suppose, Mexico's West Coast) have to absorb this shipping? And how many of these barges and small container ships are there?
Again, however, WHERE IS EVERYBODY? Though I've tried to poke holes in it, the solution is simple and clean: You have a capacity problem. Get more capacity! Petersen at least proffers a worked-solution that was intuitively obvious enough for the Mayor of Long Beach to act on it. Who else is doing this? Governor Newsom? Buttigieg? The task force Biden set up, pointedly nominating neither his Secretary of Transportation nor [genuflects] his putative successor? Bueller? Bueller? Bueller?
* * *
Back to the chassis. If I have one nagging feeling about Petersen's approach, it's that he thinks he's looking at a technical problem, when in fact he's looking at a business problem. From a less spectacular thread than Petersen's, but one well worth a read:
Why haven't pool owners (who are often terminal operators) fixed this? They have no incentives to.

Containers don't get moved? They get storage fees.

Drivers miss their terminal appointments? More fees.

Tracking chassis between pools? Sounds like effort. So untidy!

13/15

— Christopher Smith (@chrylis) October 20, 2021
There are Romanov lackeys who are very happy to be collecting rents with things just as they are. Perhaps our Stolypin, whoever they may be, can get round all that. Perhaps not. But clearly, it's Romanovs all the way down.