By Lambert Strether of Corrente.
No UPDATEs today. This is the lot! –lambert
Bird Song of the Day
Hawk-Cuckoo sounds like a contradiction in terms. Where is the Eagle-Pigeon?
* * *
#COVID19
Patient readers, I have started to revise this section, partly to reduce my workload, but partly to focus more as an early warning, if that is possible. Hopefully I will have a variant tracker map soon. In the meantime, I added excess deaths.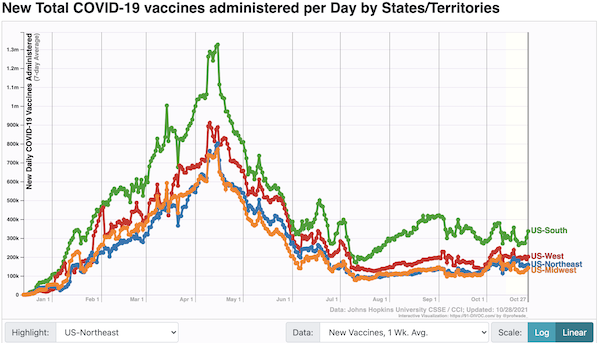 Bubba doing their part. Coercion works? Or boosters? (I have also not said, because it's too obvious, that if by Bubba we mean The South, then Bubba has done pretty well on vax.)
57.5% of the US is fully vaccinated (CDC data. Mediocre by world standards, being just below Turkey, and just above the Czech Republic in the Financial Times league tables of this Monday). Same as yesterday. However, as readers point out, every day those vaccinated become less protected, especially the earliest. So we are trying to outrun the virus…
Case count by United States regions: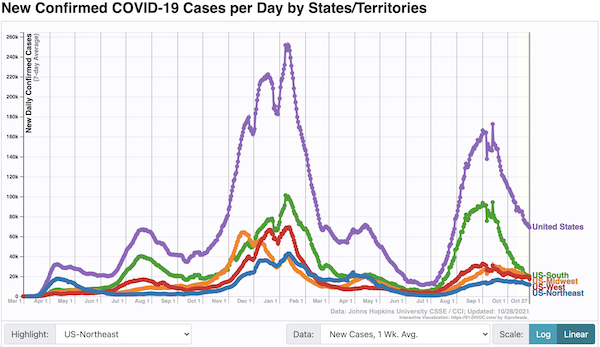 Downward trend resumes. Levels that once were a crisis is now not newsworthy (presumably because hospitals are not overwhelmed, normal medical billing is about to resume, etc.).
Simply tape-watching, this descent is as steep as any of the three peaks in November–January. It's also longer than the descent from any previous peak. We could get lucky, as we did with the steep drop after the second week in January, which nobody knows the reasons for, then or now. Today's populations are different, though. This population is more vaccinated, and I would bet — I've never seen a study — that many small habits developed over the last year (not just masking). Speculating freely: There is the possibility that natural immunity is much, much greater than we have thought, although because this is America, our data is so bad we don't know. Also, if the dosage from aerosols drops off by something like the inverse square law, not linearly, even an extra foot of social distance could be significant if adopted habitually by a large number of people. And if you believe in fomites, there's a lot more hand-washing being done. On the other hand, Delta is much more transmissible. And although readers will recall that I have cautioned against cross-country comparisons, I'm still not understanding why we're not seeing the same aggregates in schools that we've see in Canada and especially the UK, although we have plenty of anecdotes. Nothing I've read suggests that the schools, nation-wide, have handled Covid restrictions with any consistency at all. So what's up with that?
Even if hospitalizations and the death rate are going down, that says nothing about Long Covid, the effect on children, etc. So the numbers, in my mind, are still "terrifying", even if that most-favored word is not in the headlines any more, and one may be, at this point, inured.
MWRA (Boston-area) wastewater detection: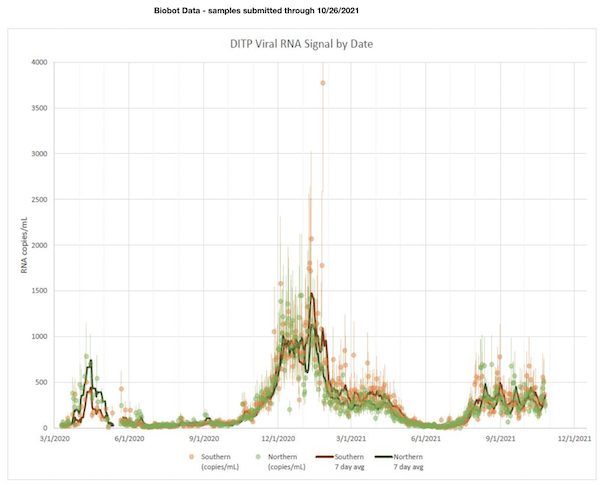 Seems like a sine-wave pattern on the right. Why?
The Massachusetts Water Resources Authority (MWRA) service area includes 43 municipalities in and around Boston, including not only multiple school systems but several large universities. Since Boston is so very education-heavy, then, I think it could be a good leading indicator for Covid spread in schools generally.
From CDC: "Community Profile Report October 25, 2021" (PDF), "Rapid Riser" counties: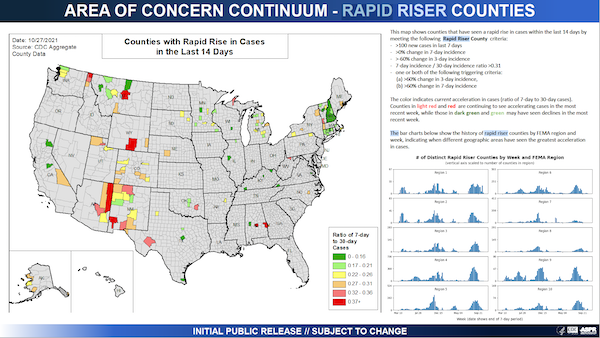 Arizona improves. Trouble spots in the West. Upper Midwest improved. Weird flare-ups, like flying coals in a forest fire. They land, catch, but — one hopes — sputter out.
Speculating freely: One thing to consider is where the red is. If air travel hubs like New York City or Los Angeles (or Houston or Miami) go red that could mean (a) international travel and (b) the rest of the country goes red, as in April 2020 and following. But — for example — Minnesota is not a hub. If Minnesota goes red, who else does? Well, Wisconsin. As we see. Remember, however, that this chart is about acceleration, not absolute numbers. This map, too, blows the "Blame Bubba" narrative out of the water. Not a (Deliverance-style) banjo to be heard. (Red means getting worse, green means bad but getting better.)
The previous release: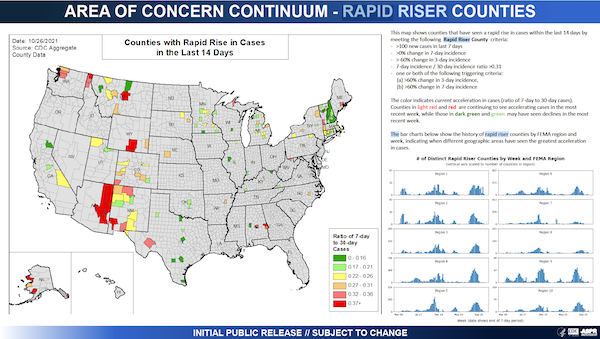 Hospitalization (CDC Community Profile):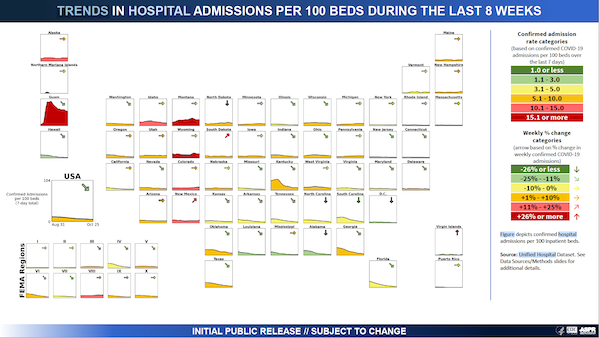 Finally some relief for the states of Idaho, Montana, and Wyoming, although I don't understand why they they have the bad luck to be so stubbornly still red.
Death rate (Our World in Data):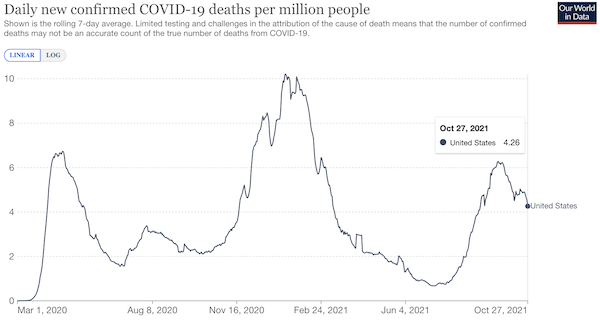 Total: 761,949 760,080. Going down again, mercifully. We had approached the same death rate as our first peak last year. Which I found more than a little disturbing.
Excess deaths (total, not only from Covid). This seems not to be updating: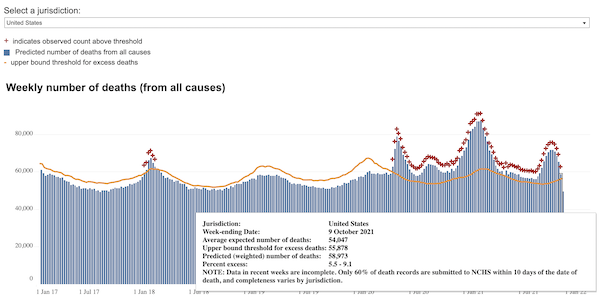 So how long does it take before 10% "excess" deaths becomes the new normal?
(Adding: I know the data is bad. This is the United States. Needless to see, this is a public health debacle. It's the public health establishment to take care of public health, not the health of certain favored political factions. Also adding: I like a death rate because it gives me a rough indication of my risk should I, heaven forfend, end up in a hospital. I should dig out the absolute numbers, too, now roughly 660,000, which is rather a lot.)
Covid cases in historic variant sources, with additions from the Brain Trust: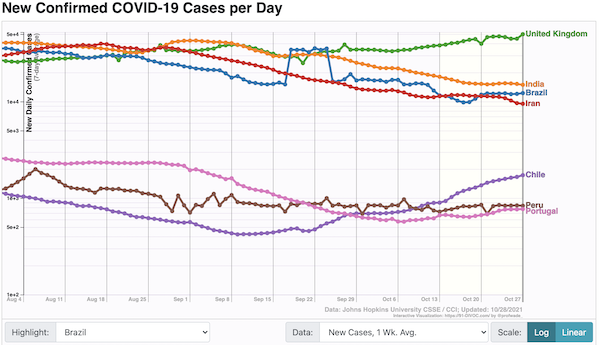 Look at Chile go! Also Portugal, oddly, which lifted restrictions about a month ago. Remember this is a log scale. Sorry for the kerfuffle at the left. No matter how I tinker, it doesn't go away.
* * *
Politics
"But what is government itself, but the greatest of all reflections on human nature?" –James Madison, Federalist 51
"They had one weapon left and both knew it: treachery." –Frank Herbert, Dune
"They had learned nothing, and forgotten nothing." –Charles Mice de Talleyrand-Périgord
Capitol Seizure
"The Department of Justice Is Letting the Coup Plotters Get Away" [The Nation]. "The Department of Justice should be leading the criminal investigation into the attack on the Capitol. That is the entity that can not merely catalog but actually punish the insurrectionists. Congress's role is oversight and lawmaking. It is therefore entirely appropriate for its members, through the Select Committee, to subpoena documents and testimony to try to understand what happened. That helps them serve their function of proposing and passing new laws so that it can't happen again. But accountability for any crimes that happened that day is a different matter. So is any investigation into the larger criminal conspiracy that came to fruition that day. Both are supposed to come through Justice and its subordinate investigations division, the FBI. The problem is, Attorney General Merrick Garland and FBI Director Christopher Wray don't seem to have the stomach for all that. Oh sure, they'll go after the small people. They'll prosecute the dude with the horns and charge the guy with the cattle prod. But when it comes time to prosecute the powerful—the congresspeople and the financiers who aided and abetted the insurrection—Garland and Wray have shown no desire to take on that challenge." • Well, institutionally the people who should be prosecuting (Justice) are not, while the people who should not be prosecuting (Congress; see under Joe McCarthy) are not. The Cossacks, Wray and Garland — if I may so denominate ectoplasmic Attorney General Garland — work for the Czar (Biden, properly denominated). So Biden doesn't want crimes prosecuted, why? (1) Perhaps the crimes are nothing-burgers, despite liberal aghastitude. After all, the only person to get whacked was one of the criminals. (2) Perhaps Biden doesn't want to offend the other side of the aisle. (3) Perhaps both Wray and Biden want to keep a lit on the involvement of FBI informers — or agent provocaters, where the FBI has form.
Biden Administration
"Joe's potty mouth" [Politico]. "Behind closed doors, the former Catholic school boy is quite profane, according to several current and former aides. 'When he gets going he definitely gets going,' said one White House official. In meetings with aides, Biden's vulgarities include but are not limited too: 'Fuck them,' 'What the fuck are we doing?' 'Why the fuck isn't this happening?' 'bullshit,' 'dammit,' or just simply: 'fuck,' according to several current and former aides. When pushing aides for better answers, he will sometimes say, 'don't bullshit a bullshitter.'" • Indeed–

"What's in and what's out of the Biden framework" [The Hill]. "WHAT'S OUT: Drug pricing, Medicare for dental and vision, Billionaire tax, Paid family leave, Clean Electricity Performance Program, and Free community college." • It's important that the working class have bad teeth. It's also important that they don't get educated, and get ideas above their station. Very clarifying.

"Fractious Dems struggle to unite around $1.75T megabill" [Politico]. "Soon after the White House outlined a framework for a $1.75 trillion deal on social spending, Biden made a high-stakes appearance on Capitol Hill to sell Pelosi's caucus on it. While some liberal priorities were included in the package of climate, health care and other social policy investments, others were scrapped — and multiple House progressives said they're not prepared to vote yes on infrastructure given their uncertainty about the framework's Senate future. The Congressional Progressive Caucus held its own meeting after Biden left, as its chair Rep. Pramila Jayapal (D-Wash.) signaled her group still had significant concerns after the president's pitch for its votes. One of her members, Rep. Cori Bush (D-Mo.), said simply "no" when asked if she would vote for the infrastructure bill after the president's push. Another, Rep. Rashida Tlaib (D-Mich.) answered 'hell no' on the infrastructure question. 'There are too many no votes' in the progressive camp, Jayapal told reporters Thursday afternoon, to pass the infrastructure bill on Thursday." • $1.75T above Manchin's $1.5T is a kick in the teeth for "progressives"/"the left" and indicates no real pressure was brought to bear on the moderates; that indicates to me that Manchin's number was what Biden always had in mind. As in Nevada (where the regulars gave the budget to the DCCC when the DSA took over the state party) or Buffalo (where the regular Mayor, defeated by a socialist, is running a write-in campaign with the full support of the party apparatus) liberal Democrats, gelatinous everywhere else, have spines of steel when it comes to seeing off "the left." Since the end-game for them can only be to break the House Progressive Caucus with the floor vote, Jayapal and crew had better understand that it's "hang together, or hang separately." So much for the FDR talk, mercifully, but at least we have clarity now.

Half the Progressive Caucus would be an excellent number, if true. Bribery and deference is for the likes of Manchin and Sinema; I assume "progressives" are now being threatened:

.@RepJayapal: "I don't think the Speaker has ever brought a bill to the floor that doesn't have the votes, and right now there are over three dozen members, […] who feel very strongly these two bills need to move together." https://t.co/8opX4pLTPa pic.twitter.com/yl6v4O1v8U

— The Hill (@thehill) October 28, 2021

In a sane world, a perfectly reasonable demand:

.@RepJayapal says she and progressives need to see legislative text of the reconciliation before the House holds floor votes on that and the bipartisan infrastructure bill.

"Assuming that we're fine with that, we'll vote both bills through at the same time."

— Jennifer Shutt (@JenniferShutt) October 28, 2021

It's gonna get ugly:

New — Pelosi told her members: "Don't embarrass" the president by voting down the infrastructure bill as he flies overseas, I'm told

She also said she would put the infrastructure bill on the floor today and hold the vote open to get the bill through.

— Manu Raju (@mkraju) October 28, 2021

Big test for AOC here, BTW.

"Sanders signals House should hold off on infrastructure vote" [The Hill]. "Sen. Bernie Sanders (I-Vt.) on Thursday said he's not prepared to support a stripped-down $1.75 billion framework unveiled earlier in the day by the White House, and signaled that progressives in the House should hold off on voting for a separate infrastructure measure. Sanders argued that House progressives shouldn't send the bipartisan infrastructure bill to President Biden's desk until they know that all 50 members of the Senate Democratic caucus support the reconciliation package. 'Before there is a vote in the House on the infrastructure bill, the members of the House have a right to know that 50 U.S. senators are supporting a strong reconciliation bill,' he said." • A bill that must pass through Sanders committee.

* * *

"Fact Sheet: National Strategy on Gender Equity and Equality" [Whitehouse.gov]. "[T]he Biden-Harris Administration established the White House Gender Policy Council, charged with leading the development of the first-ever National Strategy on Gender Equity and Equality, which sets forth an aspirational vision and a comprehensive agenda to advance gender equity and equality in domestic and foreign policy—and demonstrates that families, communities, and nations around the world stand to benefit. The strategy identifies ten interconnected priorities: 1) economic security; 2) gender-based violence; 3) health; 4) education; 5) justice and immigration; 6) human rights and equality under the law; 7) security and humanitarian relief; 8) climate change; 9) science and technology; and 10) democracy, participation, and leadership. These priorities are inherently linked and must be tackled in concert." • Of course, if you look at the reconciliation bill, you'll see that the Biden administration is giving mere lip service to all of these priorities (except perhaps for science).
Realignment and Legitimacy
"Unions Take Center Stage In Buffalo Mayor's Race" [HuffPost]. "Aside from elected officials, a spoken-word poet, and a former candidate for governor, the only speakers at Democratic mayoral nominee India Walton's mayoral campaign rally in downtown Buffalo, New York, on Saturday were labor union officials and activists. Walton's message was clear: As the only unabashed critic of corporate power at City Hall in the running for the top job, she was the true ally of organized labor in the Nov. 2 election. 'This is our city. We are the workers. We do the work,' declared Walton, a registered nurse and former union member. 'We are sick and tired of those that have the most always getting everything.' A few hours later, Mayor Byron Brown, a moderate who lost to Walton in the Democratic primary in June and is running a well-funded write-in campaign against her, laid his claim to the union mantle. Blanked by union members atop the bed of a truck parked in a vacant lot on Buffalo's East Side, Brown singled out organized labor for gratitude that he accorded to none of his other allies. 'I want to thank organized labor that has stood so strong with me,' he said, ticking off a list of union members' contributions that included door knocking, phone calls and literature distribution on his behalf. The competition between Brown and Walton over who is a greater friend to organized labor is lopsided: The Western New York Area Labor Federation and the lion's share of individual unions that have gotten in the race ― from unions representing city and state employees to manufacturing workers and building tradespeople ― are backing Brown. Still, a handful of more progressive unions' decisions to get behind Walton, and her own forceful case that she would be a more pro-labor chief executive, speak to a divide within the labor movement that has echoes in elections across the country." • Ka-ching.

Incumbent Mayor and primary loser Brown is running an exceptionally well-funded write-in campaign:

It's as easy as 1, 2, 3!

1. Go to the BOTTOM RIGHT-HAND CORNER of the ballot.

2. Use a pen to FILL IN THE OVAL next to "Write-in."

3. Clearly WRITE OR STAMP "Byron Brown" within the lines of the ballot box.#WriteDownByronBrown #BrownforBuffalo #BuffaloMayor #Buffalo pic.twitter.com/YmTRugsY5v

— Mayor Byron W. Brown (@byronwbrown) October 24, 2021

Innovation:

— Briahna Joy Gray (@briebriejoy) October 23, 2021

I'm only surprised Clyburn hasn't shown up yet.

"India Walton under fire after explicit Facebook comment against Buffalo Common Councilmember" [WIVB]. " India Walton's fitness to serve as mayor of Buffalo is under fire after a comment she posted a year ago – an insult with racial overtone against a city councilman – resurfaced…. And I said I am not going to vote to defund the police because there's a thin line between anarchy and civility," Golombek said. And when the North District councilman posted his feelings on Facebook, India Walton responded with a potentially racially insensitive comment – 'You don't know what you are talking about tender *expletive* white man.' The expletive referred to a man's genitals." • The aghastitude!

* * *

"Race-blind redistricting? Democrats incredulous at GOP maps" [Associated Press]. "The Republican-controlled legislature has complete control of redistricting; its maps cannot be vetoed by its Democratic governor. A federal court in 2016 found North Carolina Republicans improperly crammed Black voters into two congressional districts to dilute African American votes elsewhere. It ordered the map redrawn, and in a separate case another panel of judges found that dozens of state legislative districts were illegal racial gerrymanders as well. The updated congressional map was the basis of the 2019 Supreme Court case. But, barely two months later, a North Carolina state court found the GOP advantage in some of the redrawn state legislative maps still violated the state constitution. Based on this and other rulings, Republicans redrew the maps once again in late 2019, this time saying they weren't looking at racial or partisan data, and they passed legal muster. Then, in August, the legislature formally adopted a rule that it wouldn't consider race or partisanship in its latest line-drawing that would begin after the U.S. Census Bureau released data on population changes over the past decade. Lawmakers noted that, during the epic litigation of the prior decade, a federal court had found the state didn't have racially polarized voting and didn't require special attention to racial data. Democrats and civil rights groups strenuously objected." • Tit for tat:

Breaking: as predicted, IL Dems have revised their proposal to a safer, more aggressive 14D-3R gerrymander. It's still about as ugly as before, though. https://t.co/Av1otFjvWl pic.twitter.com/Nydc9mhd4E

— Dave Wasserman (@Redistrict) October 23, 2021

I would imagine the maps in New York and California are also being drawn to suit.

"Are Identity Politics Campaign Contributors Happy They Gave Big To Kyrsten Sinema?" [Down with Tyranny]. "You don't always look for wisdom– not even political wisdom– by turning to members of Congress… except in a few cases. The other day I had a long chat about the bane of identity politics with one of those few cases. He told me about a former colleague, someone we both know, who was up for a job in the Biden administration. The guy– let's call him Congressman X, since he's no longer in Congress– was certainly qualified for the job, being one of the smartest and most ethical– and well-liked– members of Congress when he served. The current member told me that our friend had been recommended by several people close to Biden and that he received "an email from the transition with a form to complete. Almost the entire form was about demographics, and he's a straight, cisgender, white, over-40, non-Hispanic male without any disabling condition, and he's not the first in his family to attend college, although neither of his parents could afford to complete college. So he looked to the Biden people just like Tony Blinken, only Blinken's father founded a private equity firm and has five Rothkos in his living room overlooking the East River and [Congressman X's] father worked for the post office and died when he was 12. Anyway, he never heard back from them."

"The Evangelical Church Is Breaking Apart" [The Atlantic]. "Bob Fryling, a former publisher of InterVarsity Press and the vice president of InterVarsity Christian Fellowship, an evangelical campus ministry, has been part of a weekly gathering of more than 150 individuals representing about 40 churches. He's heard of conflicts 'in almost every church' and reports that pastors are exhausted. Earlier this year, the Christian polling firm Barna Group found that 29 percent of pastors said they had given 'real, serious consideration to quitting being in full-time ministry within the last year.' David Kinnaman, president of Barna, described the past year as a "crucible" for pastors as churches fragmented. The key issues in these conflicts are not doctrinal, Fryling told me, but political. They include the passions stirred up by the Trump presidency, the legitimacy of the 2020 election, and the January 6 insurrection; the murder of George Floyd, the Black Lives Matter movement, and critical race theory; and matters related to the pandemic, such as masking, vaccinations, and restrictions on in-person worship. I know of at least one large church in eastern Washington State, where I grew up, that has split over the refusal of some of its members to wear masks."

"Is there a constitutional right to food? Mainers to decide" [Associated Press]. "For supporters, the language is short and to the point, ensuring the right to grow vegetables and raise livestock in an era when corporatization threatens local ownership of the food supply, a constitutional experiment that has never been tried in any state. For opponents and skeptics, it's deceptively vague, representing a threat to food safety and animal welfare, and could embolden residents to raise cows in their backyards in cities like Portland and Bangor. In the Nov. 2 election, voters will be asked if they favor an amendment to the Maine Constitution 'to declare that all individuals have a natural, inherent and unalienable right to grow, raise, harvest, produce and consume the food of their own choosing for their own nourishment, sustenance, bodily health and well-being." • And freedom from Oxford commas (yes, in the original).
Stats Watch
Employment Situation: "United States Initial Jobless Claims" [Trading Economics]. "The number of Americans filing new claims for unemployment benefits fell to a fresh 19-month low of 281 thousand in the week ending October 23rd, as the labor market slowly recovers to its pre-pandemic normal amid a surge in demand for labor, the expiration of enhanced jobless benefits, and record levels of job openings and quits by employees. Still, the number of new filings remained well above the 212 thousand figure seen back in early March 2020, just before the COVID-19 crisis hit the US economy."
Manufacturing: "United States Kansas Fed Manufacturing Index" []. "The Kansas City Fed's Manufacturing Production Index rose to 25 in October 2021 from 10 in the previous month, the highest since July. Factory growth in October was driven by increased activity at nondurable goods plants, in particular paper and printing production, chemical manufacturing, and plaTrading Economicsstics products, while durable goods manufacturing grew more moderately. "
* * *
Supply Chain: "German chipmaker Infineon calls for rethink of auto supply chain" [Nikkei Asia]. "German chip giant Infineon Technologies is urging automakers to rethink their "just-in-time" supply chain strategy and instead start building up stockpiles of semiconductors as the global shortage of the key components drags on. The company, a leading provider of auto-related chips, predicts the chip crunch could last through the end of next year, Helmut Gassel, Chief Marketing Officer and a member of the Management Board of Infineon, told Nikkei Asia. Infineon is struggling with 'very low inventory levels of products across multiple industries,' Gassel said, with the shortage 'most visible' in the automotive sector. The company supplies a broad range of sectors, including consumer electronics, industrial machines and new applications such as the Internet of Things and smart cities."
Supply Chain: "The Covid-19 oxygen crisis: How did we get here? Part 6. Oxygen supply chains" [GasWorld]. "It's difficult to pinpoint an exact installed base of oxygen production capacity, given the many small and large oxygen production plants globally, many of which may not be known or capacities undisclosed, while significant volumes will be captive capacity (privately owned and operated by a steel company, for example) and not merchant (customer) supply. With PSA oxygen generation gradually on the rise, it is also challenging to put estimates beside this varying range of supply capability. There likely exists a very broad sliding scale of oxygen supply capacity at any one time. What we do know, however, is both the commonly accepted utilisation rates of ASUs (production plants) and the understanding from within the industry and externally that a large percentage of any bottleneck issues sits within the distribution chain and not in production. It's understood that ASUs typically run at utilisation rates of circa 70-80% of their oxygen capacity, so ramping up capacity within the installed infrastructure should not be a problem in itself, assuming captive plants are willing and able to do so of course. The challenge is to package and transport that increased product, and ensure it reaches its destination and can be appropriately accessed/used once there. Karina Kocha, Business Intelligence Manager for gasworld, had explained during the height of the pandemic in Western Europe and North America that this was the case; that it seemed the challenge was not so much in the supply of oxygen in the market, but rather the capacity of the hospital supply systems to cope with the sharp increases in demand as they become overwhelmed with stricken patients. 'The problem here may be in the capacity of the hospital supply systems, which could be not enough for increased consumption. The fastest way to increase it is to bring oxygen in cylinders…. The amount of oxygen can hardly be a problem. Any shortage might be caused by the delivery system, which can serve as a bottleneck between producers and patients.'" • For example:
• Supply chain issues for getting testing kits and supplies remains a challenge.
• Also, many rural home oxygen suppliers are having difficulties meeting the demand for oxygen cylinders or concentrators for home patients. (14)

— Great Basin Institute (@GBInstitute) October 27, 2021
I don't know the business of oxygen cylinders at all; how full cylinders are delivered, and empty cylinders returned. I wonder if the situation is as messed up as it is with containers at ports? Do fee structures mean cylinders are hard to recirculate?
* * *
Today's Fear & Greed Index: 69 Greed (previous close: 63 Greed) [CNN]. One week ago: 69 (Greed). (0 is Extreme Fear; 100 is Extreme Greed). Last updated Oct 28 at 12:58pm. Now that poor people won't get dental, Mr. Market is in his happy space.
The 420
"He gave the world the perfect pot pipe. Fifty years later, he took it to the internet" [Los Angeles Times]. "If you invent something that becomes known as the Swiss Army knife of pot pipes, a virtually indestructible, highly designed 4 ounces of brass called the Proto Pipe that sells more than 1.5 million units to generations of stoners, you'd expect the world to beat a path to your door. (You know, that whole "build a better mousetrap" thing.) So why was I the only one who'd found my way to the doorstep of a dusty industrial park just off the main drag in Willits, Calif.?" • This is a very good example of going into the forest to find the bird — and finding the bird. Also, it's fine service journalism, because I have heard this kind of pipe is the kind of pipe you need, if you need this kind of pipe.
Groves of Academe
"Kentucky principal investigated after getting lap dance at homecoming event" [New York Post]. "A Kentucky school district is investigating after a teenage boy gave lap dances to his high school principal and other staff members during a homecoming event. Other provocative photos of spirit events at Hazard High School posted on social media showed teen girls parading around the gym dressed as Hooters waitresses and boys being paddled, according to the Lexington Herald-Leader." • "Spirit events"?
Our Famously Free Press
I wonder how long this will last:
Big news: As part of your @USATODAY subscription, you can now sign up to text directly with our fact-checking team ✅ https://t.co/t3l9qAmbDn

— Daniel Funke (@dpfunke) October 26, 2021
Class Warfare
Not worth the paper its written on (1):
John Deere declares accident reports "confidential" following tractor crash by non-union worker, per internal memo leaked to me.

Deere exec says they're not putting things in writing to prevent leaks to media, per recording leaked to me:https://t.co/z9rY6hlaku pic.twitter.com/NJZLCbKyFw

— Ken Klippenstein (@kenklippenstein) October 26, 2021
Not worth the paper its written on (2):
Wow. I missed this choice detail in Deere's ridiculous filing to bust the picket line in Davenport IA:

"All nine people said they "personally observed the picketers' improper and unsafe conduct" … The five drivers signed prepared documents, which contained identical wording." https://t.co/5NgGGUVD9x

— Jonah Furman (@JonahFurman) October 28, 2021
Now Deere is just trolling.
News of the Wired
"How I battle the evil leaf blowers" [Yahoo Finance]. "My suburban neighborhood has been noisier than usual this year. In addition to the ubiquitous roar of gas-powered leaf blowers, there is now the sound of me fighting back. I've been a lonely scold griping to my neighbors about their obnoxious leaf blowers for years. After a beautiful spring day wrecked by hours of nonstop droning earlier this year, I decided complaining wasn't enough. So I messaged a group of offending neighbors, telling them that every time their leaf blowers rattled my house, I would respond with a like amount of hip-hop or heavy metal blared directly at them from my 70-watt guitar amplifier. The neighbors united against me, deeming the leaf blowers essential and calling my bluff…. The first time I did it, I felt nervous—until I felt elated. About five minutes after my neighbor's landscaping crew lit up their leaf blowers on a bright Tuesday morning, I put the amp on my deck, aimed it at the problem, set the amp's volume to 5—leaving room to escalate—and hit play. Blaring hip-hop collided with leaf-blower racket in a terrible cacophony between the two houses. But after the blowers stopped, I treated my neighbors to another 20 minutes or so of carefully cultivated hip-hop thumping like a trailer for Rolling Loud. It might be unwanted noise, but now I was the one making it. Hooya…. There are also a few encouraging signs it may be curtailing the abusive overuse of these noxious machines. One targeted neighbor has switched from a gas-powered blower to electric. The same lawn worker who told me 'everybody' violates the blower ban used a battery-powered blower a few times over the summer. I waved and gave him a thumbs-up."
Still true, although for different reasons:
Keith Haring (1958-1990) pic.twitter.com/RjfyaXuyCY

— @_rt* (@literatura_rte) October 27, 2021
* * *
Readers, feel free to contact me at lambert [UNDERSCORE] strether [DOT] corrente [AT] yahoo [DOT] com, with (a) links, and even better (b) sources I should curate regularly, (c) how to send me a check if you are allergic to PayPal, and (d) to find out how to send me images of plants. Vegetables are fine! Fungi and coral are deemed to be honorary plants! If you want your handle to appear as a credit, please place it at the start of your mail in parentheses: (thus). Otherwise, I will anonymize by using your initials. See the previous Water Cooler (with plant) here. Today's plant (rh):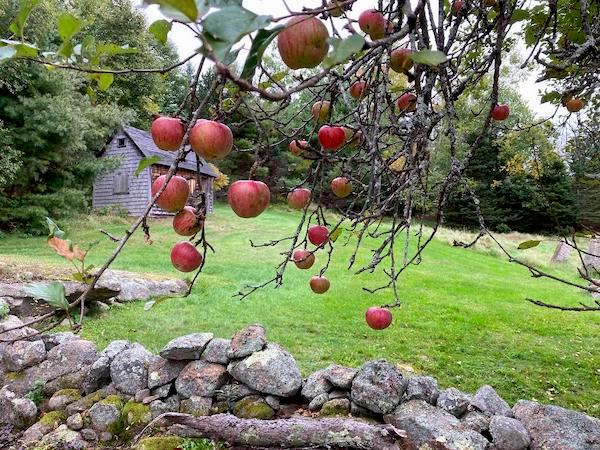 rh writes: "Old apple tree in Maine."
Bonus (dc):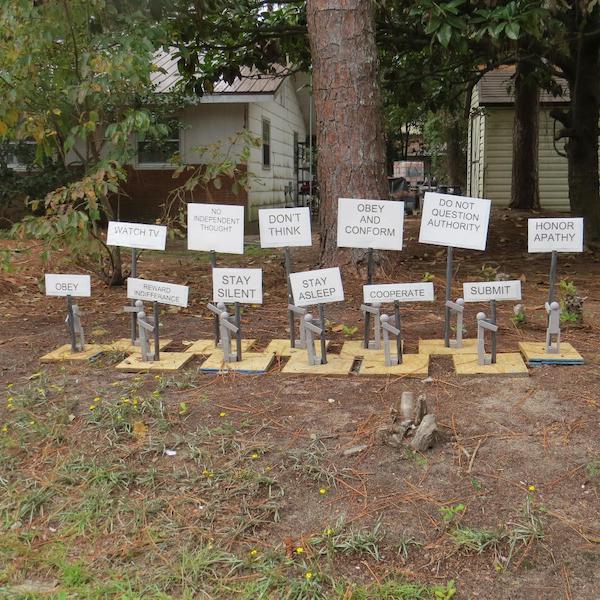 dc writes, from North Carolina: "This is in a lower class neighborhood, and is wonderful. They also have free copies of the Declaration of Independence and the Constitution."
* * *
Readers: Water Cooler is a standalone entity not covered by the recently concluded and — thank you! — successful annual NC fundraiser. So if you see a link you especially like, or an item you wouldn't see anywhere else, please do not hesitate to express your appreciation in tangible form. Remember, a tip jar is for tipping! Regular positive feedback both makes me feel good and lets me know I'm on the right track with coverage. When I get no donations for five or ten days I get worried. More tangibly, a constant trickle of donations helps me with expenses, and I factor in that trickle when setting fundraising goals:
Here is the screen that will appear, which I have helpfully annotated.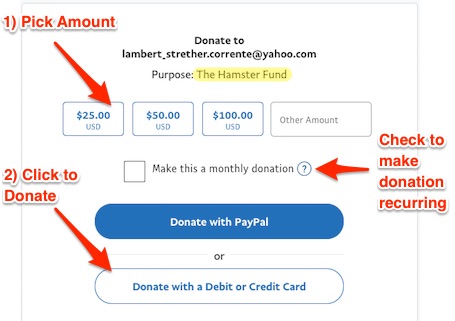 If you hate PayPal, you can email me at lambert [UNDERSCORE] strether [DOT] corrente [AT] yahoo [DOT] com, and I will give you directions on how to send a check. Thank you!2:00PM Water Cooler 6/8/2021