By Lambert Strether of Corrente.
No UPDATEs today. This is the lot! –lambert
Bird Song of the Day
"L.A. mystery: The mourning doves stopped singing. What happened to them?" [Los Angeles Times]. "The coo was like the voice of my L.A. childhood. Hearing the mourning dove again was a revelation, but with it came a realization: I'd not listened to one in many years…. Coo-OOH, ooh, ooh, ooh.… 'In any given local area, mourning doves might be less common and heard than they were 10 or 20 or 50 years ago,' said Kimball Garrett, ornithology collections manager of the Natural History Museum of Los Angeles County…. But over in Culver City, [author William] Jordan is lucky: He's heard mourning doves, as recently as a month or so ago. He enjoys their song, which he said 'doesn't have any sharp edges to it.' 'It's one of the great sounds of nature — of urban ecology,' he said. I agree. And I worry that my children will never hear the mourning dove. It will not be a part of their lazy summers, already rendered less so by modern life. There is little time to stare out the window and into the trees, searching for something unseen."
"Crows Are Doing the Best They Can" [The Atlantic]. "Crows, along with magpies, jays, and ravens, are members of the family Corvidae, a group known for two things: exhibiting complex behaviors, and having massive brains…. The crows he works with aren't spooky; they're observant: 'Basically it feels like you're constantly being observed and assessed,' [Alex Taylor, a senior lecturer in psychology at the University of Auckland] says. 'You're dealing with a very smart and watchful animal.'"
"After 30 Years of Breeding Condors, a Secret Comes Out" [The Atlantic]. "When you get to be as endangered as the California condor, your sex life becomes a highly public affair. Since 1983, when the number of California condors in existence was a mere 22, biologists have been carefully breeding the birds in captivity. They kept track of who mated with whom, how many offspring they had, and when those offspring were released into the wild. All of this is logged in the official California-condor 'studbook.' So it was quite a shock when, a few years ago, scientists conducting DNA tests as part of routine research found two condors with unexpected paternity. These two birds—known by their studbook numbers as SB260 and SB517—were not related to the fathers recorded in the studbook. Actually, they had no fathers at all. A full 100 percent of their DNA had come from their respective mothers. 'We were confronted with this inexplicable data set,' says Oliver Ryder, a conservation geneticist at the San Diego Zoo Wildlife Alliance. The only possible explanation was a strange one: The eggs that produced these two condors must have essentially fertilized themselves without any sperm. The phenomenon is known as parthenogenesis or, colloquially, 'virgin birth.'" • Creative!
* * *
#COVID19
Patient readers, I have started to revise this section, partly to reduce my workload, but partly to focus more as an early warning, if that is possible. Hopefully I will have a variant tracker map soon. In the meantime, I added excess deaths.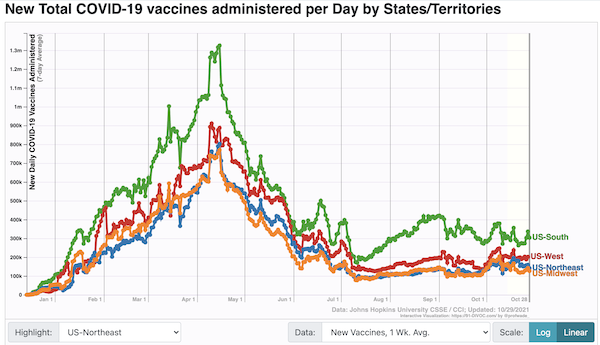 Bubba doing their part. Coercion works? Or boosters? (I have also not said, because it's too obvious, that if by Bubba we mean The South, then Bubba has done pretty well on vax.)
57.6% of the US is fully vaccinated (CDC data. Mediocre by world standards, being just below Turkey, and just above the Czech Republic in the Financial Times league tables of this Monday). We are back to the stately 0.1% rise per day. I would bet that the stately rise = word of mouth from actual cases. However, as readers point out, every day those vaccinated become less protected, especially the earliest. So we are trying to outrun the virus…
Case count by United States regions: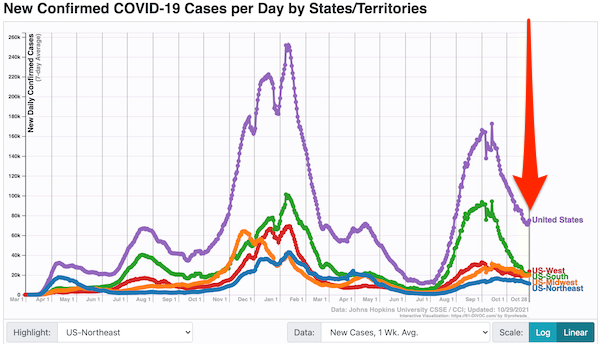 Uh oh. Looks like the rise is in the West. Here is an 8-week breakdown of the Western States: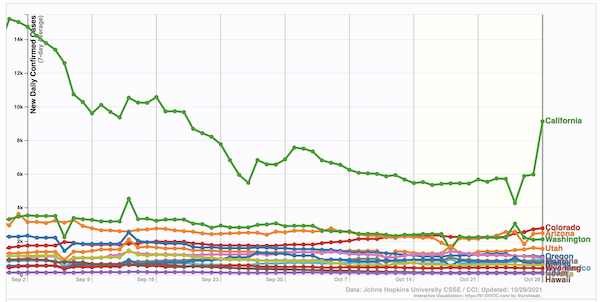 Looks like California. Here is a map of California county "hot spots," so-called: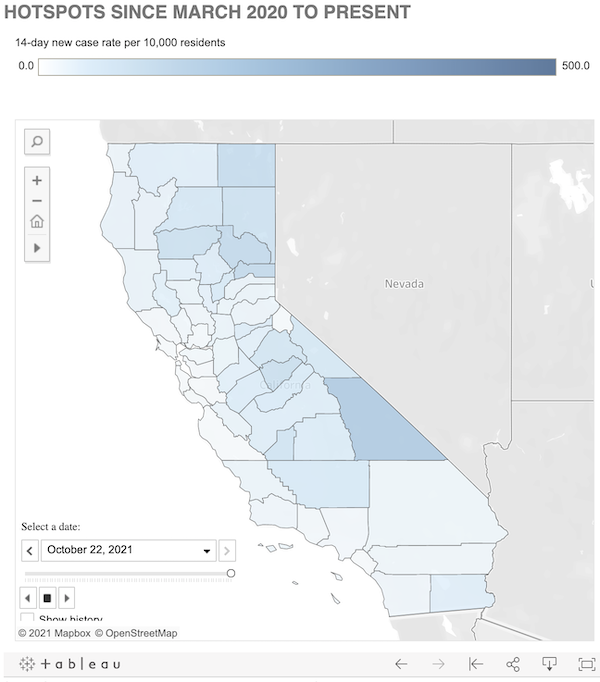 CDC and the San Jose Mercury News have different definitions of "hot spot" (this is America. Our data is bad). However, Inyo County is the hottest hot spot county on the CDC and Mercury News maps, so matters aren't completely disjointed. What it looks like to me is that there is a generalized Covid increase in many if not most of inland California; Kern County, but not LA or SF. Informed speculation from readers on why this might be is encouraged; most likely, the increase isn't due to my hobbyhorse, international travel! Finally, the increase has gotten big enough to give the national, seven-day average a bump. Query: Many California Counties are participating in Covid wastewater tracking, like the MWRA does. Can any readers point me to a map that aggregates this data and keeps it updated?
* * *
Simply tape-watching, this descent is as steep as any of the three peaks in November–January. It's also longer than the descent from any previous peak. We could get lucky, as we did with the steep drop after the second week in January, which nobody knows the reasons for, then or now. Today's populations are different, though. This population is more vaccinated, and I would bet — I've never seen a study — that many small habits developed over the last year (not just masking). Speculating freely: There is the possibility that natural immunity is much, much greater than we have thought, although because this is America, our data is so bad we don't know. Also, if the dosage from aerosols drops off by something like the inverse square law, not linearly, even an extra foot of social distance could be significant if adopted habitually by a large number of people. And if you believe in fomites, there's a lot more hand-washing being done. On the other hand, Delta is much more transmissible. And although readers will recall that I have cautioned against cross-country comparisons, I'm still not understanding why we're not seeing the same aggregates in schools that we've see in Canada and especially the UK, although we have plenty of anecdotes. Nothing I've read suggests that the schools, nation-wide, have handled Covid restrictions with any consistency at all. So what's up with that?
Even if hospitalizations and the death rate are going down, that says nothing about Long Covid, the effect on children, etc. So the numbers, in my mind, are still "terrifying", even if that most-favored word is not in the headlines any more, and one may be, at this point, inured.
MWRA (Boston-area) wastewater detection: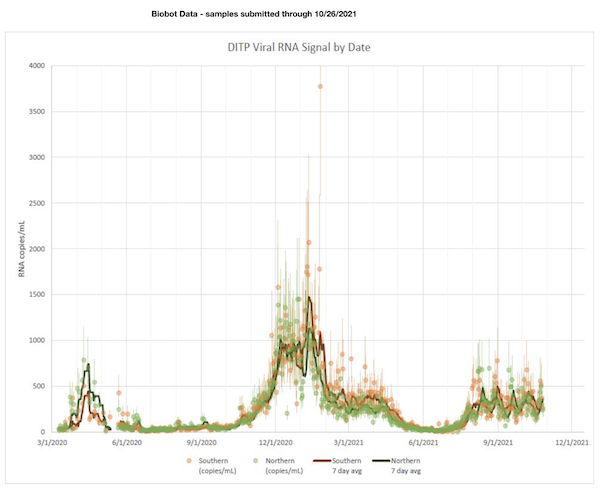 Seems like a sine-wave pattern on the right. Why?
The Massachusetts Water Resources Authority (MWRA) service area includes 43 municipalities in and around Boston, including not only multiple school systems but several large universities. Since Boston is so very education-heavy, then, I think it could be a good leading indicator for Covid spread in schools generally.
From CDC: "Community Profile Report October 25, 2021" (PDF), "Rapid Riser" counties: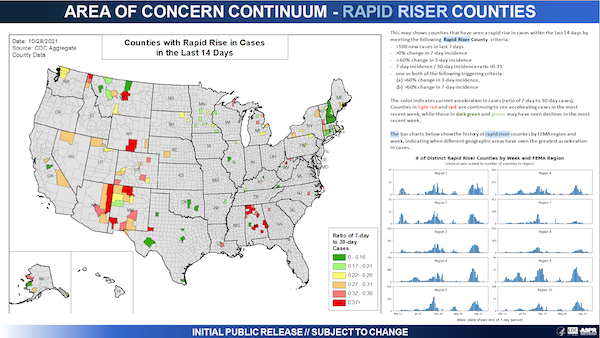 Virtually no change. Trouble spots in the West. Upper Midwest improved. Weird flare-ups, like flying coals in a forest fire. They land, catch, but — one hopes — sputter out.
Speculating freely: One thing to consider is where the red is. If air travel hubs like New York City or Los Angeles (or Houston or Miami) go red that could mean (a) international travel and (b) the rest of the country goes red, as in April 2020 and following. But — for example — Minnesota is not a hub. If Minnesota goes red, who else does? Well, Wisconsin. As we see. Remember, however, that this chart is about acceleration, not absolute numbers. This map, too, blows the "Blame Bubba" narrative out of the water. Not a (Deliverance-style) banjo to be heard. (Red means getting worse, green means bad but getting better.)
The previous release: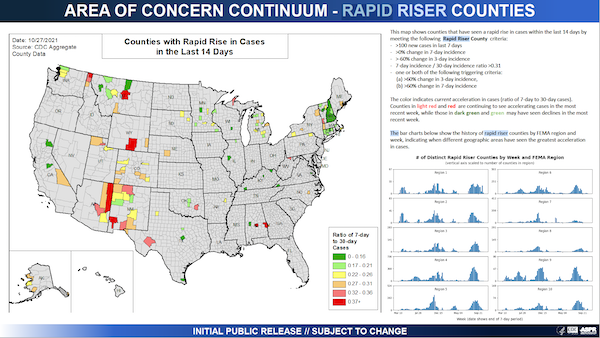 Hospitalization (CDC Community Profile):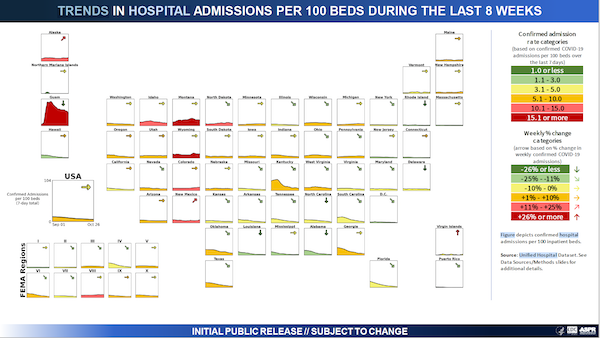 Finally some relief for the states of Idaho, Montana, and Wyoming, although I don't understand why they they have the bad luck to be so stubbornly still red.
Death rate (Our World in Data):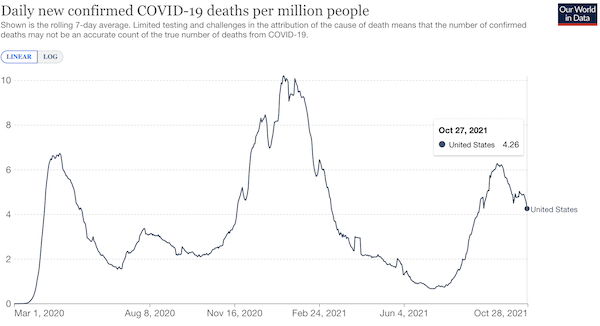 Total: 763,784 761,949. Going down again, mercifully. We had approached the same death rate as our first peak last year. Which I found more than a little disturbing.
Excess deaths (total, not only from Covid). This seems not to be updating: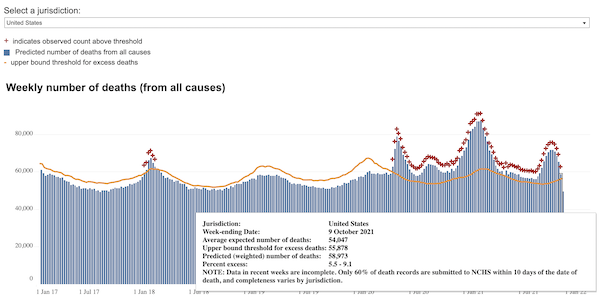 So how long does it take before 10% "excess" deaths becomes the new normal?
(Adding: I know the data is bad. This is the United States. Needless to see, this is a public health debacle. It's the public health establishment to take care of public health, not the health of certain favored political factions. Also adding: I like a death rate because it gives me a rough indication of my risk should I, heaven forfend, end up in a hospital. I should dig out the absolute numbers, too, now roughly 660,000, which is rather a lot.)
Covid cases in historic variant sources, with additions from the Brain Trust: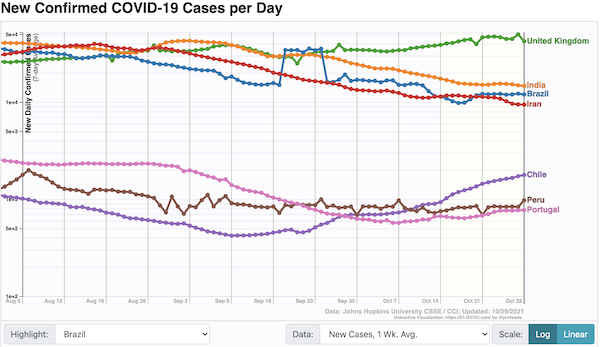 Look at Chile go! Also Portugal, oddly, which lifted restrictions about a month ago. Remember this is a log scale. Sorry for the kerfuffle at the left. No matter how I tinker, it doesn't go away.
* * *
Politics
"But what is government itself, but the greatest of all reflections on human nature?" –James Madison, Federalist 51
"They had one weapon left and both knew it: treachery." –Frank Herbert, Dune
"They had learned nothing, and forgotten nothing." –Charles Mice de Talleyrand-Périgord
Capitol Seizure
Biden Administration
"Dems limp out of another stumble-ending month" [Politico]. A festival of moderate whinging. I think "progressives' (let's just go ahead and say the left) need a center of power on Capitol Hill, and have for years. If the CPC is that center, then good. More, if the CPC becomes that center — by beating the Democrat leadership and being seen to do so, that's more important than any one bill. There will be more bills. Hence, I remain in "burn it all down" mode. "'I think it's wholly apparent that today was not a success,' said Virginia Rep. Abigail Spanberger, whose state has a high-stakes gubernatorial showdown Tuesday that Democrats were hoping to boost with the infrastructure vote. 'Because people choose to be obstructionists, we're not delivering these things to my state or to the rest of the country,' the swing-district Democrat added. 'I guess we'll just wait because apparently failing roads and bridges can just wait in the minds of some people.'" • Spanberger is a CIA Democrat. If a spook is unhappy, I couldn't be more pleased.

"Sources: Nancy Pelosi 'Kicked Out' Of Meeting With House Progressive Caucus Amid Tense Budget Talks" [The Uprising]. "Multiple sources confirmed to The Uprising that Pelosi was 'kicked out' of the meeting by Progressive Caucus Chairwoman Pramila Jayapal. 'She got kicked out and said she was leaving anyway,' a Democratic staffer, who was granted anonymity to discuss the confidential meeting, said of Pelosi. Spokespeople for Pelosi and Jayapal did not immediately respond to requests for comment. Pelosi was observed entering the meeting and leaving just over ten minutes after she walked in…. According to the second staffer, Pelosi 'probably wanted' to take progressives' temperature. However, the staffer said this likely created an awkward situation since progressives typically expect a 'family discussion' within their caucus. 'Having Nancy or [House Majority Leader Steny Hoyer] come into that is like having mom or dad show up at your slumber party,' the staffer said. 'It crimps your vibe a bit.'" • Sheesh. Will the infantilization metaphors never end? Why should the CPC have an enemy in their council? What a bizarre notion that they should.

"Progressives "bamboozled" by Biden meeting" [Axios]. The headline is deceptive and misquotes Cori Bush; she's only one progressive, and I'm sure she didn't stay bamboozled. More: "The old guard leading the White House and Congress has learned for the second time in a month their pressure tactics no longer work with a new wave of Democrats." The Old Guard dies. It never surrenders….

"FTC to Ramp up Enforcement against Illegal Dark Patterns that Trick or Trap Consumers into Subscriptions" (press release) [Federal Trade Commission]. "The Federal Trade Commission issued a new enforcement policy statement warning companies against deploying illegal dark patterns that trick or trap consumers into subscription services. The agency is ramping up its enforcement in response to a rising number of complaints about the financial harms caused by deceptive sign up tactics, including unauthorized charges or ongoing billing that is impossible cancel. The FTC's policy statement puts companies on notice that they will face legal action if their sign-up process fails to provide clear, up-front information, obtain consumers' informed consent, and make cancellation easy." • Good, but why not dark patterns generally? See NC on dark patterns here.
Democrats en Deshabille
"Terry McAuliffe Hires Controversial Ex-Clinton Lawyer Marc Elias" [Jonathan Turley]. Elias (formerly of Clinton RussiaGate cut-out Perkins Coie) is a real piece of work. "Elias has not been criminally charged in his actions related to the 2020 election. Yet, bringing Elias into the Virginia race in the midst of the Durham investigation is an astonishing decision by McAuliffe. There are a host of election lawyers but McAuliffe selected an attorney accused of lying to the media, advancing rejected conspiracy theories, and currently involved in a major federal investigation that has already led to the indictment of his former partner."

"The 2009 financial crisis taught us hard lessons. Have Democrats learned them?" [David Sirota and Alex Gibney, Guardian]. • Obviously they have. The lesson is that the 1% comes out of crisis very, very well (or, to put this another way, capitalism is anti-fragile*), and that Democrats should cater to them. NOTE * "Up to a point, Lord Copper"?
Republican Funhouse
"Burr's Brother-in-Law Called Stock Broker, One Minute After Getting Off Phone With Senator" [Pro Publica (Re Silc)]. "According to the SEC, Sen. Richard Burr of North Carolina, then chairman of the Senate Intelligence Committee, had material nonpublic information about coronavirus impact. He and his brother-in-law dumped stock before the market dropped in March 2020." • Re Silc: "I did leave a phone message at Burr's DC office asking to be put on his investment newsletter. Never heard back." Since all members of Congress are free to trade, you can bet Burr is not the only one.
Realignment and Legitimacy
"Despite Scandals, Alabama Megachurch Invests Millions to "Restore" Pastors" [The Roys Report]. • Sounds like Opus Bono Sacerdotii. Or Servants of the Paraclete.
Stats Watch
Manufacturing: "United States Chicago PMI" [Trading Economics]. "The Chicago Business Barometer rose to 68.4 in October of 2021, picking up after two consecutive months of decline and well above market estimates of 63.5. It was the highest reading since July. New orders advanced 3.1 points, recovering from September's 6-month low; and employment increased again, up for a fourth straight month, rising 4.2 points to stand at the highest in just over three years. Production was the only component to fall in October, dropping 2.2 points to the lowest since August 2020. Meanwhile, supplier deliveries went up, as firms again reported worsening port congestion and ongoing logistical issues with trucking, rail, and even air cargo."
Consumer Sentiment: "United States Michigan Consumer Sentiment" [Trading Economics]. "The University of Michigan's consumer sentiment for the US was revised slightly higher to 71.7 in October of 2021 from a preliminary of 71.4. The expectations subindex was revised up to 67.9 from a preliminary of 67.2 while the gauge of current conditions dropped to 77.7 from a preliminary of 77.9. Meanwhile, inflation expectations for the year-ahead were at 4.8% while the 5-year outlook increased to 2.9% from a preliminary of 2.8%. The positive impact of higher income expectations and the receding coronavirus has been offset by higher rates of inflation and falling confidence in government economic policies."
Income: "United States Personal Income" [Trading Economics]. "Personal income in the United States dropped 1.0 percent from a month earlier in September 2021, following a 0.2 percent advance in August and compared with market expectations of a 0.2 percent fall. It was the first monthly decline in income since May, primarily due to a decrease in government social benefits, both in unemployment benefits and "other" benefits. Meanwhile, wages and salaries increased at a faster pace."
Spending: "United States Personal Spending" [Trading Economics]. "Personal spending in the US increased 0.6% mom in September of 2021, following an upwardly revised 1% rise in August and above market forecasts of 0.5%. It reflected an increase of $63.6 billion in spending for services, namely health care and food services and accommodations. Spending on goods increased by $29.9 billion increase in spending for goods, mainly due to foods and beverages, pharmaceutical products and gasoline and other energy goods. On the other hand, spending on motor vehicles declined as ship shortages and supply constraints continue to weigh."
* * *
Housing: "An Assessment of the American Housing and Economic Mobility Act of 2021" (PDF) [Moody's Analytics]. "Homebuilding collapsed during the housing crash over a decade ago and has been slow to recover. Construction of high-end homes and apartments recovered first, and there is now an oversupply in some urban areas across the country. However, the construction of affordable housing—homes reasonably priced for lower-income households to rent or own—has only recently begun to increase and continues to lag demand. The worsening affordable housing shortage is clear in the low number of vacant housing units, which continues to decline. The percent of the housing stock for rent and sale that is unoccupied has fallen sharply since the housing crash and is now as low as it has been in more than 30 years (see Chart 1). The shortfall in affordable housing is close to an estimated 1.8 million homes, equal to more than a year of new construction at its current pace. And this housing shortage continues to get worse." • I searched the report; the phrase "private equity" does not appear. Handy chart:

Tech: "Zuckerberg Announces Fantasy World Where Facebook Is Not a Horrible Company" [Vice]. "The future Zuckerberg went on to pitch was a delusional fever dream cribbed most obviously from dystopian science fiction and misleading or outright fabricated virtual reality product pitches from the last decade. In the "metaverse—an "embodied" internet where we are, basically, inside the computer via a headset or other reality-modifying technology of some sort—rather than hang out with people in real life you could meet up with them as Casper-the-friendly-ghost-style holograms to do historically fun and stimulating activities such as attend concerts or play basketball." • At this point I will remind the reader of my theory that the first genre to bring any new medium to the mass market is pr0nography. The potential of an "embodied" Internet is obvious, and one wonders if "Mark" will have the courage to grasp it. (Avatar pr0n would not only be completely "safe," at least physically, it would massively scale. If there are jurisdictional issues, "Mark" can just put up a satellite, and beam his, er, content from up there.)
Manufacturing: "Ford to suspend production at Mexican plant due to shortages – union" [Reuters]. "U.S. automaker Ford Motor Co. will suspend production at its Hermosillo factory in northern Mexico from November 1-5 due to material shortages, according to a union statement issued on Thursday."
* * *
Today's Fear & Greed Index: 72 Greed (previous close: 72 Greed) [CNN]. One week ago: 67 (Greed). (0 is Extreme Fear; 100 is Extreme Greed). Last updated Oct 29 at 1:02pm. Now that poor people won't get dental, Mr. Market is in his happy space.
The 420
"Current Marijuana Use and Alcohol Consumption Among Adults Following the Legalization of Nonmedical Retail Marijuana Sales — Colorado, 2015–2019" [Morbidity and Mortality Weekly Review, CDC]. "Retail (nonmedical) marijuana sales began in Colorado on January 1, 2014. Adults who binge drink are more likely to use other substances than are nondrinkers. During 2015–2019, one third (34.4%) of Colorado adults who binge drank used marijuana compared with one tenth (9.9%) of nondrinkers." • Too bad, although in my experience I have heard that getting drunk and getting high may accompany each other, but aren't substitutes for each other.
"A California county cuts off water to Asian pot growers. Is it racism or crime crackdown?" [Los Angeles Times]. "But, unlike in the rest of the American West, the extreme water scarcity plaguing this tiny corner of far Northern California was not the result of dwindling snowpack or plummeting reservoir levels. Instead, it was due to a concerted government effort to 'choke out' a problem that had vexed Siskiyou County officials for years: the illicit, large-scale cultivation of marijuana in a single subdivision that is largely Asian. In the spring of this year, county supervisors effectively outlawed the transportation of water into a rural tract that had become known for its prolific cultivation of pot, squalid living conditions and large population of Hmong farmers. The measure was just the latest attempt by local officials to shut down the pot farms, which authorities blamed for a spike in violent crime and environmental degradation."
Police State Watch
@greg_doucette tracks bad cop behavior, of which there is a lot, as ruthlessly as @nyttypos tracks typos at the Times, although with less effect:
Cops executing dogs is common

Puppycide: https://t.co/ZIqiViEClQ

— T. Greg Doucette (@greg_doucette) May 19, 2021
Many, many examples, in many, many categories. Why don't all the good cops turn these whackjobs in?
The Conservatory
Creative destruction:
Burning Down and Rising Up – The Bronx in the 1970's https://t.co/yGsQlqTjY9 #MapPorn pic.twitter.com/h98iK6mGUO

— MapPorn (@MapPornTweet) October 29, 2021
Groves of Academe
"Broward school field trip to a neighborhood bar and grill leads to threats" [Miami Herald]. "What happens when a School Board member takes elementary kids on a field trip to a bar and grill with a gay clientele? A Twitter storm." • And a moral panic. Never mind that taking the children to a heterosexual Gentleman's Club would be wrong, too; what I don't get is why school children are being taken to a bar. Don't they get to see enough drinking at home? More: "One of the owners of Rosie's Bar and Grill in Wilton Manors said he's confused what all the fuss is about — especially since children from the school have been coming to the restaurant for field trips for about 10 years. 'It's a great experience for the kids to come in and learn how restaurants operate,' John Zieba said. He said the educational value is in the children not only learning math skills from the prices on the menu, but also to see what kitchen managers, chefs and servers do for a living. Everything's just been blown way out of proportion for ridiculous purposes,' Zieba said. Broward Public County Public Schools, in its statement, confirmed Zieba's description about what the purpose of the field trip." • If the kids have to go on a field trip to learn math skills off a menu, the Broward school system is really in trouble.
Black Injustice Tipping Point
"Harvard reserves performance of 'Macbeth' exclusively for 'Black-identifying audience members'" [The Fire]. • I've had my race-affirming surgery. So I suppose I can go?
Guillotine Watch
Another squillionaire with a bright idea:
Wow, a horrific 11-story dorm housing 4,500 students, 94 percent of whom would not have windows in their small, single-occupancy bedrooms. And it's designed by "amateur architect" and billionaire Charlie Munger of Berkshire Hathaway! https://t.co/MrElwwjhOx

— James Pethokoukis (@JimPethokoukis) October 29, 2021
Apparently, Munger specified the ventilation system as well…
Class Warfare
"After Tractor Collision During Strike, John Deere Declares Accident Reports 'Confidential'" [The Intercept]. "Following a high-profile accident involving a salaried worker filling in at a factory for a worker on strike, John Deere management is trying to prevent reports of similar incidents from reaching the general public. Company executives, concerned about "reputational risk" on social media, have instructed employees that accident reports are "confidential" and must not be shared with the public, according to a recording of one executive and a slide deck obtained by The Intercept…. 'Today and going forward, you guys, I won't be able to share any slides,' factory manager Rosalind Fox told employees at John Deere's Des Moines Works in Ankeny, Iowa, in a video meeting on October 19. 'What we're going to do, I'm just going to talk to you verbally here because we've had situations … where people are screenshotting, and it's getting out into the media, and we don't want to do that.'… Limiting distribution of accident reports represents a departure from usual practice. 'They usually publish them in written form similar to that one about the tractor hitting a post,' one salaried employee in Ankeny, who asked not to be named to protect his job, said. 'They would normally bring up specific cases at the start-up meeting so everyone knows what happened and what corrective actions there were, at least if it happened locally.'… The Ankeny employee voiced frustration with the lack of transparency. 'They aren't even updating us with 'near misses' like they normally would for fear of it leaking out,' the employee said…. 'We're soft desk jockeys getting thrown into hard labor with little training,' the first worker said. The Waterloo employee, complaining about the lack of training, put it more bluntly: 'We are gonna get killed.'" • So, Deere throws barely trained white collar workers onto the factory floor, then disables the safety system that would protect them to avoid public relations problems. Pretty dystopian!
"Deere worker on strike hit, killed by car in Illinois near UAW picket line" [Des Moines Register]. "Two weeks before Wednesday's death of a striker hit by a car as he crossed a street near a picketing location at a Milan, Illinois, Deere & Co. warehouse, city officials had received a complaint that streetlights there were out, making it difficult for drivers to spot crossing pedestrians." • If this were a third-world country, I'd really wonder about that light.
"Warrior Met Coal says picket line violence has reached 'dangerous level'" [AL.com]. "The UMWA has released videos of incidents where the union says members were struck by vehicles crossing the picket line. In recent weeks, the company has launched its own website, Warrior Met Coal Facts, to counter what it calls 'misleading statements' made in the media by union representatives and striking members."
News of the Wired
* * *
Readers, feel free to contact me at lambert [UNDERSCORE] strether [DOT] corrente [AT] yahoo [DOT] com, with (a) links, and even better (b) sources I should curate regularly, (c) how to send me a check if you are allergic to PayPal, and (d) to find out how to send me images of plants. Vegetables are fine! Fungi and coral are deemed to be honorary plants! If you want your handle to appear as a credit, please place it at the start of your mail in parentheses: (thus). Otherwise, I will anonymize by using your initials. See the previous Water Cooler (with plant) here. Today's plant (TH):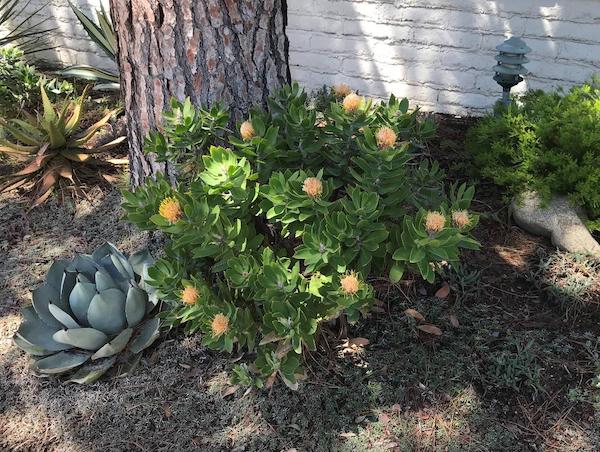 TH writes: "Nodding Pincushion Protea. AKA Leucospermum cordifolium. Say THAT five times fast! (sheltered by a conifer, with some neighboring Aloe Vera and agaves)." I'm generally not much on cactus, but this is a very appealing little nook.
* * *
Readers: Water Cooler is a standalone entity not covered by the recently concluded and — thank you! — successful annual NC fundraiser. So if you see a link you especially like, or an item you wouldn't see anywhere else, please do not hesitate to express your appreciation in tangible form. Remember, a tip jar is for tipping! Regular positive feedback both makes me feel good and lets me know I'm on the right track with coverage. When I get no donations for five or ten days I get worried. More tangibly, a constant trickle of donations helps me with expenses, and I factor in that trickle when setting fundraising goals:
Here is the screen that will appear, which I have helpfully annotated.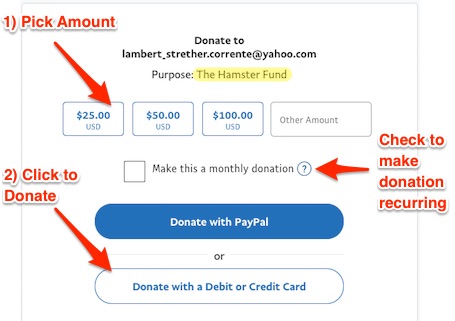 If you hate PayPal, you can email me at lambert [UNDERSCORE] strether [DOT] corrente [AT] yahoo [DOT] com, and I will give you directions on how to send a check. Thank you!2:00PM Water Cooler 6/8/2021